Scroll down for English explanations - alternates with German explanations.

Die Ausfahrt aus dem beleuchteten Malta war wunderschön.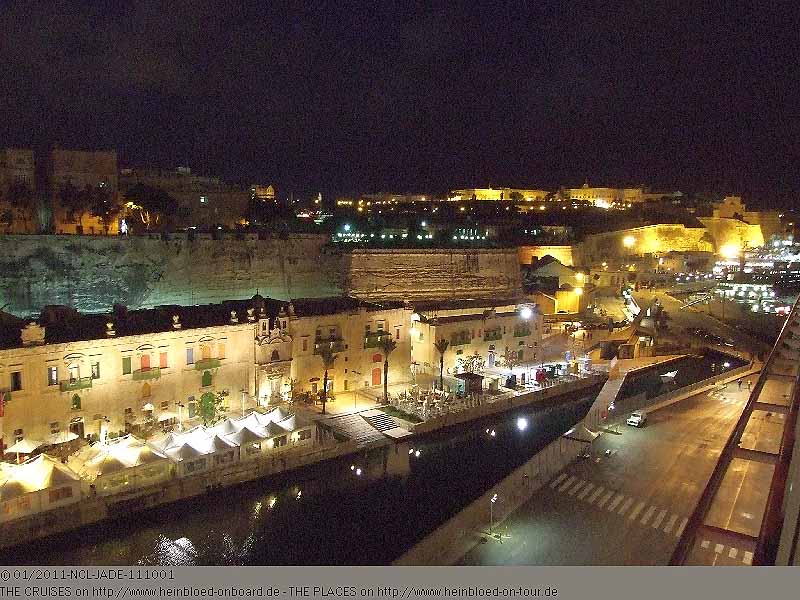 Leaving Malta is most beautiful.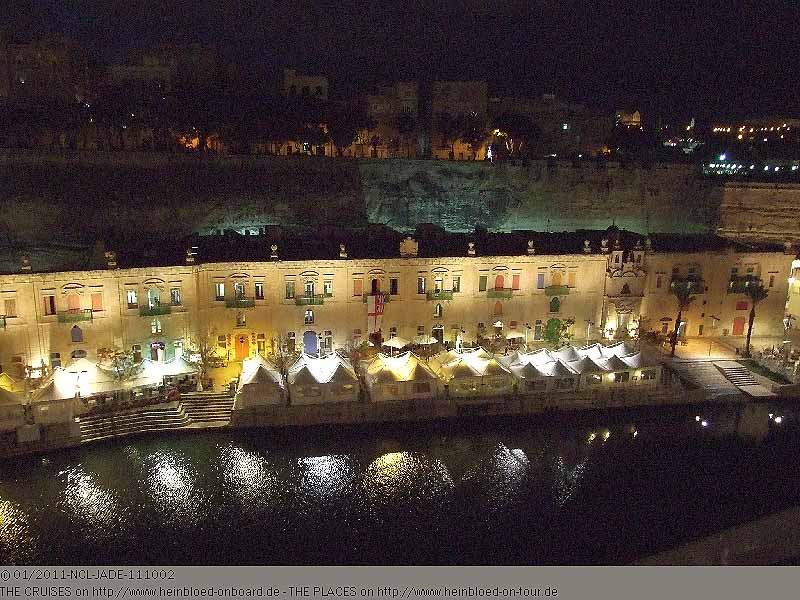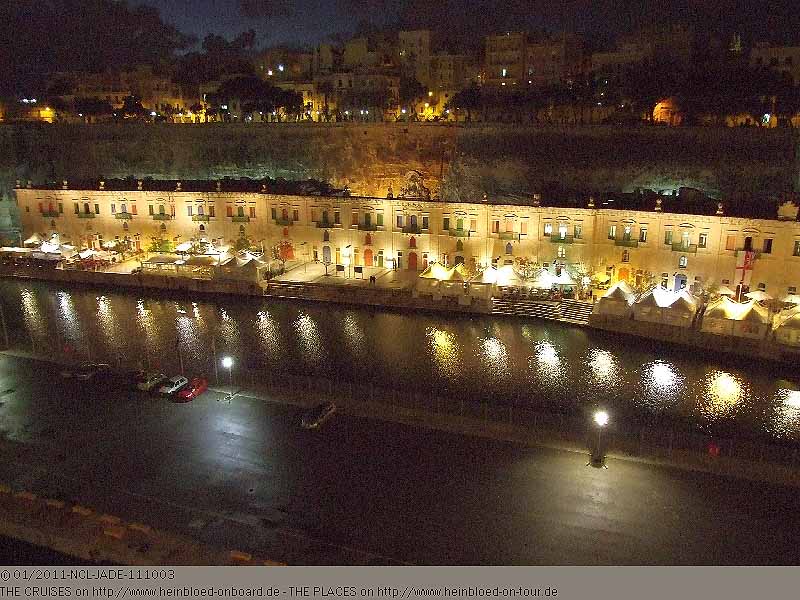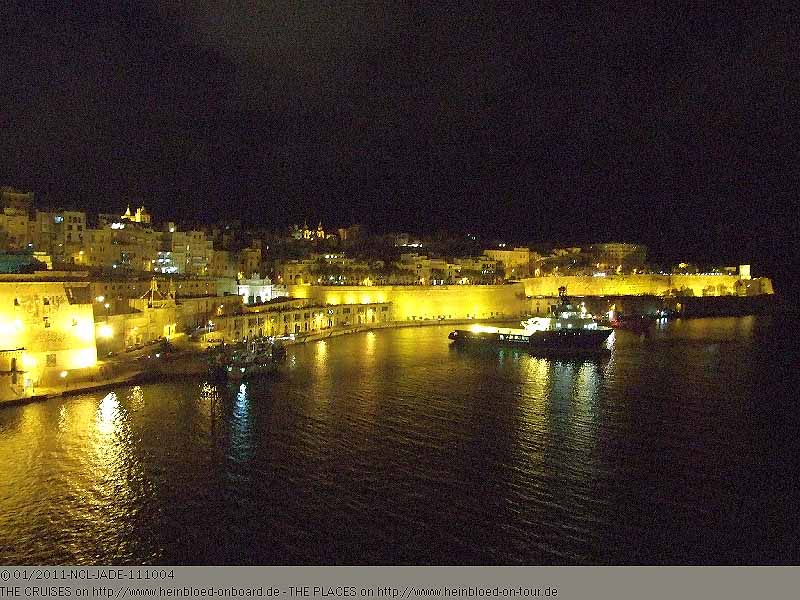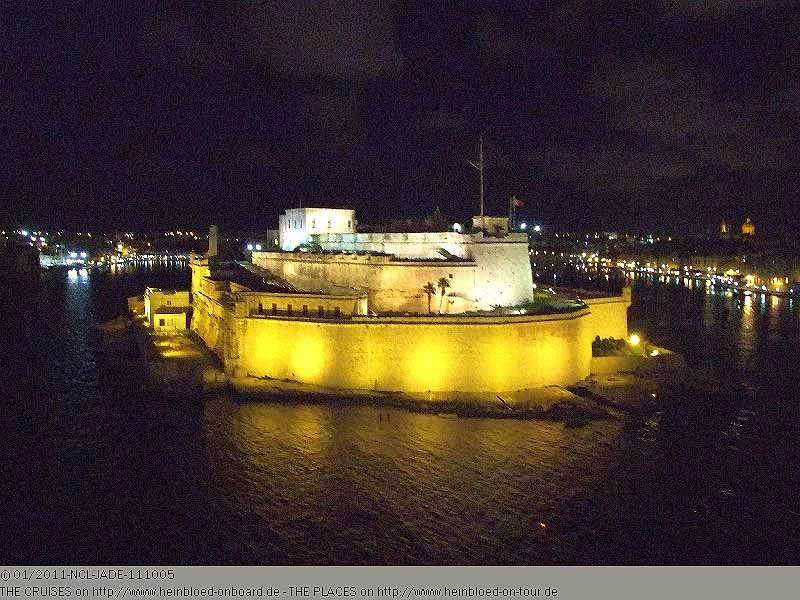 Sorry that NCL will not call Malta in 2012 anymore.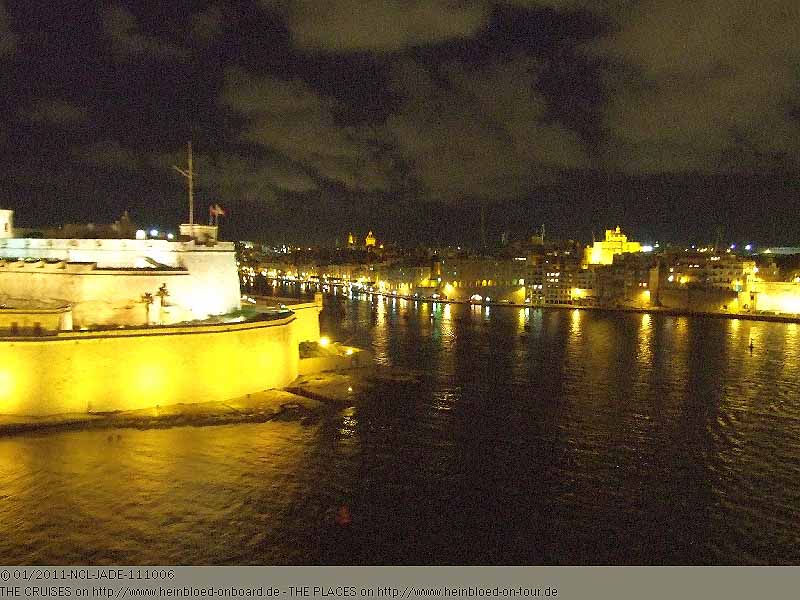 Schade, dass NCL Malta 2012 nicht mehr anfährt.
Und auch Gute Nacht SAGA RUBY... Vielleicht bis in 6 Jahren...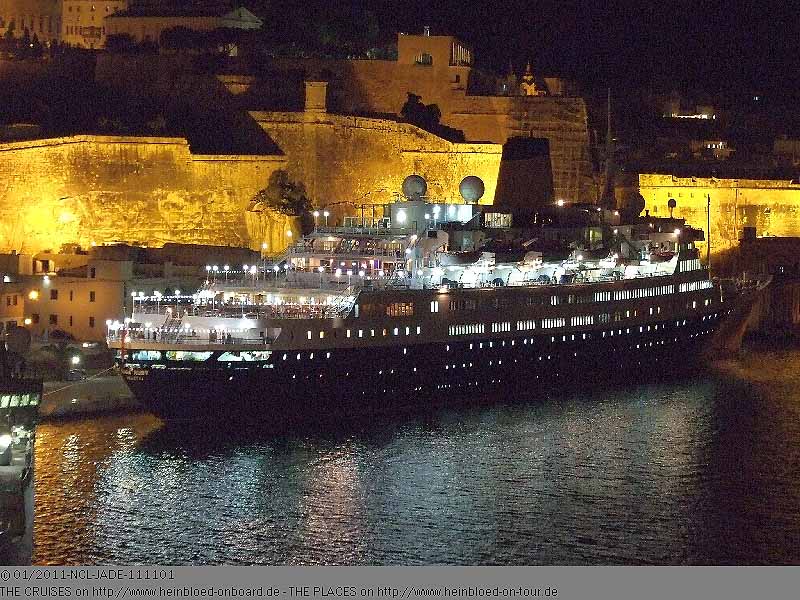 Good Night to SAGA RUBY... Maybe see you again in 6 years...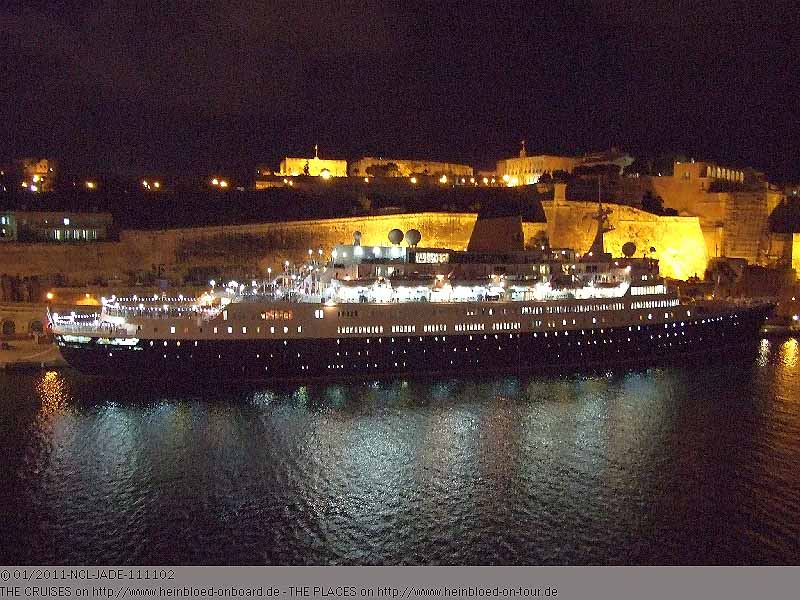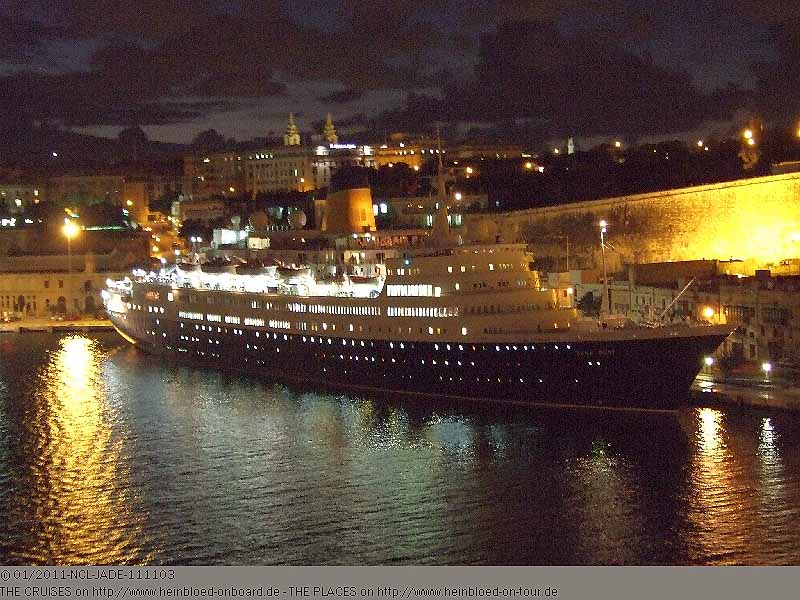 I was really looking forward to show up with blanket and pillow in the atrium... but after our call this morning we found this slip that someone was here to fix and take care of it. No guessing if somebody was here or not or something was done. Clear information that something was done.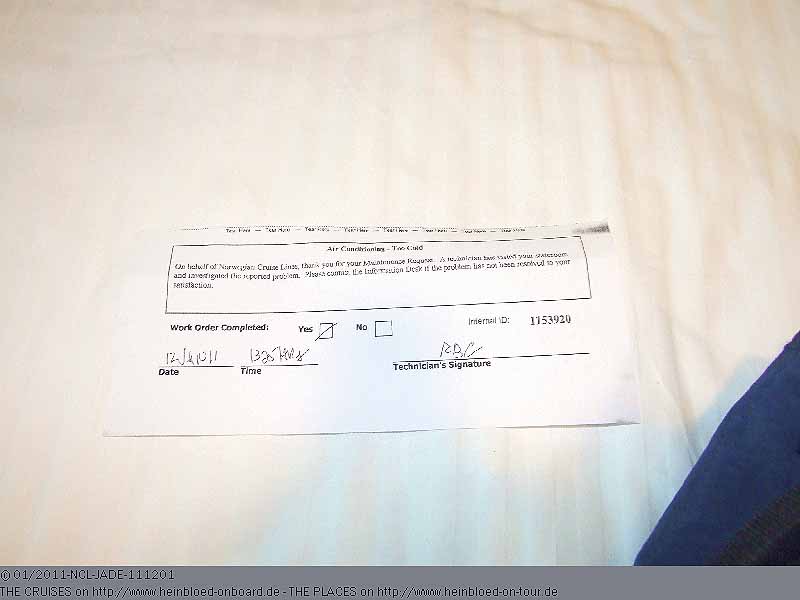 Was hatte ich mich auf meine Show mit Decke und Kissen im Atrium gefreut... aber nach dem Anruf heute Morgen, liegt hier ein Zettel, dass jemand da war und sich darum gekümmert hat. Kein Raten, ob nun jemand da war oder nicht und etwas gemacht wurde. Man hat eine klar formulierte Information, dass der Auftrag ausgeführt wurde.
Mehr Post...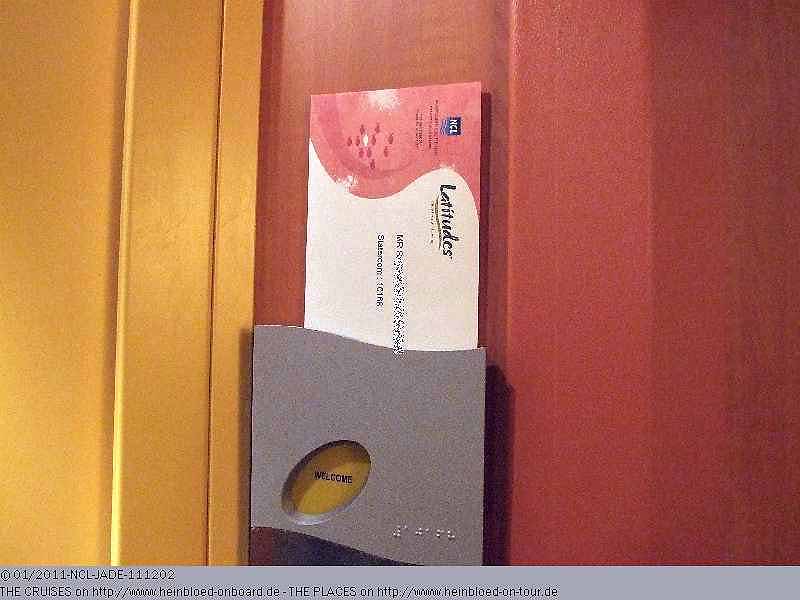 More mail...

So Carol wanted to have us from the ship as well and sent us some luggage tags as well... We keep them for mini-cruises because occassionally you need to discuss if you have such Letitudes-benefits on mini-cruises or not...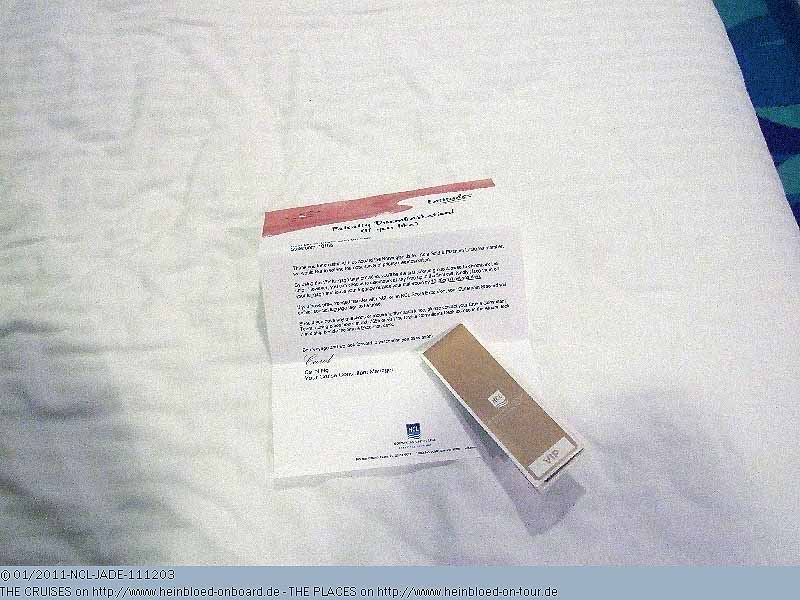 Auch Carol will uns von Bord haben und schickt uns sicherheitshalber auch nochmals die Gepäckanhänger... Wir behalten Sie einfach für die Mini-Cruises, weil sie dann gelegentlich herumzicken, ob man nun Anspruch auf die Vergünstigungen als Latitudes-Mitglied hat oder nicht...
Und anscheinend sind die Fälle von GI so signifikant nach unten gegangen, dass zumindest der große Latitudes-Empfang stattfindet. Wir werden allerdings gebeten, aus Gründen der Vorsorge auf das Händeschütteln zu verzichten.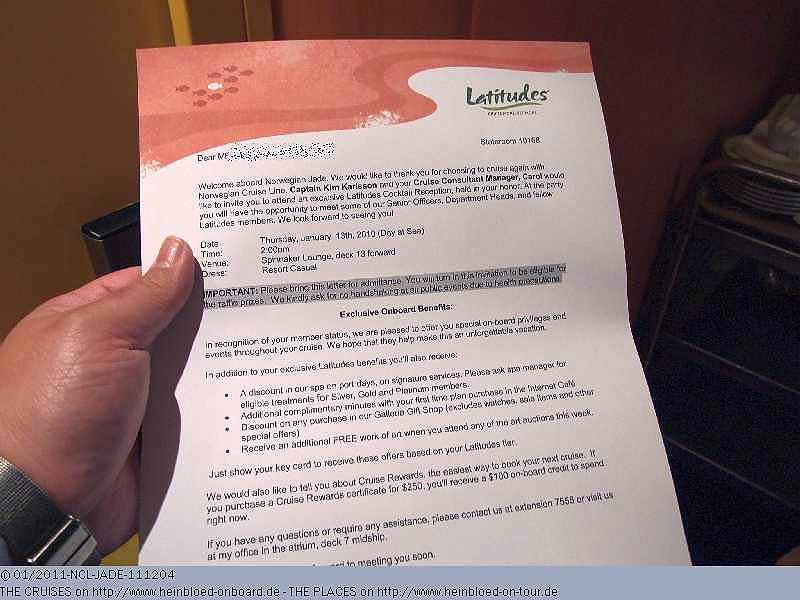 And obviously the number of cases of GI decresed so significant that there will be the big Latitudes-reception. But we were asked not to handshake for health precaution.

Our final towel animal.

Noch einmal ein Handtuchtier am Schluss.
Da wir für die letzte Nacht andere Pläne hatten, habe ich nochmals einen Tisch mit Ernesto bestellt, um uns zu verabschieden. An meiner Reaktion sieht man, dass es nicht geklappt hat. Am Eingang hat man einfach behauptet, dass man nichts von dem Wunsch wüsste und auch Ernesto gar nicht da sein. Als wir dann am Tisch ankamen, sahen wir Ernesto an der benachbarten Servicestation. Der Maître macht es sich einfach und sagt Ernesto, dass er unseren Tisch zusätzlich übernehmen müsste. Als er unsere Bestellung aufnimmt, sage ich ihm, dass er uns die regulären Kellner schicken soll, um die Abläufe bei seinen regulären Gästen nicht durcheinander zu bringen. Auch sie haben den Anspruch eines guten Services. Ernesto meint allerdings nur, dass wir ihn das machen sollen. Er gibt kurzerhand dem Hilfskellner, der für unseren Tisch zuständig ist, die notwendigen Instruktionen, wie wir es am liebsten hätten und schon klappt es ohne ihn.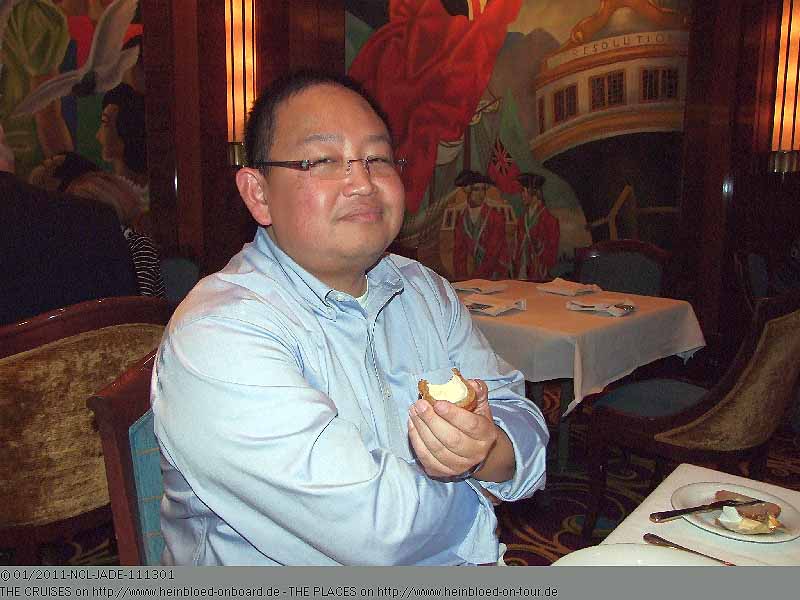 As we had for the very last night other plans I booked again a table with Ernesto to say good-bye. You see on my reaction that it did not work. At the entrance I was told that there was no special request and that Ernesto was not here anyway. When we arrived at the table we saw Ernesto working at the next service station. The maître made it very simple and gave him instruction to add our table to his section. When Ernesto took our orders I told him to send us the regular waiters so that there will be no delay with other guests. Other guests liked to have a nice service too. He gave the assistent waiter who was in charge instructions how we like it and it worked without him.

Another reason to be angry. As main meat dish we had last night lamb carrée and tonight there was lamb leg. You had for lunch for the last two days already lamb. Somehow they must had a great bargain in Piraeus and since then we had lamb, lamb, lamb...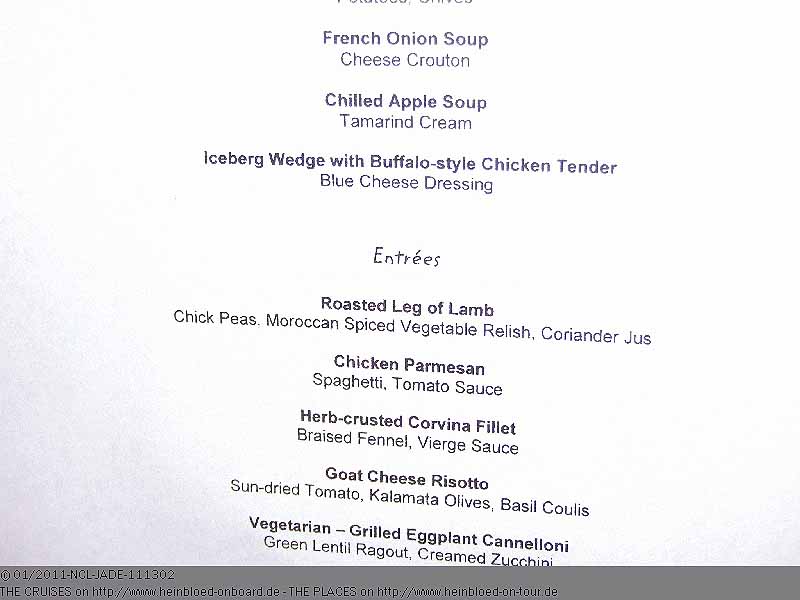 Ein weiterer Grund mich zu ärgern. Als Hauptfleischgericht gab es gestern Lammcarrée und heute Lammkeule. Mittags gab es die letzten zwei Tage an der Fleischausgabe auch schon Lamm. Irgendwie müssen sie wohl ein tolles Sonderangebot in Piräus wahrgenommen haben und seit dem gibt es nur noch Lamm, Lamm, Lamm...
Die Tempura-frittierten Sushi-Rollen haben Käthe so gut geschmeckt, dass sie um eine zweite Portion bat. Absolut kein Problem.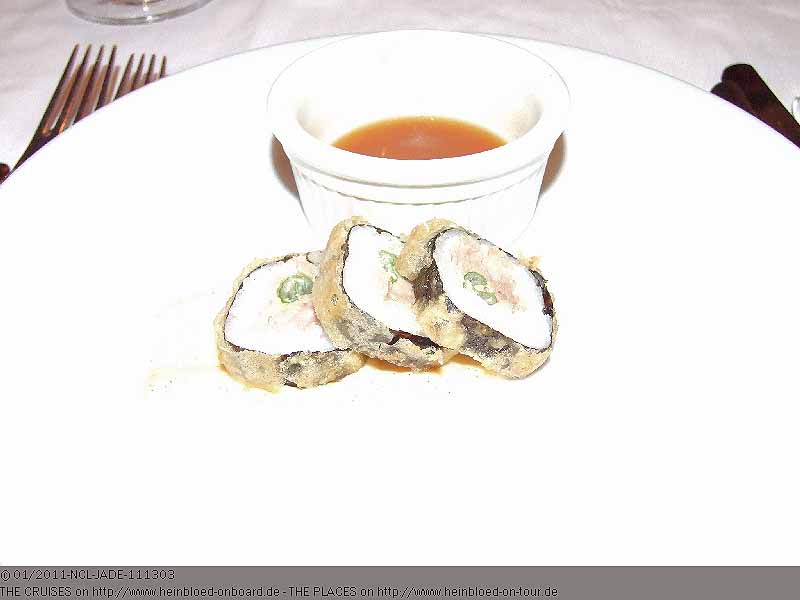 The tempura-fried sushi-rolls were so good that Katie asked for another portion. That was never a problem.

I could not remember the soup...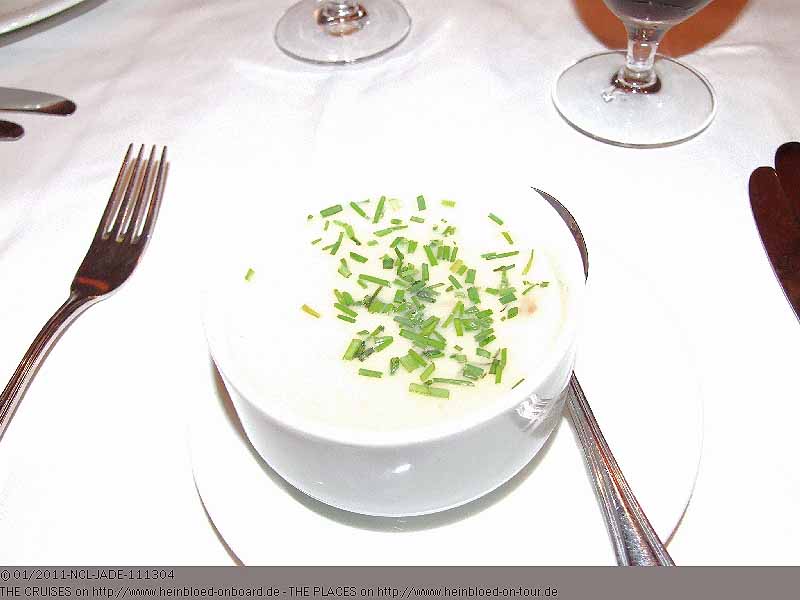 An die Suppe kann ich mich gar nicht mehr erinnern...
Die Hühnerstücke fand ich beim Salat ungewöhnlich. Ich hätte allerdings für den Salatkopf mehr Dressing gehabt...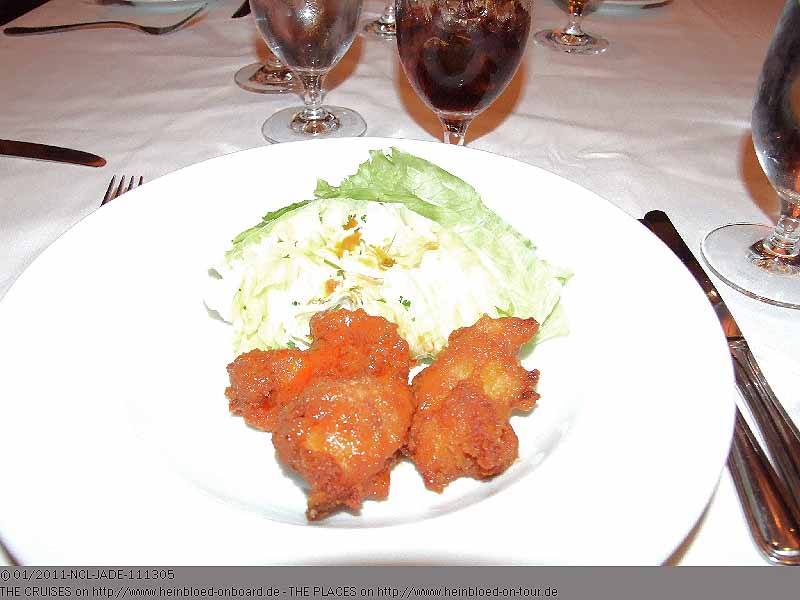 I was surprised of the many pieces of chicken with the salad. I wished to have more dressing on the lettuce...

"My wife had the fish as ususal..."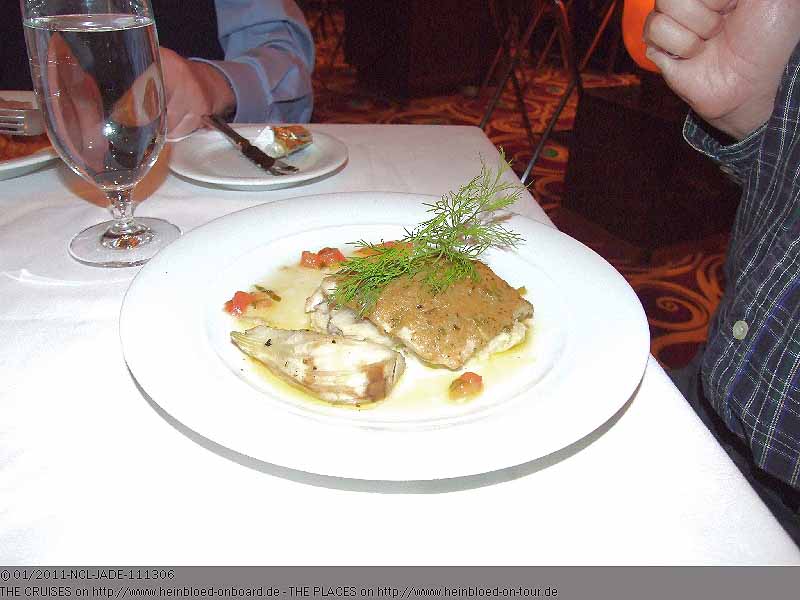 "Meine Frau hatte wie immer Fisch..."
Und ich endete wieder mit dem Rumpsteak aus der Dauerkarte...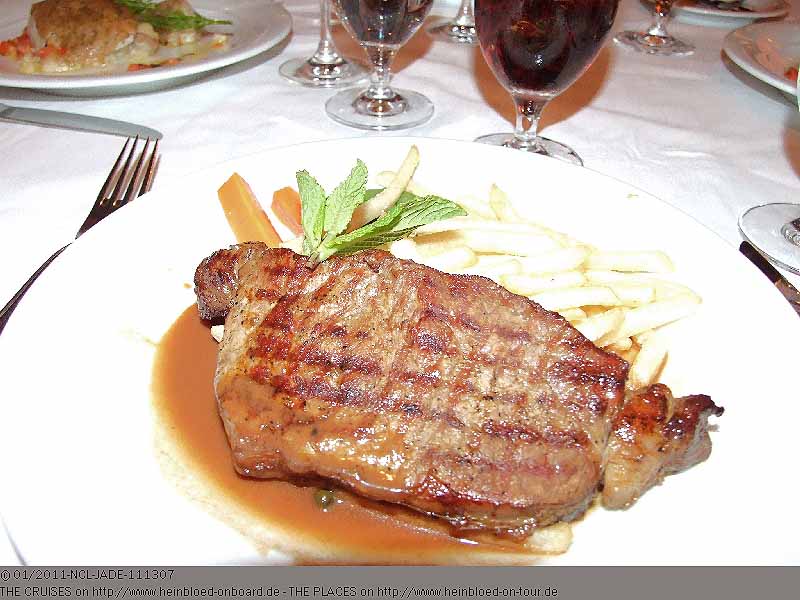 So I ended up with a New York stripsteak from the daily offer...

But it was medium-well instead of medium-rare according to my order. Only Ernesto saw it from his service station that I was more than unhappy.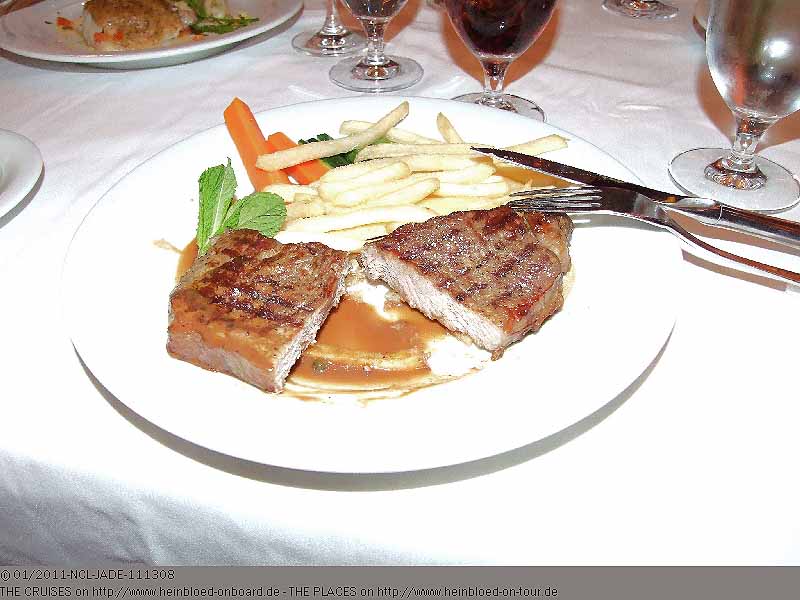 Es war allerdings medium-well, statt medium-rare, wie ich es bestellt hatte. Nur dass ich unglücklich war, sah sogar Ernesto von seiner Servicestation aus.
Bevor ich überhaupt Gelegenheit hatte, etwas zu sagen, kam auch schon Ernesto mit einem neuen Steak für mich. Dieses Mal war es perfekt.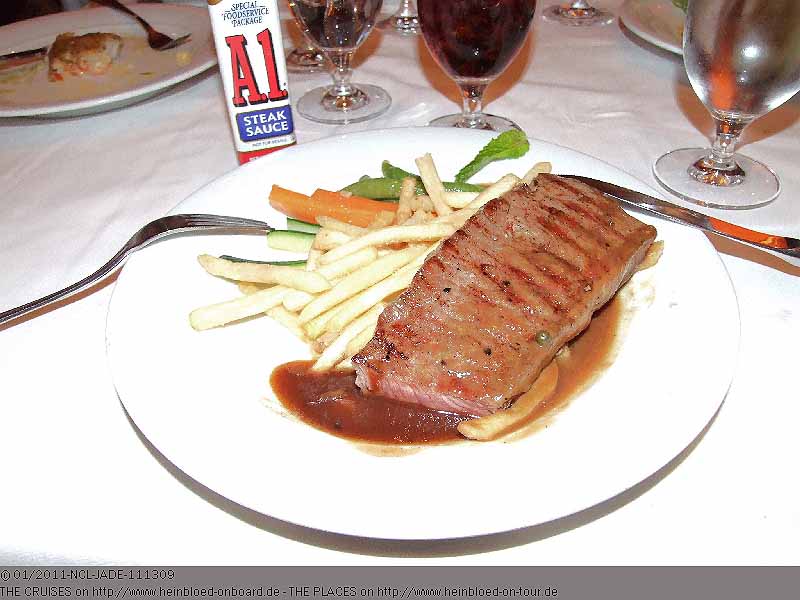 Before I had chance to say anything Ernesto came with a new steak for me. This time it was perfekt.

This night Ernesto did not accept that we said no again for a desert. He got us a small selection of deserts from the galley that we should try.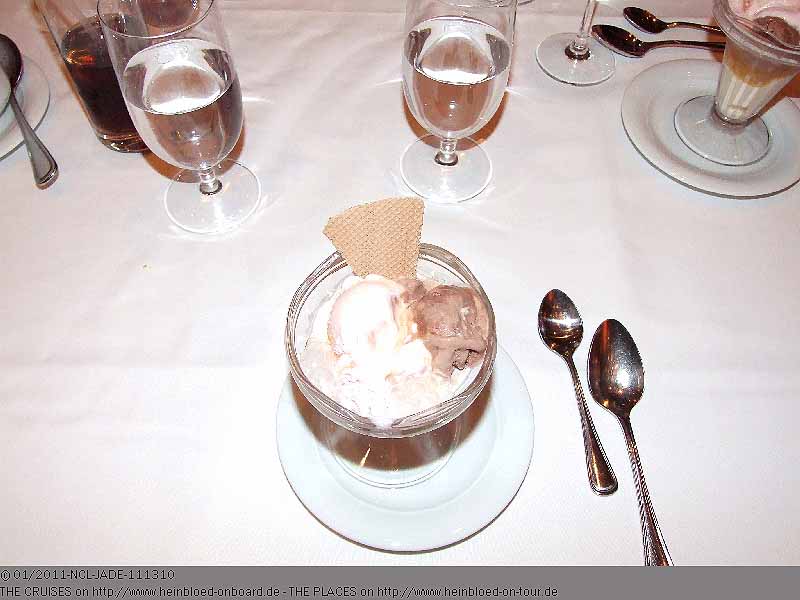 Dieses Mal hat Ernesto es nicht akzeptiert, dass wir nein zum Dessert sagen. Kurzerhand holt er eine kleine Auswahl von Desserts aus der Galley, damit wir zumindest probieren.
Alternativ holt er noch einen Fruchtteller und meinte, dass das doch nur "farbiges Wasser" mit etwas Fruchtfleisch sei und keine Kalorien hätte... und prompt wird es auch gegessen.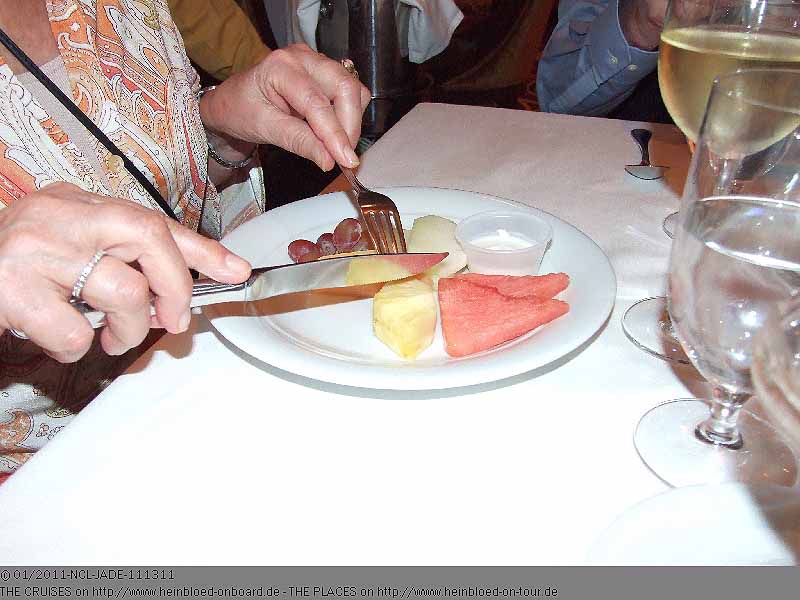 Alternatively he got also a fruit plate and said that this was only "colored water" with some fruit fibres and no calories... and you see it was taken immediately.

When he was less busy he came by and told that he used drydock-stays in Germany to visit his relatives in the Southwestern Part of Germany in Merzig. Bruno's parents are living around the corner. He promised to call when he will be there again. Then we might do him a pleasure. I think that NORWEGIAN JADE must go urgently to a German drydock before October 2011... We could deliver our preferred toiletpaper and coffee-brand in preparation of our stay in October 2011... Would be much more easier for us than taking it on the flight with us to Venice. When Ernesto said that he should be back on board of NORWEGIAN JADE in October 2011 all anger is forgotten and we are looking forward to see him soon again. With our regular waiters I apologied and explained the situation. The reaction: "Sir! This is your vacation. I am running to the wall currently as they requested a table in my section and could not get one. Therefore there is absolutely no reason to apology. For us it the situation is quite normal. No reason to be worried. Enjoy your evening!"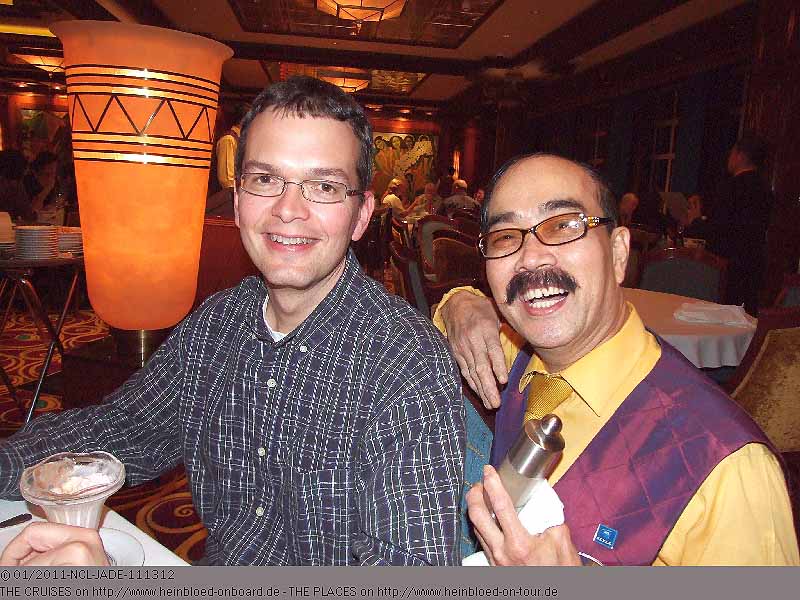 Als es bei ihm ruhiger wird, kommt er rüber und erzählt uns, dass er bei Wertaufenthalten in Deutschland gerne seine Verwandten in Merzig an der Saar besucht. Das ist um die Ecke von Brunos Eltern. Er verspricht uns, sich bei uns zu melden, wenn er mal wieder im Saarland ist. Dann können wir ihm eine Freude bereiten. Ich meine schon, dass die NORWEGIAN JADE dringendst in eine deutsche Werft müsste und das vor Oktober 2011... Wir könnten dann schon unsere bevorzugte Toilettenpapier- und Kaffeemarke an Bord bringen lassen und unseren Aufenthalt im Oktober 2011 vorbereiten... Wäre doch viel praktischer, als wir wenn alles im Flugzeug nach Venedig mitnehmen müssten. Als Ernesto sagt, dass er vsl. im Oktober 2011 auch an Bord der NORWEGIAN JADE sein wird, ist unser Ärger über den heutigen Abend verflogen und die Freude auf ein baldiges Wiedersehen überwiegt. Bei den regulären Kellnern entschuldige ich mich und erkläre die Situation. Die Reaktion: "Sir! Das ist Ihr Urlaub. Ich laufe im Moment noch bis da hinten, um den Tisch an der Wand mitzubedienen, weil die wiederum einen Tisch in meinem Bereich angefragt haben und es nicht geklappt hat. Deswegen gibt es keinen Grund sich dafür zu entschuldigen. Für uns ist das hier vollkommen normal. Keinen Grund zur Sorge. Genießen Sie Ihren Abend!".
Kurz gucken wir noch in der Spinnaker Lounge vorbei, um mal zu gucken, was auf der White Hot Nights los ist... Anscheinend sind wir zu früh.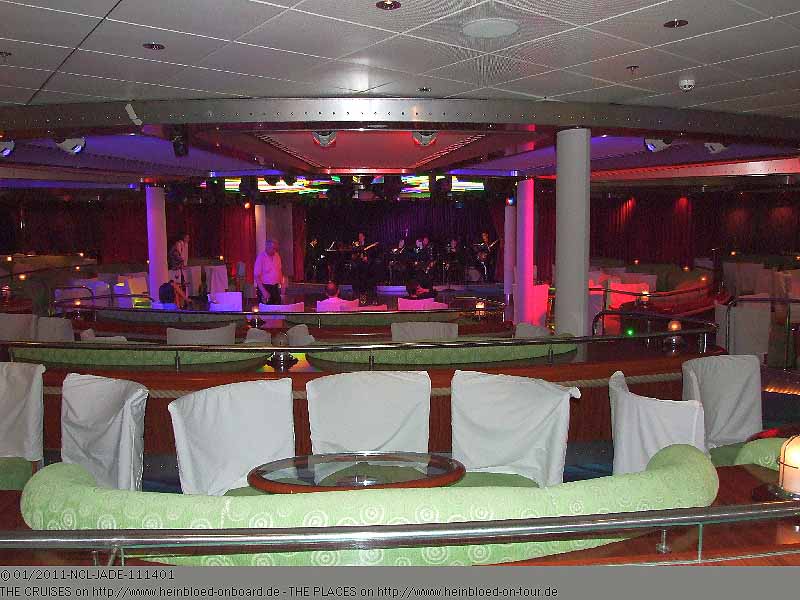 We sneaked in the Spiannaker Lounge to see what was going on the White Hot Nights... Obviously we were too early.

But we were too tired to wait what will happen now. One more day on sea. Time flied so quickly. Unbelievable.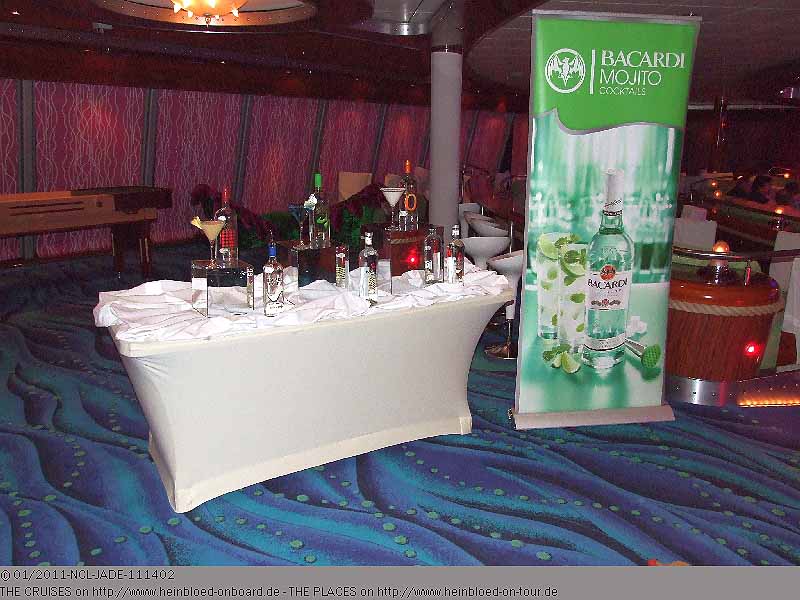 Aber wir sind zu müde, um den weiteren Verlauf abzuwarten. Nur noch ein Seetag. Die Zeit ist so schnell vergangen. Unglaublich.