Scroll down for English explanations - alternates with German explanations.

Wir sind so voll, dass wir auf weitere alte Steine u.ä. verzichten können. So bitten wir Johanna darum Bruno und mich an der Metro-Station in Piräus abzusetzen, damit wir versuchen können ein Internet-Cafe oder einen offenen Mobilfunk-Laden zu finden. Sie setzt Käthe und Karl-Heinz direkt im Hafen ab. Nach dem wir zunächst einen tollen Kaffee (zu jeder Tasse Kaffee gab es eine Flasche Wasser umsonst) genießen, bevor wieder an Bord müssen... stellen wir zunächst einmal fest, dass wir gar nicht in Piräus sind...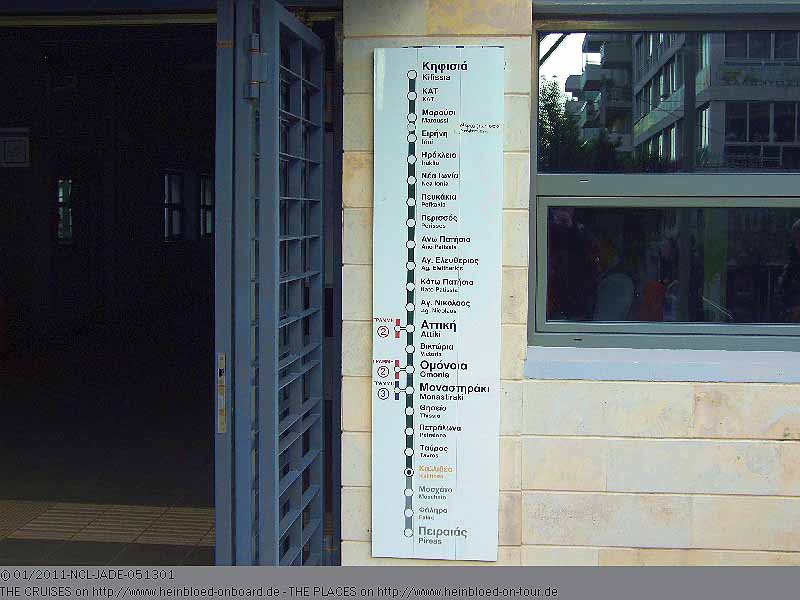 We were so stuffed that we did not want to see any old stones and things like this for the rest of the day. So we asked Johanna to deliver us at the Metro-station in Piraeus to find an internet-café or an open mobile phone shop. She gave Katie and Charlie a lift to the port. After we had a great cup of coffee (incl. one bottle water per coffee free-of-charge) before we need to return to the ship... we found out that we were not in Piraeus...

So we need to buy tickets. But the machine was not bilingual. 1 EUR (2011) per journey.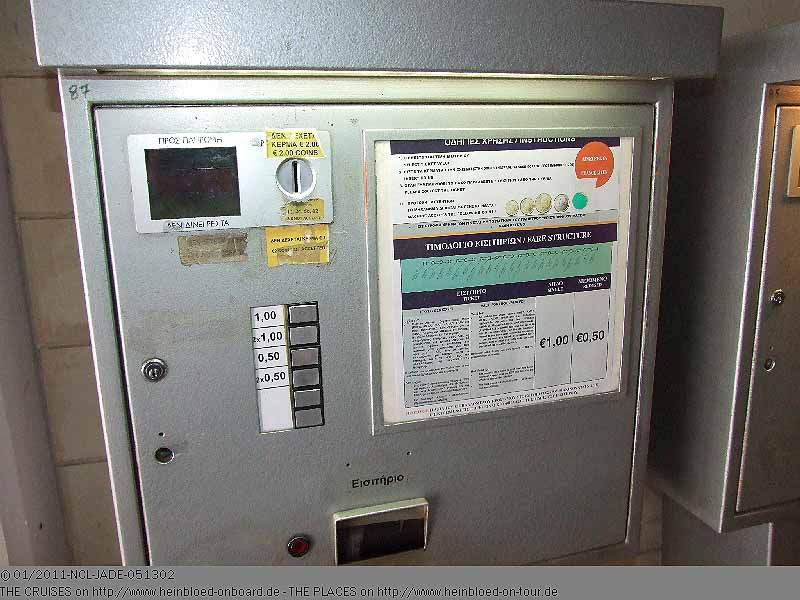 So müssen zunächst Tickets kaufen. Nur der Automat ist leider nicht zweisprachig beschriftet. 1 EUR (2011) pro Fahrt.
So kaufen wir die Tickets am Schalter.

So we had to buy our tickets at the counter.

But on the platforms everything was bilingual.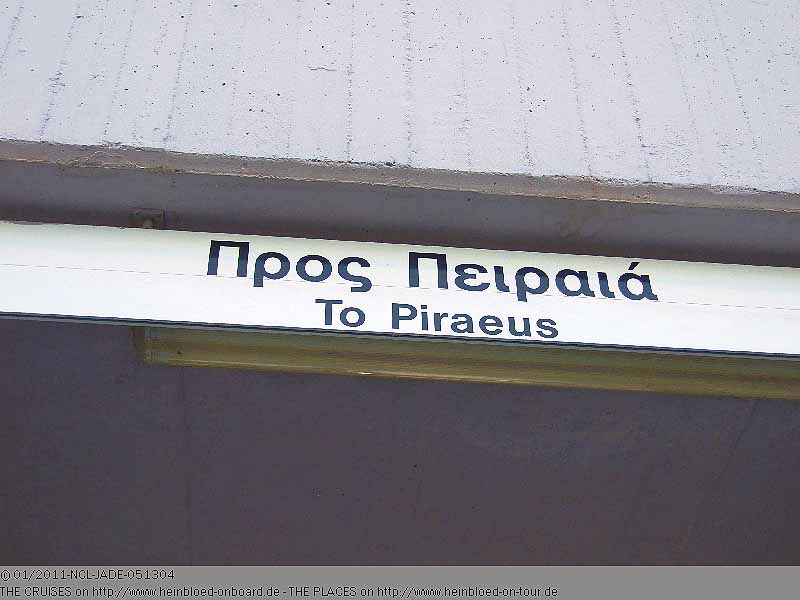 Am Bahnsteig ist zum Glück alles zweisprachig.
Nicht vergessen: Fahrkarten entwerten.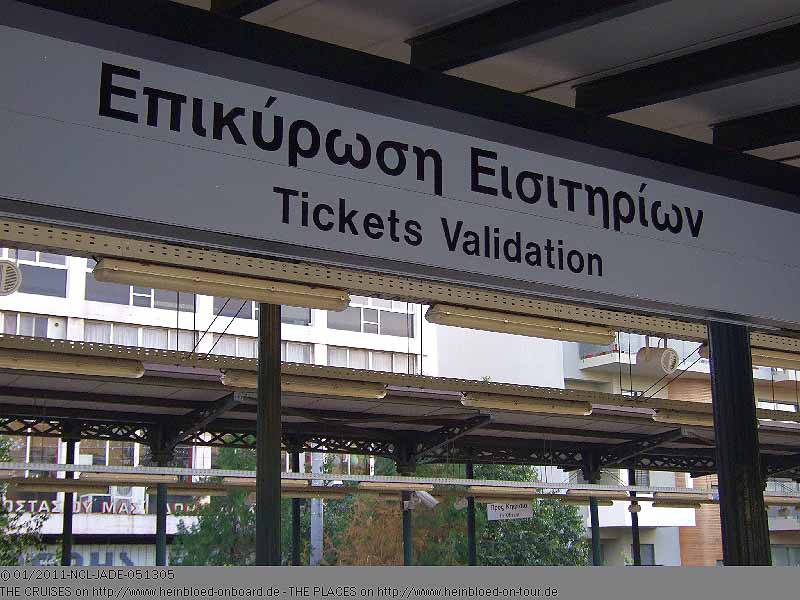 Do not forget to validate/cancel/stamp/punch your ticket.

At this box you just insert your ticket.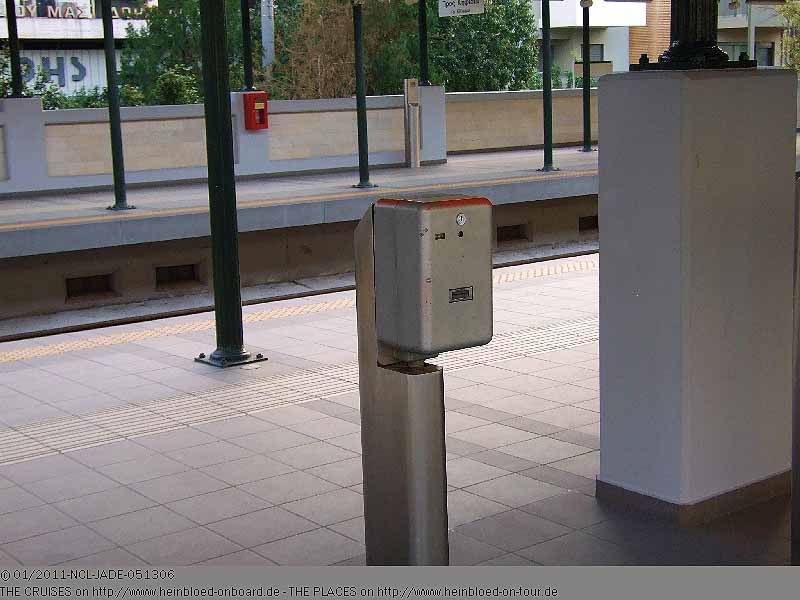 Einfach die Karten hier in die Box einstecken.
Wenn man in die Gegenrichtung will, also in die Stadt Richtung Kifissia fahren. Allerdings bestand an dem Tag, in dem wir fuhren ein Schienenersatzverkehr. Die Bahn endete an der Station Monastiraki.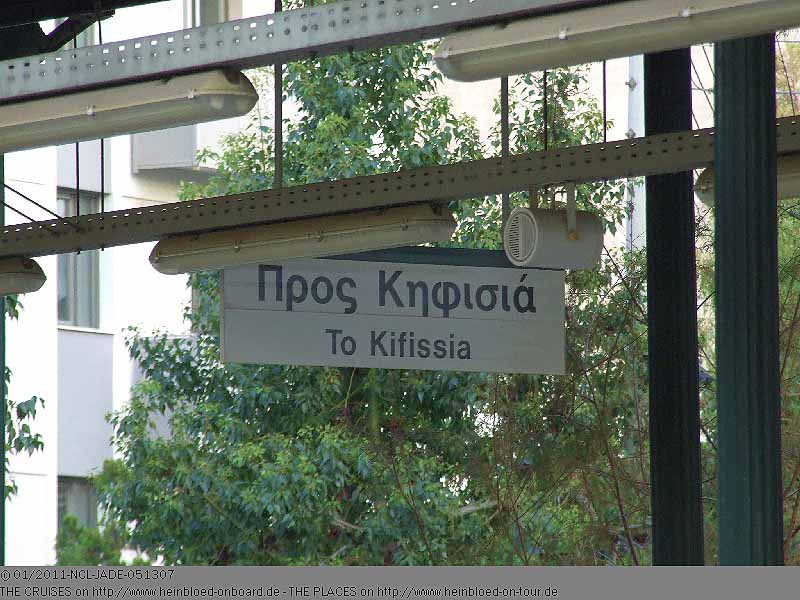 If you need to go towards the city you need to use the Kifissia-bound trains. But on the day we went there was a bus replacement service. The trains all terminated at Monastiraki.

The train arrived. Made in Germany... Eastern Germany....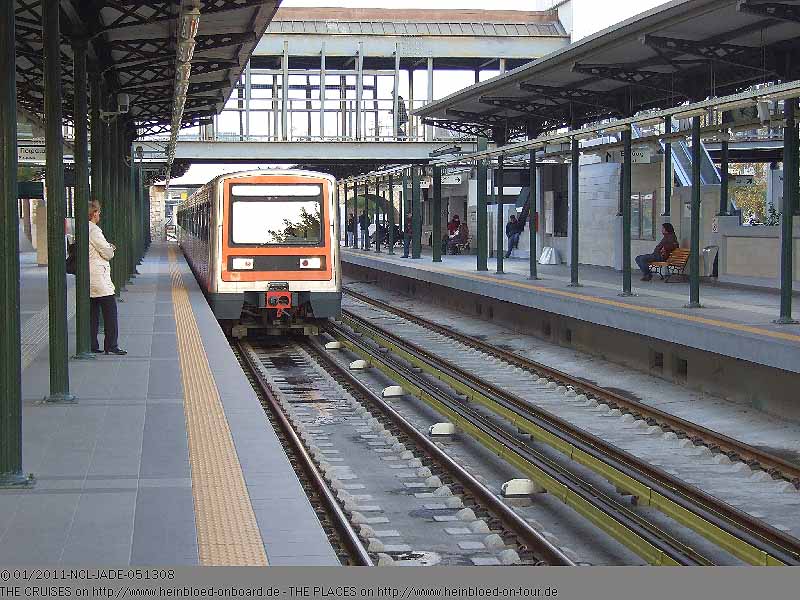 Da kommt sie schon. Made in Germany... East-Germany...
Innen ist alles zweisprachig.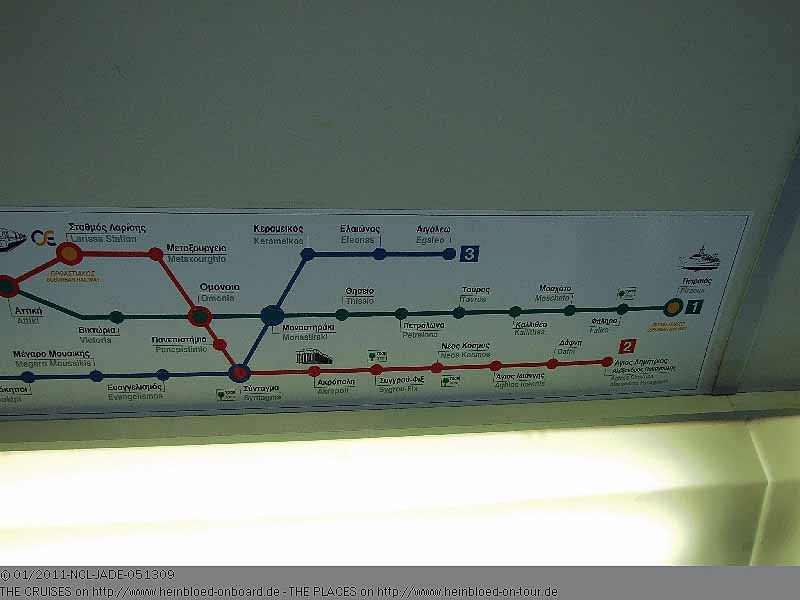 Inside everything was bilingual.

Does not look like NORWEGIAN JADE. So is Piraeus then the correct terminal???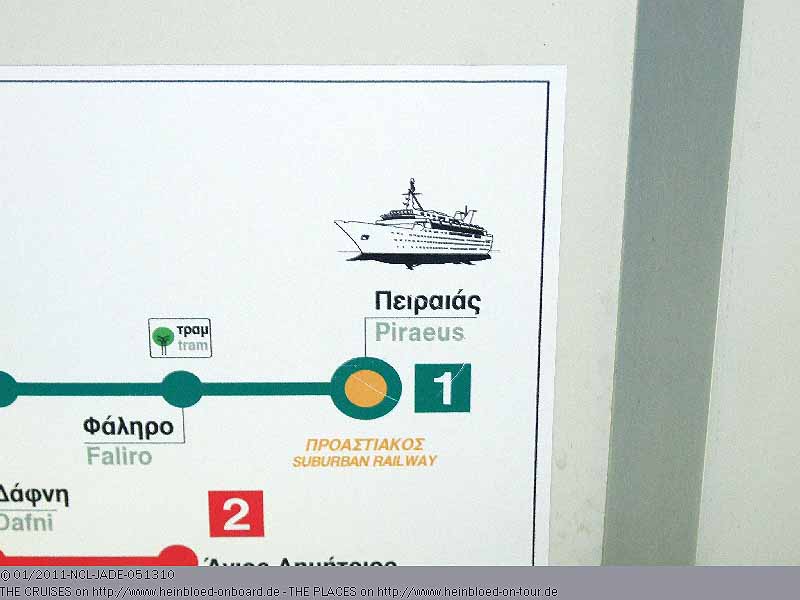 Das sieht nicht nach NORWEGIAN JADE aus, ob dann Piräus unsere richtige Endstation ist???
OESA ist die Gesellschaft, die den Verkehr im Großraum Athen organisiert. Metro-Attika betreibt nur die Metro-Linien 2 (zur Akropolis) und 3 (zum Flughafen). Metro-Linie 1 wird von ISAP betrieben. Links unten ist das Logo in griechischen Buchstaben.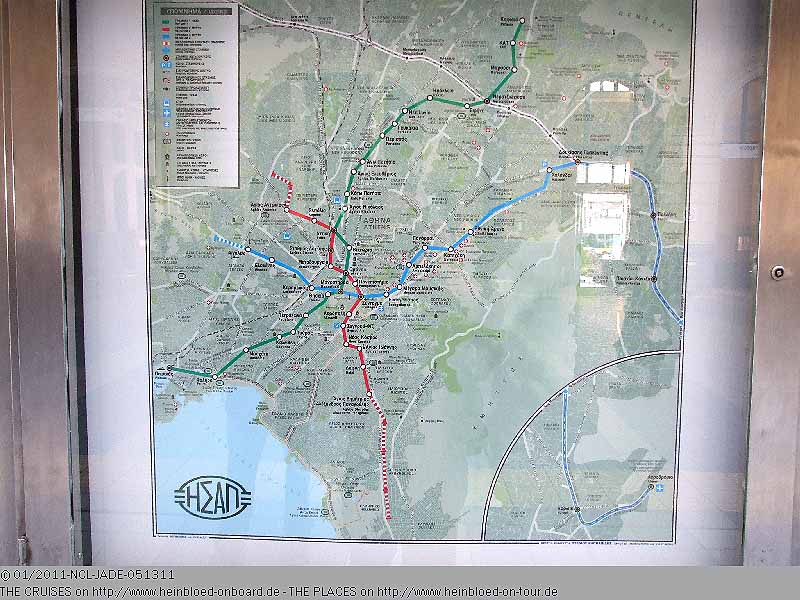 OESA is the company which organised the traffic in Athens suburbs. Metro-Attika runs only Metro-Lines 2 (to Acropolis) and Line 3 (to the airport). Metro-Line 1 is run by ISAP. Left to the bottom you their logo in Greek letters.

Before ISAP was intergrated into the metro-network it was the commuter train between Piraeus and Athens. So it looked more like a classical train station.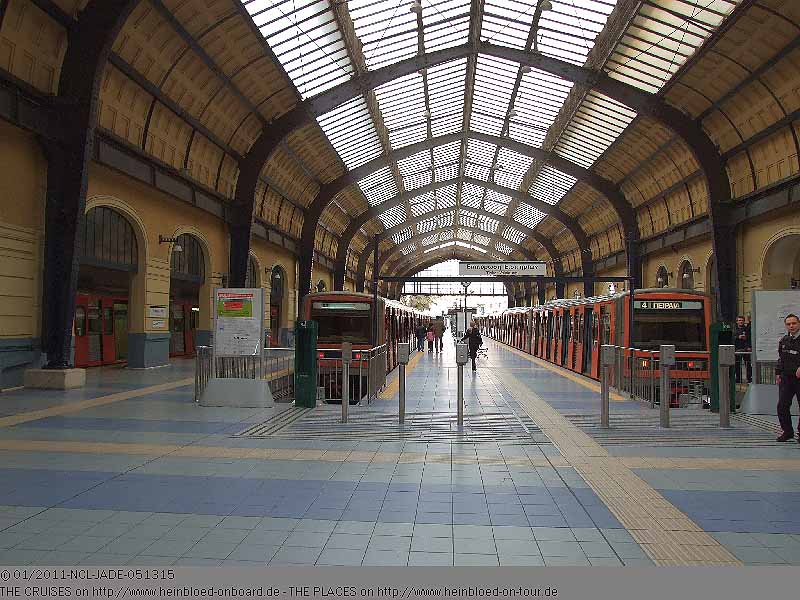 Vor der Integration der ISAP in das Metro-Netz war es eben der Vorortzug zwischen Piräus und Athen. Daher wirkt alles eher wie ein klassischer Bahnhof.
Wenn man zurück zum Hafen will: nicht die Nummern merken (Nummer des Umlaufs), sondern sich diese griechische Buchstaben einprägen: PEIRAIA = Piräus.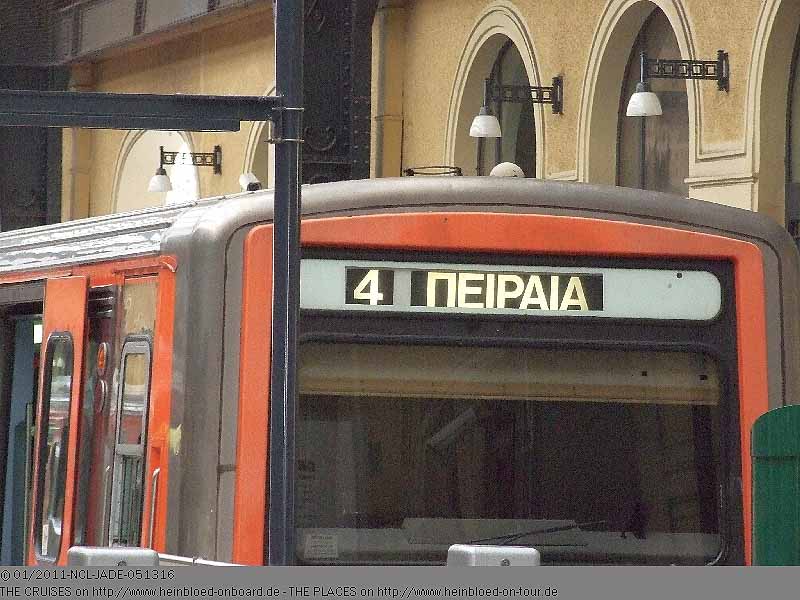 If you need to return to the port: do not follow the number (Number of the circulation) but the greek letters which you should learn: PEIRAIA = Piräus.

Lockers.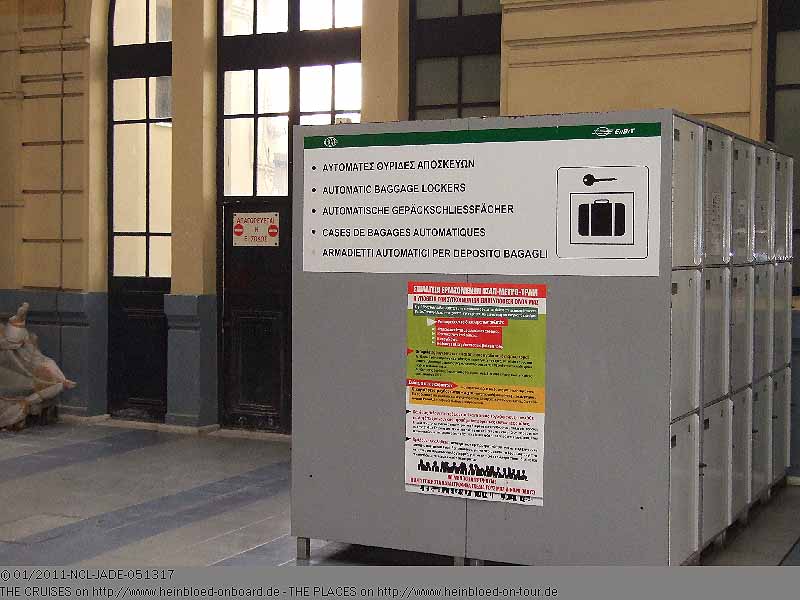 Gepäckschließfächer.
Ausgang zum Hafen.

Exit to the port.

You get directly out at the bus stop (right on the picture). Opposite it is already the port.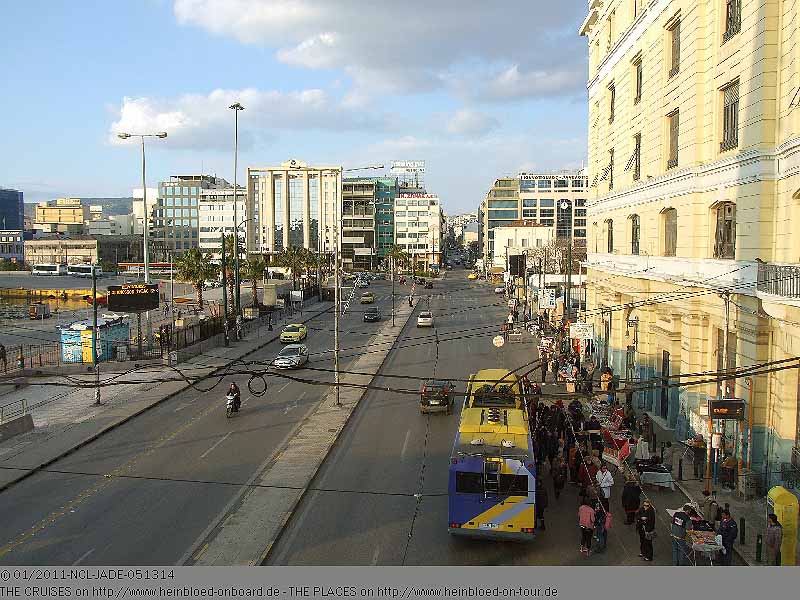 Man kommt direkt dort direkt an der Bushaltstelle heraus (rechts auf dem Bild), gegenüber wäre schon der Hafen.
Wenn man dann aber mal zur anderen Bahnhofsseite rüberguckt, praktisch um die Ecke...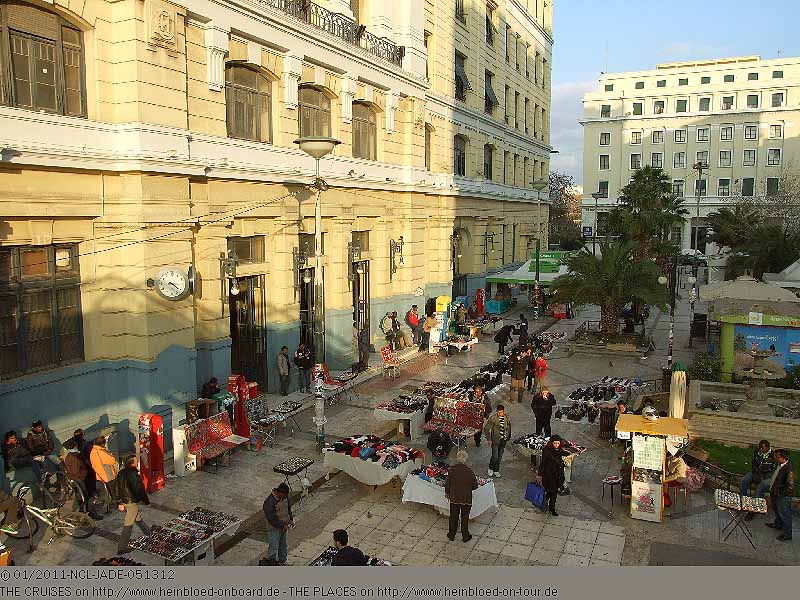 But if you look around the corner to the other side of the train station...

you find may street dealers. I described already the way back to the ship before.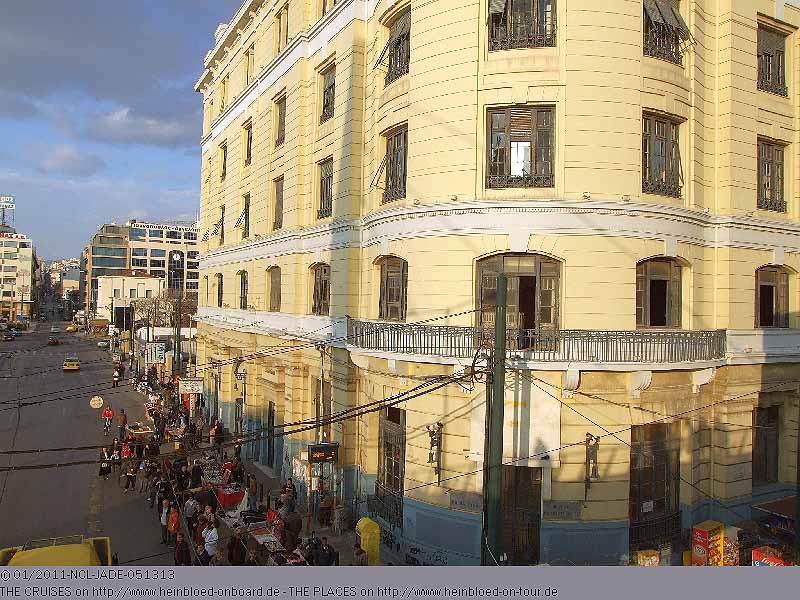 findet man jede Menge Straßenhändler. Den Weg dann zum Schiff zurück habe ich bereits vorher beschrieben.