Scroll down for English explanations - alternates with German explanations.

Nun so schön, wie die Crew-Show war, so sehr hat es mich geärgert, dass sie es nur einmal gab. An so einem Seetag, könnte eine zumindest ja auch schon nachmittags stattfinden, wie damals auf der
NORWEGIAN DREAM 2008
. Speziell, wenn man ja unbedingt möchte, dass man bis 22.00 Uhr die Koffer fertig gepackt hat.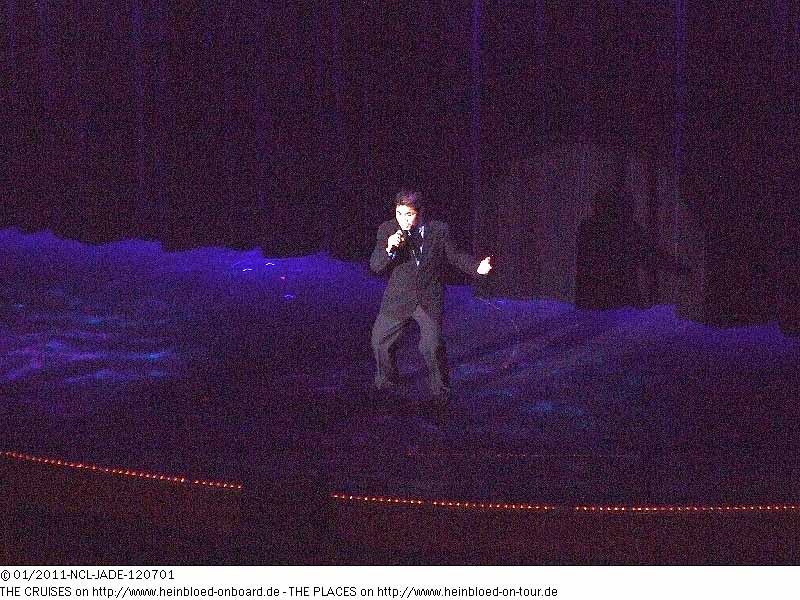 As nice as the crew show was, I was somehow angry that they had only one performance. On a day on sea you can have also one show in the afternoon like we had on NORWEGIAN DREAM 2008. Especially if you want your guests finishing their packging by 22.00 hrs.

As the compilation of the crew is different from ship to ship it is worth to see the show everytime. But as only one show was running it was jam-packed.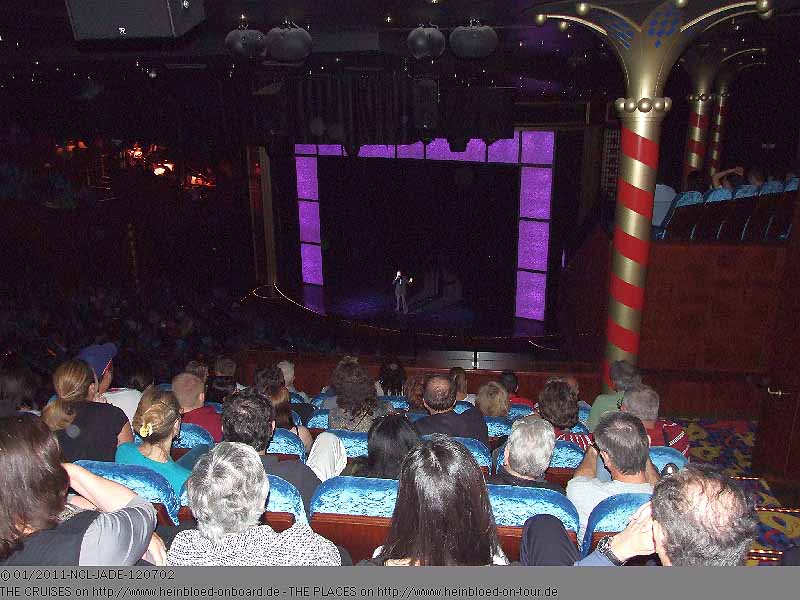 Da die Crew sich ja immer wieder unterschiedlich zusammensetzt, lohnt es sich auch jedes Mal sie sich wieder anzusehen. Nur dadurch, dass nur eine Show lief, war es viel zu voll.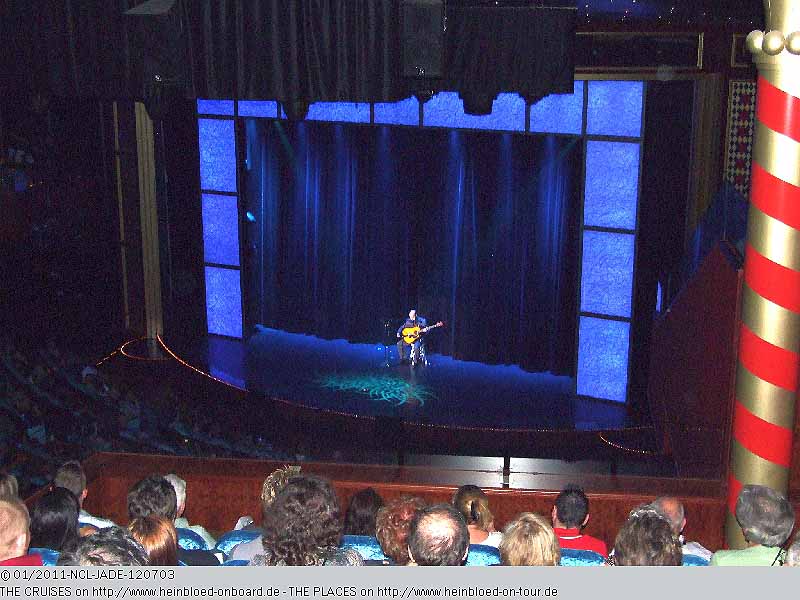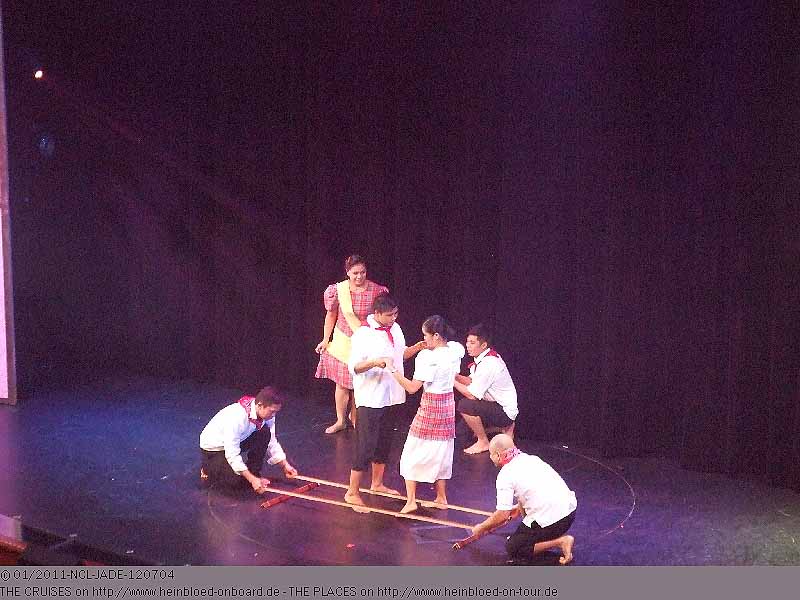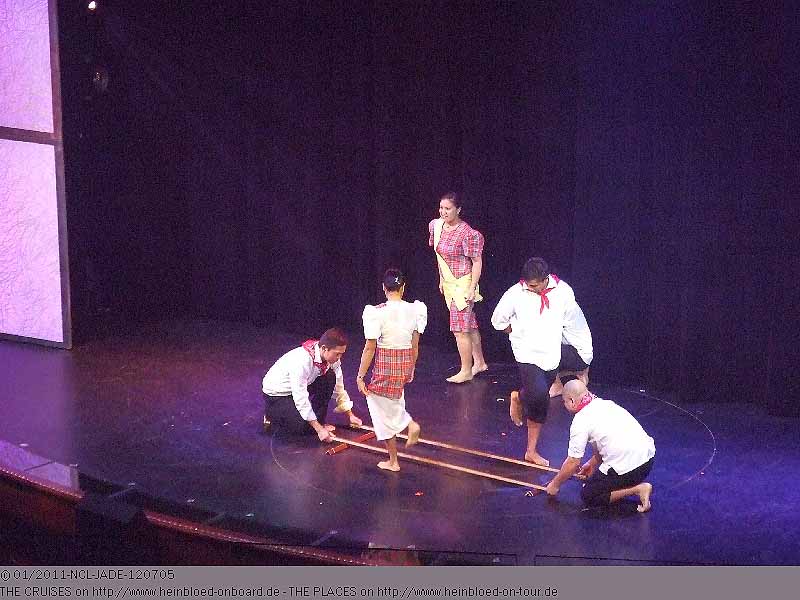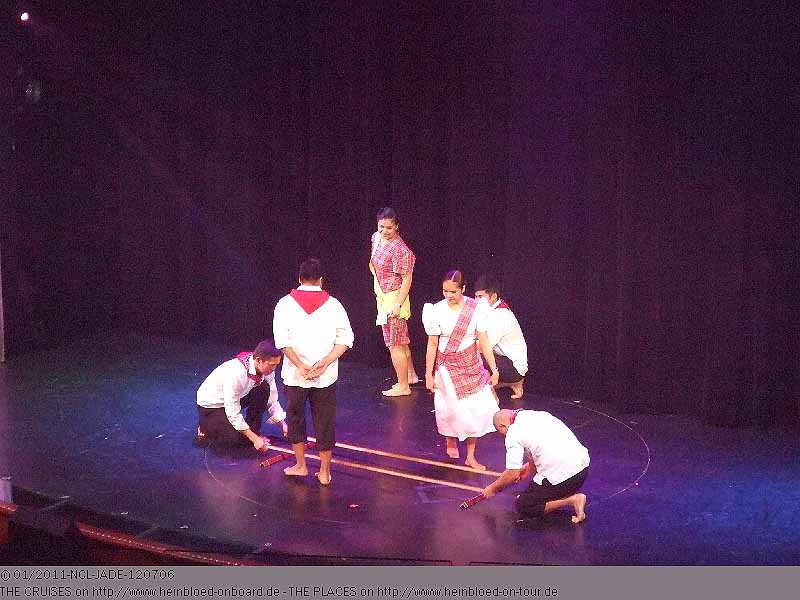 Für diesen Tanz wurde dann auch jemand vom Publikum auf die Bühne geholt...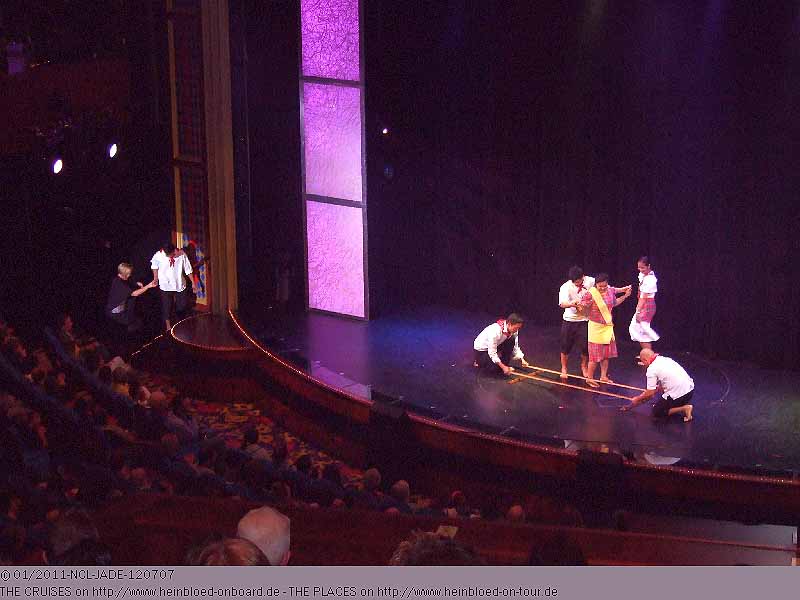 For this dance they took someone from the audience too...

But they had a version you had to reason to sue NCL because of bodily harm... But this you could only see from above...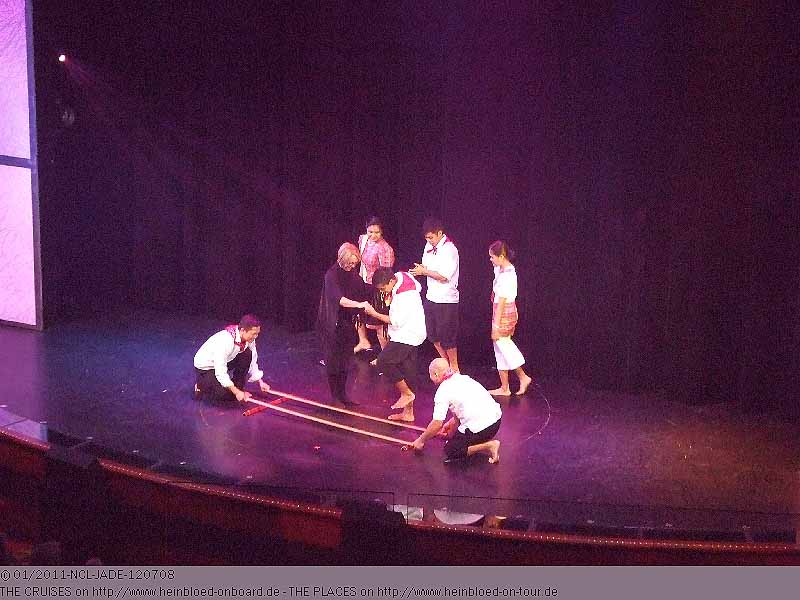 Aber dann gab es eine Fassung, bei der es keinen Grund gab, NCL wegen Körperverletzung zu verklagen... Das sah man aber nur von oben...
Und als es "Country Road" von John Denver gab...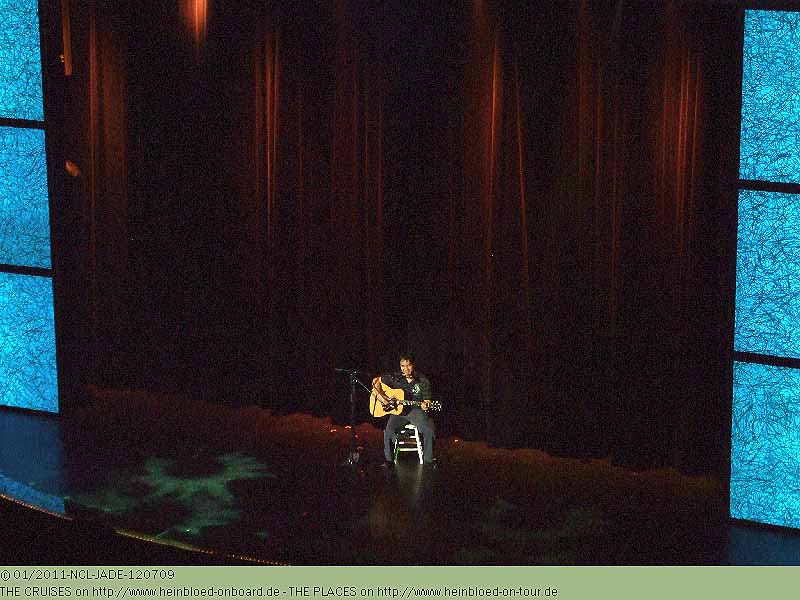 And when we had "Country Road" from John Denver...

everybody was clapping their hands and sang together.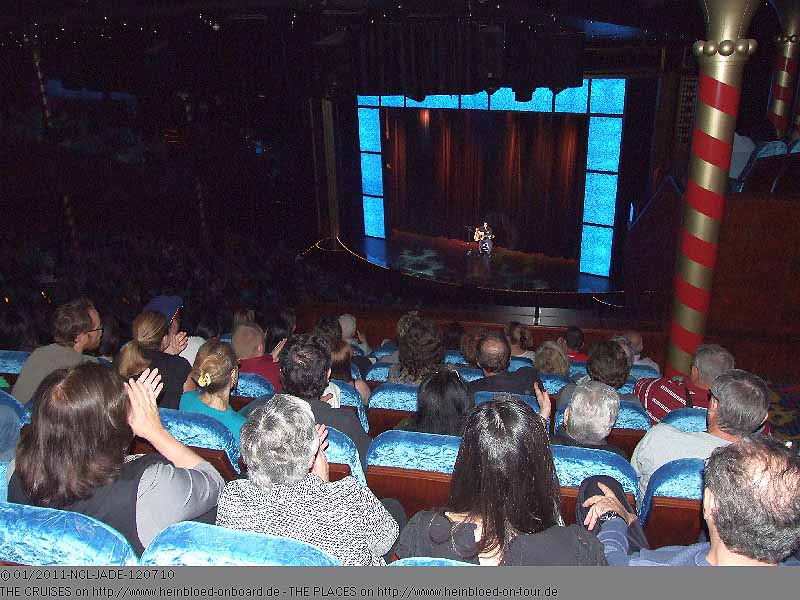 haben alle im Takt mitgeklatscht und mitgesungen.
Beim Auftritt von Messiah Ritzinger beschränke ich mich mal auf das Bild: wäre sonst schade, für diejenigen, die noch mitfahren...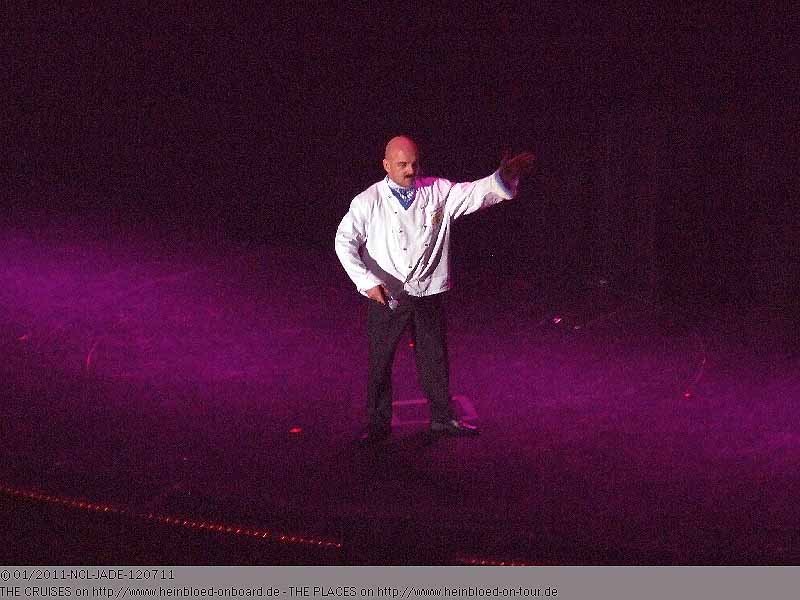 I would like to limit myself regarding the performance of Messiah Ritzinger: it would be bad for those who are still going...

"Fountains" - the performance I most hated but all other could laugh out loud.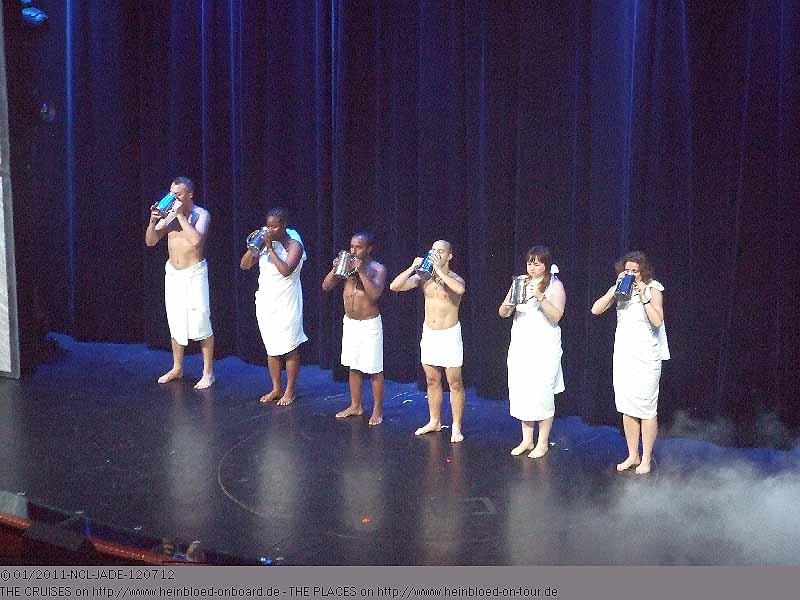 "Fountains" - der Beitrag, den ich am meisten hasse und über den alle andere lachen können.
Nicht mehr zu lachen war mir allerdings, als dann in das Publikum das Wasser am Schluss ausgespuckt wurde... kannte ich bislang von keiner anderen Show... und wir haben GI-Alarm an Bord... ist ja letzter Abend... Was hinterher an Land ist, ist ja egal... Also besser nicht in die ersten Reihen... Die sind nämlich irgendwann aufgesprungen und nach hinten gelaufen.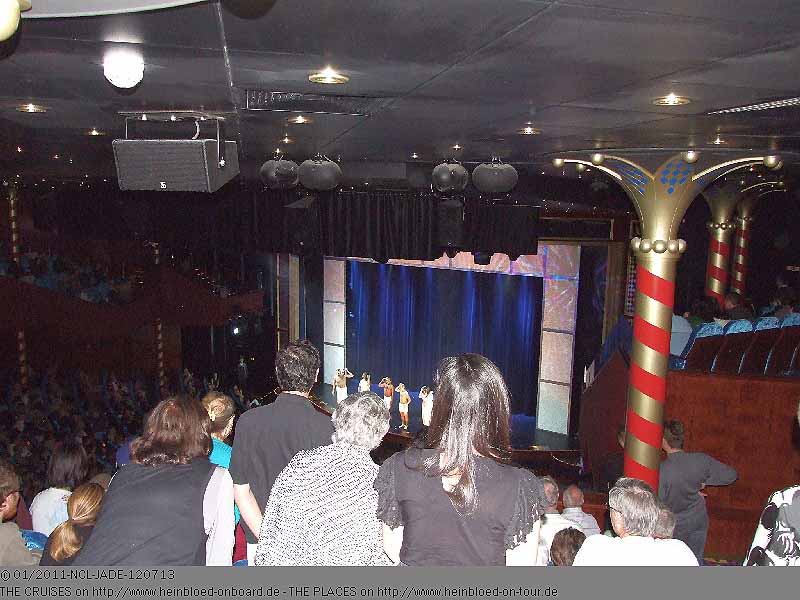 I could not laugh anymore when they spit the water into the audience at the end of their performance... I never had this in other shows... and we had GI-alert on board... but it was last night... what might be later ashore: who cares... So better do not sit in the first rows... They jumped from their seats and ran away.

Finally: "Home from your Home"... the moment I loved to see but made me always sad as the cruise was at the end.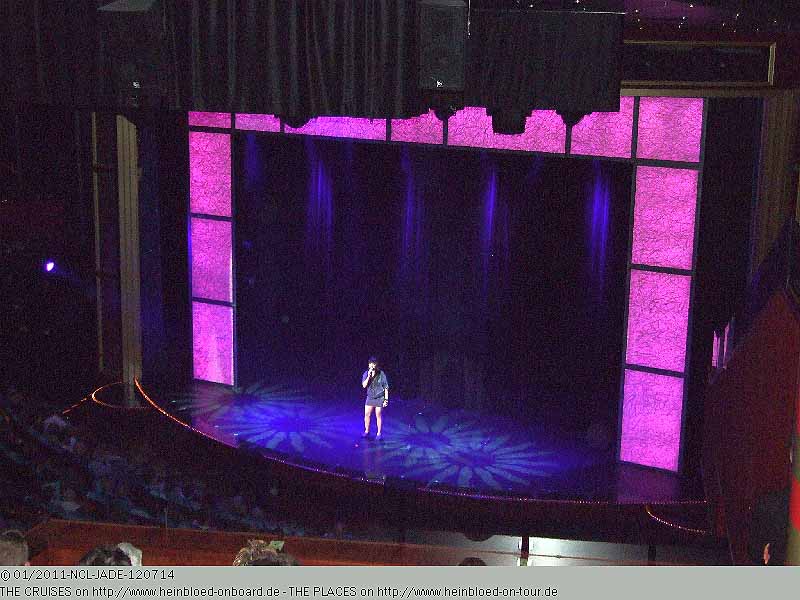 Dann endlich: "Home from your Home" (zu Hause vom eigenen Heim)... der Moment, den ich gerne sehe, aber leider der mich auch immer traurig stimmt, weil die Kreuzfahrt zu Ende ist.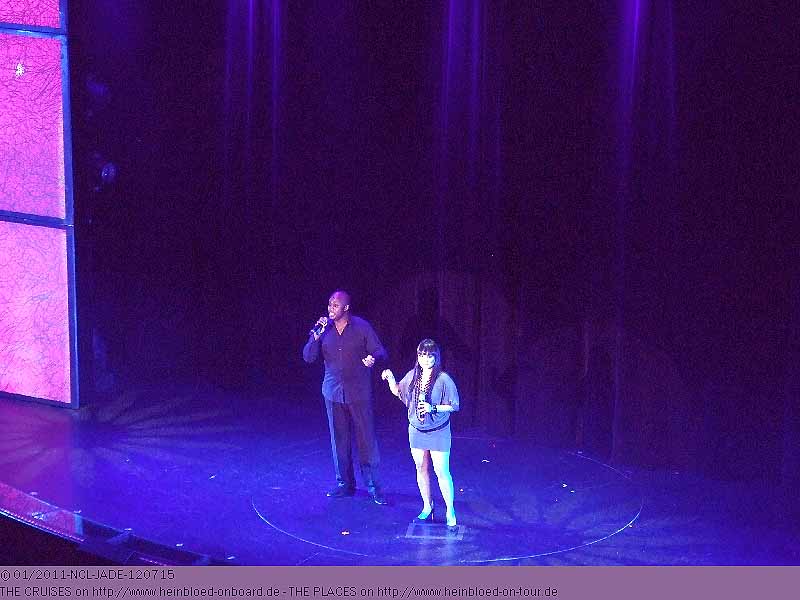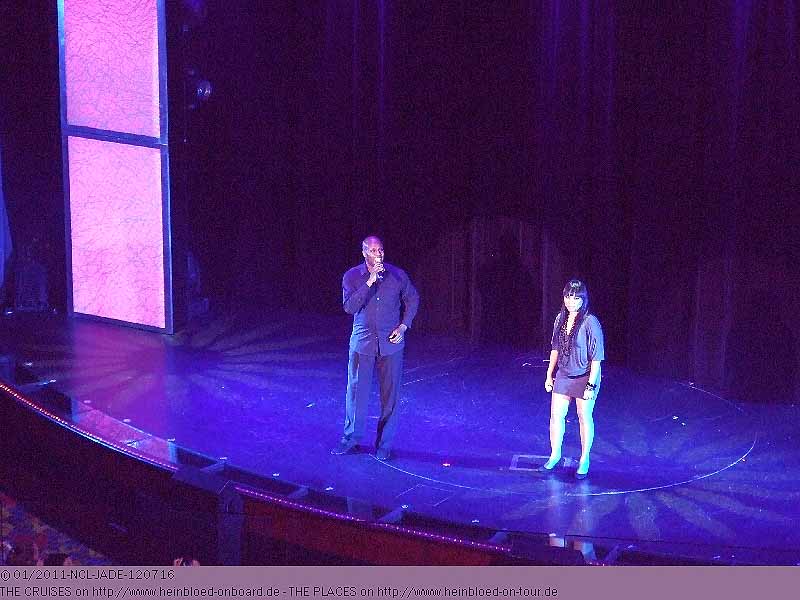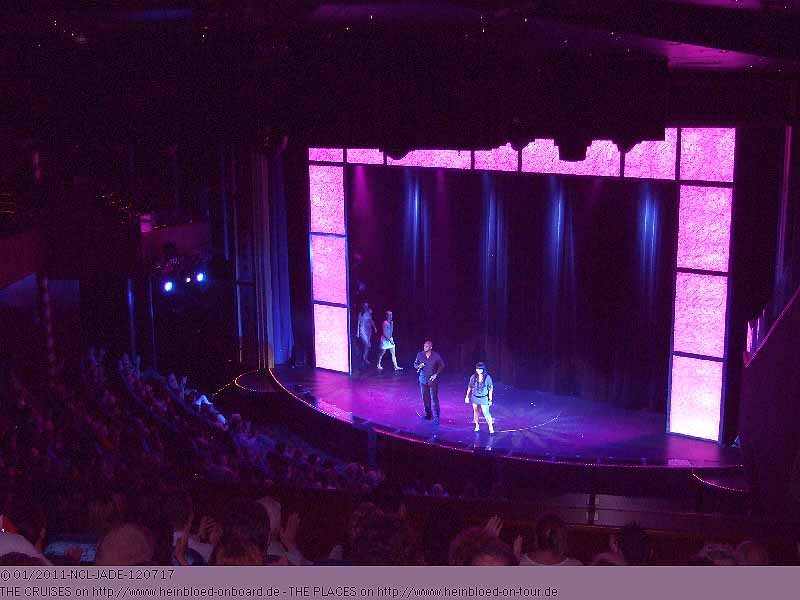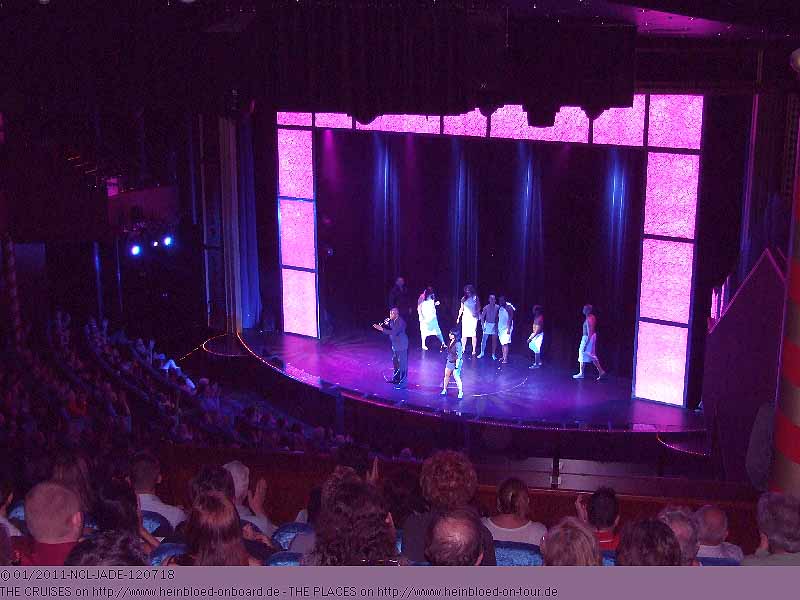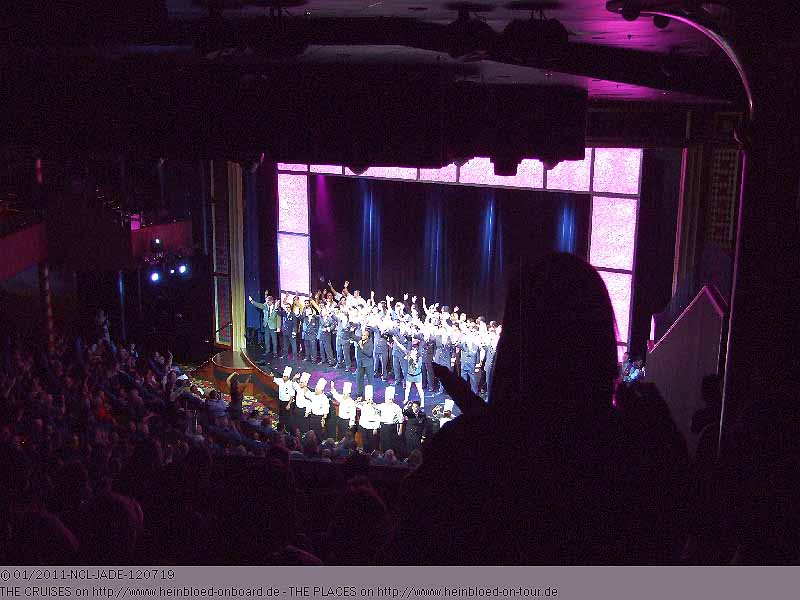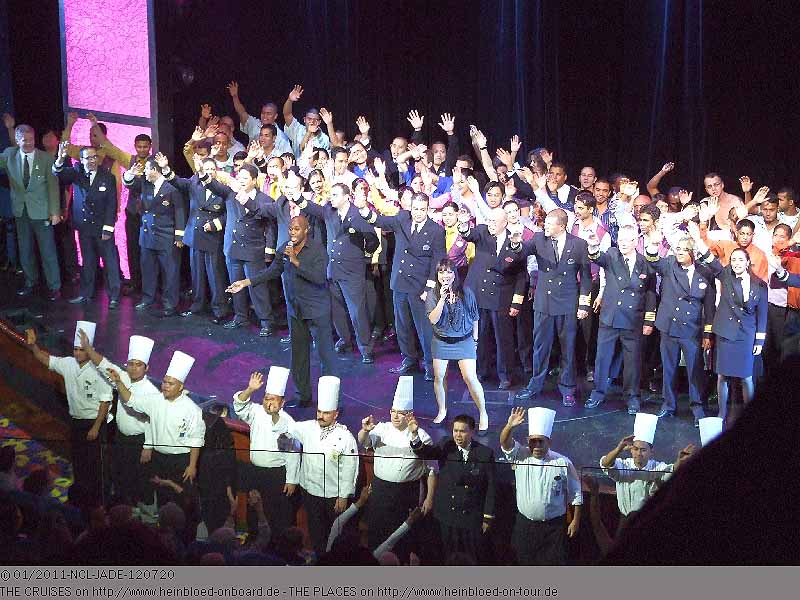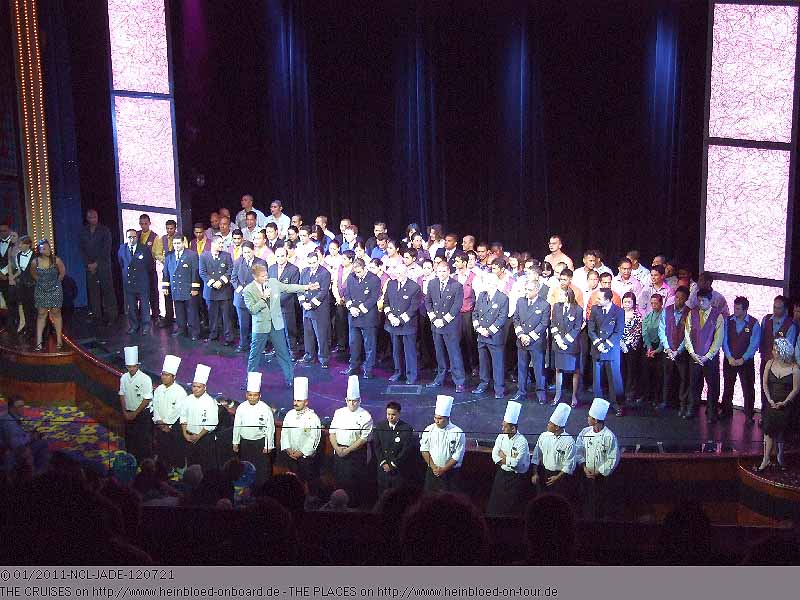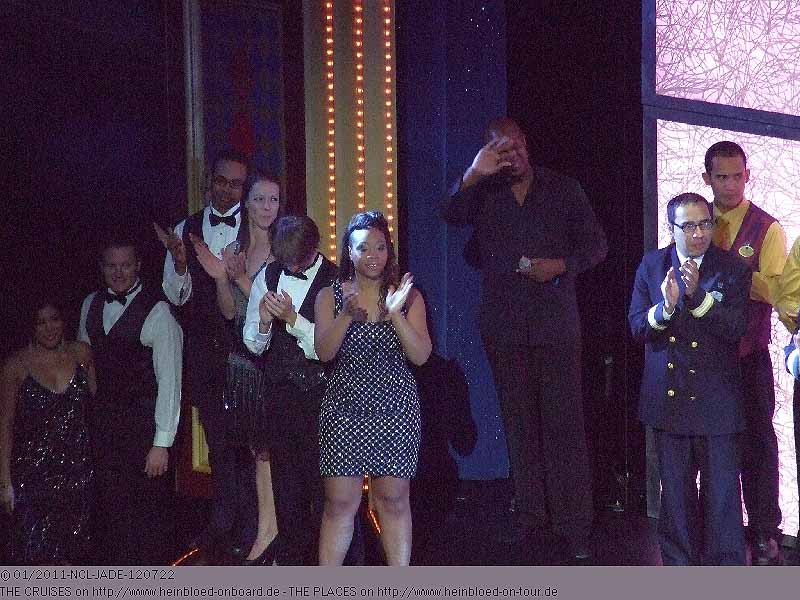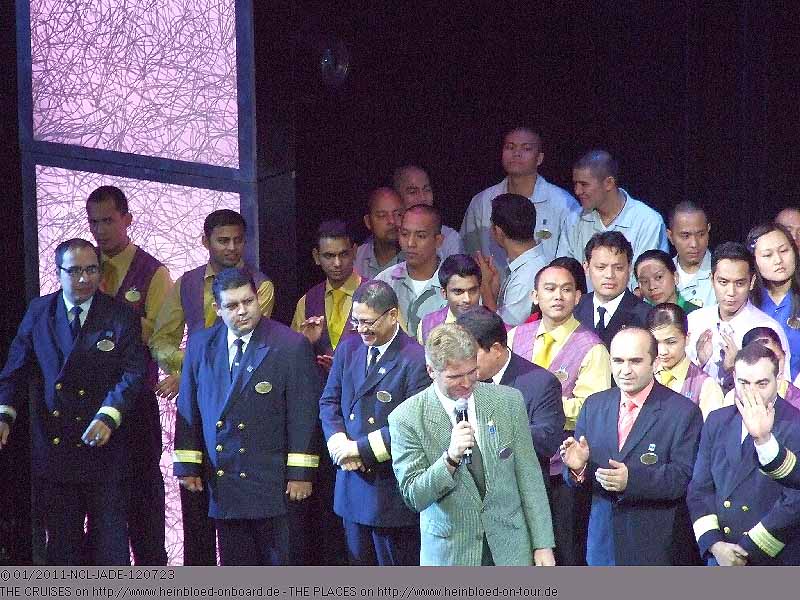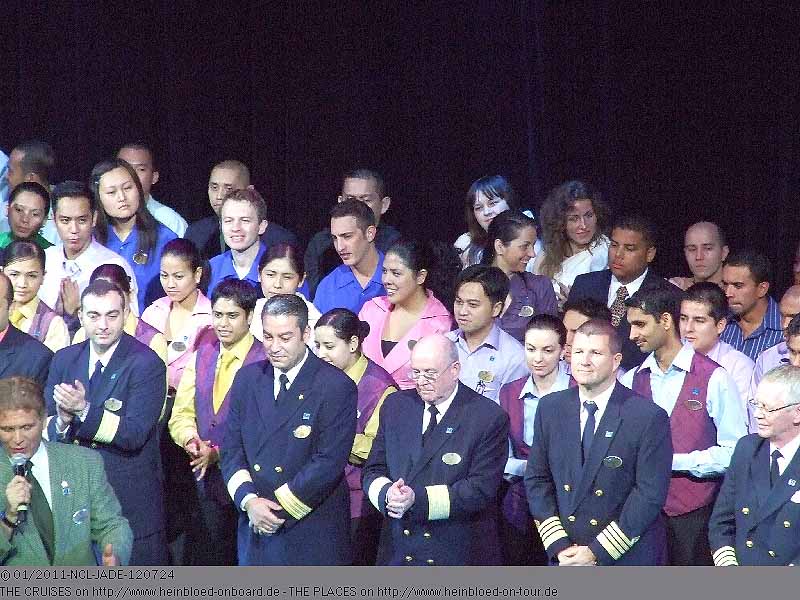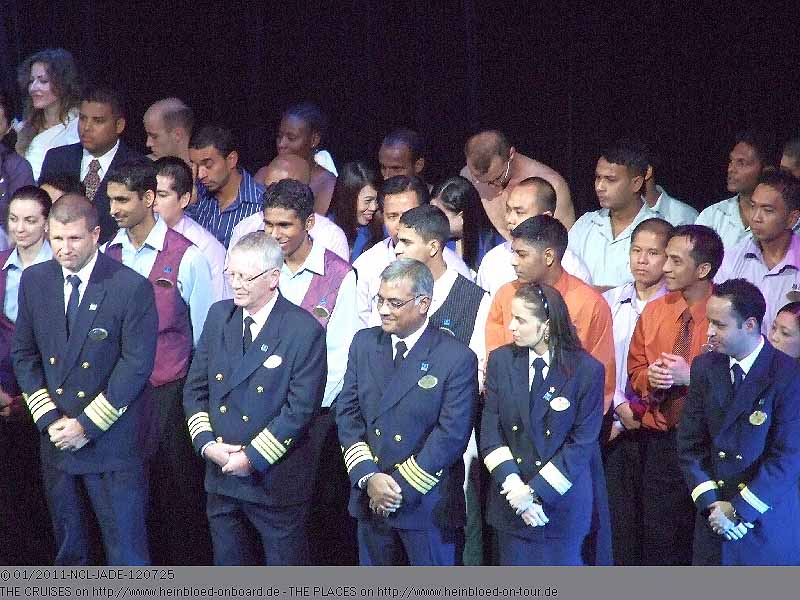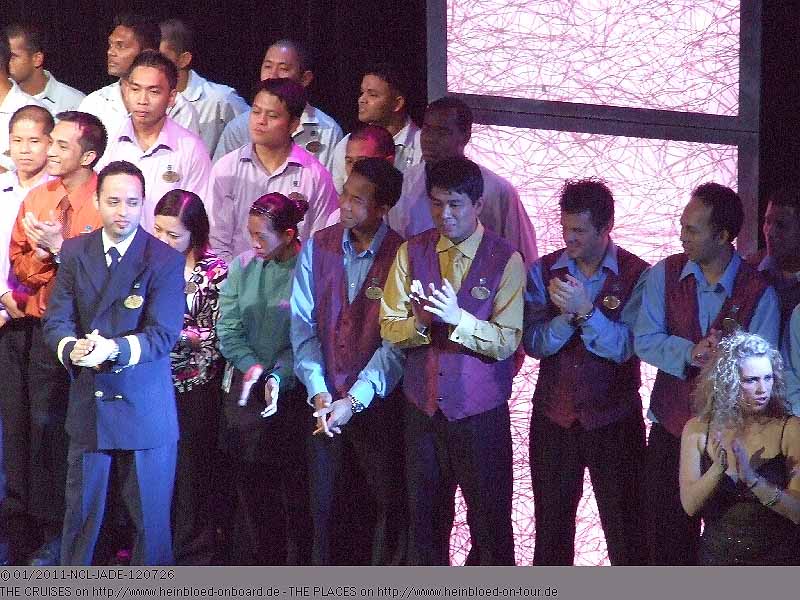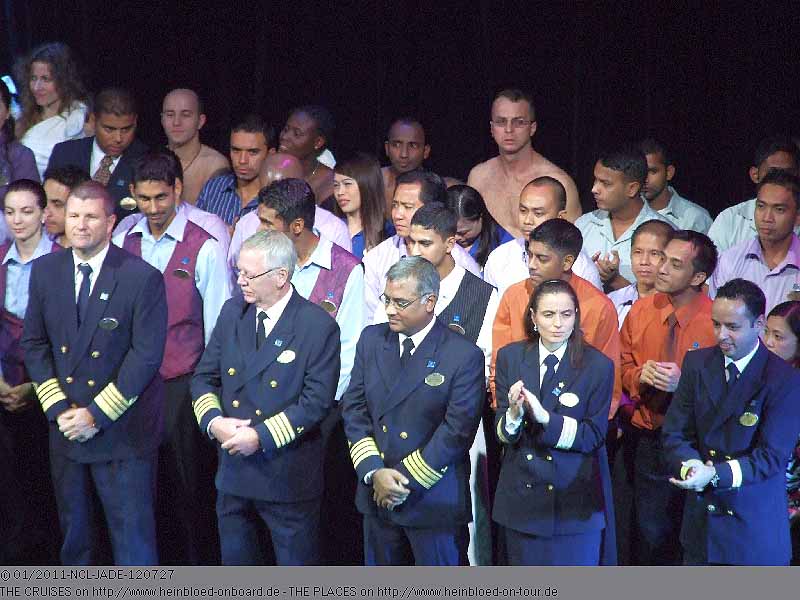 Few last words from Gary. In total there was not too much to criticize... just that there was one show today, "Fountains" and there was no fixed time and place for our Friends of Dorothy meetings. But anyhow I need to say that it was one of the very best performances which I had on all my cruises.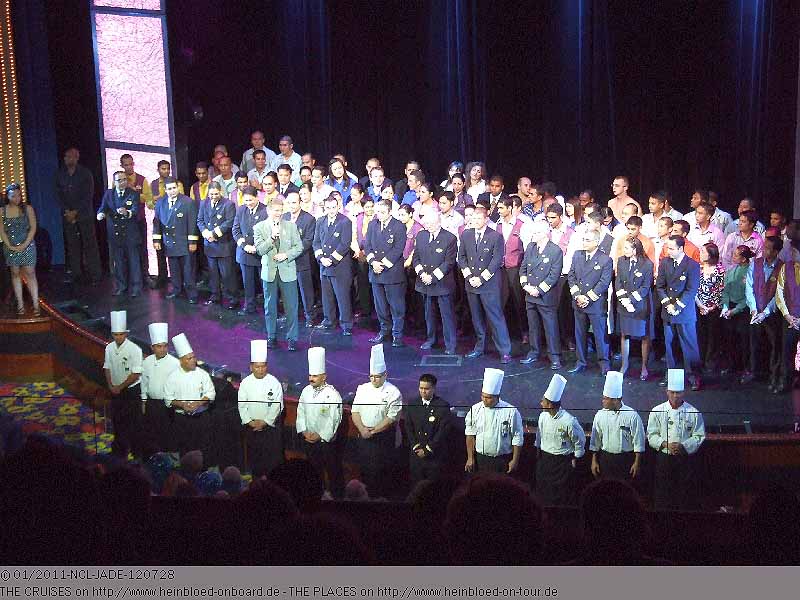 Noch ein paar letzte Worte von Gary. Insgesamt wenig zu kritisieren... wirklich bloß, dass die Show heute nur einmal lief, "Fountains" und dass es für unser Friends of Dorothy-Treffen keinen festen Ort und keinen festen Zeitpunkt gab. Sonst war es bestimmt eine der besten Leistungen, die ich auf all meinen Kreuzfahrten kennengelernt habe.
Und am Schluss nochmals ein paar Worte von Kapitän Kim Karlsson. Wir hatten ja wirklich Glück mit dem Wetter und die Stimmung an Bord sehr gut... Er fragt daher an, ob jemand von uns Interesse hätte, noch ein paar Tage auf Mallorca gemeinsam zu verbringen... und meint am Schluss: "Mal sehen, wo wir morgen früh sind...". Die Reaktion des Publikums lässt sich ja sicherlich ausmalen.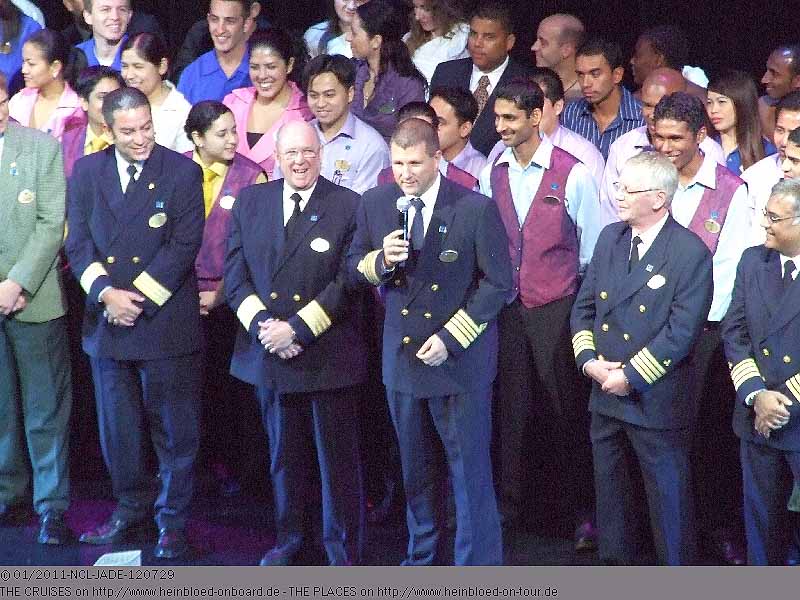 And finally few words from Captain Kim Karlsson. We were really lucky with the weather so the mood on board was very good... So he asked if some of us might be interested to stay a few days on Majorca together... and said finally: "Let's see where we are tomorrow morning...". You can picture the reaction of the audience.

I must admit: when I saw him the very first day in the bar in Barcelona I never expected that all on board will have so much fun with him. But I only saw his neck and this reminded somehow to the movie "A few good Men" (Jack Nicholson, Tom Cruise (fits perfectly...), Demi Moore). The movie acted with the milieu of US-Marines also called Leathernecks. (Now I am sure that I am never allowed to see the bridge again...) Therefore I am really looking forward to be his guest again in October 2011. My vote would be Capri or Ischia for the stay before we reach Civitavecchia...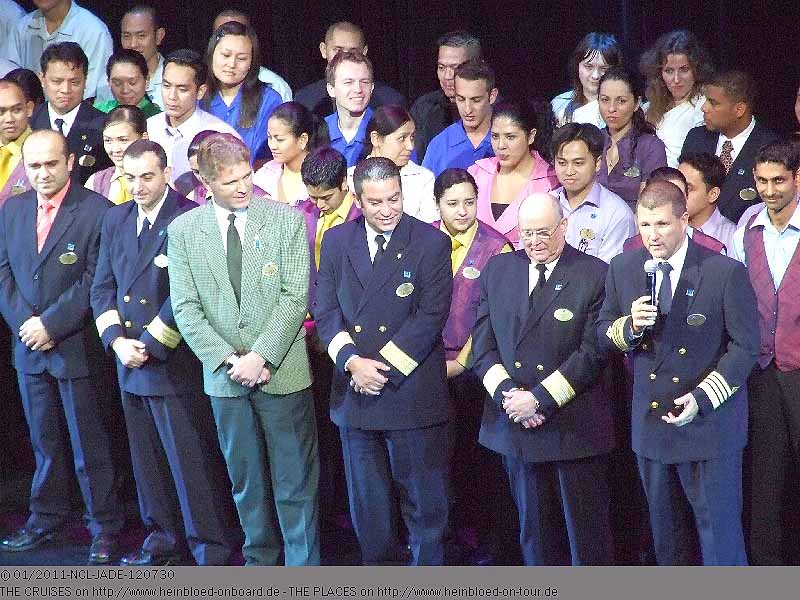 Ich muss gestehen: als ich ihn das erste Mal in der Bar in Barcelona sah, hätte ich nicht gedacht, dass wir so viel Spaß mit ihm haben würden. Aber ich hatte ja nur seinen Nacken gesehen und das ganze erinnerte mich an "Eine Frage der Ehre" (Jack Nicholson, Tom Cruise (passt ja richtig...), Demi Moore). Der Film spielt ja im Milieu der US-Marines, die auch Ledernacken genannt werden... (Jetzt darf ich bestimmt nie wieder auf die Brücke...). Daher freue ich mich wirklich wieder sein Gast im Oktober 2011 zu sein. Meine Stimme ginge an Capri oder Ischia um noch ein Paar Tage vor der Ankunft in Civitavecchia zu verbringen...
Am Schluss folgt noch der "Superstar" der Cruise...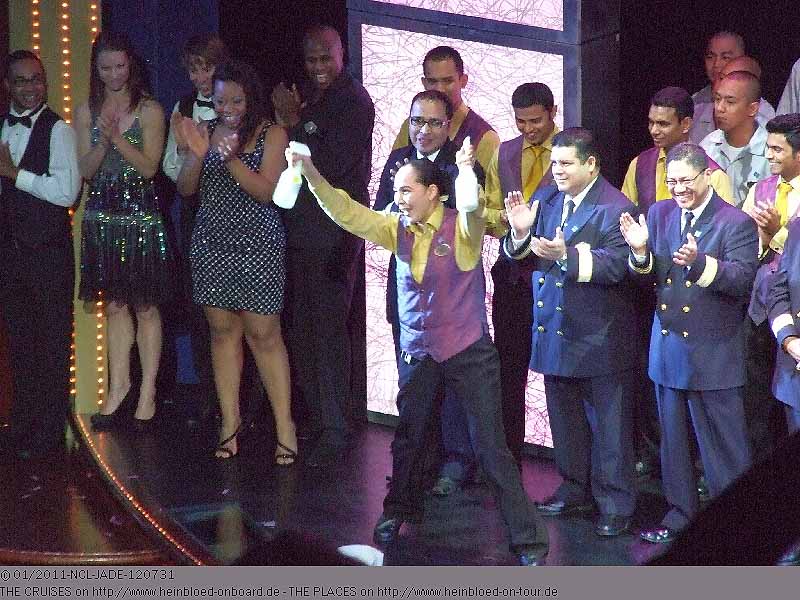 Last not least we had the "Superstar" of the cruise...

"Washi Washi"... remember the Garden Café a couple of days before...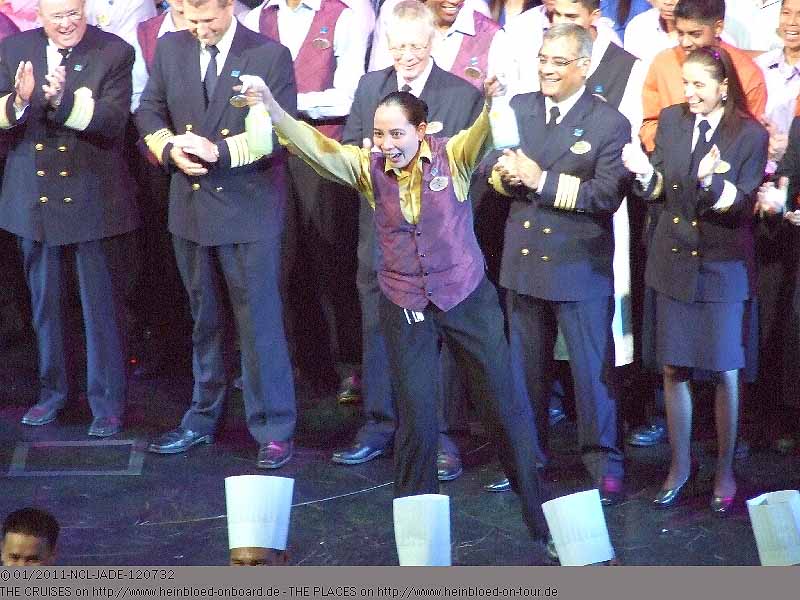 "Waschi Waschi"... man erinnere sich an das Garden Café vor wenigen Tagen...
Als wir rausgehen, sehen wir in der Medusa Lounge noch txsaxplayer (Richard aus cruisecritic.com). Da wir aber noch packen müssen, können wir leider nicht bleiben, um ihn nochmals zu hören. Schade. Bruno hatte ja erzählt, die toll die Performance ein paar Tage zuvor im Atrium war und dass sogar die Rezeptionisten hinter der Theke mitgeswingt haben...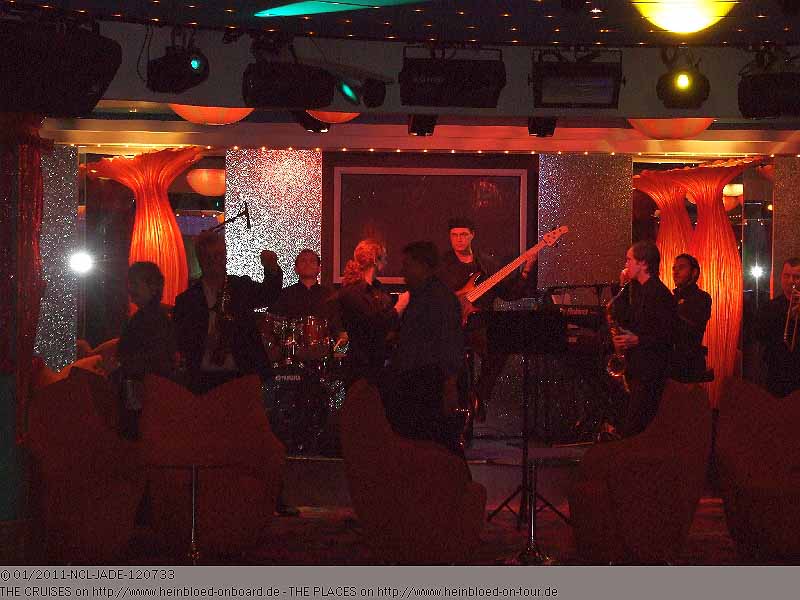 When we left we saw txsaxplayer (Richard from cruisecritic.com) again in the Medusa Loughe. As we had to pack we could not stay to hear him playing again. Bruno told how great the performance was few days ago in the atrium and even the receptionists were swinging behind their desk...