Scroll down for English explanations - alternates with German explanations.

Wir sehen uns wieder mal auf dem Schiff um, aber wir waren ja schon mehrfach auf dem Schiff.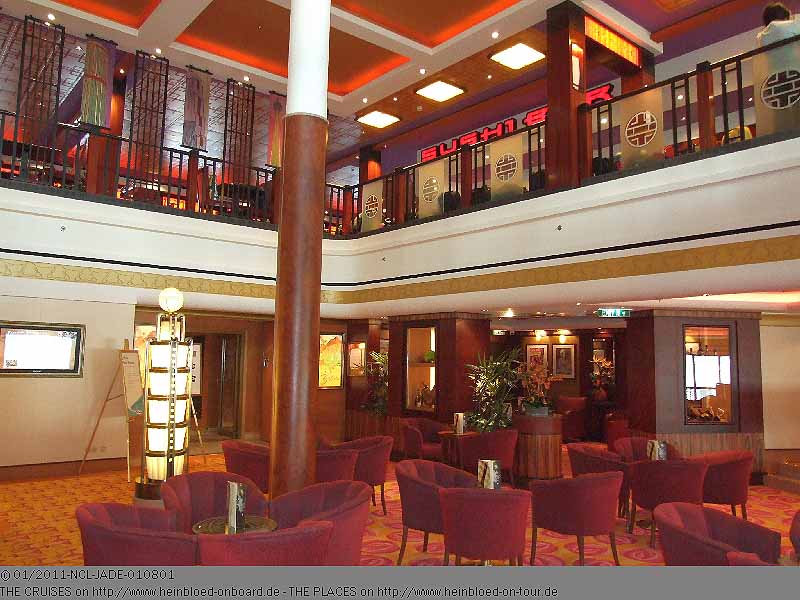 We looked around on the ship but we were here already before.

Somehow the cigar bar was gone... no wonder that the Captain smoked in café of the cruise terminal... He is allowed to smoke his cigars on his own ship...

Irgendwie ist die Zigarrenbar abgebaut worden... kein Wunder, dass der Captain im Café im Terminal geraucht hat... Er darf ja nicht mal mehr auf seinem eigenen Schiff seine Zigarillo rauchen...
Wieder wie in meinem Blog: Fotos, damit sich die Leute eine Vorstellung machen können, was sie erwartet...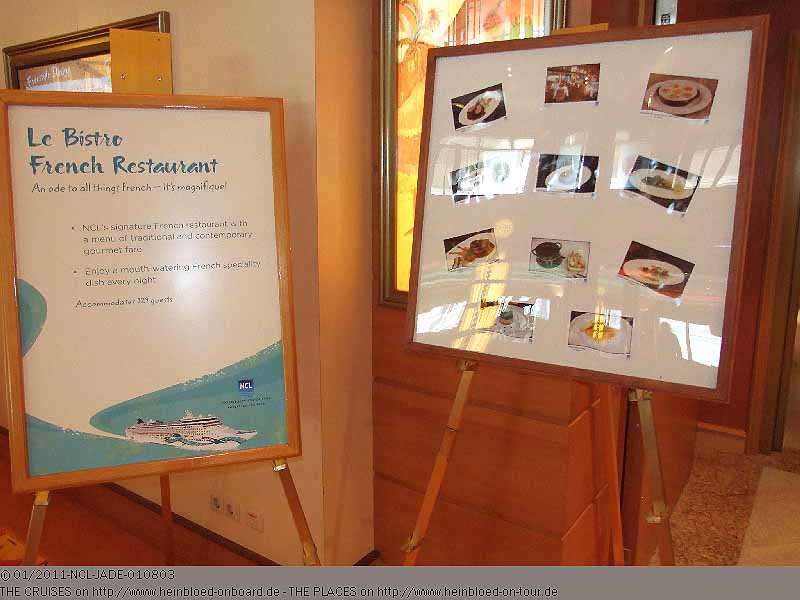 Like in my blog: pictures that guests make a picture what they can expect...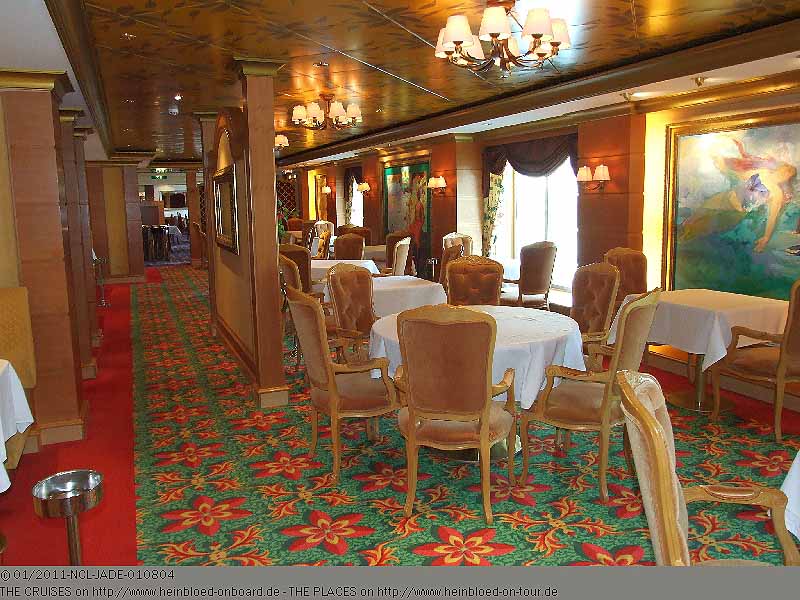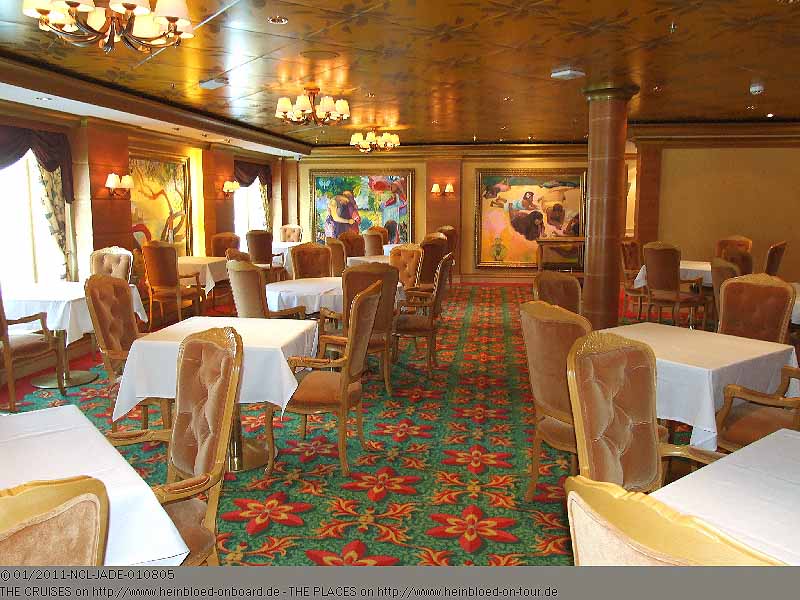 This time we will also book a table in Jasmine Garden.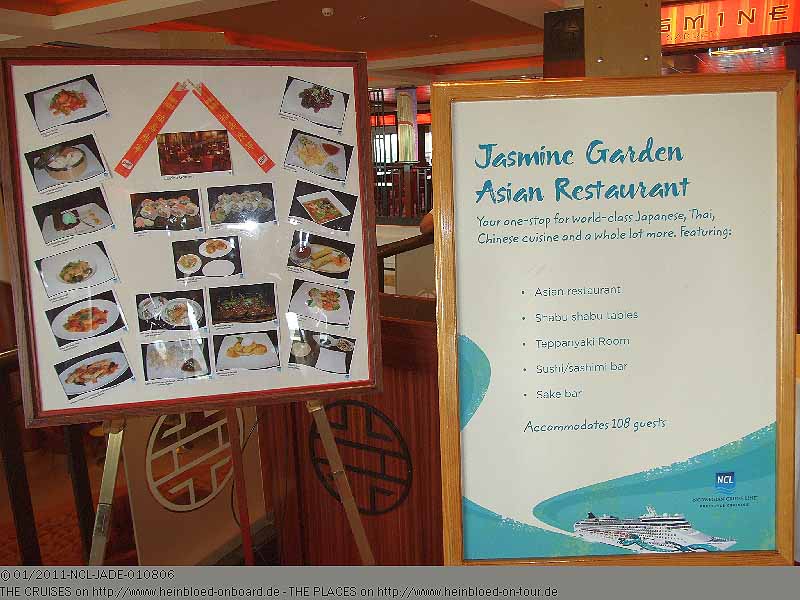 Dieses Mal nehmen wir uns auch vor, den Jasmine Garden zu besuchen.
Im Moment ist hier allerdings die Gepäckaufbewahrung für diejenigen, die nochmals in die Stadt gefahren sind, oder an Bord ohne Gepäck rumlaufen wollen, bis dass die Kabinen freigegeben sind.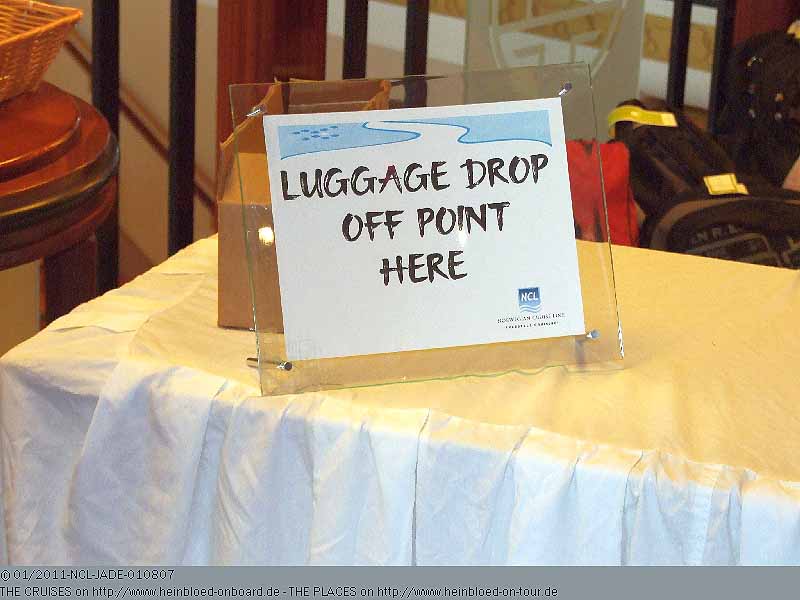 But at the moment it was the baggage storage for those who went again to the town and browse on board without baggage until the cabins will be released.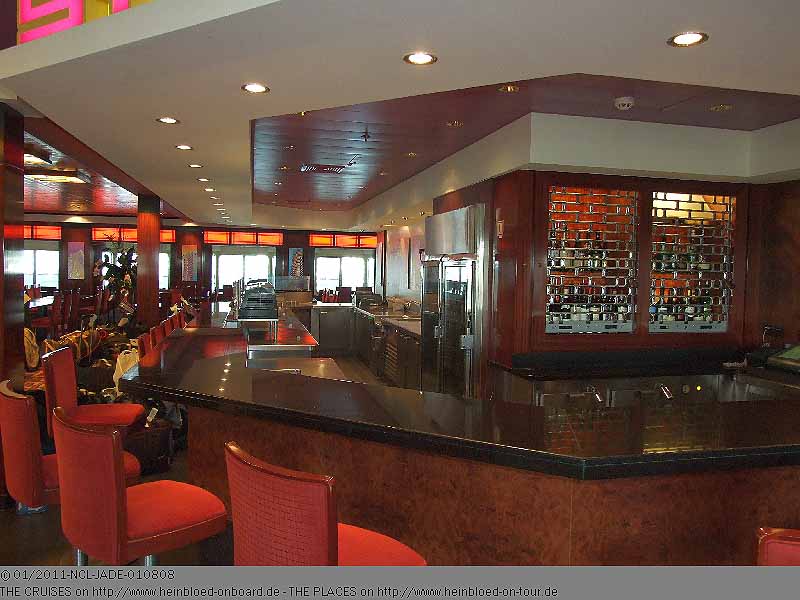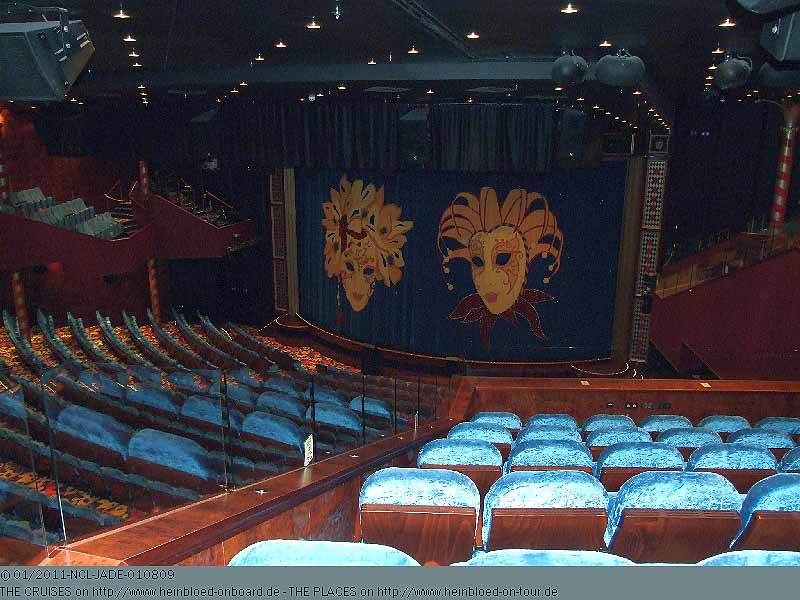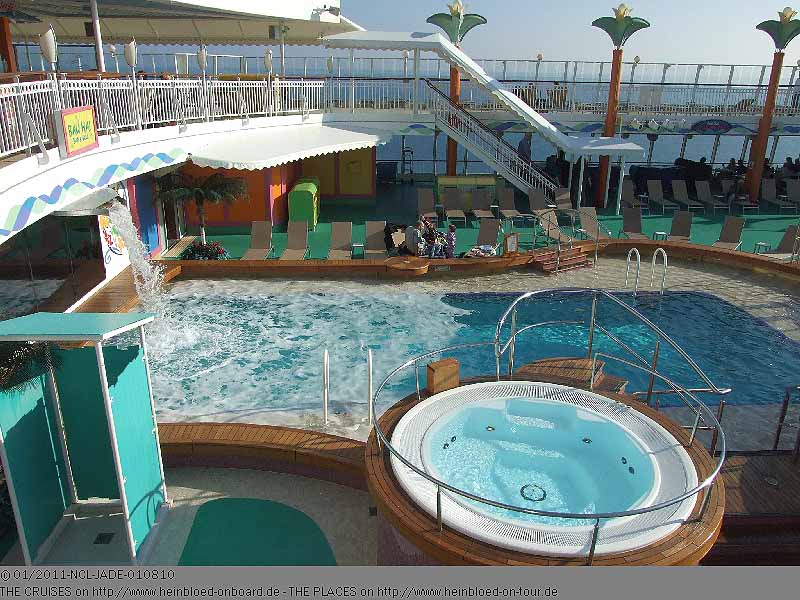 For our voyage there were spa-passes on sale for 150 USD for the entire voyage. But only limited to 40 pieces. If none of them are all sold you can also get day passes for 20 USD. But also guests with booked treatments have access. Bruno said that it would make sense to buy due to the outdoor temperatures.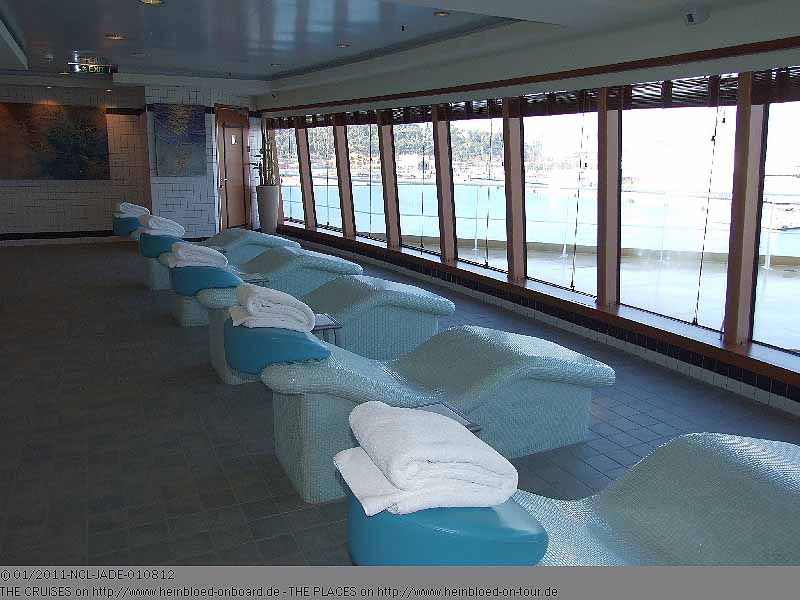 Für unsere Reise werden für 150 USD Spa-Pässe für die gesamte Reise verkauft. Allerdings nur 40 Stück. Wenn nicht alle verkauft werden, werden auch Tagespässe für 20 USD angeboten. Allerdings haben auch Gäste mit gebuchten Anwendungen Zutritt. Bruno meint jedoch, dass wir bei den Temperaturen das Angebot nutzen sollten.
Daher kaufen wir uns zwei Pässe. So schlecht wie von anderen aus dem Forum beschrieben, finde ich den Spa-Bereich gar. Der auf der NORWEGIAN GEM ist etwas netter, aber auch hier lässt es sich aushalten.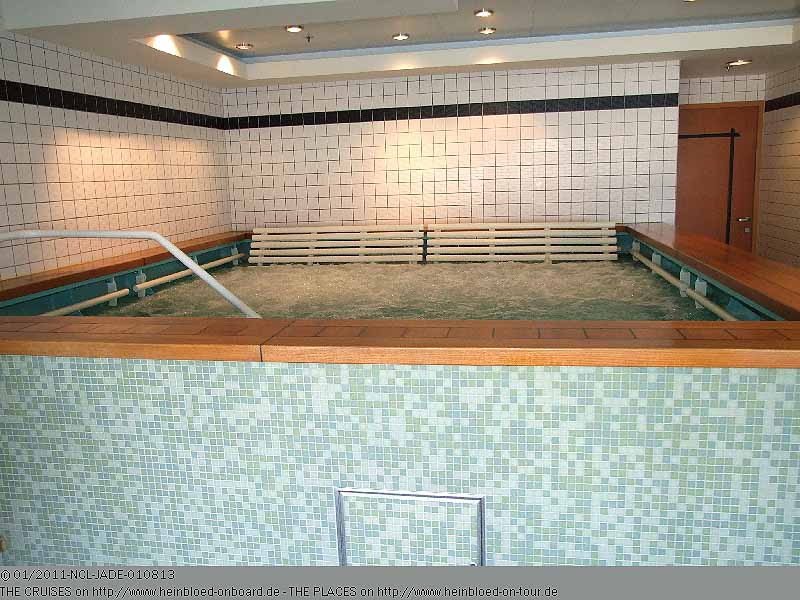 So we bought two passes. Others from the forum told us that the layout of the spa was not good. It is a little nicer on NORWEGIAN GEM but you can still have a good time there.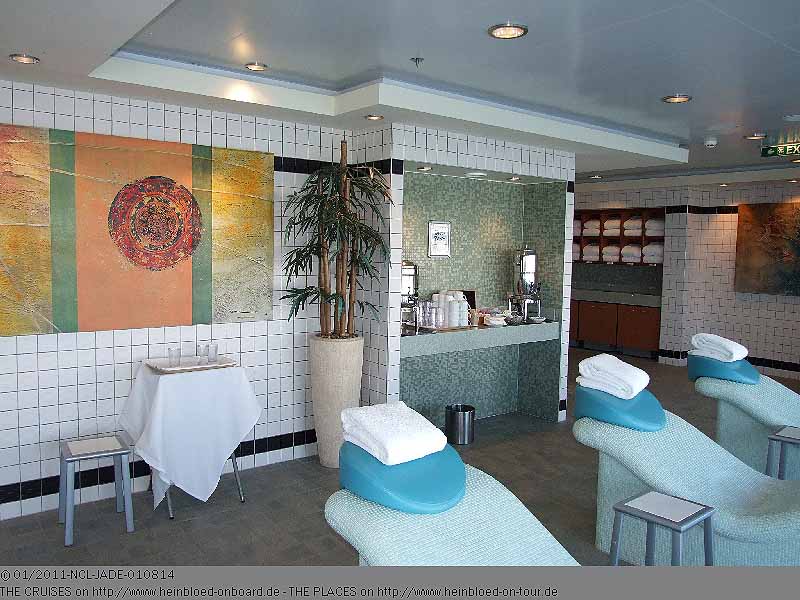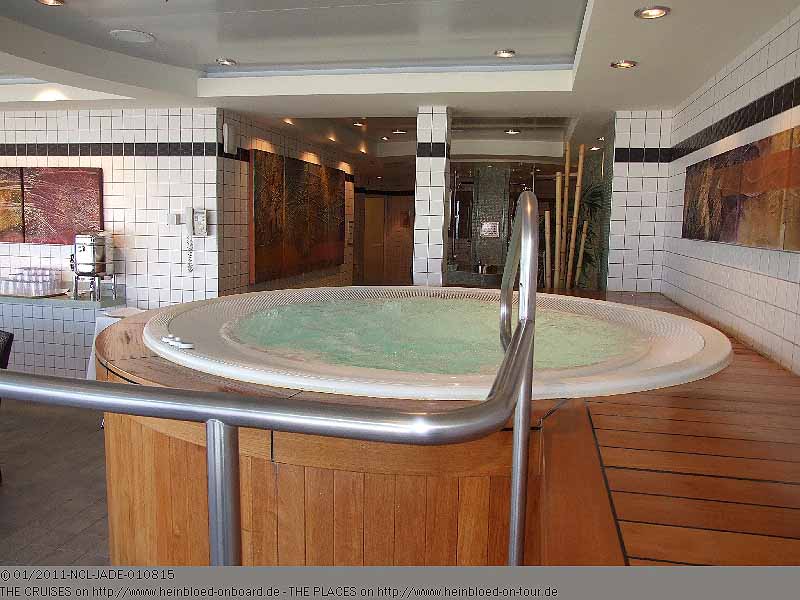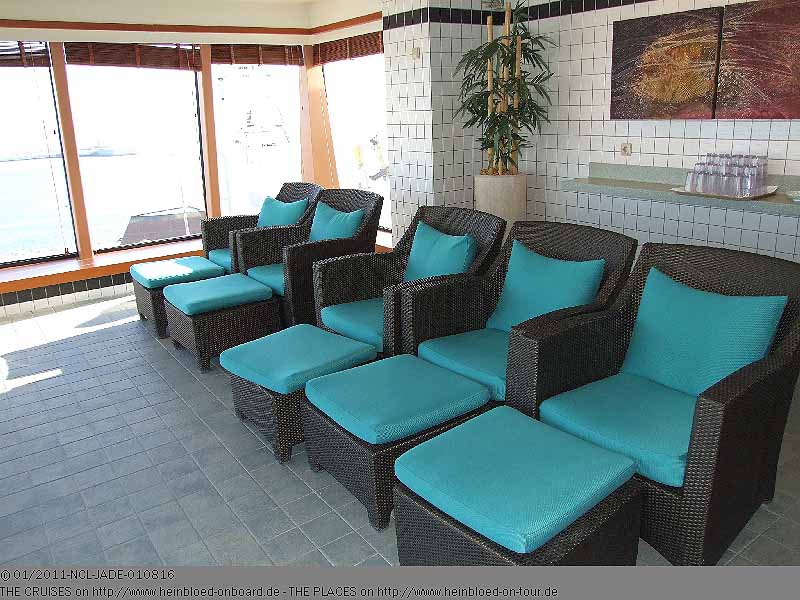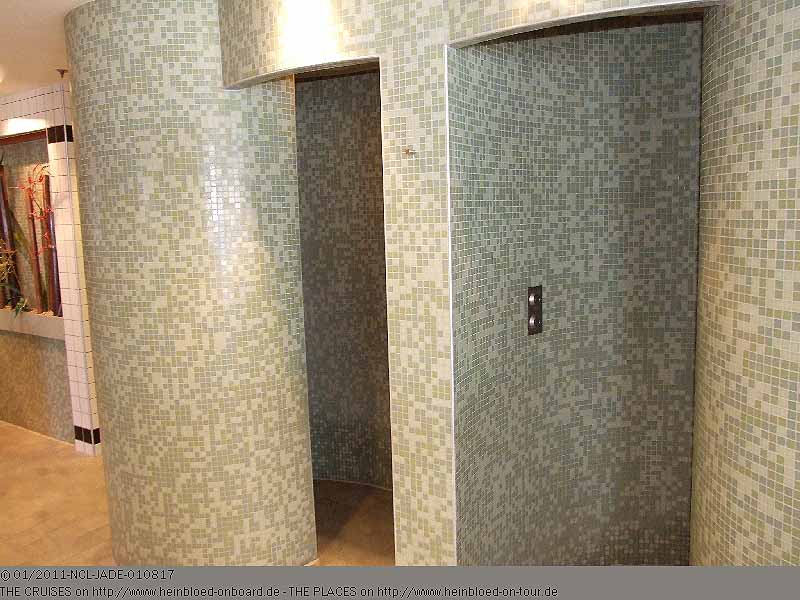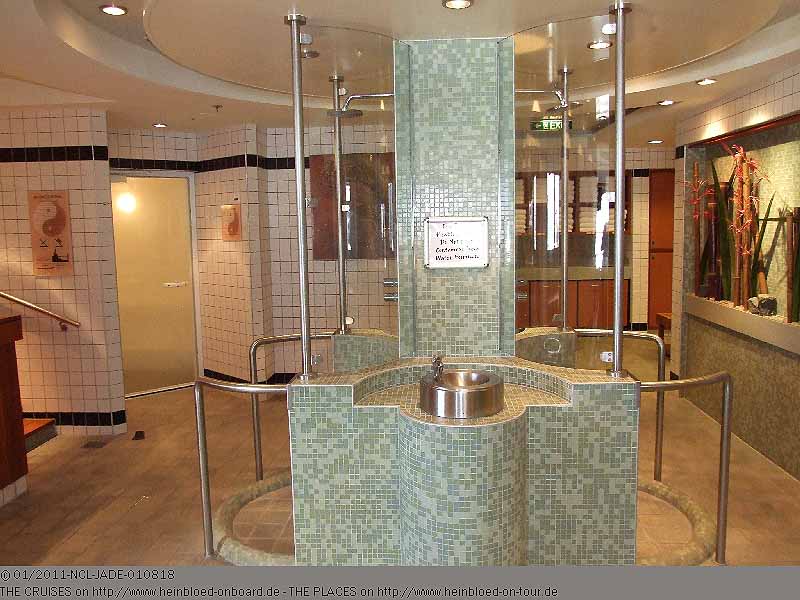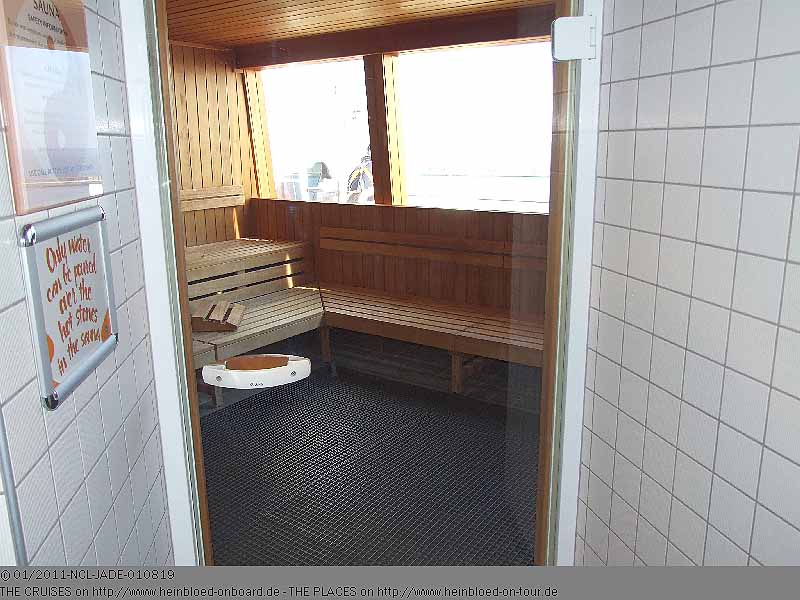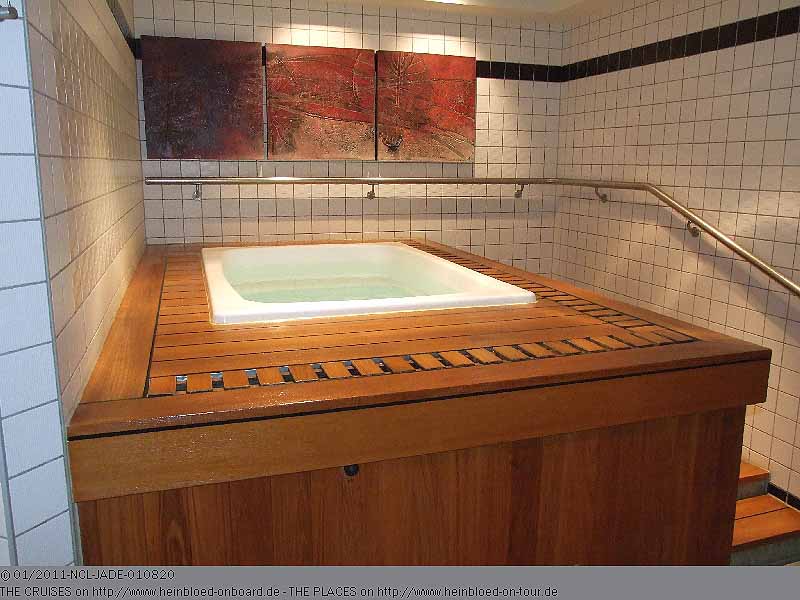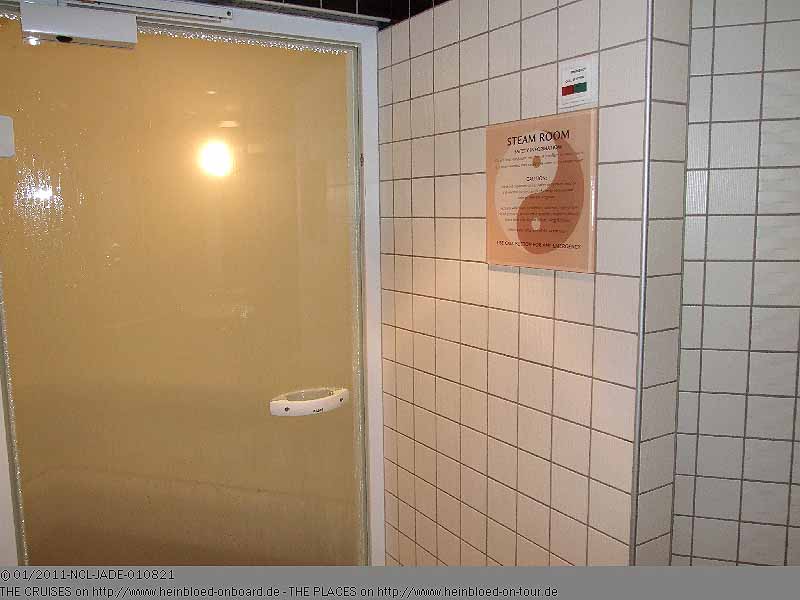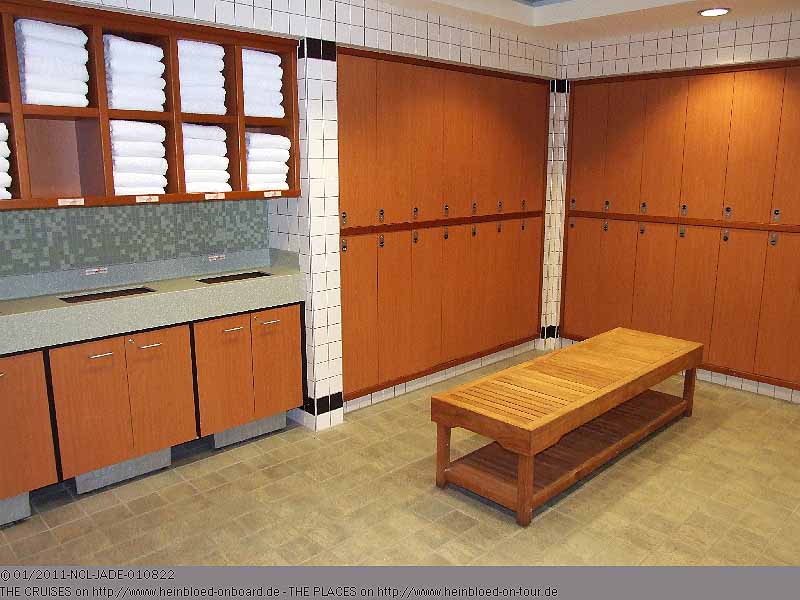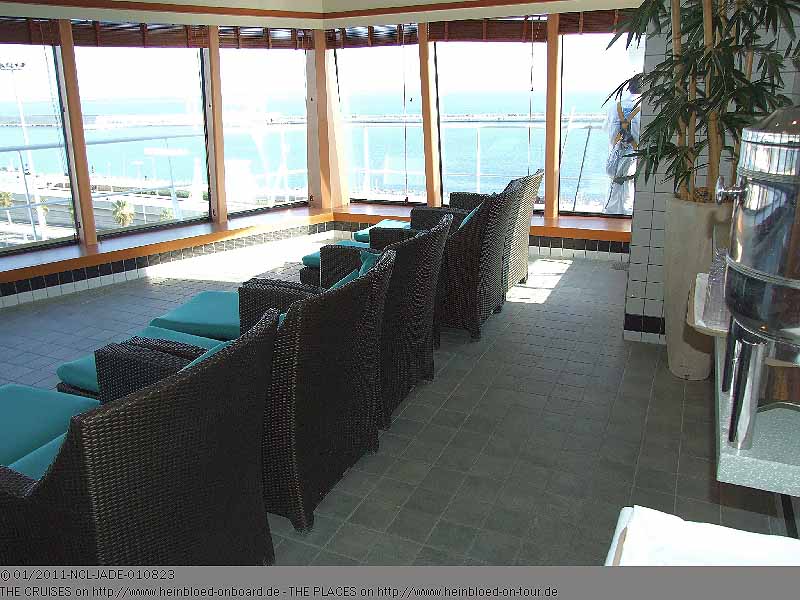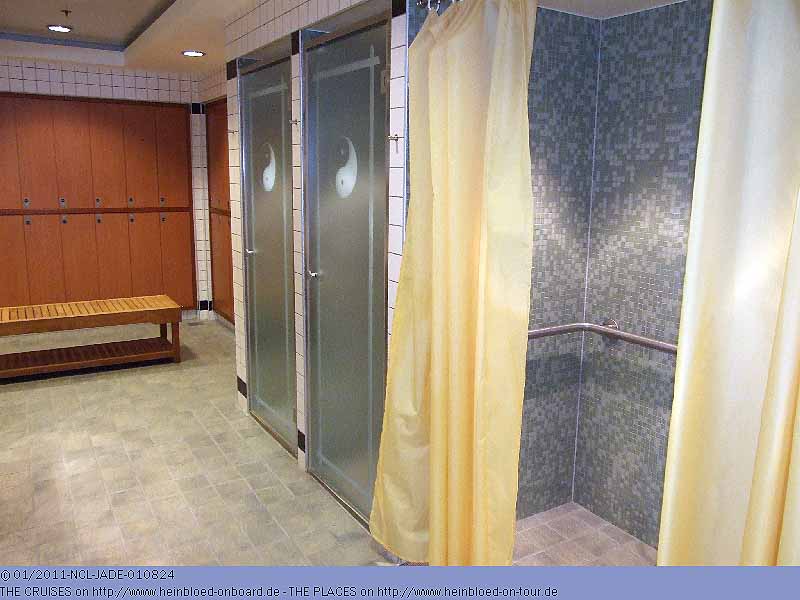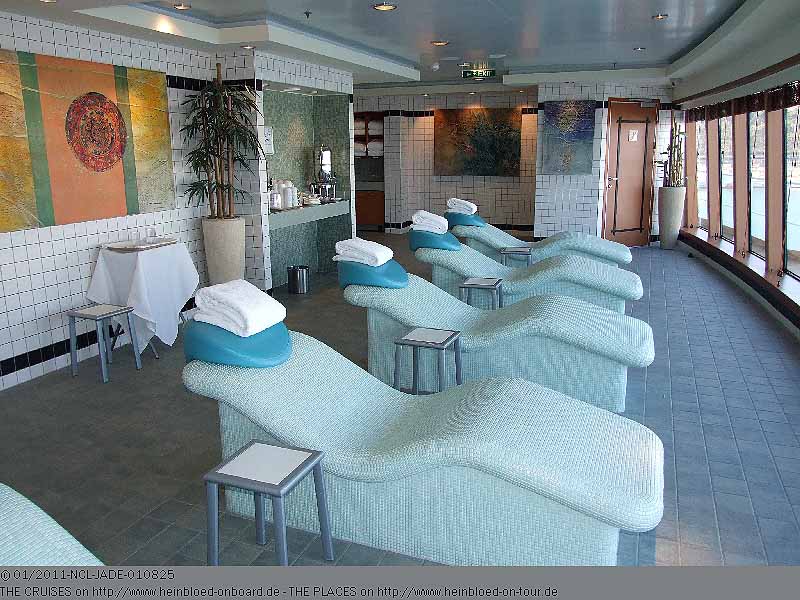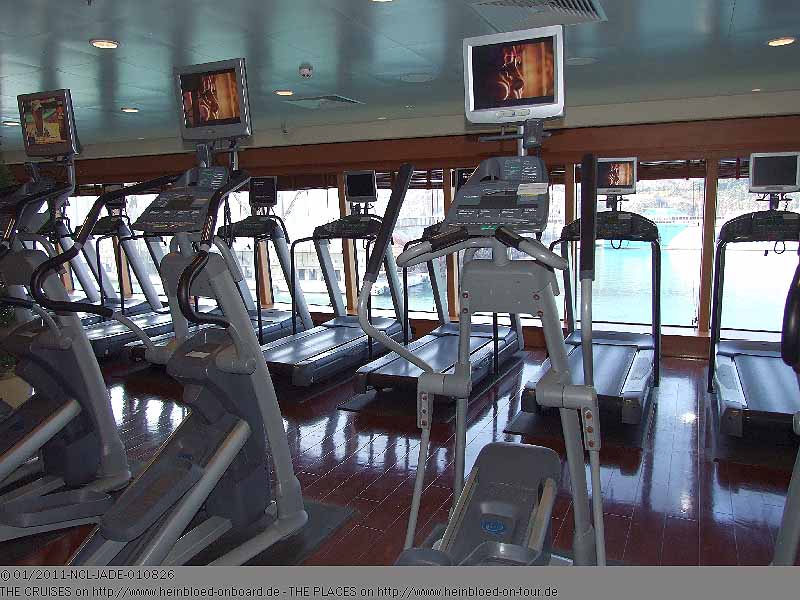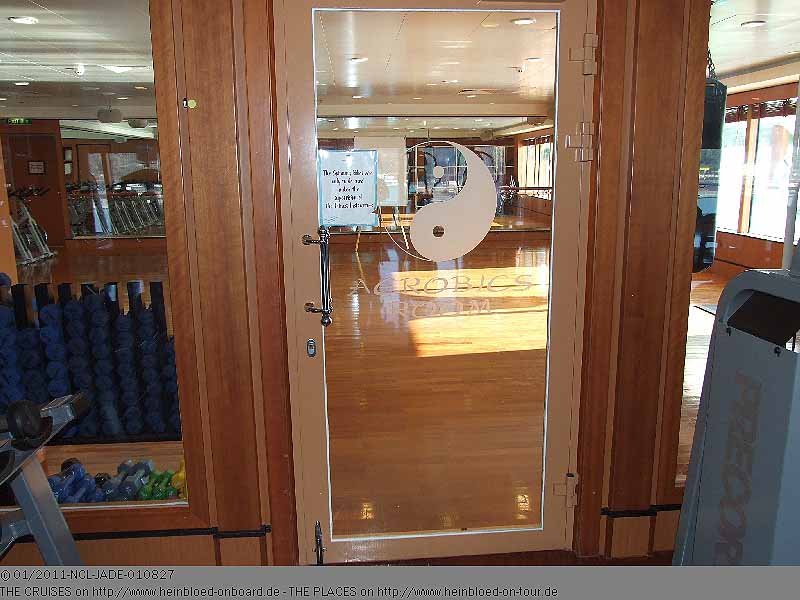 In the library you find also a small section with non-English books like here in German.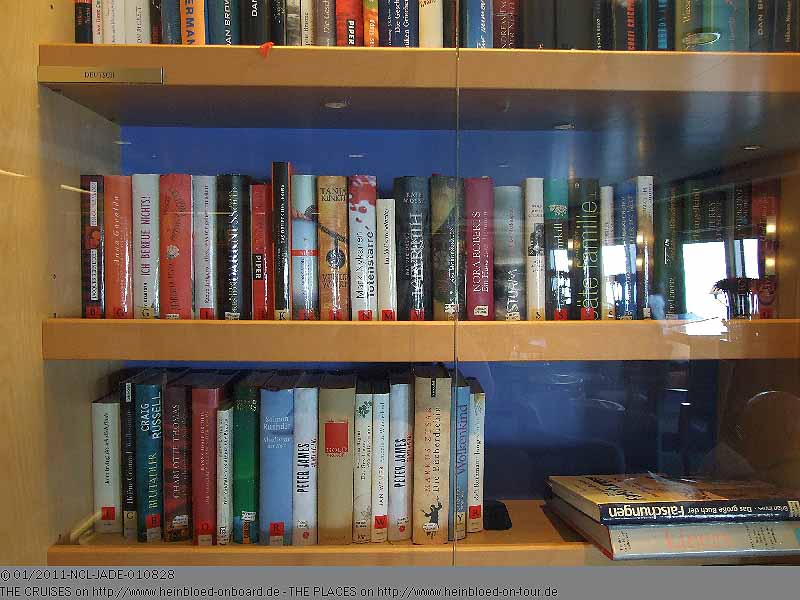 In der Bibliothek gibt es sogar eine kleine Auswahl deutscher Bücher.
Da wir uns
hier
die Coupons runtergeladen haben, können wir nach einem Besuch im Le Bistro praktisch einmal für die Hälfte ins Papa's Italian Kitchen gehen.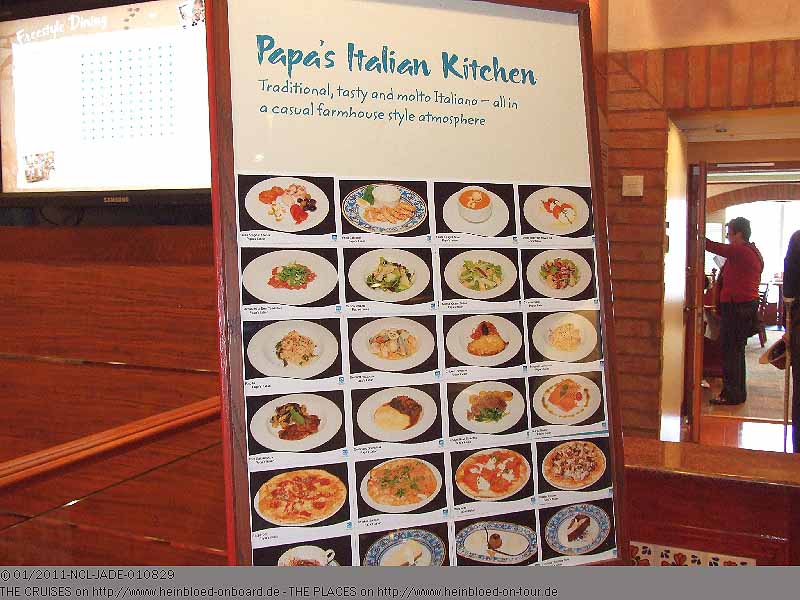 As we downloaded here the coupons we could see Papa's Italian Kitchen 2 for 1 after a dinner in Le Bistro.

I need a snack before we join the life drill. So let's see the Garden Café.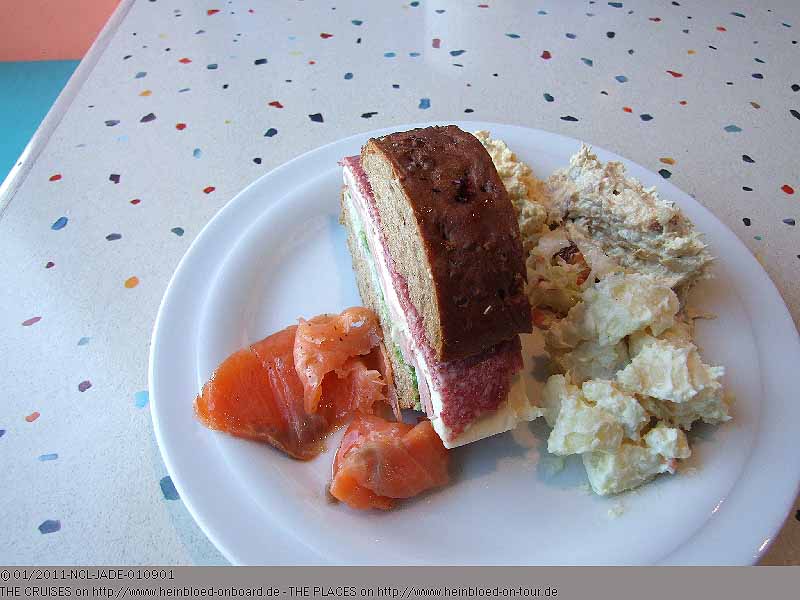 Ich brauche eine Kleinigkeit bevor es zur Seenotrettungsübung geht. Auf in das Garden Café.
Neu bei NCL: Nur das Personal muss die Rettungswesten mitführen, um das Anlegen zu demonstrieren. Wir werden ausdrücklich darauf hingewiesen, dass das Aufzeichnen der Übung unerwünscht ist... Es könnte ja sein, dass wir anderen Gesellschaften verraten, was sie besser oder schlechter machen... Ich frage mich nur, wer auf die Idee kommt, so etwas aufzuzeichnen... Die Übung wird dreisprachig angeboten (Englisch, Spanisch und Deutsch). Nur die Franzosen haben Pech, dass sie nachfragen sollen... Während der Ansagen geht es wohl lustig zu, dass alle mitlachen, als die Ansagen in Spanisch und dann in Deutsch festhängen, weil die Ansager selbst am Lachen sind... Der beste Weg, dass die Leute zur Seenotrettungsübung kommen... Englischsprachige Gäste mit kleinen schreienden Kinder wurden dann fortgeschickt, als die wichtigsten Ansagen in Englisch gemacht wurden, damit anderssprachige Gäste eine Chance hatten, alles zu verstehen und die Ausgänge nicht blockieren. Finde ich gut.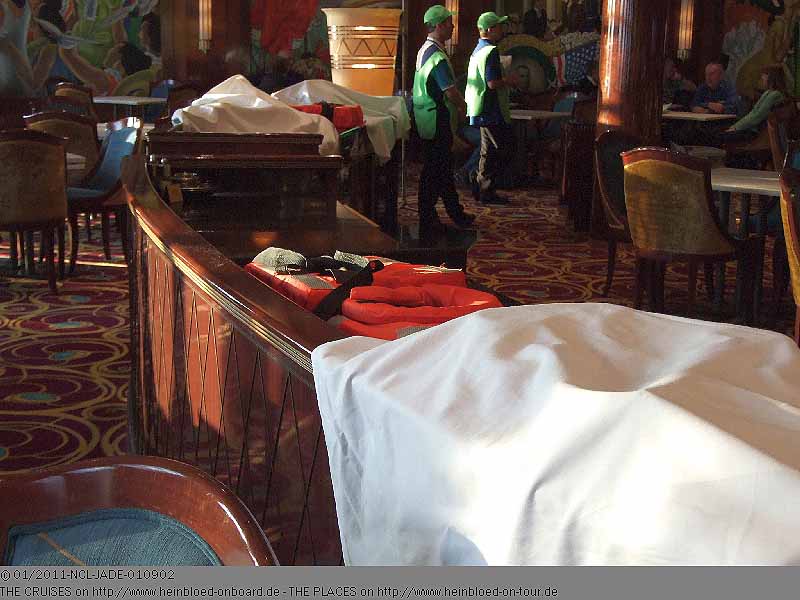 New with NCL: Only the crew need to have life-vests to demonstrate how to wear them. We were instructed not to record the demonstration... It might be that we show other companies what they did better or worse... I just asked who came on the idea to record it... They hold the life-drill in three languages (English, Spanish and German). Only the French are unlucky as they should ask in case of any questions... During the announcements it was somehow funny and everybody was laughing because the speakers in Spanish and German get stucked and started to laugh... The best way to get people to the life-drills... English Speaking guests with crying little children were sent away after the essential messages were made in English. So guests in other languages had a chance to understand more and they do not block the exits. Well managed.