Scroll down for English explanations - alternates with German explanations.

Nun die
Seilbahn
ist nichts für Rollstuhlfahrer oder Kinderwagen...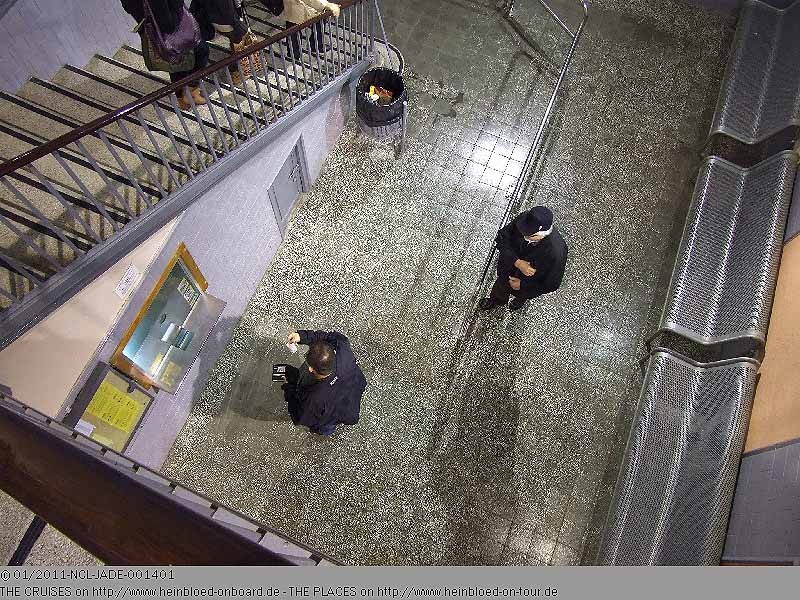 The aerial tram was nothing for wheelchairs and strollers.

Our tickets were not good. So we need to pay 6.00 EUR (2011, Seniors over 65 years old 4.80 EUR) extra.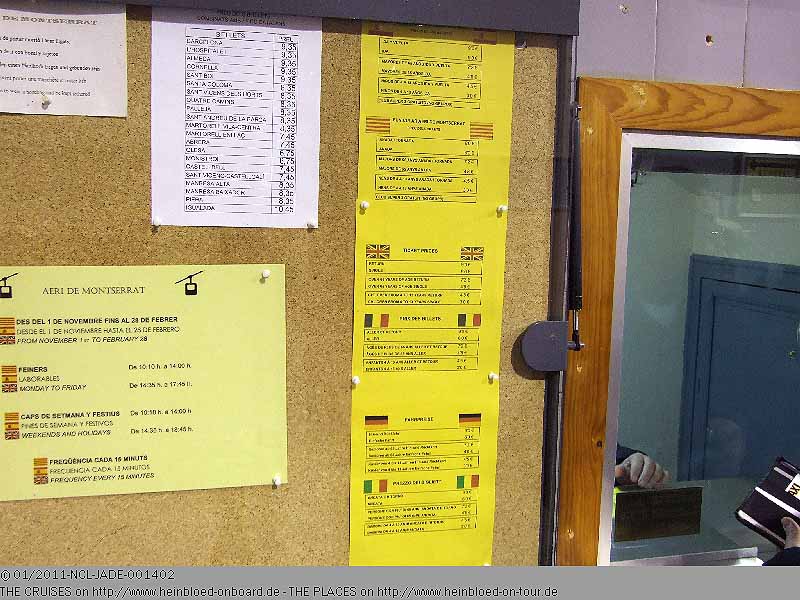 Unsere Karten gelten nicht. So müssen wir 6,00 EUR (2011, Senioren über 65 Jahre 4,80 EUR) extra zahlen.
"Made in Germany"... aber galt der Qualitätstandard auch schon 1930... und ausgerechnet Leipzig - kein Berg weit und breit...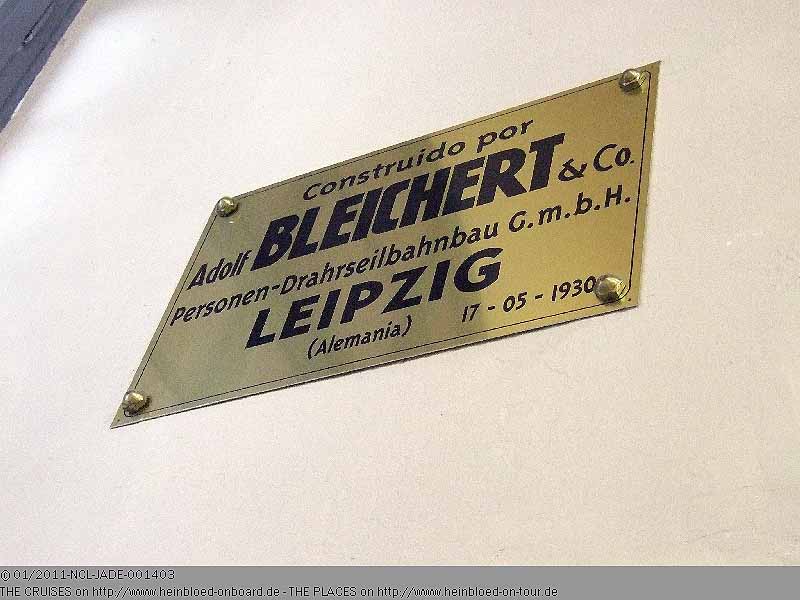 "Made in Germany"... but was this standard of quality already available in 1930... and from Leipzig - no mountain around...

A can of anchovies arrived in the German postal yellow...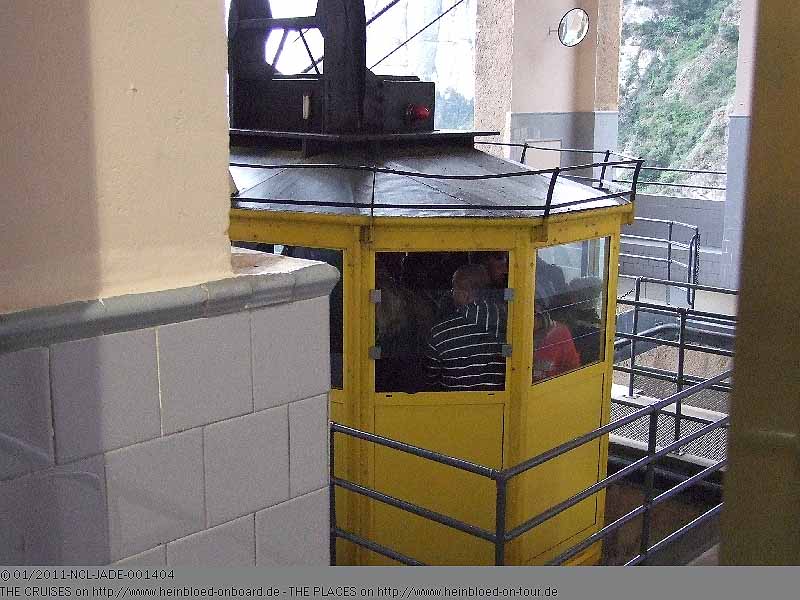 Eine Sardinenbüchse in postgelb kommt hoch...
Aber weil so viel Andrang herrscht, warten wir nicht die 15 Minuten noch ab, sondern fahren sofort runter. Zum Glück wussten wir von Gaily215 schon, dass sie bei Bedarf auch öfters fahren.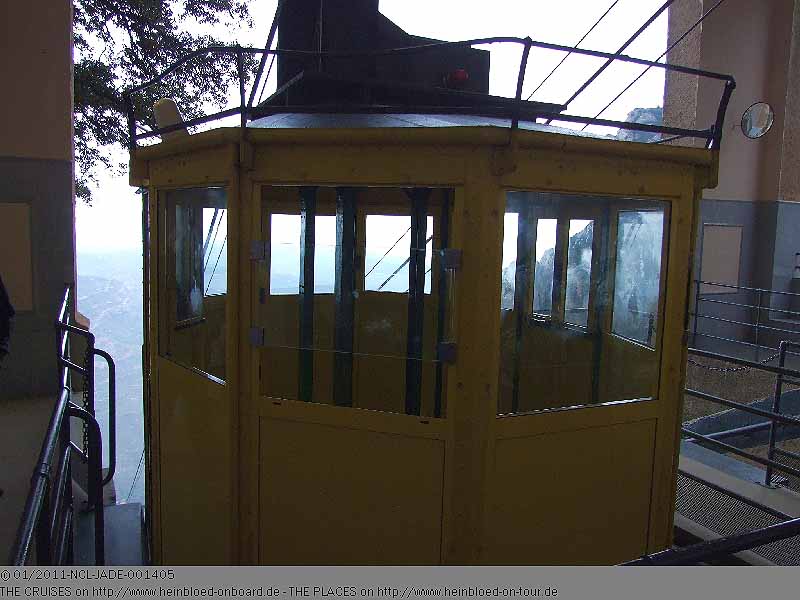 Because there was so much demand we did not need to wait for another 15 minutes and left immediately to get down. We were lucky that we learned from Gaily215 that they go more frequently if there is such a demand.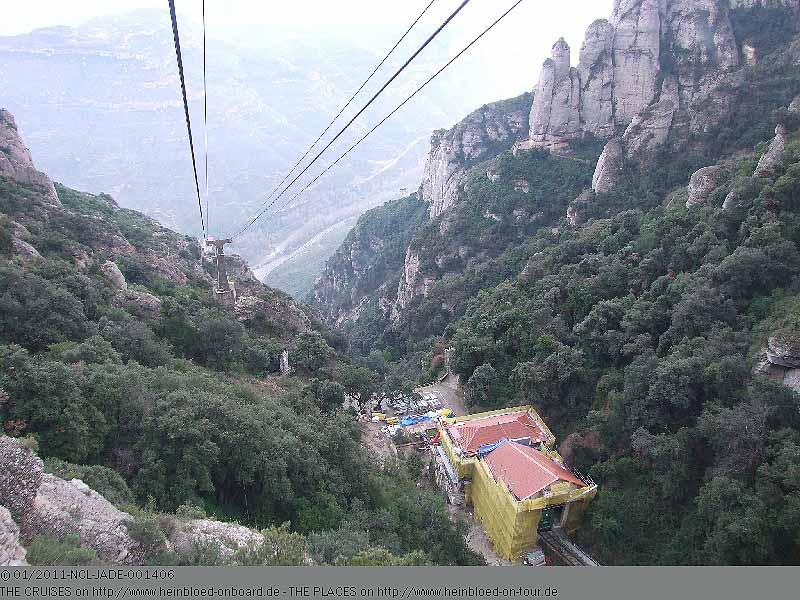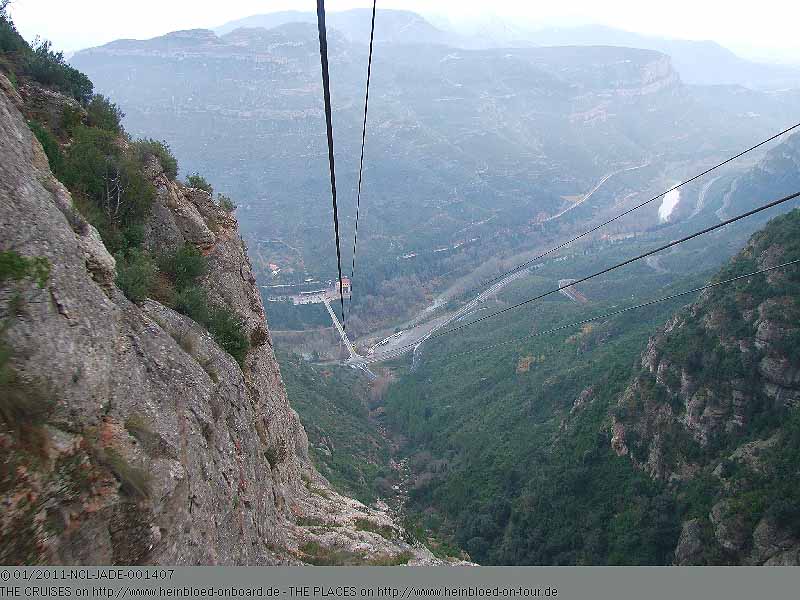 The cabin with the upwards passengers looked very full to me and it was around 16.00 hrs and the sun should set soon. But maybe there was an evening event in the church like the boy's choir.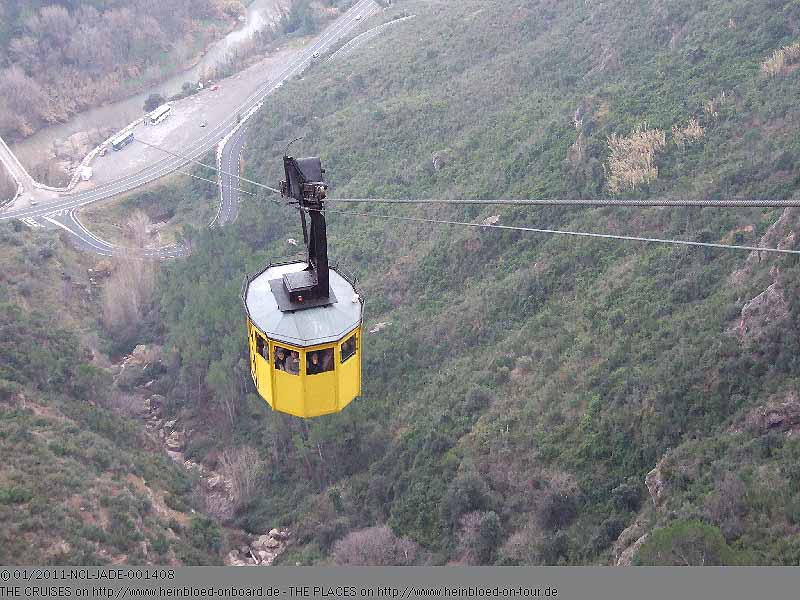 Die Kabine nach oben ist sehr voll, und obwohl es mitlerweile schon gegen 16.00 Uhr ist und bald die Sonne untergeht. Aber vielleicht ist ja eine Abendveranstaltung in der Kirche. Z. B. vom Knabenchor.
Wir kommen in Montserrat Aeri an.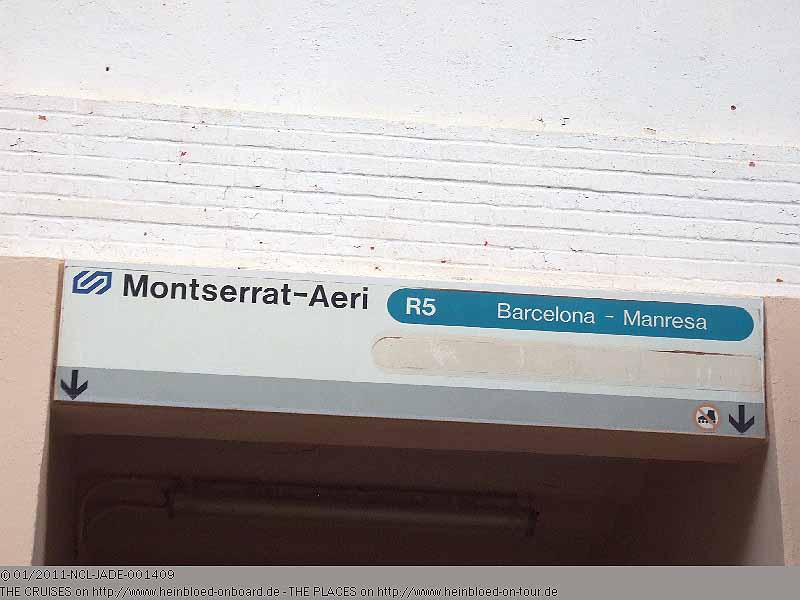 We arrived at Montserrat Aeri.

From here you had a great view to the monestry on the top.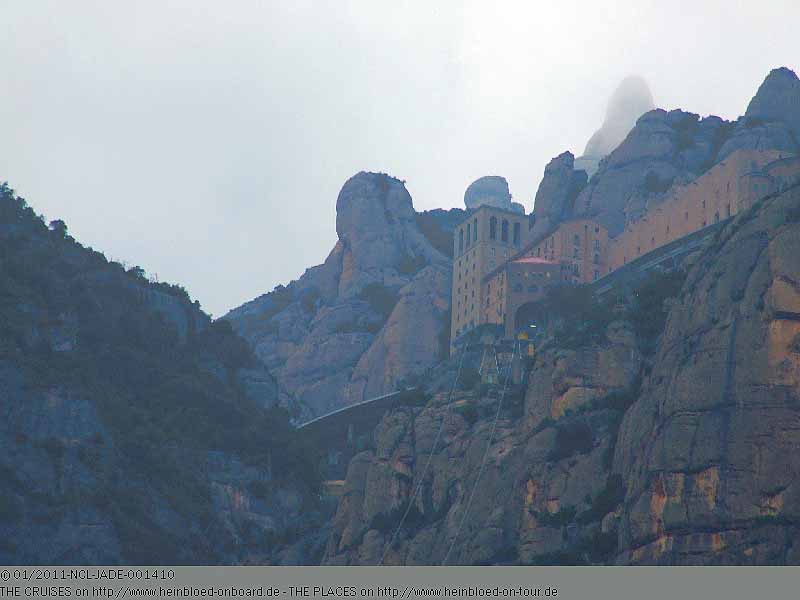 Von hier kann man wirklich schön das Kloster oben auf dem Berg sehen.
Hier fahren noch Zwischenzüge bis Martorell-Central. Dort kann man dann direkt in wenigen Minuten umsteigen und nach Barcelona weiterfahren. Von dort aus würden auch S-Bahnen der RENFE nach Placa Catalunya fahren, aber auf denen gelten unsere Karten nicht.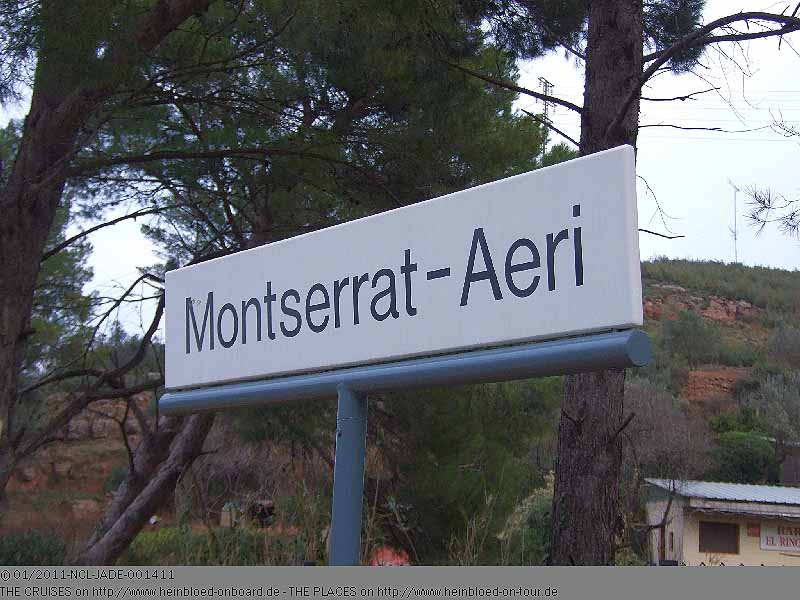 Here you get trains to Mantorell-Central which were running between the hourly trains to Barcelona. There you can easily transfer to Barcelona within minutes on the same platform. There would be also RENFE commuter trains running to Placa Catalunya but our tickets were not good for these trains.

At Placa Espanya we moved to metro line 3 and got to Passeig de Grácia. There we quit the station towards Aragó/Rambla Catalunya and so we just standed in front of Casa Batlló which we visited on our last NORWEGIAN GEM-cruise in November 2009. It was one of the few attractions which was open on New Year's Day. So the queue was quite long for a time like 18.00 hrs.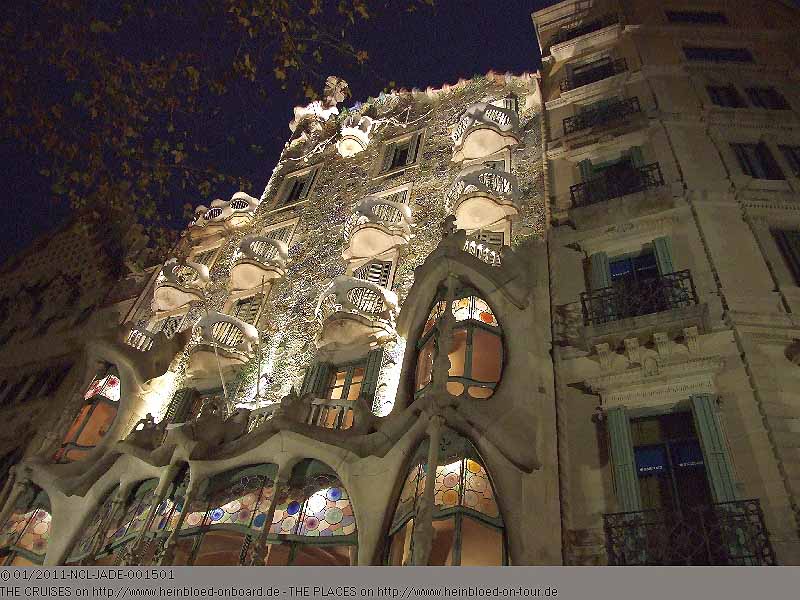 Am Placa Espanya steigen wir in die Metro Linie 3 um und fahren bis Passeig de Grácia. Dort verlassen wir den Bahnhof zum Ausgang Aragó/Rambla Catalunya hin und stehen vor dem
Casa Batlló
, das wir damals im
November 2009 während unserer NORWEGIAN GEM-Fahrt
besucht haben. Es ist einer der wenigen Attraktionen, die heute am Neujahrstag aufhaben. Daher eine Riesenschlange auch noch jetzt gegen 18.00 Uhr.
Bei
BCN Shop auf der Homepage von Barcelona Tourism
gibt es Empfehlungen für preisgünstige Restaurants. Direkt um die Ecke liegt das
Restaurant Mussol
.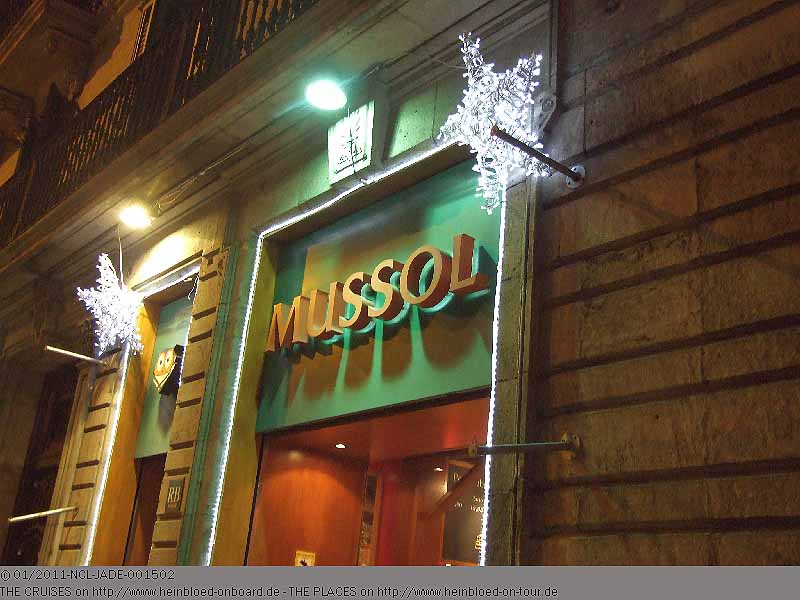 On BCN Shop on the website of Barcelona Tourism you find some recommendations for inexpensive restaurants. Around the corner you find Restaurant Mussol.

We got a nice table under the supervision of the count...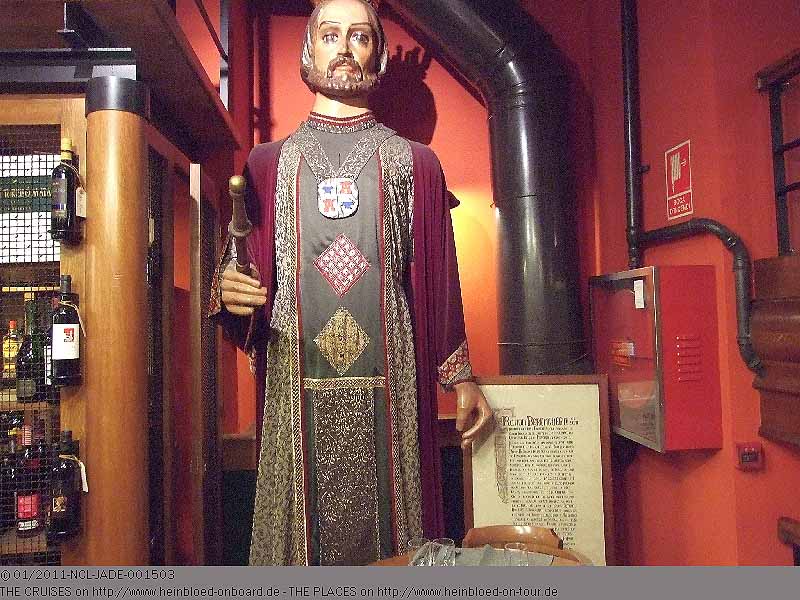 Wir hatten einen netten Tisch unter der Aufsicht dieses Grafen bekommen...
und eine nette Bedienung aus Bulgarien, die uns mit ihrer charmanten Art an die Restaurant-Stewards von NCL erinnerte. Das Brot mit dem Knoblauch und Tomaten war wieder köstlich... wenn auch riesig...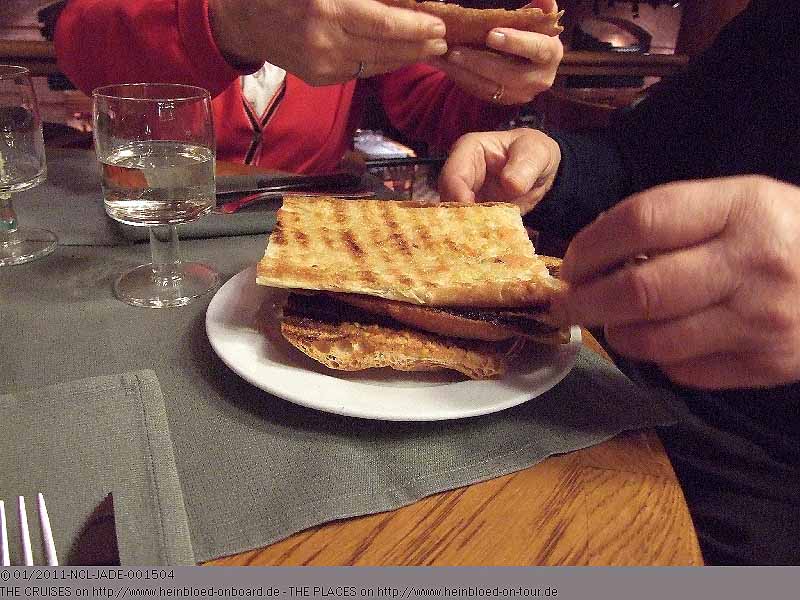 And a nice waitress from Bulgaria which reminded us very much to the restaurant stewards from NCL. The bread with some garlic and tomato was just delicious... just a little bit large...

As we had no food for lunch I got some Pinchos from the bar. Small bites as appetizers.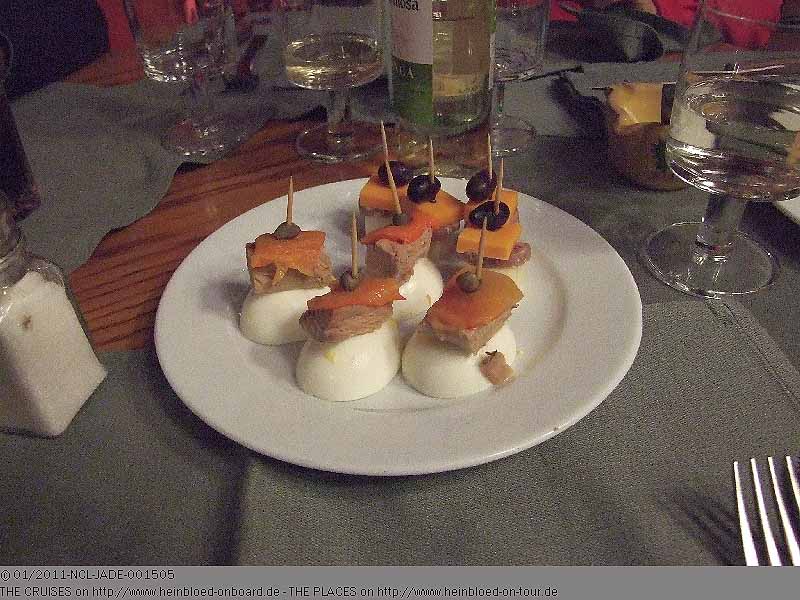 Da wir ja mittags nichts gegessen hatten, habe ich noch an der Theke ein paar Pinchos geholt. Kleine Happen als Appetizer.
Naja... die Vorspeisen, die Bruno und ich hatten waren nicht so der Brüller... Seine Eier waren mehr für ein Frühstück o.k. und meine hausgemachten Cannelloni sehr gut, aber leider mit der Bechamelsauce erschlagen worden und daher viel zu mächtig als Vorspeise. Der Grillteller (in deutscher Übersetzung) war mir leider zu "chinesisch" (zuviel Fett, Knochen, Knorpel... da hat es jemand zu gut mit mir gemeint). Bruno, Käthe und Karl-Heinz sind mit ihrem Lamm, Kaninchen und Hühnchen-/Lammspieß sehr zufrieden.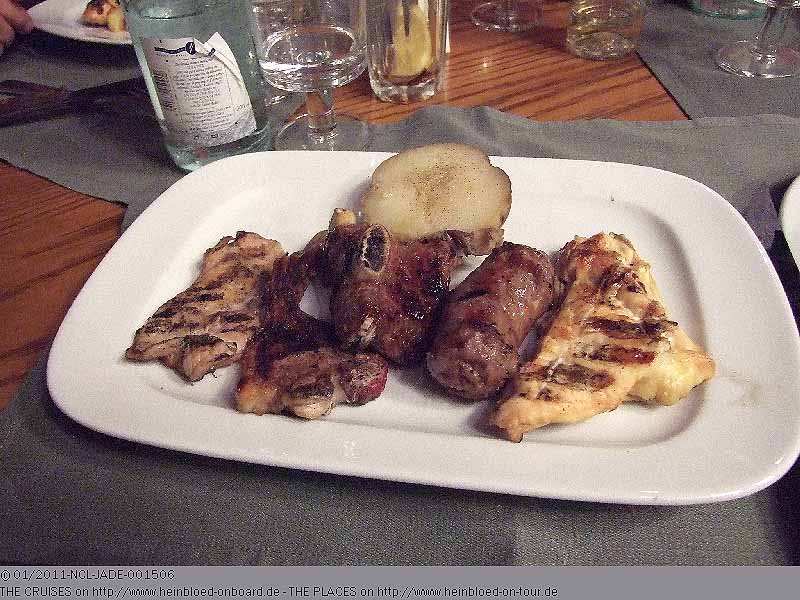 The starters so là là - Bruno and I had were not our favorites... His eggs were more for breakfast and my homemade cannellonis were "killed" by the sauce Bechamel and so too rich as starter. The Mixed Grill was very "Chinese" (too much fat, bones etc.... somebody might thought too well to me). Bruno, Katie and Charlie had luck with their lamp, rabbit and chicken-/lambskewer.

Not far away from our restaurant close to Placa Catalunya there was Milano Campari Bar.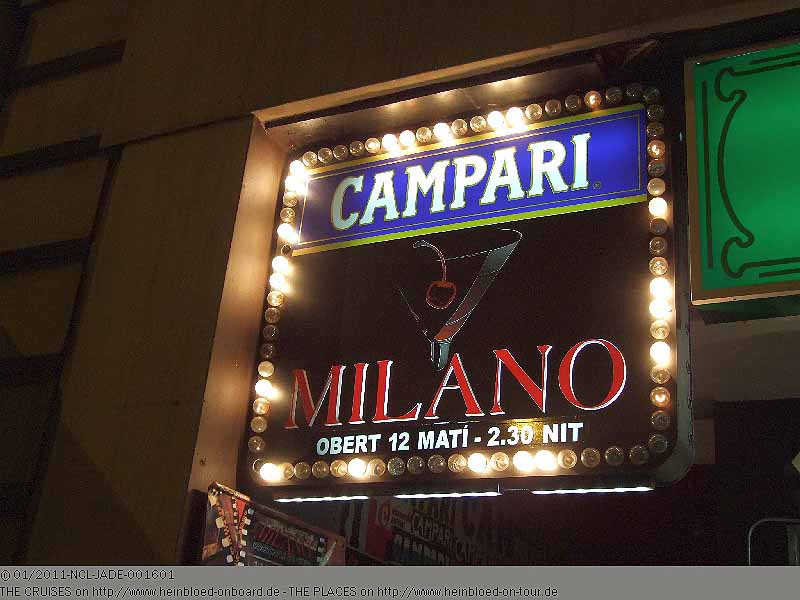 Nicht weit vom Restaurant in der Nähe vom Placa Catalunya liegt die
Milano Campari Bar
.
Gin Tonic wird dort zelebriert...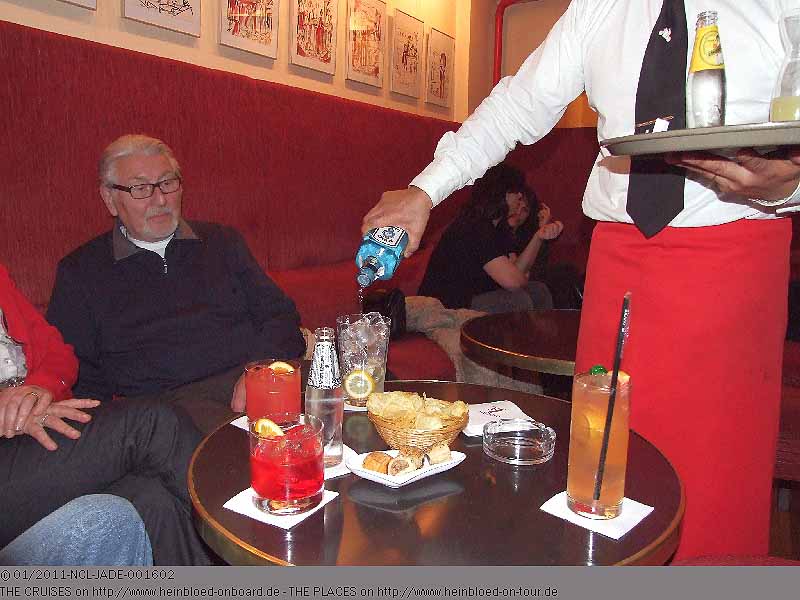 They celebrated Gin Tonic there...

Such a XXL-glass for just 8.00 EUR...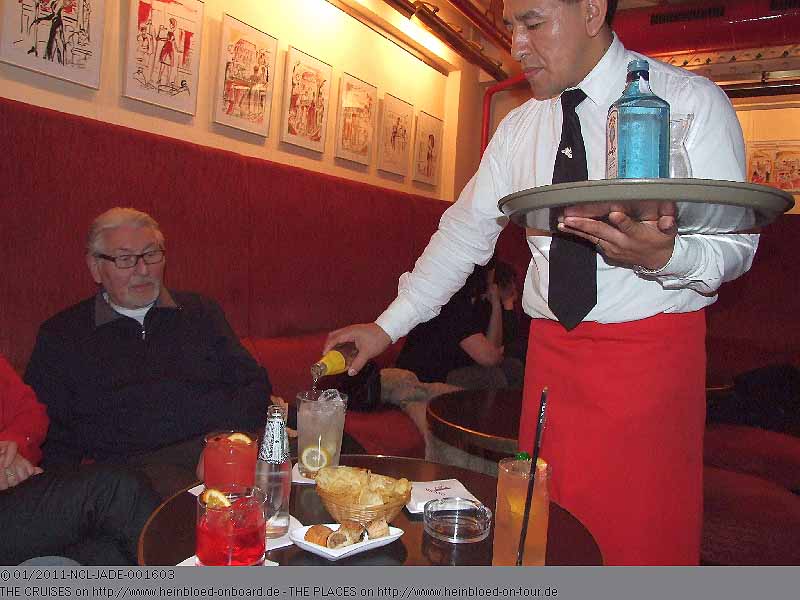 Und das Riesenglas nur für 8,00 EUR...
Käthe und Bruno haben sich Campari bestellt, wie es sich für die Bar gehört...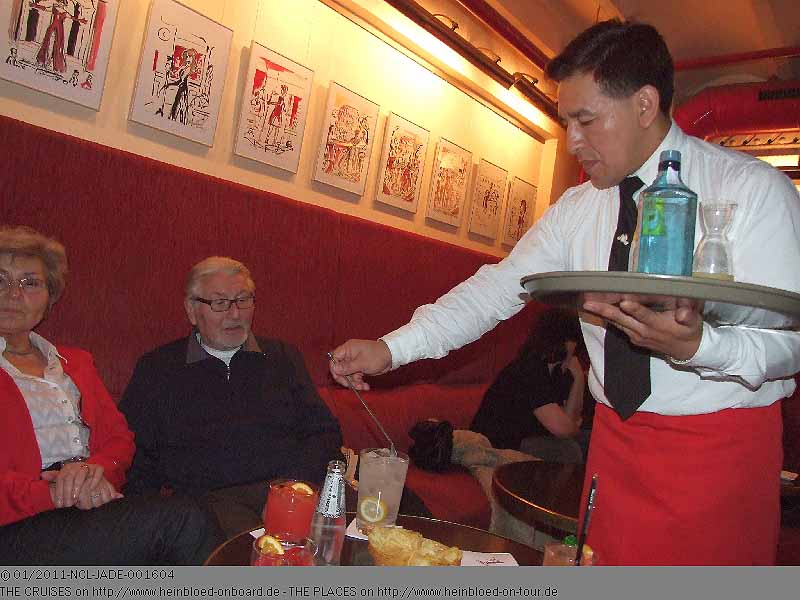 Katie and Bruno ordered some Campari as it should be in this bar...

And some more Pinchos but we were all full (more or less...)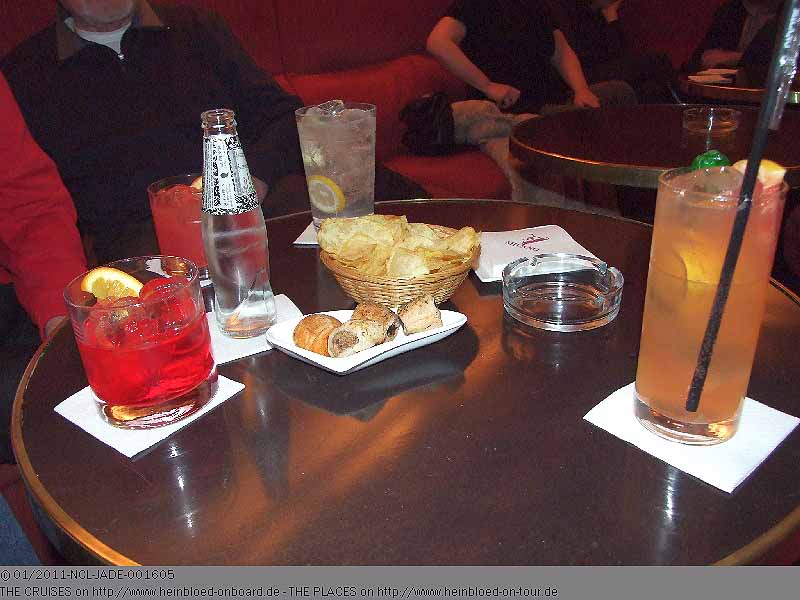 Und nochmals Pinchos, aber wir waren satt (mehr oder minder...)
Auch ich genieße einen alkoholfreien Cocktail, der wohl wieder in Absprache mit meinem Heilpraktiker serviert wurde... viel zu viele Bitterstoffe...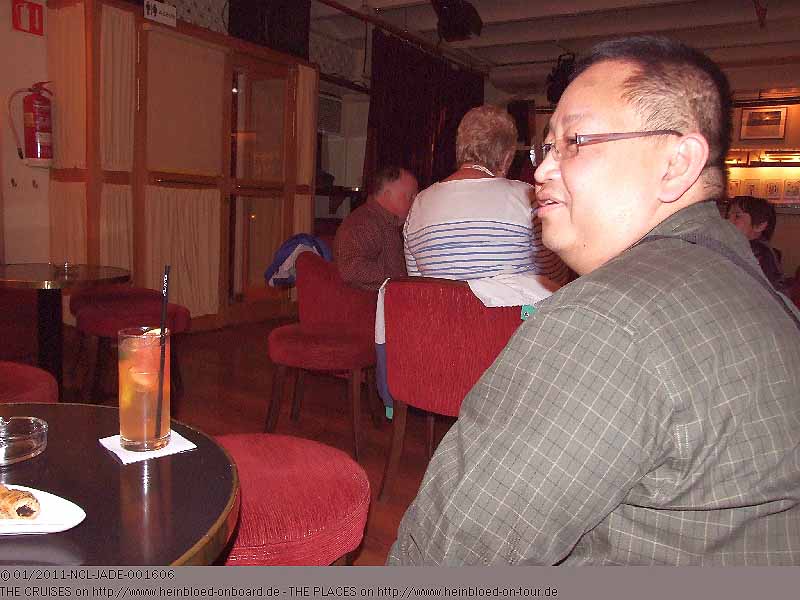 But I enjoyed my non-alcoholic cocktail who was served very bitter according to the wish of my nature medical therapist.

Also from the roll-call txsaxplayer who played here together with two other musicians for us. If someone reminds him: He was before as musician on board of QUEEN ELIZABETH 2, STAR PRINCESS, GRAND PRINCESS, DAWN PRINCESS, ROYAL VIKING STAR and AZURE SEAS. We might be ourselves onboard of QUEEN ELIZABETH 2 in 2007 when he was working on the ship.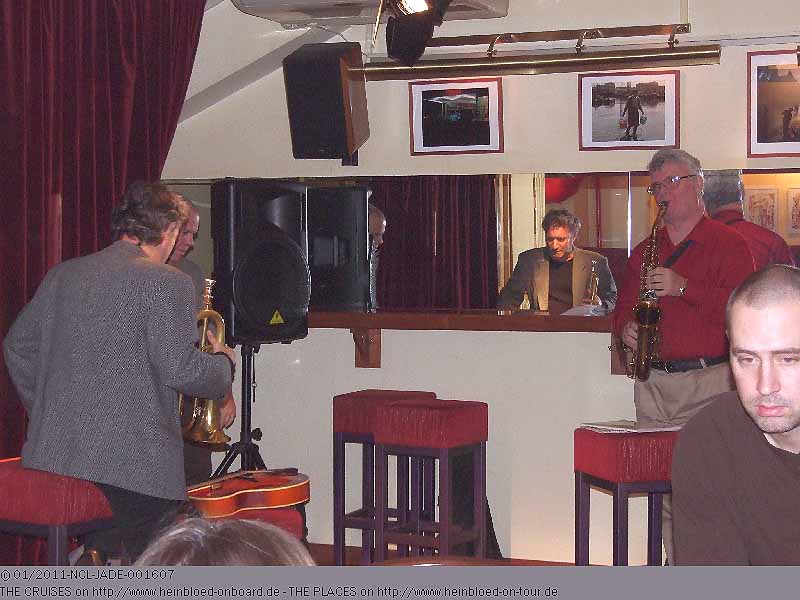 Auch aus dem Roll-Call txsaxplayer, der hier gemeinsam mit zwei weiteren Musikern für uns spielt. Falls ihn jemand erkennen sollte: Er hat früher an Bord der QUEEN ELIZABETH 2, STAR PRINCESS, GRAND PRINCESS, DAWN PRINCESS, ROYAL VIKING STAR und AZURE SEAS gespielt. Wir selbst waren wohl damals auch an Bord der
QUEEN ELIZABETH 2 im Jahre 2007
, als er noch an Bord gespielt hat.
Das "On the sunny Side of the Street" war einfach genial...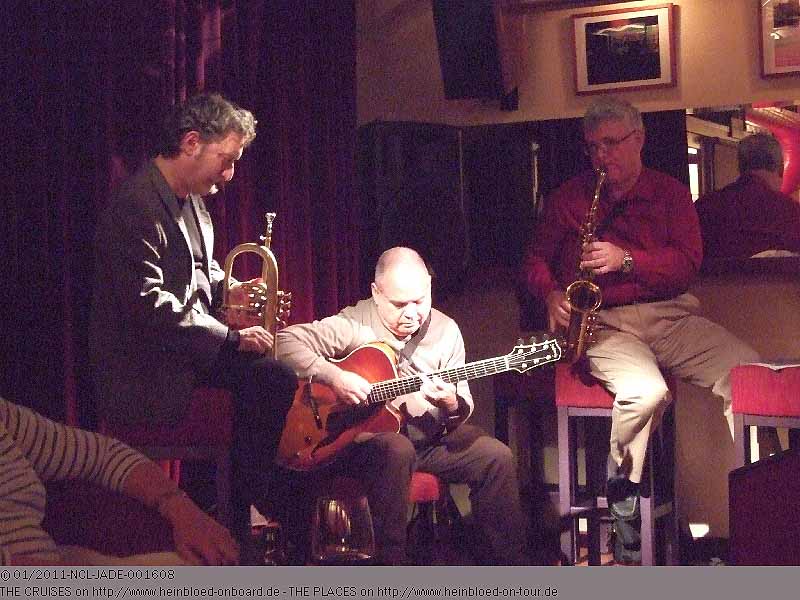 "On the sunny Side of the Street" was just brilliant...

Around 21.30 hrs we left the bar and get home by bus. Now we know what the cell phone means at the bus stop: you can check on your iPhone when the next bus should arrive...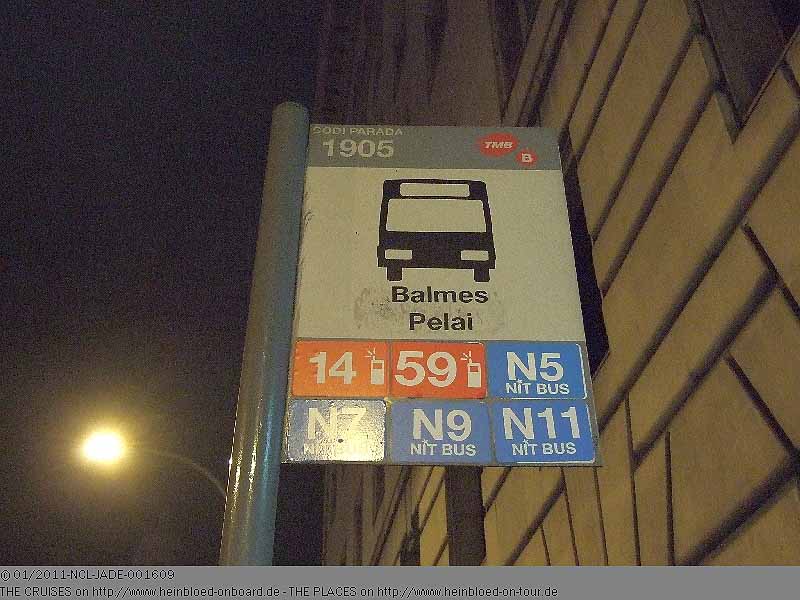 Gegen 21.30 Uhr verlassen wir die Bar und fahren mit dem Bus nach Hause. Mitlerweile wissen wir auch was das Handy an der Bushaltestelle bedeutet: wir können über das iPhone abrufen, wann der nächste Bus kommt...