Scroll down for English explanations - alternates with German explanations.

Es gab auch wieder einen Gruß...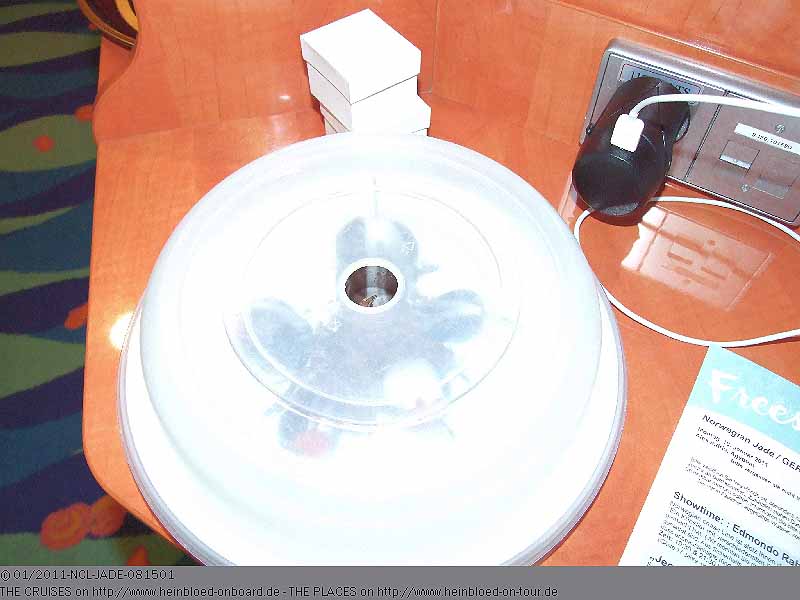 There was again a greeting...

But we forwarded to Katie and Charlie so that they also get some nice treats.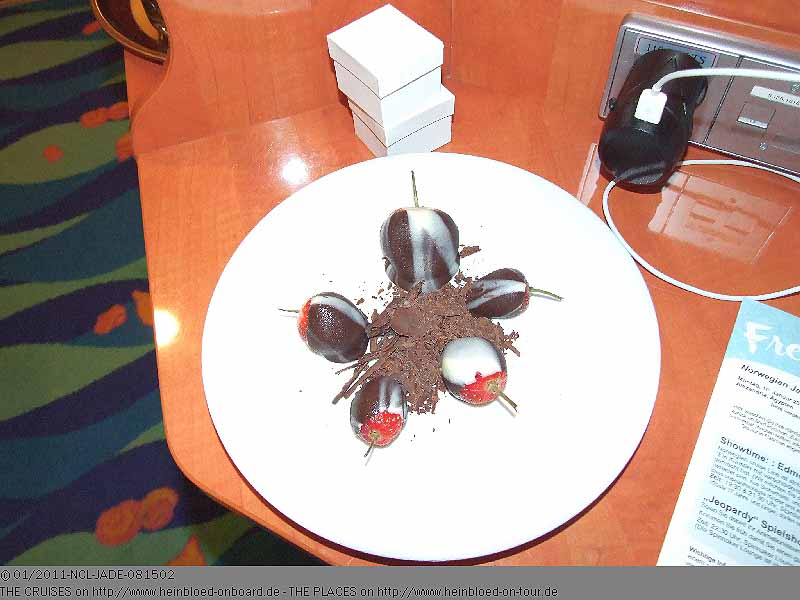 Den haben wir aber an Käthe und Karl-Heinz weitergereicht, damit sie auch mal etwas bekommen.
Im Tagesprogramm sehen wir jetzt erst, dass für Alexandria besondere Gesundheitshinweise. Denn wir erfahren hinterher: das ist das erste Mal, dass ein evtl. Norovirus in Barcelona mit an Bord gebracht wurde. Dass Einzelfälle in Alexandra mit an Bord kommen ist "normal", weil nicht jeder die Gesundheitshinweise beachtet. PEEL IT, COOK IT, BOIL IT or FORGET IT... d. h. keine offenen Salatbüffets, Eis in Getränken, offene Getränke usw. usw.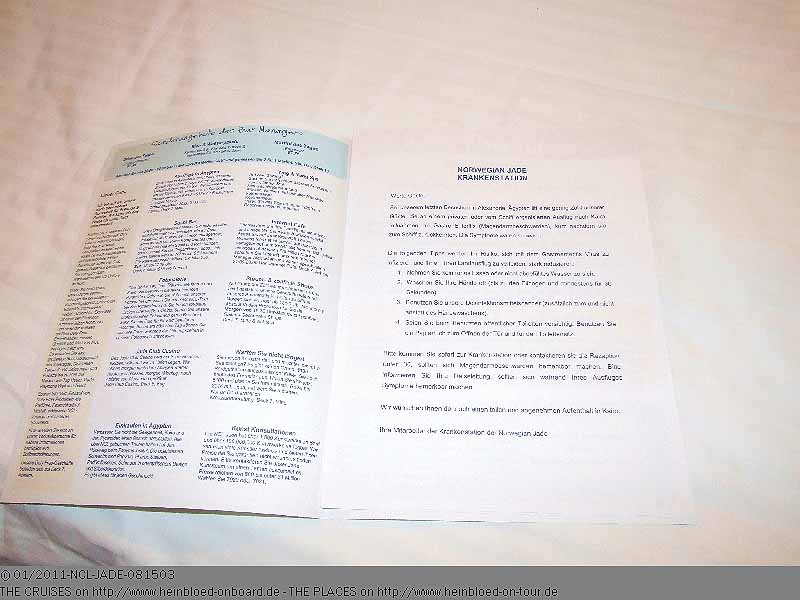 In the daily programme we saw now that they had for Alexandria special health advices. We later learned that it was the very first time that maybe a norovirus was taken on board in Barcelona. Single cases in Alexandria were quite "normal" because not everybody study the health advices: PEEL IT, COOK IT, BOIL IT or FORGET IT... i. e. no salad buffets, ice in beverages, open drinks etc. etc.

We went to the Alizar. We got a nice table to see the MSC SPLENDIDA.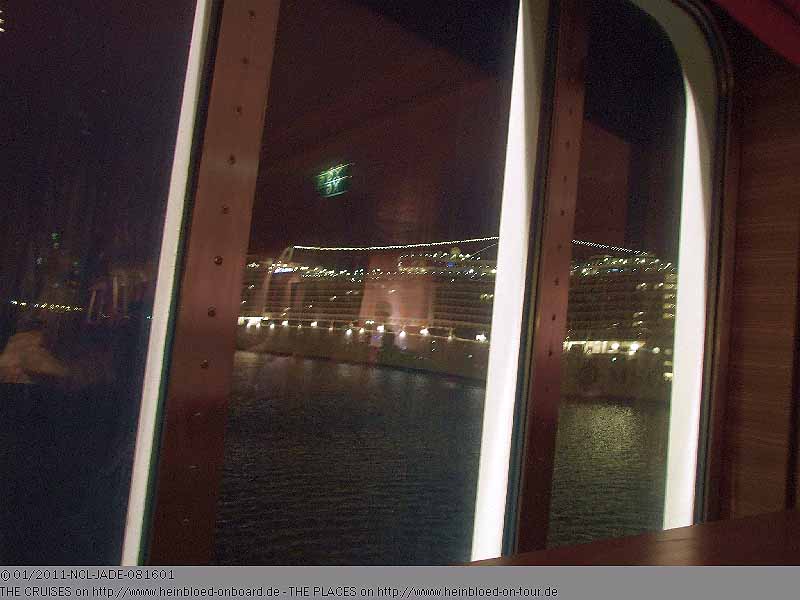 Wir gehen ins Alizar. Den Platz, den wir bekommen ist sehr schön, weil wir so die MSC SPLENDIDA sehen können.
Aber erinnert uns die Atmosphäre hier mehr wie an einen Wartesaal. Auch hatten wir den Eindruck, dass es im Grand Pacific etwas charmanter und freundlich zuging. Die Weinstewardess war beleidigt, dass ich eine Pepsi-Light vom Soda-Pass wollte und erst beim zweiten Mal ging sie endlich los, um mir eine zu holen. Für den gelagerten Wein, war sie wohl nicht zuständig. Nur muss man nicht in Anwesenheit des Gastes die Kompetenzen klären. Es hätte wäre ja auch möglich gewesen, die Quittung an der Service-Station der Kellnerin zu übergeben, statt arrogant es vor dem Kunden zu erklären, dass man nicht zuständig sei.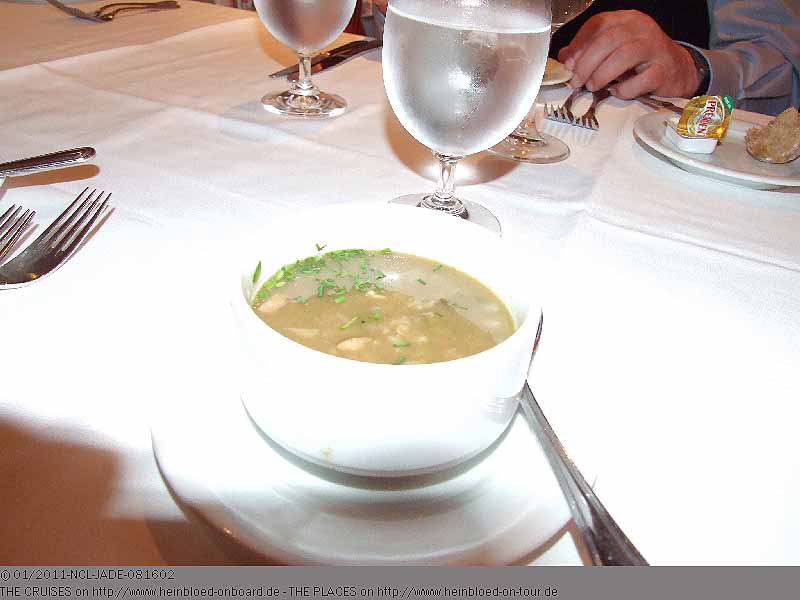 But the atmosphere reminded us to a waiting hall. We had the impression that it was more charming and friendlier in the Grand Pacific. The wine stewardess was offended because I asked for a Pepsi Light out of my soda pass. Finally with the second request I got it finally. For the stored wine she might not be in charge. But you do not need to discuss it with the guests. A short walk to the service station and forwarding our request to the waitress would have been night instead of her snobbish explanation that she was not in charge.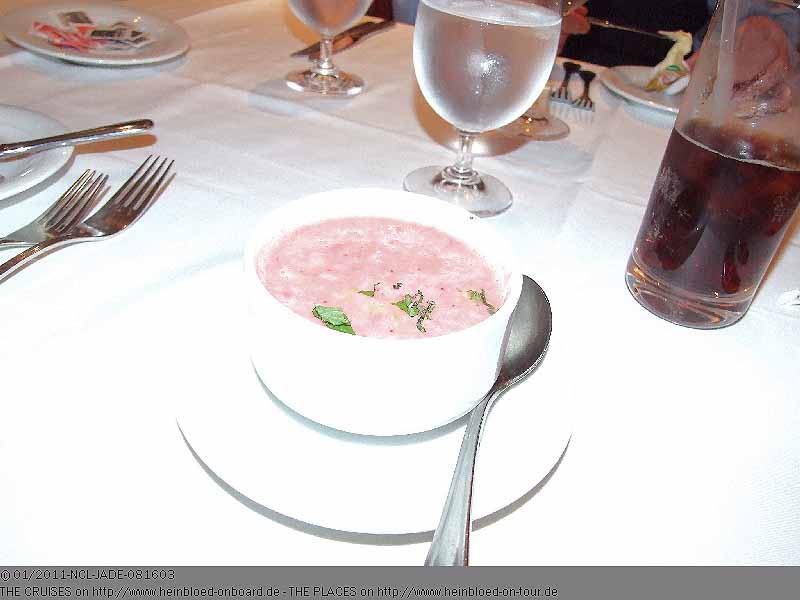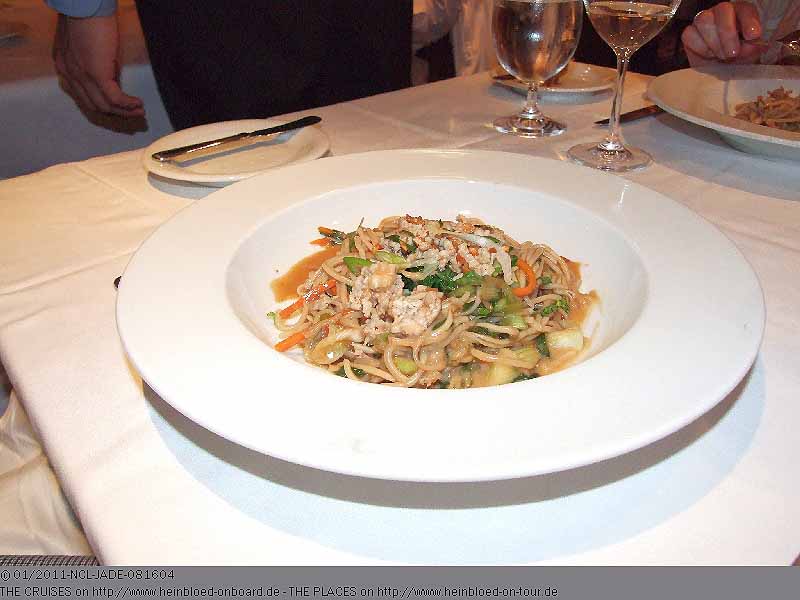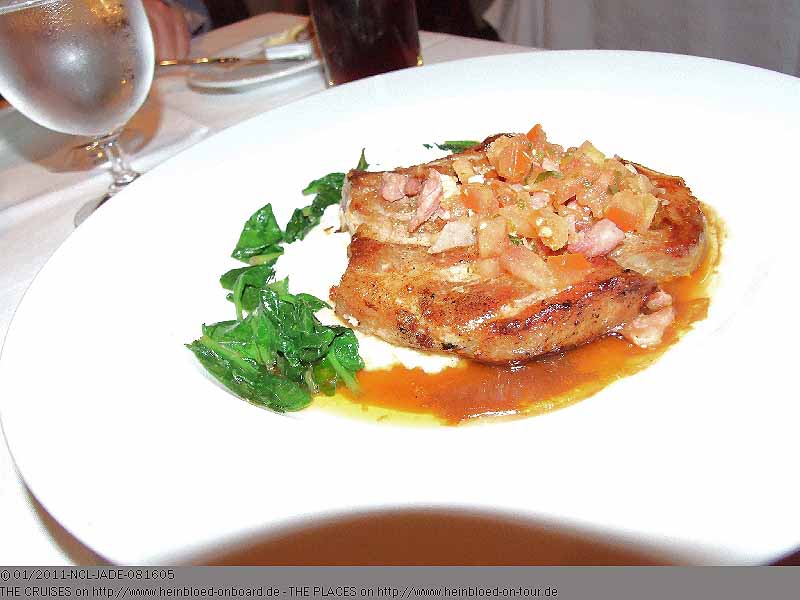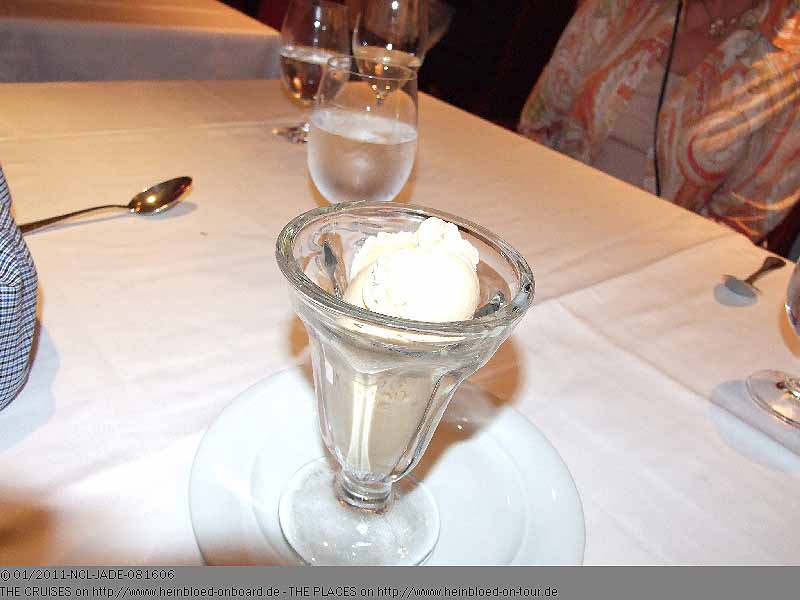 After dinner I went out again for taking pictures. After I planned originally just to take some pictures of the NORWEGIAN JADE I had no passport with me. The immigration officer was outside and although I just want to take picture next to him he insisted me to show his passport. So I need to walk from the forward to the aft to get my passport and get my bag, my Egpytian money and my tripod.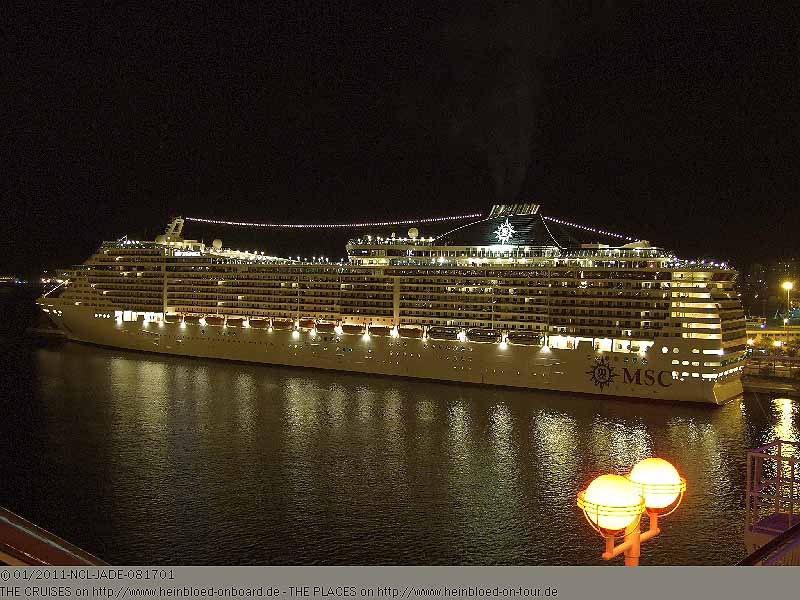 Nach dem Essen gehe ich nochmals raus zum Fotografieren. Nachdem ich ursprünglich geplant hatte eigentlich nur die NORWEGIAN JADE zu fotografieren, hatte ich keinen Reisepass mit. Der Grenzbeamte stand draußen und obwohl ich direkt neben ihm fotografieren wollte, bestand er darauf, dass ich den Reisepass hole. Da ich eh vom Bug zum Heck laufen muss, um meinen Pass zu holen, besorge ich mir noch eine Tasche, ägyptisches Restgeld und mein Stativ.
So entstehen noch ein paar mehr Bilder auch von der MSC SPLENDIDA.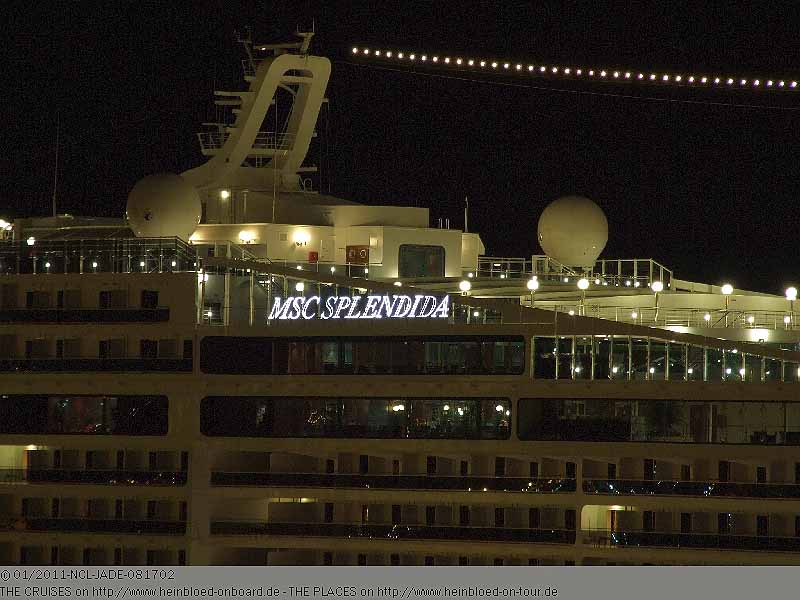 So I took few more pictures from MSC SPLENDIDA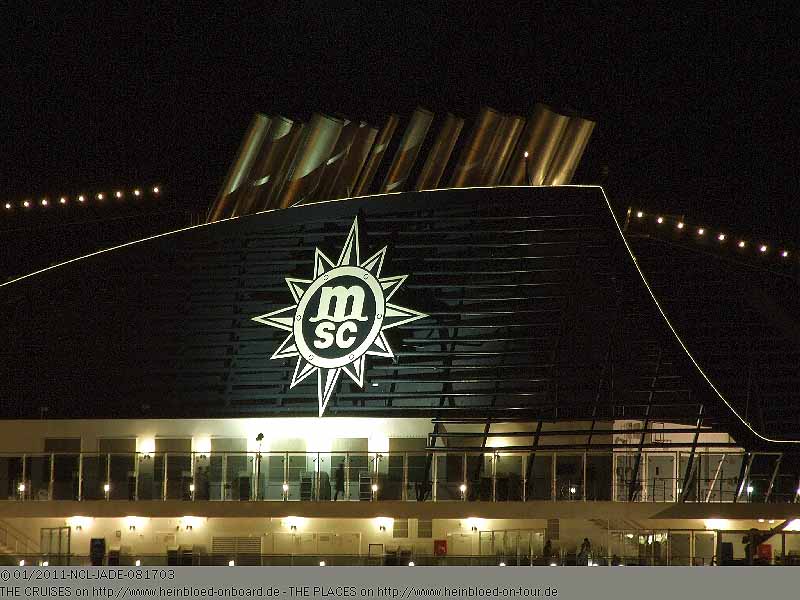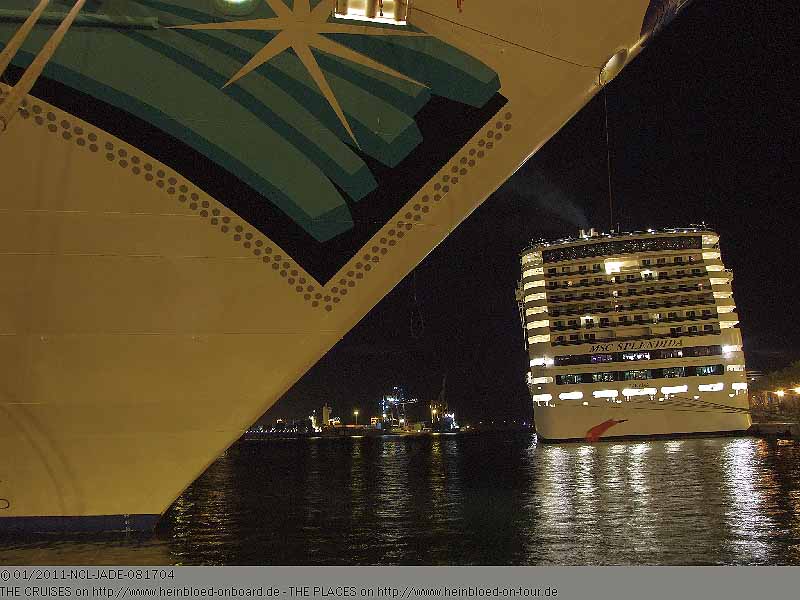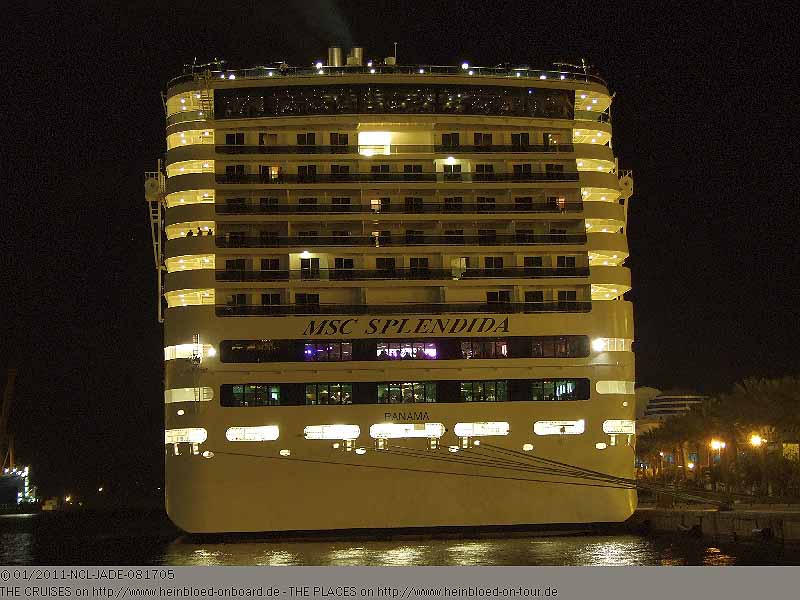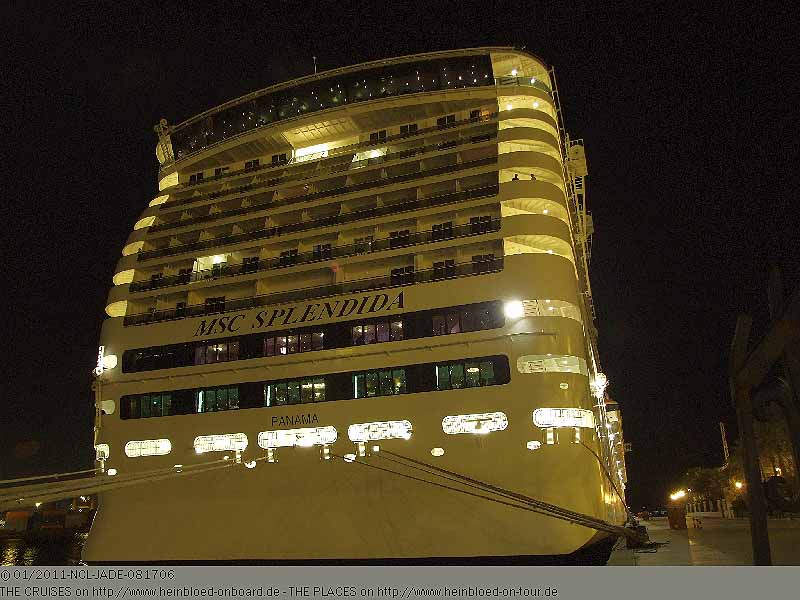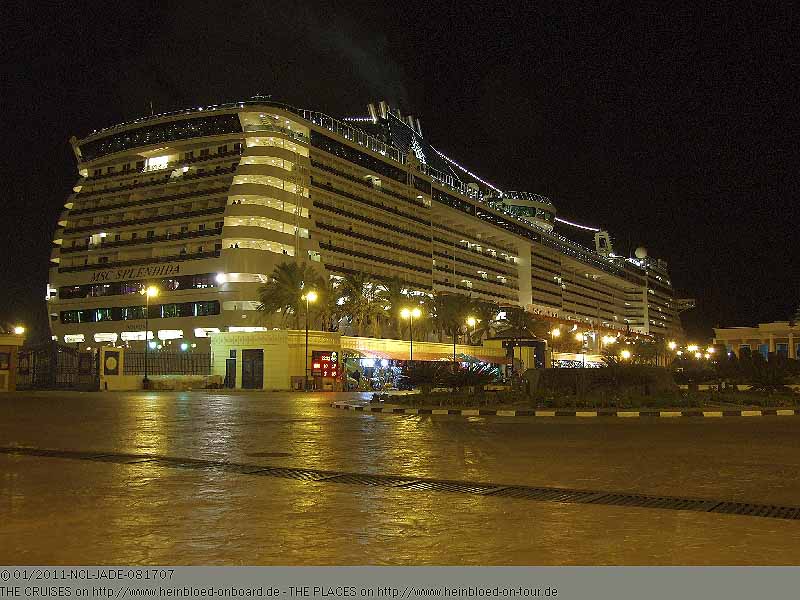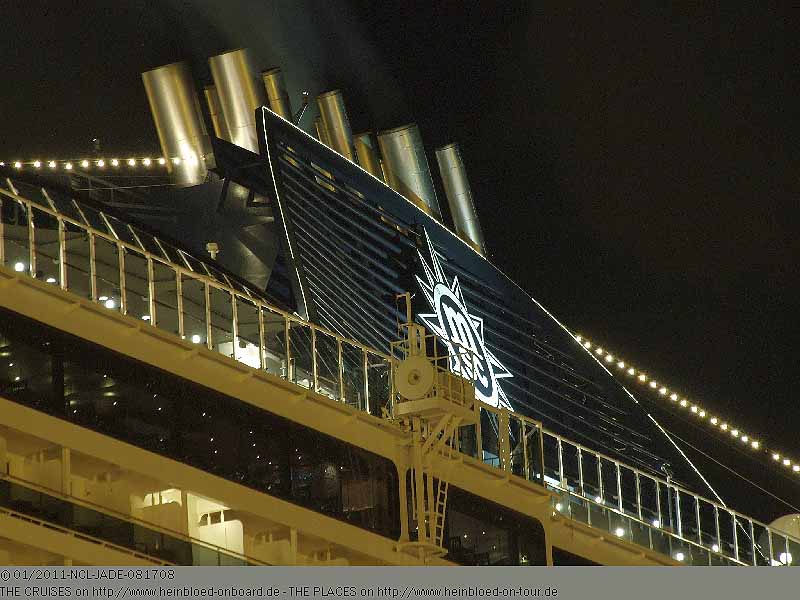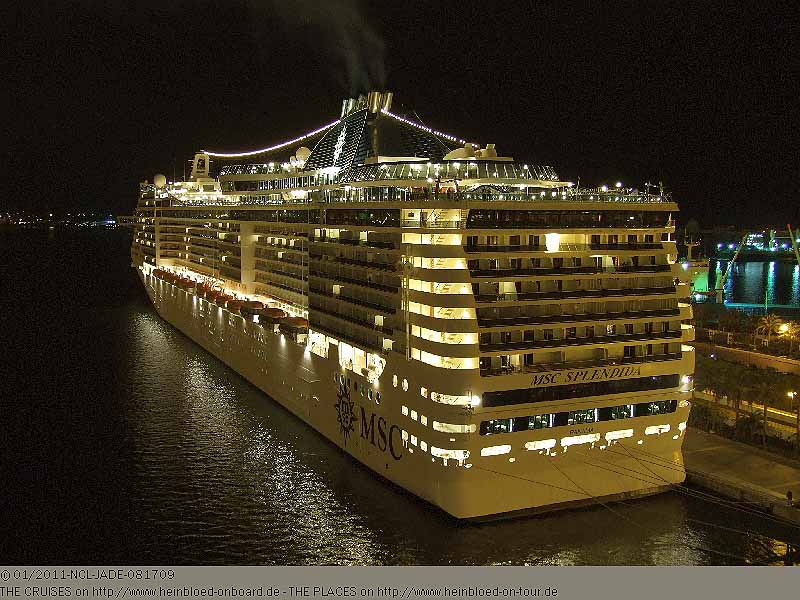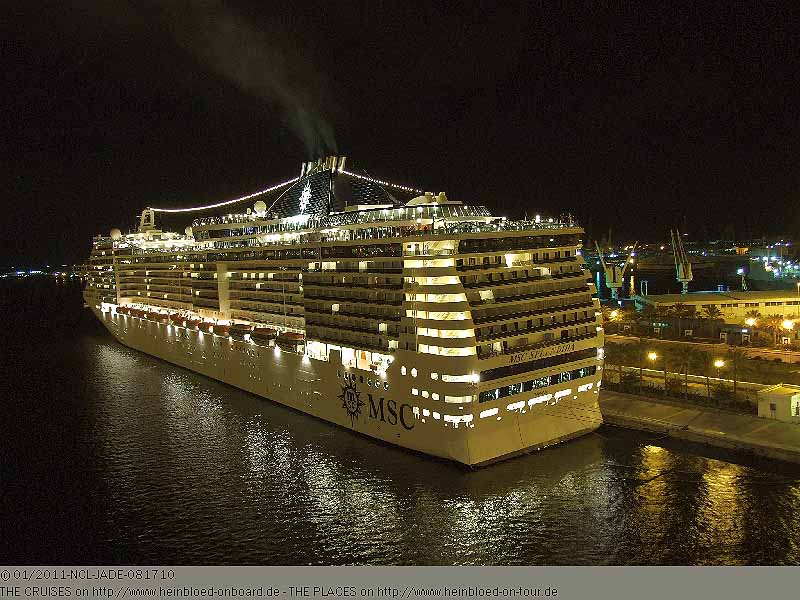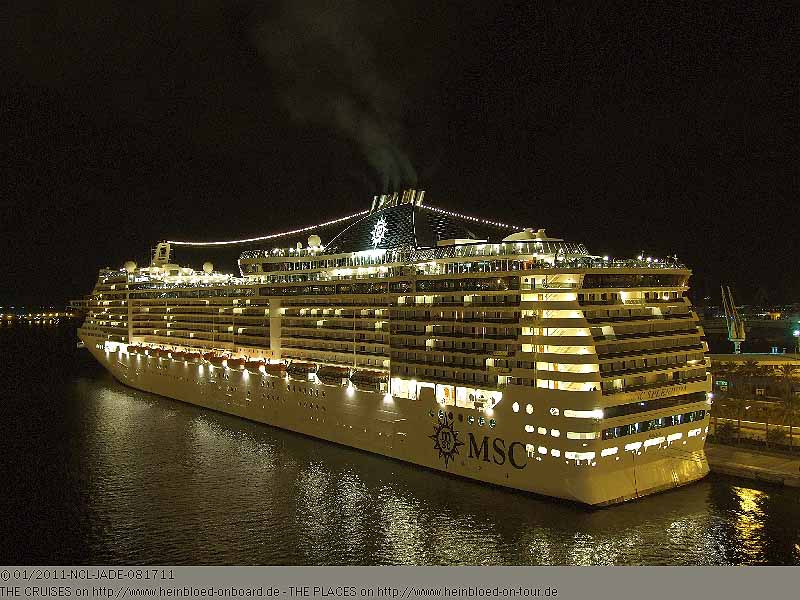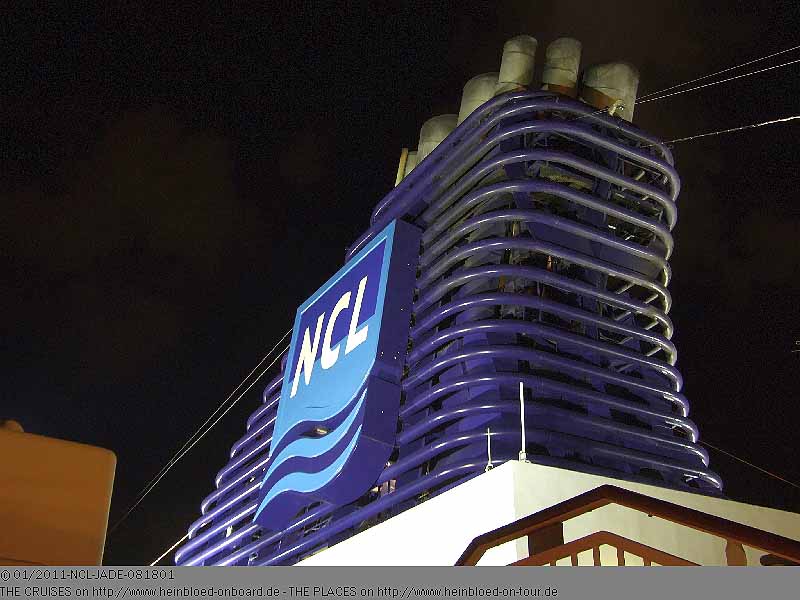 Even I have hundered of photos: I like it here very much.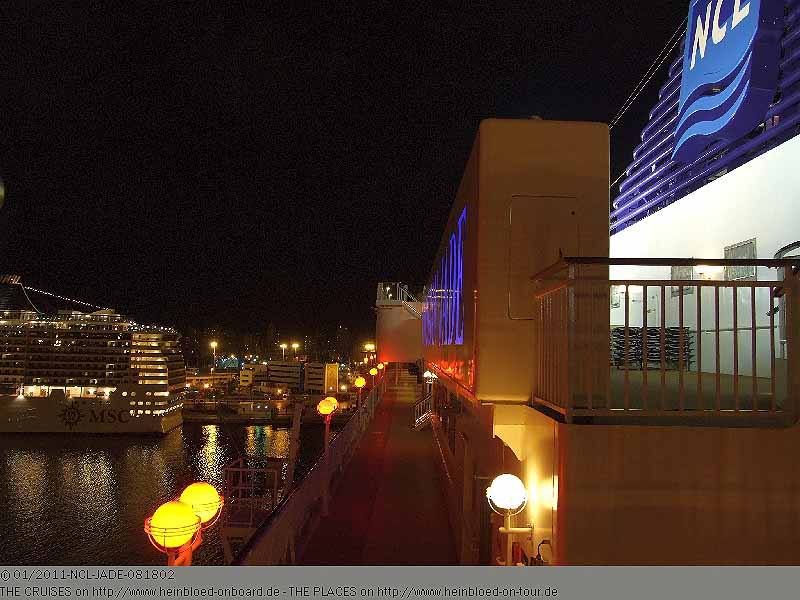 Auch wenn ich davon Hunderte Bilder habe: ich finde es einfach schön bei uns.
Das Cagney's (und Pappa's Italian Kitchen) waren heute Abend geschlossen. Damit keine Viren auf den fertig gedeckten Tisch sich ablagern können, wird alles sauber abgedeckt.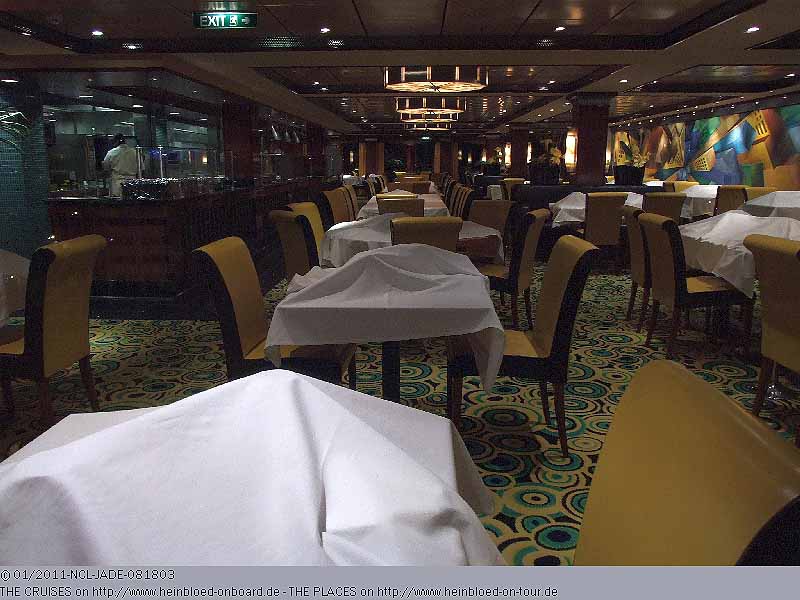 Cagney's (and Pappa's Italian Kitchen) were closed tonight. To make sure that the virus cannot set on the ready set table everything was covered.

The customs authorities sealed all shops. But it was not so bad like then in Tripolis, Libya. They had to cover all female sculptures and all acoholic bottles and advertising.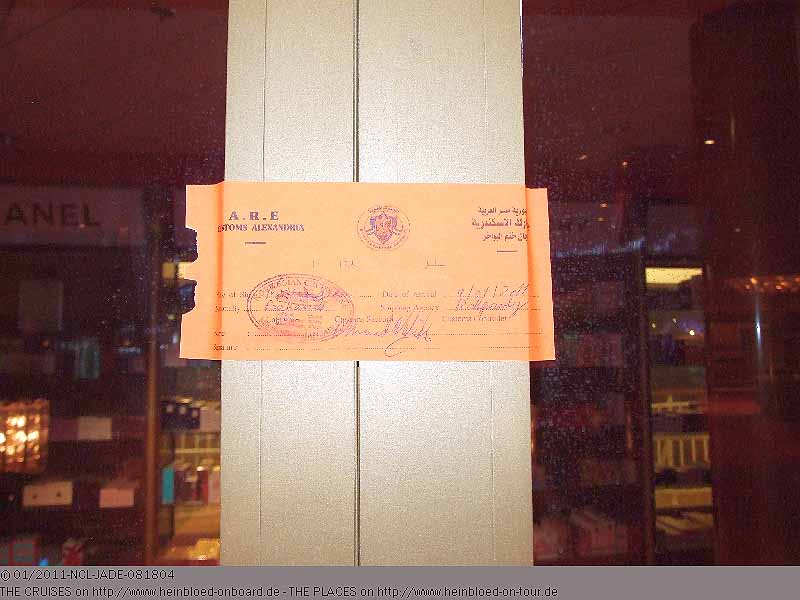 Der Zoll hat alle Läden versiegelt. Aber so schlimm wie damals in Tripolis, als auch alle Frauenskulpturen, Alkoholflaschen und -werbung entfernt werden mussten, ist es zum Glück nicht.
Ich wurde gebeten wegen einer Infusion für ein Kleinkind im Falle eines Norovirusausbruchs nachzufragen. Leider war die Krankenstation geschlossen. Am nächsten Tag wollte ich eigentlich darum bitten, dass der Arzt sich mit demjenigen, der die Frage hatte, sich direkt in Verbindung setzt. Ich finde es bei solchen Fragen, besser, als Flüsterpost zu spielen. Aber das wollte der Pfleger am Empfang nicht. Weil ja die ganzen Dips gegessen hatte, hatte ich einmal Durchfall in der Nacht. Sicherheitshalber frage ich nach und soll sofort isoliert werden. Er gibt sich mit der Auskunft, dass ich Laktoseintoleranz habe nicht zufrieden. Ich bitte darum, dass der Arzt rauskommt. Er ist auch Asiate und versteht sofort was los ist. Seine erste Frage: ob bei mir der normale Stuhlgang schon eingesetzt hat? Das kann ich bejahen und sofort ist ihm klar: eine klassisch-asiatische Laktoseintoleranz. Um auf die ursprüngliche Frage zurückzukommen: Der Pfleger sagte, dass das Schiff für solche Infusionen an Kleinkinder vorbereitet sei und diese auch entsprechend legen kann. Es besteht keinen Grund die Kreuzfahrt zu stornieren. Aus meinen Beobachtungen heraus, kann ich nur bestätigen, dass die Maßnahmen bei allen Kreuzfahrtgesellschaften die ich kenne, mit am höchsten sind. Nur bei Holland America sind sie ein wenig höher, weil am Tag der Einschiffung und am Tag danach keine Selbsbedienung im Büffet-Restaurant angeboten wird, bis nicht sichergestellt ist, dass jemand die Erkrankunft mit an Bord gebracht hat. Ein Gesundheitsinspektor, die sich selbst im cruisecritic.com HealthInspector nennt ist auch nicht von Bord gegangen.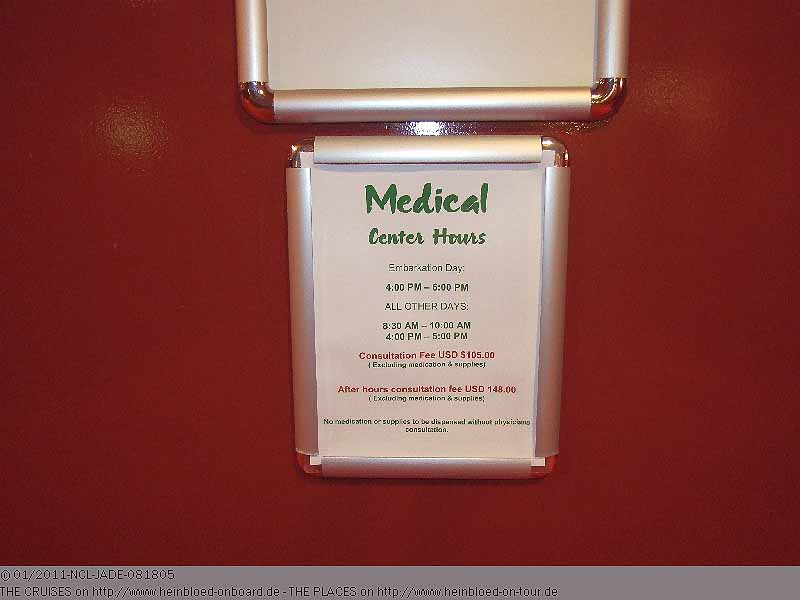 I was requested to ask for an infusion for an infant in case of a norovirus outbreak. But the medical station was closed. The next I asked for that the doctor should contact the future passenger who had the question and to discuss it directly. With such kind of questions it might be better than using a courier. But the male nurse at the reception was not willing to do so. I had diarrhoa the night because I ate all the dips. He did not accepted the addtional information that I have lactose intolerance wanted to isolate me. I asked to see the doctor. He is Asian and knew immediately what was wrong. So he asked for my stool this morning and I could confirm that it was normal again: typical for Lactose Intolerance. But back to the original question: The nurse said that the ship is well prepared for such kind of infusions for infants as well and they are able to handle it. So no reason to cancel your cruise. From my observations I can only confirm that the standards to avoid the outbreak are on the highest I know from any line. Only Holland America is slightly better when they offer silver service on the day of embarkation and the next day in the buffet-restaurants to make sure that no infected person joined the cruise. A HealthInspector who called herself HealthInspector in cruisecritic.com did not leave the ship and stayed.

So I had time enough to look around...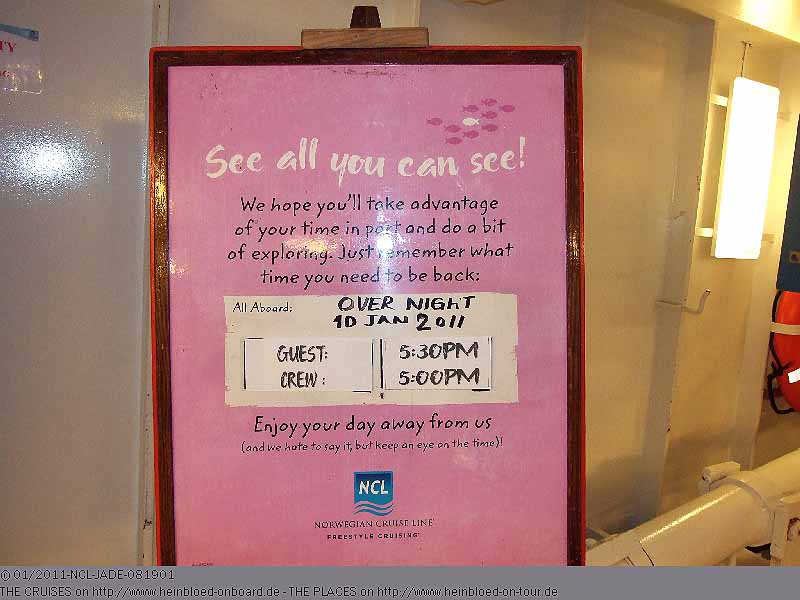 So habe ich ja nun Zeit genug, um mich noch weiter umzusehen...
Nur Taxen stehen keine mehr da.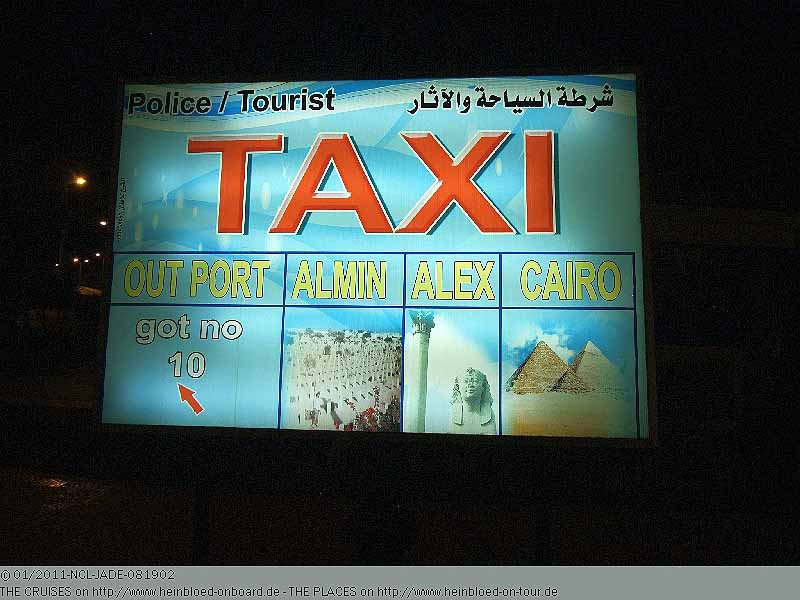 But no more taxis were waiting here.

I went again on the bridge to take some pictures.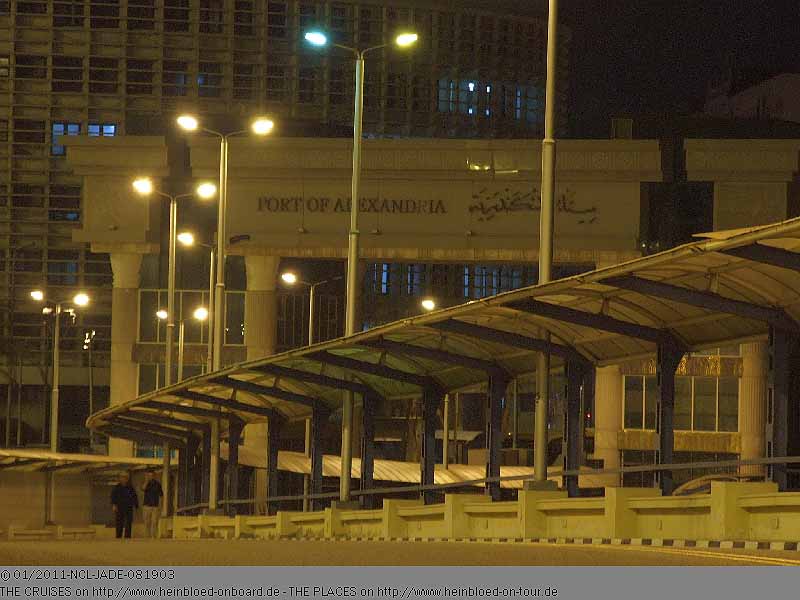 Ich gehe nochmals auf die Brücke, um besser zu fotografieren.
Hier bei Costa Café kaufe ich noch eine Flasche Wasser, die 1 EUR (= 7 EGP) kosten soll. Da ich aber nur ägyptisches Geld mithatte und ca. 0,65 EGP fehlten, freuen sich die Jungs über ein Foto und übergeben mir die Flasche... Nun gut... das Wasser kostet im Carrefour 1,70 EGP...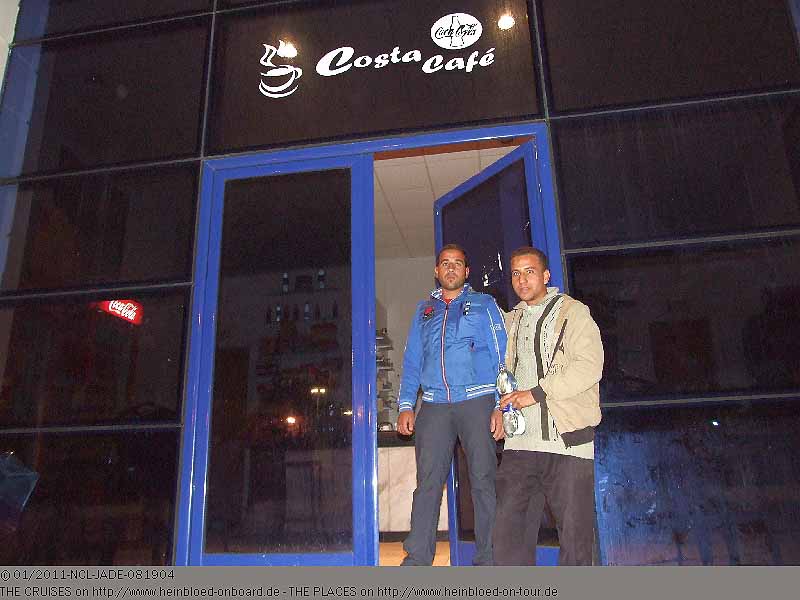 Here with Costa Café I bought a bottle of water for 1 EUR (= 7 EGP). As I had only Alexandriaian money with me and about 0.65 EGP were missing the boys asked me to take a souvenir picture and gave me the bottle... o.k.... the water was in Carrefour 1.70 EGP.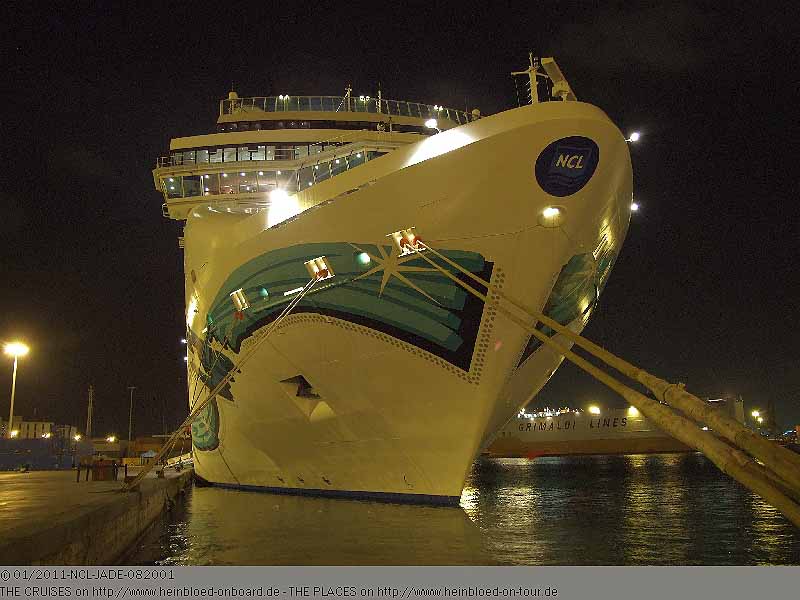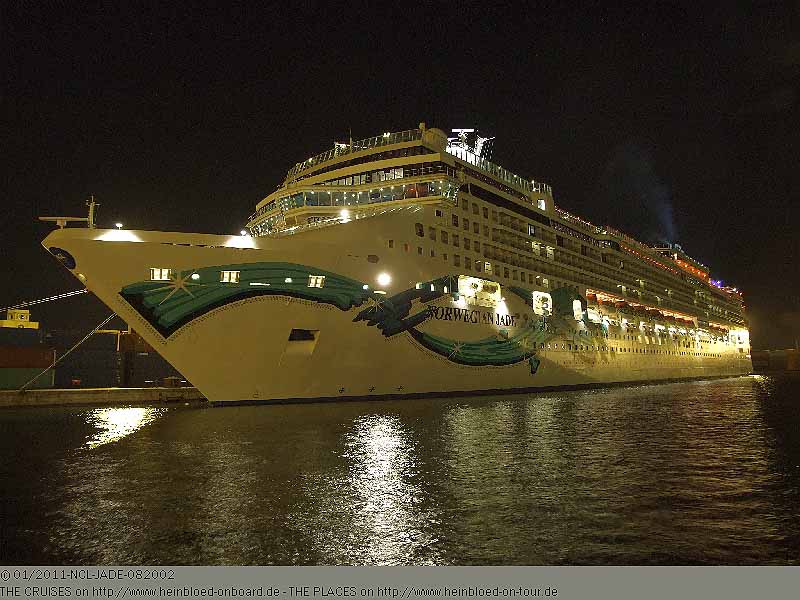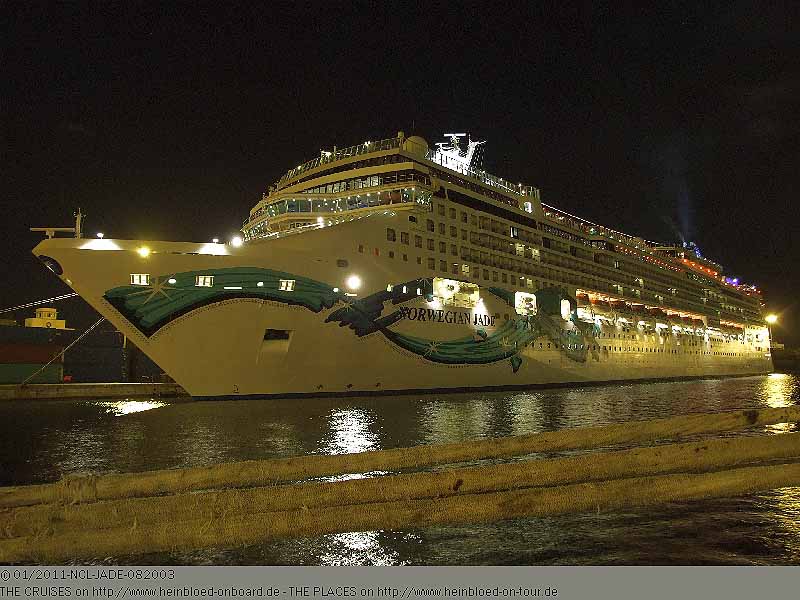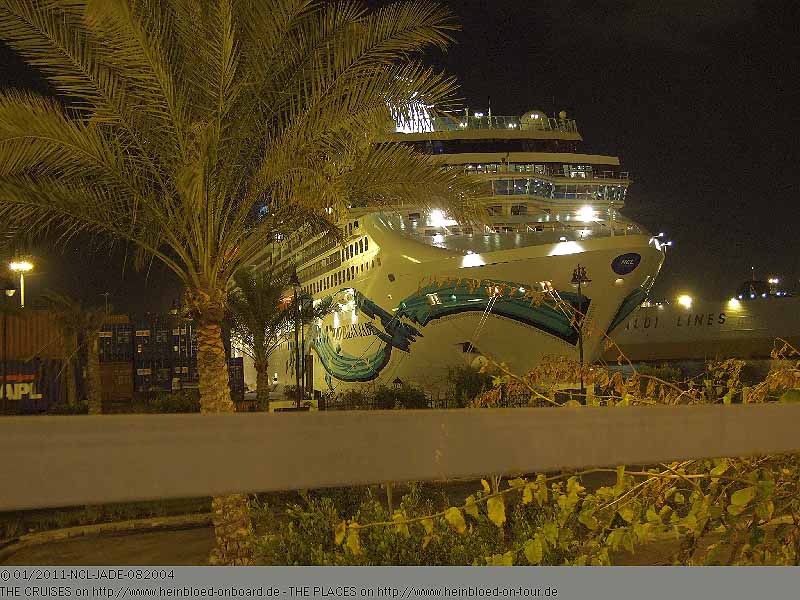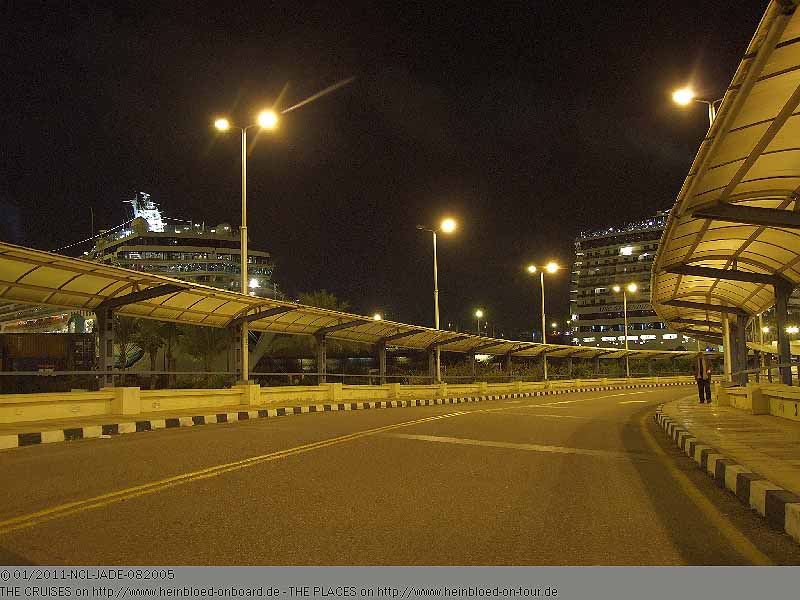 Gute Nacht aus Alexandria.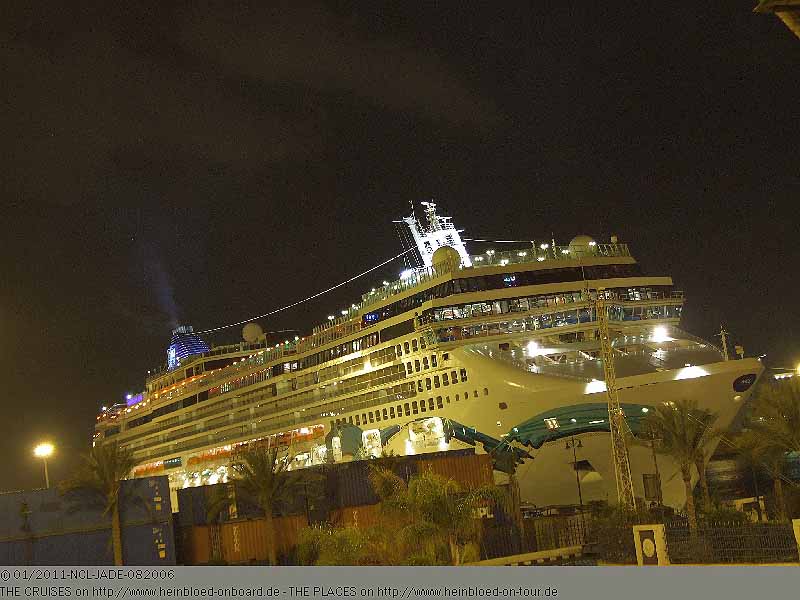 Good Night from Alexandria.