Scroll down for English explanations - alternates with German explanations.

Vor der Zitadelle halten mehrere Busse von verschiedenen Anbietern, aber ich sehe nirgendswo einen VW Caravelle, wie wir ihn zuletzt in Izmir hatten. So muss man wohl ein asiatisches Fahrzeug einkalkulieren.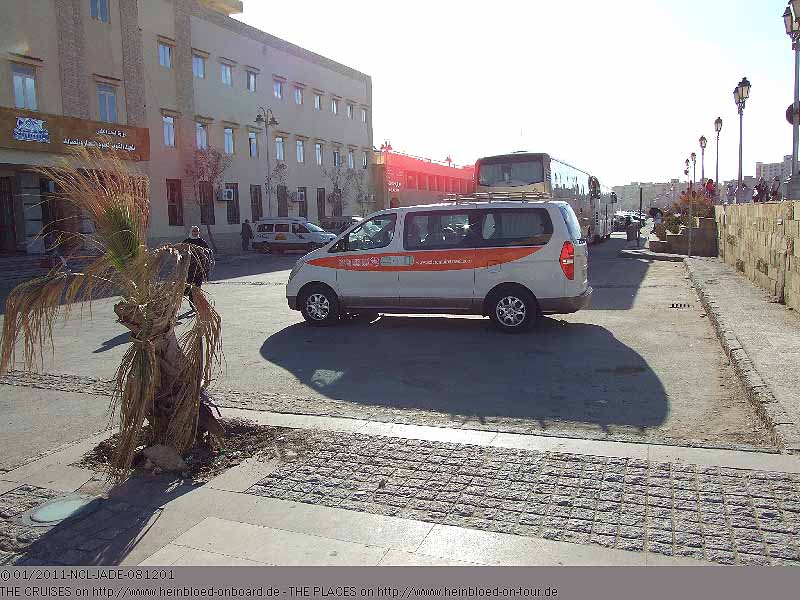 In front of the Citadell some mini-buses stopped from different tour operators but there was no Volkswagen Caravelle which we had recently in Izmir. So you need to include an Asian vehicle in your consideration.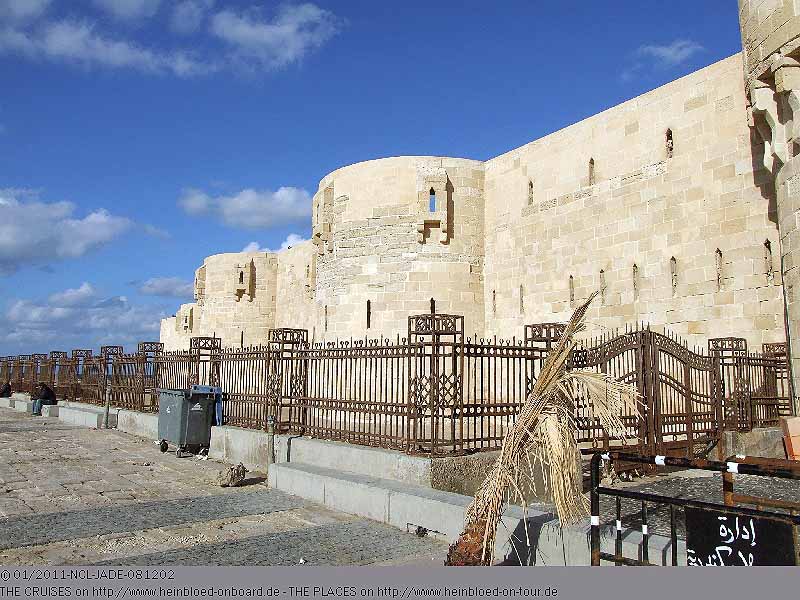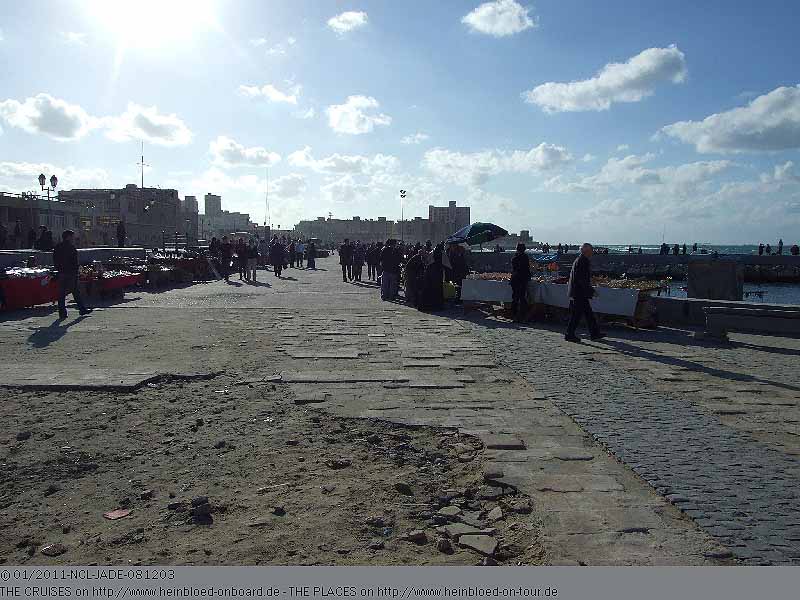 Somehow the boat had no chance to get out.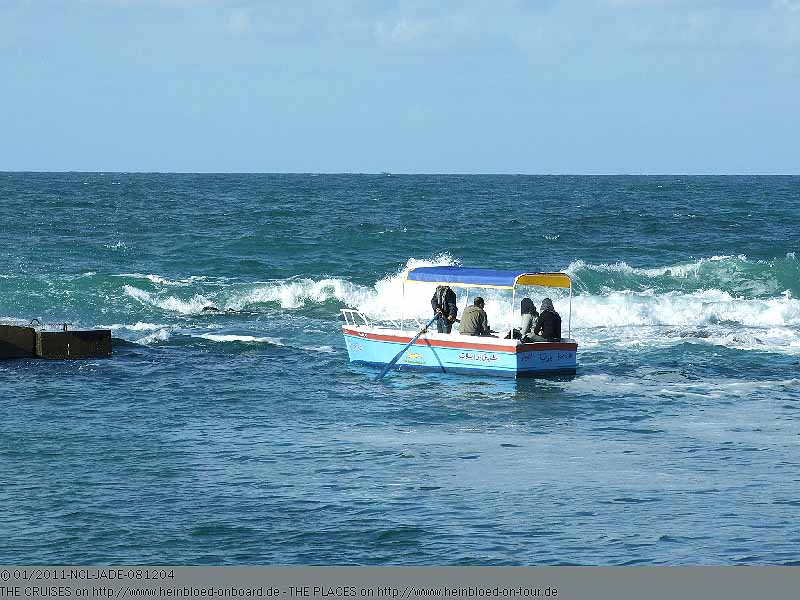 Dieses Boot kommt irgendwie nicht richtig raus.
Die Wellen sind stark.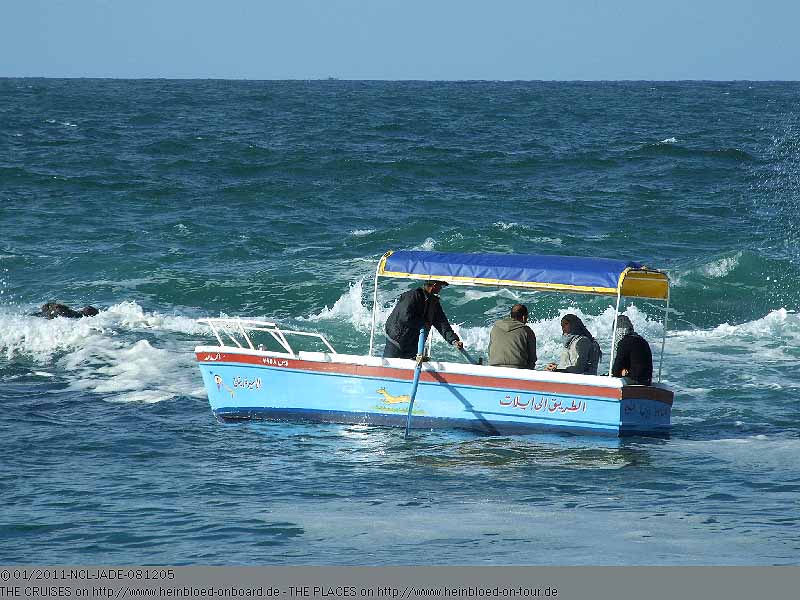 The waves were too strong.

Then they gave up.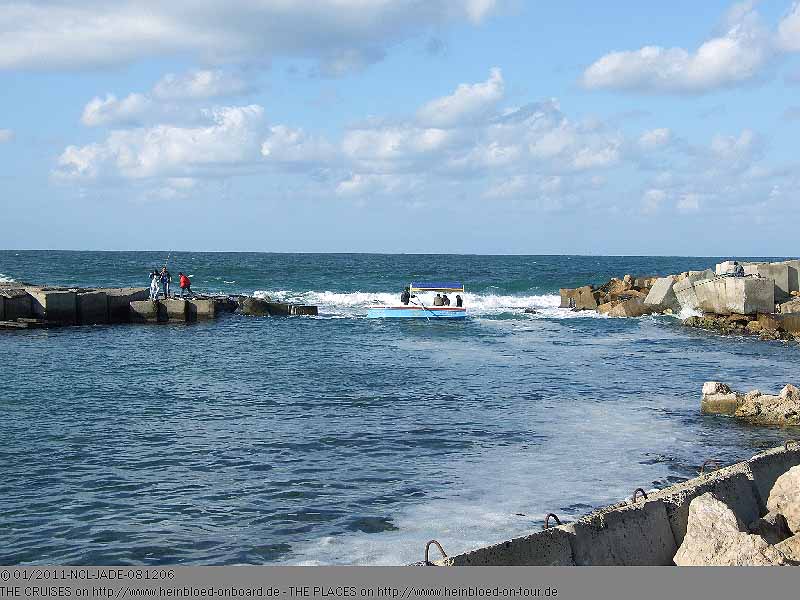 Irgendwie geben sie auf.
Und rudern wieder zurück.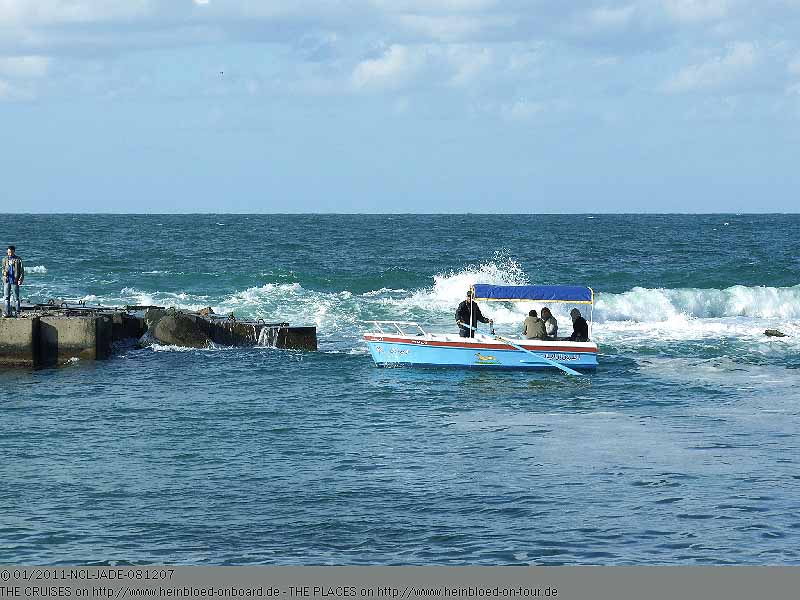 And row back then.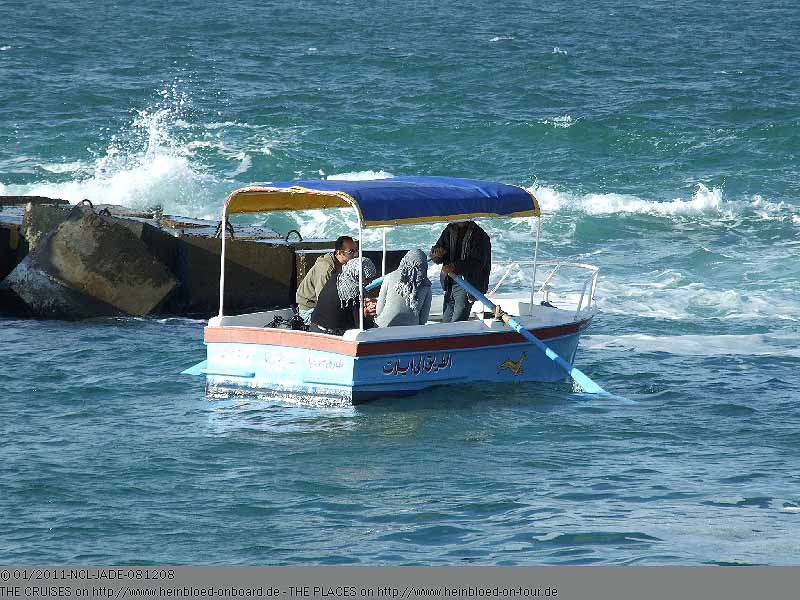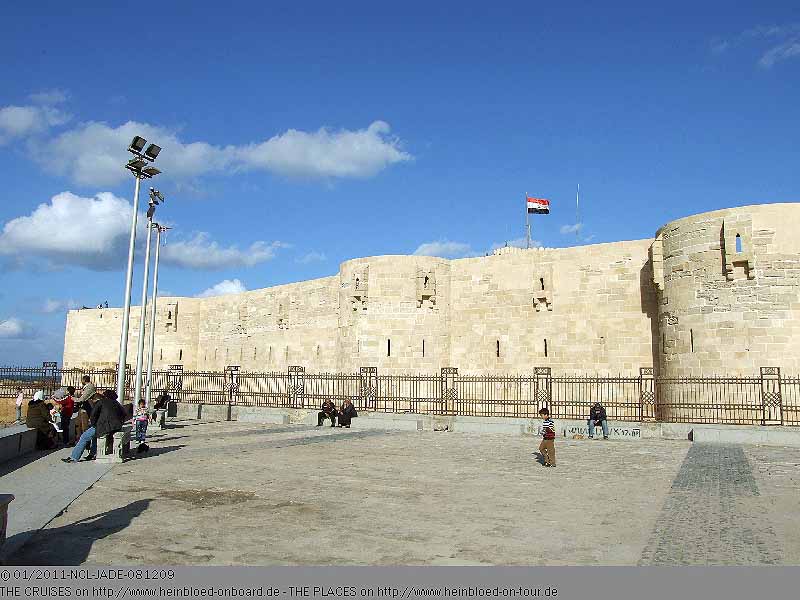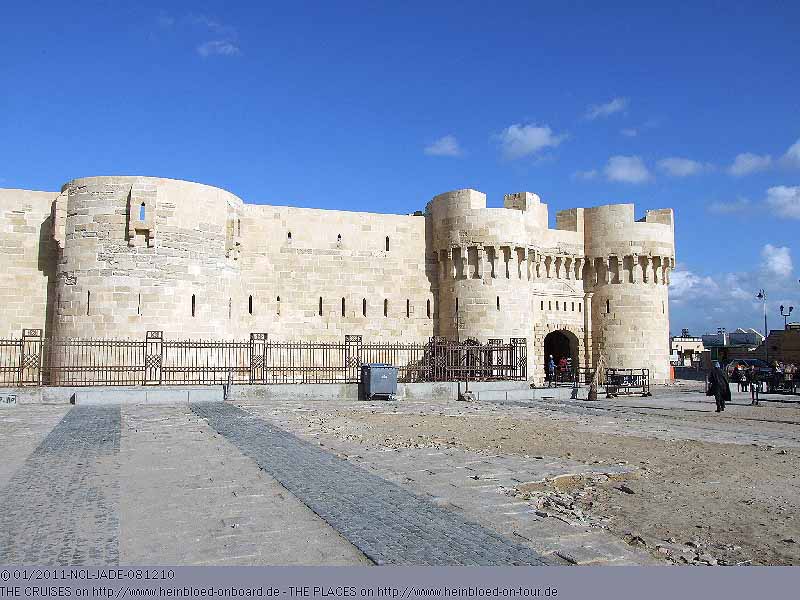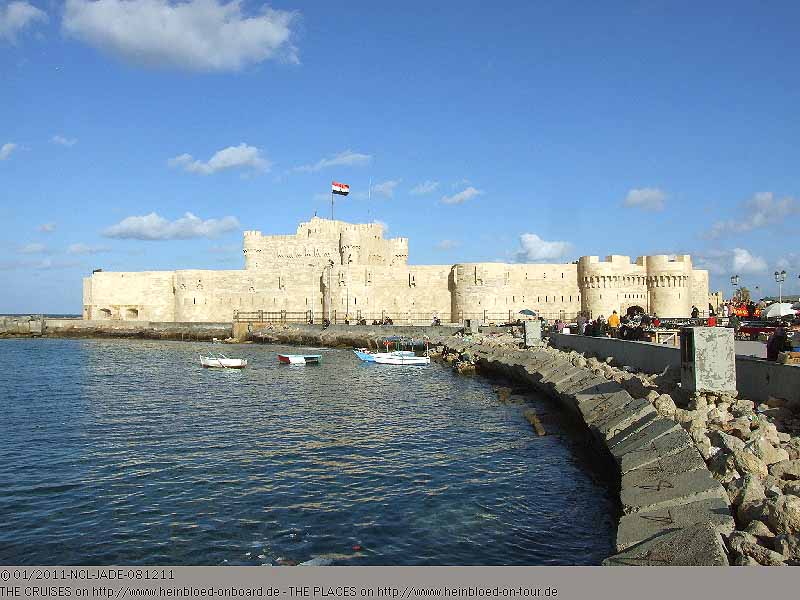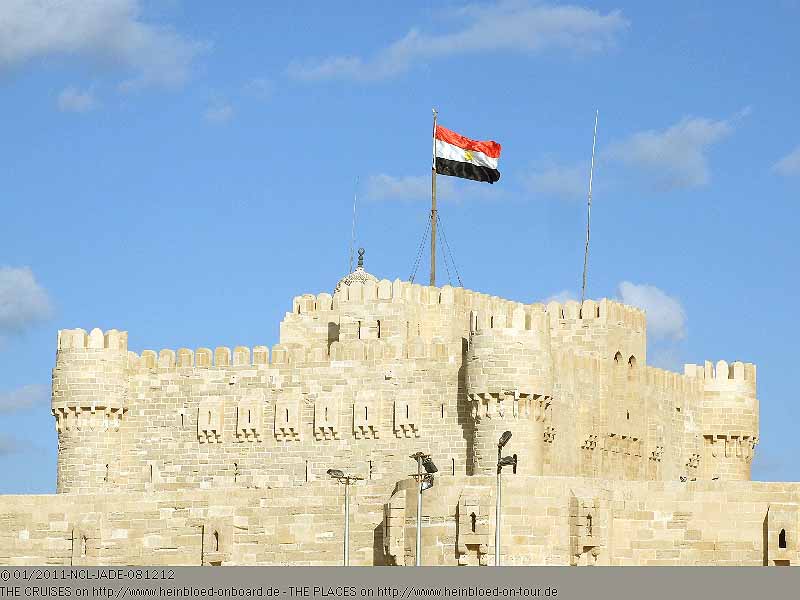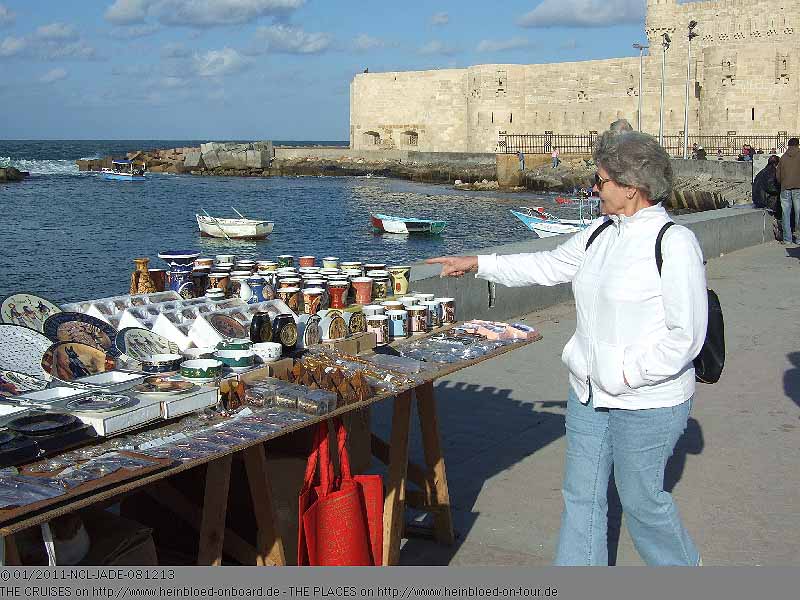 Look how the Chinese prepare their group pictures accordingly.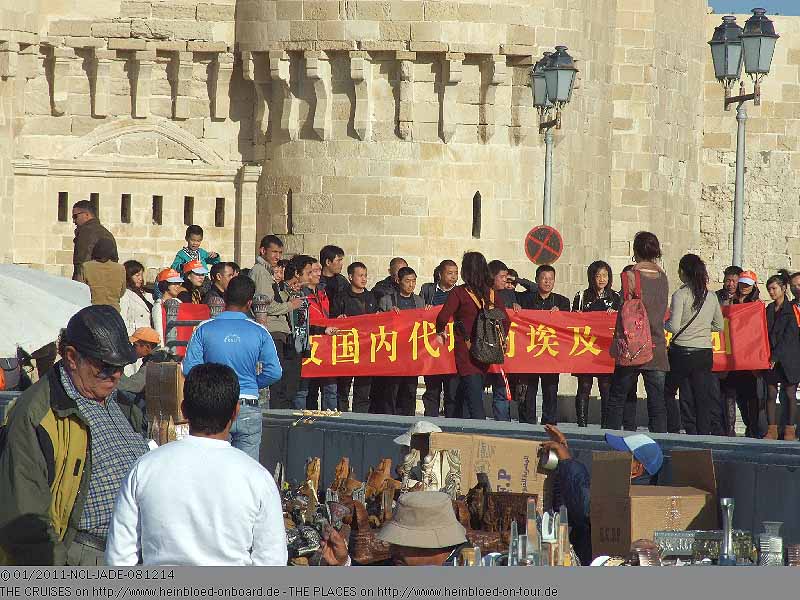 So professionell werden Gruppenbilder bei Chinesen vorbereitet...
Weiter geht es zu einem kurzen Fotostop an der Abbus-al Abbas-al Mursi-Moschee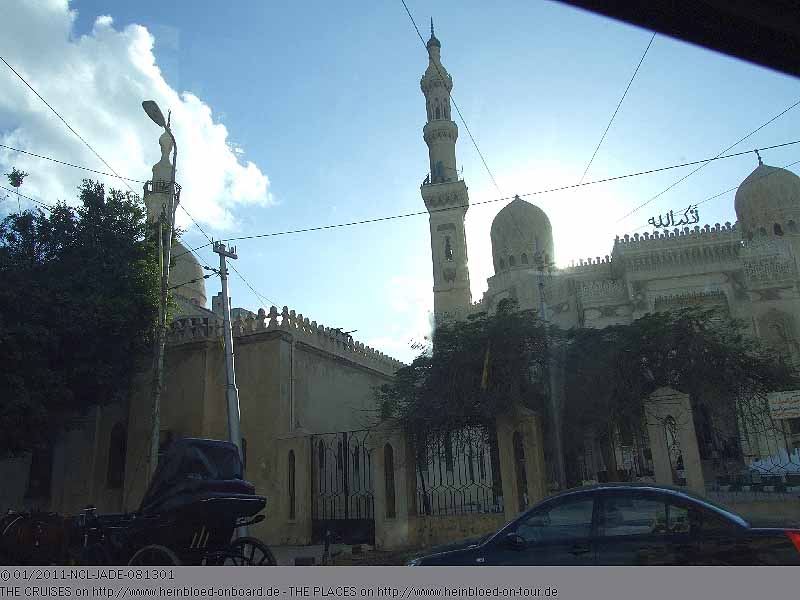 We headed then for a short photo-stop at the Abbus-al Abbas-al Mursi-Mosque

It was the only place where you had few street dealers who offered something.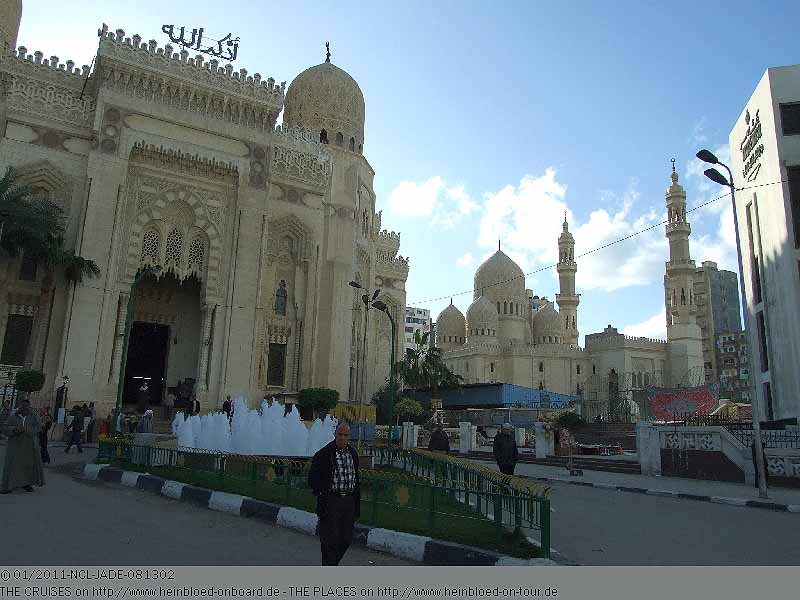 Es war so ziemlich der einzige Ort, an dem es ein paar Straßenhändler gab, die ihre Sachen angeboten haben.
Hier waren sie aber nicht so aufdringlich, wie in Kairo. Aber ein einfaches "Nein" und die Sache war beendet.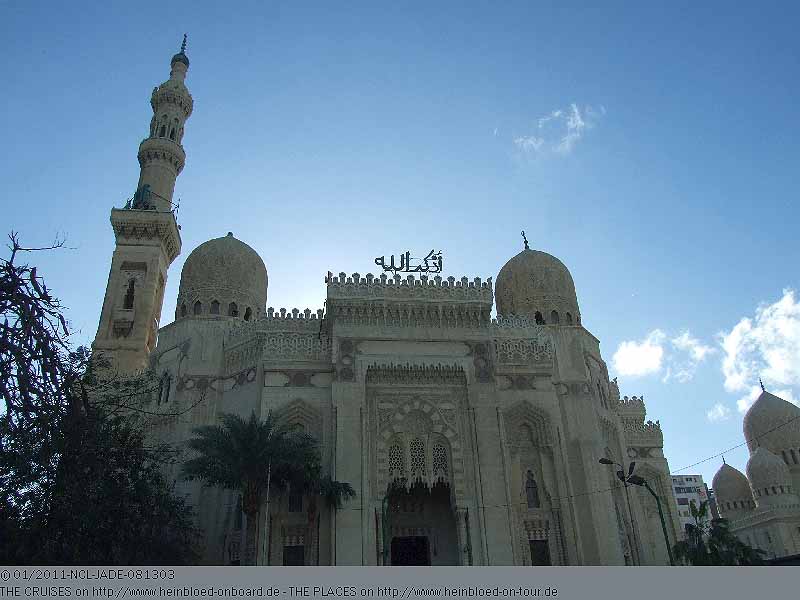 But it was not as aggressive as in Cairo. But just with a simple "No" and it stopped immediately.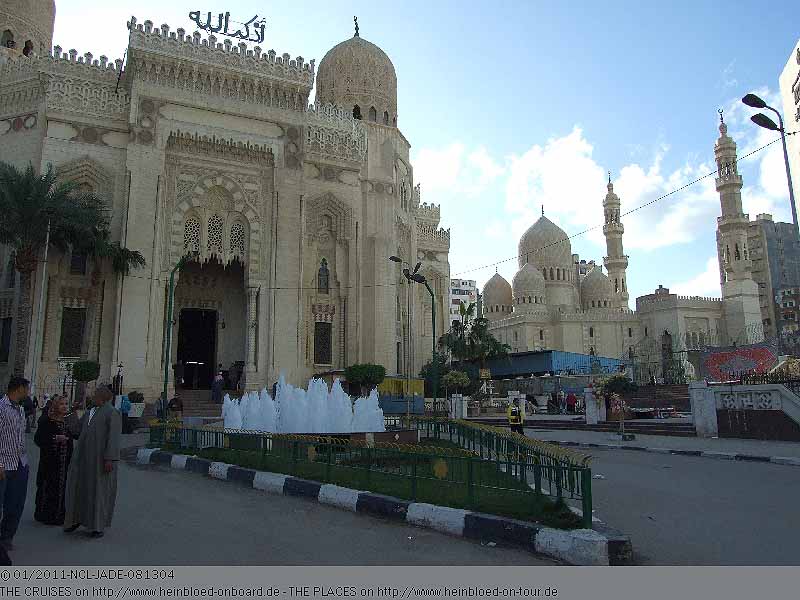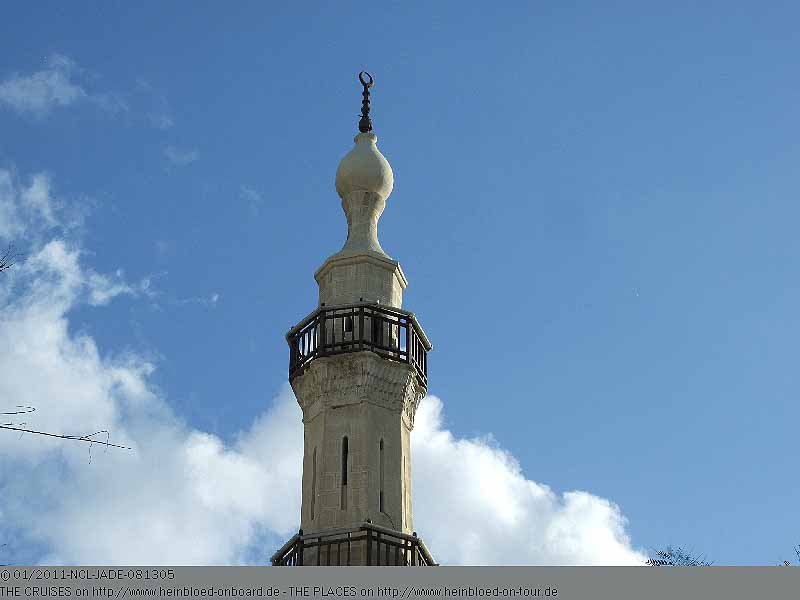 I was interested to see it from inside but in Tunis we were even not allowed to get on the ground of the Mosque.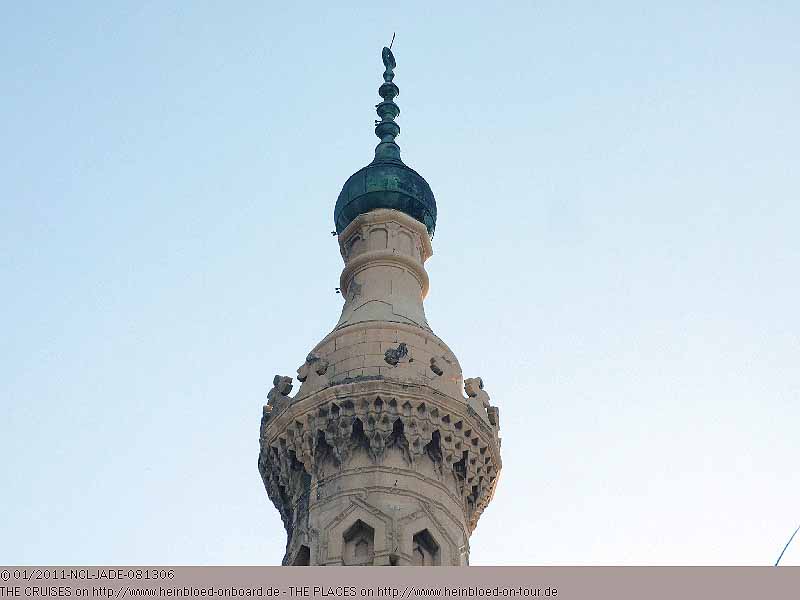 Ich wäre auch gerne reingegangen, aber in Tunis durften wir ja nicht mal auf das Gelände der Moschee.
Weil ein Park, den wir besuchen sollten 40 Minuten während der Rush-Hour entfernt ist, haben wir darauf verzichtet. Von der Crew wussten wir, dass es einen tollen Shopping Mall geben sollte: Jeder kannte ihn unter dem Namen Carrefour. Der Shopping-Mall heißt aber City Centre.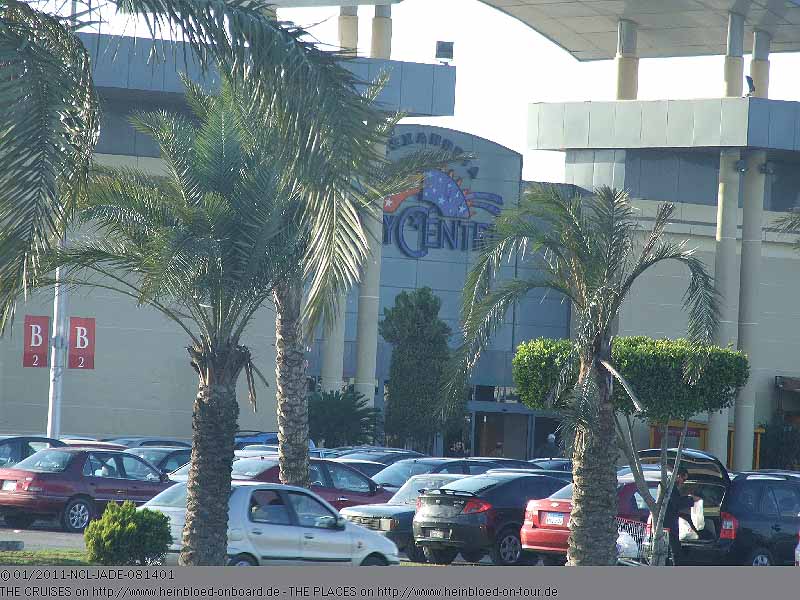 Because a park we should visit was located 40 minutes away during the rush-hour we did not want to see it. From the crew we knew on a great shopping-mall. Everyone knew it as Carrefour. Correctly it was the City Centre shopping mall.

Maybe a picture for the taxi driver who might not speak English...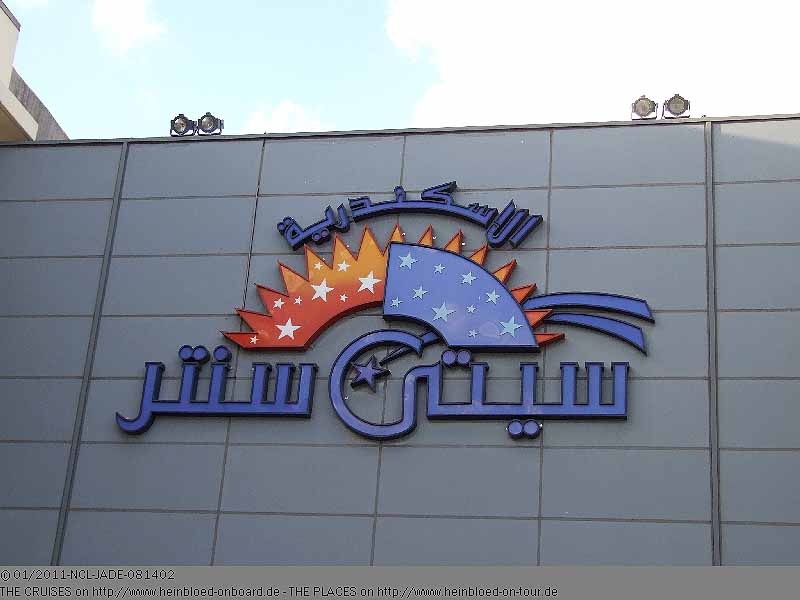 Evtl. ein Bild für den Taxifahrer, der kein Englisch kann...
Im Mall werden alle westlichen Marken angeboten. Die Preise sind niedriger als in Deutschland, aber höher als in den USA, was die Klamotten betrifft. Erstaunt war ich, dass man auch Autos im Mall kaufen konnte.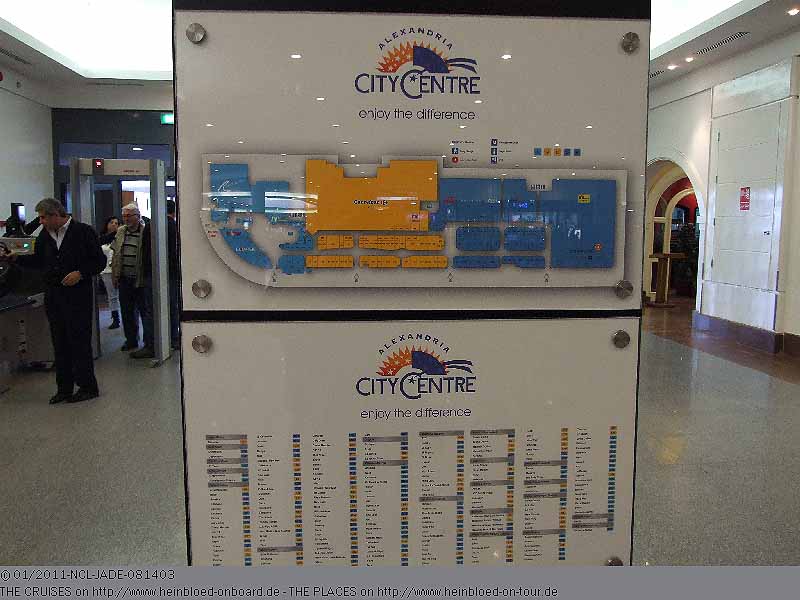 In the mall they offered all Western brands. The prices for clothes were lower than in Central Europe but higher than in the United States. I was surprised that you can buy cars in the mall.

You find also the popular US-food-chains there.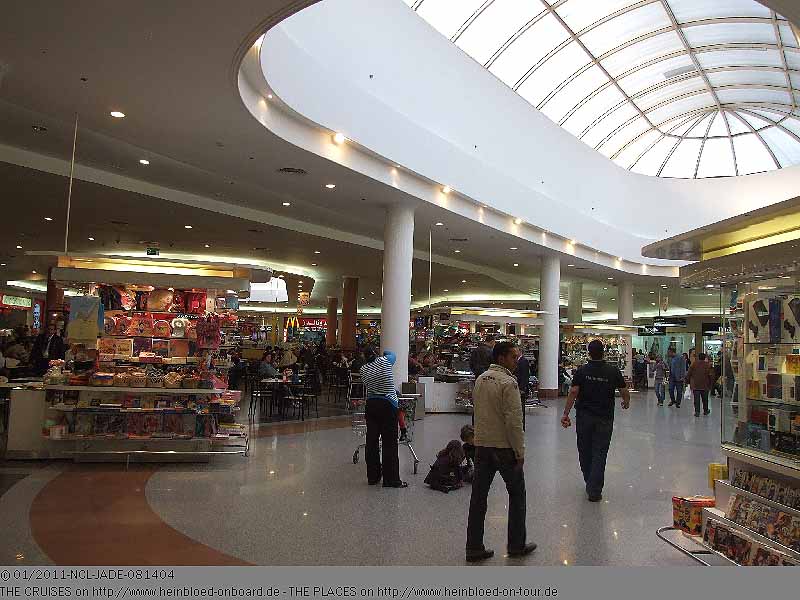 Auch die üblichen US-Food-Ketten sind vertreten.
Wir benötigen eine SIM-Karte für Ägypten für die Datenübertragung: 6 GB für einen Monat zum Preis von umgerechnet 22 EUR. Nun haben wir Karten für Spanien (orange), Italien (TIM), Frankreich (orange), Belgien (belgacom), Niederlande (vodafone), Großbritannien (T-Mobile), Norwegen (telenor) und nun Ägypten (etisalat).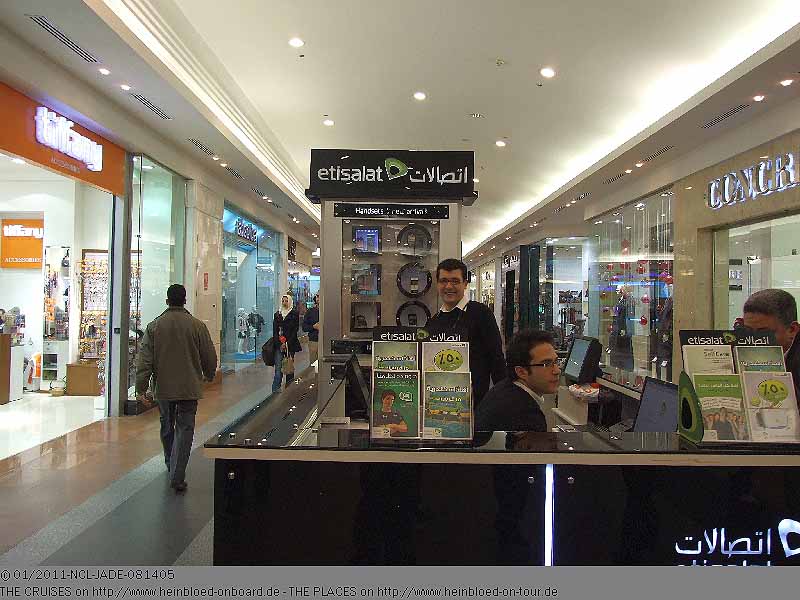 We need a SIM-card for Egpyt for data transmission: 6 GB for one month for a price of converted 28 USD. Now we have cards for Spain (orange), Italy (TIM), France (orange), Belgium (belgacom), The Netherlands (vodafone), UK (T-Mobile), Norway (telenor) and now Alexandria (etisalat).

Foaud gave us great support to buy the SIM-card and also a new battery for Bruno's watch. Our driver Mohamed took care of our bags while we were shopping. So far we were very satisfied with them. They made it sure that our wish not to make the same experiences like we had in Cairo before. Should our ways take us back to Egpyt they will be the first one to ask for new tours: Ramses Tours.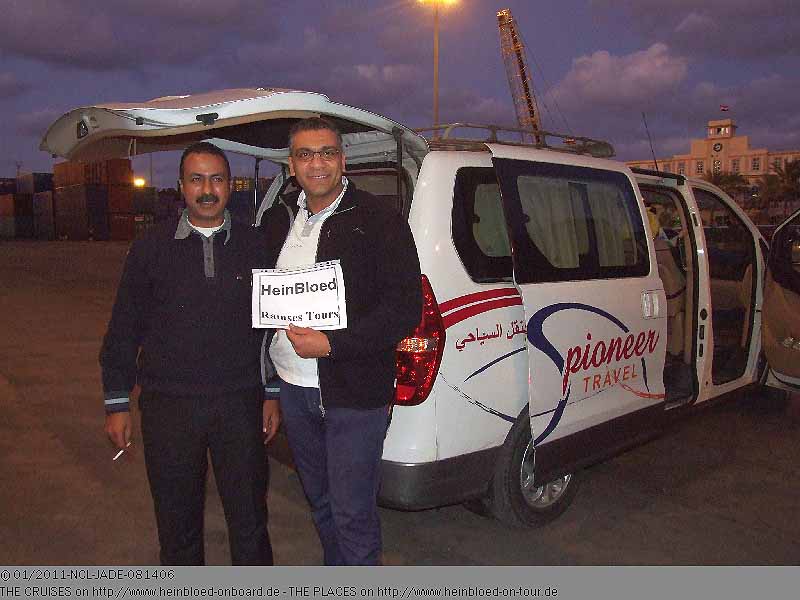 Foaud hat uns sehr untersützt, damit wir die SIM-Karte kaufen konnten und auch eine neue Batterie für Brunos Uhr kaufen konnten. Unser Fahrer Mohamed hat auch immer gut auf unsere Sachen aufgepasst während wir einkaufen waren. In sofern waren wir sehr zufrieden mit ihnen. Sie haben dafür gesorgt, dass unser Wunsch erfüllt wurde: nicht die gleichen Erlebnisse wie in Kairo. Sollte uns der Weg wieder nach Ägypten führen, werden wir sicherlich als erstes bei
Rames Tours
neue Touren anfragen.