Scroll down for English explanations - alternates with German explanations.

Das ist jeden Morgen wunderbar, wenn man die Heckkabine hat.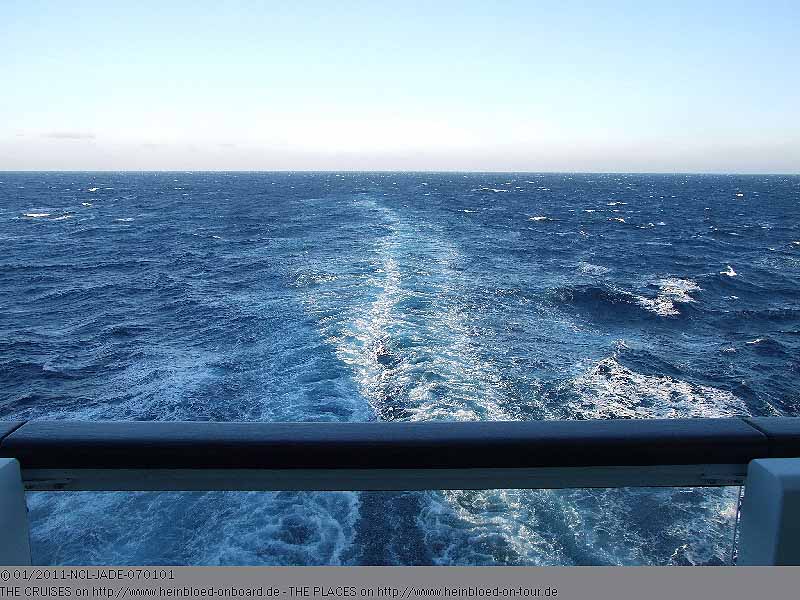 That was wonderful every morning if you have an aft cabin.

Less nice... breakfast started already.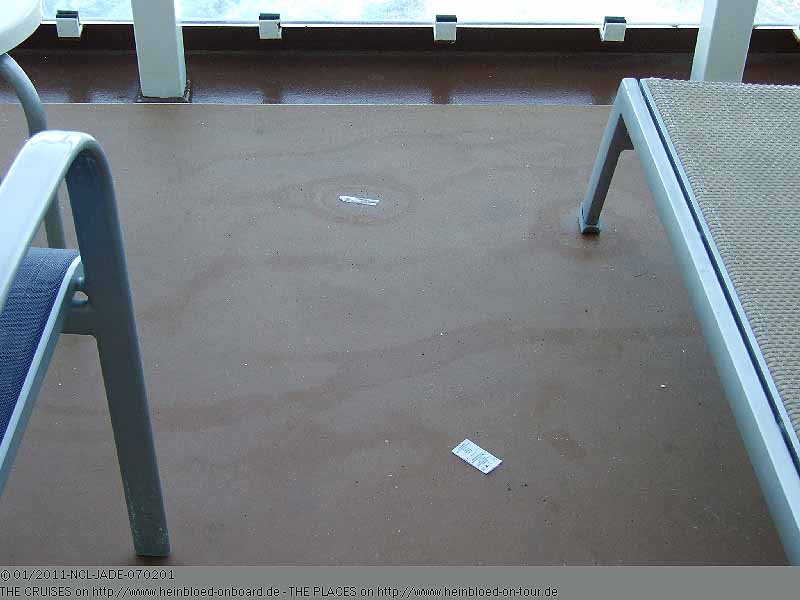 Weniger schön... das Frühstück hat wohl bereits begonnen...
Auch im Fahrstuhl finden sich die Hinweise, dass man die Pässe heute abholen muss.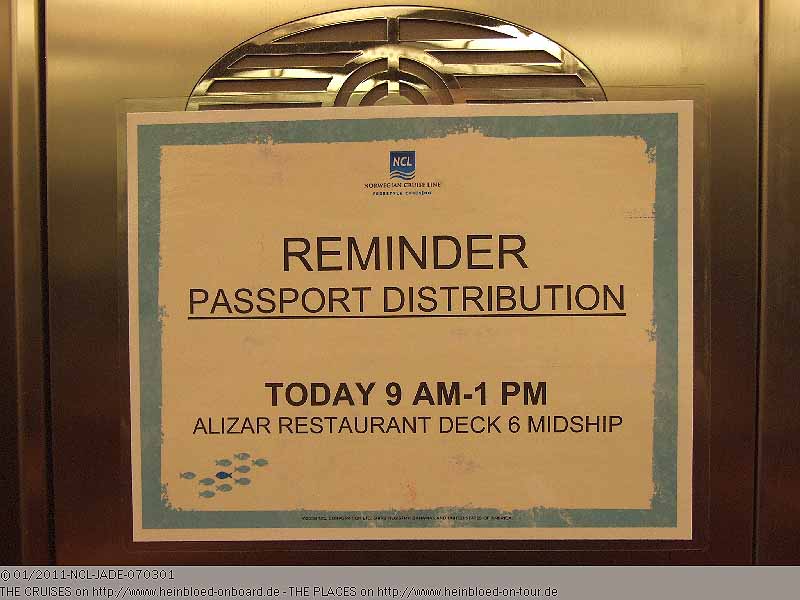 Even in the elevator cabins you find information that you need to collect your passports today.

You get a stamp for a landing which is limited to three days. It was free of charge. I would be very much interested to konow if MSC still wants money for it... Then on MSC MUSICA 2007 it was so.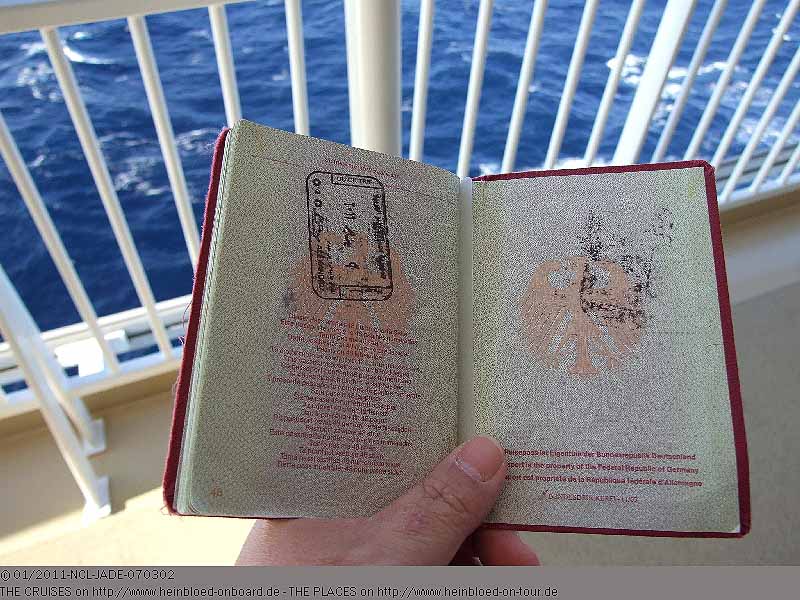 Es gibt einen Landgangsstempel, der max. drei Tage gültig ist. Für uns ist es kostenlos. Mich würde ja schon interessieren, ob MSC immer noch Geld dafür verlangt... Damals auf der MSC MUSICA 2007 war es der Fall.
Wir genießen Wetter und Schiff...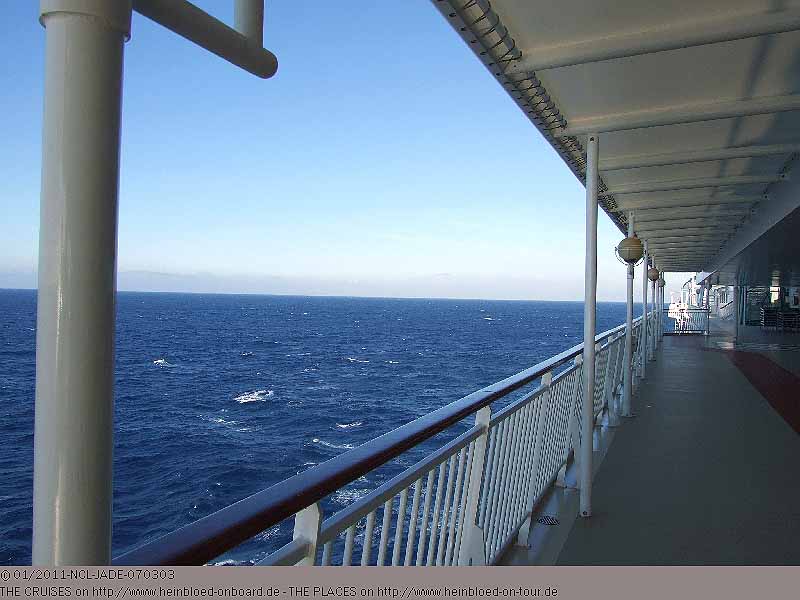 We enjoyed weather and ship...

The sun invited to stay outdoor and so it became quite busy very quickly but all who loves to reserve deckchairs may be warned: Everything which is occupying the deckchairs for 30 minutes without any attendance will be collected and returned at the front desk.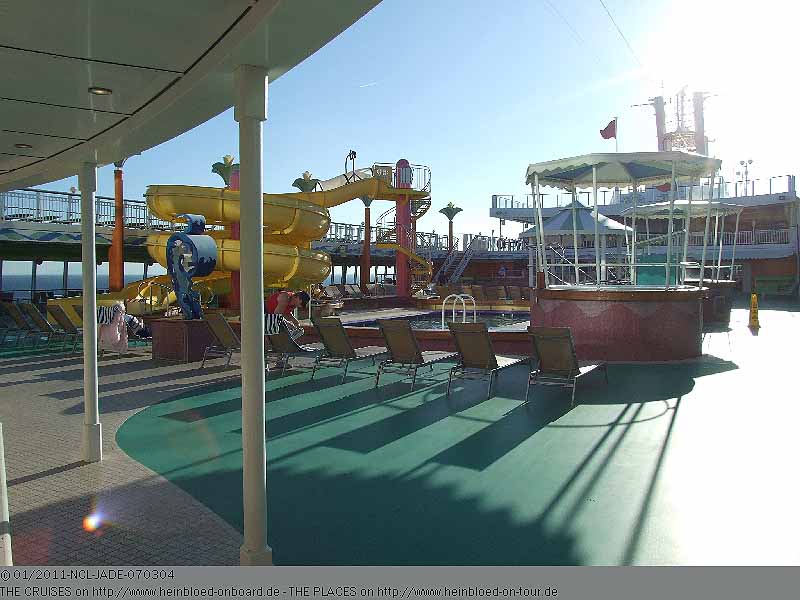 Die Sonne lädt dazu ein, dass sich die Außendecks sehr schnell füllen werden, aber die Liegestühle-Reservierer seien vorgewarnt: Was 30 Minuten unbeaufsichtigt da liegt, kann später an der Rezeption abgeholt werden.
Da uns schräg gegenüber das Lager von Park West befindet überlegen wir uns, ob wir nicht mal die Kamera über unseren Eingang abkleben sollen... und dann in Ruhe ein Bild für zu Hause aussuchen sollten...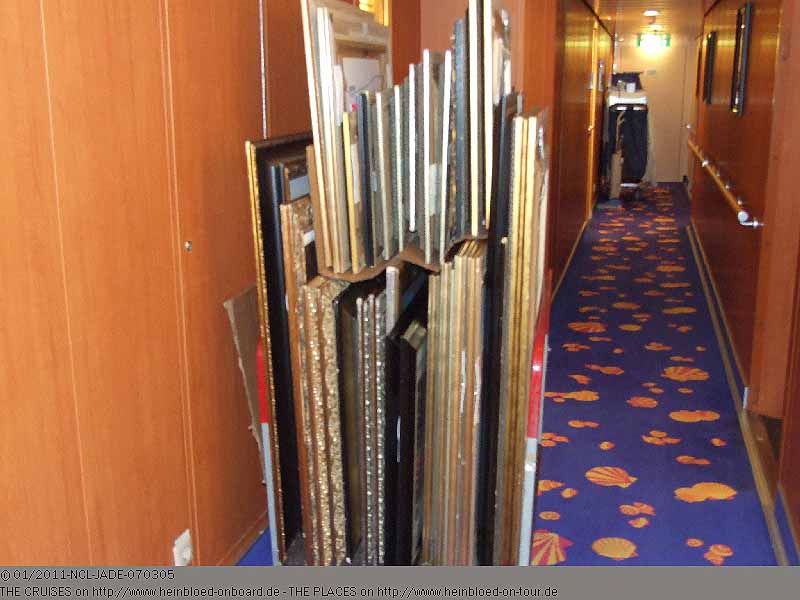 We had opposite just the warehouse of Park West so we thought maybe to tape the camera at our door... and choose some nice paintings for our home...

We went to the Captain's talk on Deck 13 in Spinnaker Lounge. As the Cruise Director who should lead the interview was late the Captain started and interviewed himself...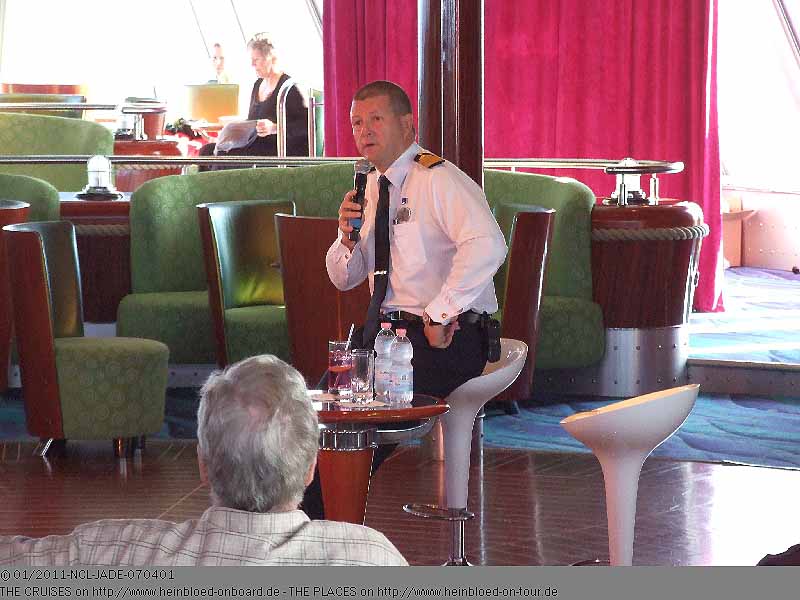 Wir gehen zum Kapitänsgespräch auf Deck 13 in der Spinnaker Lounge. Da sich der Kreuzfahrtdirektor, der das Interview führen soll, sich verspätet, fängt er kurzerhand an und interviewt sich selbst...
Dann kommt aber schon Kreuzfahrtdirektor Gary angelaufen....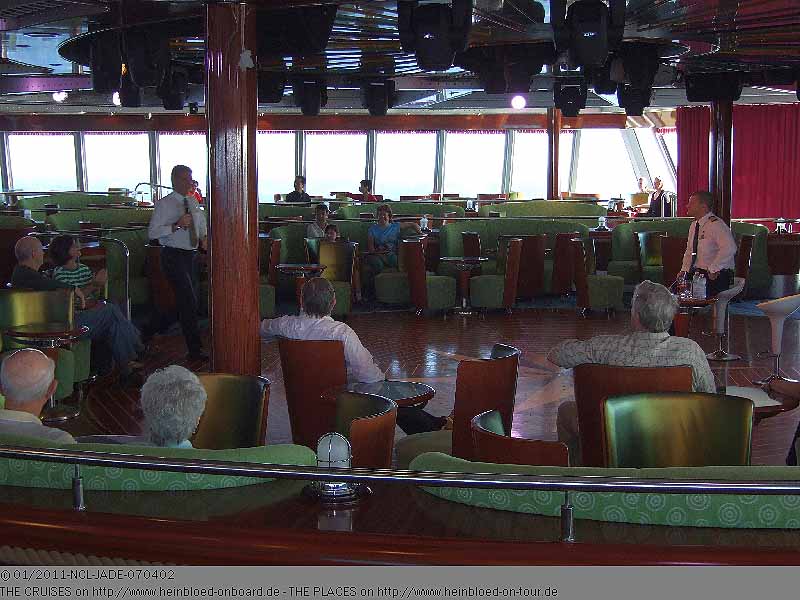 But then Cruise Director Gary came in...

and took over the moderation.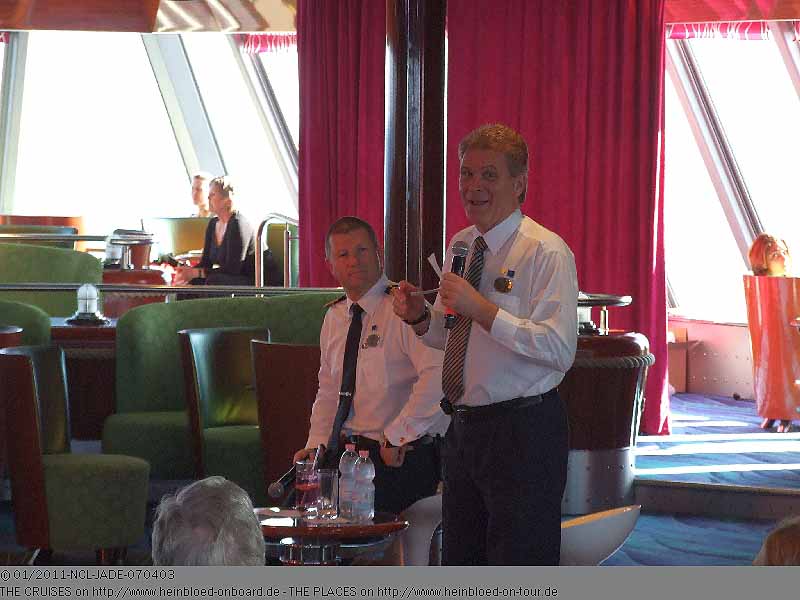 und übernimmt die Moderation.
Hier erfahren wir über die Vorlieben von Kapitän Kim Karlsson: Kaffee... (Ich habe schon mal Kapitän Kim für Oktober Kaffee von
Mohrbacher in Ludwigshafen
(hat schon früher die Bundesregierung beliefert...) versprochen und wer meint sich mit um den Posten des besten Passagiers der NORWEGIAN JADE bewirbt, sollte einfach etwas edlen Kaffee aus seiner Heimat für Kapitän Kim Karlsson mitbrigen...).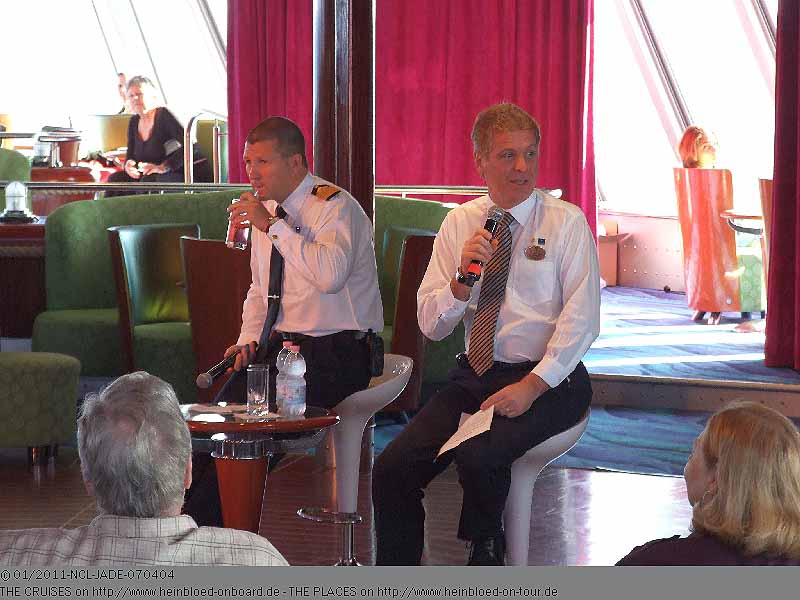 So we learned about the Captain Kim's preferences: coffee... (We promised to get Captain Kim some coffee from Mohrbacher in Germany (who supplied the German government for many years) and to apply again for the position of the best cruise guest on NORWEGIAN JADE. But who wants also to apply this position should have some noble coffee from his home place with you for Captain Kim Karlsson...).

We learned that Piraues is one of the most difficult ports. When I asked if the Captain was on duty in October 2010 when we saw NORWEGIAN JADE in Monte Carlo while we could not dock in Nice on OCEAN PRINCESS he had to say that he was not it as he was on vacation. By the way: to all German speaking guests who need assistance with Bingo or other leisure activities: The person behind me is Robert who speaks perfectly German.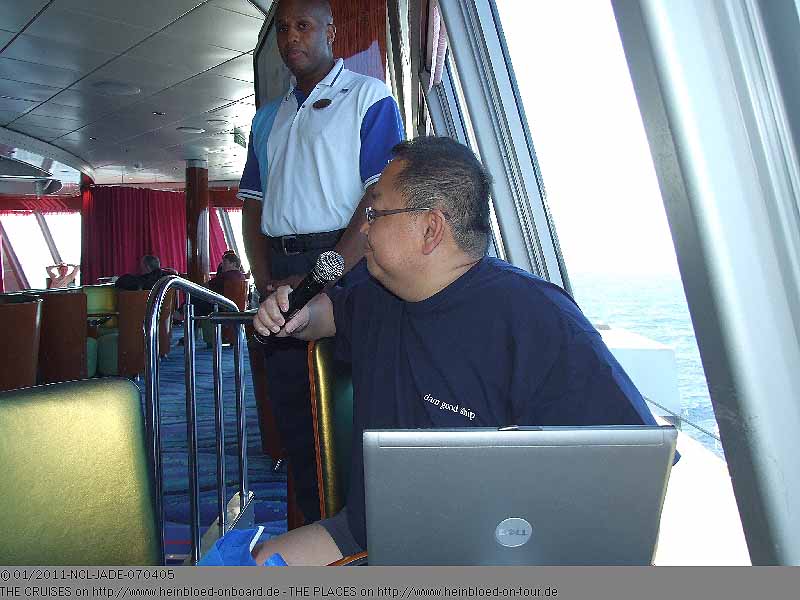 Wir erfahren, dass einer der schwierigste Hafen für ihn Piräus ist. Als ich nachfrage, ob er der Kapitän damals im Oktober 2010 war, als wir die NORWEGIAN JADE in Monte Carlo gesehen haben, während wir mit der
OCEAN PRINCESS
es nicht nach Nizza geschafft haben, verneint er es, da er in Urlaub war. Übrigens steht Robert hinter mir. Falls Ihr Probleme mit dem Bingo oder anderen Freizeitaktivitäten habt: er spricht perfekt Deutsch.
Er erzählt aber, dass die NORWEGIAN JADE nicht in Monte Carlo beliebt war. Wenn sie ihre Azipods angeworfen hat, dann hat sie quasi ein Tsunami für alle Luxus-Yachten, die im Hafen lagen verursacht. Die Yacht-Inhaber mochten das nicht besonders.... Wer sehen will, wie die
NORWEGIAN JEWEL 2008
sogar ein Frachtschiff im Nordseekanal in Amsterdam in Schwierigkeiten gebracht hat, guckt am Besten im Blog bei den Mini-Cruises nach.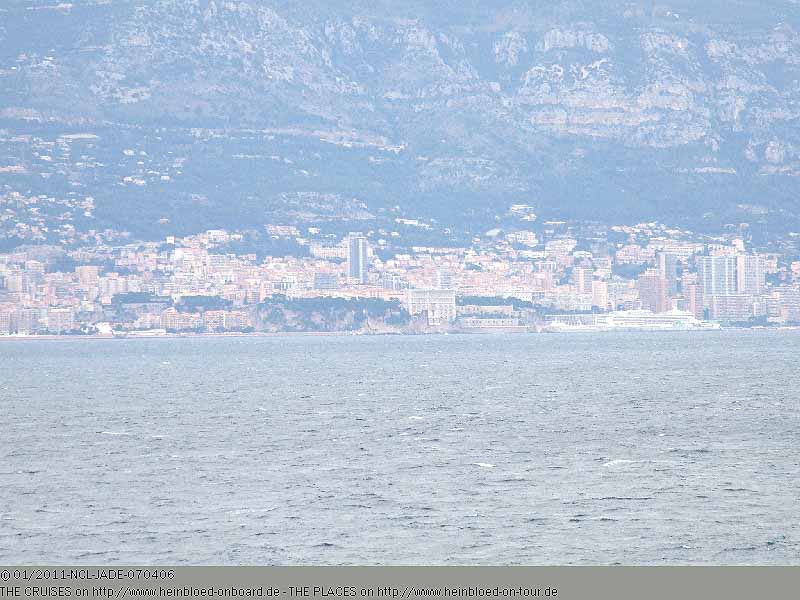 But he told us that NORWEGIAN JADE was not very popular in Monte Carlo. When they turned on their Azipods they occured a more or less tsunami for all luxury yachts which were in port. The owners of the yachts did not like it too much... Who liked to see how NORWEGIAN JEWEL 2008 brought a freighter into trouble in the North Sea Canal in Amsterdam may visit the blog of the Mini-Cruises.

It was just a perfect day.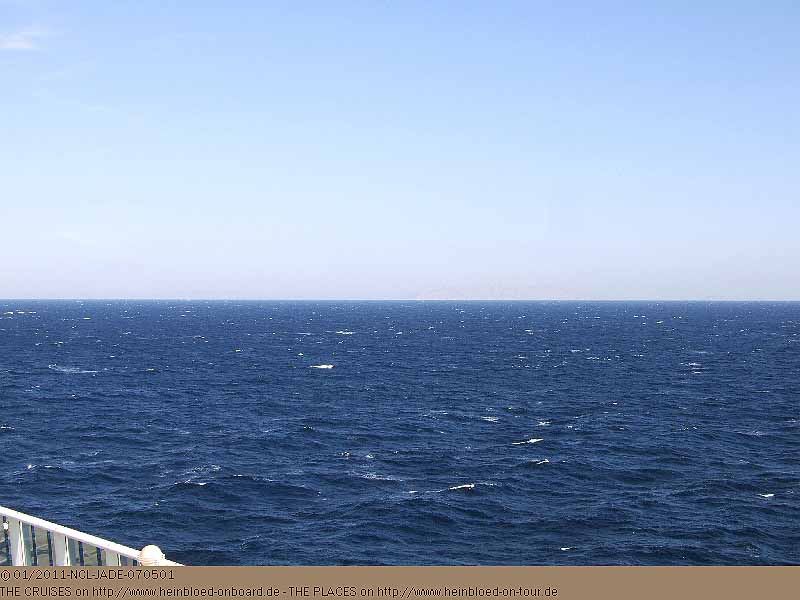 Es war ein perfekter Tag.
Wir fahren an einigen Inseln vorbei...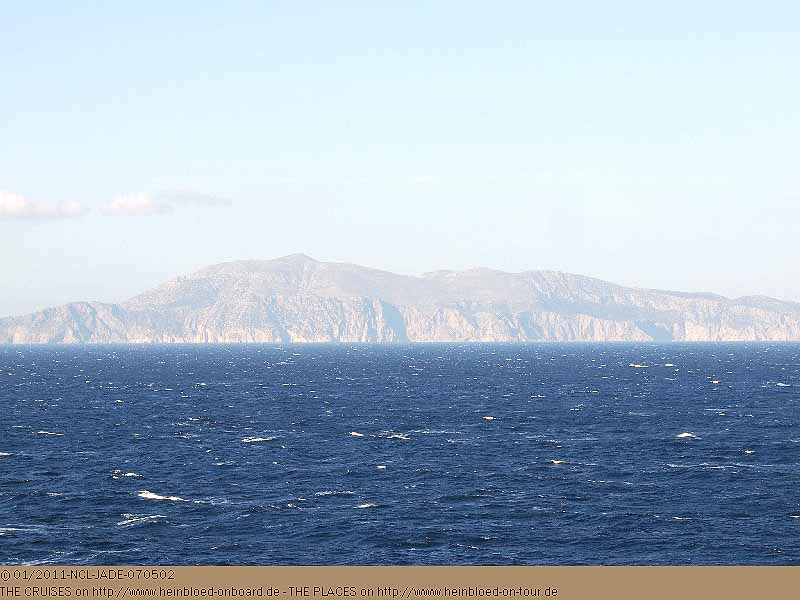 Passing some islands...

Seeing others share the same interests.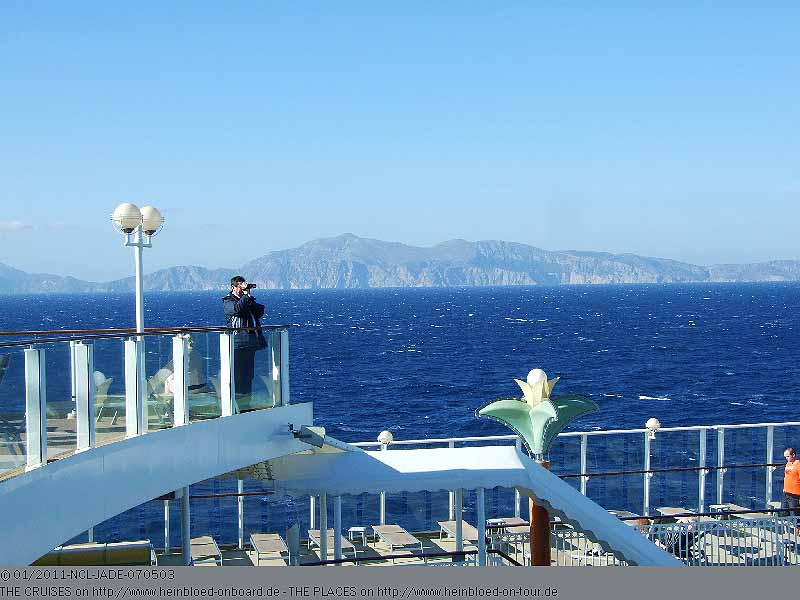 Und sehen, wie sich andere auch dafür begeistern.
Einfach um den Pool sich aufhalten, wie in der Karibik.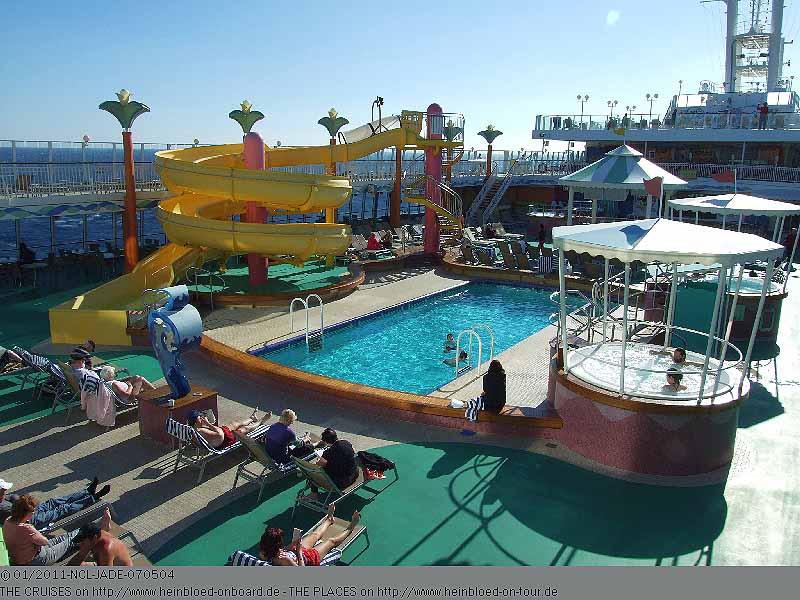 Just staying around the pool like in the Caribbean.

Every little outdoor-corner was taken...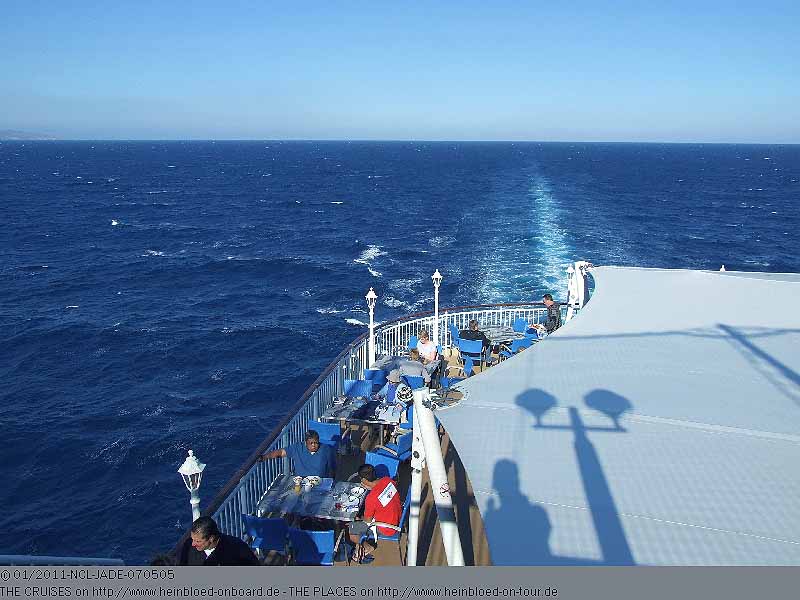 Jede Ecke draußen wurde in Beschlag genommen...
Übrigens hat Mirsad keine grauen Haare bekommen, weil ich an Bord war... Aber ich wusste doch, dass ich dieses Gesicht kannte und auch schon auf dem Schiff gesehen habe... Er war auf der
NORWEGIAN GEM 2009
mit uns an Bord: Lusito, der Bar Manager.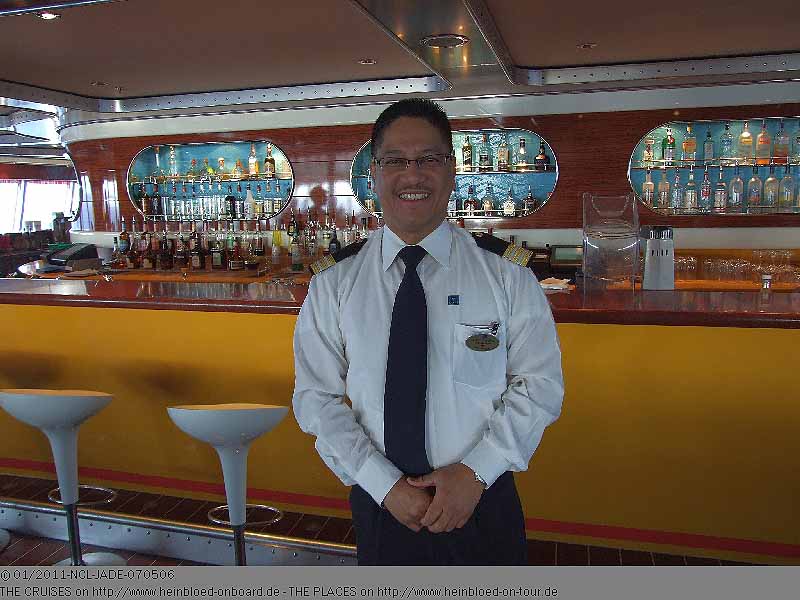 By the way: Mirsad did not get grey hairs because I was onboard... But I knew that I knew this face and it already on this ship... He was the one who was on NORWEGIAN GEM in 2009 with us: Lusito, the Bar Manager.

Dance classes in the Spinnaker Lounge.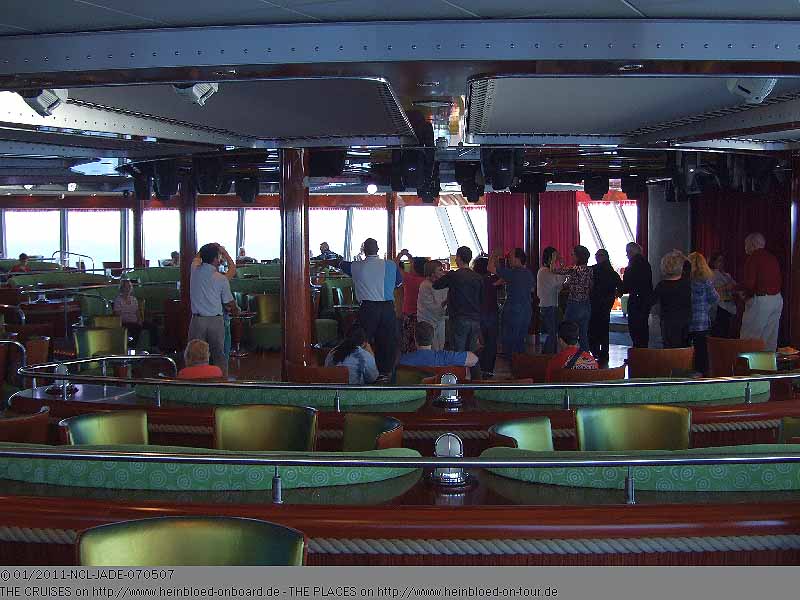 Tanzkurse in der Spinnaker Lounge.
Jeder hatte Spaß ohne notwendigerweise hierfür auf einem Spaßschiff zu sein...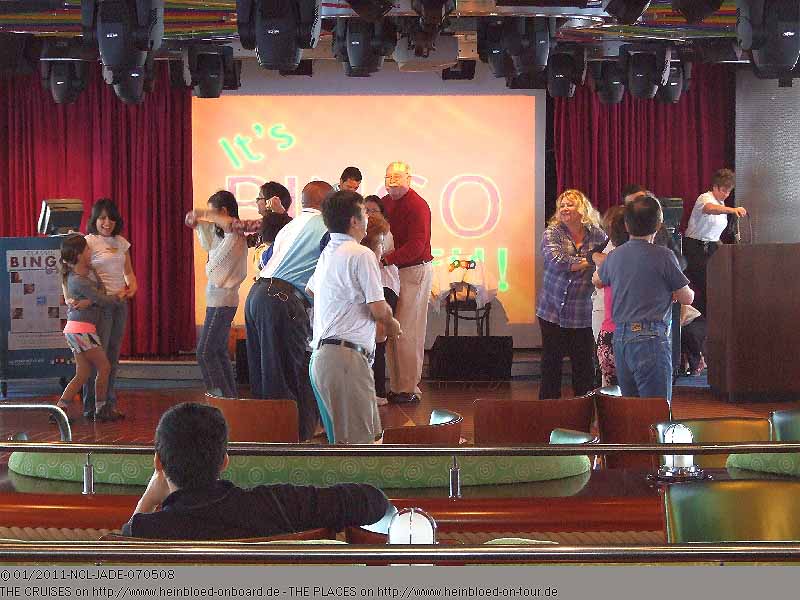 Everyone had fun without the need to be on a fun ship...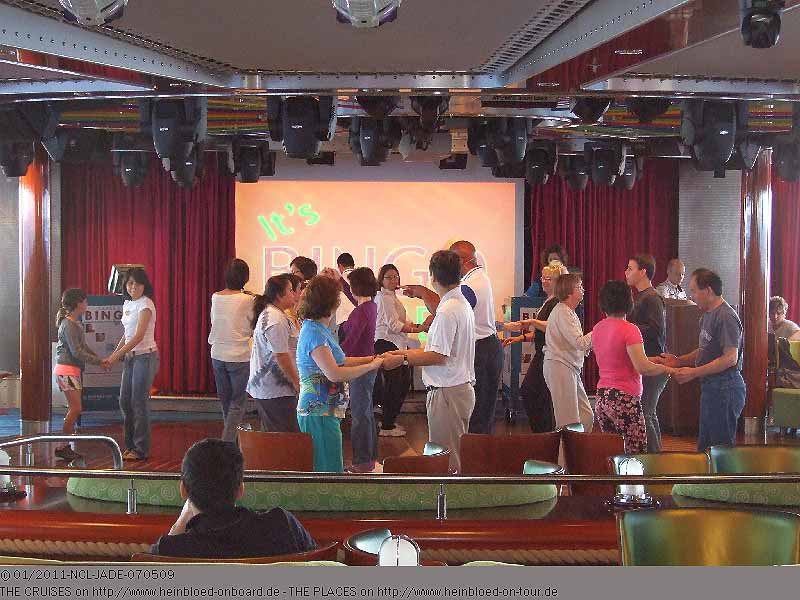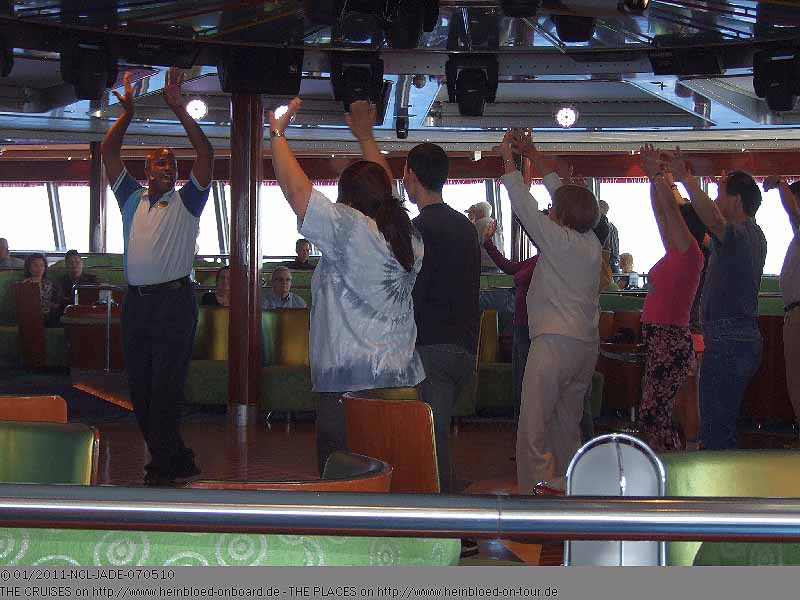 I did my very best to forward some greetings but no fire was jumping over as she did felt addressed with the last mentioned in the posting in cruisecritic.com. I decided to limit sending greetings to persons whom I now personally on board or ashore: so you have less complications as you do not know the circumstances of previous acquaintances.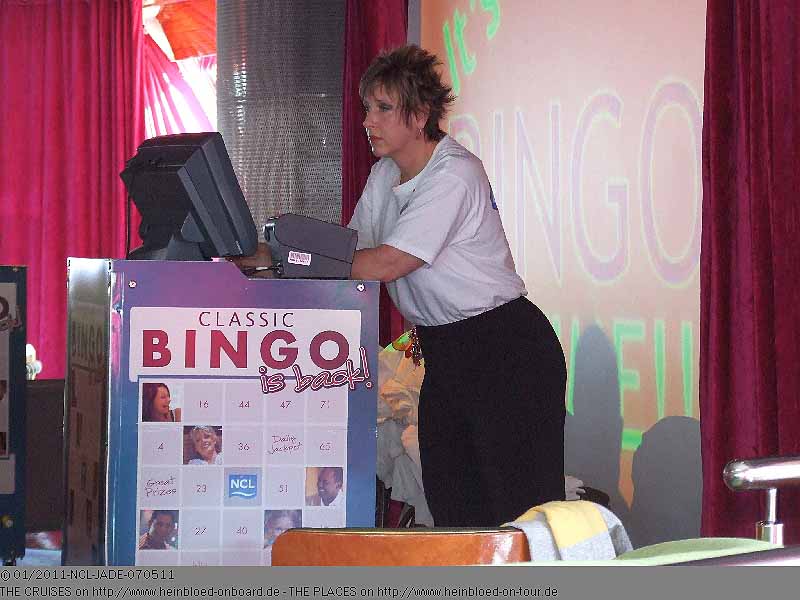 Ich habe mein bestes gegeben, um ein paar Grüße auszurichten, aber irgendwie sprang der Funke nicht über, weil sie sich mit dem Nachnamen, der in dem Posting von cruisecritic.com stand nicht angesprochen fühlte. Ich beschränke mich darauf Grüße ausrichten von/an Personen, die ich schon persönlich kenne: Gibt weniger Komplikationen, weil ich nur ja auch nicht die Umstände der früheren Bekanntschaften kenne.
Als wir mittags im Grand Pacific essen gehen, arbeitet Andrew für die benachbarte Service-Station. Er kommt zur Kontrolle vorbei, welches T-Shirt ich anhabe.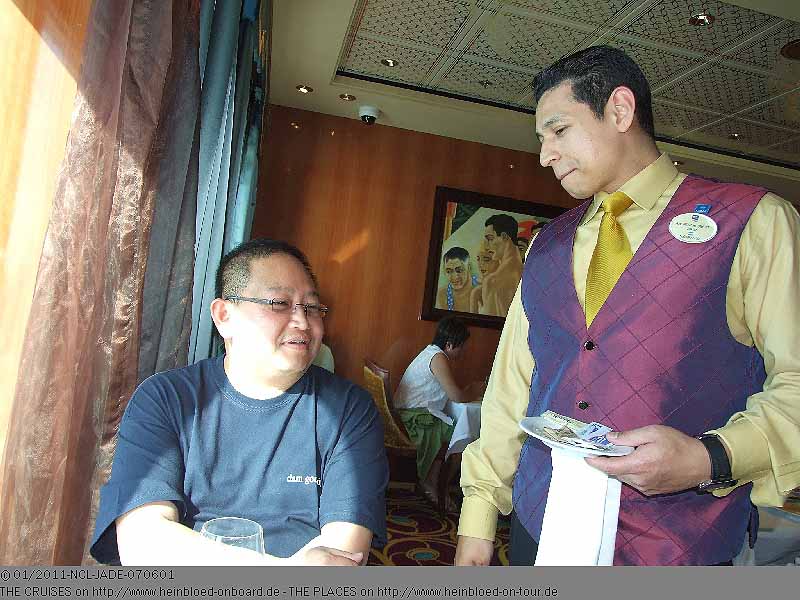 When we had our lunch in Grand Pacific Andrew worked there for the other service-station. He came by for an inspection of the T-Shirt which I had.

Andrew did not accept that I was walking with a Holland-America-T-Shirt on an NCL-ship. So spontaneously he decided to give me one of his t-shirts that I can show everyone that I was proud guest on NCL.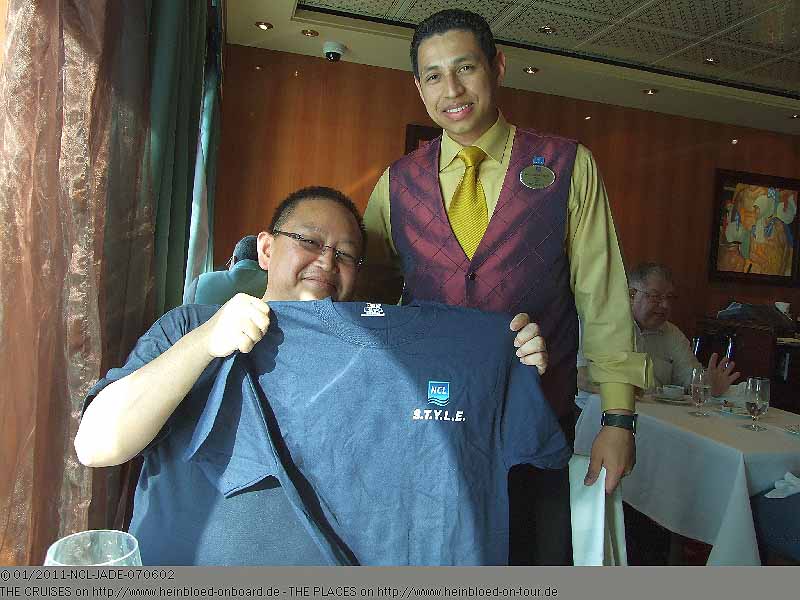 Andrew lässt es nicht durchgehen, dass ich weiter mit einem Holland America T-Shirt auf einem NCL-Schiff rumlaufe. Kurzerhand schenkt er mir eines seinem Bestand, damit ich auch stolz jedem zeigen kann, dass ich schon mal mit NCL gefahren bin.
Die Brötchen sind leider so ziemlich das einzige, dass es jeden Tag in einer anderen Sorte gibt.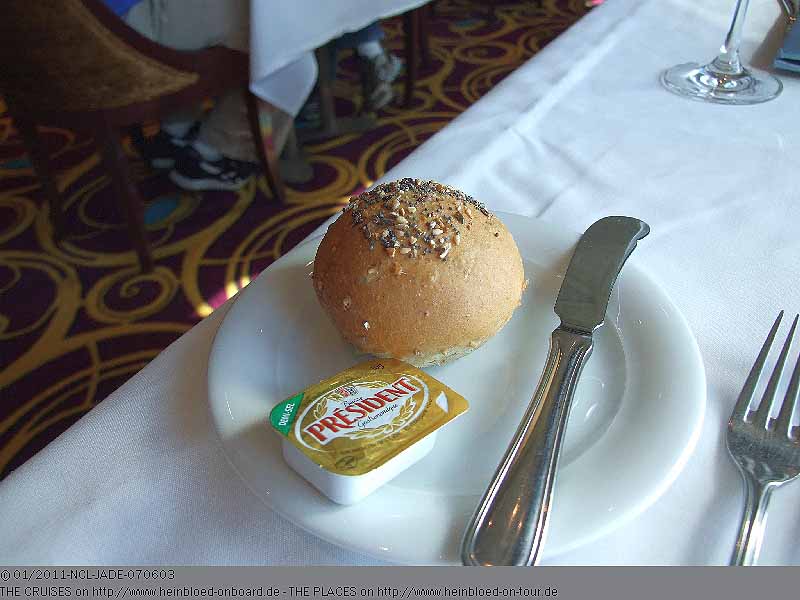 The rolls were the only thing which you had different from day to day.

The lunch menu remains the same every day.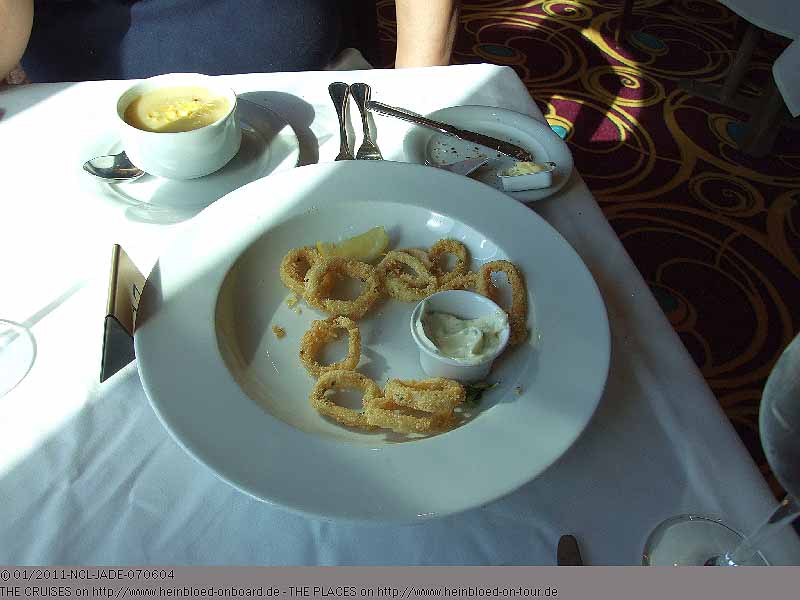 Die Mittagskarte bleibt nämlich jeden Mittag gleich.
Sogar die Tagessuppe ist eine Wochen- oder vielleicht eine Monatssuppe...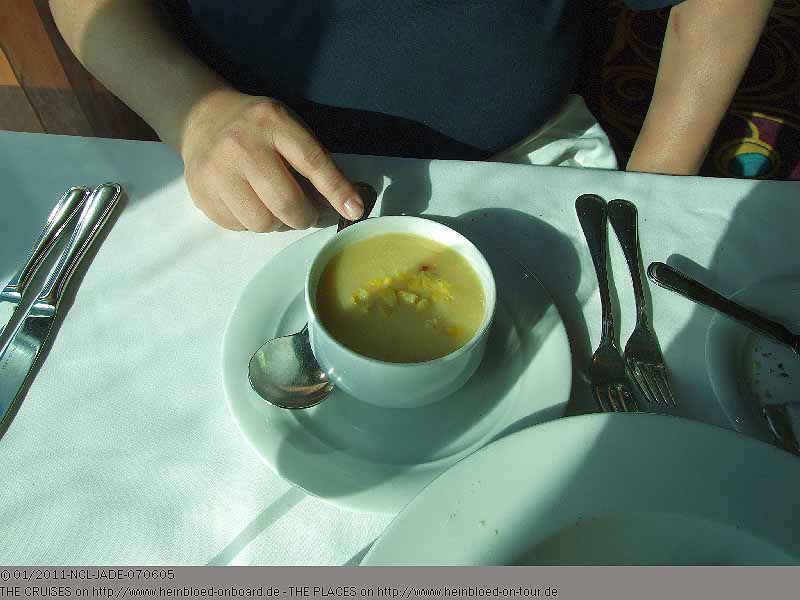 Even the soup of day might be more a soup of the week or the soup of the month...

Having the same menu is o.k. if you have a 7-night-round... and maybe just one day on sea - so the majority of guests might have lunch onboard the day of embarkation or on the day on sea but with 12 nights including 5 days on sea plus day of embarkation I think the offer is very boring for the length of the cruise. Here NCL should reconsider if this policy is the right one for an itinerary like ours.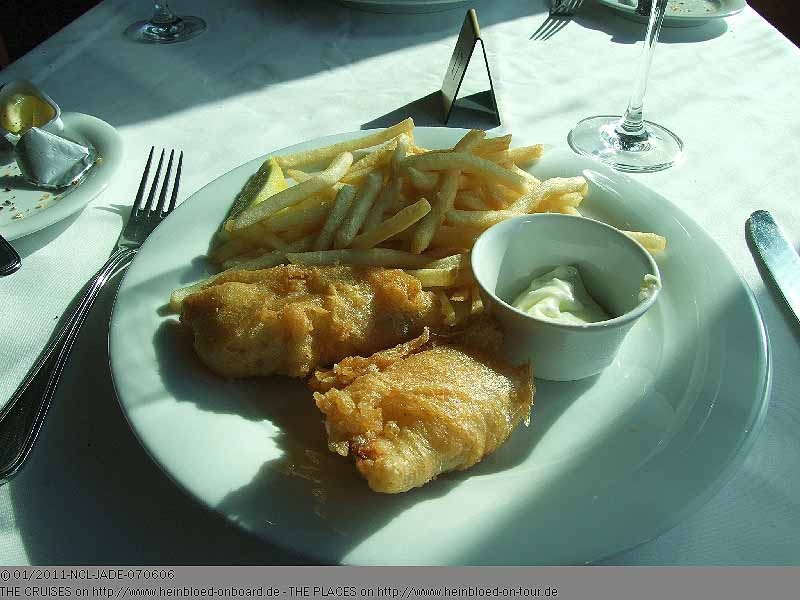 Die gleichbleibende Karte ist ja o.k., wenn man 7 Nächte-Runden dreht.... und davon 1 Seetag ist, so dass die Mehrheit der Gäste vielleicht am Tag der Einschiffung und an dem Seetag zum Mittagessen geht, aber bei 12 Nächten, davon 5 Seetage plus Tag der Einschiffung, ist das Angebot dann doch sehr langweilig für die Dauer dieser Reise. Da sollte sich NCL nochmals überlegen, ob diese Policy wirklich das richtige für eine Reise wie die unsere ist.
Wie man sieht: Bruno hat sein Holland America Polo-Shirt an... aber er fällt damit nicht so auf, wie ich...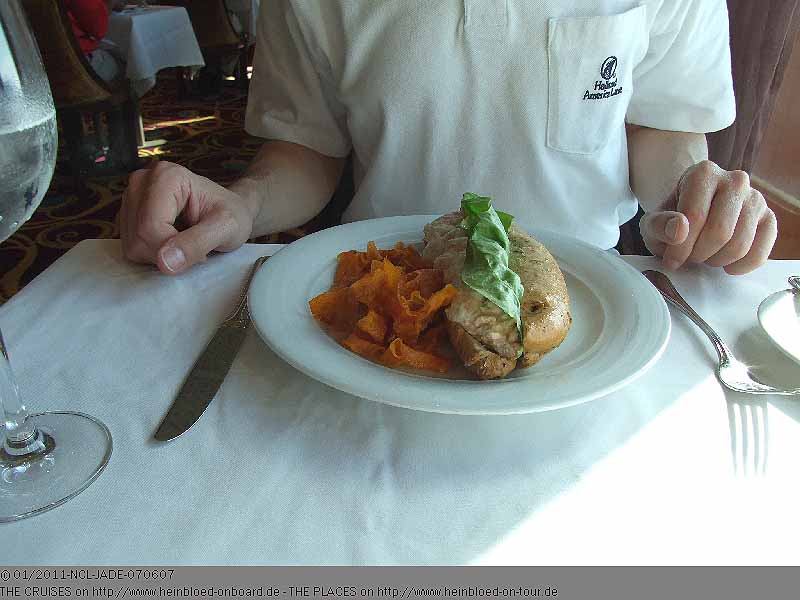 As you can see Bruno had also a Holland-America-Polo-Shirt on... but he did not attract so much attention like I did...