Scroll down for English explanations - alternates with German explanations.

Zeit zum Mittagessen... Fischmarkt...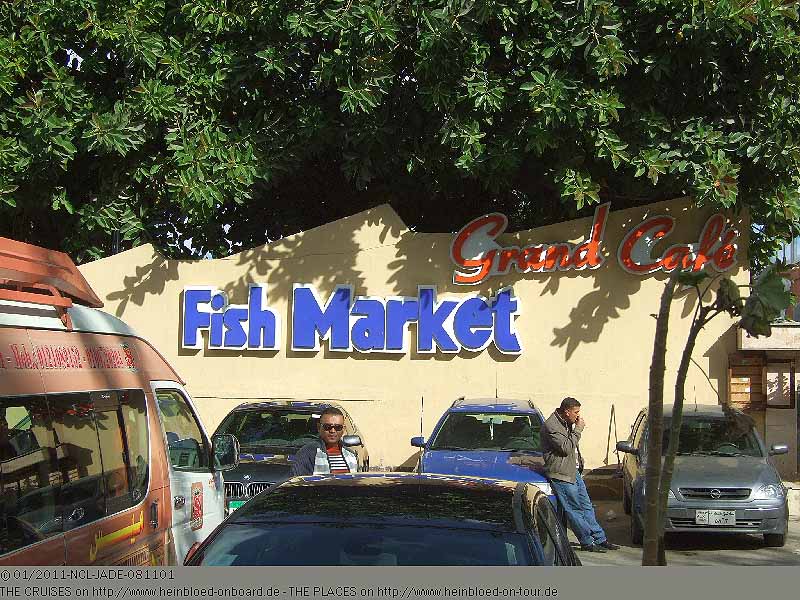 Lunch time... Fish Market...

Buses in front of such restaurants normally make me somehow nervous because I expect tourist only in such restaurants.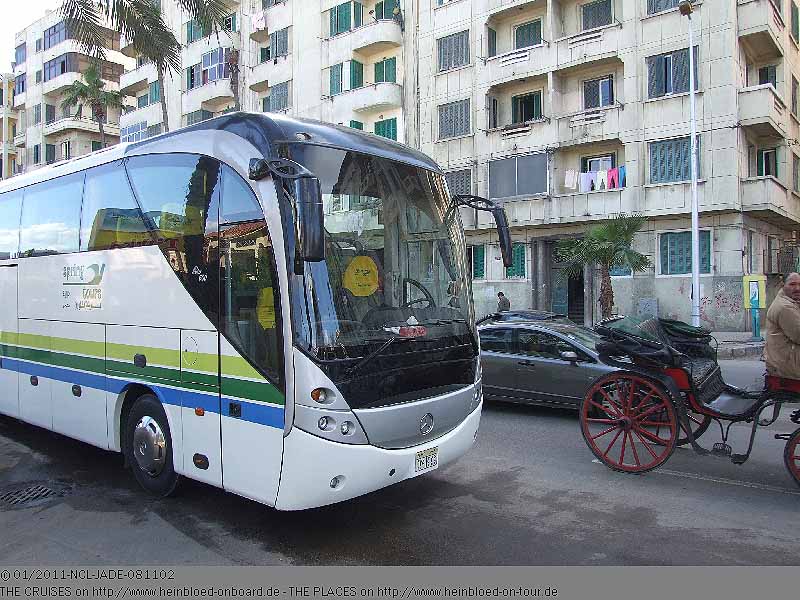 Busse vor so einem Restaurant machen mich irgendwie nervös, weil ich nur Touristen in einem Restaurant erwarte.
Aber es war ein sehr schöner Ort in einem Hof mit Garten.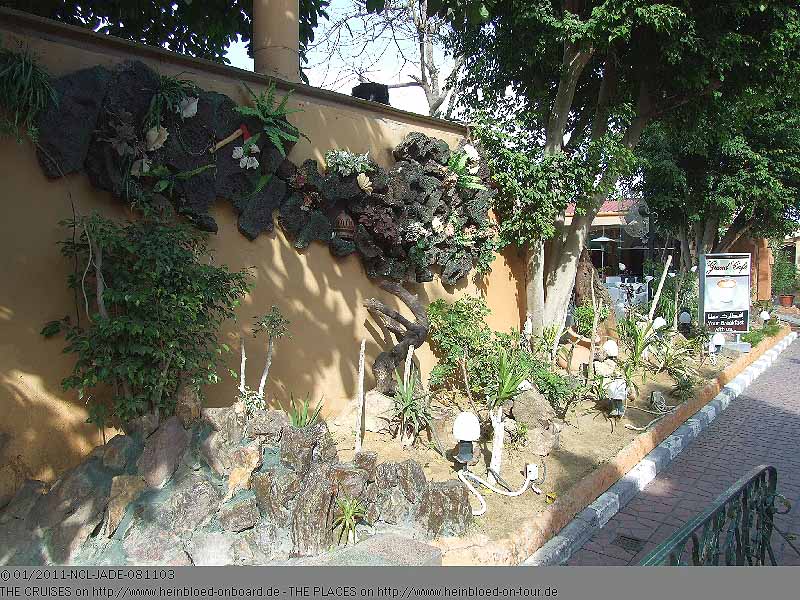 But it was very nice place in the court with gardens.

Spanish Queen Sophia, still living... so it must be good...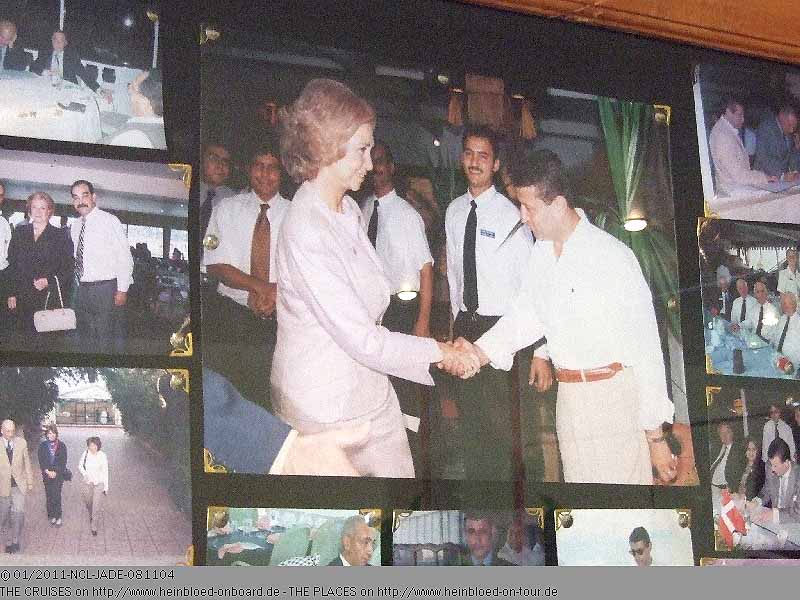 Die spanische Königin Sophia, lebt noch... in sofern muss es gut sein...
Arafat... o.k. er wr schon ein alter Mann... die schwedische Kronprinzessin Victoria... hat vor Kurzem geheiratet... so sollten wir doch ein gutes Restaurant erwischt haben.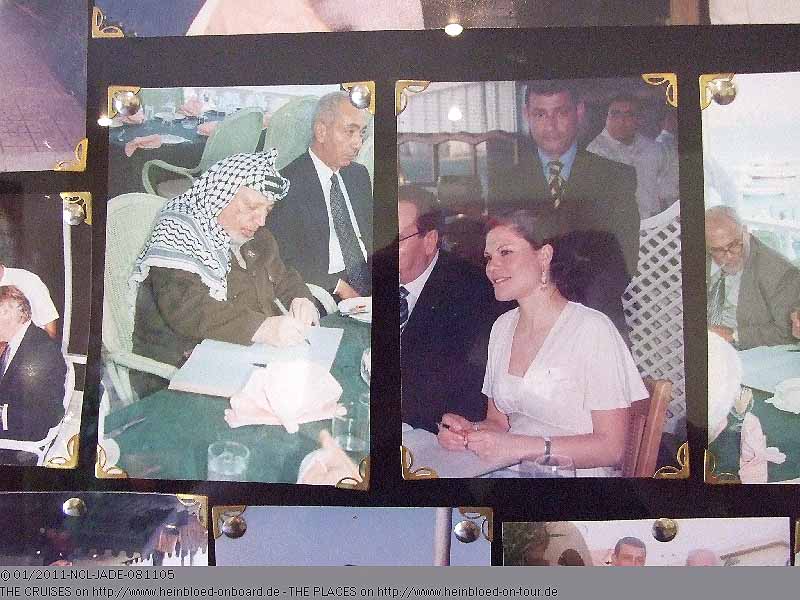 Arafat... o.k. he was an old man... Swedish Crown Princess Victoria... married recently... so we must have a good restaurant.

Beside the fact that we had a good view to the skyline of Alexandria we could see divers which was more interesting.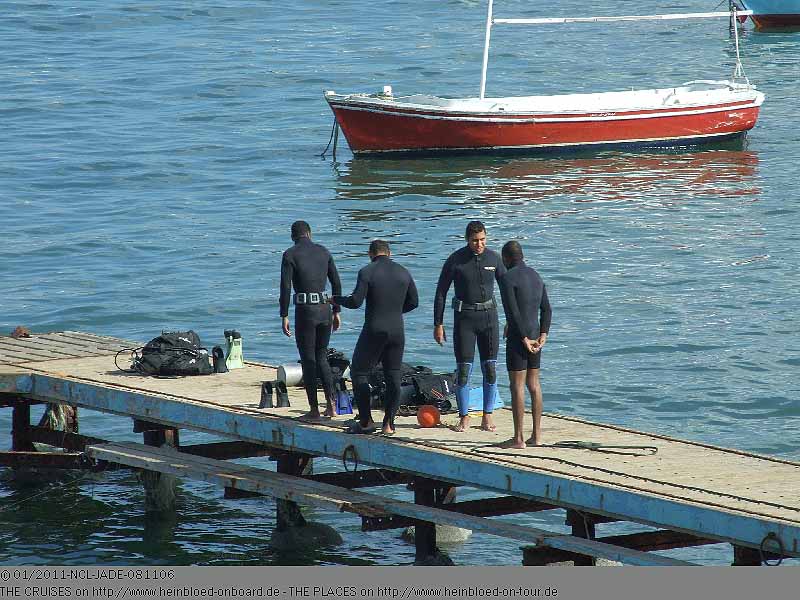 Neben dem schönen Blick auf die Skyline von Alexandria konnten wir den Tauchern zusehen, was auch interessanter war.
Die Werbung für die spanische Paella in einem ägyptischen Restaurant machte mich etwas nervös aber Foaud erläuterte, dass das Angebot mehr für ägyptische Kunden gedacht ist, die mal "fremde" Meeresfrüchte-Gerichte probieren sollten und wir sollten daher kein Spanisches Esser erwarten...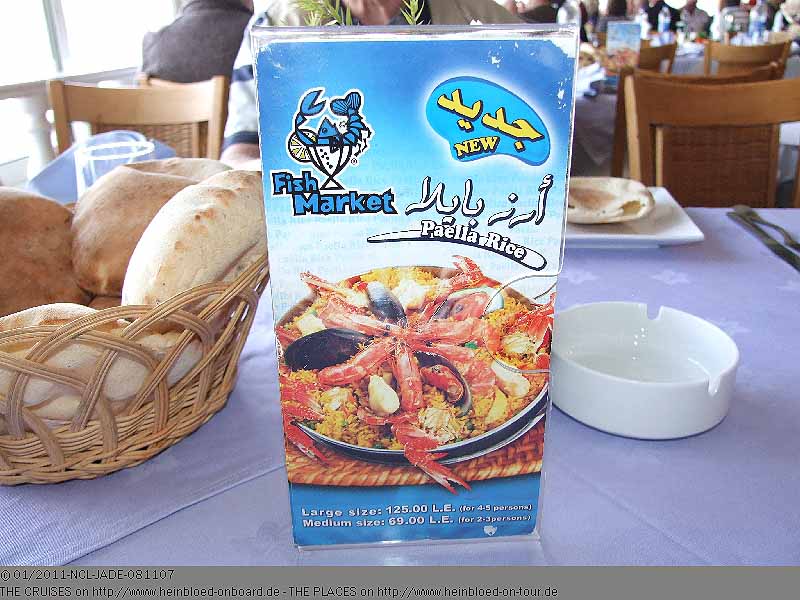 This advertising for Spanish Paella in a Alexandriaian restaurant made me nervous again but Foaud explained that this is addressed to Alexandriaian customers who should try "foreign" seafood-dishes and we should not expect Spanish food for us...

It was a 5*-place (according to the domestic standards) as promised...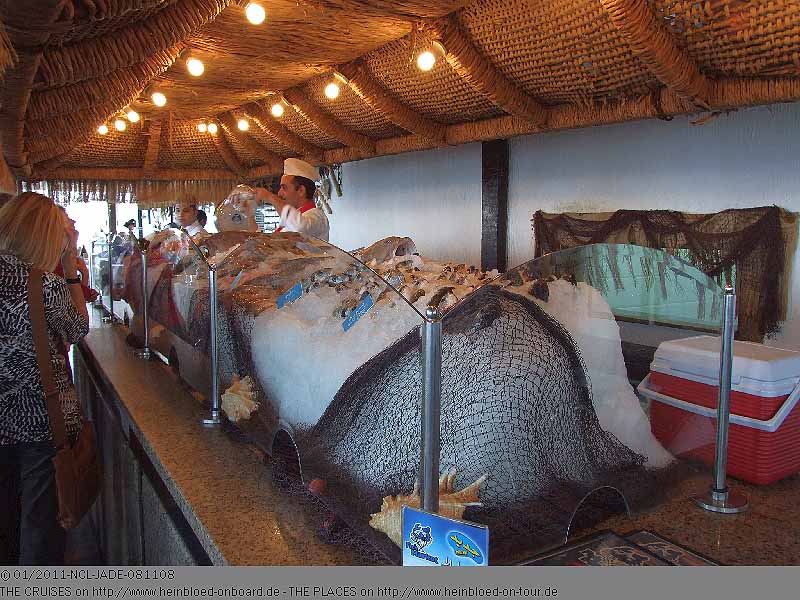 Es war ein 5*-Restaurant (nach Landeskategorie) wie versprochen...
Wie auf einem Fischmarkt.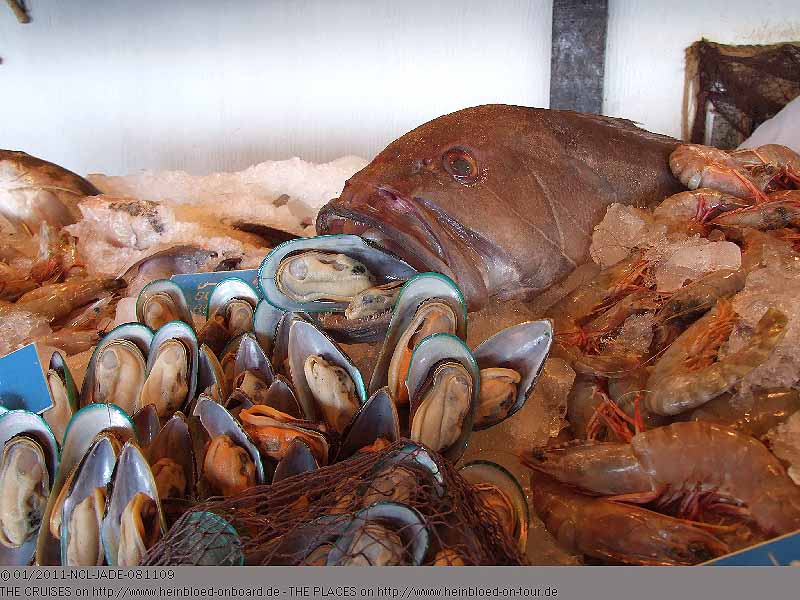 Like on a fish-market.

Daily catch on ice.

Der Fang des Tages auf Eis.
Man sucht sich den rohen Fisch oder Meeresfrüchte aus und es wird nach Gewicht berechnet.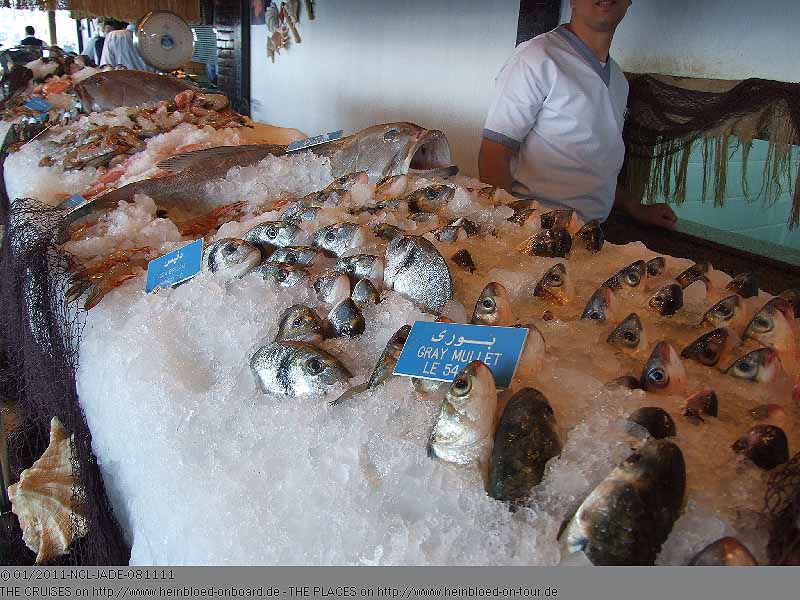 You choose the raw fish or seafood and they charge you by the weight.

And Alexandriaian loved to pose for photos... Japanese were allowed to take pictures behind the buffet... they loved this place... By way very nice in Alexandria: None asked for money for pictures.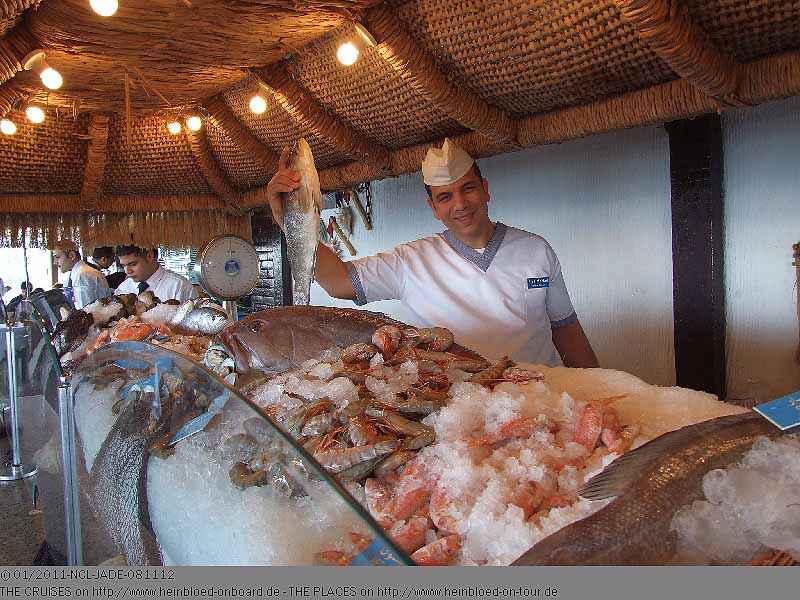 Ägypter lieben es für Fotos zu posieren... Japaner durften hinter die Theke um sich dahinter aufnehmen zu lassen... sie lieben diesen Ort... Übrigens sehr angenehm: in Alexandria hat niemand Geld für Fotos verlangt.
Frisches Brot... Eric Cousins sollte mal kommen und hier mal hier gucken wie sie dieses tolle Brot machen.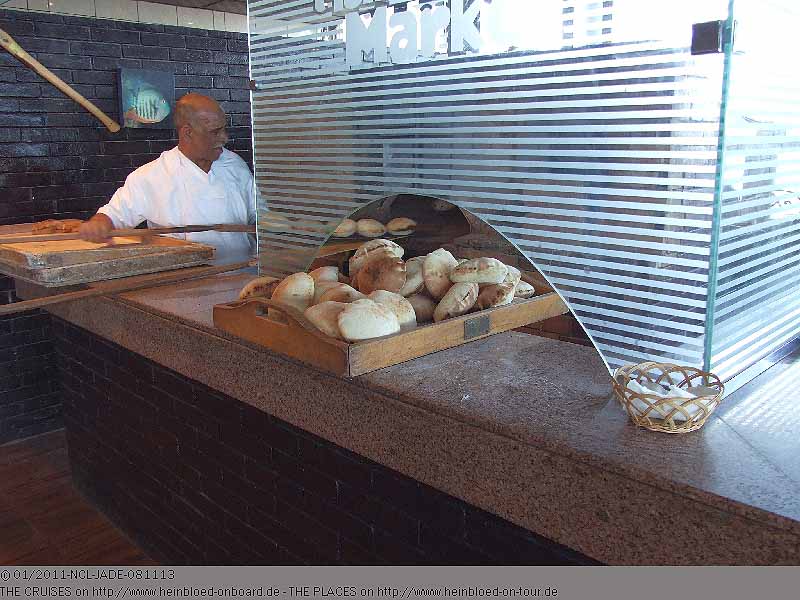 Fresh bread... Eric Cousins must come and see here how to made this bread...

Well there were many tourist groups but there were also many locals who ordered at the buffet and ordered many starters...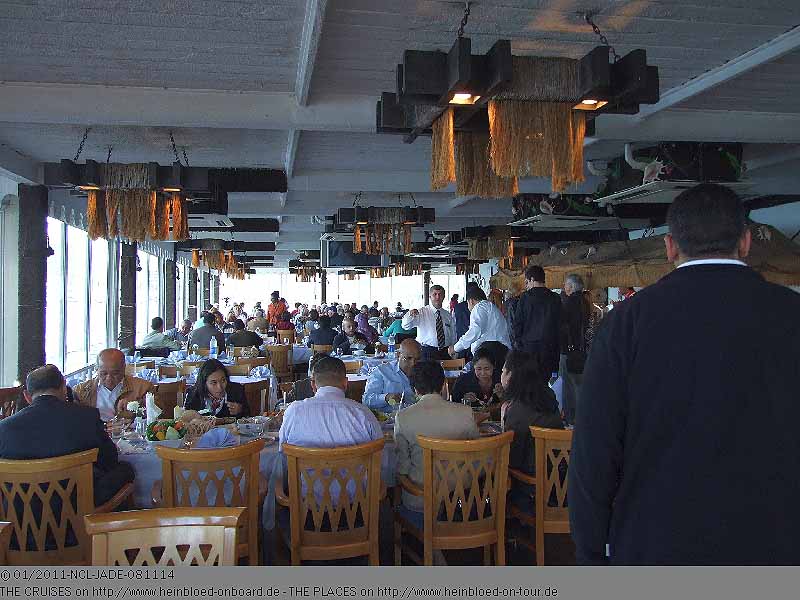 Nun es waren viele Touristengruppen da, aber es waren auch viele Einheimische, die an den Tresen bestellten und sich viele Vorspeisen kommen ließen...
Wir bekamen frisches, warmes, weiches, leckeres Brot...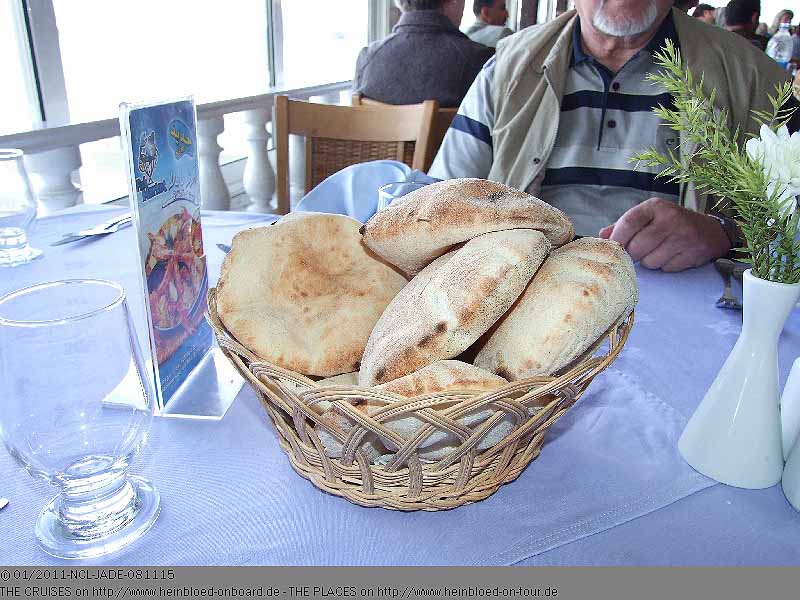 We got the fresh bread. So nice, soft and warm... just yummy...

We got salad... and many starters with many dips...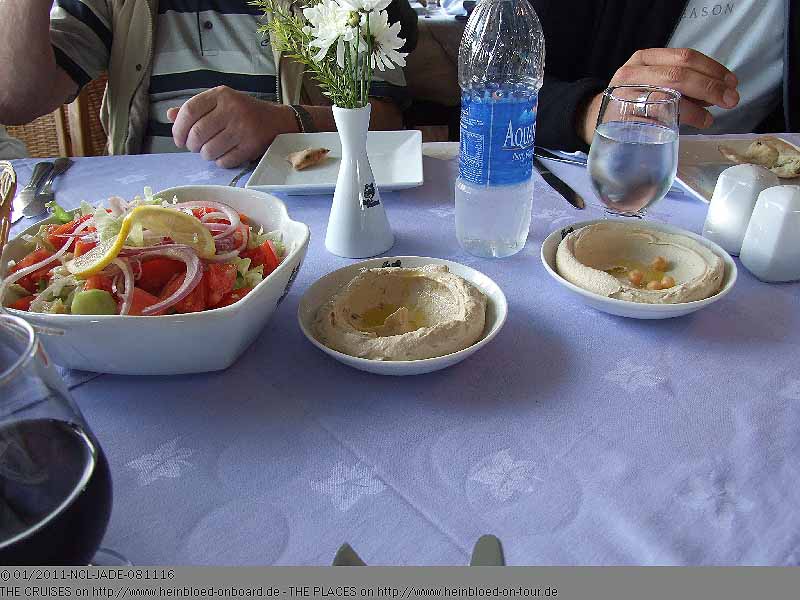 Wir bekamen Salat und viele Vorspeisen in Form von vielen Cremes,...
wie z. B. meine Lieblingscreme aus Kichererbsen: Hummus. Eric Cousins sollte mal hierher kommen und sich das mal ansehen... vielleicht auch eine Idee für ein Zuzahlrestaurant auf den zwei neuen Schiffen im Orderbuch der Meyer Werft in Papenburg...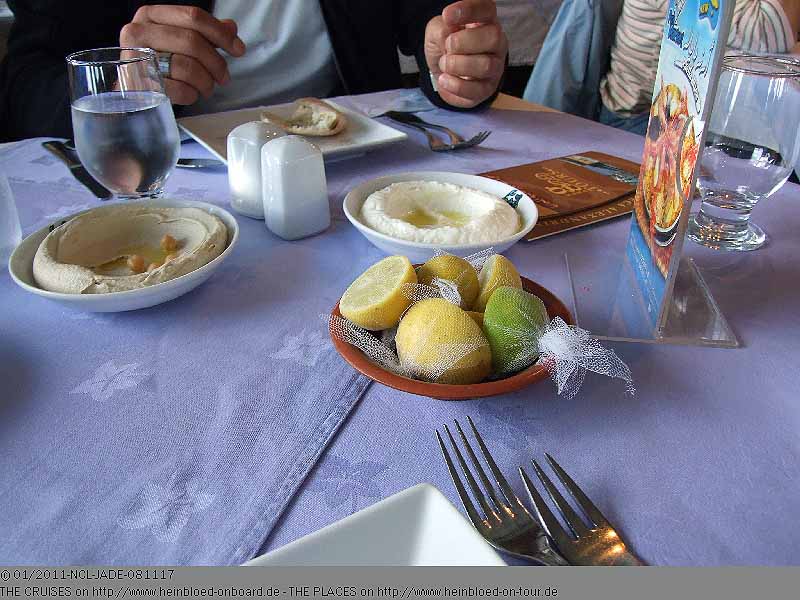 like my favorite chick-pea dip: Hummus. Eric Cousins should come and see this place... maybe an idea for an alternative restaurant on the new two ships which are in the order book of Meyer Shipyard in Germany....

No matter which dip: all were fantastic: dried tomato, eggplant...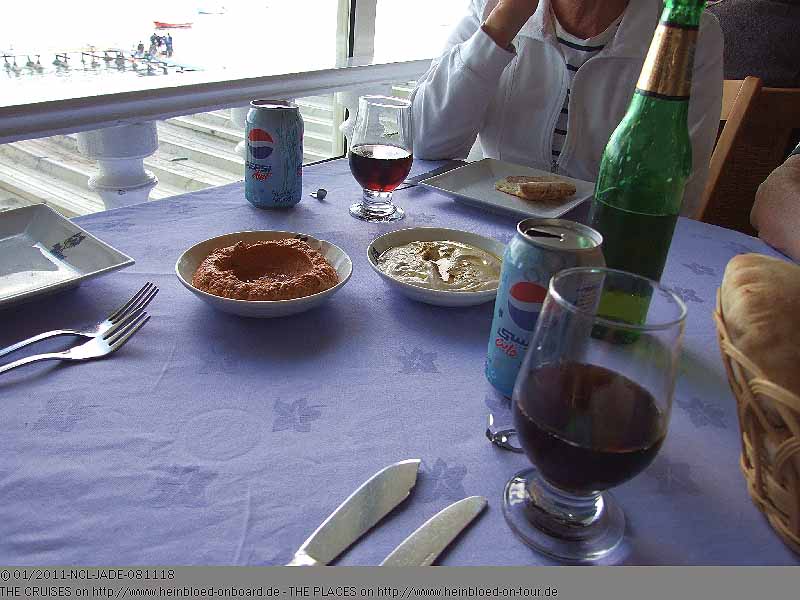 Egal, welche Creme: alle waren fantastisch: getrocknete Tomaten, Auberginen...
Von den syrischen, ägyptischen und libanesischen Restaurants, die ich kenne, waren das die besten Vorspeisen, die ich kenne.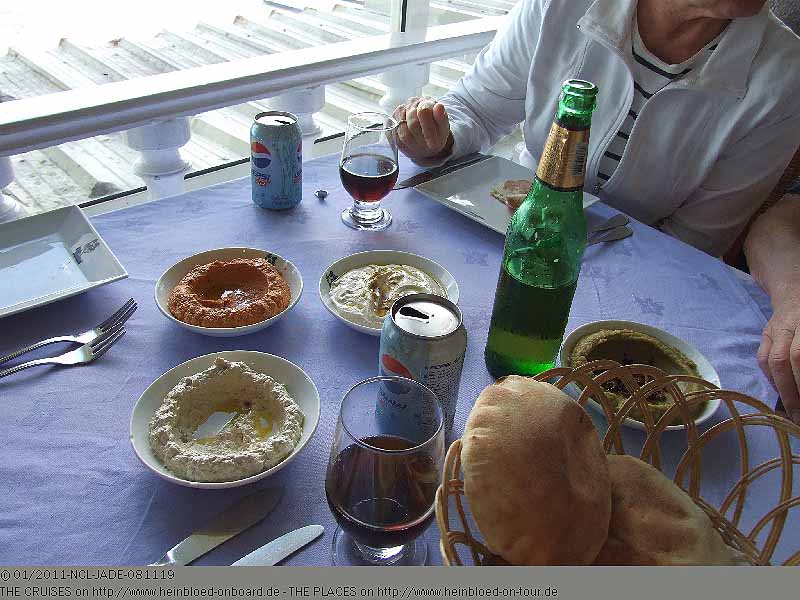 It was the very best starter I ever had in any Alexandriaian, Syrian or Lebanese restaurant I know.

I was so happy with all the dips... and had about 5-6 breads and all the dips,...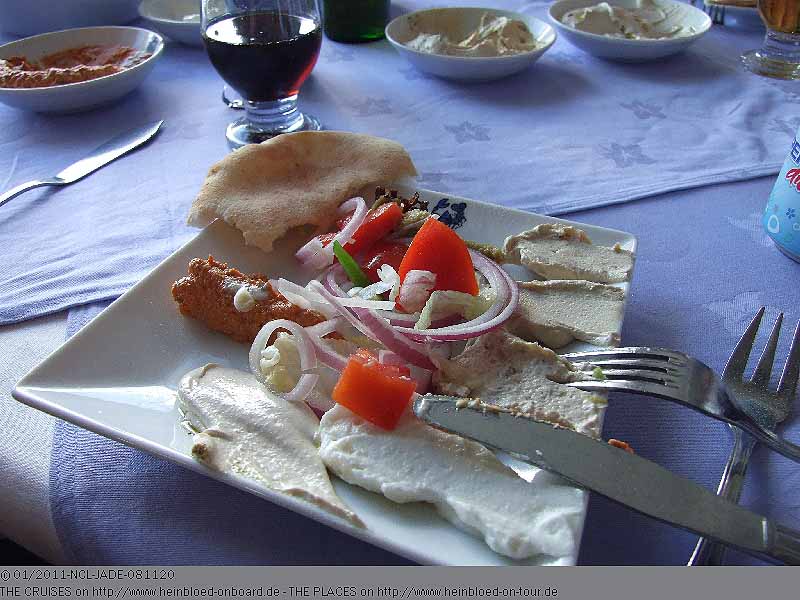 Ich war so glücklich mit all den Cremes... und hatte etwa 5-6 Brote und alle Cremes,...
so dass ich den Fisch nicht gegessen habe. I bin nun mal ein Fleischfresser... So war es sicherlich ein 5*-Restaurant... aber unser Essen war kein 5*-Standard - keine Auswahl für einen anderen Fisch oder für andere Meeresfrüchte oder für Nicht-Fischesser wie ich einer bin... aber keine Sorge: Ich war richtig glücklich, weil ich all die Cremes hatte... Bei meinem Lieblings-Libanesen in Köln bestelle ich auch immer nur eine gemischte Vorspeisenplatte weil ich die Cremes und das Brot liebe.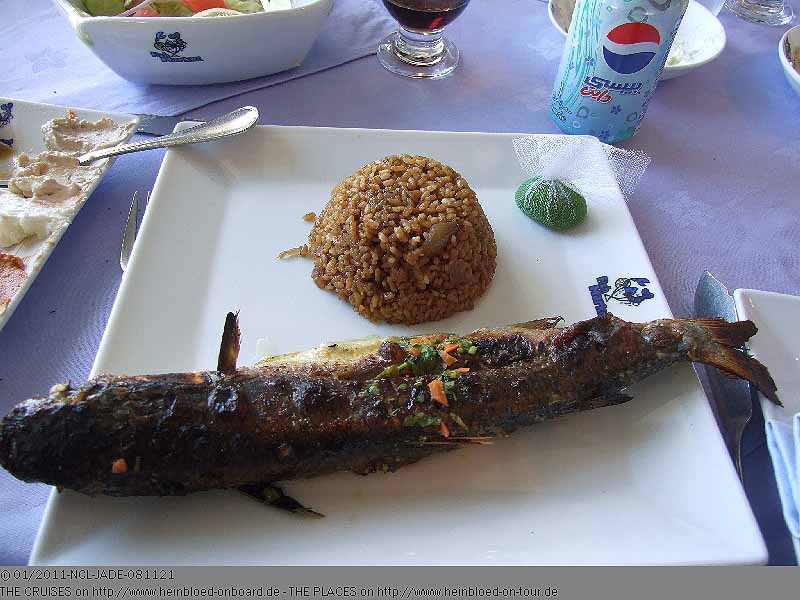 so that there was no need to eat the fish. I am a meat lover... So it was a 5*-restaurant for sure... but our food was not 5* - and no option for another fish or seafood or a non-fish eater like me... but do not worry I was happy because I had all the dips... and with my favorite Lebanese restaurant in Cologne I only order a mixed starter plate because I love the dips and the bread.

Well - we had to pay for the beverages. It was for a city like Alexandria quite moderate. No problem to pay in EUR or USD. Only Nescafé was surprising.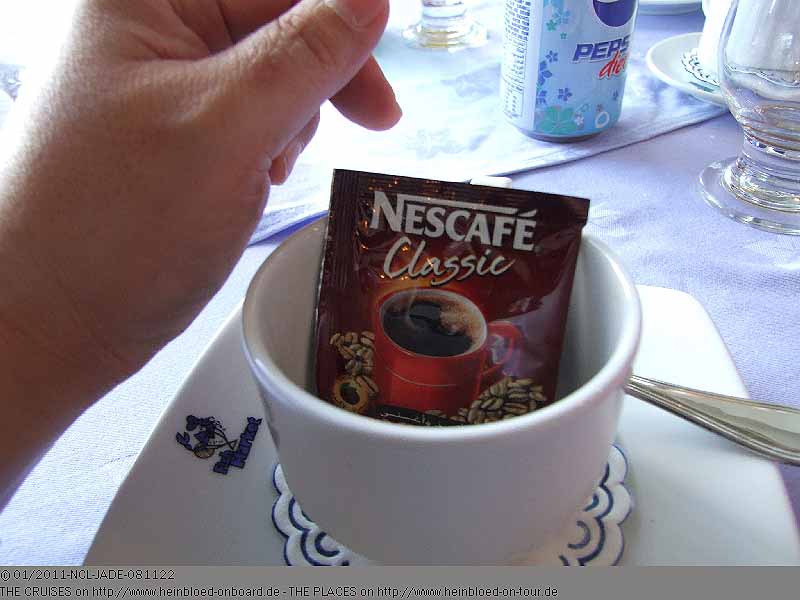 Nun - für die Getränke mussten wir bezahlen. Für eine Stadt wie Alexandria waren die Preise angemessen. Kein Problem in EUR oder USD zu bezahlen. Nur der Nescafé war überraschend.
Aber ich dachte, dass vielleicht der türkische Kaffee zu stark für mich ist.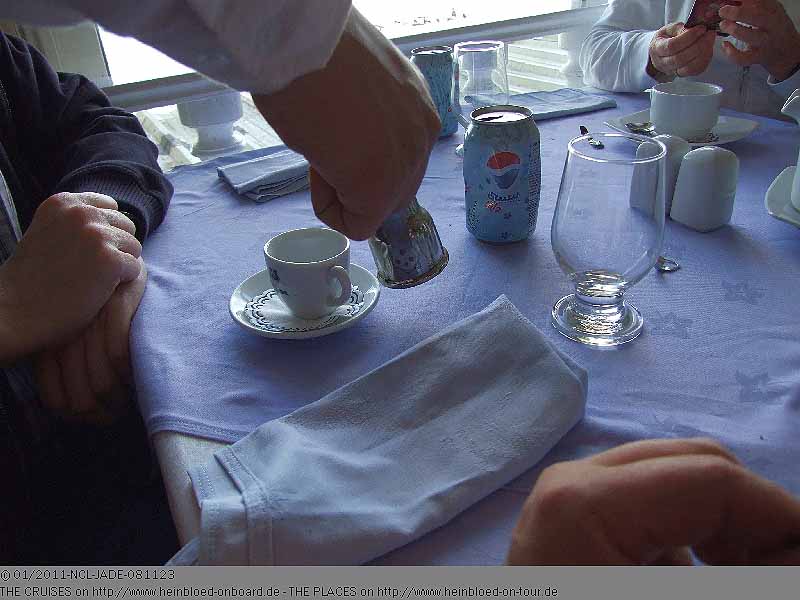 But I expected that the Turkish coffee might be too strong for me.

And I would loved to go to this places... because I love Arabian meatballs...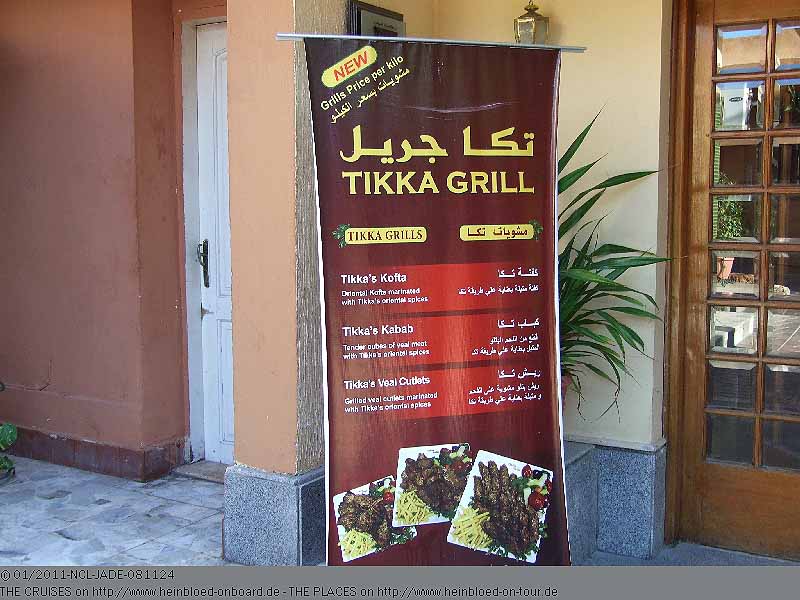 Und ich wäre so gerne hier reingegangen... weil ich ja Köfte liebe...