Scroll down for English explanations - alternates with German explanations.

Bei so einem schönen Wetter und so wenigen Leuten an Bord (ca. 410), wollten wir auch mal draußen im Great Outdoor frühstücken. Übrigens die Farbtrennung hat einen Sinn: Blau Nichtraucher und Orange Raucher.

Such a nice weather and so few guests on board (approx. 410) we should have breakfast at the Great Outdoor Café. By the way the color means blue for non-smoking guests and orange for smoking guests.

I wanted to see what we had already on our balcony. Someone wrote on the aft cabin on deck 11: may not be so bad as the gap is very small.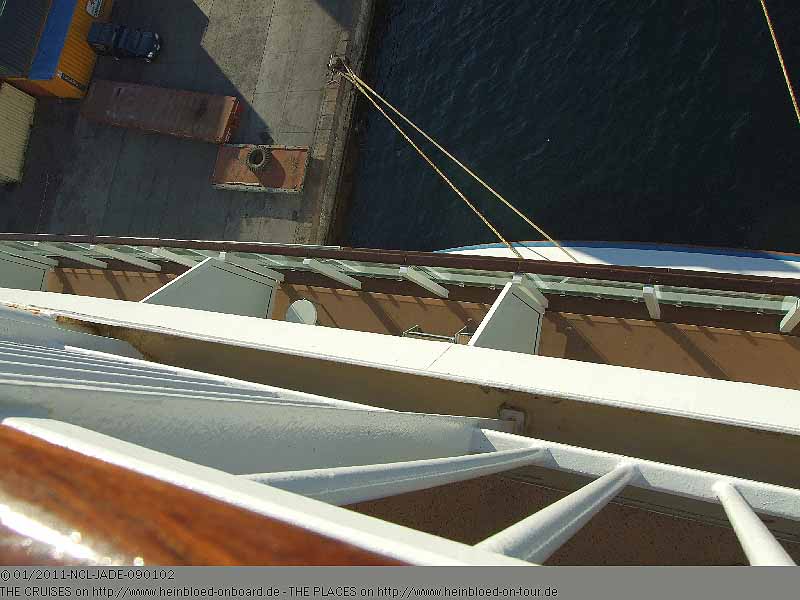 Trotzdem ich gucke mal wieder runter, um mal zu sehen, was bei uns alles liegt. Jemand schrieb wegen der Heckkabine auf Deck 11: Ist weniger davon betroffen, da die Lücke nur sehr klein ist.
Mich macht es schon nervös, wenn die Raucher hier an der Railing stehen, aber er gehört zu den netten, der tatsächlich einen Aschenbecher benutzt.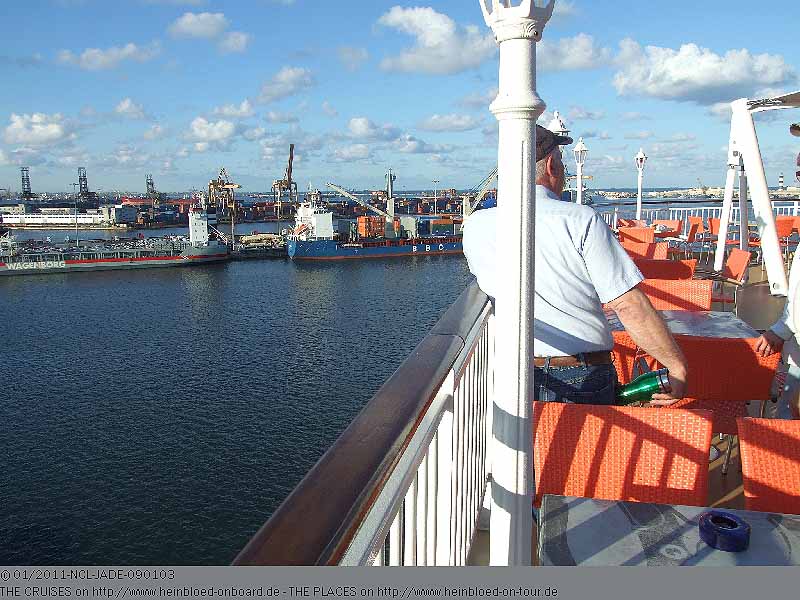 It made me nervous if the smoker stand here at the railing but he was one of the nicer who used an ashtray.

Here in the Great Outdoor Café you have only a "limited" offer.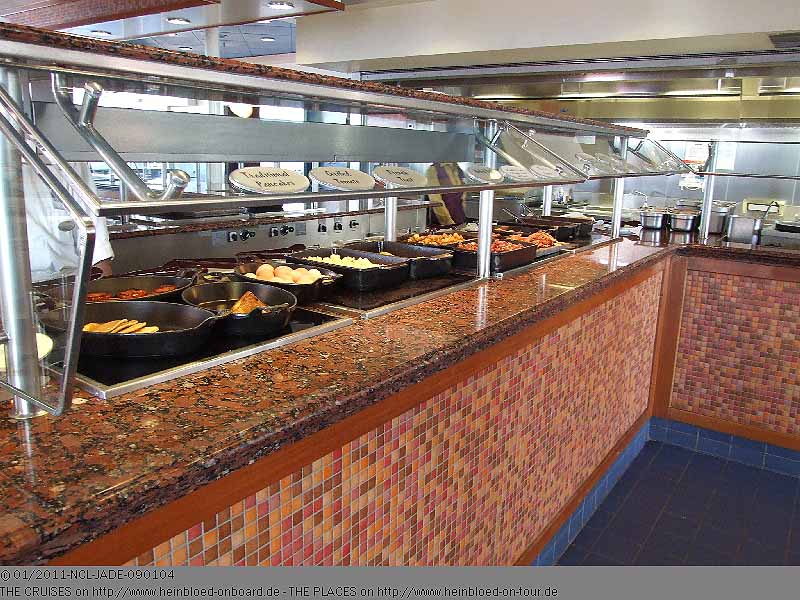 Hier im Great Outdoor Café besteht nur ein "eingeschränktes" Angebot.
Bruno muss daher doch ins Garden Café laufen, weil die Cerealien, die er gerne hätte, draußen nicht angeboten werden.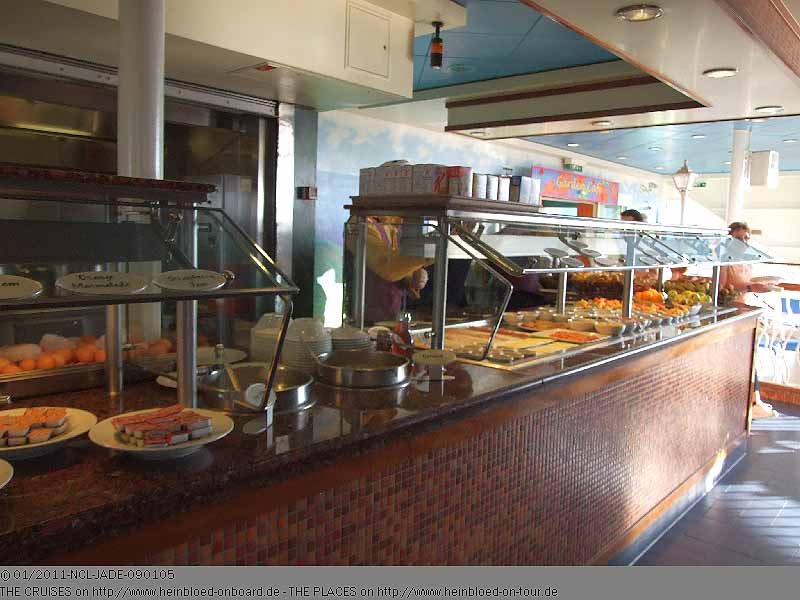 Bruno need to see the Garden Café because his preferred cereals were not available outside.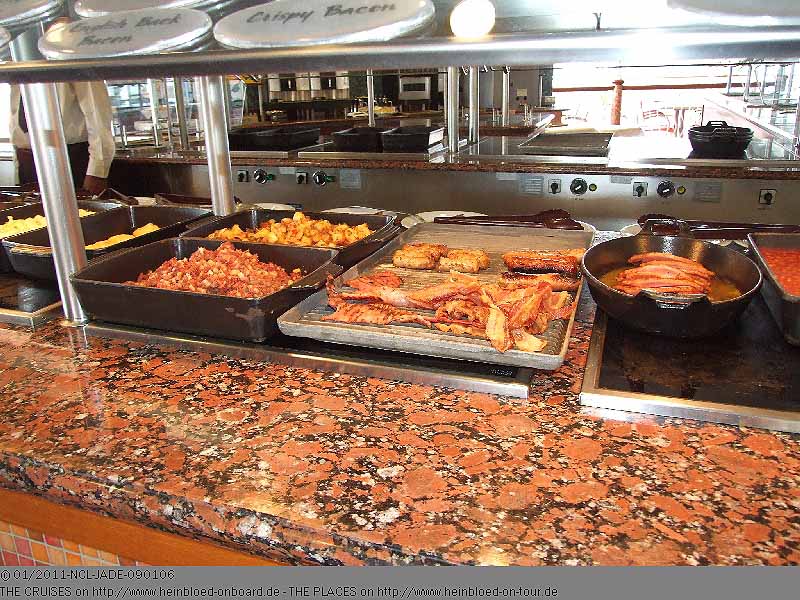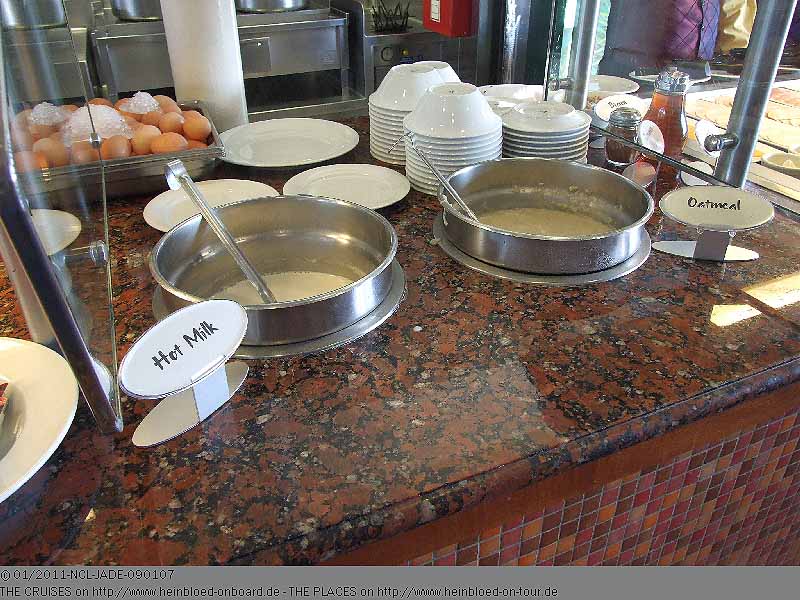 Do not worry: you will not starve.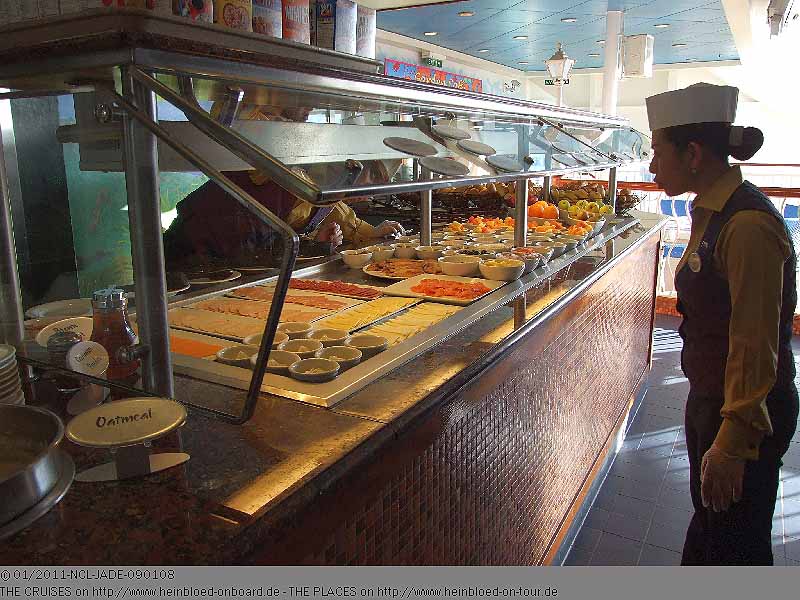 Man würde trotzdem nicht verhungern.
Dann lacht mir jemand zwischen dem Büffet zu: Furtoso. Ich weiss, dass ich ihn von einer früheren Fahrt kenne. Er erkennt mich auch, aber er war schon auf so vielen Schiffen der NCL-Flotte, dass ich bislang ihn nicht einordnen kann. Trotzdem freuen wir uns. Ich muss mir von Celebrity das Gesichtserkennungsprogramm ausleihen, wie wir es auf der
CELEBRITY EQUINOX 2010
kennengelernt haben.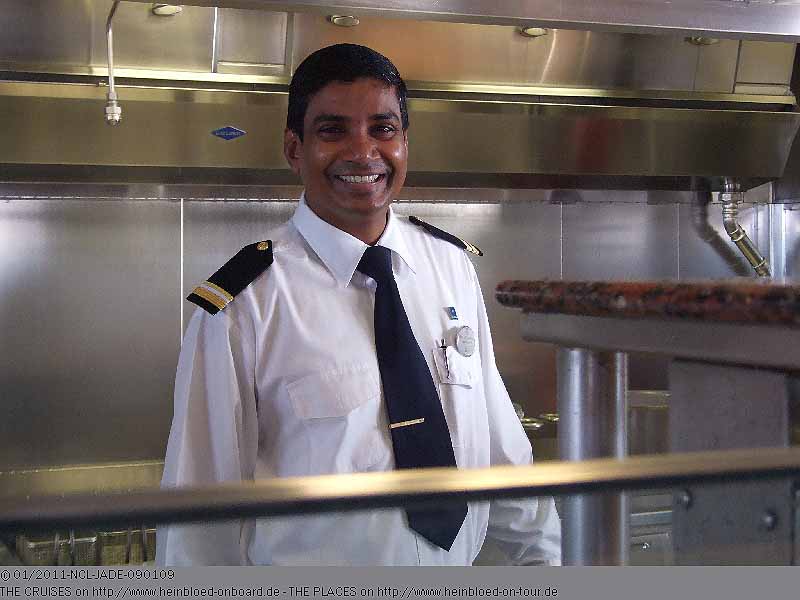 Someone smiled to me from the buffet: Furtoso. I knew that I knew him from a previous cruise. He remembered me as well but he was on too many ships of the NCL-fleet that I cannot put him somewhere. But it was a pleasure anyway. I need to get the face identification software from Celebrity like they had on CELEBRITY EQUINOX 2010.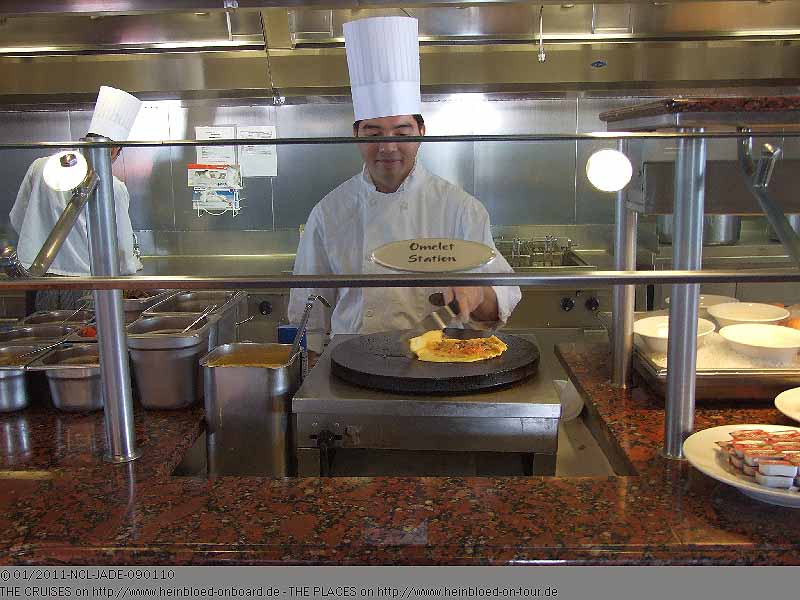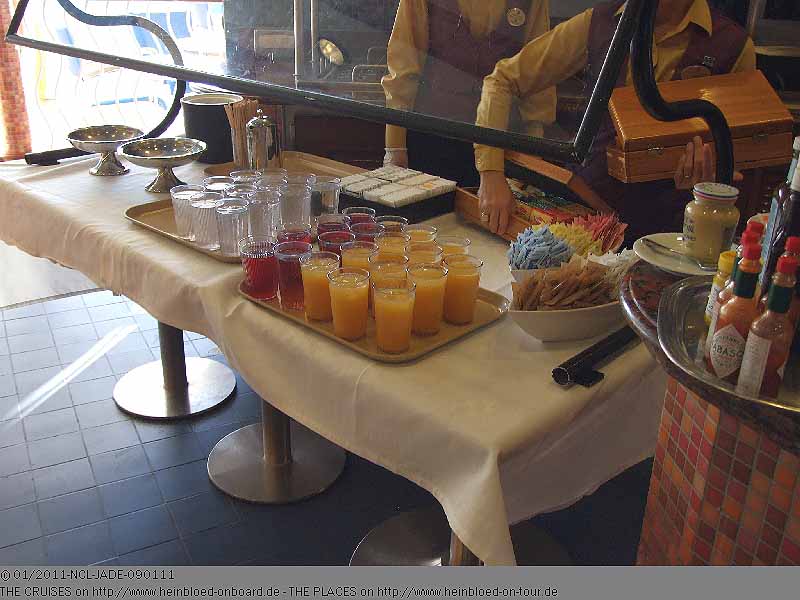 Pay attention: of course I thought that this should be my cranberry-juice but it was the fruit punch which is only available on deck 12.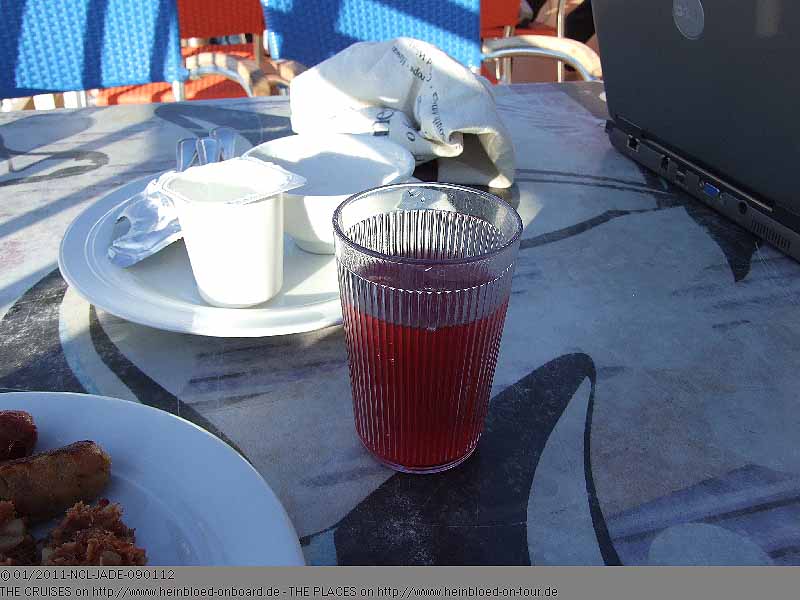 Aufpassen: ich dachte natürlich, dass es mein Cranberry-Saft wäre aber es ist der Frucht-Punch, der nur oben auf Deck 12 erhältlich ist.
Es gibt sogar Schweinefleisch. Damals auf der
MSC MUSICA 2007
durfte während des Aufenthaltes in Tripolis nicht mal das auf der Karte erscheinen.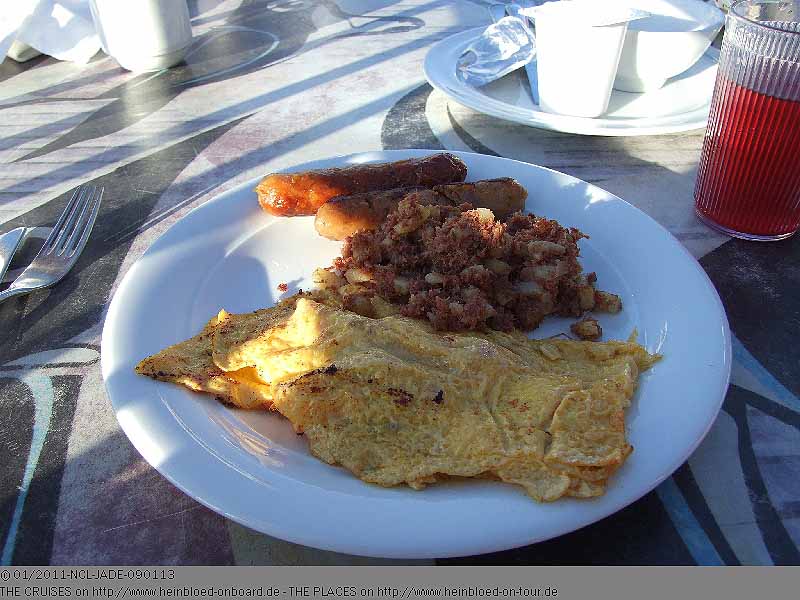 They even had pork. When we called Tripolis, Libya on MSC MUSICA 2007 no pork dishes appeared on the menu.

Why do you have mostly Luxembourg milk on most cruise ships??? The Luxembourg must be extincted due to lack of calcium... By the way: long time not heared from Patrick Wetter from Cruisopolis... Well indeed... who is taking care of my ZAANDAM 2012-booking from Hong Kong to Kobe???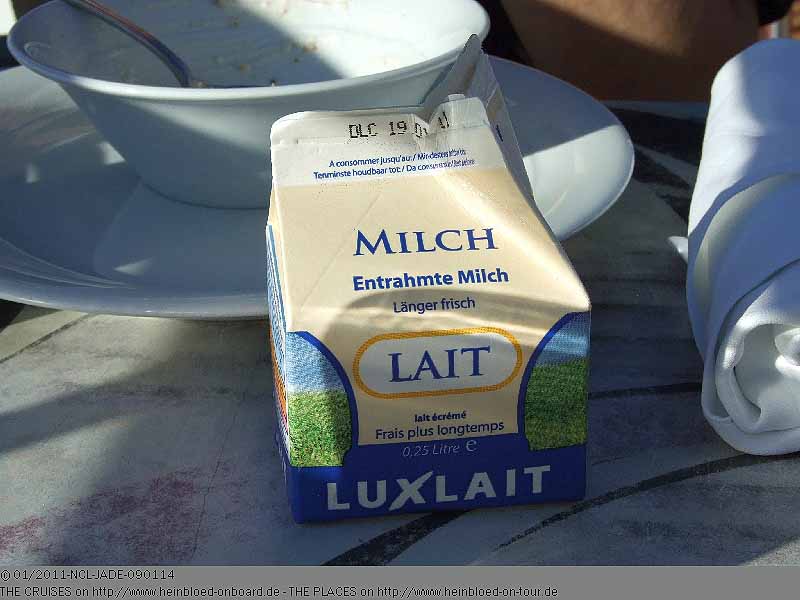 Wieso gibt es eigentlich fast immer die luxemburgische Milch auf fast allen Kreuzfahrtschiffen??? Die Luxemburgische Bevölkerung muss doch schon wegen Kalziummangels doch schon fast ausgestorben sein... Da fällt mir ein, schon lange nichts mehr von
Patrick Wetter von Cruisopolis
bzw. kreuzfahrten-treff.de gehört... Stimmt... wer kümmert sich eigentlich um meine
ZAANDAM-Buchung 2012 von Hongkong nach Kobe
???
"Waschi-Waschi"... Da wir selten hier oben sind, haben wir es bislang nicht erlebt. Zufällig warten wir auf den Fahrstuhl, als wir Ohrenzeugen werden: Sie fragt einen Gast, den sie gerade desinfiziert: "Wo ist Ihre Frau???". Er: "Ich bin heute nur für mich alleine (= in Englisch "All by melself")". Sie: "All by myself... I want to be... all by myself"... Sie singt hier das Lied von Eric Carmel an und auf jede Reaktion eines Gastes versucht sie ein passendes Lied zu singen.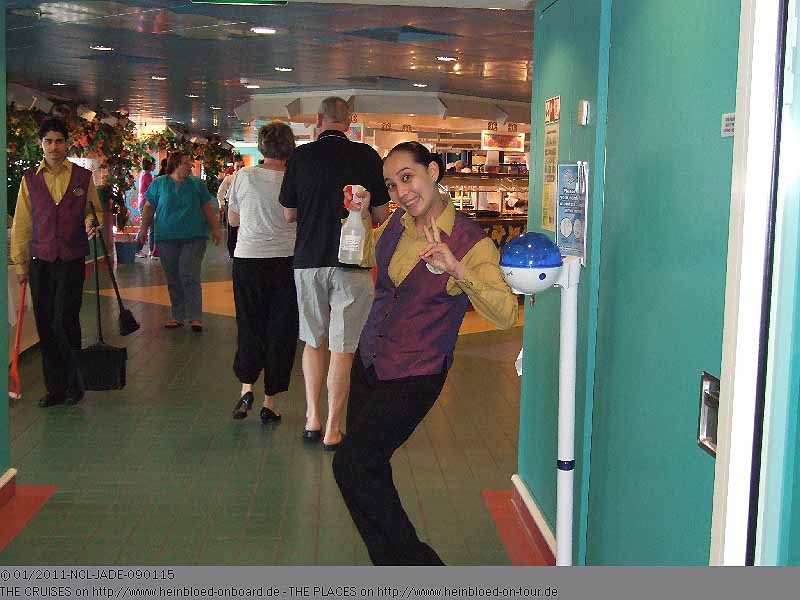 "Washi-Washi"... As we were not very often here we did not experience her so far. We were waiting for the elevator when we became ear witness: She asked while she was sanitizing a guest: "Where is your wife???". He: "I am today only all by myself". She: "All by myself... I want to be... all by myself"... She sang the Eric Carmel song and on each reaction of the guests she tried to find a suitable song.

Downstairs you had some small Danish for breakfast. I wanted to try a cinnamon roll with cream cheese which I had not see so far somewhere else.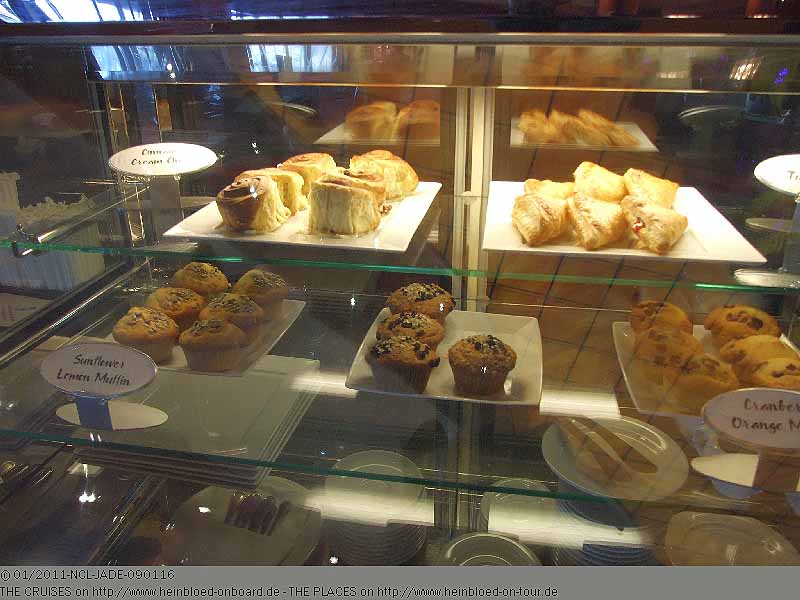 Unten gibt es so Kleinigkeiten zum Frühstück. Und ich will unbedingt mal eine Zimt Rolle mit Frischkäse probieren, den ich bislang woanders noch nicht gesehen habe.
Bruno ist schon an der Aloha Bar Stammkunde. Sie fragen ihn immer nur noch seine "Lieblingseigenschaften" ohne Auswahl sicherheitshalber ab.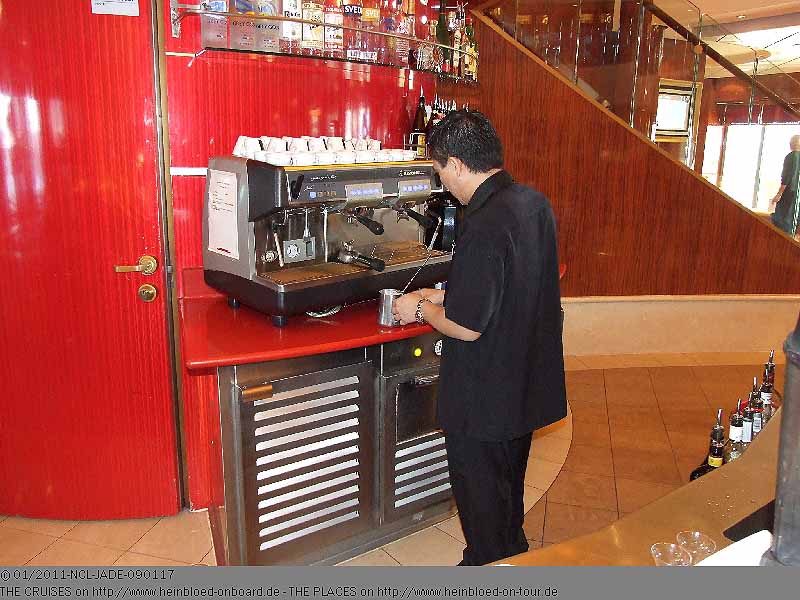 Bruno was alread patron at the Aloha Bar. So they ask him only for his "favorite properties" without selection just to be sure.

They also knew that he liked to get the cup to the cabin and got normally a paper cup.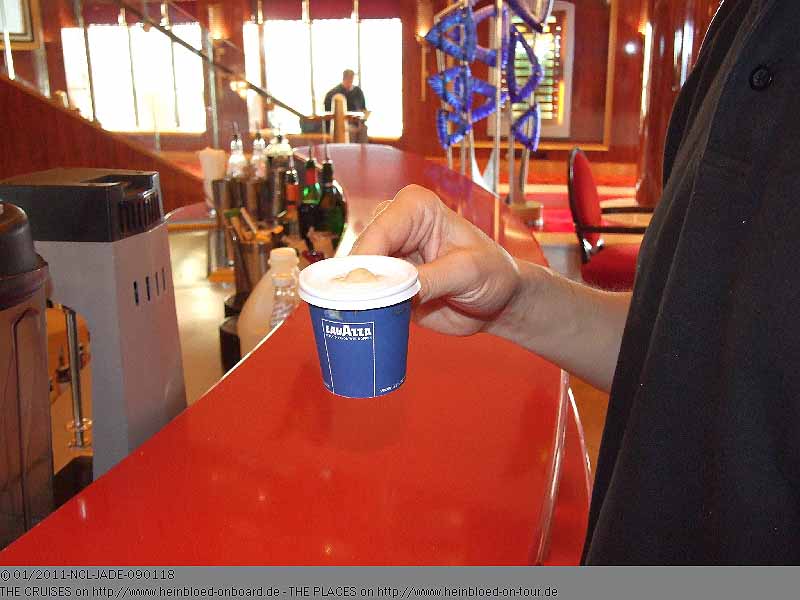 Sie wissen auch, dass er oft die Tasse mit in die Kabine nimmt und bekommt daher i. d. R. es in einem Pappbecher serviert.
Unser Instant-Kaffee aus Italien fand Interesse bei goldie888, die am 14.01.2011 in Barcelona zusteigt. Gerne hinterlegen wir an der Rezeption zwei Beutel, damit sie den Kaffee mit Gingseng probieren kann.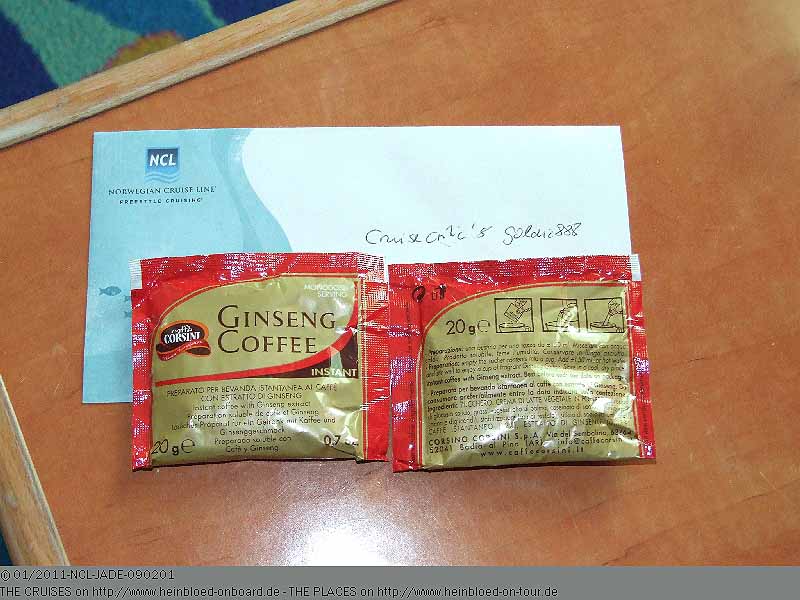 Our instant coffee from Italy made goldie888 curious who will embard on January 14, 2011 in Barcelona. So we left two bags at the reception desk so she can test the coffee with gingseng.

Let's give some more answers... The Concierge on board was STILL Monica. She went with us from the ship on January 14, 2011 to go on vacation. Those of you who booked to get her as concierge need to rebook to NORWEGIAN EPIC.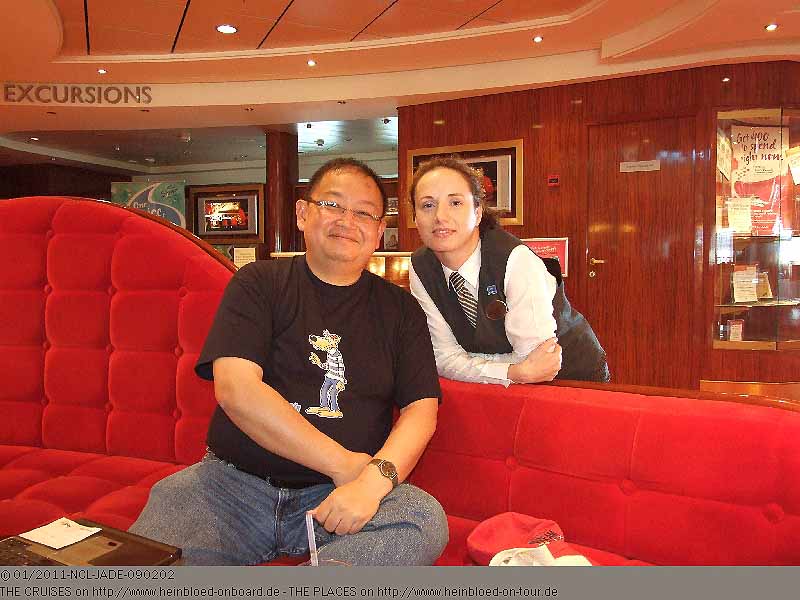 Beantworten wir weitere Fragen... Die Concierge an Bord ist NOCH Monica. Sie geht mit uns am 14.01.2011 von Bord und dann in Urlaub. Diejenigen, die nur ihretwegen gebucht haben, müssen auf die NORWEGIAN EPIC umbuchen.
Während wir in der Aloha Bar surfen, bemerkt der Kapitän, dass wir irgendwie viel schneller surfen und guckt sich das an. Wir haben ja mit Hilfe unseres mifi eines mobiles WLAN-Netz aufgebaut. Auch texsaxplayer aus dem Roll-Call hängt schon an unserem Netz und ist ganz begeistert. Wir sollten ein Schild aufstellen und den einen Kanal, den wir noch haben, vermarkten und so unsere Kreuzfahrt gegenfinanzieren... (bei 100 USD für 250 Minuten sollten wir uns in der Mitte treffen... und das Geld für die nächste Kreuzfahrt sollten wir schnell zusammenhaben). Weil ich so schnell im Netz bin, zeige ich ihm den Blog von Tag 1.1, als er vor uns im Café im Barcelona saß. Er bittet mich ihm den Link zu schicken. Wenige Minuten später bekomme ich eine Mail zurück: er möchte ausdrücklich feststellen, dass er nicht wegen des Essens im Café im Cruise Terminal saß, sondern weil es dort einen super Kaffee gibt. Bruno kann verstehen, wie er an Bord leidet: beide sind ja Kaffeeliebhaber.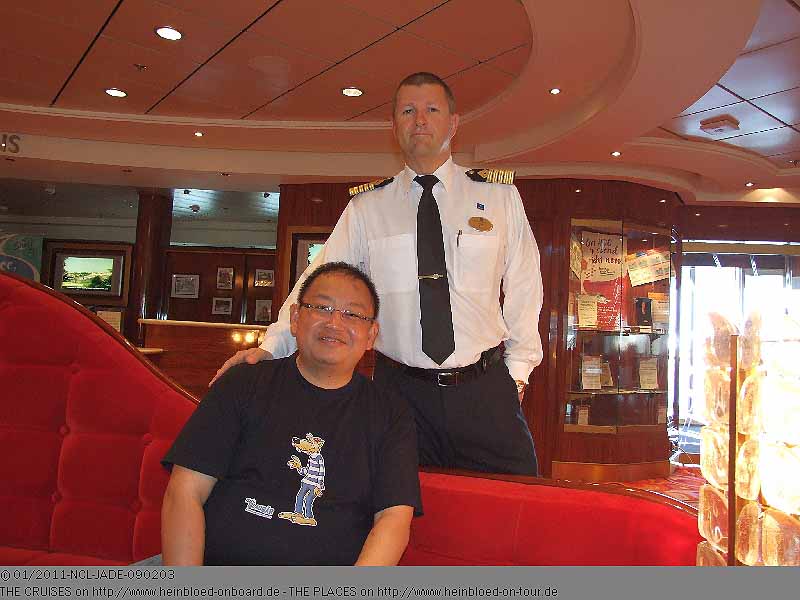 While we sat at the Aloha Bar the Captain saw that we browsed much more faster and came over and see. We had our mobile WiFi divice on and so set up a WiFi-network. So txsaxplayer from our roll-call was already connected to our network and was very excited. We should display a sign and sell the last open channel we had and so trying to refinance our expenses... (with 100 USD for 250 minutes we should meet somewhere in the middle of the road... and we should have quickly the money for our next cruise...). Because I had high-speed internet I showed the Captain chapter 1.1 from the blog when he sat in front of us in the Café in Barcelona. He asked me to send him the link. Few minutes later I got a mail back: In an official statement he insisted to let everyone know: He was not because of the food in the café in the Cruise Terminal but because of the great coffee you can get there. Bruno understood him fully how he must suffer on board: both are coffee lovers.

We had the sun shining on our balcony so that we used it accordingly. Why did not the Captain swing the ship to the nicer pier so we must not see the containers??? There was nothing else to do...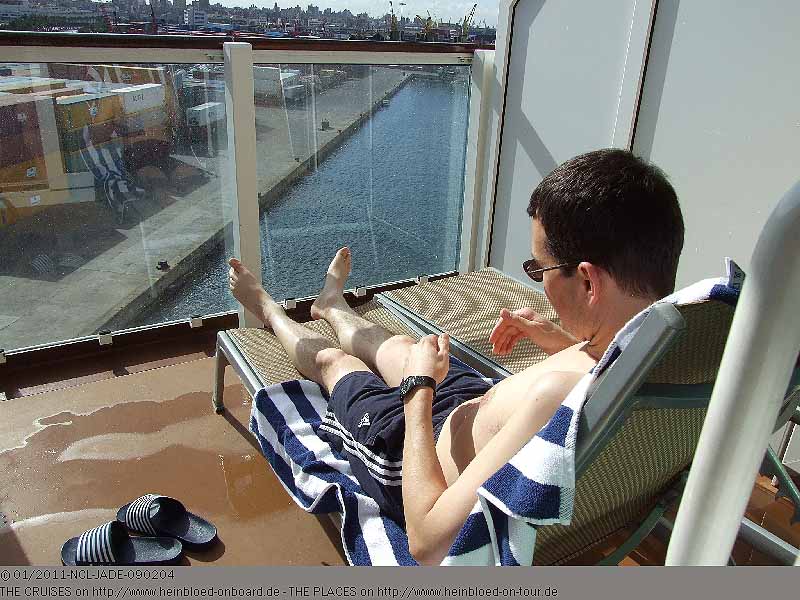 Uns scheint die Sonne direkt auf den Balkon, so dass wir das nutzen. Warum setzt der Kapitän eigentlich das Schiff nicht an das schönere Pier um, damit wir nicht die Container sehen müssen??? Er hat doch gerade eh nichts zu tun...
Erstmals fällt uns auf, dass keiner der Hauptrestaurants mittags geöffnet hat. Wenn man Bedienung will, bleibt einem aber immer noch das Blue Lagoon Café.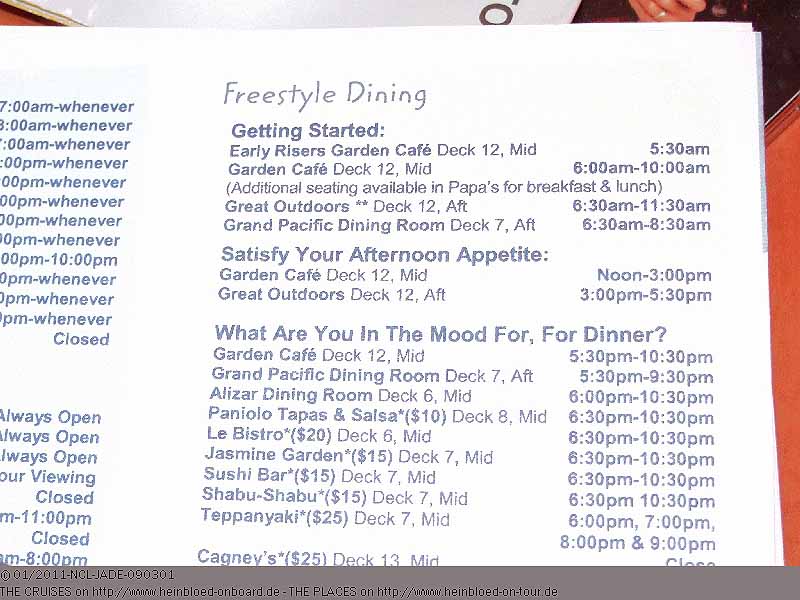 We saw the very first time that none of the main dining room were open. So if you still need service you can see Blue Lagoon Café.

As we only use the Garden Café if it is not very full we went there again for lunch. Somehow I had the impression that we know already everything.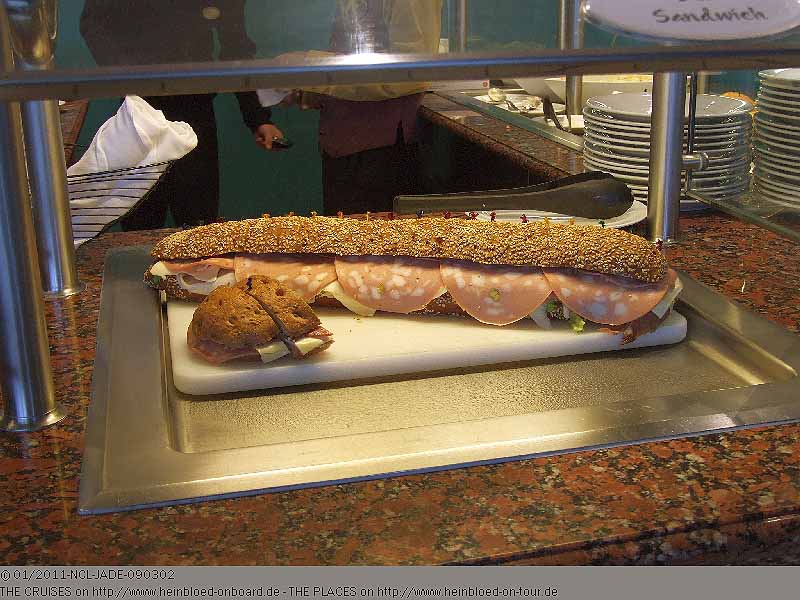 Da wir nur das Garden Café nutzen, wenn es nicht voll ist, gehen wir mittags wieder da essen. Komischerweise hatte ich jedoch den Eindruck, dass wir schon alles kannten.
Ich gucke bei der Curry Station: wieder kein Hühnchen-Curry... sieht aus, wie die Tage zuvor...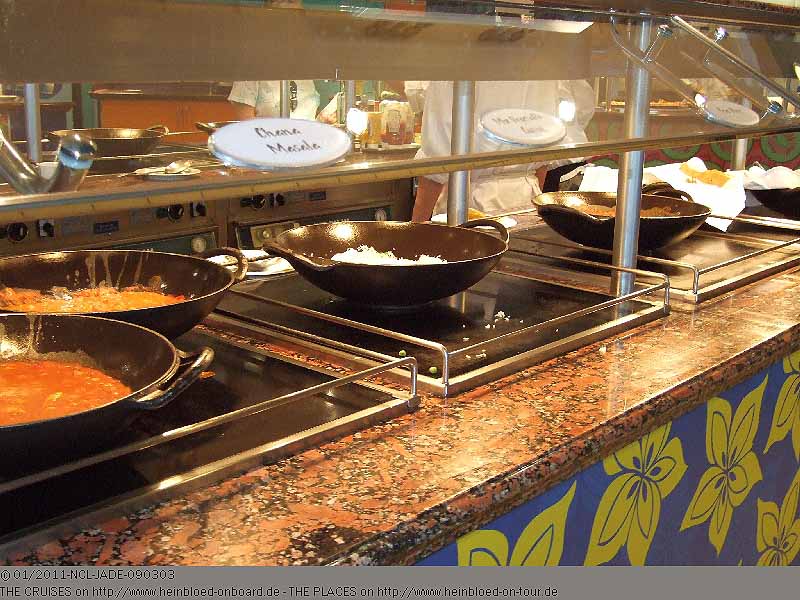 Let me see the curry station: again no chicken curry... looked like the days before...

But this Papadam was very nice.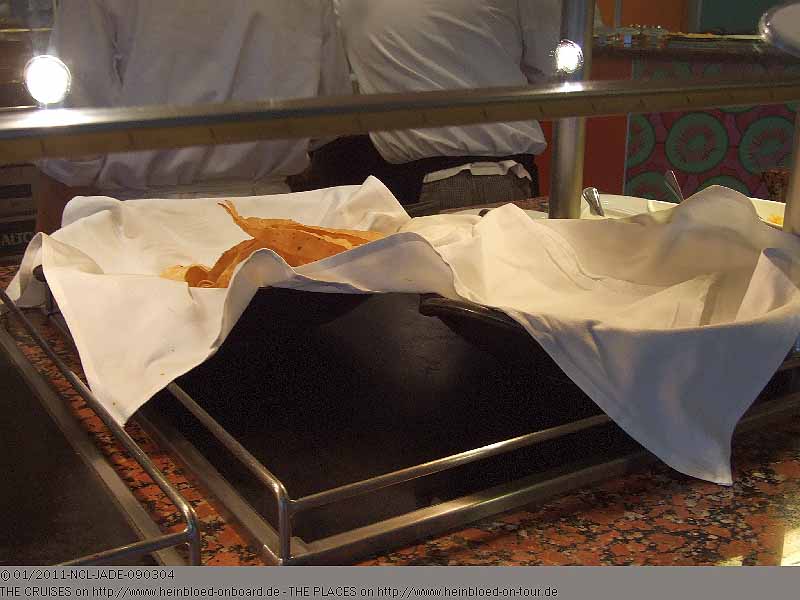 Aber dieses Papadam ist hier sehr lecker.
Es gibt jeden Tag wohl die Asiatische Hühnersuppe, die man sich selbst mit Einlagen aufpeppen kann.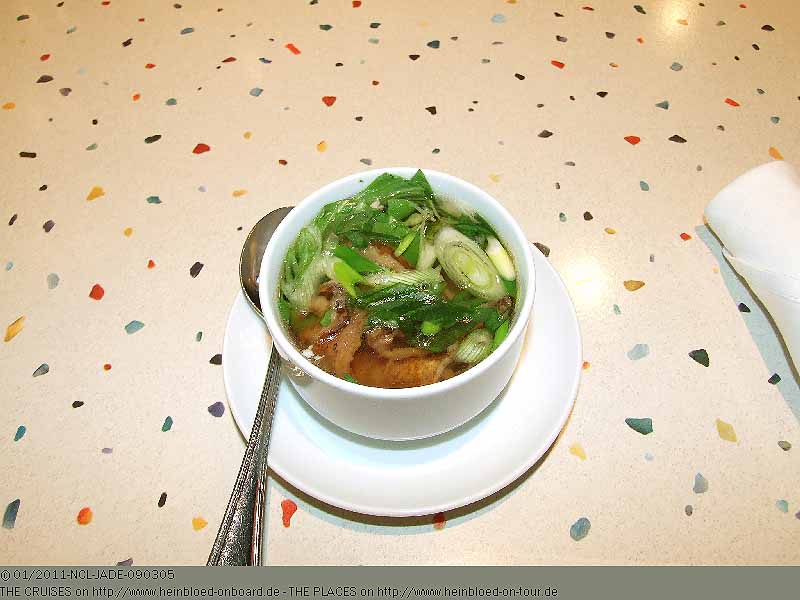 You had on every day the Asian chicken broth which you can upgrade with some soup vegetables.

That's why Eric Cousins must see the Fish Market: the pita-bread was not as good as ashore.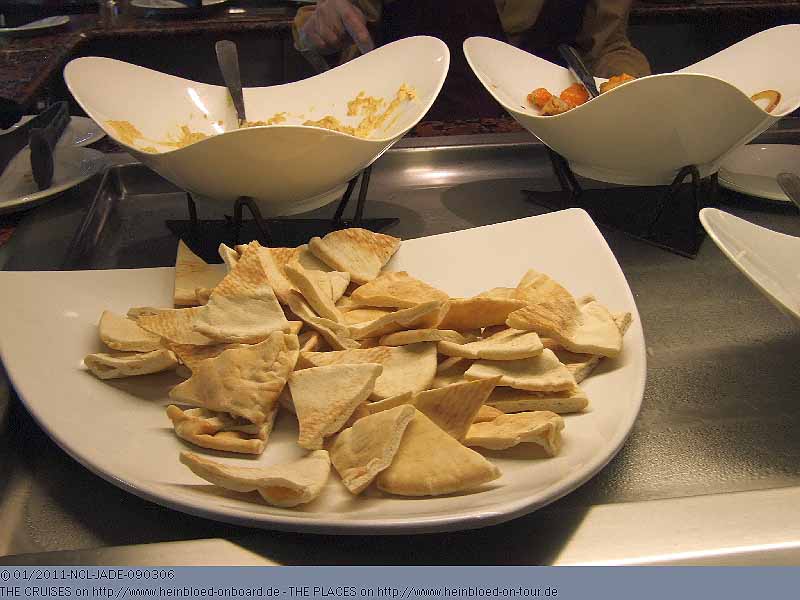 Deswegen muss Eric Cousins unbedingt mal in den Fish Market: Das Pita-Brot ist nicht so lecker wie an Land gestern...
Und auch dem Hummus fehlt der letzte Kick... aber wir meckern ja bloß, weil unsere Ansprüche seit gestern so hoch sind. Normalerweise gehen wir an Land und fragen nach, warum wir es nicht so haben können wie auf einem NCL-Schiff...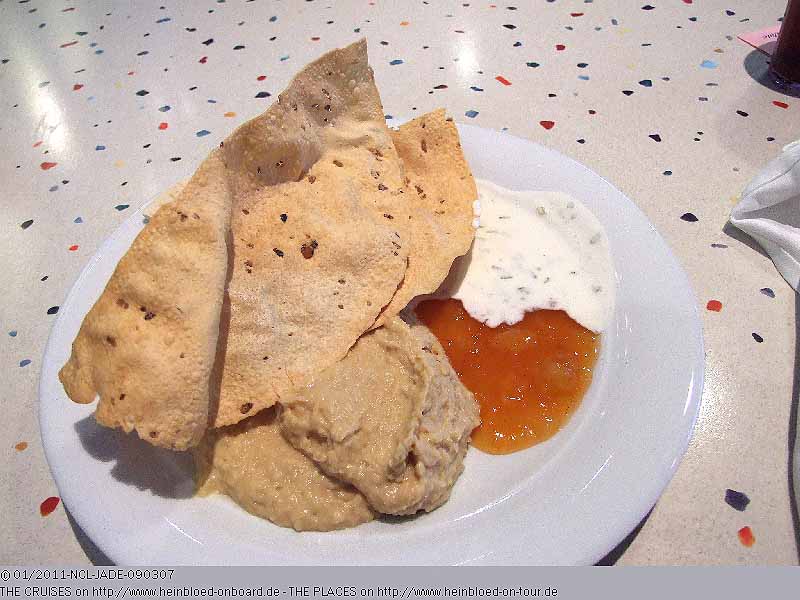 I was missing a last kick in the hummus... but we were only complaining because our requirements were much more higher since the day before. Normally we go ashore and ask why not everything can be as good as on an NCL-ship...

As said before none must die on hunger on this ship.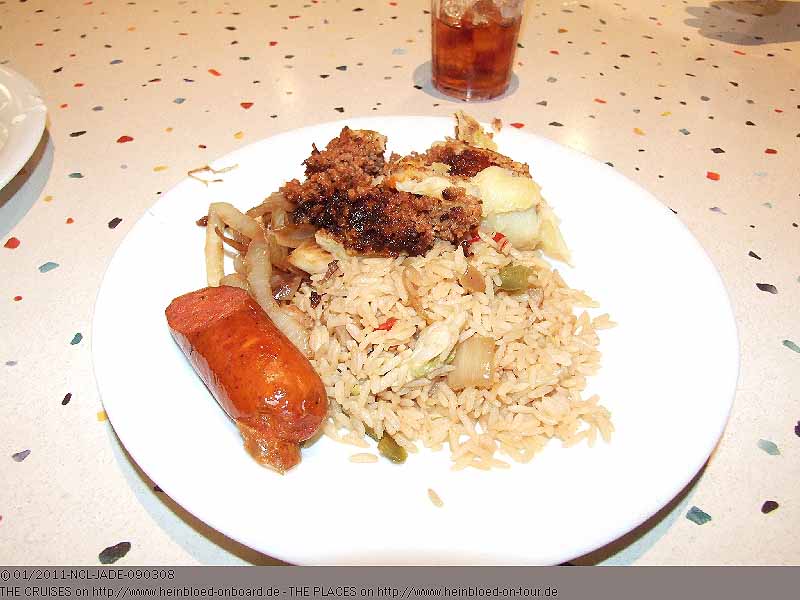 Verhungern muss an Bord keiner...