Scroll down for English explanations - alternates with German explanations.

Es geht ins Grand Pacific zum Abendessen. Eigentlich sollten wir einen Pager kriegen, der dezent-direkte Hinweis auf meinen Latitudes-Gold-Status führt dazu, dass wir direkt zum Tisch geführt werden. Dort sind wir zunächst überrascht, dass es nicht mal einen Serviettenservice gibt. Aber wir kommen zu einem unglücklichen Zeitpunkt mit 19.30 Uhr. Es gibt nämlich heute Abend nur eine Show, deswegen ist die Nachfrage riesig und unser tut sein bestes... dafür, dass er wohl keinen Assistenten hat. Während sich unser Nachbartisch beim Maître darüber beschwert, nehmen wir es gelassener und loben ihn stattdessen später, wieviel er doch geschafft hat, obwohl er streckenweise alleine war und dann zunächst eine Unterstützung bekam, die uns damals an die
COSTA CLASSICA im Jahre 2007
erinnerte. Später kam weitere Unterstützung und man merkte auch, dass wir dann einen sehr viel besseren Service bekamen, als er die Last auf mehrere Schultern verteilen konnte. Am Schluss kam dann die Frage, ob er uns möglicherweise von früher kennen könnte... Eine Frage, die wohl jeden Gast schmeichelt... uns natürlich auch.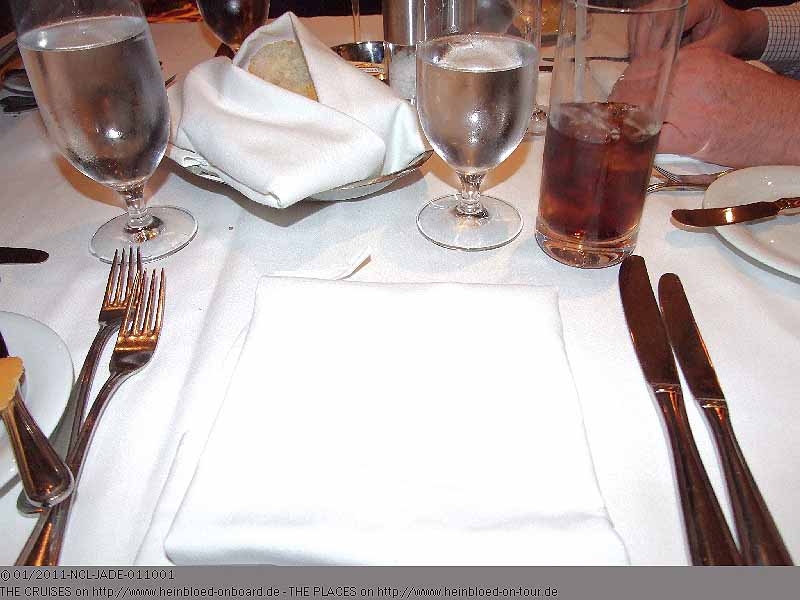 For dinner we went to the Grand Pacific. We should get a pager and wait but the information on my Latitudes-Gold-tier helped that we were taken directly to a table. There we were surprised that we had no napkin service. We came to a very unpleasent time at 19.30 hrs. There was only one show tonight and so the demand was giant and our waiter was doing his very best... as he obviously had no assistent. The next table complainted it with the Maître but we were very relaxed and told him that he made a great job for the circumstances that he had no assistant. Later he got assistence and it reminded us to our experience on COSTA CLASSICA in 2007. Later he had more support buy an experienced waiter and you feel that his service went up as he could delegate some work. Finally the question if he might know us from a previous cruise... A question every guest loves to here... same with us.

"My wife had the fish..." (It's a running gag only users from a German forum will remember from a cruise review on MSC MUSICA in 2006. A wife had every day the fish and it was always good... so when Bruno had fish and it was good...)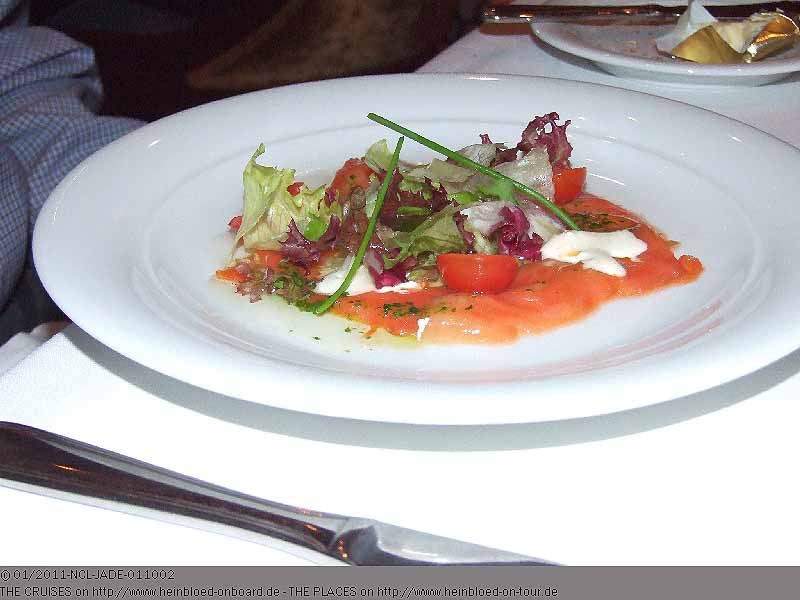 "Meine Frau hatte den Fisch..."
Die Crossata schmeckte wie immer...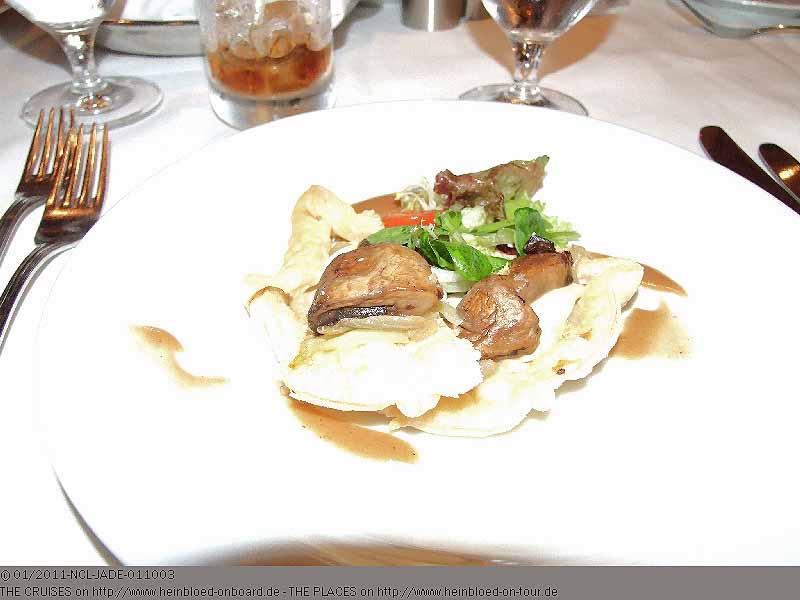 Crossata was like always...

The black bean soup was normally one of my favorite soups but someone must had an accident with the bottle of vinegar.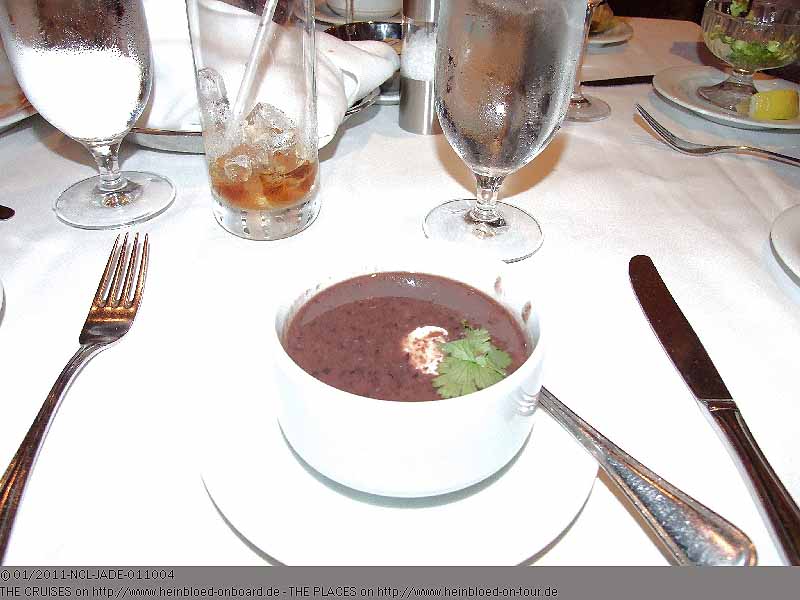 Die schwarze Bohnensuppe zählt sonst zu meinen Lieblingssuppen, aber da musste jemand wohl mit der Essigflasche ausgerutscht sein.
Gleiches gilt auch für den Salatdressing... Übrigens wer den Unterschied zwischen NCL, Princess und HAL/Celebrity erklärt haben will: Bei NCL wird ein Dressing angeboten. Nach Alternativen musst du als Gast fragen. Bei Princess stehen die Alternativen auf der Karte und man wählt sie aus. Und bei HAL/Celebrity suchst du sie dir am Platz aus, weil dir alle gezeigt werden... und das sind eben die kleinen und feinen Unterschiede für die du entweder mehr oder weniger bezahlst... Und wenn einer nach RCI fragt: NCL macht das, was du willst. Bei RCI musst du das machen, was sie wollen...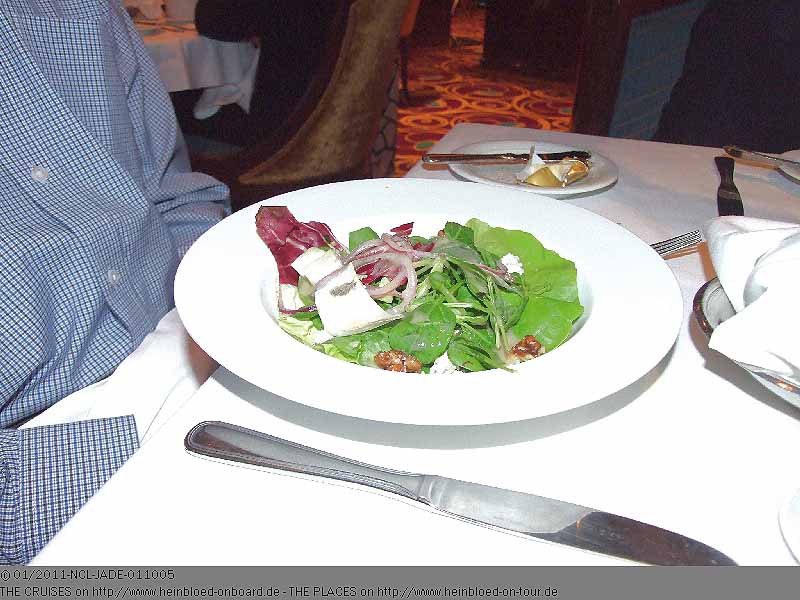 Same with the salad dressing... By the way if someone ask for the differences between NCL, Princess and HAL/Celebrity I explain it this way: With NCL they offer the salad with one dressing in their menu. You must ask for options as guest. With Princess you find all options on the menu and you choose. With HAL/Celebrity you have a tray with the dressings and you choose then... so these are the small and fine difference you are paying for... more or less... And if somebody asks for RCI: NCL is doing what you want and RCI you need to do what they want.

"My wife had again the fish..."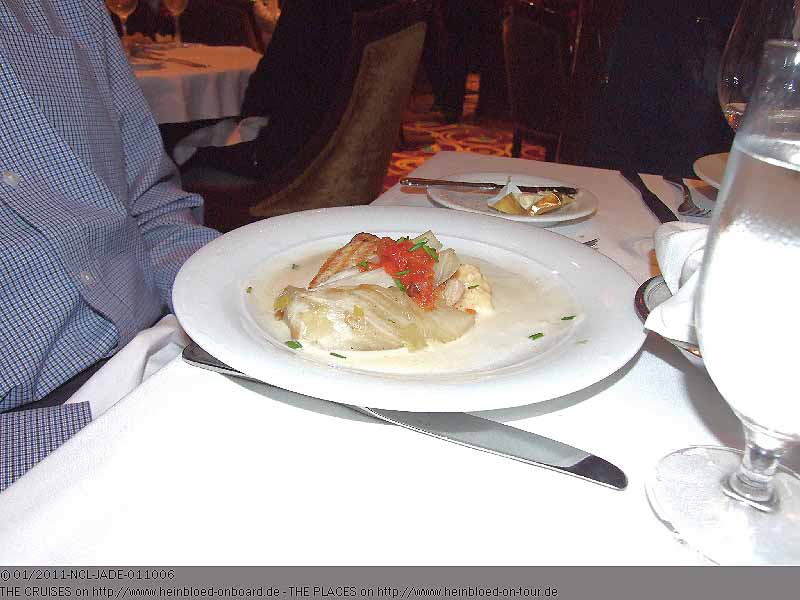 "Meine Frau hatte nochmals den Fisch..."
Ich hatte das verrückte Hühnchen... Der "schmutzige Reis" (dirty rice") muss wohl eine karibische Fassung von Soljanka sein... alles was übrig ist: rein damit... Das fand ich besser als das Hühnchen... nur mit dem Reis selbst, konnte ich mit meinen Wurzeln nichts anfangen...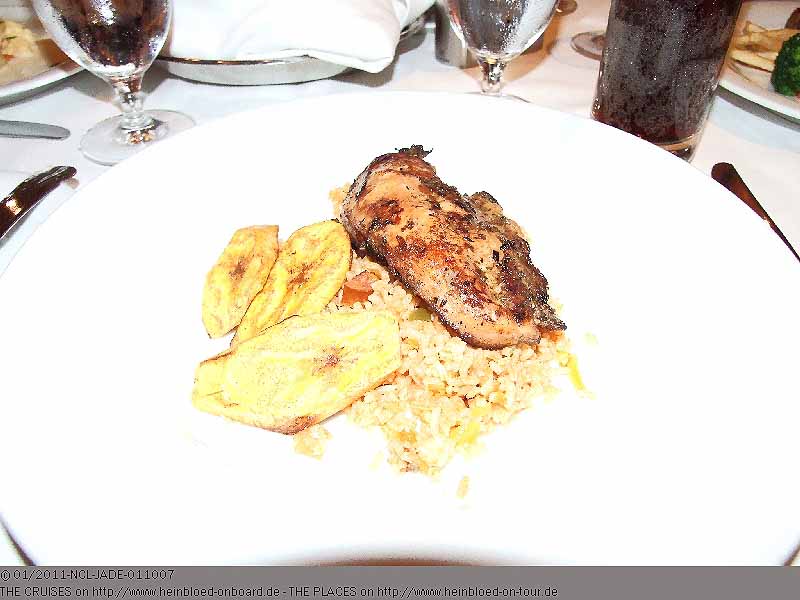 I had the jerk chicken... The dirty rice need to be a Caribbean version of the East Germans Sojanka soup where you put everything inside which was left over in the kitchen... I liked it more than the chicken but the rice... with my roots I could not stand with the rice...

Looked like a luxury chocolate bar but it was a variation of Bavarian cream inside.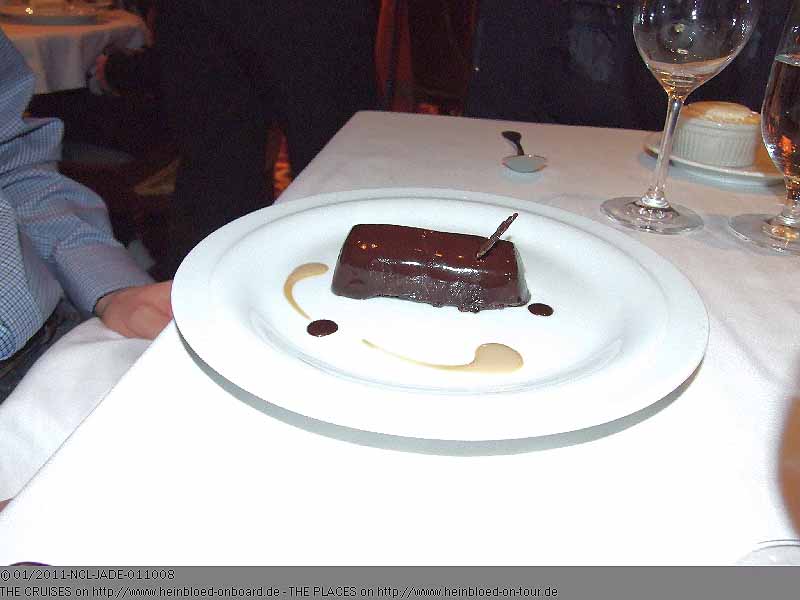 Für mich sah es zwar aus, wie ein Edel-Schokoriegel, aber es war eine Variation aus bayerischer Creme.
Ich nehme ja immer das Soufflé, wenn es das gibt...

I always take the soufflé if I see it on the menu...

The right way for me to be served...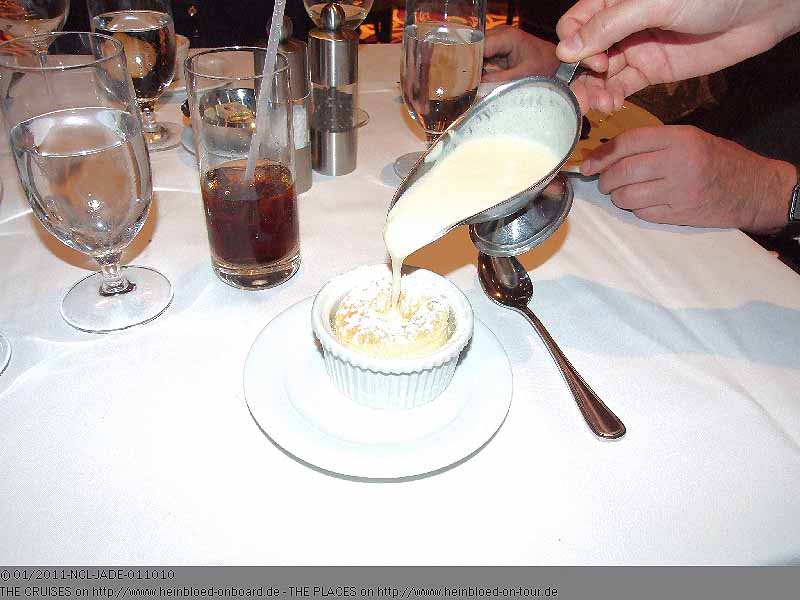 Das ist ja das richtige für mich, wenn man so bedient wird...
Gegen 21.30 Uhr sind wir in der Aloha Bar und treffen uns mit José um Einzelheiten des morgigen cruisecritic.com-Meet & Greet abzusprechen. Dabei werden wir schon hingewiesen, dass Sicherheitsmaßnahmen wegen des Noroviruses ergriffen werden und wir daher nichts zu trinken und zu essen bekommen... Sind das Folgen des Börsenganges und eine Ausrede??? Denn wenn der Norovirus an Bord ist, fängt man doch mit den Sicherheitsmaßnahmen SOFORT an und nicht ab Mitternacht. Der Virus hat bestimmt keine Uhr dabei, um zu gucken, ob schon Mitternacht ist, um dann erst aktiv zu werden, wenn das Schiff sich darauf eingestellt hat... Um 21.30 Uhr zahlen wir immer noch die 8% MWSt. Wir sind allerdings auch später erst abgefahren, weil einige Gäste es nicht geschafft haben, von Bord zu kommen. Übrigens, dass wir heute beim Abendessen bereits keine Blume und Serviettenservice mehr hatten ist eine sofortige Maßnahme, um den Ausbruch des Norovirus an Bord zu verhindern.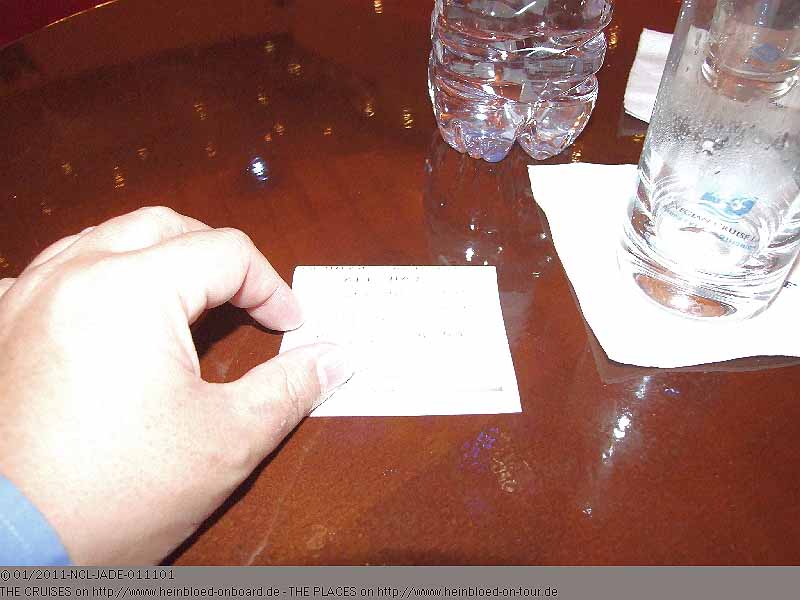 Around 21.30 hrs we went to Aloha bar and met José to talk about details on the next morning's cruisecritic.com-Meet & Greet. So he told us that they need to take special safety measurements to avoid the outbreak of the norovirus and therefore we should not get any food or beverages... Is this an excuse of the savings for the going public??? If the norovirus is onboard then you need to start your safety measurements NOW and not from midnight. The virus had no watch and does not know that he shoud spread after midnight when the ship is well prepared... Around 21.30 hrs we are still paying 8% VAT as we sailed late due to late arrivals... By the way that we had no napkin service and no flower on our table for dinner is one of the safety measurements they took immediately to avoid an outbreak.

We were looking for Carol. But I never saw her in her corner at the reception desk... When we asked we learned that she had now her own office.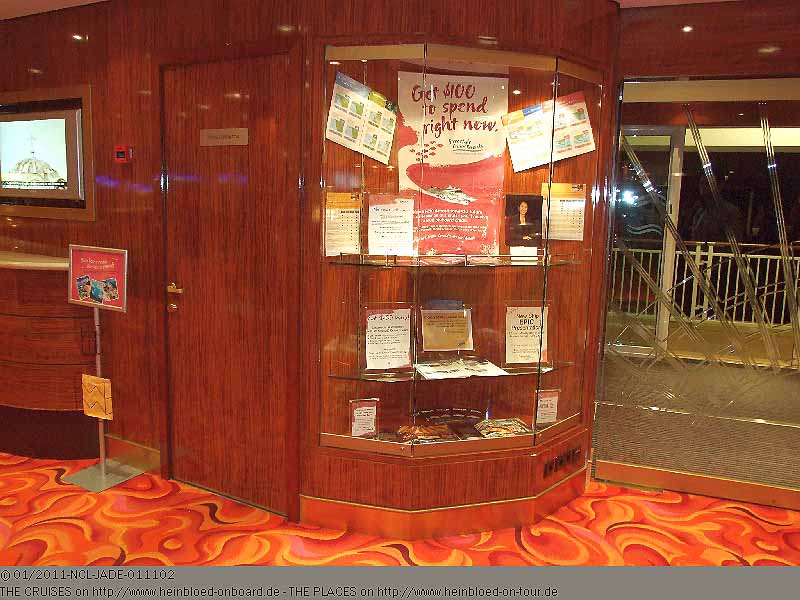 Wir suchen eigentlich auch Carol. Aber in ihrer Ecke an der Rezeption ist sie nicht aufgetaucht. Schade... Als wir nachfragen, erfahren wir, dass sie jetzt ihr eigenes Domizil hat.
Damals noch auf der
NORWEGIAN JADE 2008
hat sie mir noch HANDGESCHRIEBENE (!!!) "Liebesbriefe" geschrieben...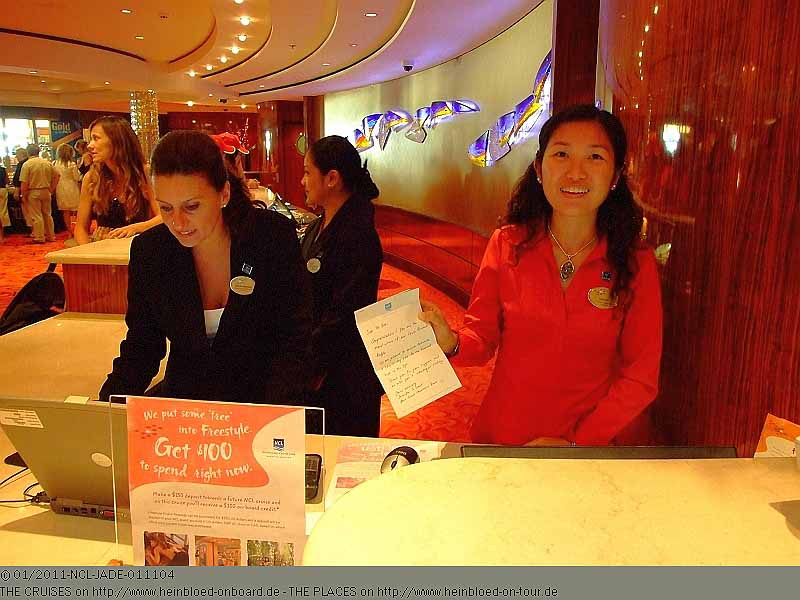 Then in 2008 on NORWEGIAN JADE she wrote me HANDWRITTEN (!!!) "love letters"...

2009 on NORWEGIAN JADE she could not remember me... And today she just disappeared...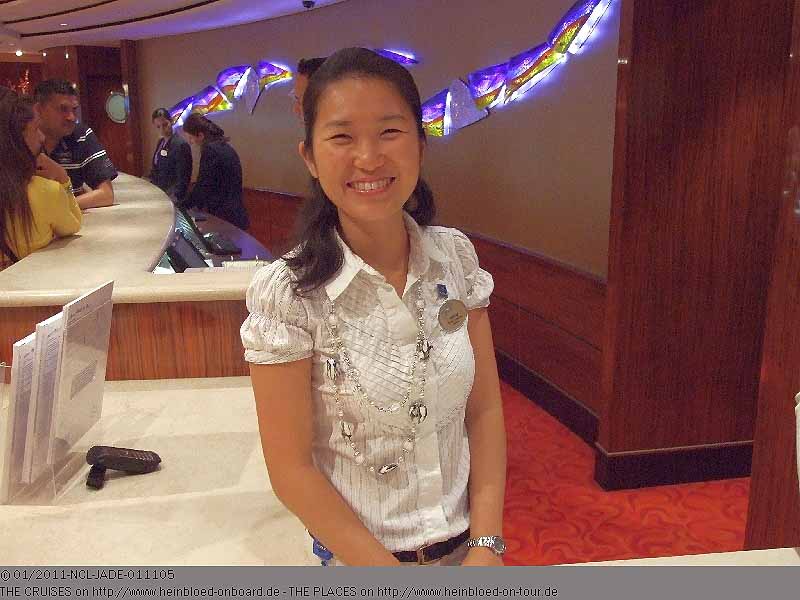 2009 auf der NORWEGIAN JADE
konnte sie sich nicht mal mehr an mich erinnern... und heute ist sie einfach verschwunden...

Ich bekomme noch 10 Minuten mehr als Latitudes-Gold Mitglied. Kurzfristig muss ich umbenannt werden, weil wegen meines Doppel-Vornamens das System mich nicht anlegen kann, um einen User einzurichten.

I got 10 minutes more as Latitudes-Gold member. They need to rename me because they could not activate my user account with my double-first names.

Our stewardess separated our beds on our request.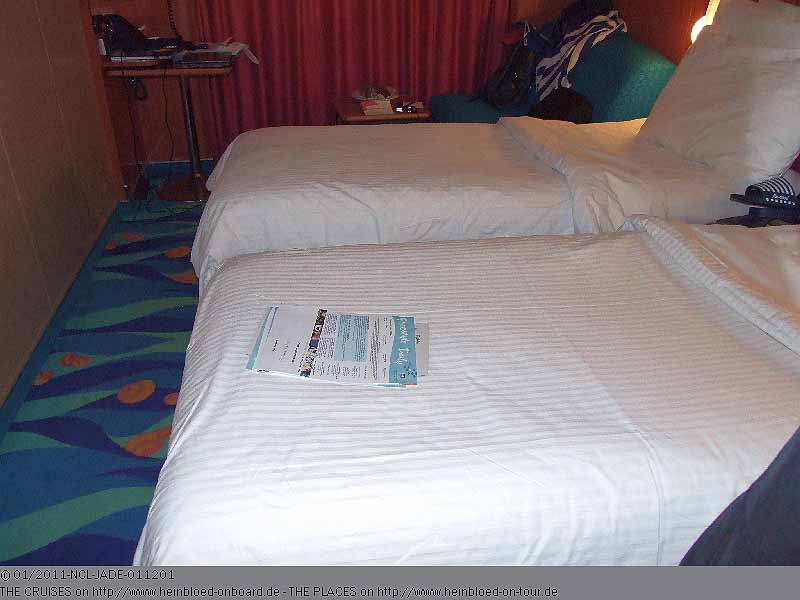 Unsere Betten hat unsere Stewardess auf unseren Wunsch auseinandergestellt.
Wir bekommen auch auf Nachfrage Body Lotion.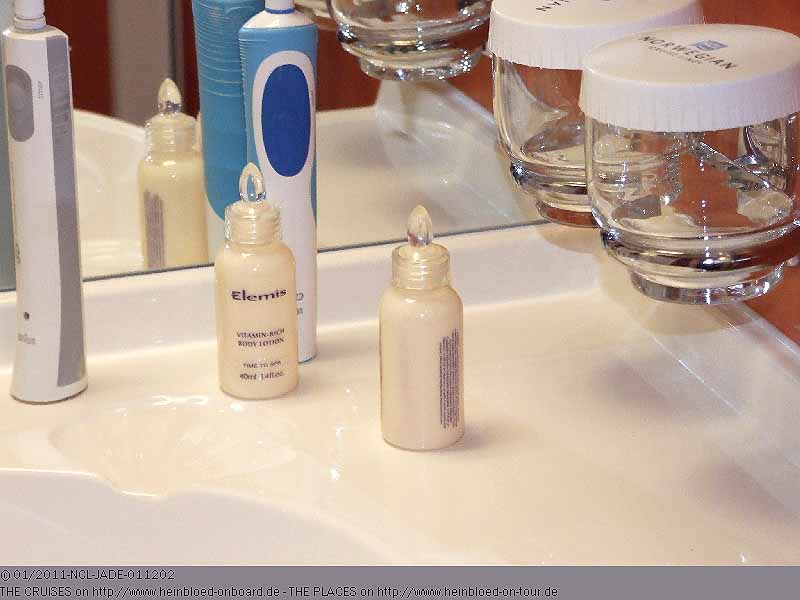 And we got some body lotion as well on request.

Somehow the sliding door went apart but Bruno fixed it.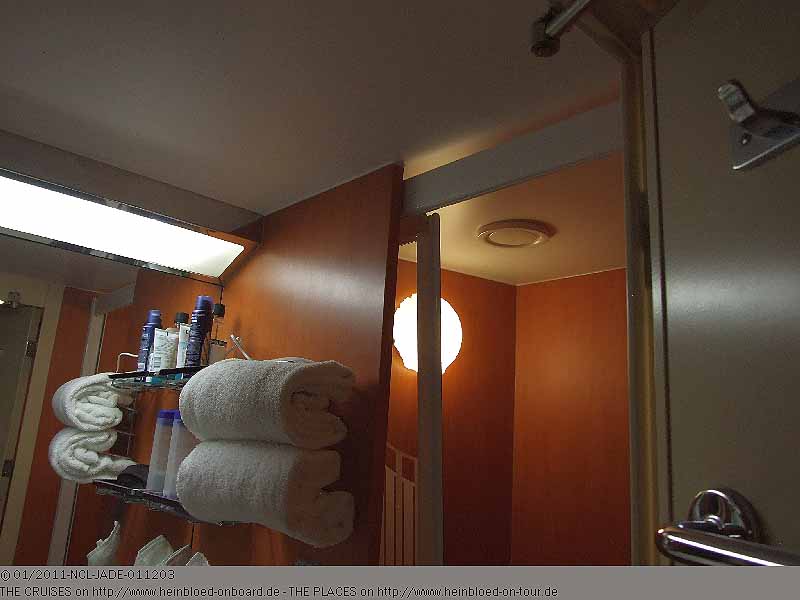 Irgendwie geht aber die Tür auseinander. Bruno bringt es wieder in Ordnung.
In der Nacht geht es schon wieder mit dem Seegang los. Nicht so schlimmt wie auf der
OCEAN PRINCESS im Oktober 2010
. Einziges Opfer bisher: Brunos elektrische Zahnbürste. Ich hatte meine im Zahnputzglas gesichert... Sichertheitshalber stellen wir diese Sachen auf den Boden, auch wenn keine Dose Sprite dazwischen ist, die auf dem Teppichboden explodieren könnte...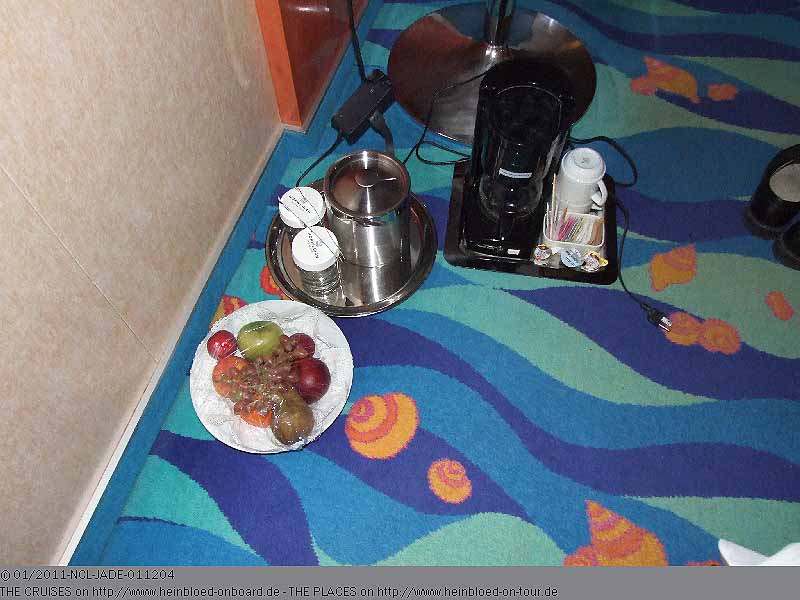 In the night it started to get bumpy. Not as much as we had on OCEAN PRINCESS in October 2010. Only victim so far: Bruno's electrical tooth brush. I secured my in a glass... For safety reason I secured the things on the floor although there was no can of Sprite which could explode on the carpet again...

The water bottles I secured between my underwear in the drawer which I did not need to secure with our tape.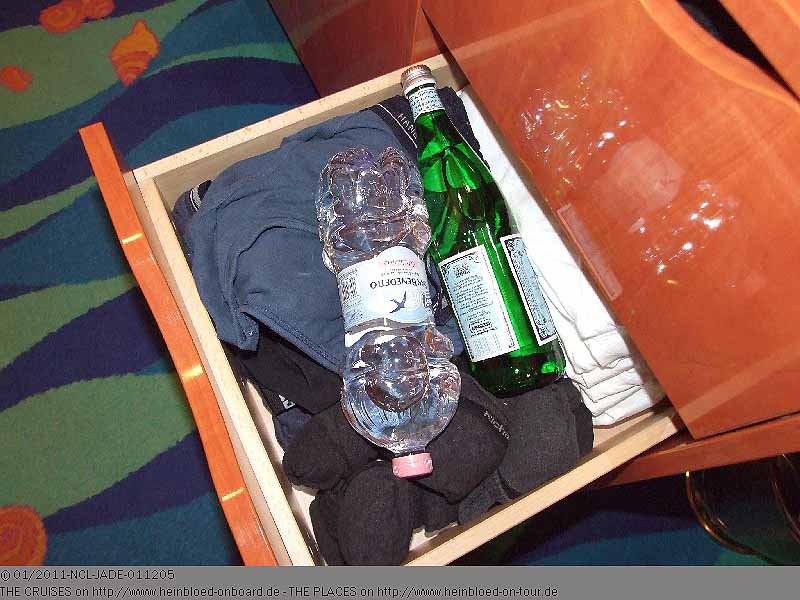 Die Wasserflaschen sichere ich zwichen der Unterwäsche in der Schublade, die ich nicht zusätzlich mit Band sichern muss.
Als Folge des Brandes auf der CARNIVAL SPLENDOR habe ich mal sicherheitshalber die LED-Lampe mit... Ich will ja nicht wie
John Head
im Dunkeln daneben zielen, falls uns das Schicksal auch ereilen sollten...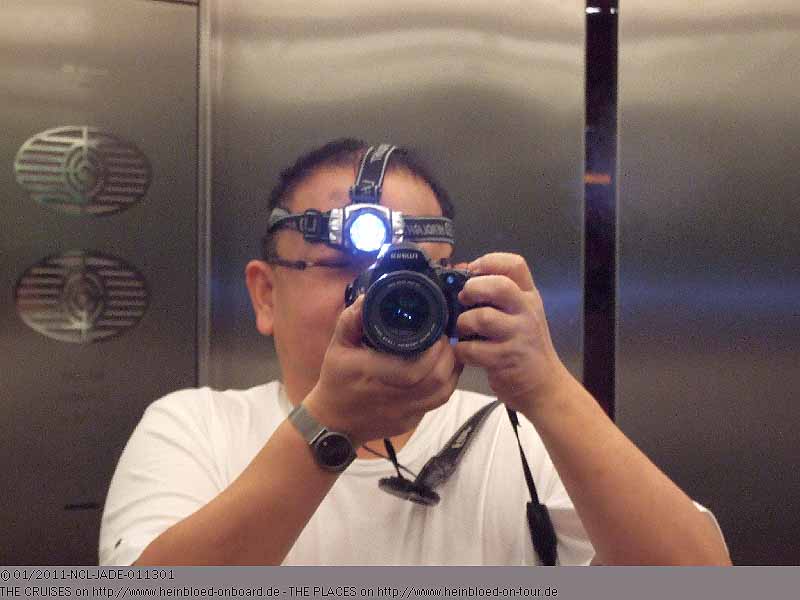 Due to the fire on CARNIVAL SPLENDOR we packed for safety reason our LED-lamp... I do not like to pee like John Head in the dark if we might have the same destiny.

They closed the outdoor decks.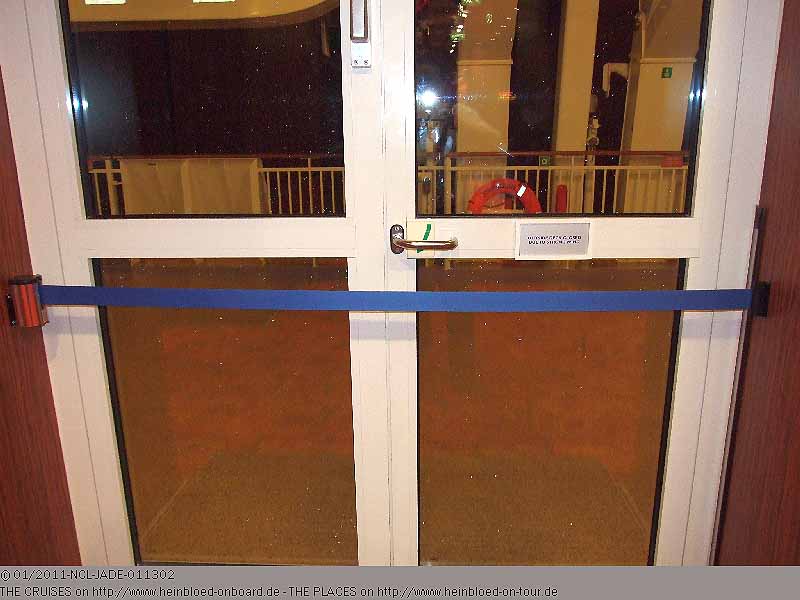 Die Außendecks wurden geschlossen.
Ich gönne mir noch eine Wan-Tan-Suppe im Blue Lagoon Café... Ich bleibe dabei: die beste gibt es auf der NORWEGIAN SPIRIT...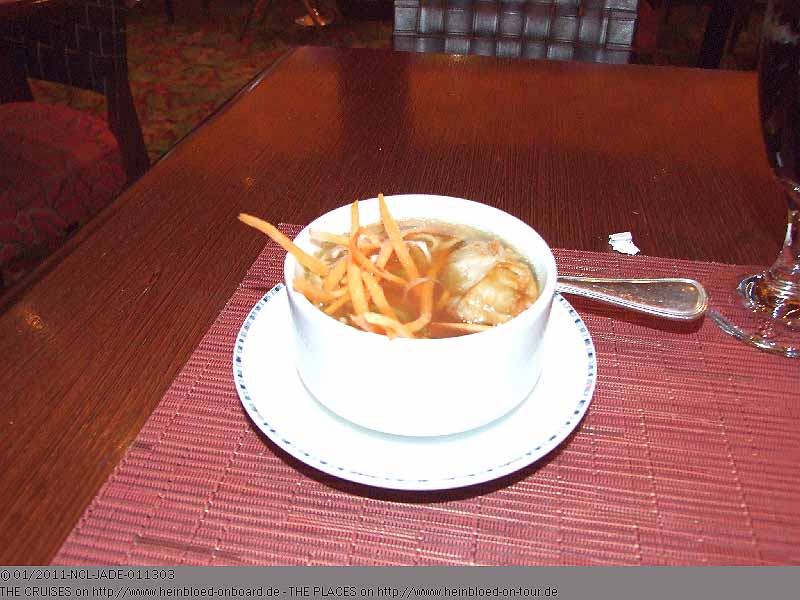 I had a Wan-Tan-Soup in the Blue Lagoon Café... But I stay with my opinion: the very best you get on NORWEGIAN SPIRIT...