Scroll down for English explanations - alternates with German explanations.

Wie üblich hängen wir im Spa herum und gehen später zum Friends of Dorothy Treffen in der Star Bar. Das wäre auch mal ein Bereich, der für den nächsten Aufenthalt in der Trockenwerft fällig wäre. Die Sessel sind doch ein wenig abgesessen...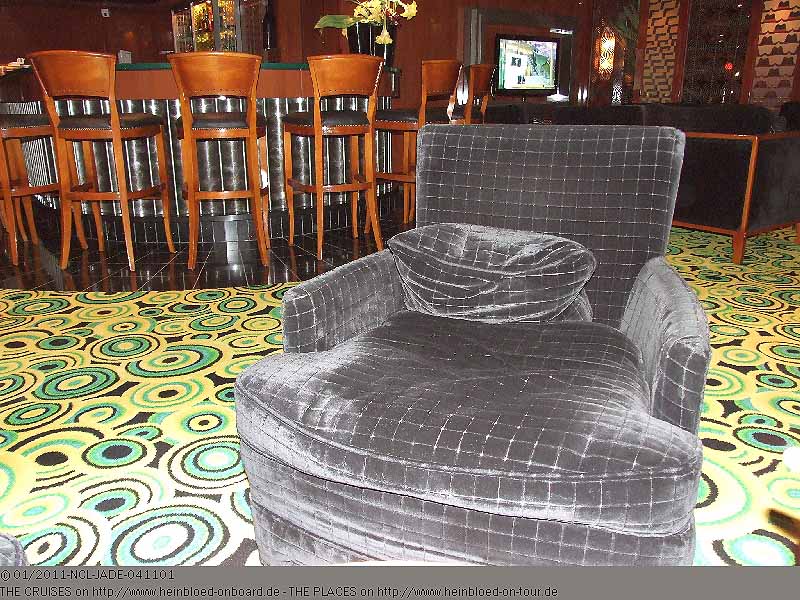 As usual we hang around the spa and later we went to the meeting of the Friends of Dorothy in the Star Bar. That is an area you need to do something during the next dry dock stay. The chairs were very outworn.

But anyhow we feel very safe and comfortable. Beside the fact that we do not get any snacks with our drinks due to the norovirus. They told us to relax: once you have 1,600 passengers leaving the ship in Alexandria for their overnight stay in Cairo they will use the chance to sanitize the ship from the top to the bottom and from the bow to the stern. Then we should get our snacks back...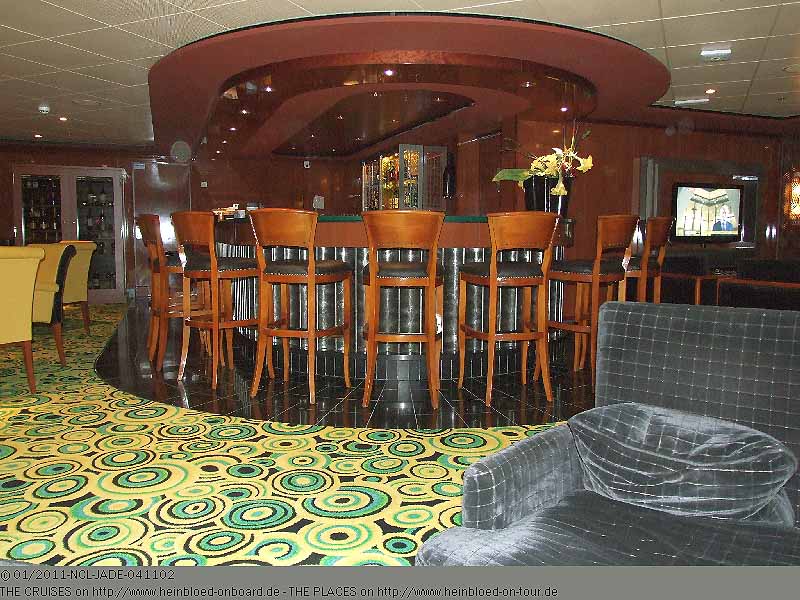 Ansonsten fühlen wir uns ausgesprochen sicher und wohl. Außer wir bekommen keine Snacks mehr zu den Drinks wegen Norovirus. Man beruhigt uns jedoch: sobald 1.600 Passagiere in Alexandria von Bord sind und über Nacht in Kairo bleiben, will man die Chance nutzen, das Schiff von Kopf bis Fuss wieder gründlich zu desinfizieren. Danach bekommen wir auch wieder Snacks...
Wir besprechen anhand der Karte die Inseln, die wir im April besuchen wollen.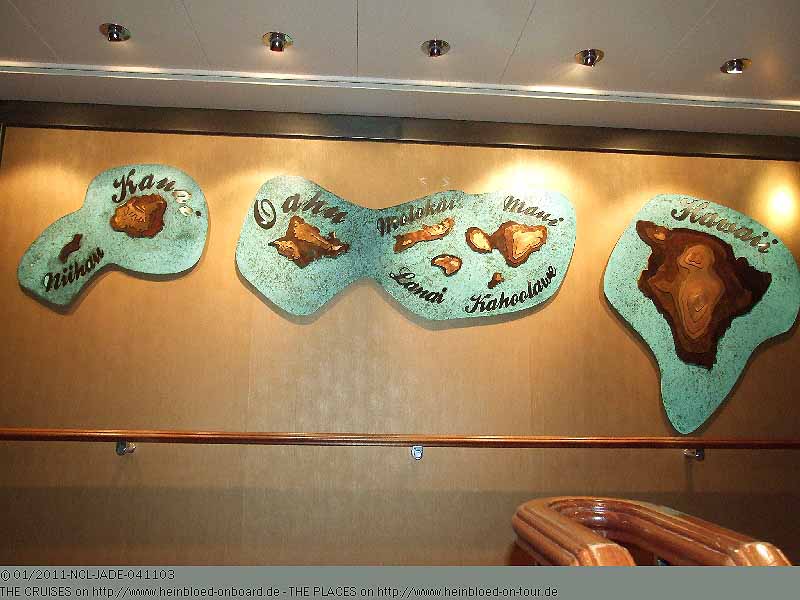 We discuss on this map the islands we would like to visit in April.

One of the questions we asked Les and Mirsad was, what we need to do to have Ernesto as our waiter at the lobster night. His answer: "I thought we are talking on serious problems... all I need from you is the time and the size of your party..."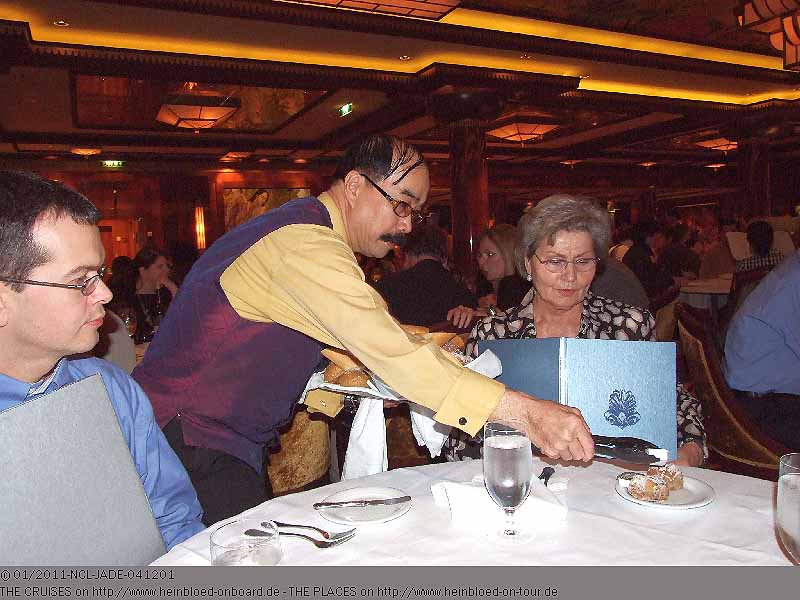 Eine Frage, die wir Les bzw. Mirsad gestellt haben, war, was wir tun müssten, um am Lobster-Abend Ernesto als Kellner zu bekommen. Seine Antwort: "Ich dachte wir reden über ernsthafte Probleme... alles, was ich von Ihnen wissen müsste wären Uhrzeit und Tischgröße...".
Wenn wir nicht in einem der Hauptrestaurants wären, in der es wegen unserer spanischen Tischnachbarn (12-er Tisch...) so laut gewesen wäre... wir hätten gedacht, dass wir in einem vornehmen Palast gewesen wären... Er ist ein Gentleman Kellner alter Schule... du sollst das beste bekommen. So bekomme ich unaufgefordert auch ein Stück von dem allerbesten Brot, was Bruno, Käthe und Karl-Heinz auch bestätigen und sie sagen mir, dass ich es unbedingt probieren muss.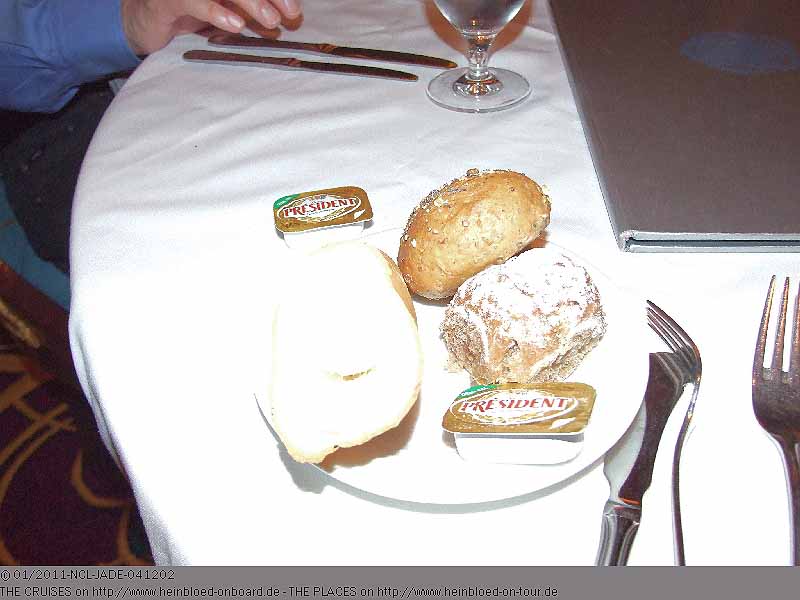 If there were not the giant group of Spanish guests next to us (party of 12) and this was the main reason for being so loud in the main dining room... we would have the impression to a noble palace... He is a Gentleman waiter old school style... you only should get the very best... Without asking I a piece of the very best bread which Bruno, Katie and Charlie also confirmed and you need to try this.

Look how he serves the wine: as it would be a 250 USD-wine... and he is so calm that you can absorb his energy...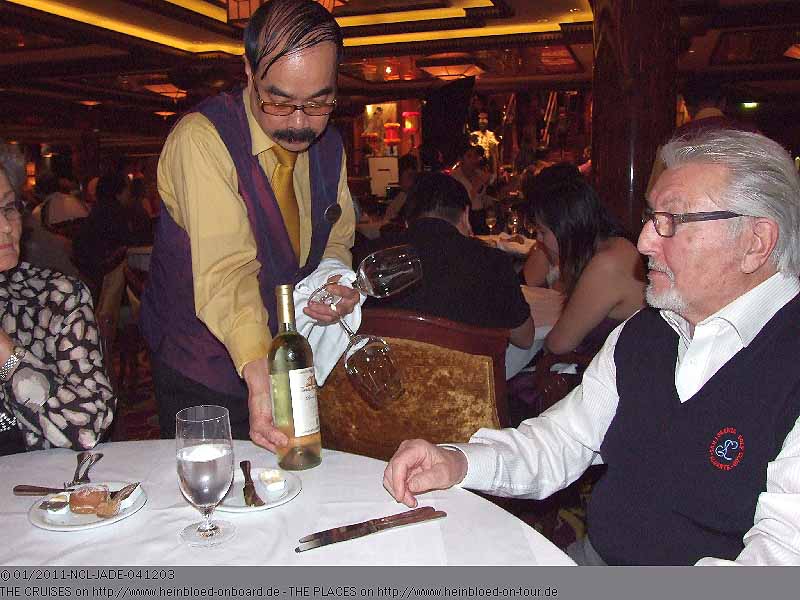 Wie er den Wein serviert: als ob es ein 250 USD-Wein wäre... und die Ruhe, die er dabei ausstrahlt...
Guckt euch ihn an, wie er sich verrenkt, nur um Käthe korrekt von rechts zu bedienen...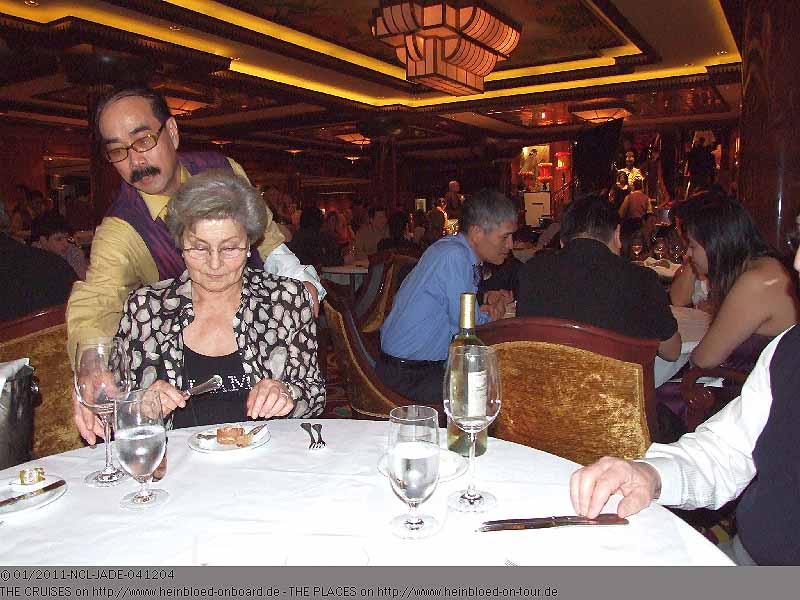 Just see he how he moves to serve Katie in the correct way from the right side...

So we arrived with another question: The contrary information between 6 or 10 bottles in the wine package: The correct quantity would be 8 bottles.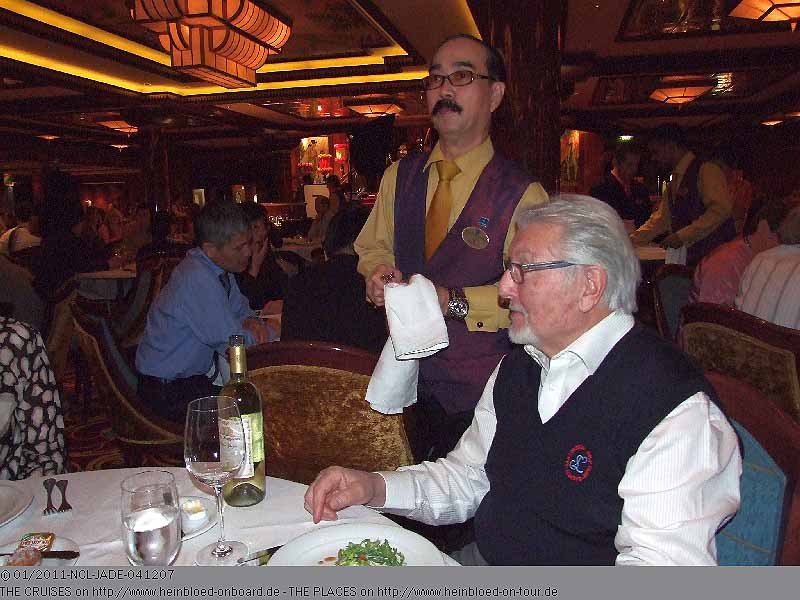 Und damit wären wir bei der weiteren Frage: Der Widerspruch zwischen 10 und 6 Flaschen Wein im Weinpaket: korrekt für diese Kreuzfahrt wären 8 Flaschen gewesen.
Man sucht sich 8 Flaschen aus einer bestimmten Liste aus und bekommst darauf 20%.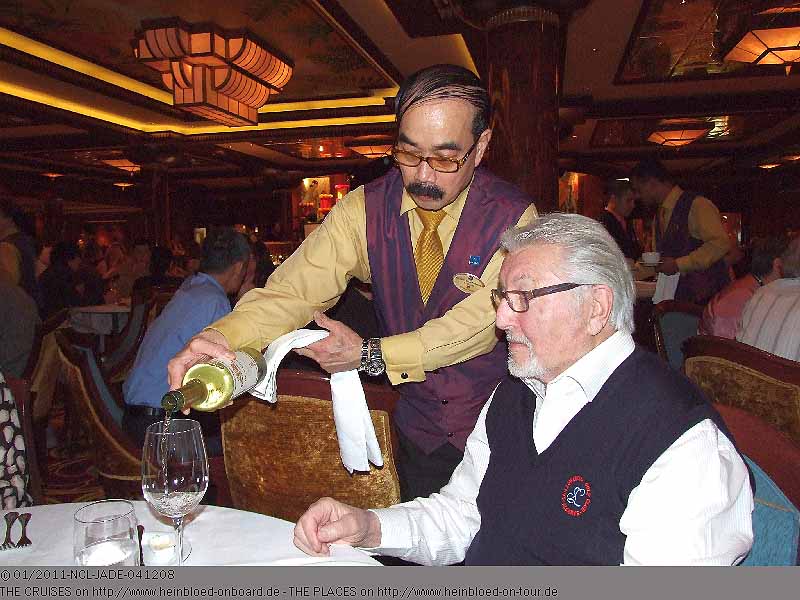 You choose 8 bottles from a certain list and you get 20% discount.

Wenn you finishing the wine then you hand over the left over to the waiter and request to keep it in the wine cellar.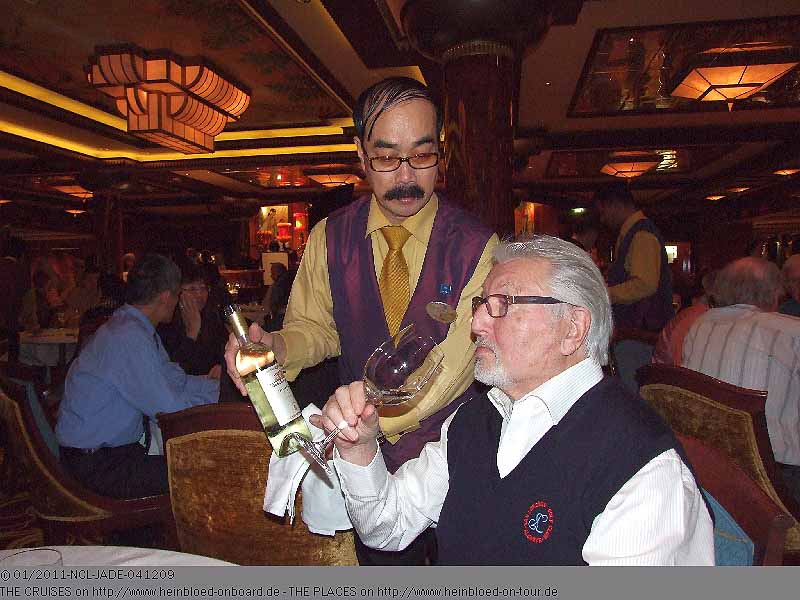 Wenn man mit dem Wein fertig ist, dann gibt man einfach dem Kellner den Rest mit der Bitte um Aufbewahrung im Weinkeller.
Es gibt dann einen Beleg, den man dann am nächsten Tag als erstes zeigt, damit der Wein möglichst schnell aus dem Weinkeller geholt werden kann. Mirsad hatte Käthe und Karl-Heinz dringend dazu geraten hierauf umzusteigen, weil es preislich günstiger ist, als den Wein glasweise zu kaufen.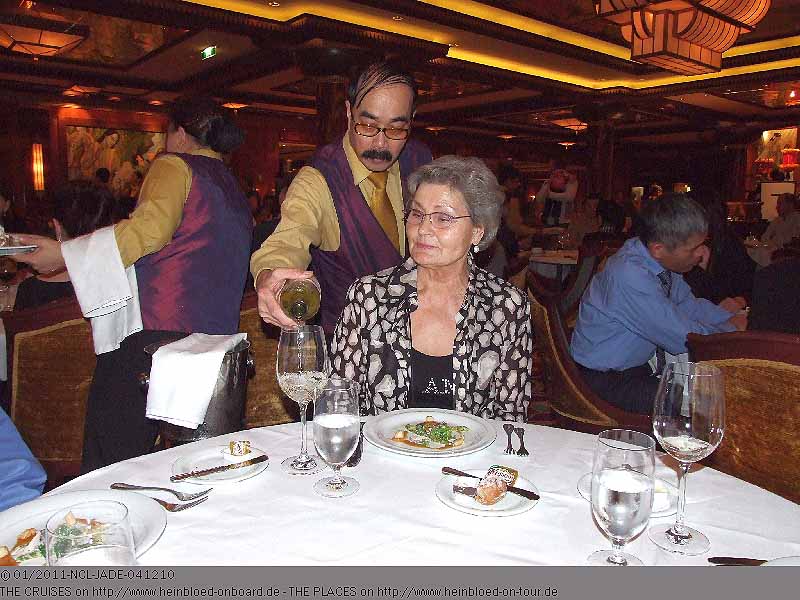 You get a receipt which you show the next day once you arrived at your table that they can arrange to get the wine from the wine cellar from you. Mirsad told Katie and Charlie to change to buy the wine by bottle instead of glas as it is much more advantaged for them.

So it does not matter that you dine every night somewhere else: The wine moves with you.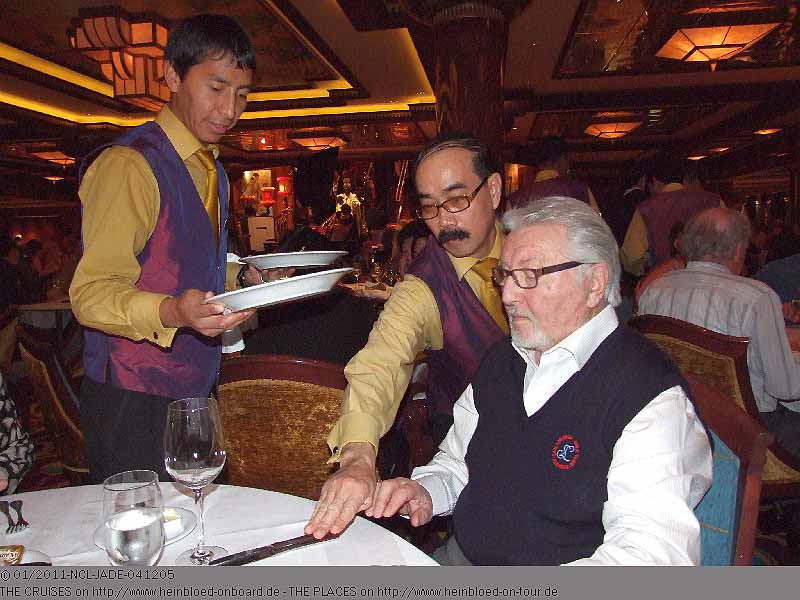 Daher spielt es keine Rolle, dass man jeden Abend in einem anderen Restaurant isst: Der Wein wandert mit...
Hmm... die Jacobsmuscheln hätten sie entweder mit einer Lupe servieren sollen... Irgendwie bin ich sprachlos... Ob da ein armer Küchenjunge mit einem Apfelstecher vielleicht aus einer Jacobsmuschel drei machen musste... Oder gibt es eine spezielle Mini-Züchtung für NCL.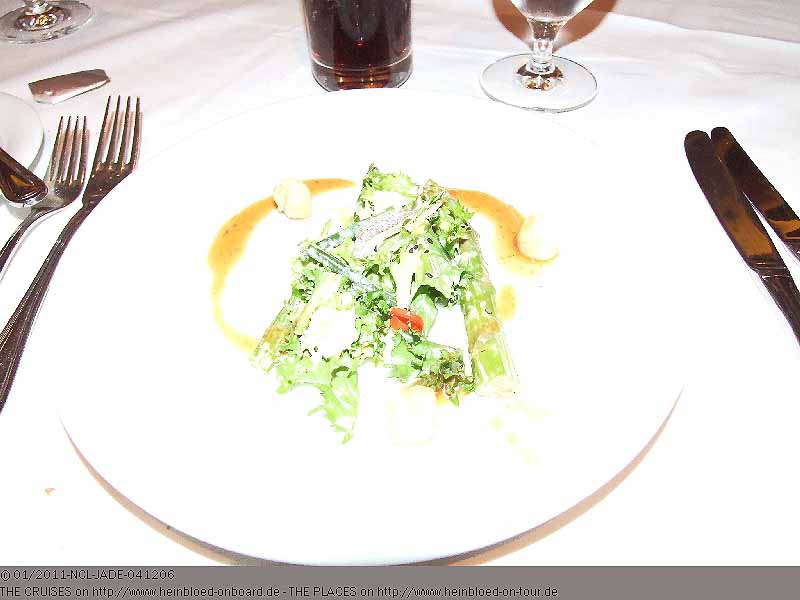 Hmm... they should serve this scallop with some glasses... I was speechless... Is there a poor boy in the kitchen who need to use an apple-whole-shaper to make out of one scallop three pieces... or is there a special scallop farm just for NCL to have the minis.

The salad with pears and cheese was really great.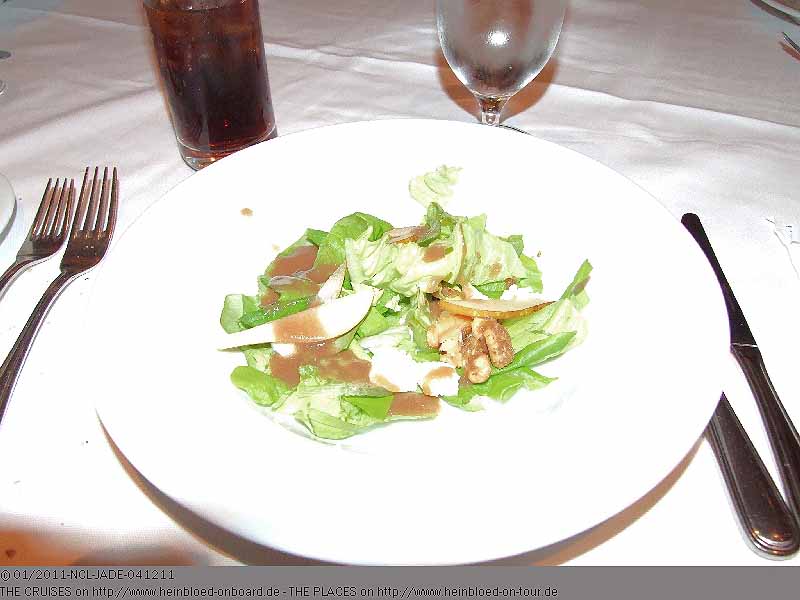 Der Salat mit den Birnen und Käse war richtig lecker.
Hier merkte man, wie unangenehm es Ernesto war, uns Salz- und Pfeffertütchen zu bringen, statt eine Salz- und Pfeffermühle aufzustellen...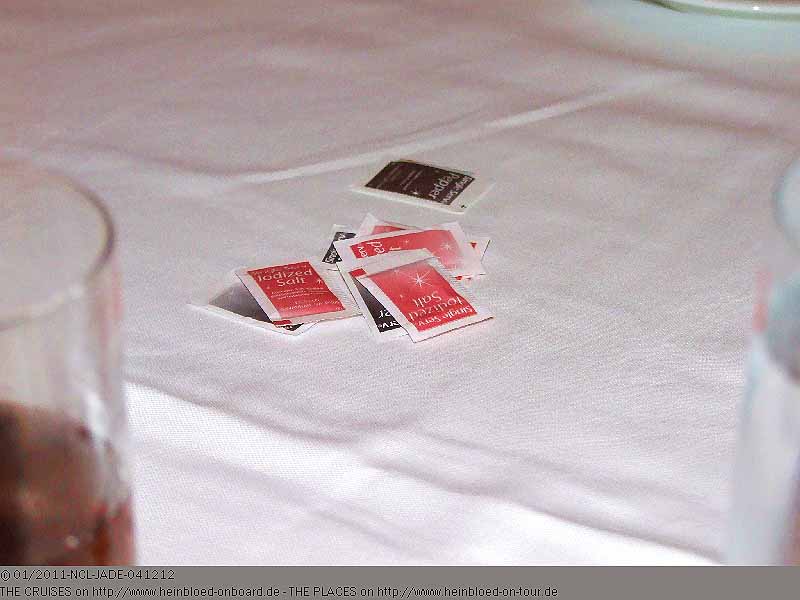 It killed Ernesto to serve salt and pepper in such little bags instead of giving us the mills...

On NORWEGIAN DREAM 2008 we learned that there was only the so-called Seafood-Extravaganza... Lobster... cut in small pieces... estimated: one cut lobster tail for 4... and as much shell as you can get that you had the impression to have lobster. 2009 on NORWEGIAN GEM there was lobster available on a night we dined in a speciality restaurant.

Auf der NORWEGIAN DREAM 2008 gab es bloß eine sog. Seafood-Extravaganza... Hummer... in kleinen Stücken geschnitten... geschätz: ein kleingeschnittener Hummerschwanz für 4... und möglichst viel Hummerschale, damit man den Eindruck hatte, dass man Hummer hat. 2009 auf der NORWEGIAN GEM gab es wohl Hummer an einem Abend als wir in einem Zuzahlrestaurant gegessen hatten.
Und heute hatten wir sicherheitshalber nachgefragt, ob es Hummer gibt... und es gab...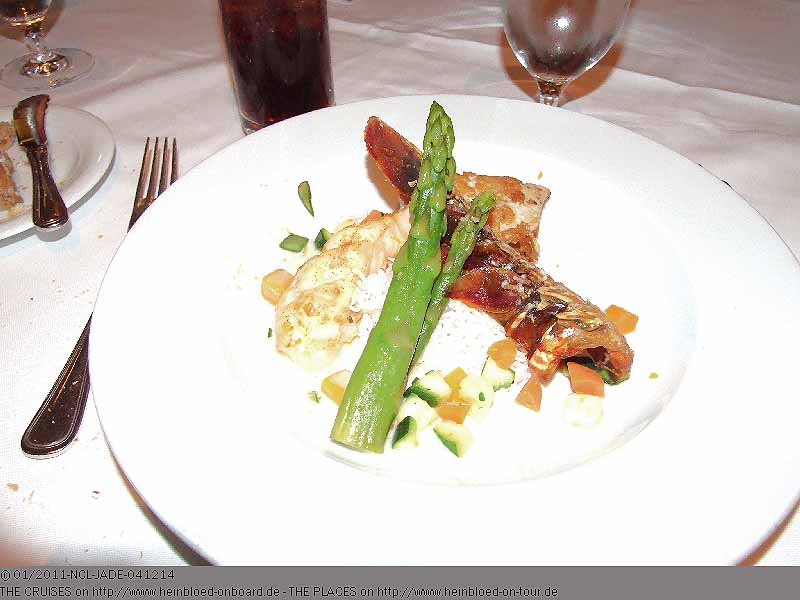 And for today we asked to be sure if we will get lobster... und we had...

And Ernesto did not like just to serve us a piece of Lobster (with a little piece of Red Brass) but Surf and Turf... So he offered us a piece of meat and we could choose to have Beef Wellington or a strip steak. He would also made from bread and water a star-awarded menu...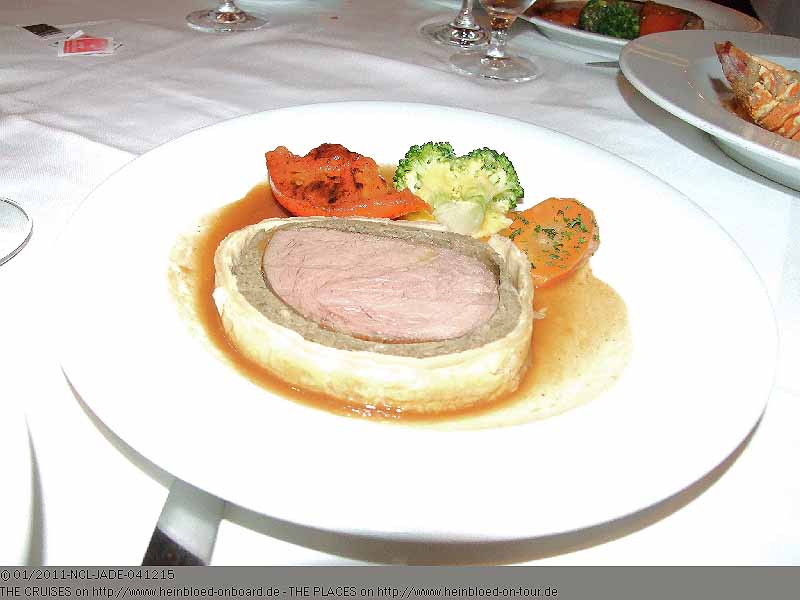 Nun Ernesto will uns nicht nur einen Hummer (mit einem Stück Rotbarsch) servieren, sondern Surf and Turf... So fragt er uns, ob wir ein Stück Fleisch dazu wollen und bietet uns entweder ein Stück Beef Wellington an oder ein Rumpsteak. Der macht sogar aus Brot und Wasser ein Sternenmenü...
Ich war wieder fies, dass ich jede Menge Krümeln produziert habe... Für Ernesto selbstverständlich, dass sie vor dem Dessert entfernt werden.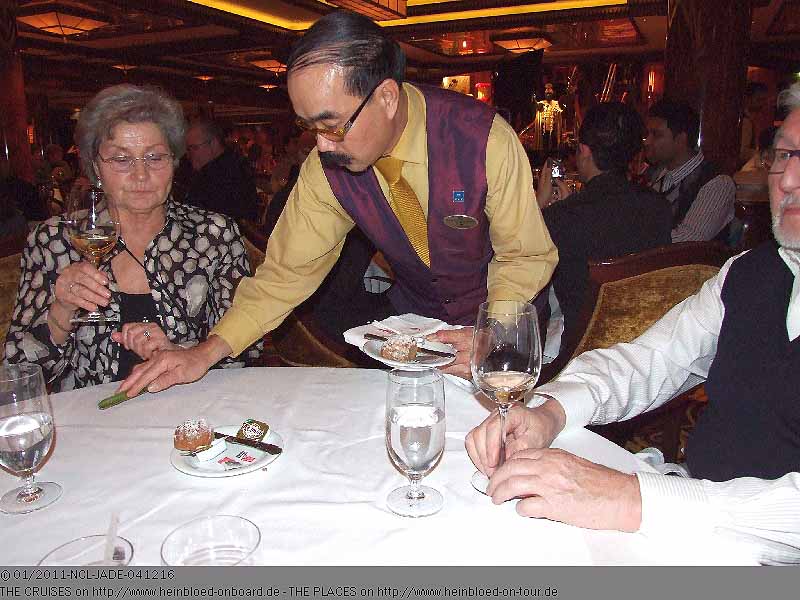 I was mean again and made a lot of crumbs... For Ernesto it was quite standard to take them away before desert is served.

Looked again like a chocolate bar without chocolate... indeed Bavarian creme.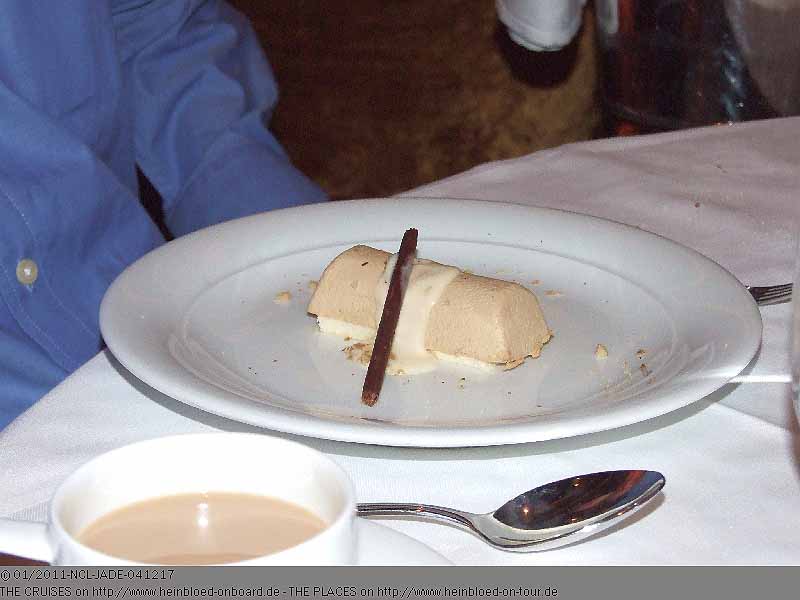 Sieht wieder aus, wie der Schokoriegel ohne Schoko... in der Tat Bayerisch Creme.
Ich hatte das zuckerfreie Dessert... er war bestimmt zuckerfrei, aber nicht fettfrei... die Creme war Fett pur... aber zuckerfrei...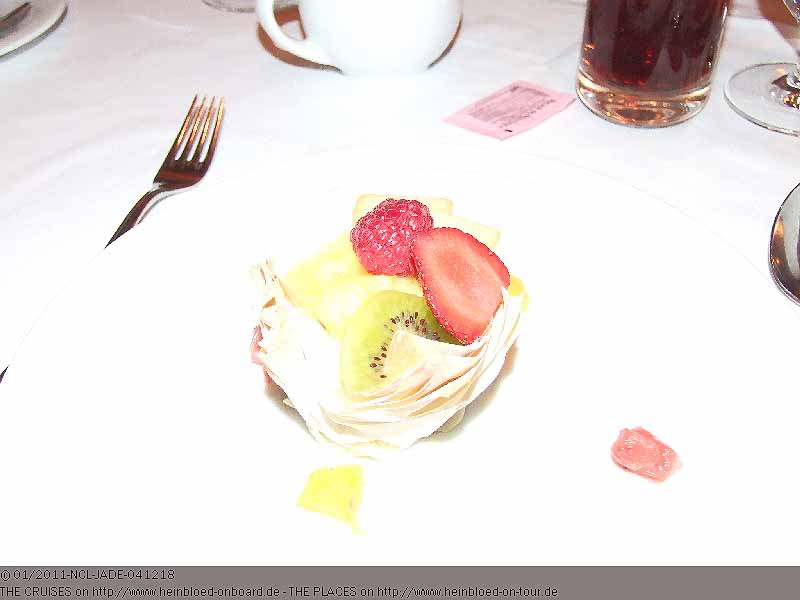 I had the sugar-free desert... it was sugar free for sure... but fat-free... the creme was pure fat... but sugar-free...

For the next days I planned already the dinner in the speciality restaurants. We were able to book until the end of the cruise. Maybe because I am Platinum-member and have priority or because there is no more 72-hours-rule.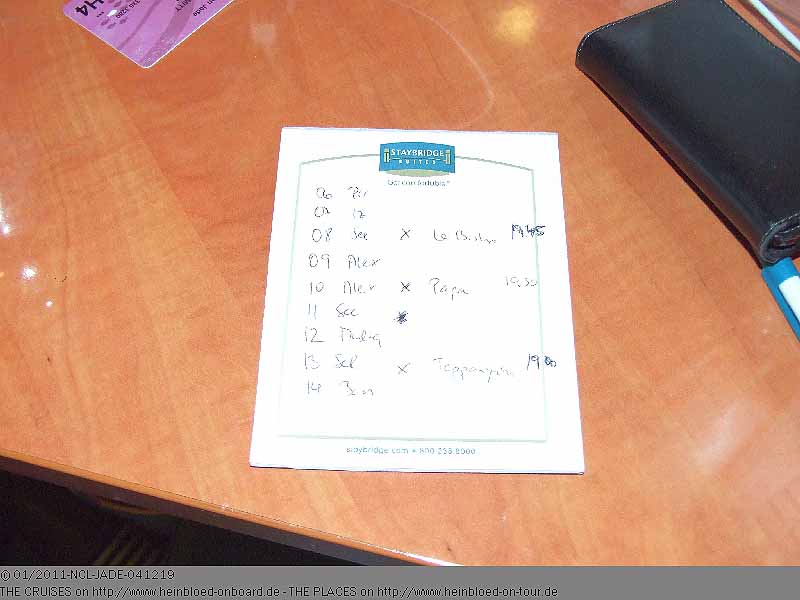 Für die nächsten Tage plane ich schon mal die Tage ein, an denen wir in den Spezialitätenrestaurants essen wollen. Wir konnten bis zum Ende der Kreuzfahrt alles reservieren. Entweder weil ich Platin-Mitglied bin und hierfür Priority habe oder weil die 72-Stunden-Regel nicht mehr gilt.
Im Theater spielt
Gary Lovini
. Er hat den Cruise Director gebeten, nichts von seiner Show zu erzählen, so werde ich es auch nicht tun. Ich kann nur sagen: um es noch besser zu "erleben": Mit P&O, so wie wir auf der
VENTURA 2008
, fahren... Dort bekommt man kostenlos Union-Jack-Fähnchen, um zu winken. Oder bei uns anfragen: wir vermieten sie. Es geht am Schluss zu, wie während des letzten Konzertes der Promenadenkonzerte in der Royal Albert Hall in London. Es war übrigens HAL-Niveau.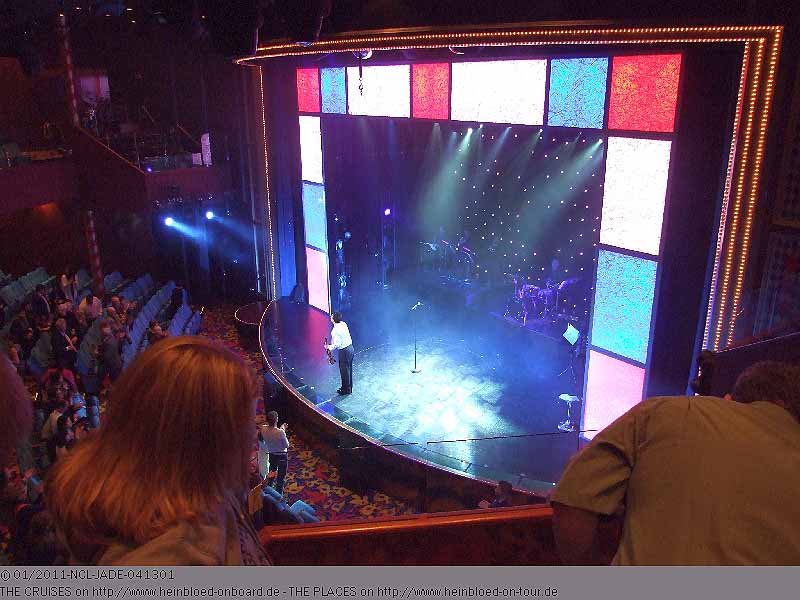 In the theater they brough Gary Lovini. He asked the Cruise Director not to describe what is in the show so I will not it either. I can only say: To have a much more better "experience": Go with P&O (like VENTURA in 2008): There you get little Union-Jack-Flags to wave. Or check with us: You can rent ours. Finally it was like in the Last Night of the Proms in the Royal Albert Hall in London. It was on a level we only know from HAL.

By the way that is Cruise Director Gary who got the ship on a language level you only know from MSC and Costa. There was no Italian. Honestly Gary and his team makes sure that you feel comfortable even as German with no or little English language-skills. Katie and Charlie confirmed this. By the way he was not running this way all the time... but it was 70s night...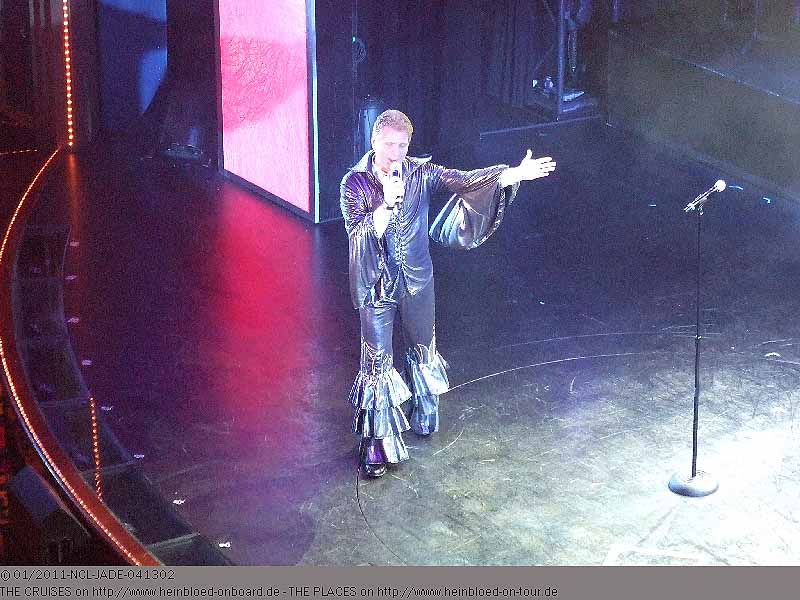 Das ist übrigens Cruise Director Gary, der das Schiff auf ein Sprachniveau hebt, wie wir es nur von MSC und Costa gewohnt sind. Nur italienisch gibt es nicht. Ganz ehrlich Gary und sein Team sorgen dafür, dass man sich als Deutscher mit wenig oder kaum Englisch-Kenntnissen auch sehr wohlfühlen. Käthe und Karl-Heinz bestätigen das. Übrigens rennt er nicht immer so rum... nur wenn 70-er Nacht ist...
Und was mir sehr gut gefällt: er bittet nochmals den Künstler auf die Bühne, damit wir nochmals applaudieren können. Es war so gut, dass ich mir hinterher noch eine CD geholt habe...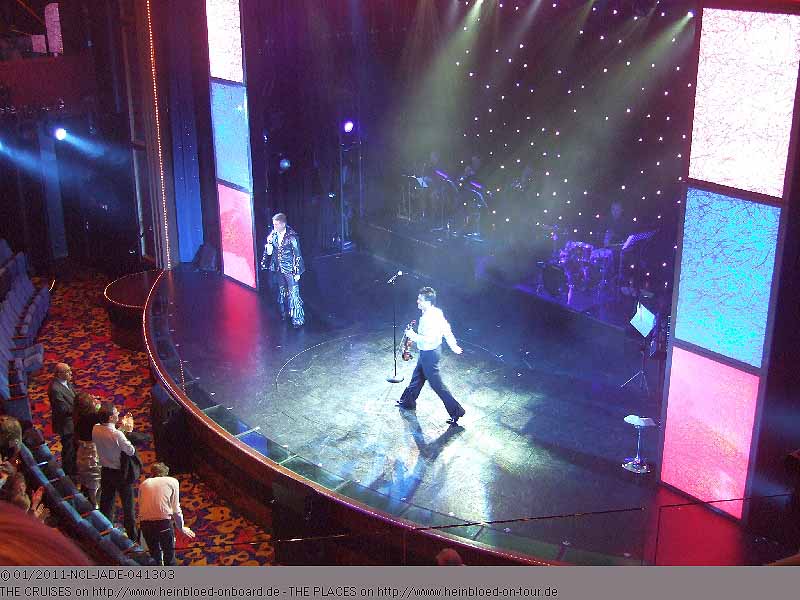 What I liked very much: he asked again the artist to come back the stage to accept our honor. He was so great that I bought a CD from him...

So they had the 70s party in the Spinnaker Lounge. So better you have right dresses to join this event if you are planning to come...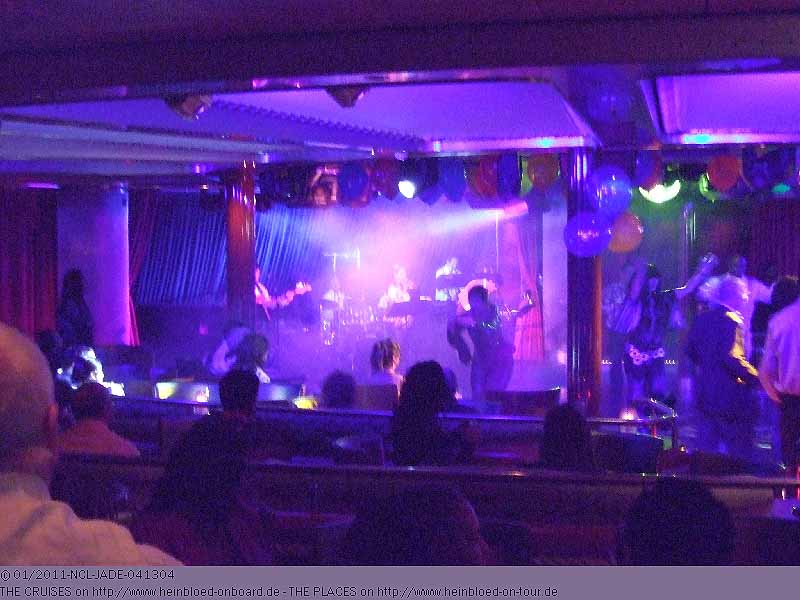 In der Spinnaker-Lounge findet entsprechend die 70er-Party statt. Also bringt euch eure entsprechende Klamotten mit, wenn ihr auf diese Reise geht...
Wie üblich sind unsere Programme da...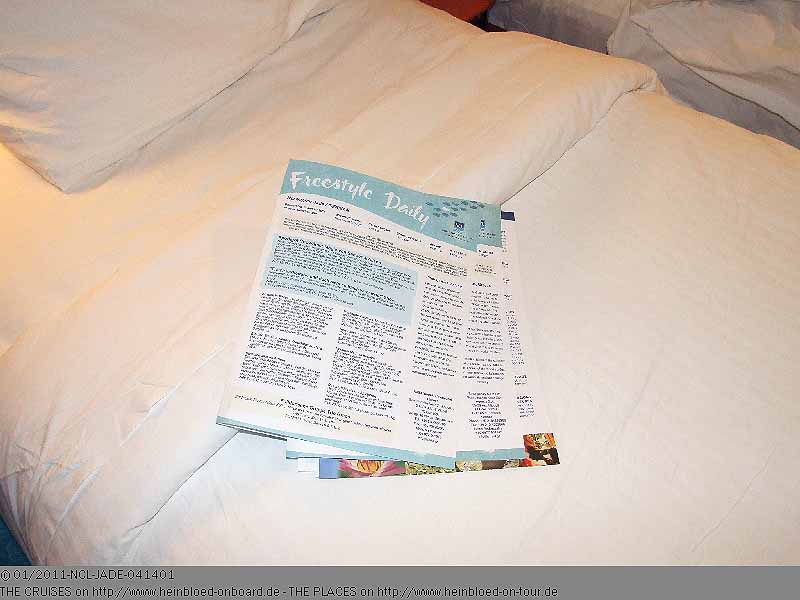 As usually our programmes for the next were there.

To the very last question... Our pearl, gem, jewel Elizabeth fold my jeans... Butler-service... We want to make sure to have her on our cruise in October 2011... No problem they told... if we book NORWEGIAN PEARL in Alaska... they did not accept to let us having her as "extended borrow"... OK... We would also accept Juana whom we know from NORWEGIAN JADE in 2008...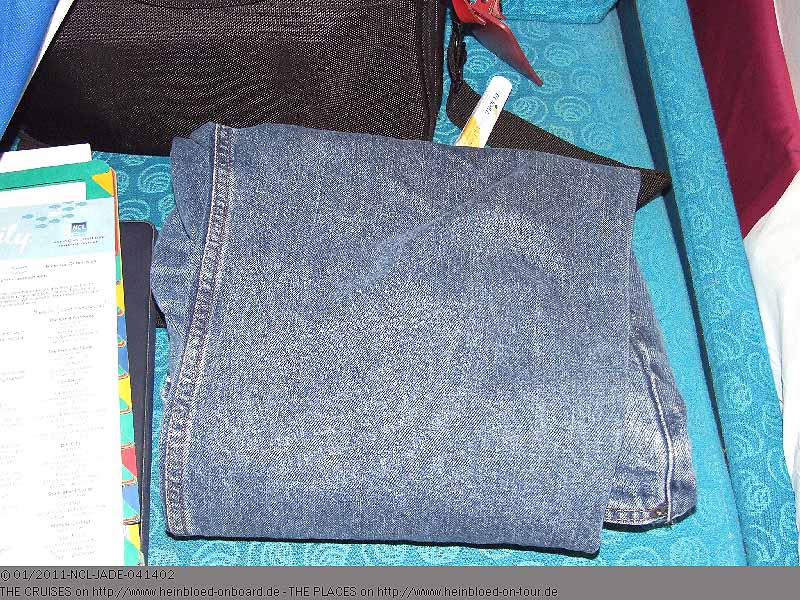 Und nun zur letzten Frage... Unsere Perle, Schatz, Juwel Elizabeth legt mir meine Hosen zusammen... Butler-Service... Wir wollen sie für unsere Fahrt im Oktober 2011 wieder haben... Kein Problem meinen sie... wenn wir NORWEGIAN PEARL in Alaska buchen... Und als Dauerleihgabe für uns zu Hause wollen sie sie auch nicht rausrücken... OK... nehmen wir Juana, die wir von der
NORWEGIAN JADE 2008
her kennen...
Gelegentlich gehe ich ja nachts in das Blue Lagoon Café. Hier werde ich immer sehr nett von Lynn bedient, die mich auch schon vor ein paar Besoffenen geschützt hat, die von mir Zigaretten und Feuer wollten.... Echte Gastgeber-Qualitäten: der Gast muss sich wohlfühlen, auch wenn er nur der einzige nachts ist...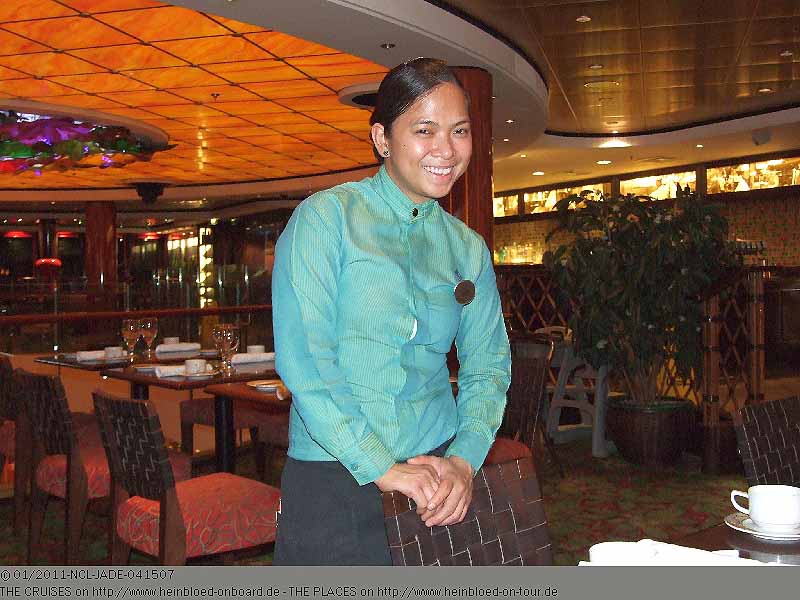 Occasionally you find me in the Blue Lagoon Café in the night. Here Lynn is always very nice to me and she protected me when some drunken guests asked for cigarettes and lighters... True host-qualities: the guest must feel comfortable even he is the only one in the night time...

Finally someone explained why I am so disappointed if I do not get what I like to have from the Blue Lagoon Café: 06.00 hrs to 11.30 hrs breakfast menu, 11.30 hrs to 04.00 hrs Blue Lagoon menu with few extensions during the main meal times, 04.00 hrs to 06.00 hrs same what you would get with the room service.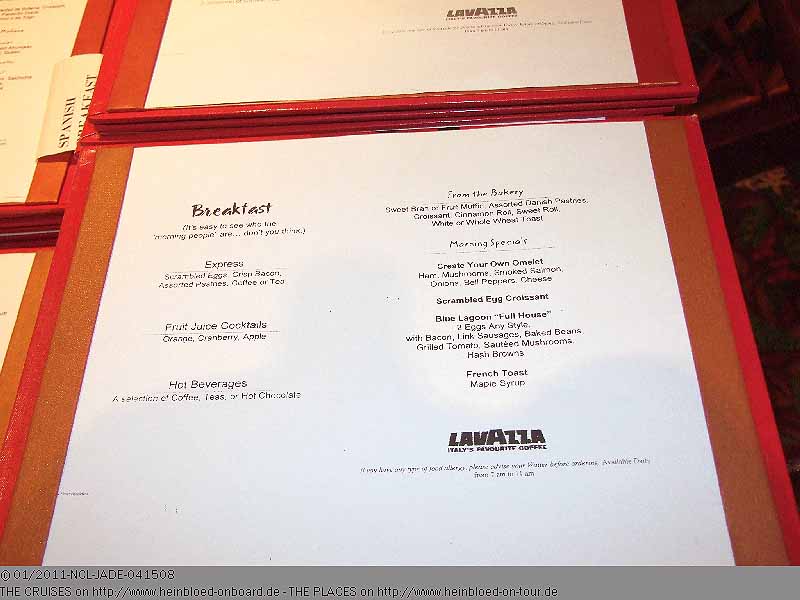 Und endlich erklärt mir jemand, warum ich jedes Mal enttäuscht bin, wenn ich nicht das bekomme, was ich vom Blue Lagoon Café gewohnt bin: 06.00 Uhr - 11.30 Uhr Frühstückskarte, 11.30 Uhr bis 04.00 Uhr Blue Lagoon Karte mit kleinen Erweiterungen zu den Hauptmahlzeiten. 04.00 Uhr bis 06.00 Uhr gibt es die gleichen Sachen, wie im Kabinenservice.