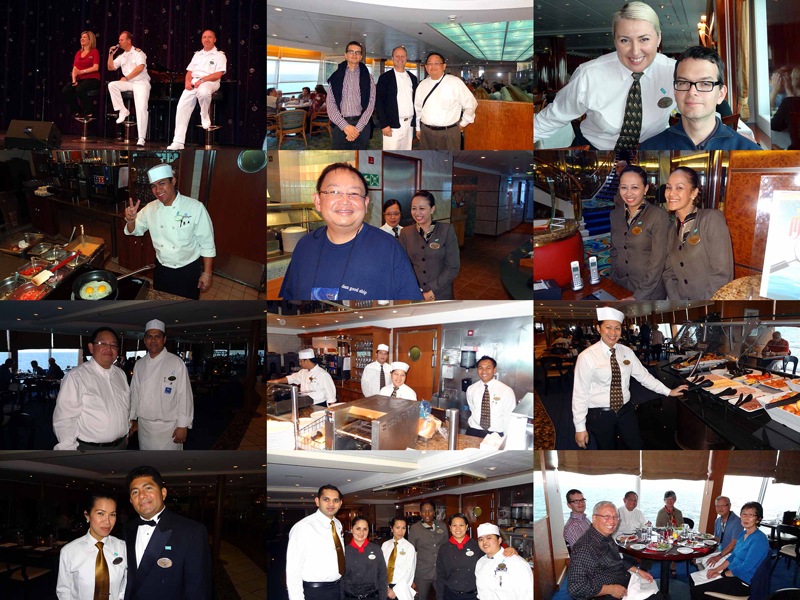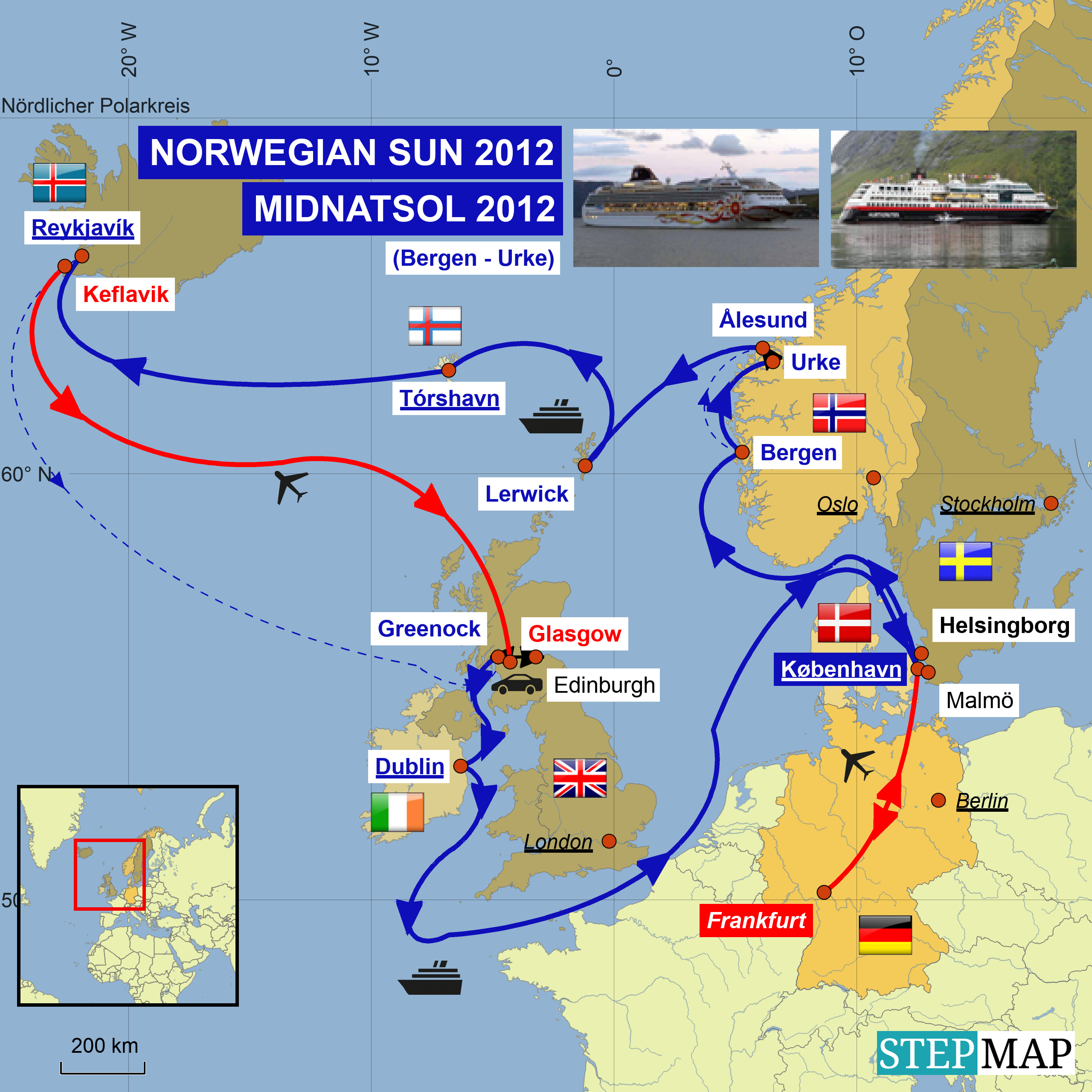 Bruno wollte heute Morgen selbst sich seine Bodum-Kanne füllen...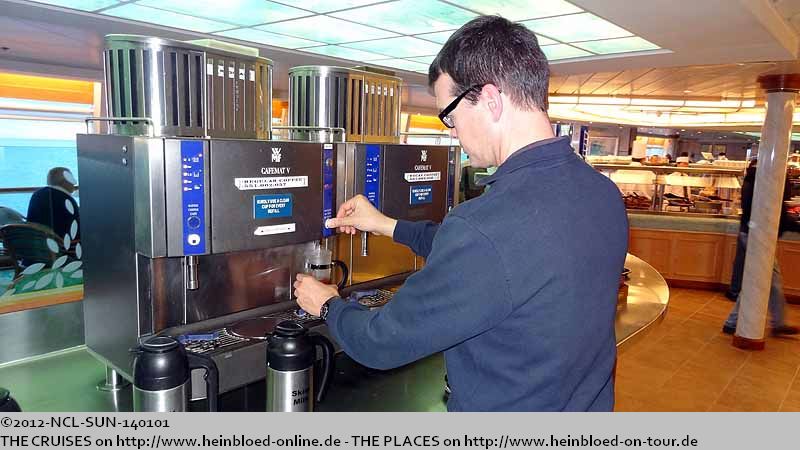 Bruno wanted to get his hot water himself for his French Press...

He stirred his coffee... See the person in the background with the sanitizing-spray in her hand and doing "Washi-washi, happy-happy": Shellyn Lacson, one of the Restaurant Hostesses.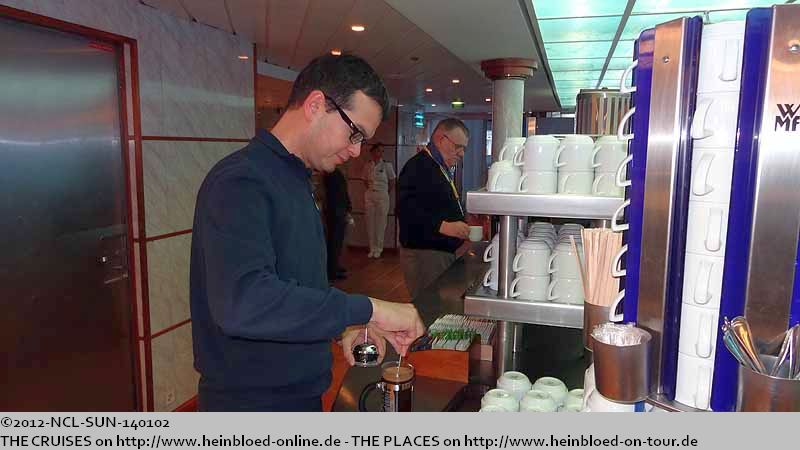 Bruno rührt seinen Kaffee um... Man achte mal bitte auf die Person, die im Hintergrund mit der Desinfektions-Sprühflasche steht und "Washi-washi, happy-happy" macht: Shellyn Lacson, einer unserer Restaurant-Hostessen...
Von dort hat sie gesehen, dass Bruno eine Möglichkeit sucht sein Holzstäbchen loszuwerden. Nicht nur sie hat es gesehen, sondern auch zwei andere, die sich sofort auf Bruno stürzen, um ihm sein Holzstäbchen abzunehmen. Weil er sich jedoch für jemand anders entscheidet, heißt es sofort sehr emotional "Sie mögen mich nicht"... Wie gesagt: sehr emotional... Ich bestehe darauf, dass Bruno in seine Sünderposition geht, wie damals auf der ZAANDAM 2012 um seine Reue zu zeigen... Der Kellner, der dann vorbeikam, hatte sich damals darüber kaputtgelacht...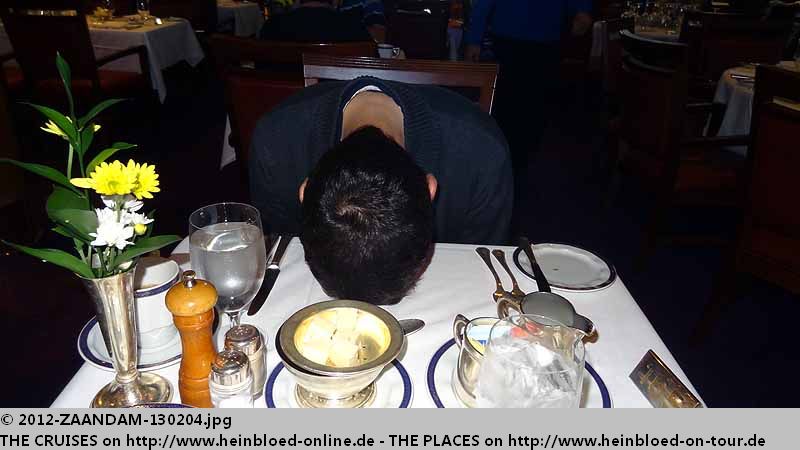 From there she saw that Bruno looked for possibility to dispose his stirrer. But not only she saw it but two more who went to Bruno to take his stirrer. Because he decided to hand it over to someone different but her, she said with a lot of emotion "You do not like me"... As said very emotional... I insisted that Bruno must change to his position as a sinner like he did on ZAANDAM 2012 to show his penitence... The waiter who came by then had to laugh out loud...

Because here he had no chance to change into the position as a sinner I insisted that they had to celebrate their conciliation...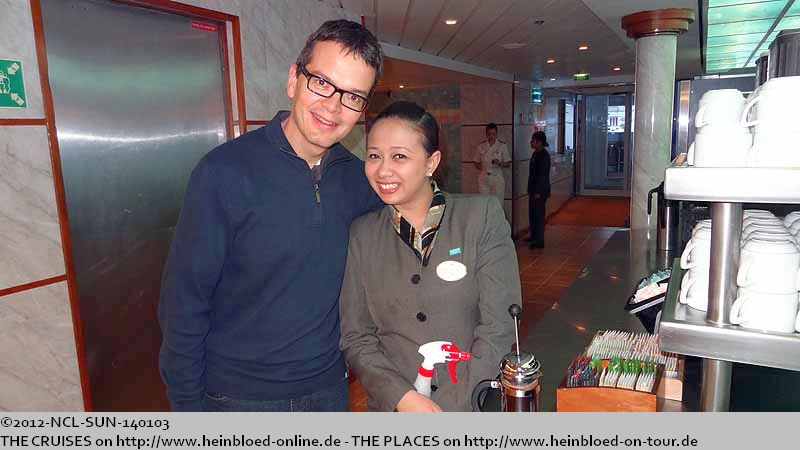 Weil er hier aber keine Gelegenheit hatte, in seine Sünderposition zu gehen, bestehe ich darauf, dass sie stattdessen Versöhnung feiern...
Sie freuen sich über meine Bewertung dieser Kreuzfahrt...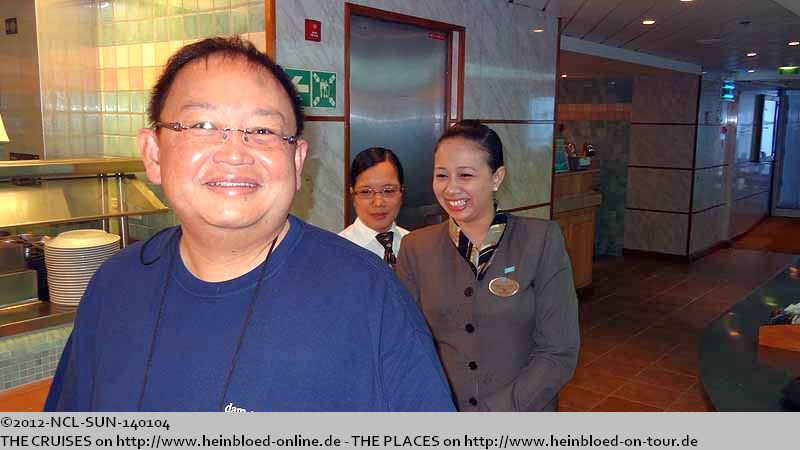 They liked how I rated the cruise...

...until they saw the last line and saw that not NCL was meant... But maybe it would be time for NCL to create T-shirts like that in 100% cotton... Then I would be proud to wear them...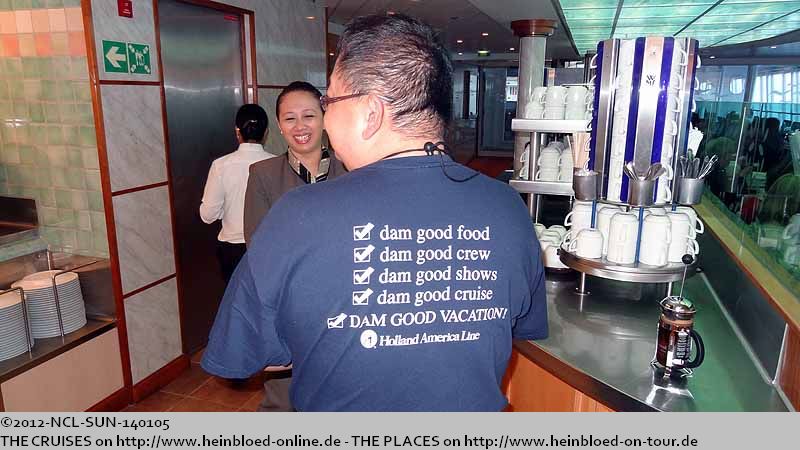 Bis dass sie die letzte Zeile lesen und sehen, dass gar nicht NCL gemeint ist... Aber vielleicht wird es mal höchste Zeit für NCL auch ähnliche T-Shirts in 100% Baumwolle zu drucken... Dann würde ich auch mit Stolz damit auch rumlaufen...
Wir laufen mal ins Moderno, um mal zu gucken, was es dort zum Frühstück gibt...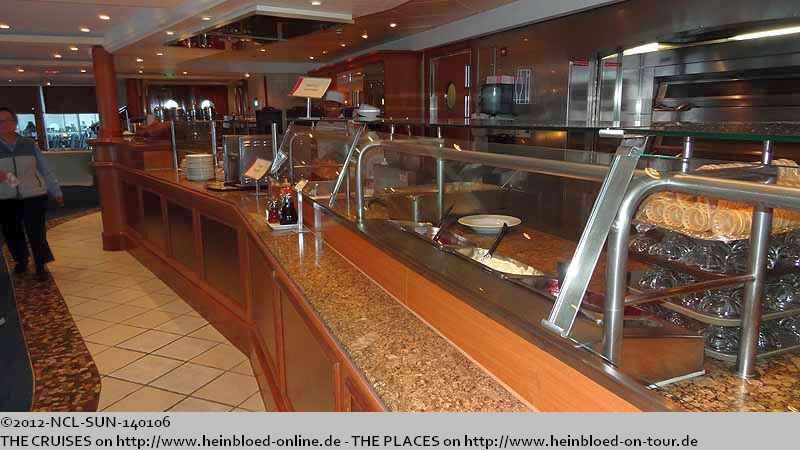 We went to the Moderno to see what they had for breakfast...

As Cheryll was just doing her duty here we stayed...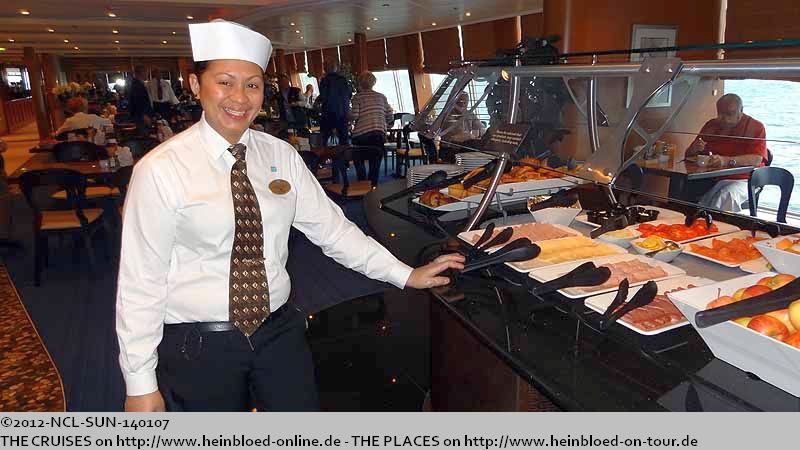 Da Cheryll gerade da ist, bleiben wir...
zumal es hier ziemlich paradiesisch zugeht... Ich könnte mir VORSTELLEN, dass es fast so gut ist, wie in Il Adagio für die Suiten-Gäste und sich vielleicht nur von der warmen Karte unterscheidet. Wenn ich jetzt behaupten würde, dass ich es genau wüsste, dann würde es wieder ein Erdbeben im San Bernardino County geben, weil wieder jemand tot umgefallen wäre... Ich weiss es aber nicht!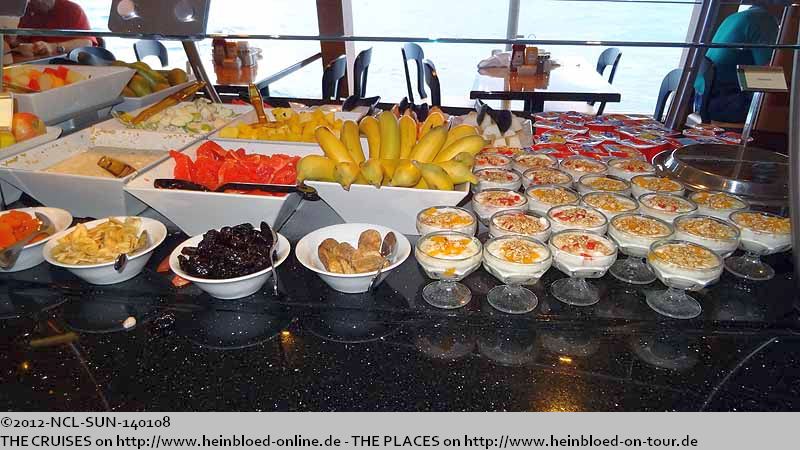 and somehow it was like paradise... I could IMAGINE that it might be as good as in Il Adagio for suite-guests and maybe only the hot menu makes the difference. If I would state that I know it for sure, then you would notice an earthquake in San Bernardino County again because someone drops dead again... But I do not know!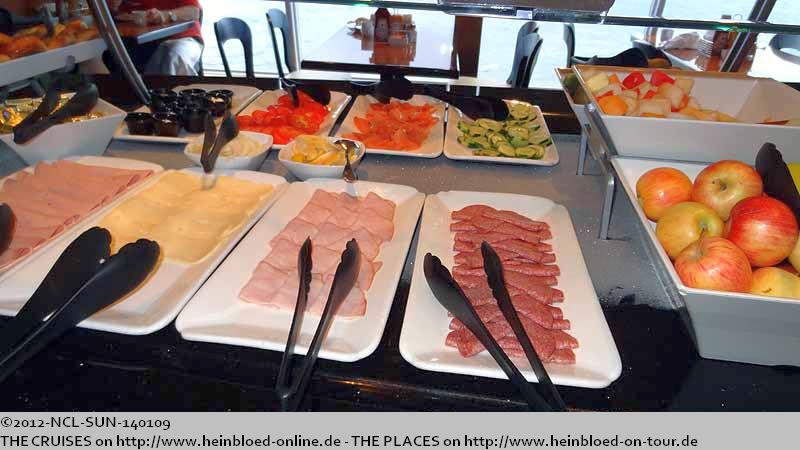 Es gab hier sogar Congee (Asiatische Reissuppe) zum Frühstück und ich entdecke das erst am letzten Tag vor der Abreise...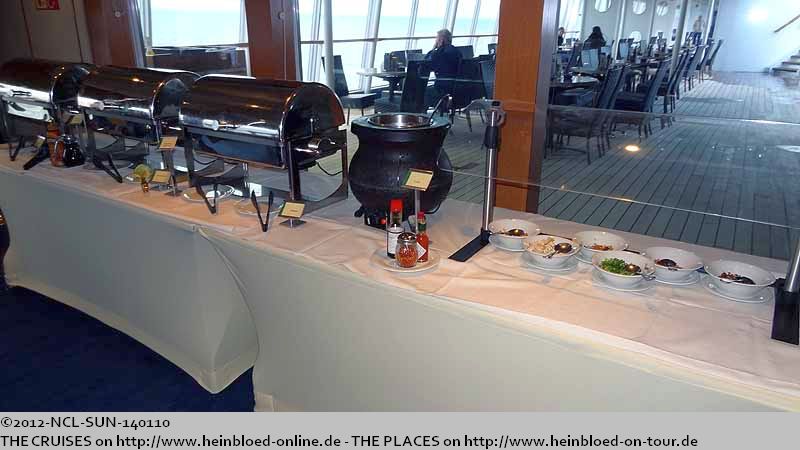 They even offer Congee (Asian rice soup) for breakfast and I discovered it the very last day before debarkation.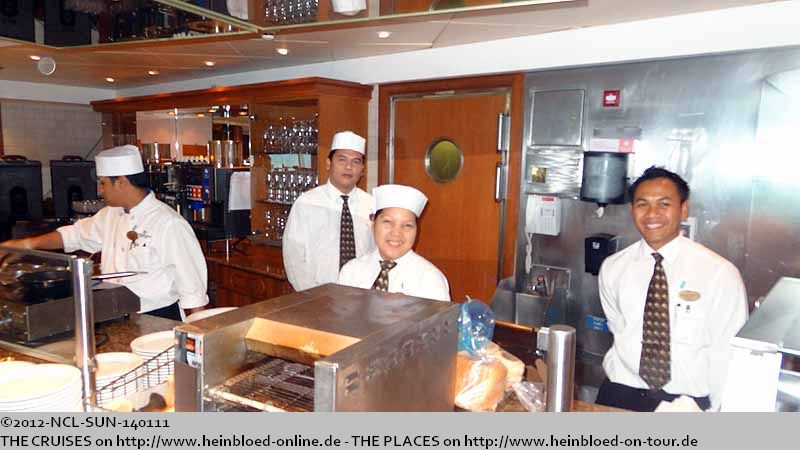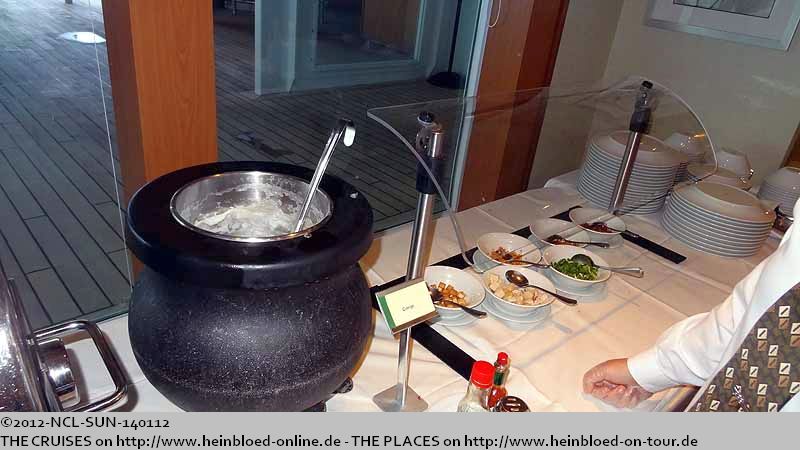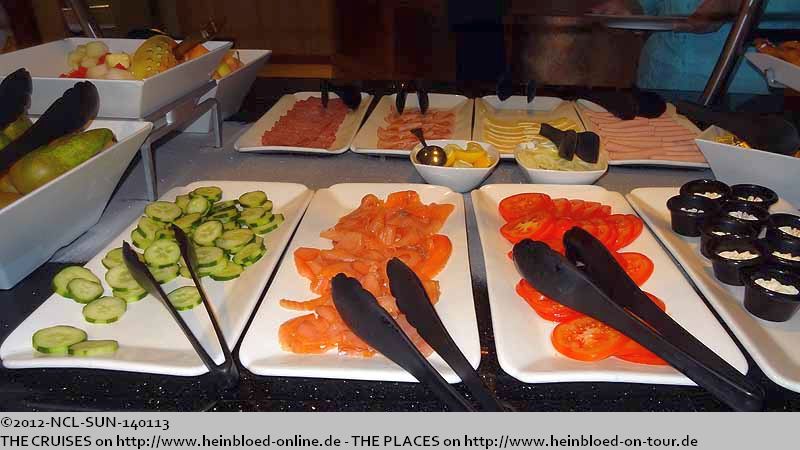 Das sieht doch ganz anders aus, als unten im Seven Seas...

It looked totally different from the bottom in Seven Seas...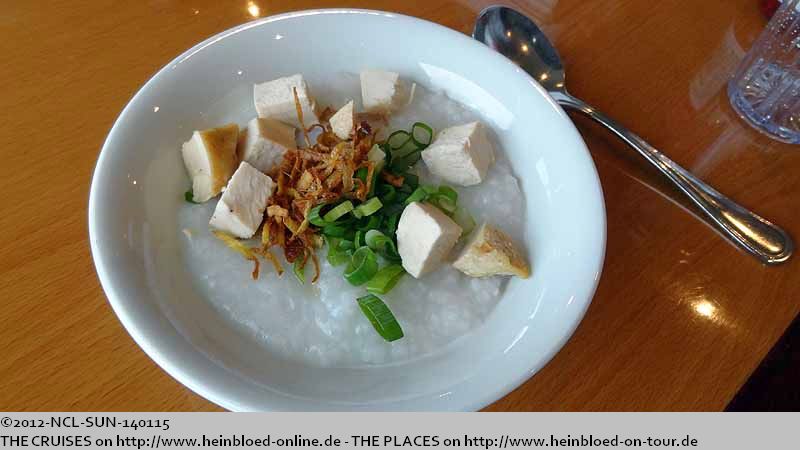 Auch hier gibt es eine Eierstation... nur dass hier keine Schlange davor steht...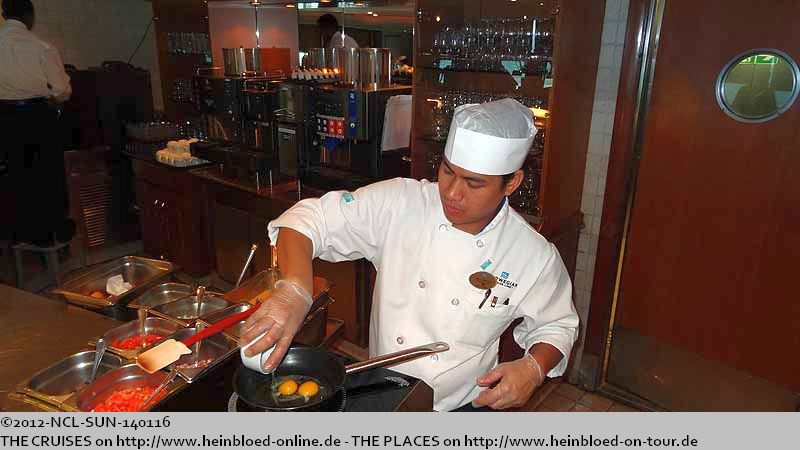 They even had an egg station... but here was no queue...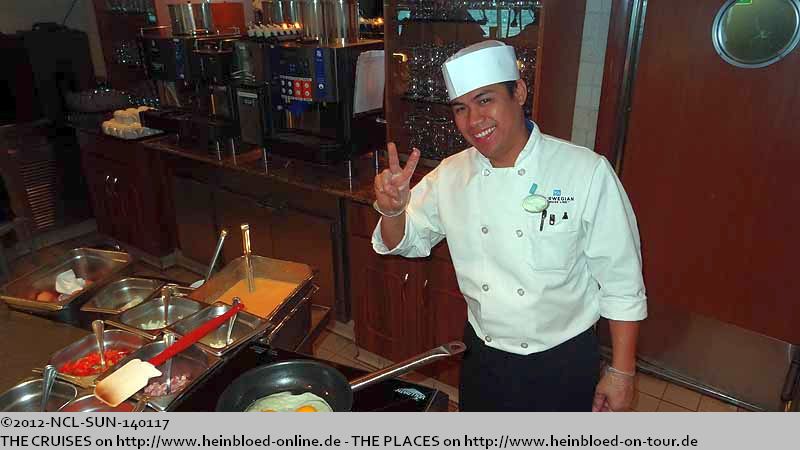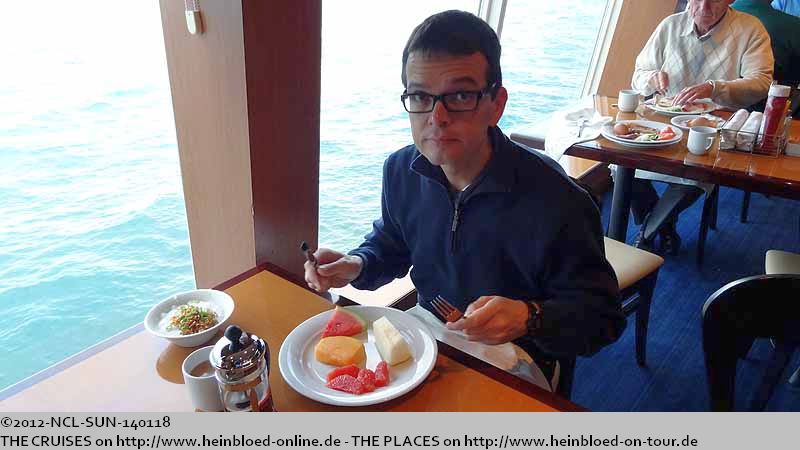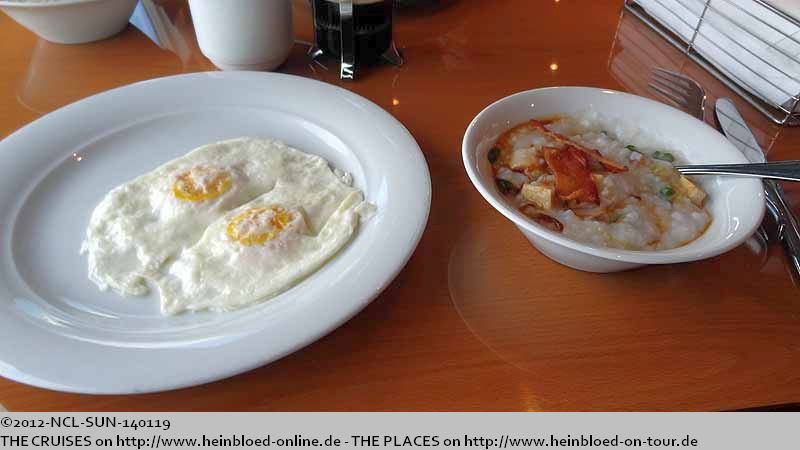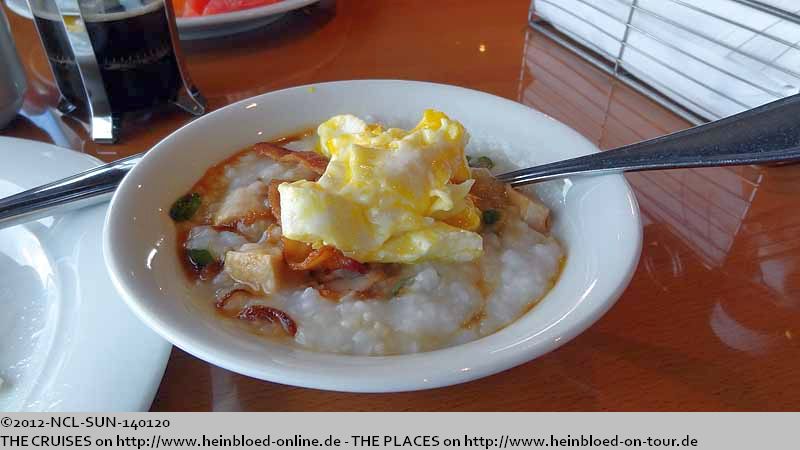 A last muffin...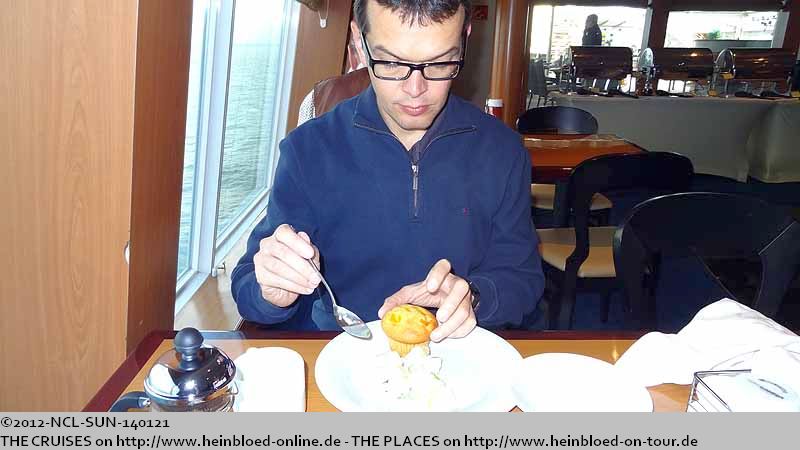 Ein letzter Muffin...
Post...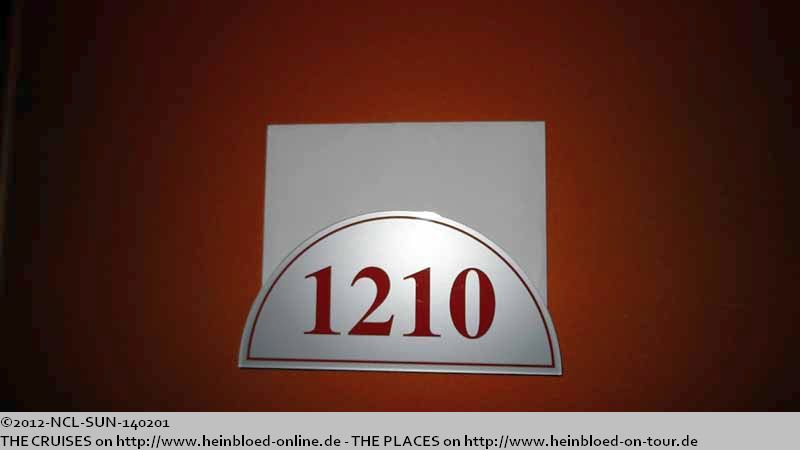 Mail...

Does not look like ship's mail...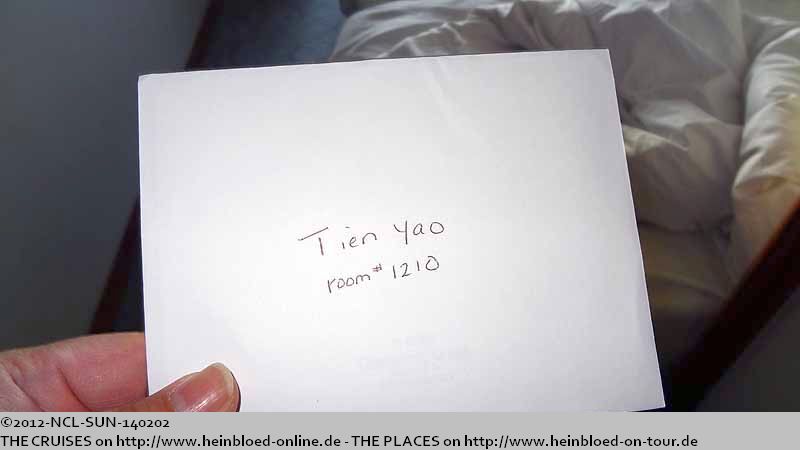 Sieht gar nicht nach Schiffspost aus...
Was für eine Überraschung.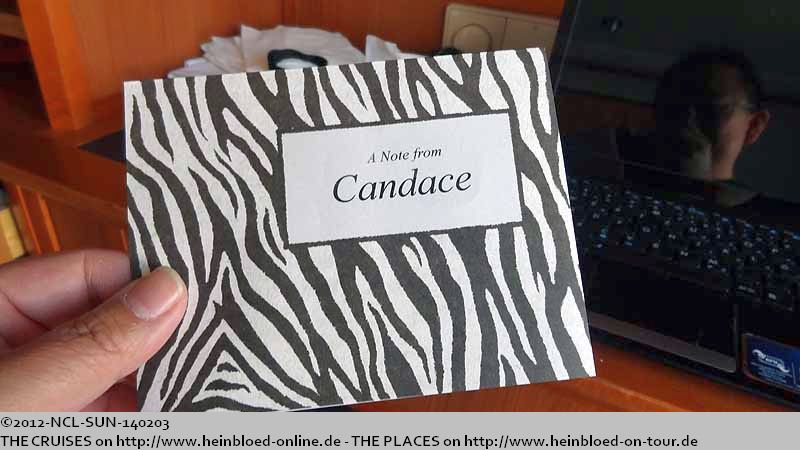 What a big surprise.

This woman has style! Great! I can only say that the dinner with her was an enrichment for us and we will be glad to be drawn again to make acquaintance with more officers from other departments. And I was thrilled to learn that she will be ahead of us on NORWEGIAN SPIRIT and will make everything ready for us. I can only say: no matter how much we paid and no matter what might be better with other: the service and everything around and about with the others: mostly it's limited to the actual voyage. Only with NCL, it works very well from ship to ship and from voyage to voyage. They really want to make sure that we feel on our next cruise as good as on the actual cruise.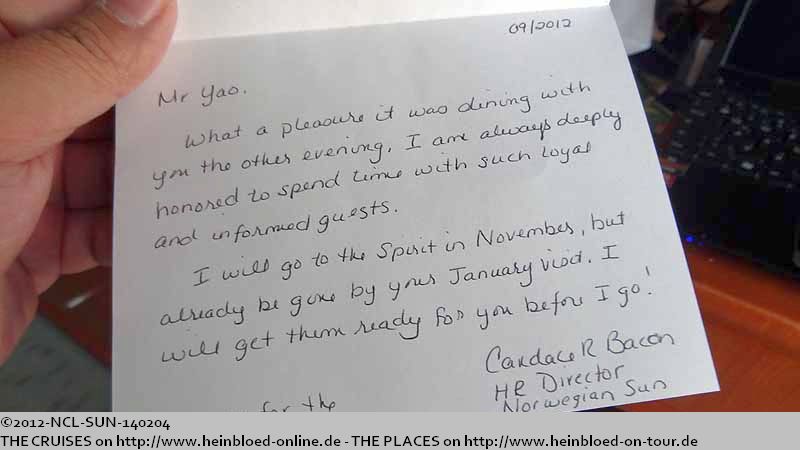 Diese Frau hat Stil! Klasse! Ich kann auch nur sagen, dass das Dinner mit ihr eine Bereicherung für uns war und wir uns freuen, wenn wir wieder ausgelost werden und weitere Offiziere aus anderen Bereichen kennenlernen. Und vor allem freut es mich, dass sie vor uns auf der NORWEGIAN SPIRIT ist und schon für uns alles vorbereiten will. Ich kann nur eines feststellen: egal wieviel wir bezahlen, und wieviel besser ich es woanders habe: der Service und alles drum und dran bei den anderen, beschränkt sich nur auf die eine aktuelle Reise. Nur bei NCL läuft es zwischen den Schiffen und von Reise zu Reise richtig gut. Die wollen wirklich sicherstellen, dass wir uns bei der nächsten Reise genauso wohl fühlen, wie auf dieser Reise.
Wir nutzen den letzten Tag auf dem Balkon...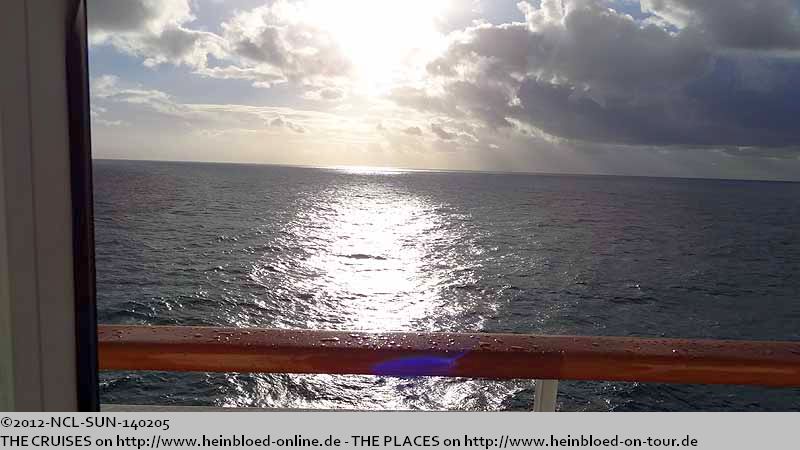 We used the last day to stay on our balcony...

Even I got few requests: No - you cannot rent Bruno!!!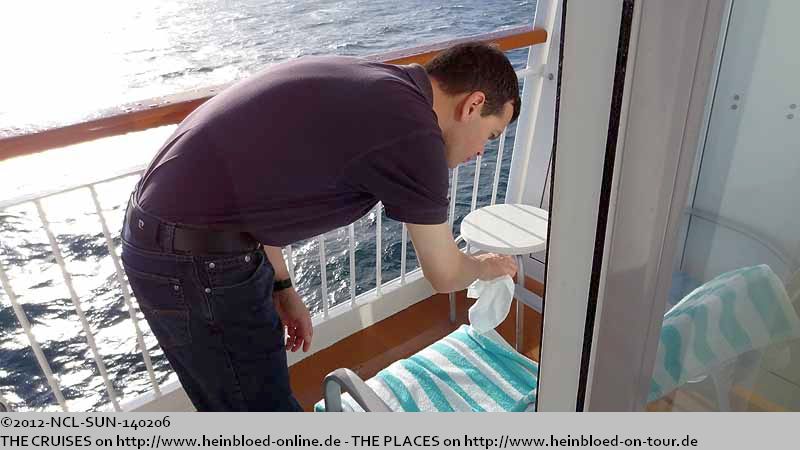 Trotz mehrerer Anfragen: Nein - ich verleihe Bruno nicht!!!
Er hat übrigens nur seinen Stuhl vom Salz befreit... ich hätte selbst putzen müssen...

By the way: he only cleaned off the salt from his chair... I had to clean the other one by myself...

Except for Bergen, we really had luck with the weather!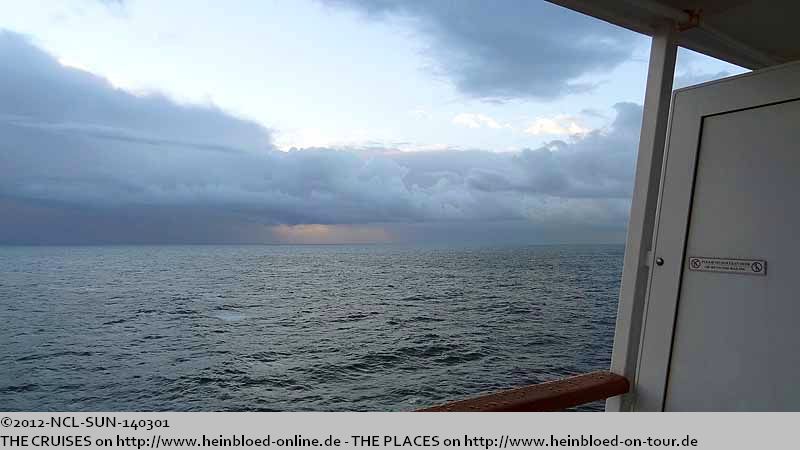 Bis auf Bergen hatten wir ja richtig Glück mit dem Wetter!
Es sind sogar welche schwimmen.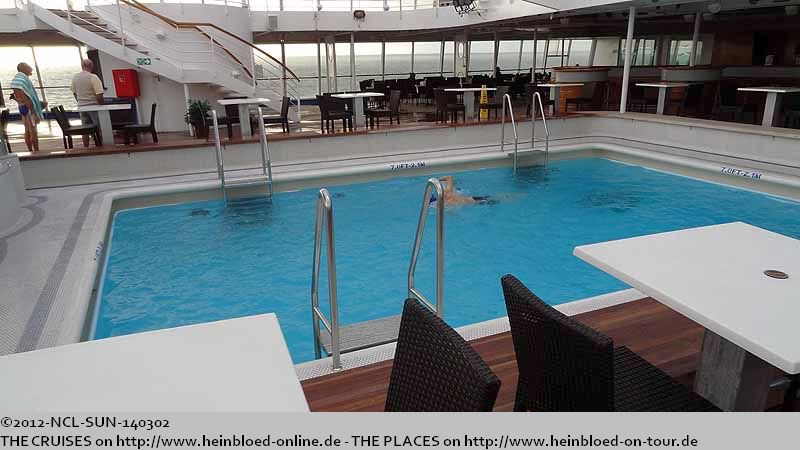 Someone was even swimming.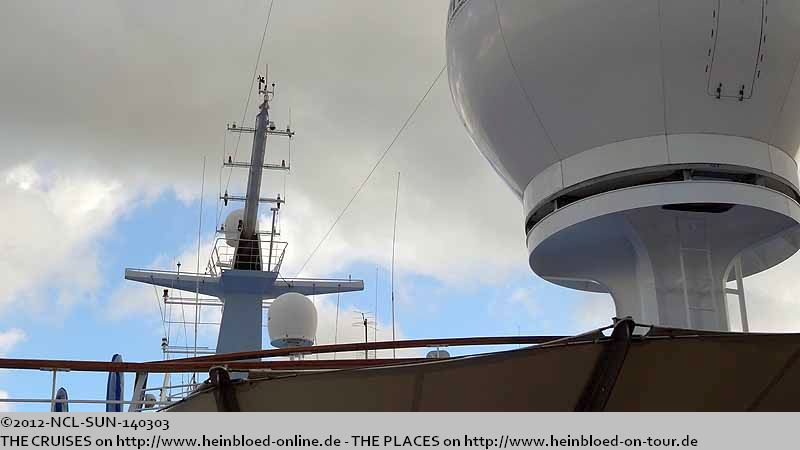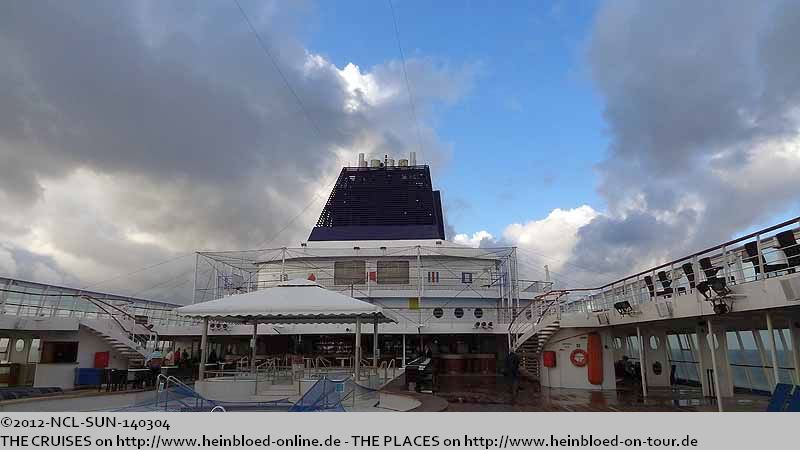 We went again for the observation lounge.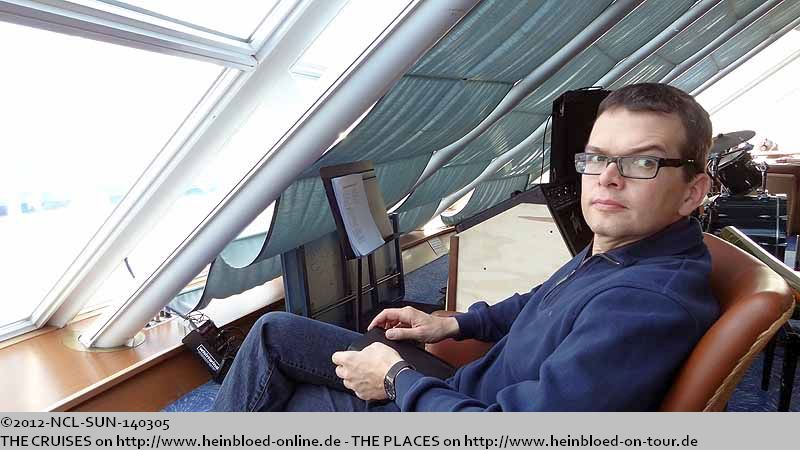 Wir gehen auch nochmals in die Observation Lounge.
Dort kann man die Aussicht direkt in der 1. Reihe genießen.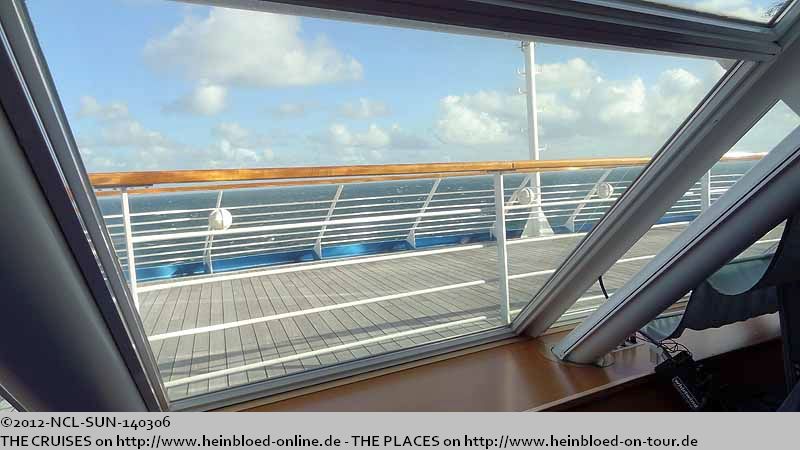 Here you can enjoy the view from the first row.

There were we accepted to pay something for the tea which we could get complimentary downstairs...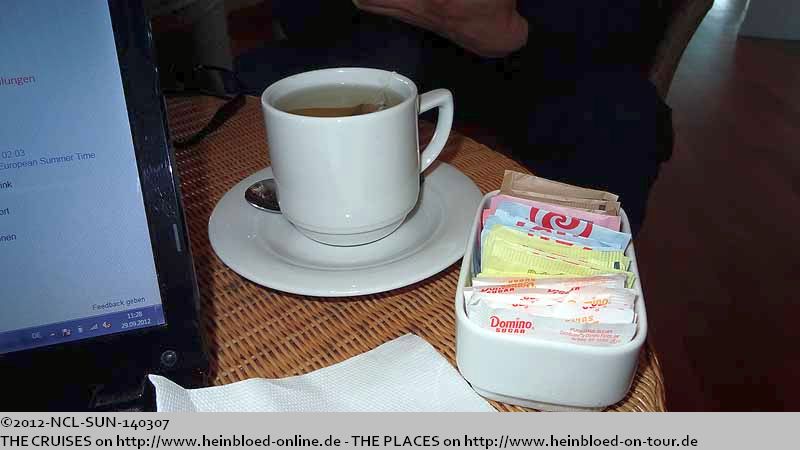 Dafür bezahlen wir auch gerne etwas für den Tee, den wir unten umsonst bekommen würden...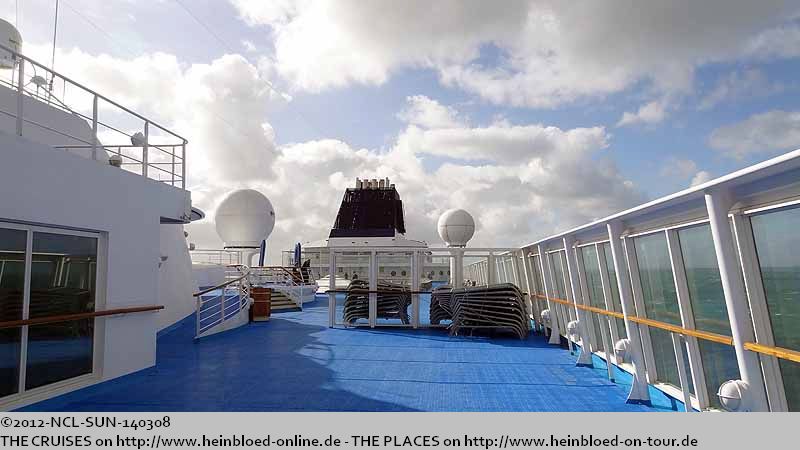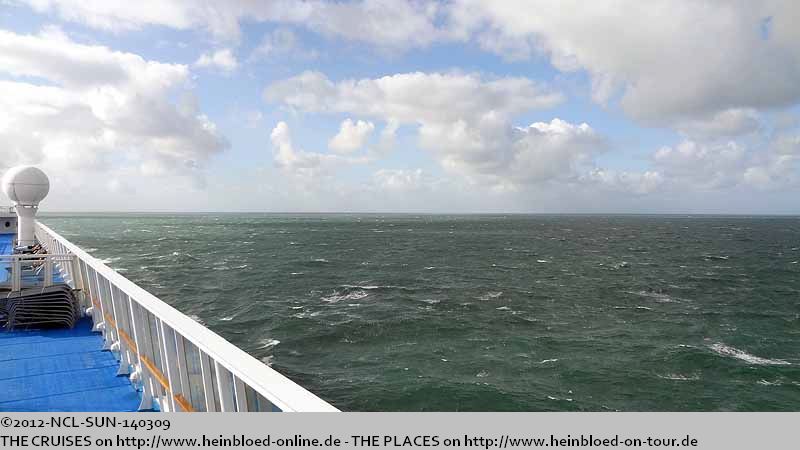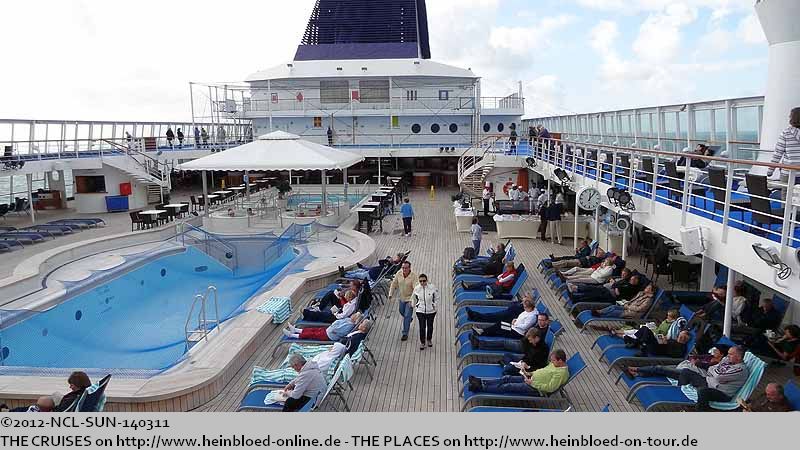 Wieder Zeit für das Mittagessen... Seetage sind schon was tolles...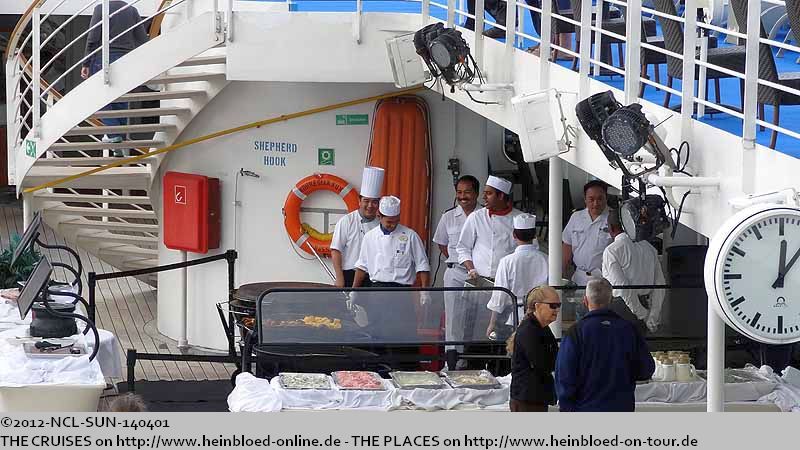 Again time for lunch... Days at sea are really something great...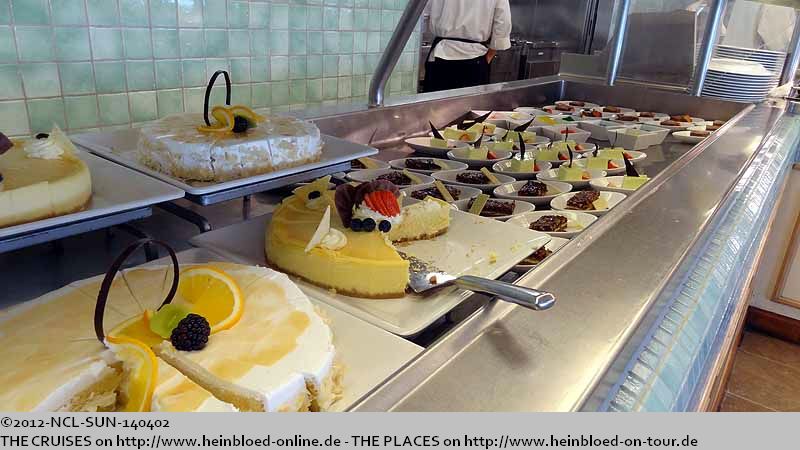 Heute haben wir das Vergnügen mit Hristina Dobreva. Wir kennen sie seit vielen Kreuzfahrten. Allerdings wurden bis bislang noch nie direkt von ihr bedient. Man hat sich freundlich gegrüßt und kannte sich. Aber heute... wobei sie ja schon beim Hosted Dinner schon kurz Elena unterstützt hat.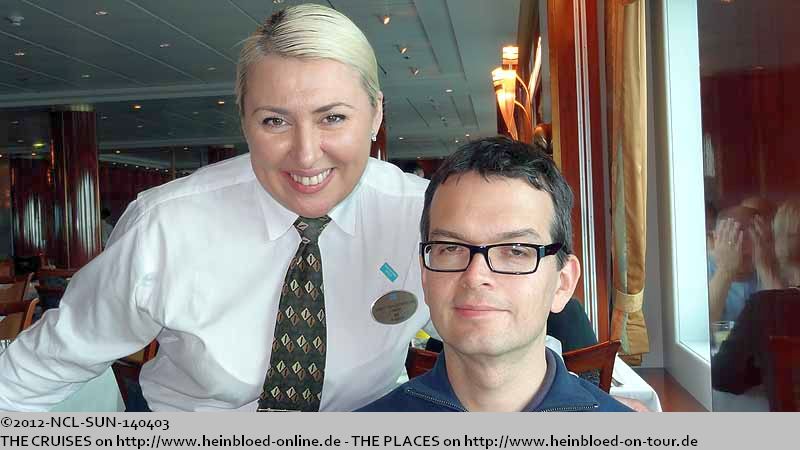 Today we had the pleasure with Hristina Dobreva. We knew her from any cruises. But we have never been served by her so far. You see each other, you greet, and so you know each other. But today... while he assisted Elena already with the Hosted Dinner...

She could not see the backside of my t-shirt so she liked it.

Den Text auf dem Rücken sieht sie ja nicht, aber sie findet mein T-Shirt gut...
So schließt sich der Kreis... es gibt wieder Hühnersuppe (gut!)...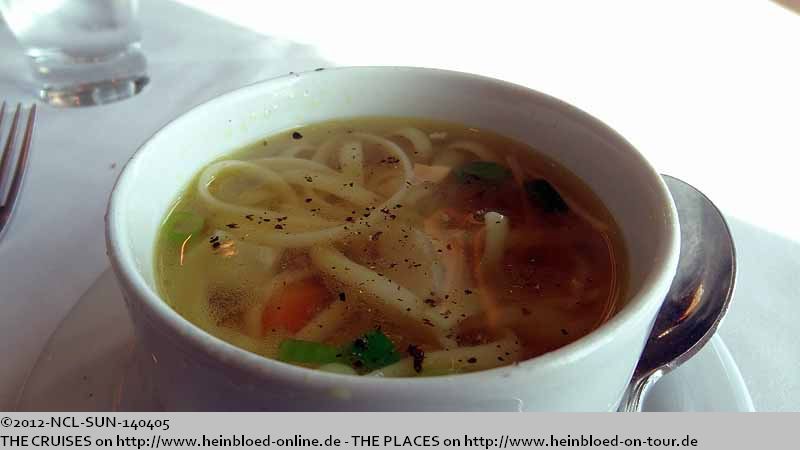 And so the circle closed... we had chicken broth again (good!)...

But without chopsticks, I had no chance to get out the noodles... I will send a bag of soup noodles to Miami...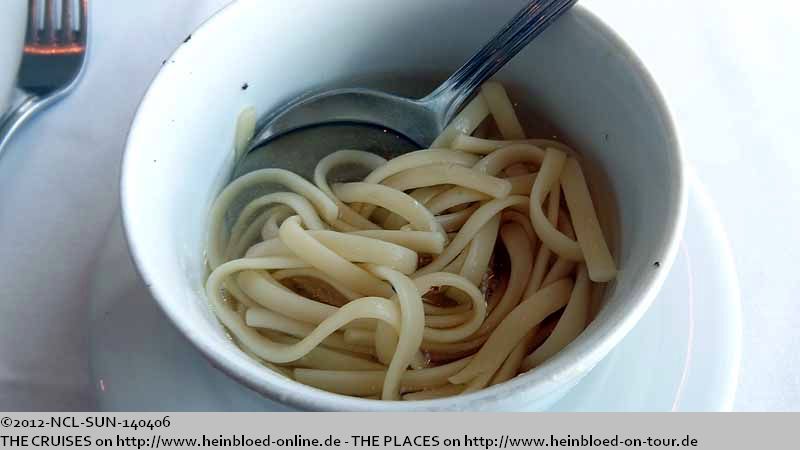 Nur ohne Stäbchen bekomme ich die Nudeln hier nicht raus... Ich werde mal demnächst eine Packung Suppennudeln nach Miami schicken...
Irgendwie haben wir Hunger... so fragen wir doch mal nach Brot...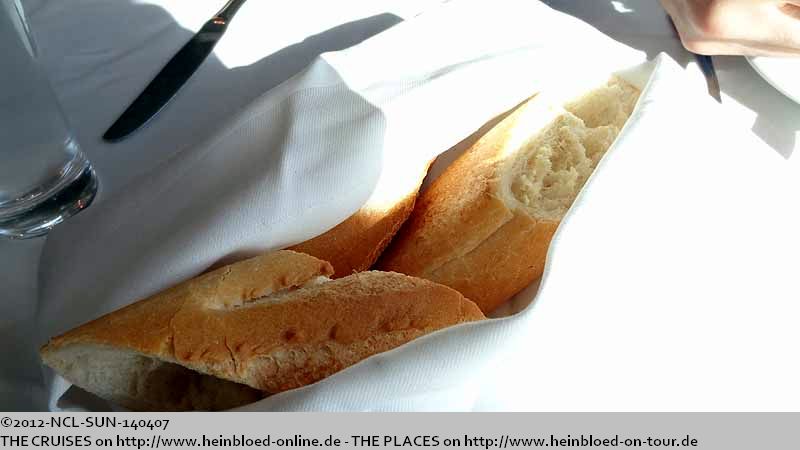 Somehow we were hungry... so we asked for some bread...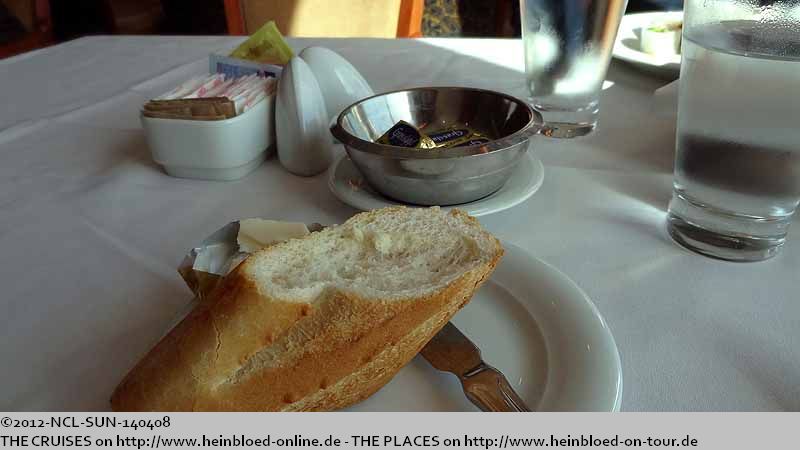 Then we got a new bread basket because they noticed that we liked more the dark breads...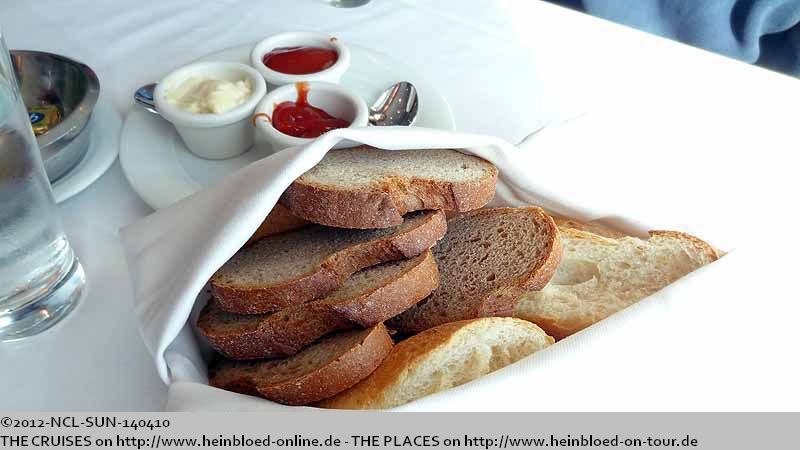 Und dann bekommen wir einen neuen Brotkorb, weil sich wohl rumgesprochen hat, dass wir lieber die dunklen Brotsorten mögen...
Da ich den Eindruck hatte, dass auf der NORWEGIAN EPIC zuletzt der Käse beim Philly-Cheese-Steak-Sandwich aus der Dose kam (nichts ungewöhnliches in den USA), aber was ich überhaupt nicht mag, bestelle ich mir bloß ein Philly-Steak-Sandwich...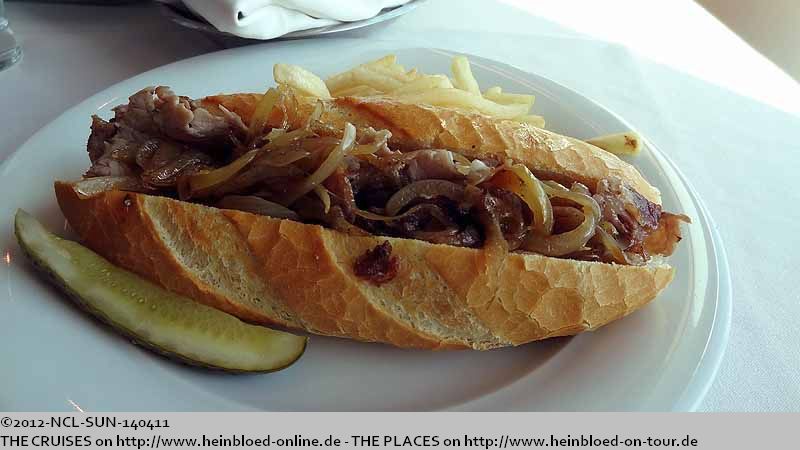 As I had the impression that on NORWEGIAN EPIC recently the cheese for the Philly-Cheese-Steak-Sandwich was canned (nothing unusual in the United States) but which I did not like, I ordered only a Philly-Steak-Sandwich...

Bruno wanted to try the omelet...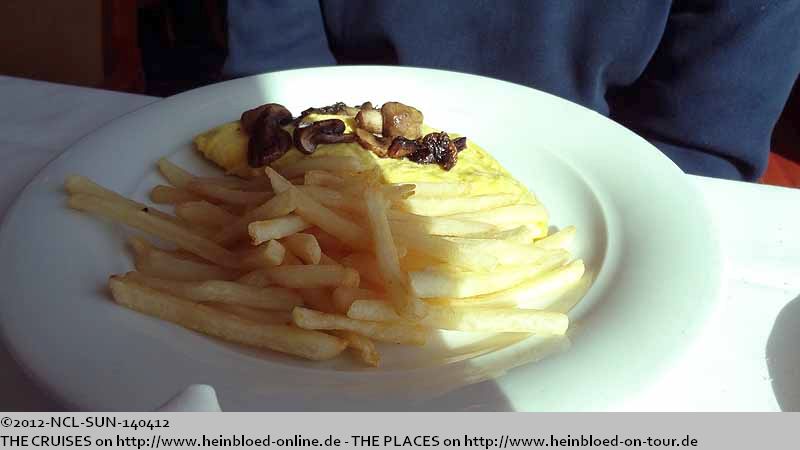 Bruno wollte bloß mal das Omelette probieren...
Und für ihn wichtig: Dessert...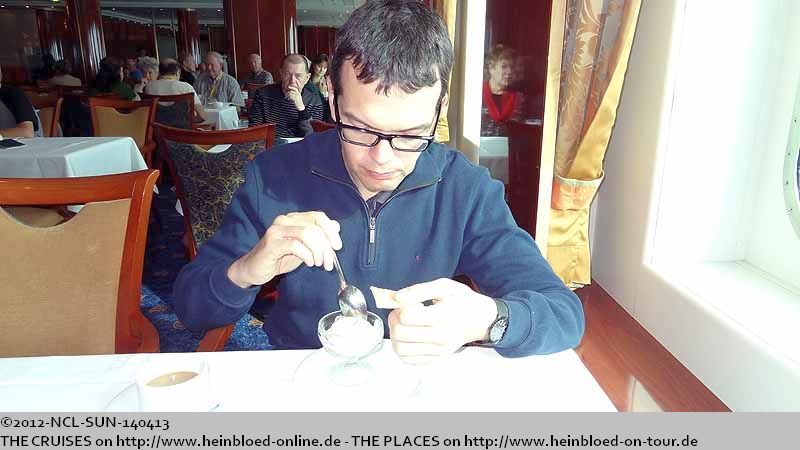 And important to him: the dessert.

I prefer to have a last split peas soup with bacon bits...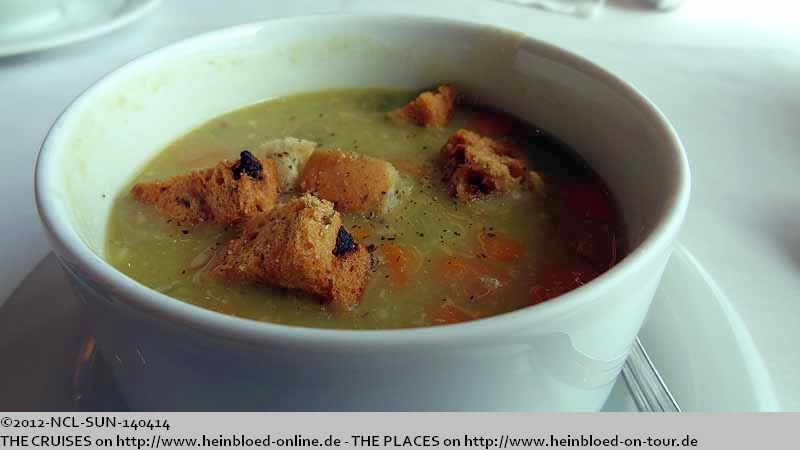 Ich nehme lieber eine letzte Split Peas Soup mit Bacon Bites...
Nur sie haben vergessen die Lupe für die Bacon Bites mit zu servieren... NCL hat einfach Pech, dass ich ausgerechnet ein Suppenkasper bin, der besonders kritisch ist und dem so etwas alles auffällt.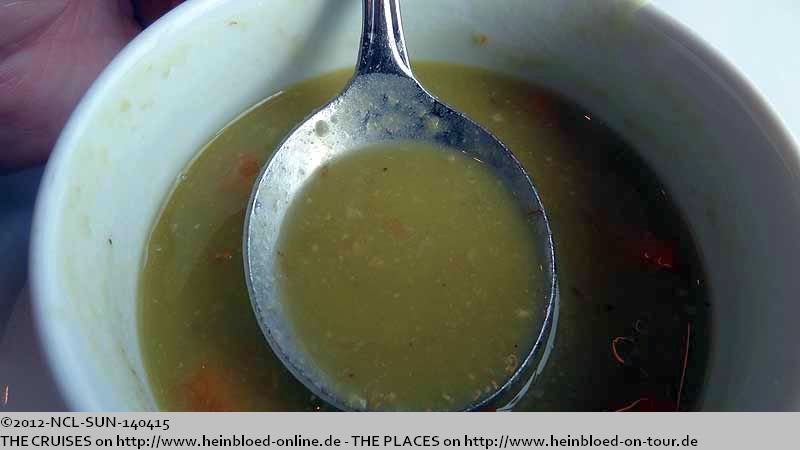 But they forgot to serve the soup with loupe to identify the bacon bits... NCL had only the unluck that I am of all things a soup lover who is very critical and noticed such little details.

Asking hour...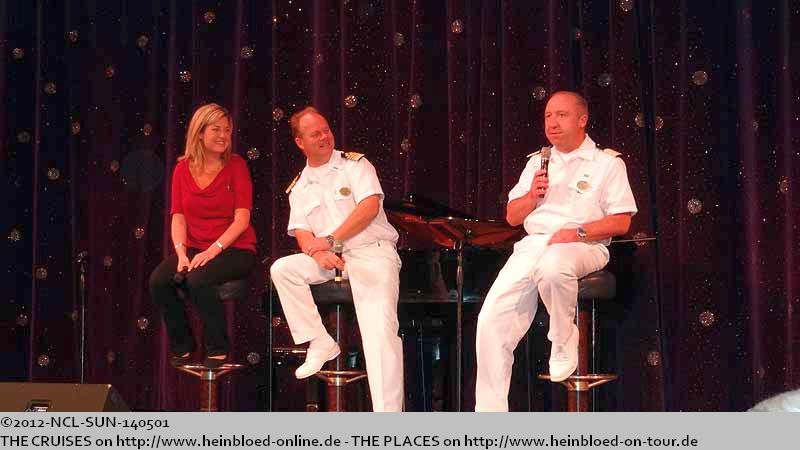 Fragestunde...
Aber mir war das ganze zu groß aufgemacht. Auf der NORWEGIAN JADE war es schöner und intimer...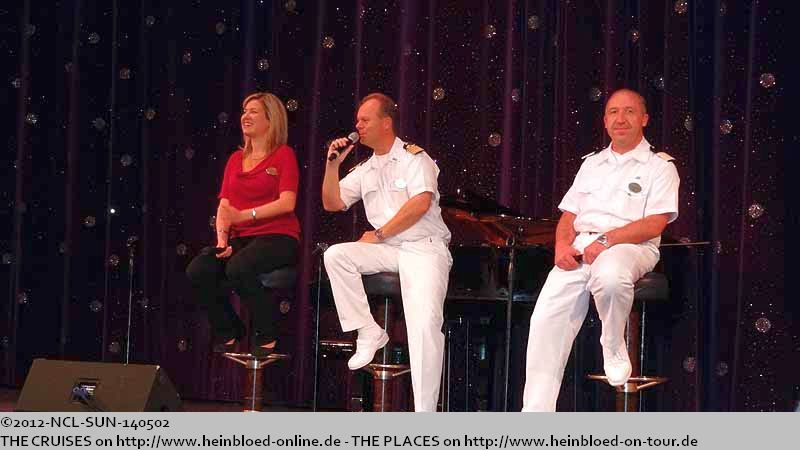 I thought it was too overdimensioned. On NORWEGIAN JADE it was nicer and more intimate...

Just right after there was the matinee show by Claire Maidin.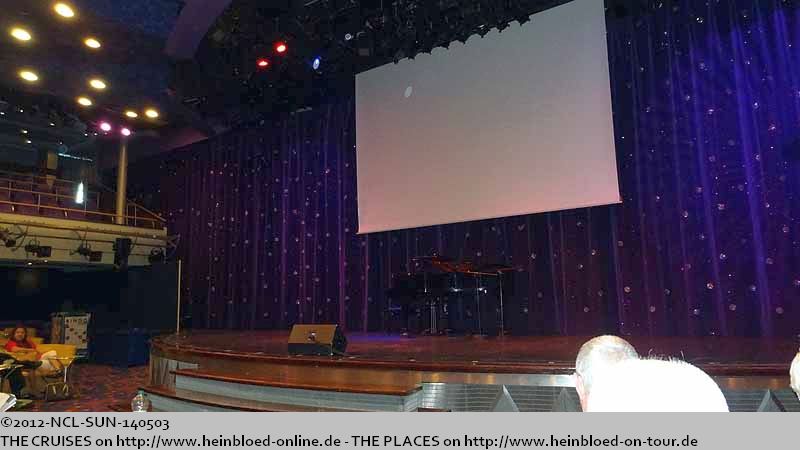 Direkt im Anschluss findet eine Matineeveranstaltung mit Claire Maidin statt.
Zuvor wird mal keine Werbung für die Reise-DVD gemacht (Ich war erstaunt, dass es keinen Hinweis gab, dass man hätte die DVD kaufen könnte...). Ein paar Ausschnitte von Veranstaltungen auf dem Schiff...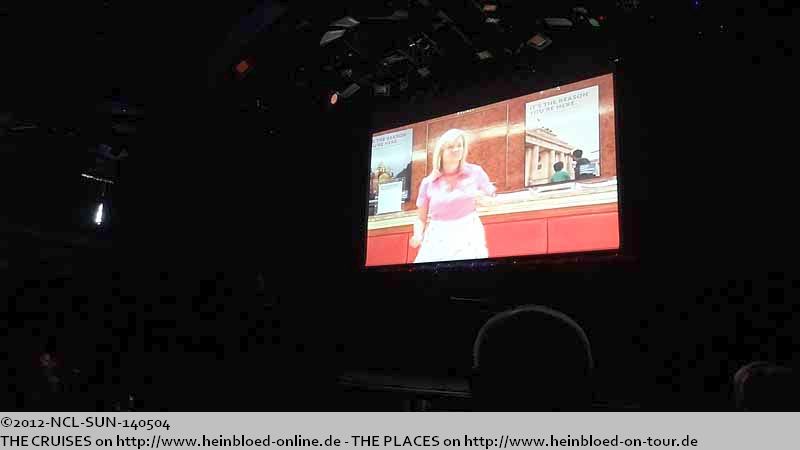 Before they did not make any advertising for the voyage DVD (I was amazed that there was no announcement that you should buy the DVD...). Few scenes from the events on the ship...
We did not notice any of them. Completely passed with us. What luck. I would jump from the ship if I had to see one more time The Fountain again... on (see
NORWEGIAN DREAM 2008
). Those were real reasons to go on Holland America: Cruising for adults...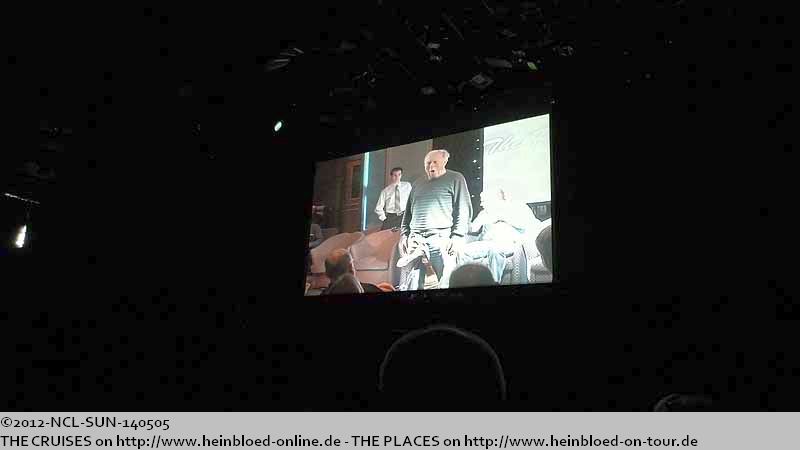 Wir hatten nichts davon mitbekommen. Komplett an uns vorbeigegangen. Zum Glück. Ich wäre von Bord gesprungen, wenn ich hätte wieder The Fountain sehen müssen... auf der (siehe
NORWEGIAN DREAM 2008
). Das sind für uns aber auch mal echte Gründe mit Holland America zu fahren: Kreuzfahren für Erwachsene...
Bei Claire Maidin bleiben wir dieses Mal nur sehr kurz: Als sie sagt, dass sich viele nochmals Meckie Messer gewünscht haben und ihr Medley mit vielen Variationen besonders lange dauert, sind wir doch gegangen.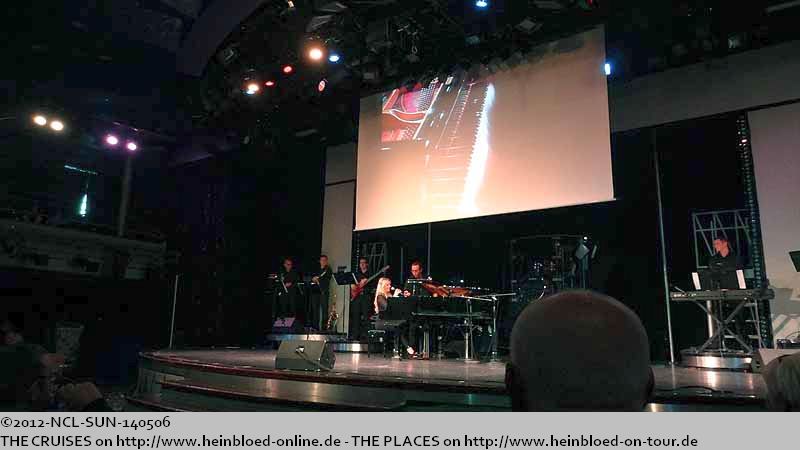 We stayed only very short with Claire Maidin: When she announced that many many requested to hear Mack the Knife again and her medley with many many variations lasted very very long we went away.

Meanwhile, it was around what T-shirt I was wearing... Here she showed what she thought about... I was just waiting that she ripped it off from my body and give me a new one from NCL...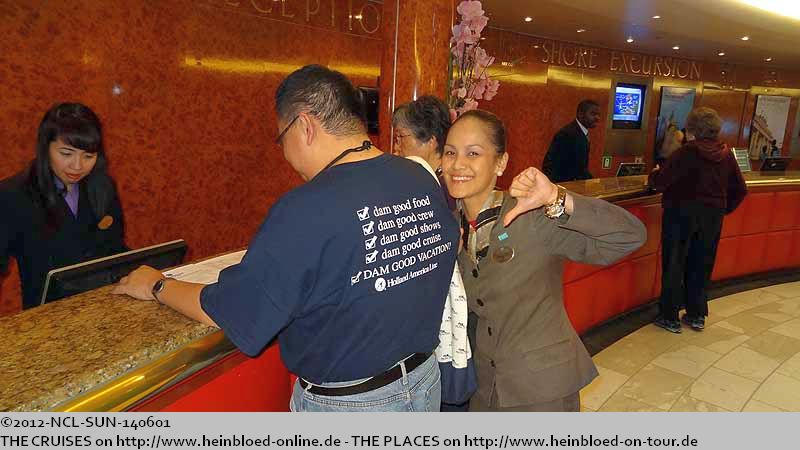 Zwischenzeitlich hat sich rumgesprochen, was für ein T-Shirt ich trage... Hier wird gezeigt, was sie davon hält... Ich warte ja bloß drauf, dass sie es mir von meinem Körper runterreißt und mich mit einem neuen NCL-T-Shirt ausstattet...
Von Frances erfahren wir, dass man die Service Charges für die Nächte, die wir nicht an Bord waren, gestrichen hat.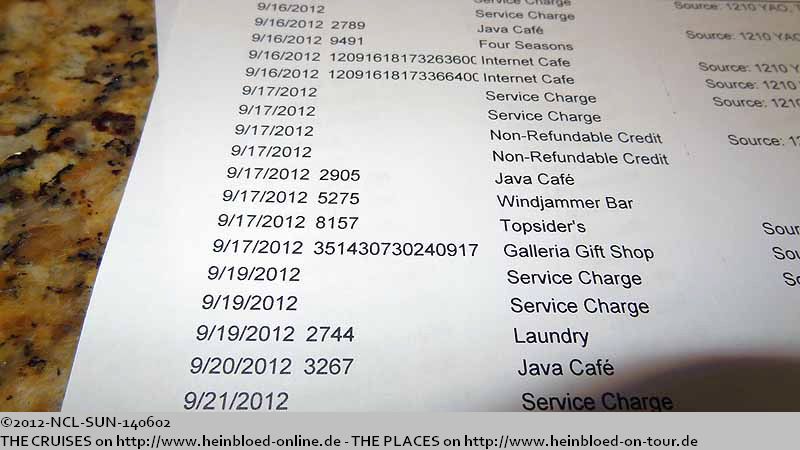 We learned from Frances that they withdrew the service charges for the nights we did not spend on board.

That was very generous of them but that would apply to the wrong persons who stayed on board and worked for us: So we asked them to put back the amount on our bill. Our personal habit should not be a disadvantage for the crew members.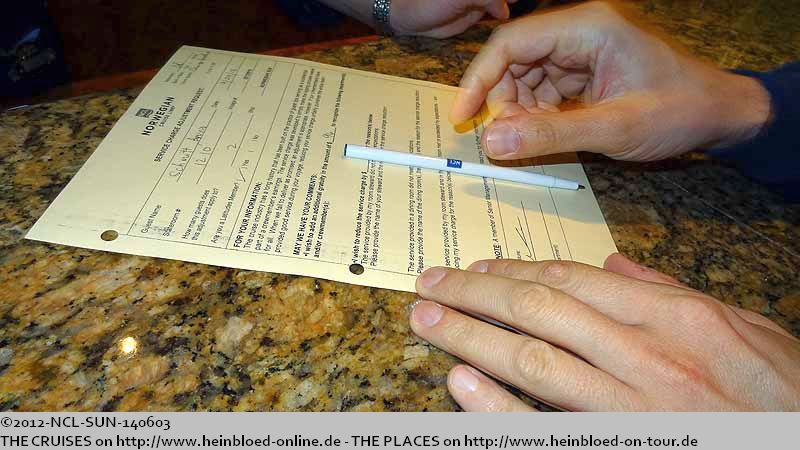 Das ist sehr großzügig von denen, aber es würde die falschen treffen, die an Bord waren und trotzdem gearbeitet haben: daher lassen wir das Geld wieder auf die Rechnung setzen. Unsere Spirenzchen müssen nicht auf dem Rücken der Crew ausgetragen werden.
Sie lästern weiter über mein T-Shirt...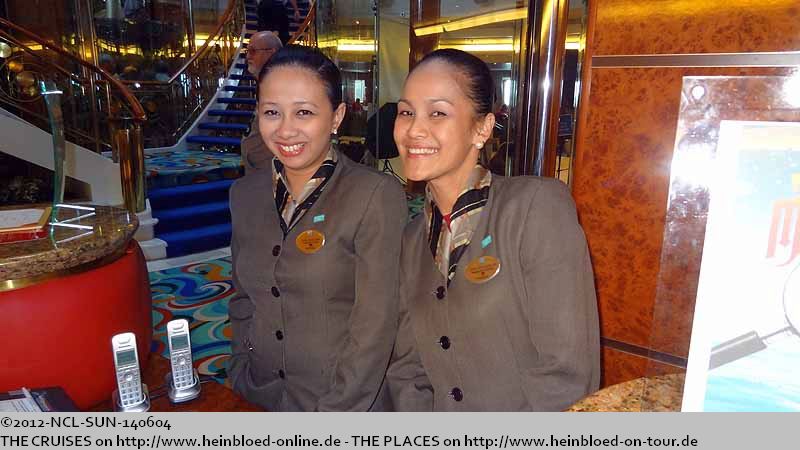 They were still backbiting on my t-shirt...

On our ways, we met Captain Ronny Borg. After all a "touchable" Captain. We thank him again for everything. And he thanked me for the atmospheric picture which I took in Greenock.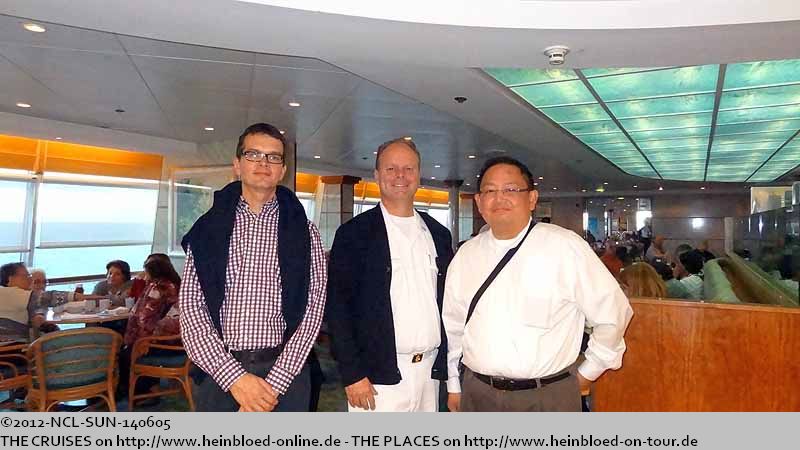 Unterwegs treffen wir Kapitän Ronny Borg. Doch ein Kapitän zum "Anfassen". Wir bedanken uns nochmals für alles. Und er bedankt sich für das schöne stimmungsvolle Bild, das in Greenock entstanden ist.
Unsere letzten Canapés... Anscheinend ist der Lachs ausgegangen... Da hätte er gut gepasst... Übrigens den Ingwer braucht man für den rohen Fisch zum "Desinfizieren". Früher gab es keine Kühlschränke - damit konnte man die Keime dann töten... aber ohne Fisch: wozu der Ingwer?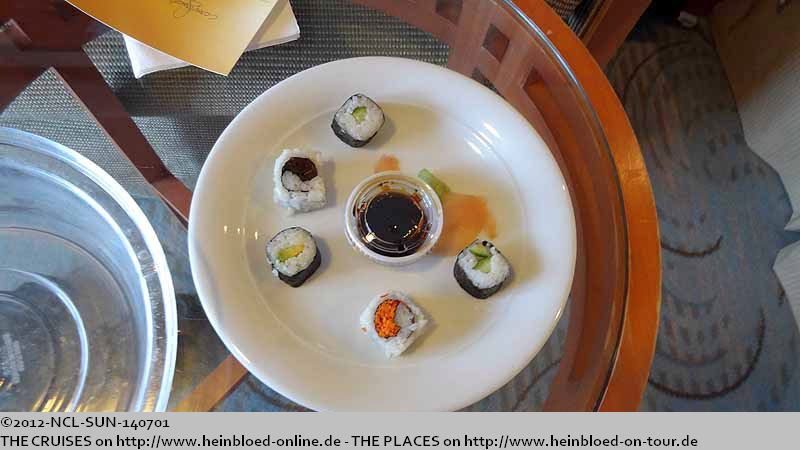 Our last canapés. Looked that they ran out of salmon... Would fit perfectly... By the way, you only need the ginger to "sanitize" the raw fish. When there were no fridges you need it to kill the germs... but without fish: what for the ginger?

Now it could start to rain.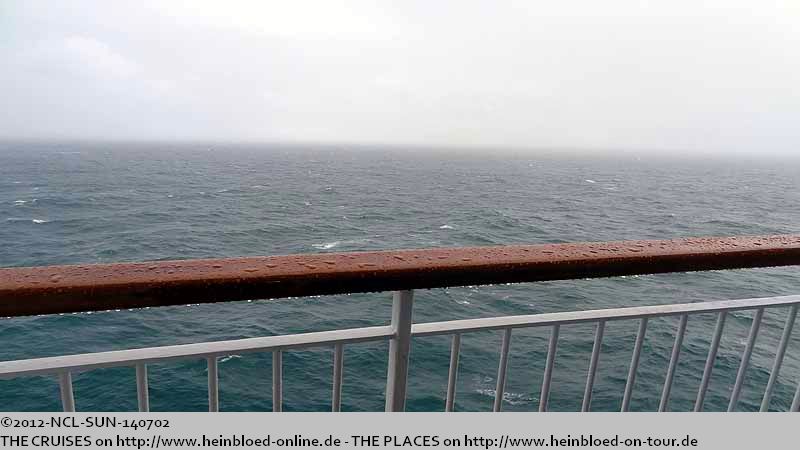 Nun kann es gerne anfangen zu regnen.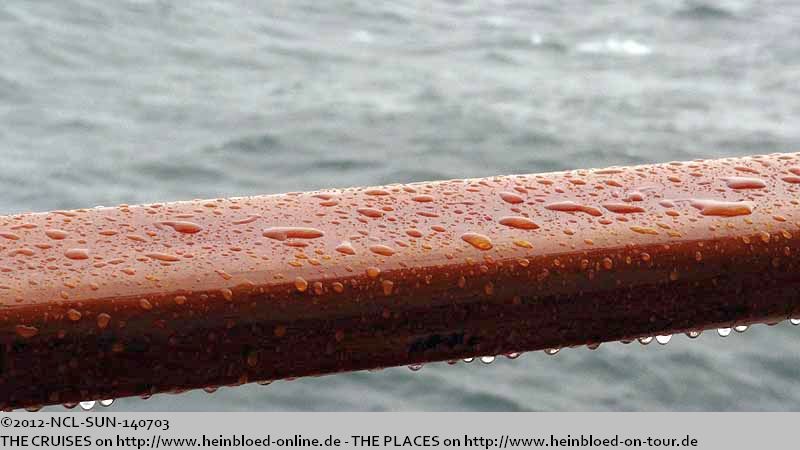 Die anderen Reisen in diesem Blog/
The other voyages in this blog: