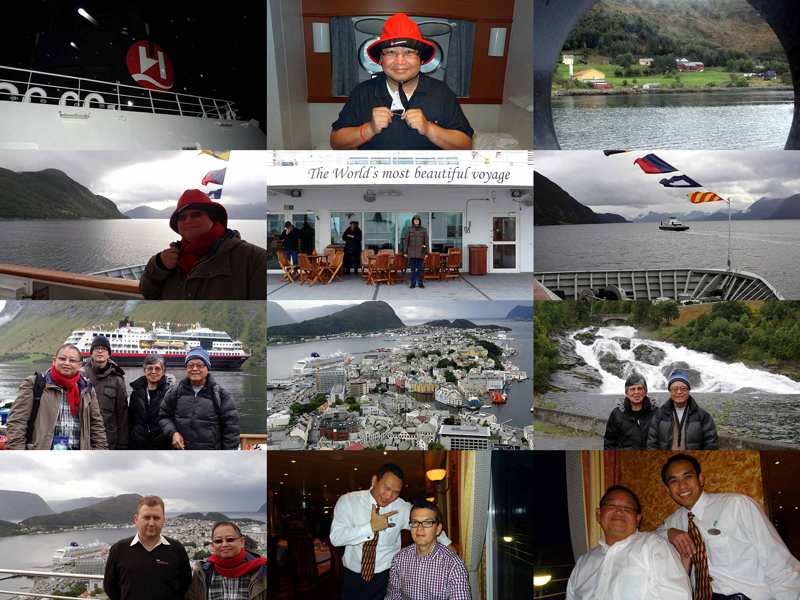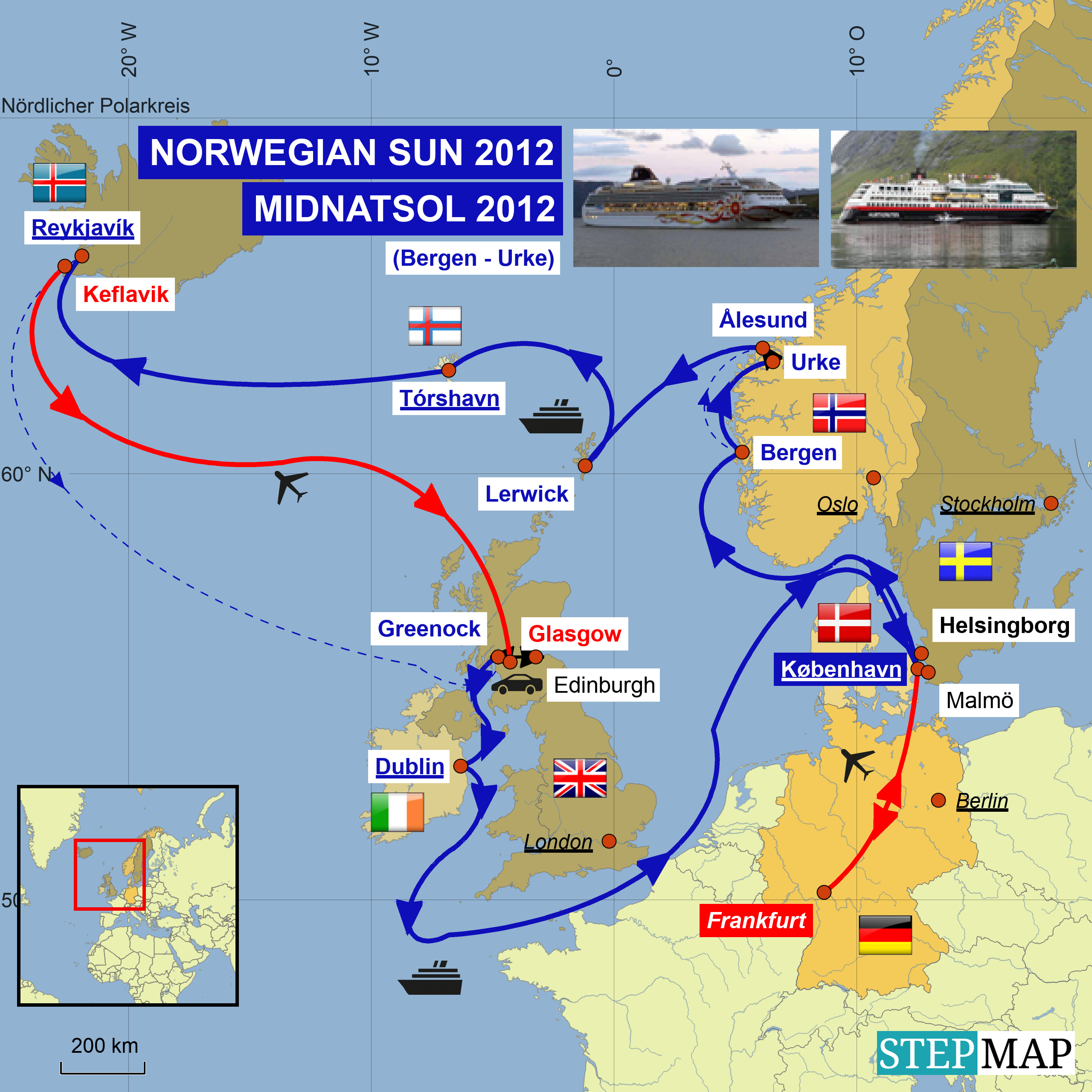 Nachts gucke ich mal in Ruhe um, was überhaupt wieviel in der Caféteria kostet.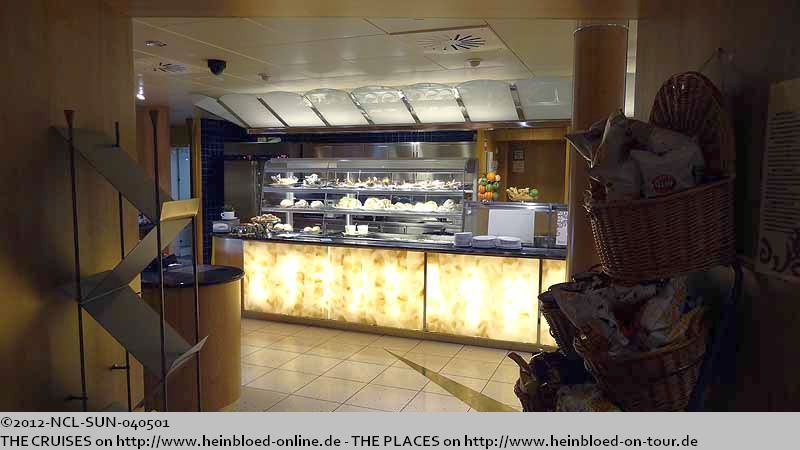 In the night time I was checking for the prices in the cafeteria.

I could also have my breakfast here, but the other disliked the idea.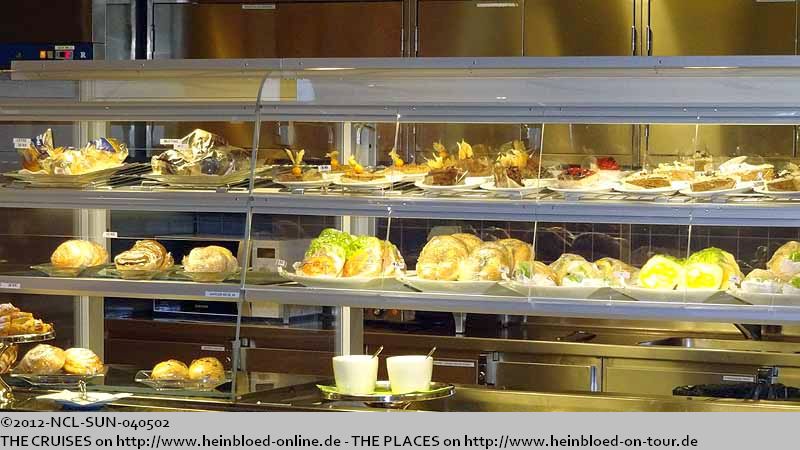 Ich könnte auch hier frühstücken, aber das lehnen die anderen hinterher ab.
115,00 NOK (2012 = 15,50 EUR) für eine Portion Spaghetti Bolognese finde ich ganz schön heftig. Ein Halbpensions-Angebot scheidet daher aus.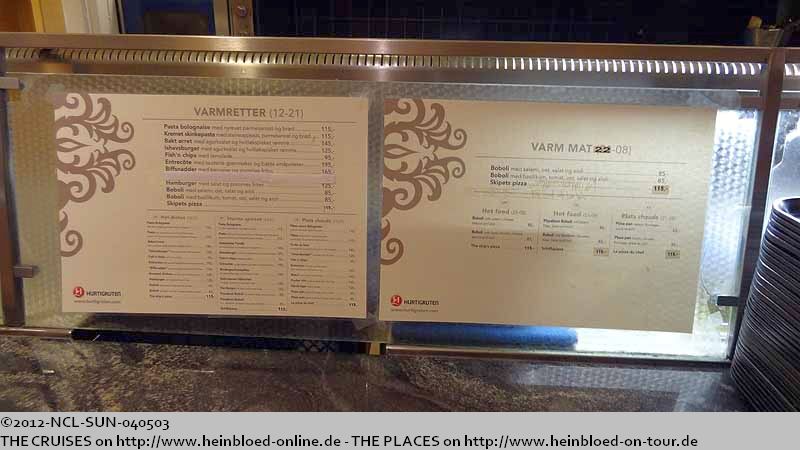 115.00 NOK (2012 = 20,00 USD) for a portion of Spaghetti Bolognese was quite expensive for my taste. I would never accept a halfboard-offer.

Even a simple pizzabread was still 85.00 NOK (2012 = 15.00 USD).

Selbst ein einfaches Pizzabrot kostet immer noch 85,00 NOK (2012 = 11,50 EUR).
Frühstück gibt es nur bis 09.30 Uhr und ab 10.30 Uhr gibt es bereits Mittagessen.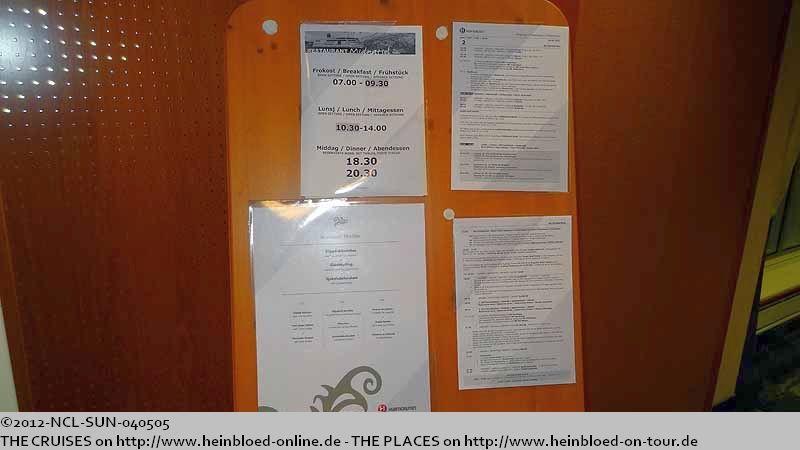 Breakfast was only available until 09.30 hrs and from 10.30 hrs you can have already lunch.

For 135.00 NOK (2012 = 24.00 USD) you can participate at the breakfast buffet, and you have all beverages included. At 09.10 hrs they sold us the breakfast at the entrance.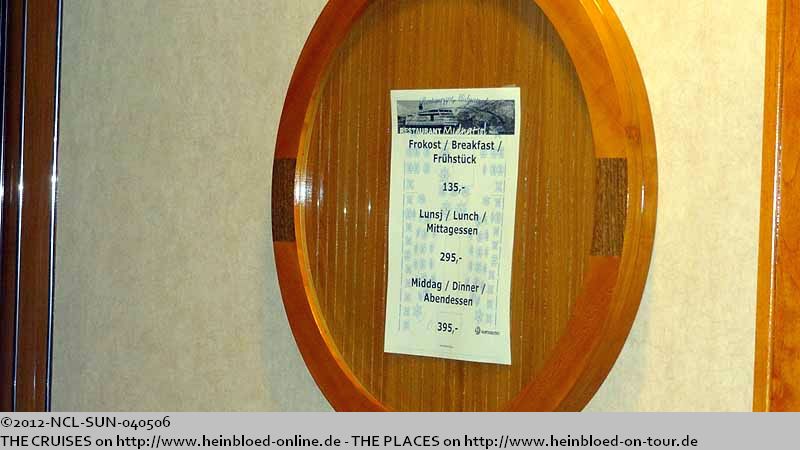 Für 135,00 NOK (2012 = 18,00 EUR) nehmen wir das Frühstück vom Büffet, weil auch die Getränke bereits inkludiert sind. Um 09.10 Uhr verkauft man uns noch das Frühstück am Eingang.
Selbst wenn man das Frühstück am Büffet bezahlt hat: Nimmt man etwas aus dem Restaurant werden nochmals 89,00 NOK (2012 = 12,00 EUR) abkassiert.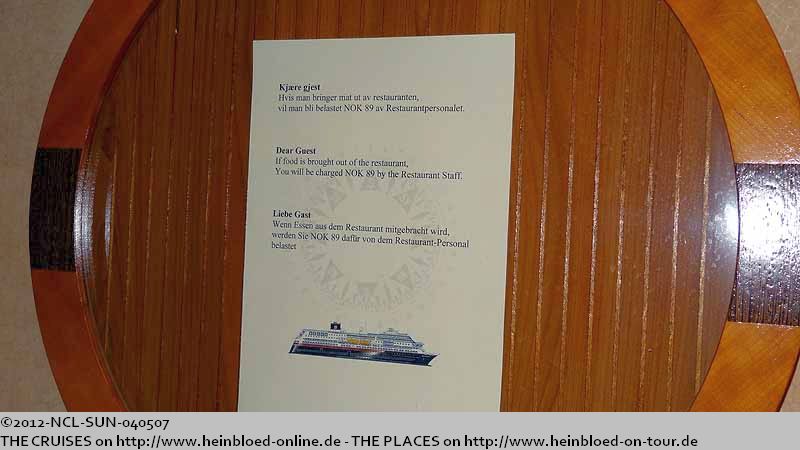 Even you paid for the breakfast buffet: If you take something out of the restaurant they charge you additonally 89.00 NOK (2012 = 16.00 USD).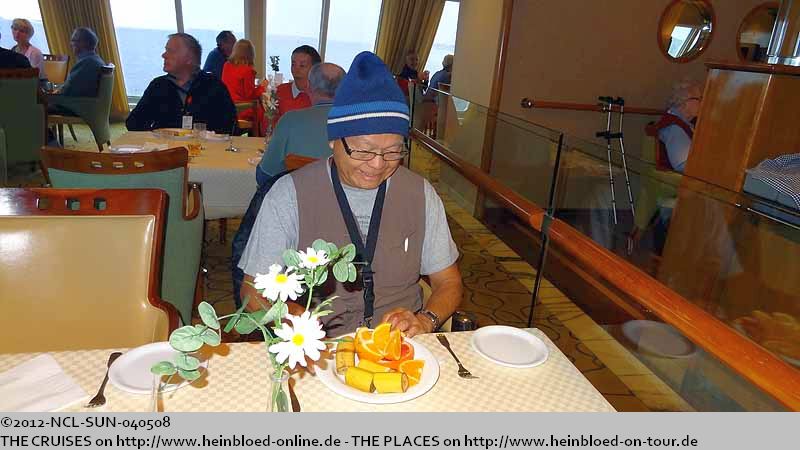 Wer glaubt, dass nochmals nachgelegt wurde, irrt...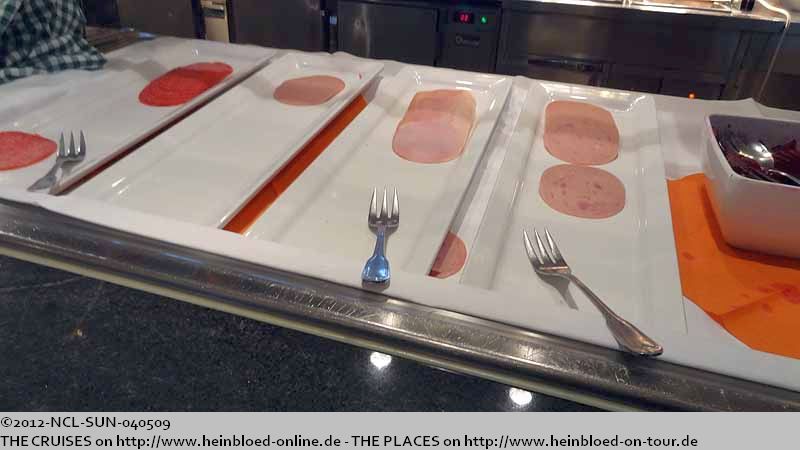 Who thought they might refill was totally wrong...

Nothing was refilled anymore...

Nichts mehr...
Frances wollte partout die norwegischen Fischspezilitäten zum Frühstück nicht probieren...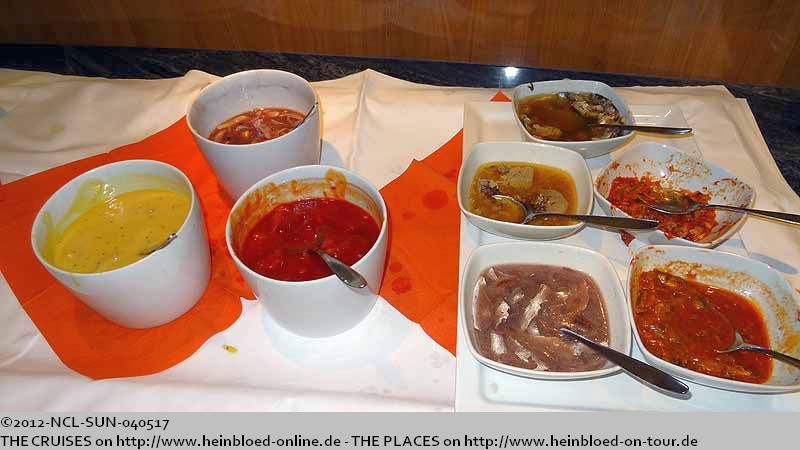 Frances refused to try the Norwegian fish specialities for breakfast...

That was what I could get out the bowls and pots.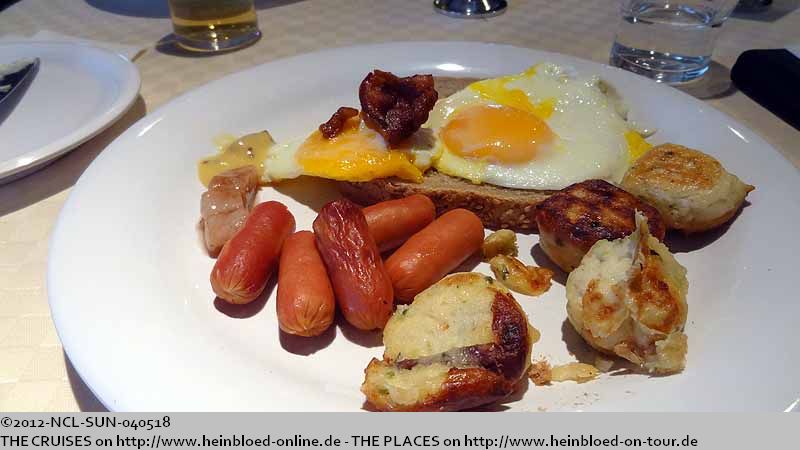 Das gelingt mir noch zusammenzukratzen.
Um 09.30 Uhr werden wir aufgefordert das Restaurant zu verlassen, da man bereits um 10.30 Uhr das Mittagessen servieren möchte.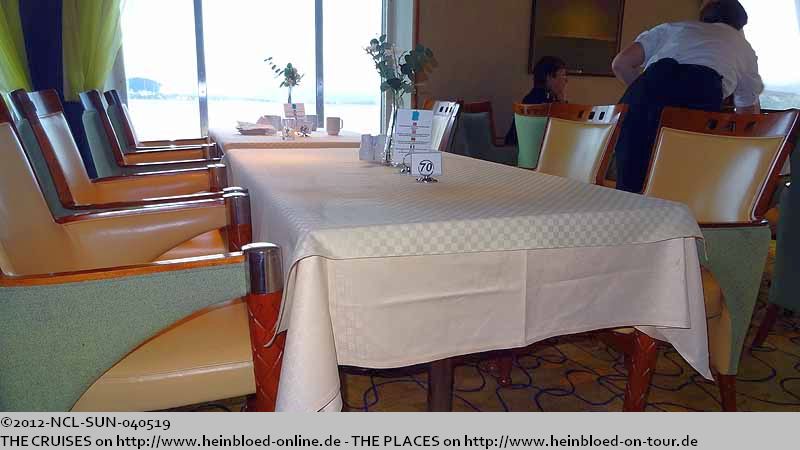 At 09.30 hrs we were asked to leave the restaurant as they need to prepare the restaurant for lunch at 10.30 hrs.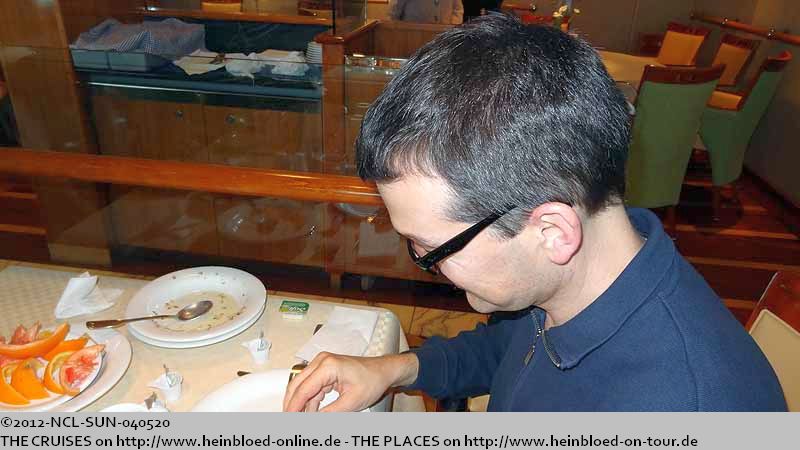 Als wir um 09.40 Uhr noch in Ruhe frühstücken, fängt man kurzerhand an, das Geschirr vom Tisch zu räumen, während wir frühstücken. Da wir eh nicht die Absicht haben, nochmals mit Hurtigruten zu fahren, reklamieren wir auch nicht. Wir sind nur noch froh, wenn wir von Bord sind.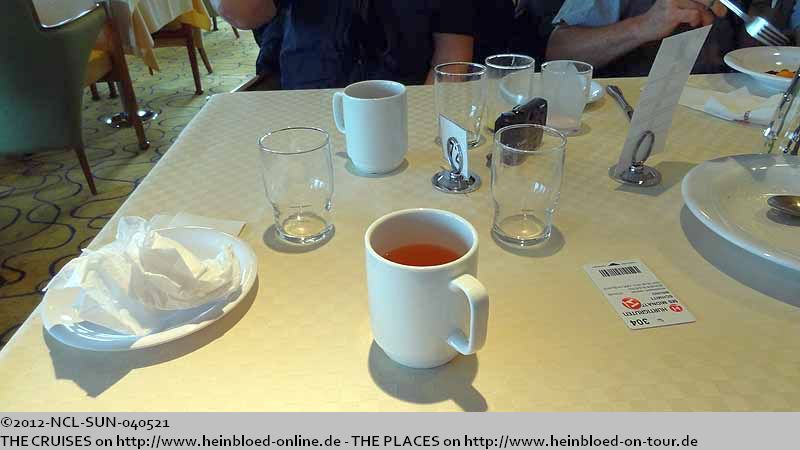 When we did not leave at 09.40 hrs they started to clear our table while we were still eating. As we have no intention to return to Hurtigruten, we did not claim. We were just happy to leave the ship.

It was interesting to see that they prepared fresh plates for the lunch buffet. But nobody saw a need to sort out the dirty plates which the dishwasher could not handle and return them to the galley. So the lunch guests could get some freshly cleaned seeds from the breakfast together with the lunch.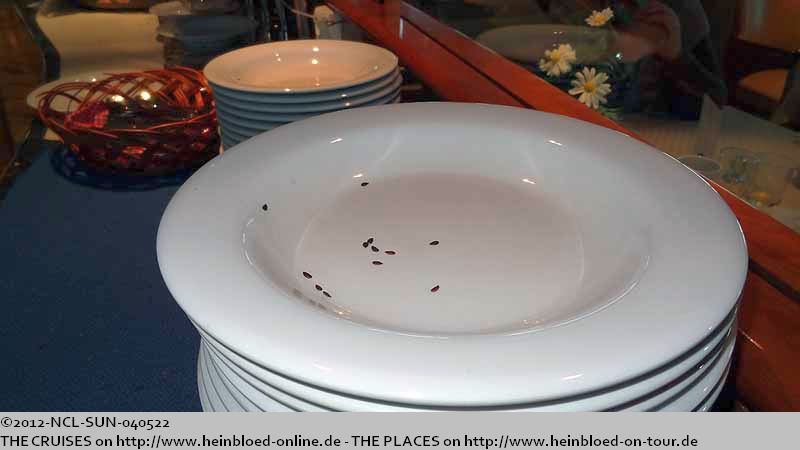 Interessanterweise bekommen wir mit, wie für das Mittagsbüffet die frischen Teller aufgebaut werden. Niemand hält es für nötig die dreckigen Teller, die nicht sauber aus der Spülmaschine gekommen sind, auszusortieren und in die Küche zu bringen. Dann bekommt eben der Gast, der zum Mittagessen kommt, ein paar Körner frisch gewaschen mit zum Essen!
Da es in Aalesund einen planmäßigen Aufenthalt von 45 Minuten gab, ging es nur mit wenigen Minuten Verspätung weiter. Unterwegs bekommen wir mit, dass wir das 2. von 11 Schiffen sind, das in den Hjörundfjord fährt. Vom Wetter her, sah es leider nicht so toll aus. Leider bekamen wir auch nichts von der NORWEGIAN SUN zu sehen. Beide Schiffe liegen so verstreut in Aalesund, so man nicht aneinander vorbeifährt.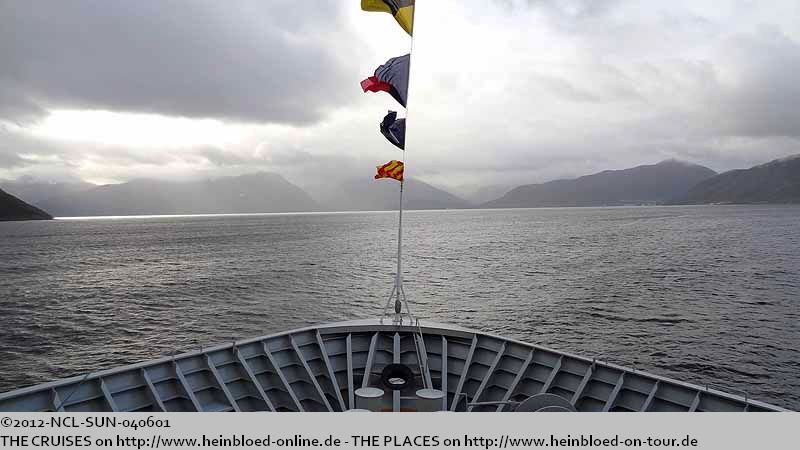 As there would be a scheduled longer call in Aalesund of 45 minutes we left the port only with few minutes delay again. On the way, we learned that we were the 2nd of 11 ships which make the call into the Hjörundfjord. It did not look to good regarding the weather. Unfortunately, we had no chance to see NORWEGIAN SUN. Both ships berthed in a different part of the city so that they did not pass each other.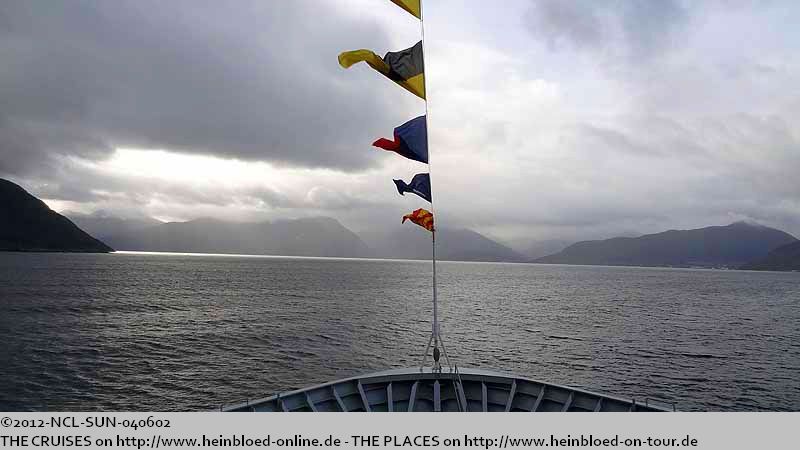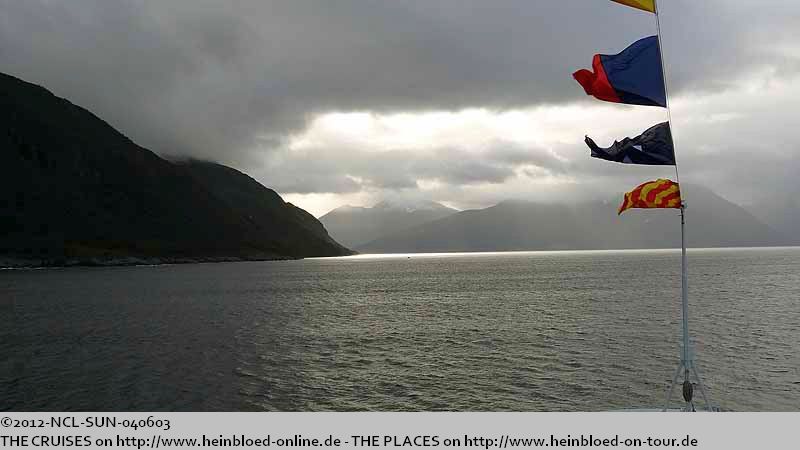 You even could see the snow on the peaks.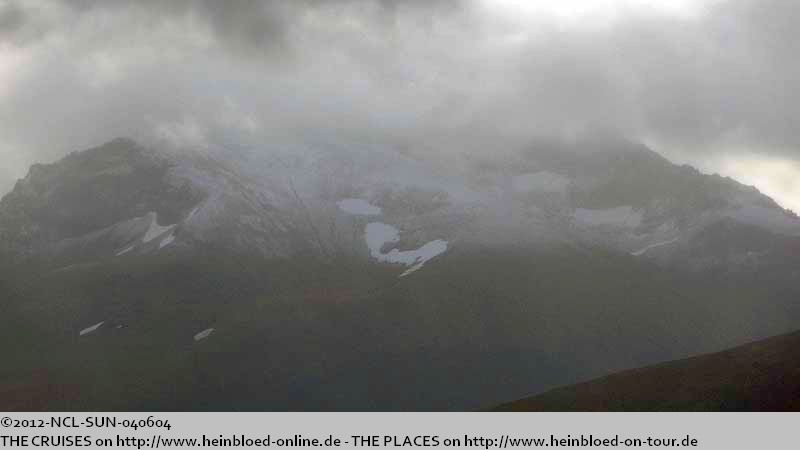 Sogar Schnee gab es auf den Gipfeln zu sehen.

And finally we entered into: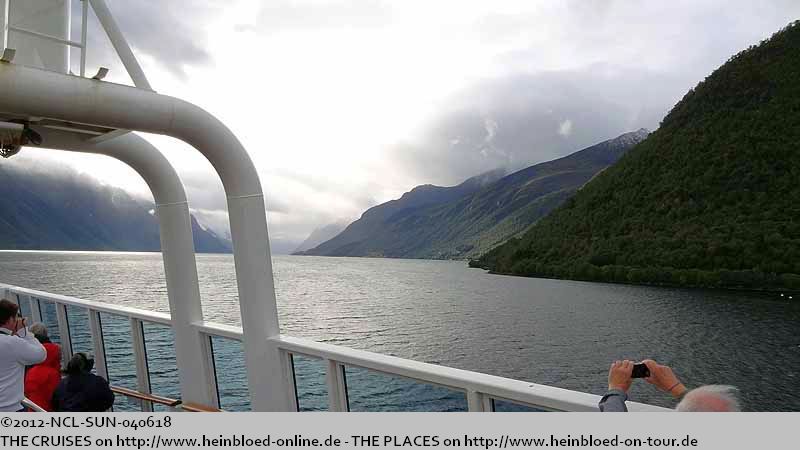 Und endlich ging es hinein:
Hjörundfjord und die Sunnmöre-Alpen
. Ein eher seltenes Ziel der Kreuzfahrtschiffe. Es gab Erläuterungen, aber dadurch, dass es draußen ziemlich windig war: kaum zu verstehen. Zumal sich die Lektorin selbst erst mal orientieren musste, weil sie ja auch zum ersten Mal hier war.

Hjörundfjord and the Sunnmöre-Alps. It was a rare destination of the cruise ships. We got explanations but as it was outside quite windy we could not understand too much. And the lector herself was the first time here too she needs some moments for orientation.

As far as we could we enjoyed the view. No idea if it was so spectacular as announced by Hurtigruten: yeah... but in direct comparison to two UNESCO World Heritage Geirangerfjord and Naeröyfjord... difficult to say. It was a nice fjord ride, and we would have missed something if we would not do a fjord ride during our stay in Norway.

Nun, soweit wie wir können, genießen wir den Anblick. Ob es nur so spektakulär war, wir Hurtigruten immer diesen Fjord angekündigt hat: ja... aber im direkten Vergleich zu zwei UNESCO Weltkulturerbe Geirangerfjord und Naeröyfjord... schwer zu sagen. Schön war die Fjordfahrt allemal und wir hätten etwas vermisst, wenn wir in Norwegen gewesen wären, und nichts von einem Fjord mitbekämen.
Diese zugefrorenen Bäche gibt es, weil dort die Sonne niemals hinkommt.

The frozen streams were because there was no sun all over the year.

And soon the shoreside tender boat arrived.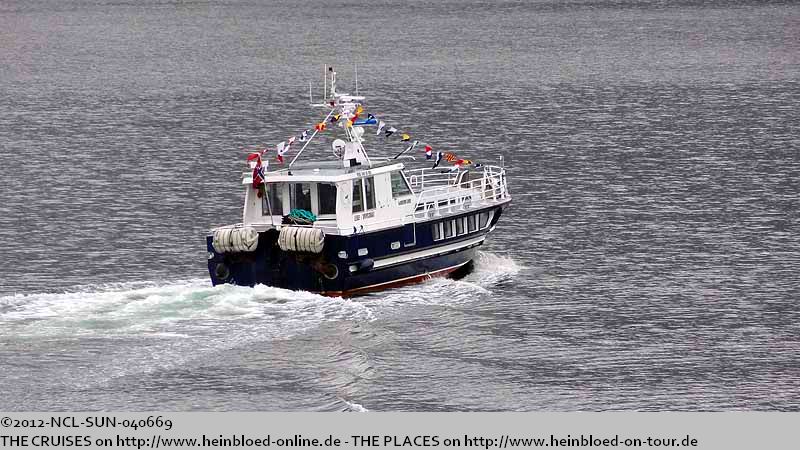 Und bald taucht auch das landseitige Tenderboot auf.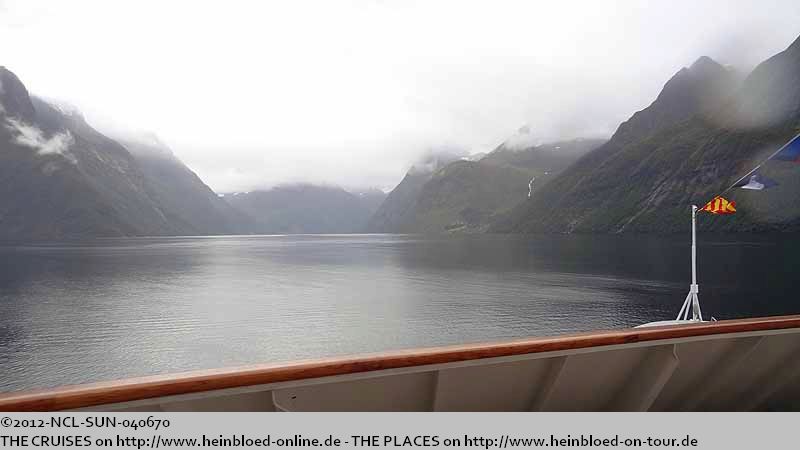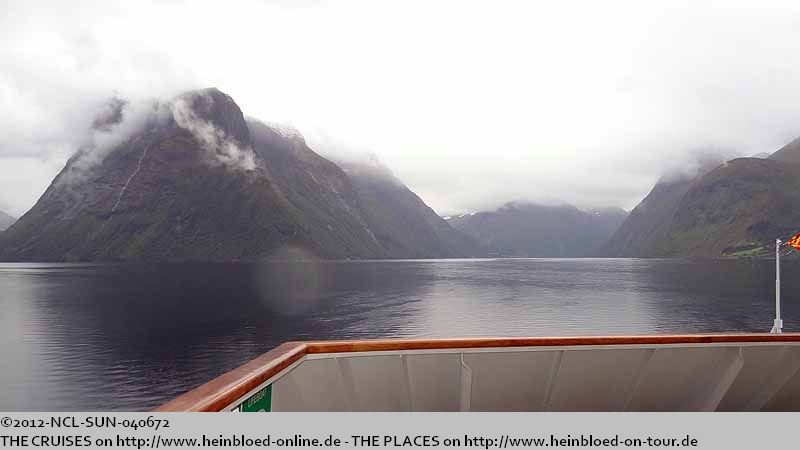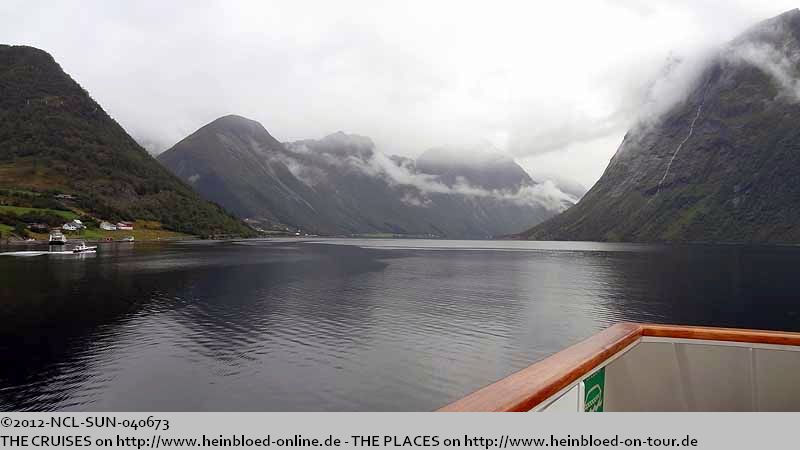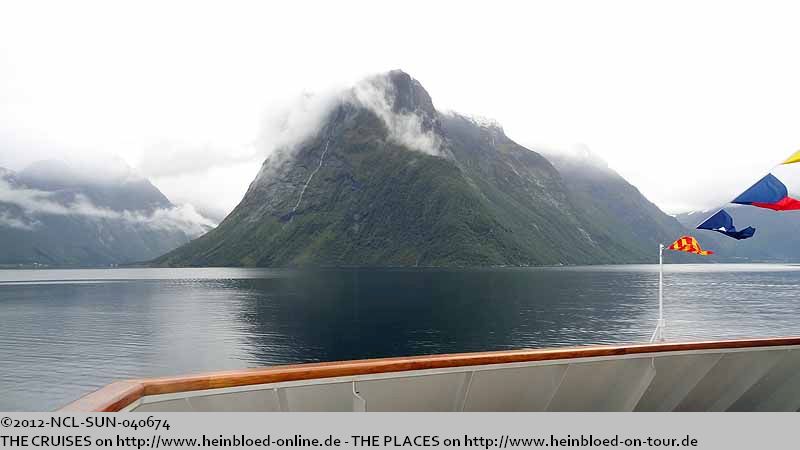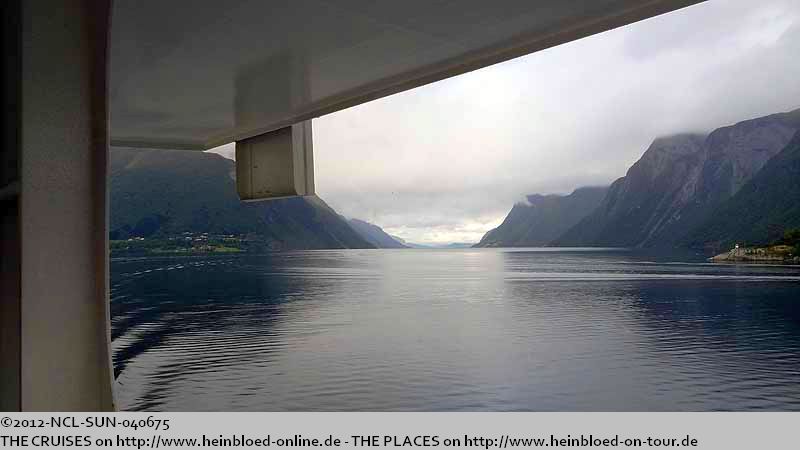 Und das ist wohl Urke International Cruise Terminal...

This should be Urke International Cruise Terminal...
Die anderen Reisen in diesem Blog/
The other voyages in this blog: