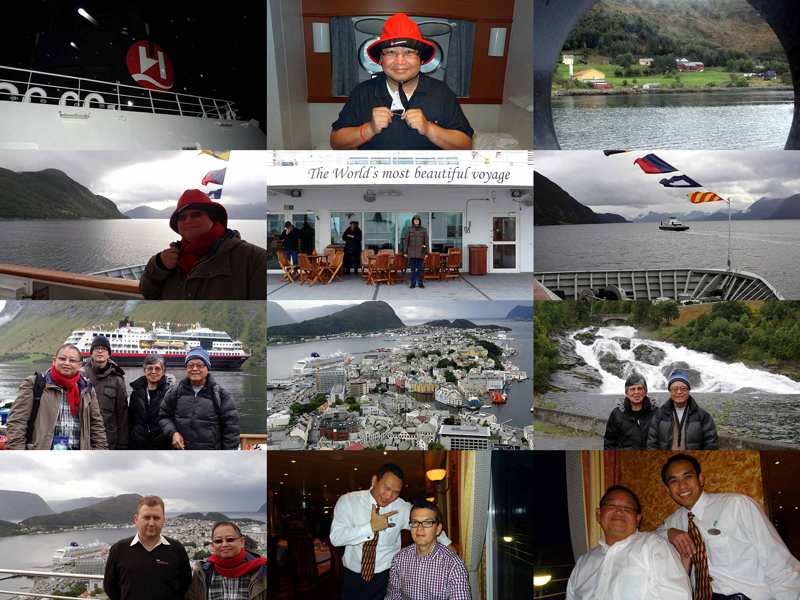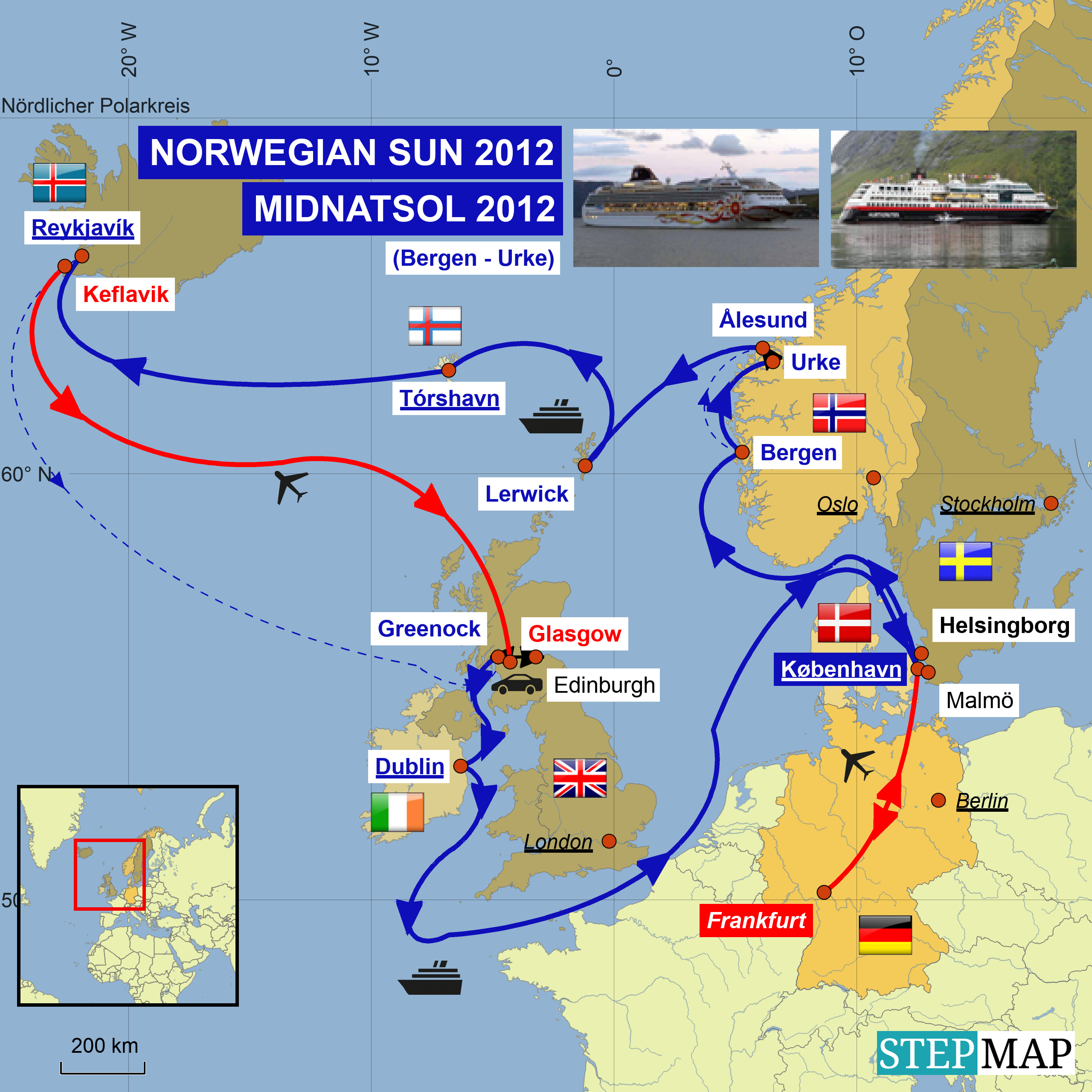 So richtig konnten wir die Fahrt nicht genießen. Meinen Top Nr. 1 Platz am Bug des Schiffes musste ich aufgeben, weil ich ausgerufen wurde.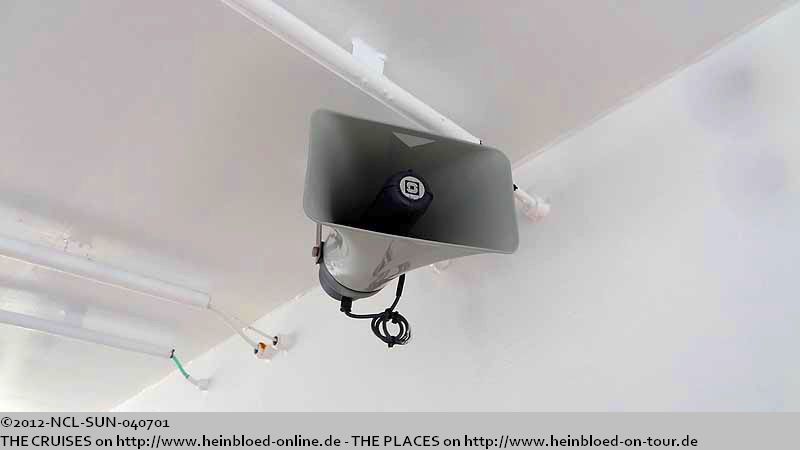 We could not really enjoy the ride. My Top No. 1 place at the bow of the ship I had to give up because I was paged.

They told us that we had to clear our cabin. That we got permission from Narvik to stay until Urke did not mean that we could keep our cabin. They did not tell us, but we were told that it was quite easy to know: we could keep our cabins if there is Aalesund 2 printed on the card. Was very clear. Frances and Eddie had luck. They could keep their cabin because the passengers did not show up in Aalesund.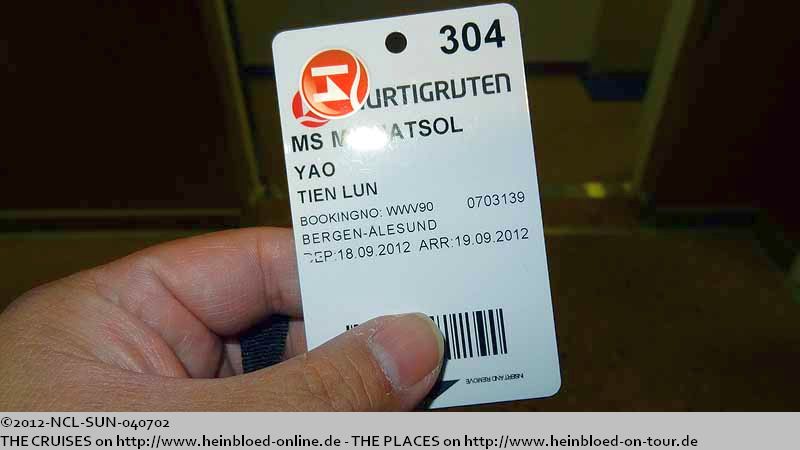 Uns wurde gesagt, dass wir unsere Kabine räumen müssen. Dass Narvik uns gestattet hatte bis Urke mitzufahren, hieß nicht, dass wir auch die Kabinen behalten durften. Uns hat man zwar nicht informiert, aber es hieß, dass man das ganz einfach sieht, wenn wir die Kabinen behalten dürfen: dann würde Aalsund 2 auf der Karte stehen. Ist ja naheliegend. Frances und Eddie hatten Glück. Ihre Kabine durften sie behalten, weil die Passagiere in Aalesund nicht aufgetaucht sind.
Aber auch diese Kabine durften wir nicht bis zum Ende der Fahrt behalten... Die deutsche Gruppe musste als erster raus: deswegen war es naheliegend, dass man weit vor der angekündigten Zeit sich schon versammelt und alles blockiert.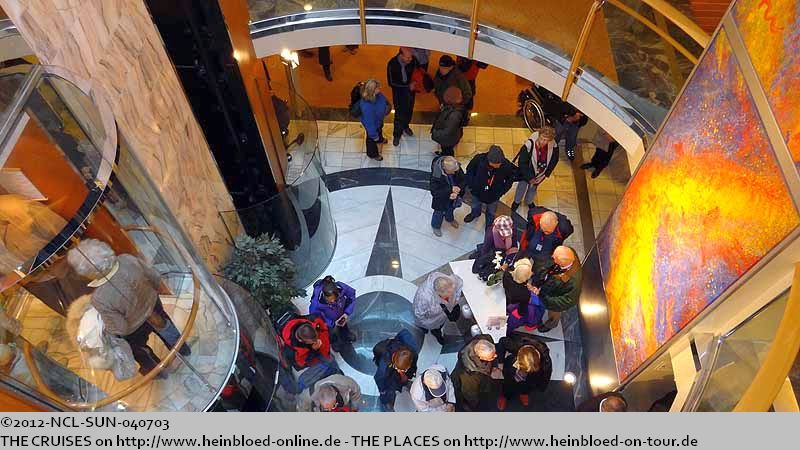 But we were not allowed to keep this cabin until the end of the voyage... The German group need to go first: that was why it was normal that they had to wait long before schedule at the meeting point and blocked everything.

We should attach us to the English group at 11.40 hrs.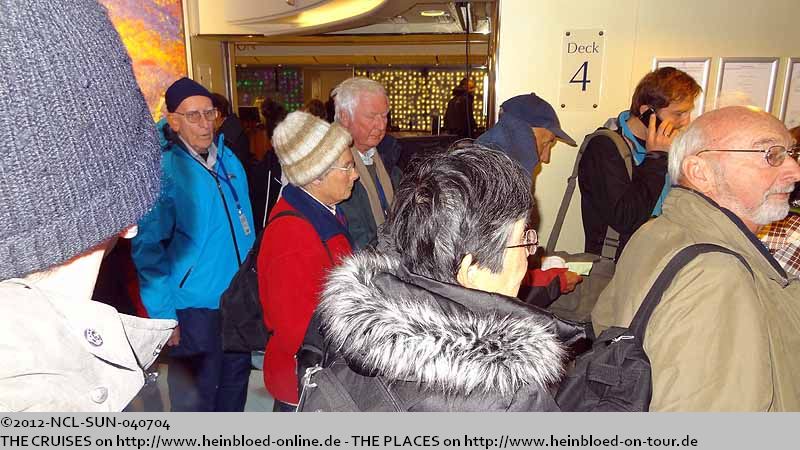 Wir sollten uns um 11.40 Uhr der englischen Gruppe anschließen.
Weil unsere Kabinen aber auf Deck 3 lagen und der Ausgang zum Tenderboot auch, durfte man eben ab einer bestimmten Zeit nicht mehr die Kabinen betreten und so wurde dieses Mal Frances vorzeitig ausgerufen, um unser ganzes Gepäck rauszuholen.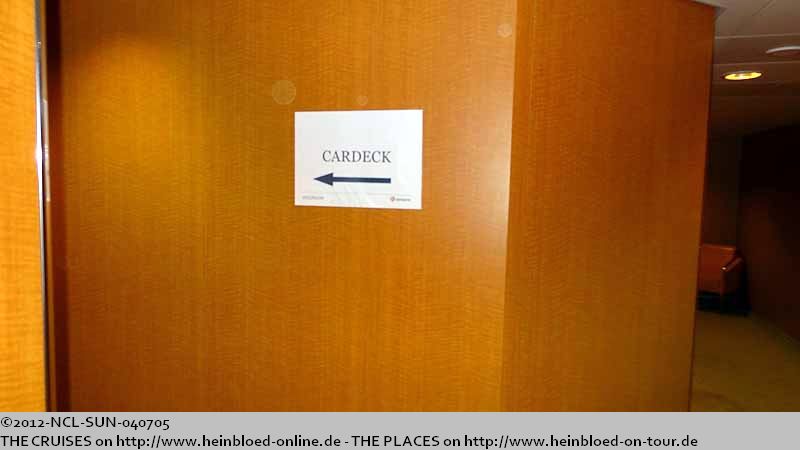 Because our cabins were on Deck 3 and the exit to the tender boats to you was not allowed anymore to access your cabin from a particular time. So this time Frances was paged to clear the cabin with all our baggage.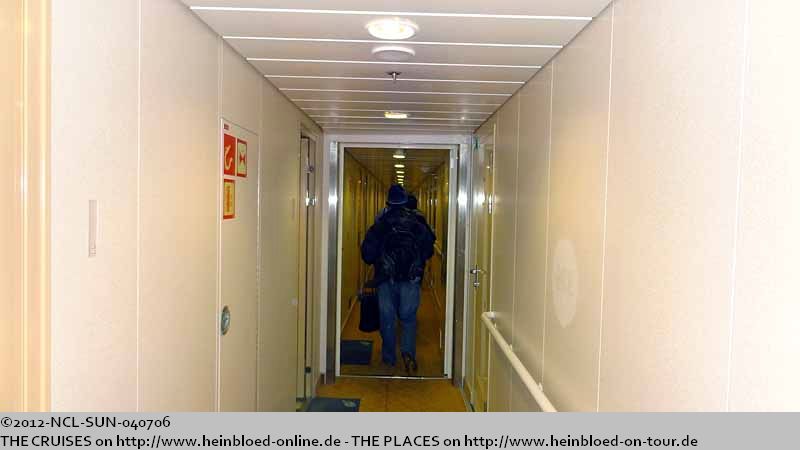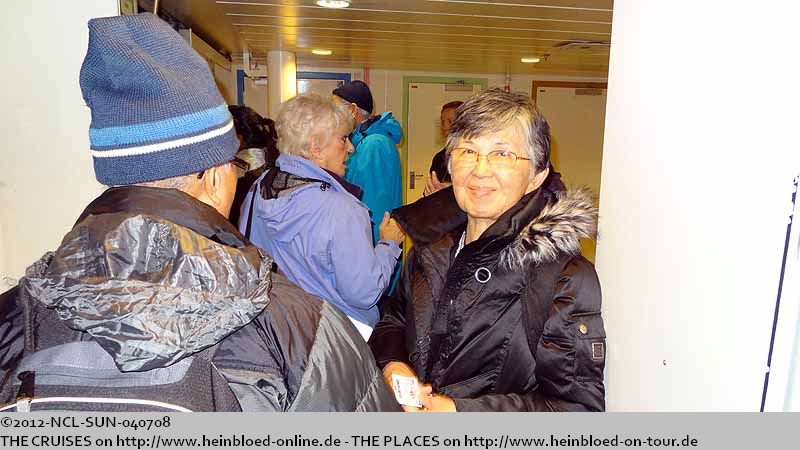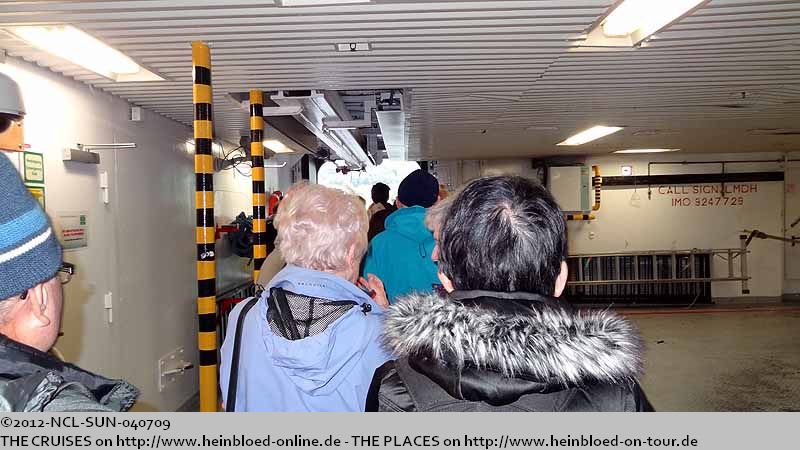 The ship went the wrong way: You could read Geiranger at the right side of the top. So it was displayed as well in the online booking system: Geiranger with the remark that the call would be in Öye instead. But when we refer to this information Tallinn just withdraw the call in the booking system. The red-marked on the left were by the fact Eddie and Frances' cards which became invalid when checking-out. It was due to the 3rd card which I got to store the bags. But nobody took care anymore as long as we leave the ship soon.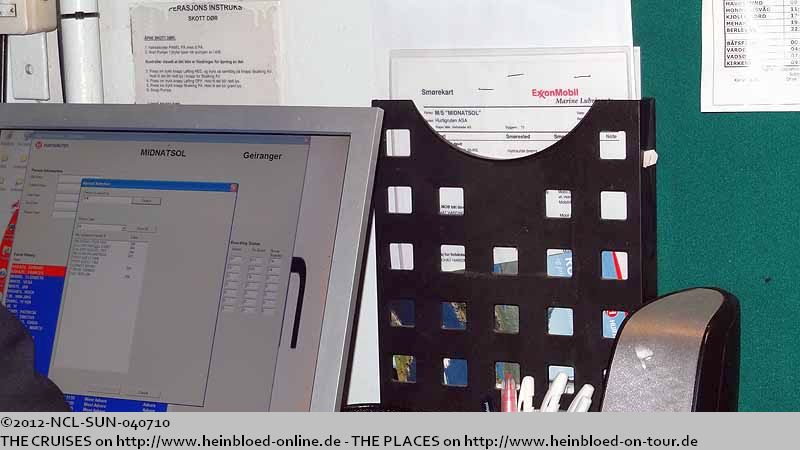 Das Schiff hat sich doch verfahren: Oben rechts steht Geiranger. So stand es auch mal für wenige Tage im Buchungssystem: Geiranger mit Bemerkung, dass stattdessen Öye angelaufen wird. Aber weil ich mich darauf berufen habe, dass es möglich ist, hat Tallinn kurzerhand den Halt wieder aus dem System genommen. Das rot-markierte links sind übrigens Eddie und Frances, deren Karten beim Auslesen ungültig waren. Ich bekam eine 3. Karte, um unser Gepäck einzustellen. Aber das war denen dann auch egal: Hauptsache wir sind endlich von Bord.
Interessant, was alles im Ladedeck so steht und hinten rechts in der Ecke stehen auch tatsächlich Autos. Nur hier in Urke kann man es nicht an Land bringen lassen, sonst hätte ich ja in Aalesund eines mieten können und dann selbst mit dem Auto von hier wieder zurückfahren können.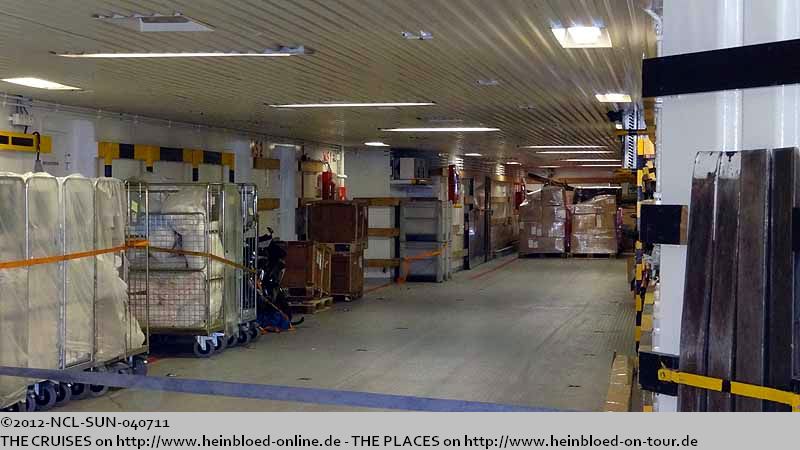 Interesting what you could find on the loading deck and at the end to the right you also see cars. But you cannot move your vehicle in Urke from the ship to the shore otherwise I could just rent a car in Aalesund and return there again at the end of the day.

The access to the tender boat was somehow strange: you had to jump on the bow.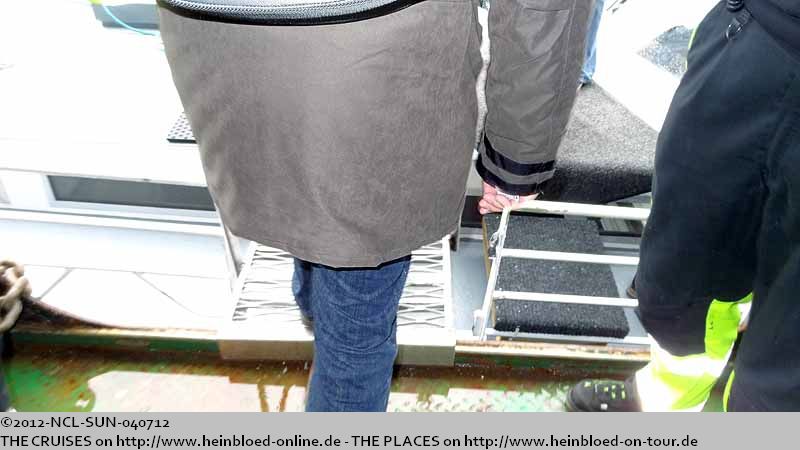 Ungewöhnlich war der Zustieg auf das Tenderboot: auf den Bug drauf.
Dann zur Seite runter.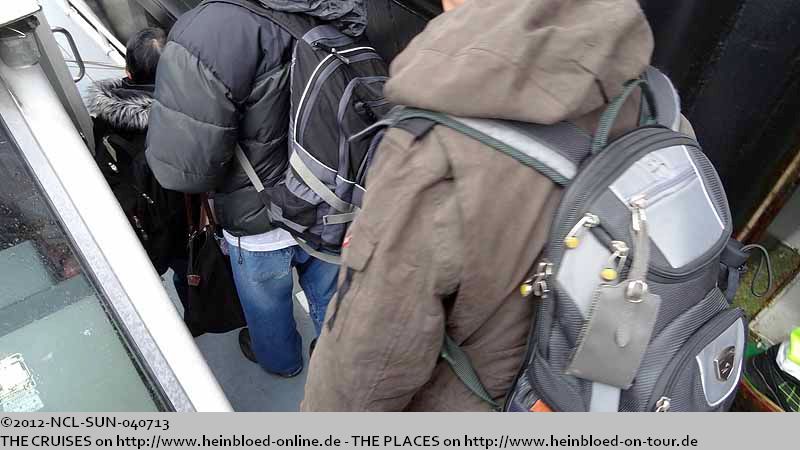 And then descent at the side.

But it was the most comfortable tender boat we ever experienced so far.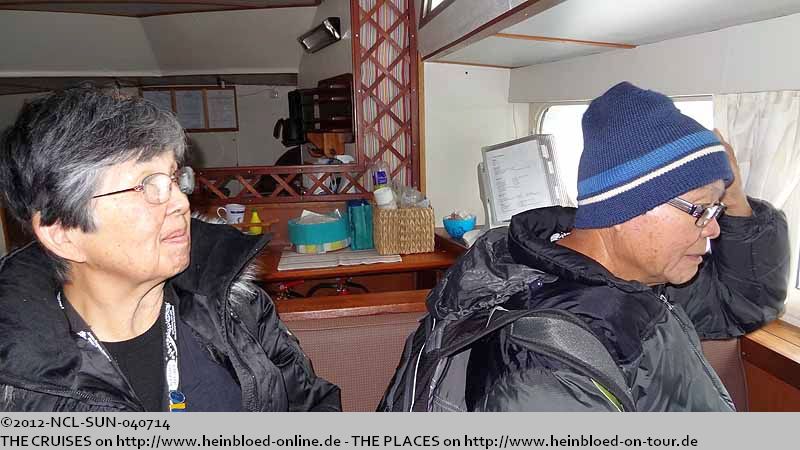 Und dann waren wir im gemütlichsten Tenderboot, das wir bislang kennen.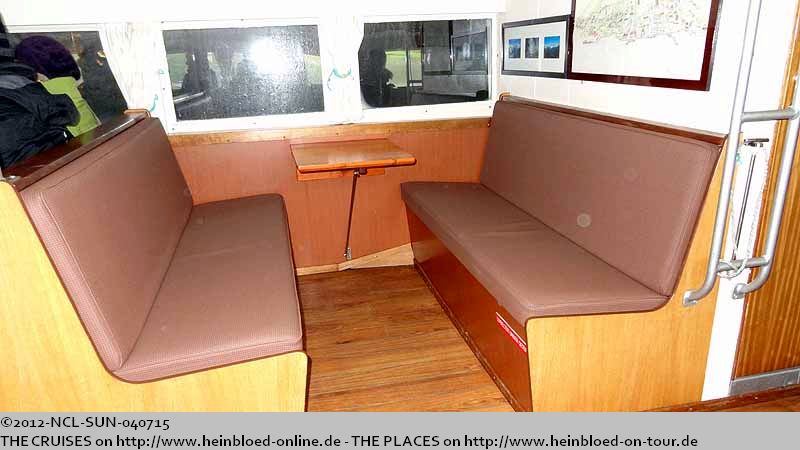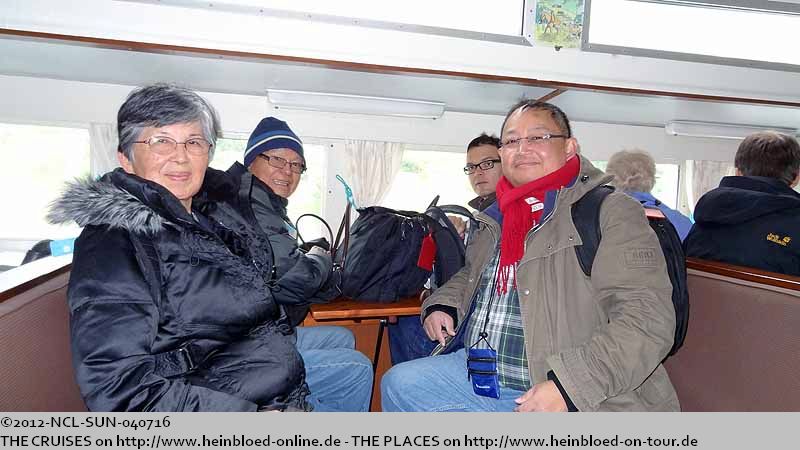 Und man merkt: auf so einen großen Ansturm war man gar nicht vorbereitet.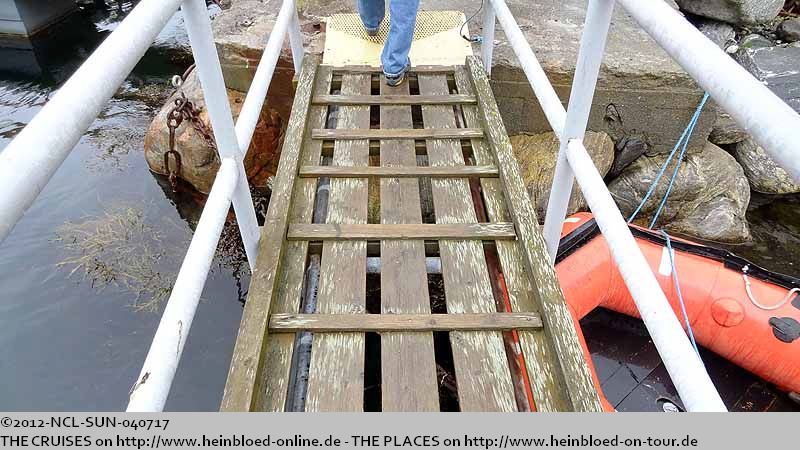 And you could see: they were not so prepared to have so many passengers.

The last view to the MIDNATSOL.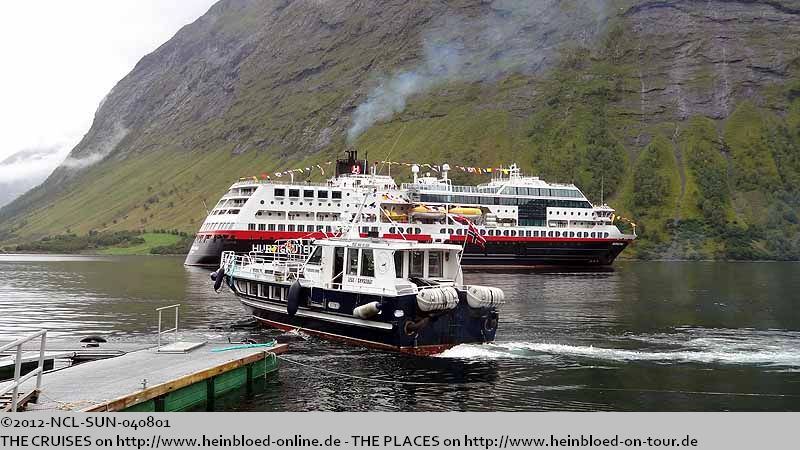 Und noch ein letzter Blick auf die MIDNATSOL.
Je öfters ich mit Kreuzfahrtschiffen unterwegs bin und je öfters ich den Service und alles auf den Schiffen genieße, desto weniger bin ich bereit Kompromisse einzugehen. Leider heißt es auch: so schön, wie Norwegen sein möge: Ich möchte es nicht mit Hurtigruten entdecken und schon gar nicht, wenn kein Edvard Grieg auf dem Deck gespielt wird, sondern "Born in the USA" von Bruce Springsteen.

The more we are going on cruise ships and the more often we enjoy the service and everything around the cruise ship the less I am willing to accept compromises. But that also means: as beautiful as Norway might be: I do not want to discover it on Hurtigruten. Especially not when they do not play Edvard Grieg on deck but "Born in the USA" by Bruce Springsteen.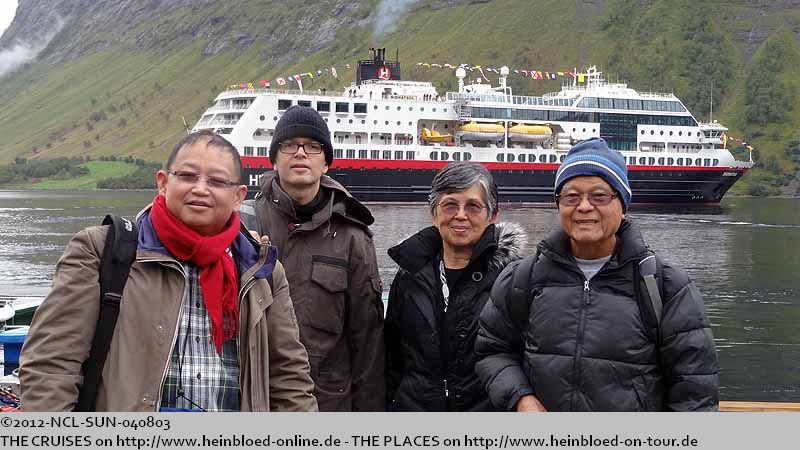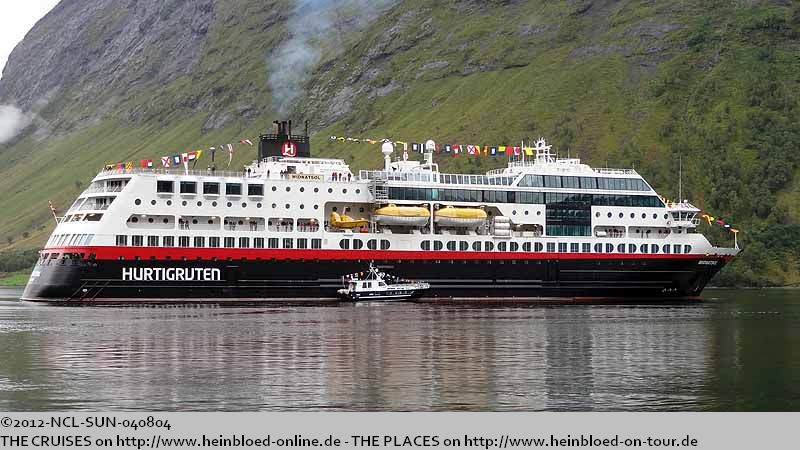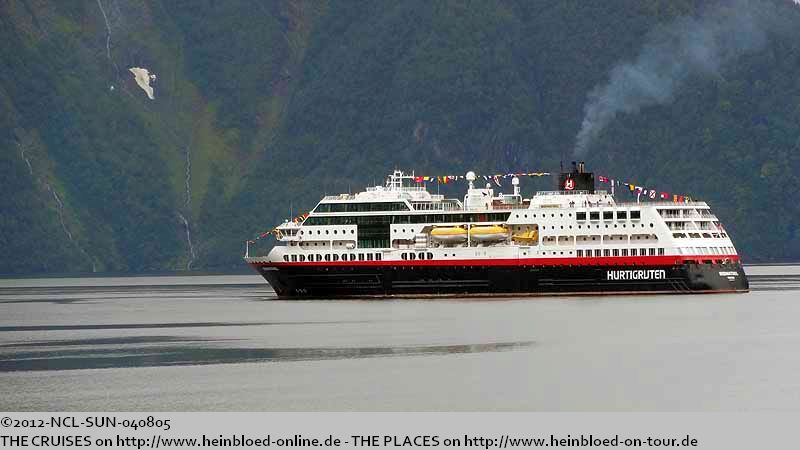 Stadtmitte... in einem Ort mit 130 Einwohnern.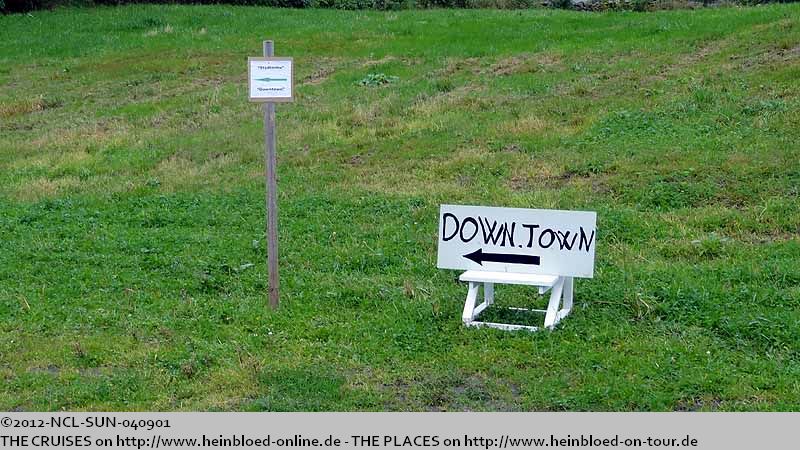 Downtown... in a village of 130 inhabitants.

Why not the day before but today: The Norwegian TV NRK reported about the call of MIDNATSOL in Urke.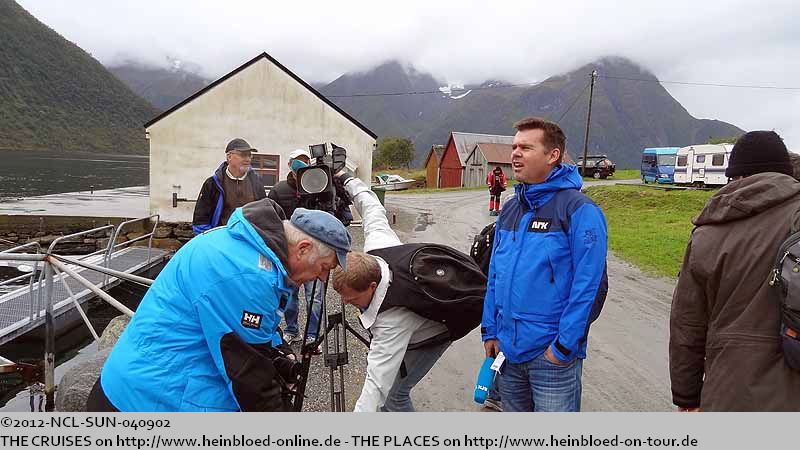 Warum nicht gestern, sondern erst heute: Das Norwegische Fernsehen NRK berichtet über den Anlauf der MIDNATSOL in Urke.
Unser Taxi steht schon da: Wir haben es bei
Hellesylt Taxi
bestellt. Auch per E-Mail zu erreichen
info@hellesylttaxi.no
.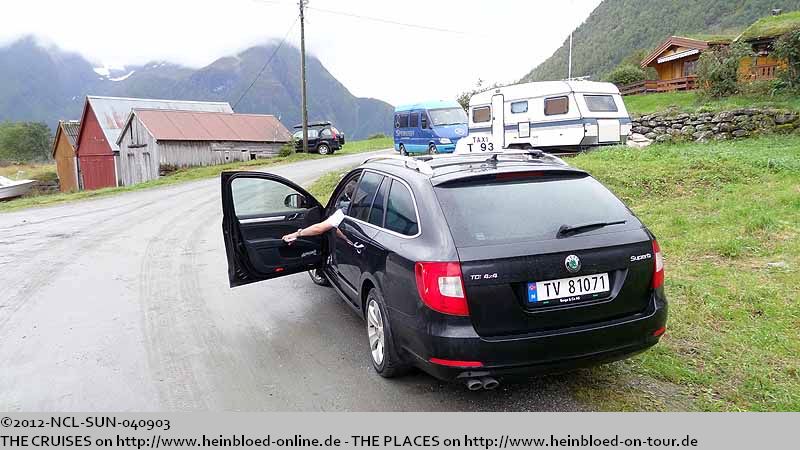 Our taxi was waiting for us: We booked with Hellesylt Taxi. You can reach them by info@hellesylttaxi.no.

We got some background information on the Hurtigruten-calls in the Hjörundfjord: Hurtigruten and the local authorities in Geiranger had a fight. For each passenger, you had to pay a fee, but Hurtigruten refused all the years to pay and so they had a trial in a Norwegian court. Hurtigruten is not well settled fiscally and if they need to pay the fee for several years, it might not look to good for Hurtigruten. So they were looking for an alternative to Geiranger for the next season. At the moment it was a trial period. They could not offer any excursions in Geiranger, but here they have plenty of time for tours, and they want to test the acceptance of the trips and of the call.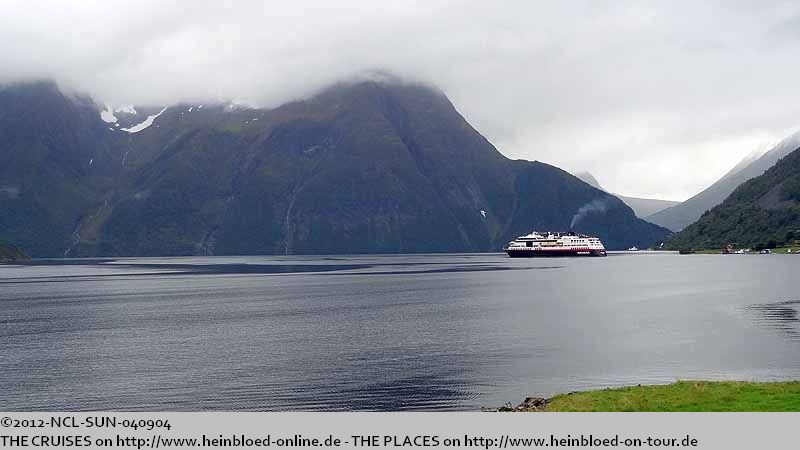 Uns erklärt man auch den Hintergrund der Hurtigruten-Anläufe im Hjörundfjord: Hurtigruten und die lokalen Behörden in Geiranger haben sich zerstritten. Für jeden Fahrgast wird eine Abgabe erhoben, die Hurtigruten nicht zahlen will und weshalb man im Moment einen Rechtsstreit vor Gericht führt. Hurtigruten geht es finanziell eh nicht gut und wenn sie für mehrere Jahre die Abgaben nachzahlen sollen, kann es ganz schön finster für sie aussehen. Deswegen suchen sie eine Alternative zum Geirangerfjord in der nächsten Saison. Im Moment testet man das Angebot. Im Geiranger konnten ja keine Ausflüge angeboten werden. Aber hier hat man ja mehrere Stunden Zeit, um ggfls. eben auch Ausflüge anbieten zu können und dieses Angebot will man testen.
Wir kommen am
Hotel Union Öye
vorbei. Frances möchte hiervon ein Bild machen, weil es soviel Geschichte hat.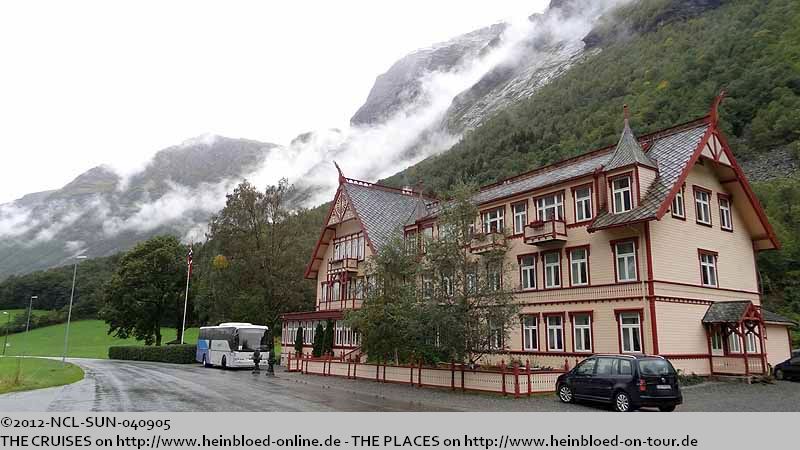 We passed the Hotel Union Öye. Frances would like to take a picture because it has so much history.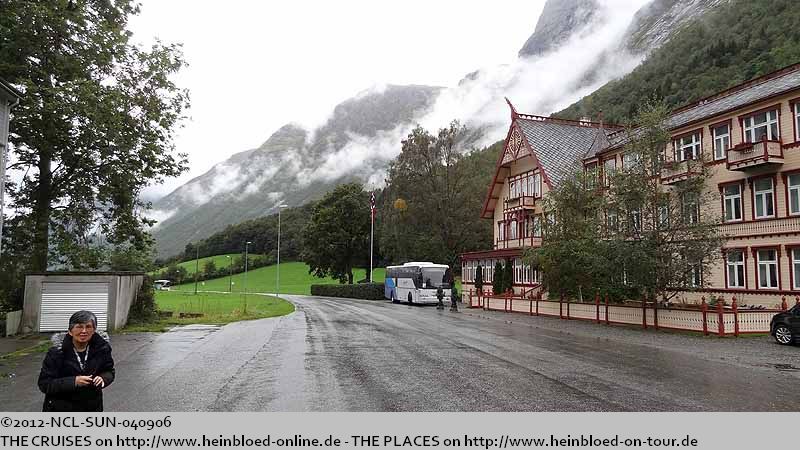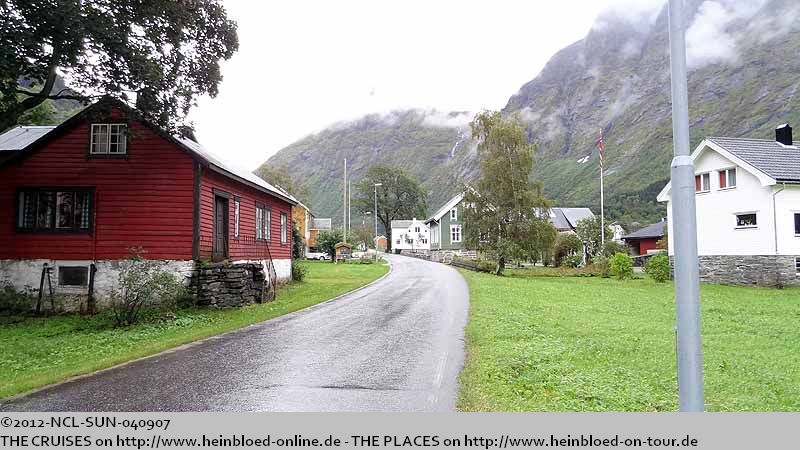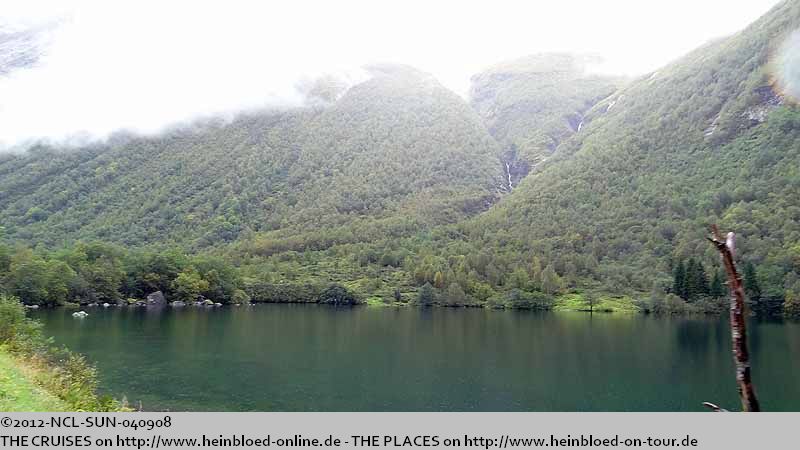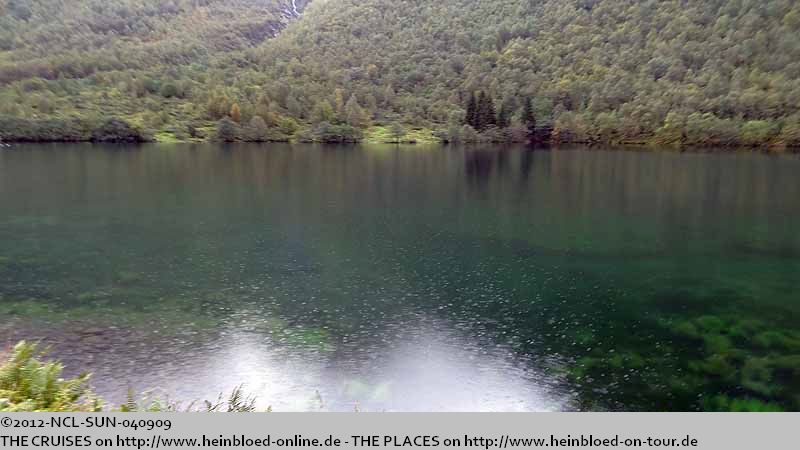 Our driver Hassan stopped for a moment to show us the underground of the lake.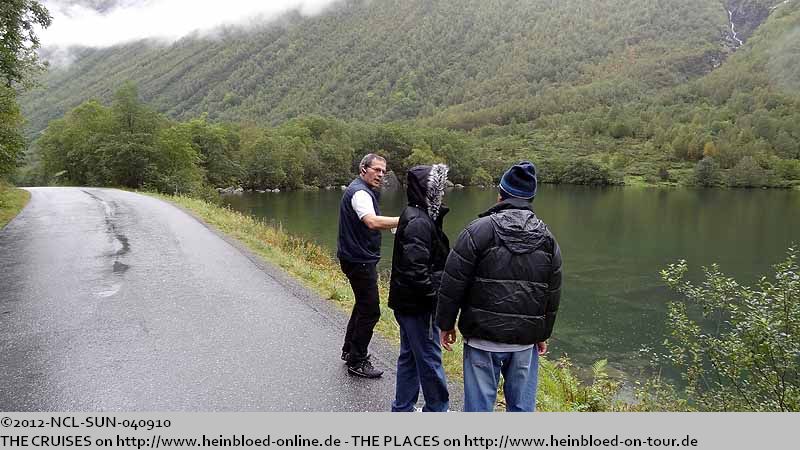 Unser Fahrer Hassan hält mal kurz an und zeigt uns den Untergrund des Sees.
Hier stand ein Bauernhof, der in dem Fluß untergegangen ist, als ein Fels sich gelöst hat und dadurch der Fluß umgeleitet wurde.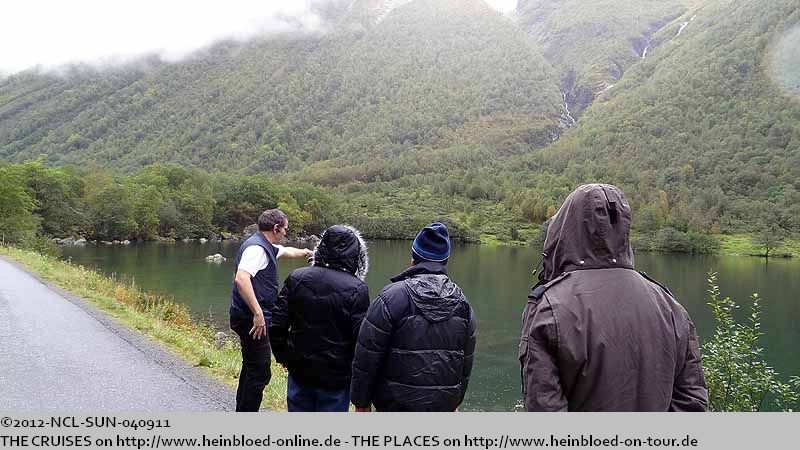 Here was a farmhouse which disappeared in the river because a rock lifted and diverted the river.

You could still see the base wall of the farmhouse.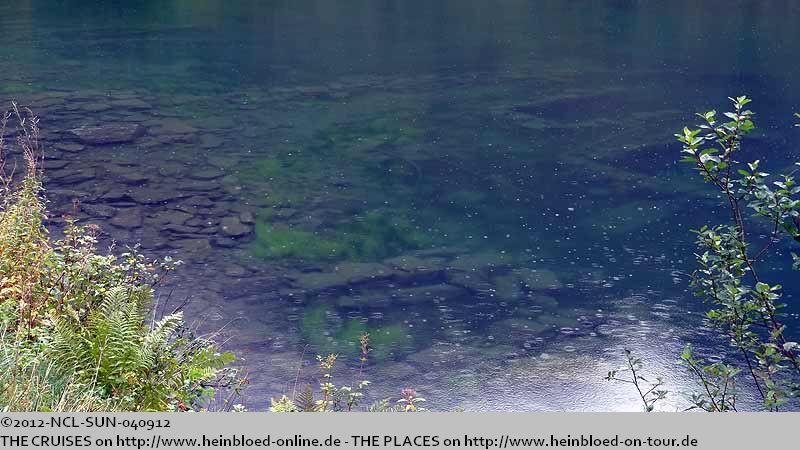 Hier sieht man noch die Grundmauern des Bauernhofs.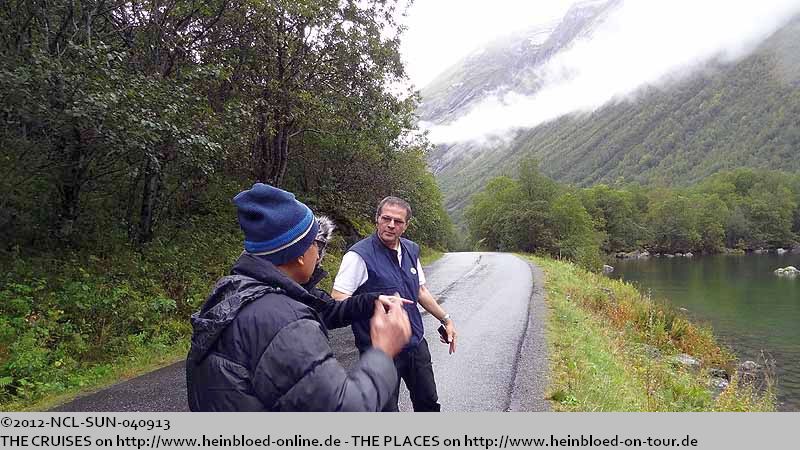 We escaped when the bus arrived.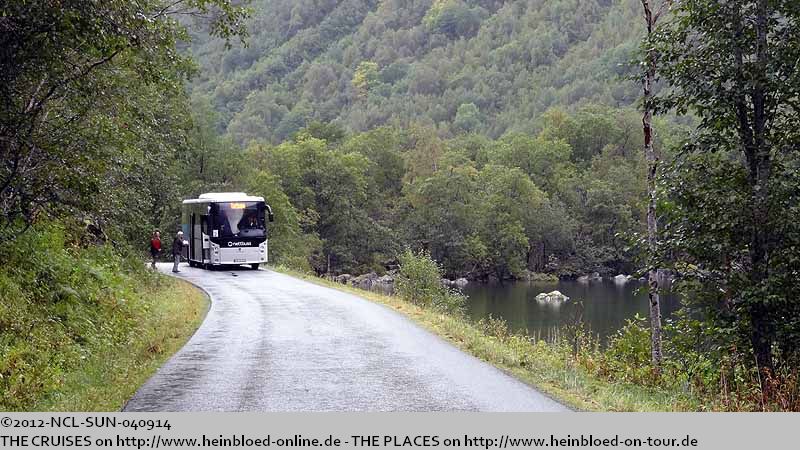 Wir verschwinden, als der Bus kommt.
Unterwegs genießen wir die Landschaft.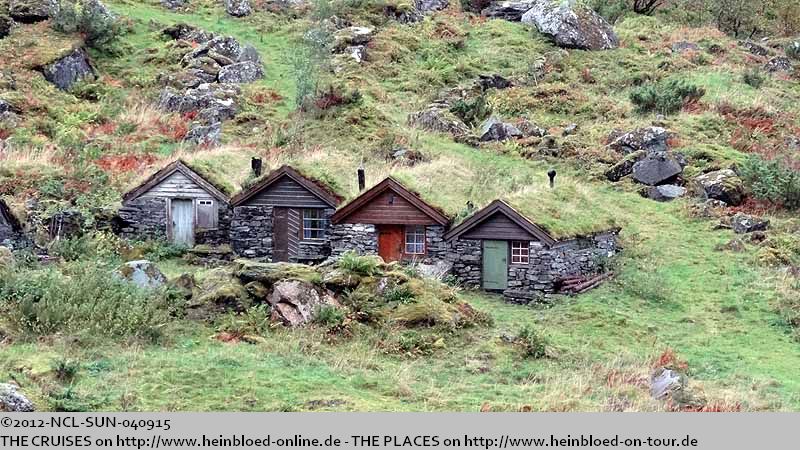 We enjoyed the landscape along our route.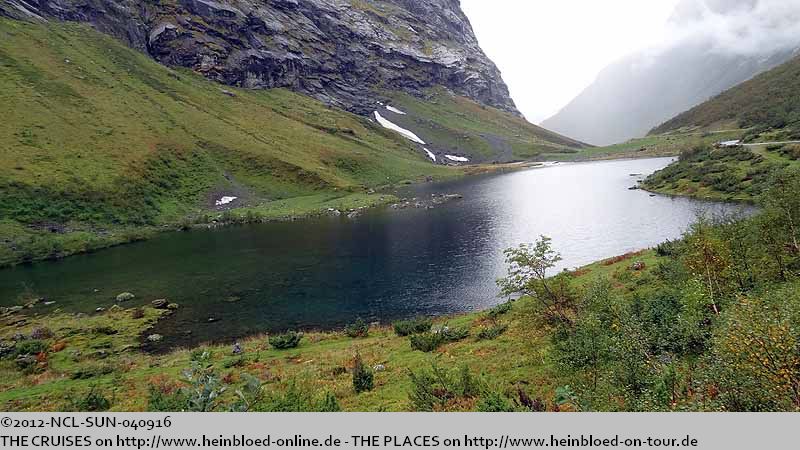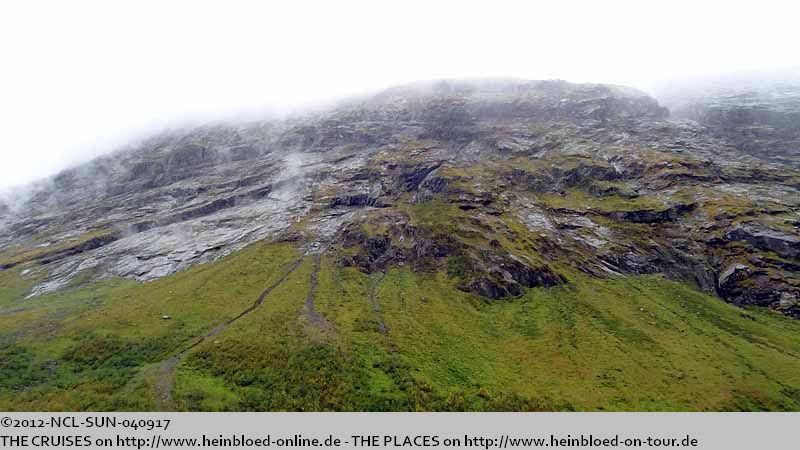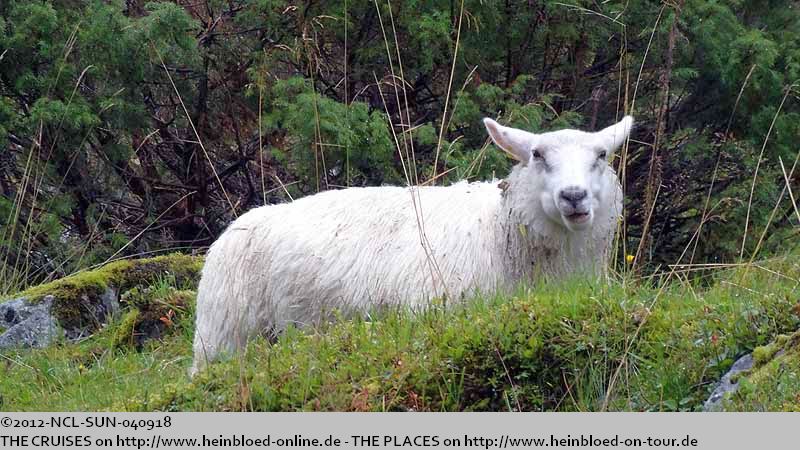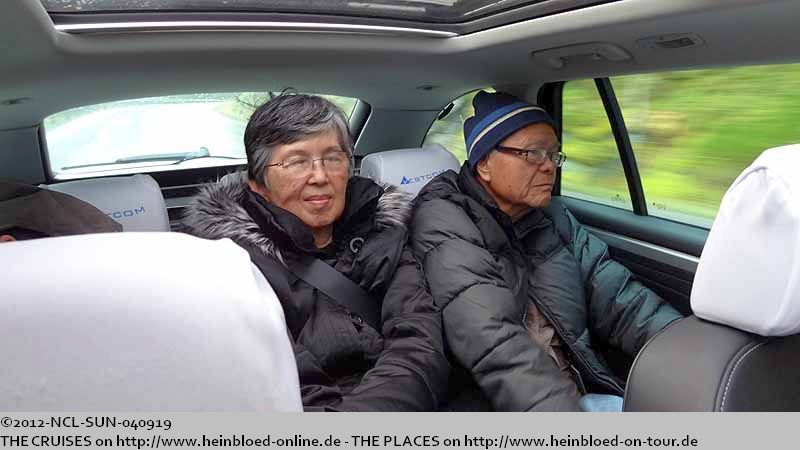 We stopped for a moment in Hellesylt to take few pictures of the waterfall.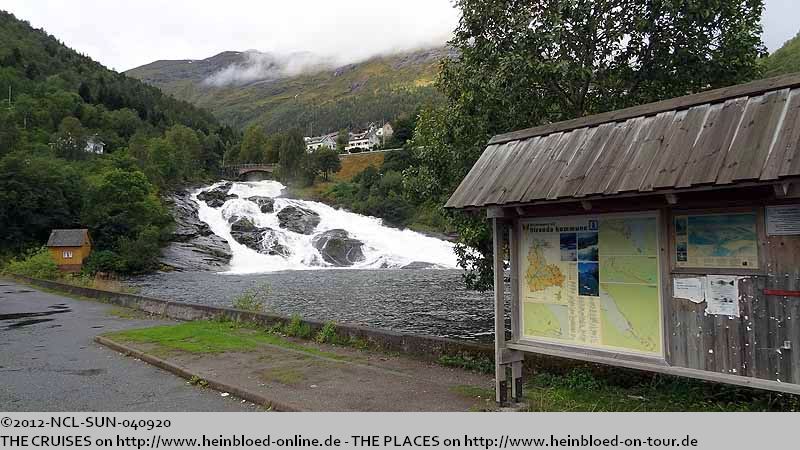 In Hellesylt halten wir kurz, um ein paar Bilder vom Wasserfall zu machen.
Aber Hassan sagt, dass das Niedrigwasser ist. Normalerweise sind die Felsen nicht zu sehen.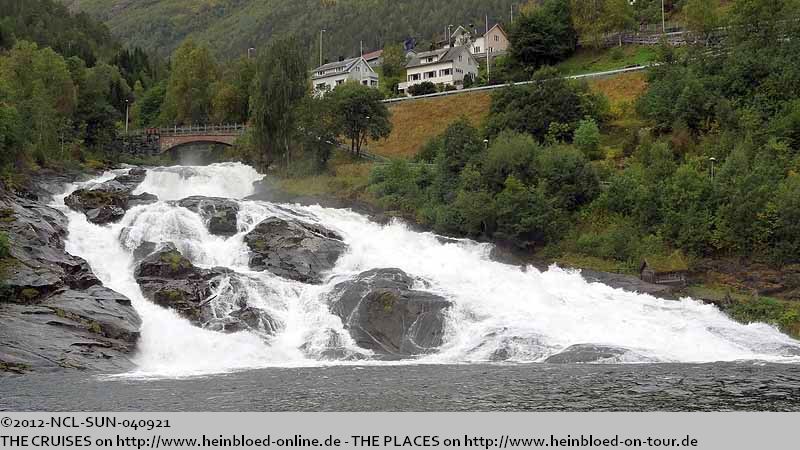 But Hassan said that this was low water. Normally you cannot see the rocks.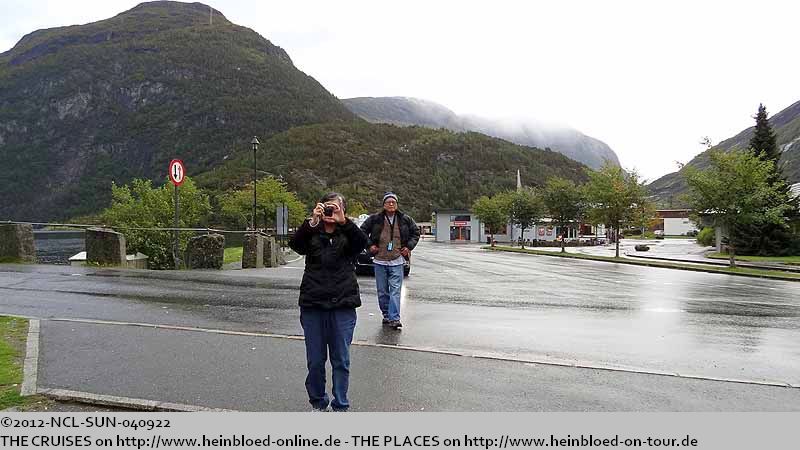 Wir sind trotzdem begeistert.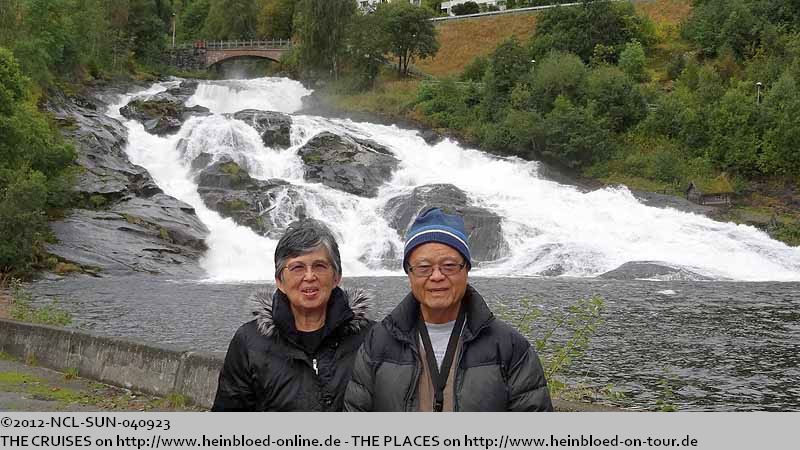 But we were just exited.

Hassan bietet von Hellesylt auch Touren für Kreuzfahrer an, die hier in anlegen und ggfls. Gäste von Bord lassen und bringt sie nach Geiranger zurück.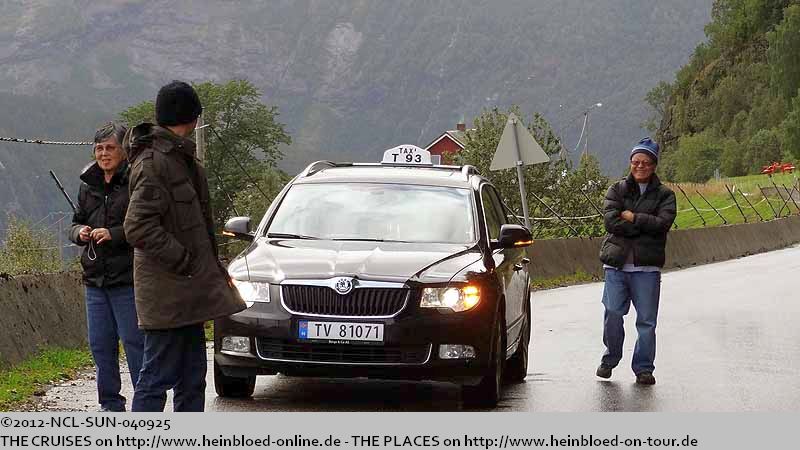 Hassan also offers tours for cruisers out of Hellesylt subject the cruise ship let them ashore and would take them back to Geiranger.

We stayed on the road above to see into the UNESCO World Heritage Geirangerfjord.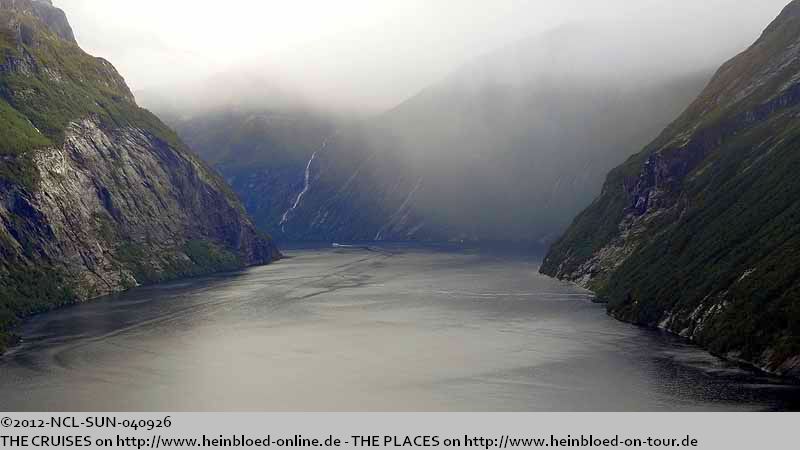 Oben bleiben wir auf der Straße stehen, um in den UNESCO Welterbe Geirangerfjord zu sehen.
Im Moment wird eine Plattform für Touristen gebaut.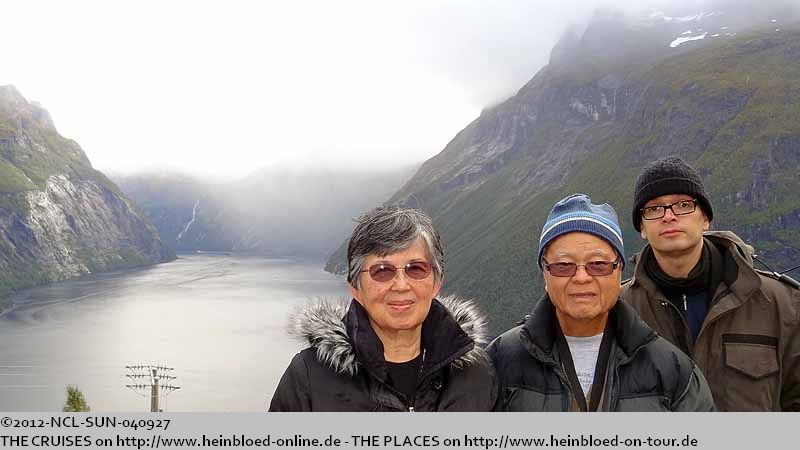 At this time they build now a platform for tourists.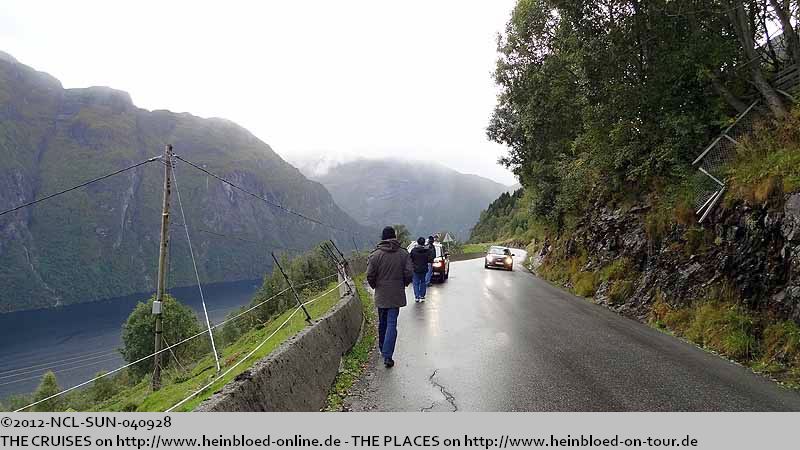 We did not have only a view into the Geirangerfjord but the Sunnylysfjord.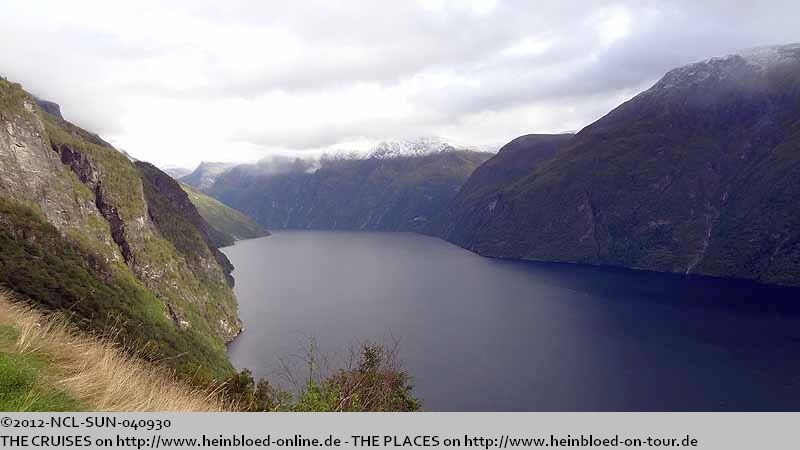 Von hier blicken wir nicht nur in den Geirangerfjord, sondern auch in den Sunnylysfjord.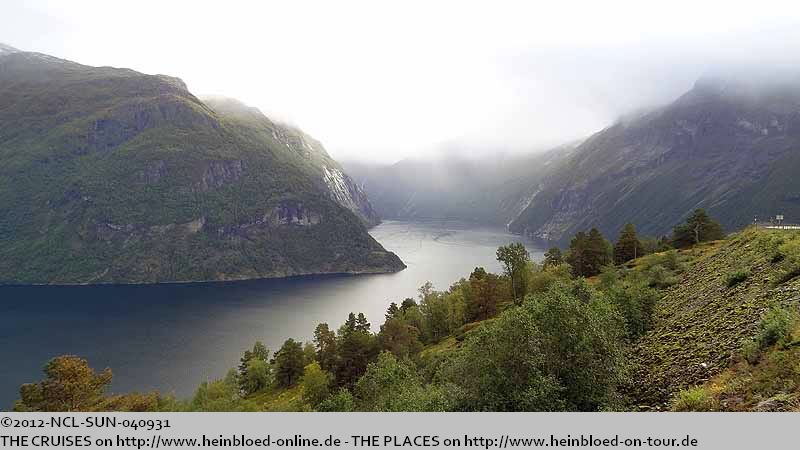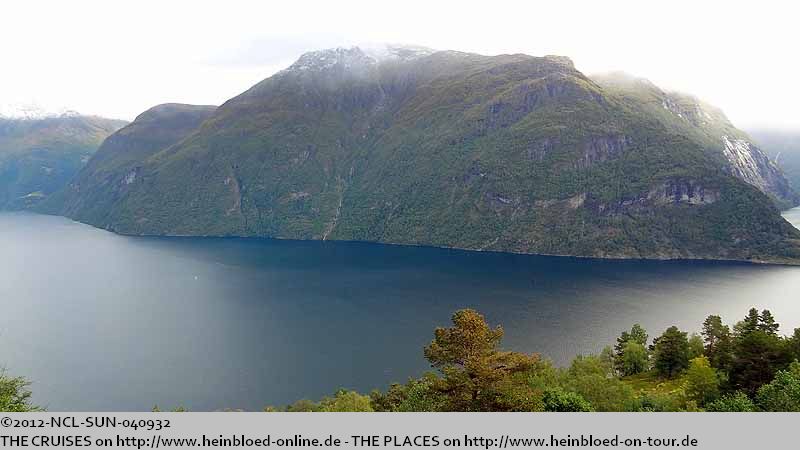 Noch ist hier am
Strandfjell
nichts los.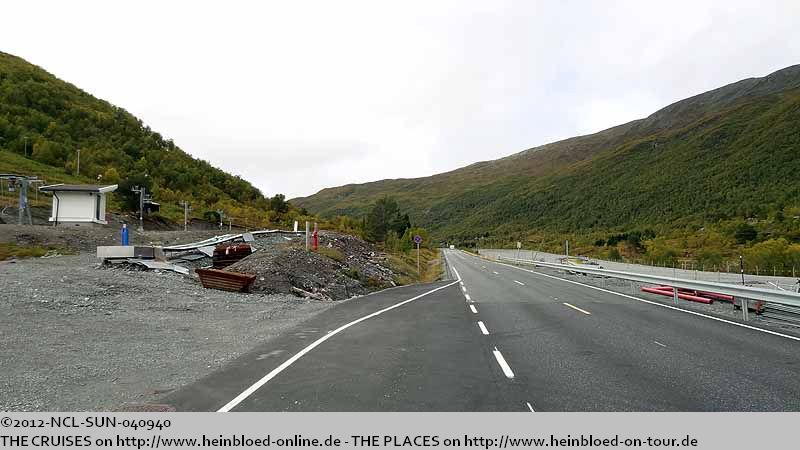 So far no activities at Strandfjell.

But it is a winter sports resort.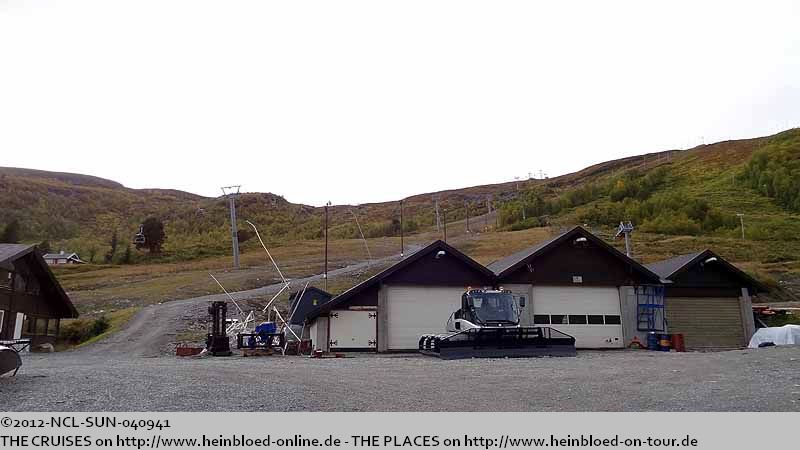 Aber hier ist ein Wintersportresort.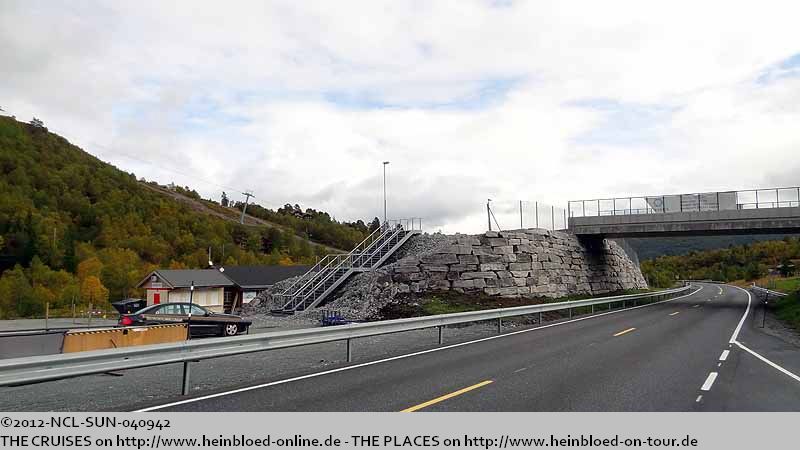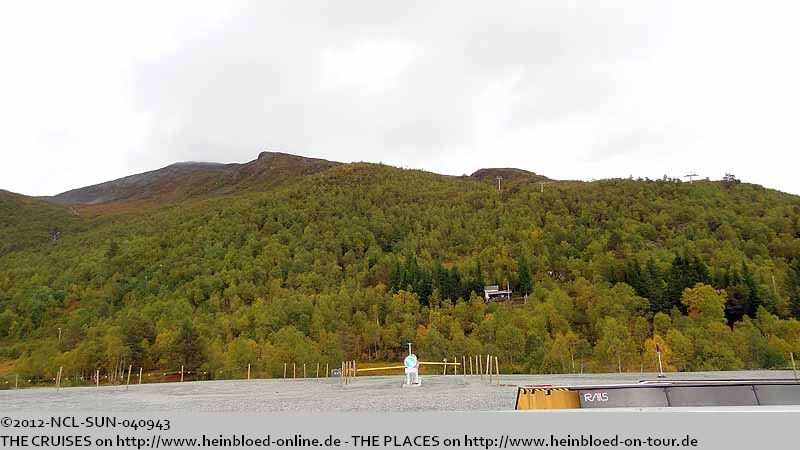 Pünktlich setzt uns Hassan am Fährhafen von Örsneset ab.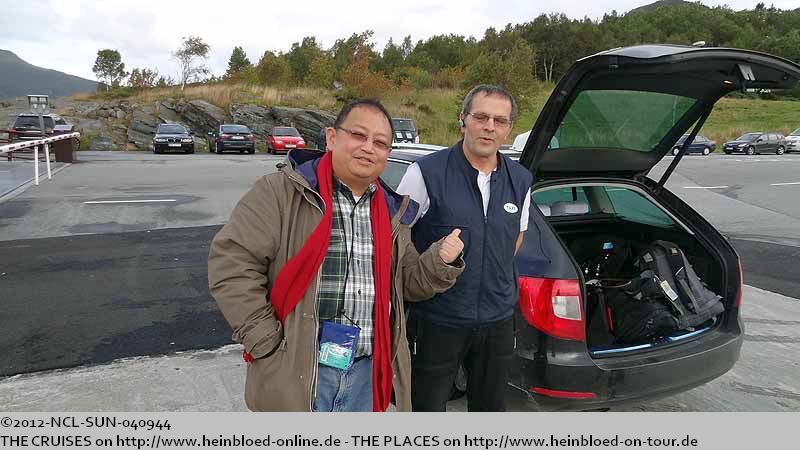 Right at time Hassan delivered us at the ferry terminal in Örsneset.

It went here so quickly: it was not enough time that all of us can see the toilet.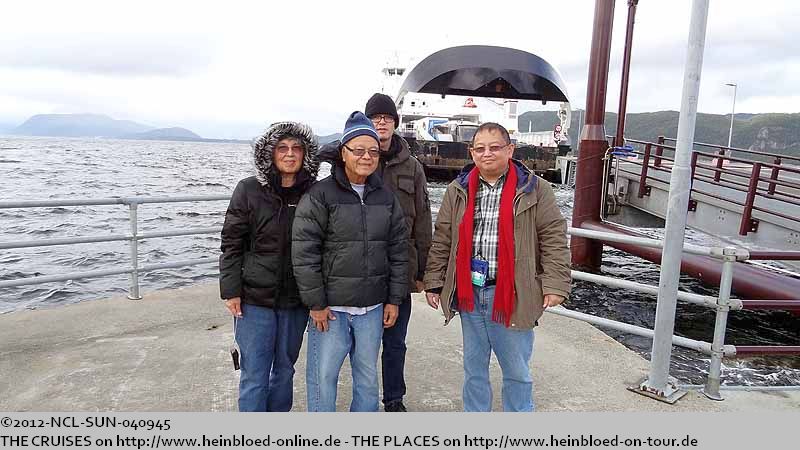 Es geht hier so schnell: es reicht noch nicht einmal, damit alle auf Toilette können.
Die anderen Reisen in diesem Blog/
The other voyages in this blog: