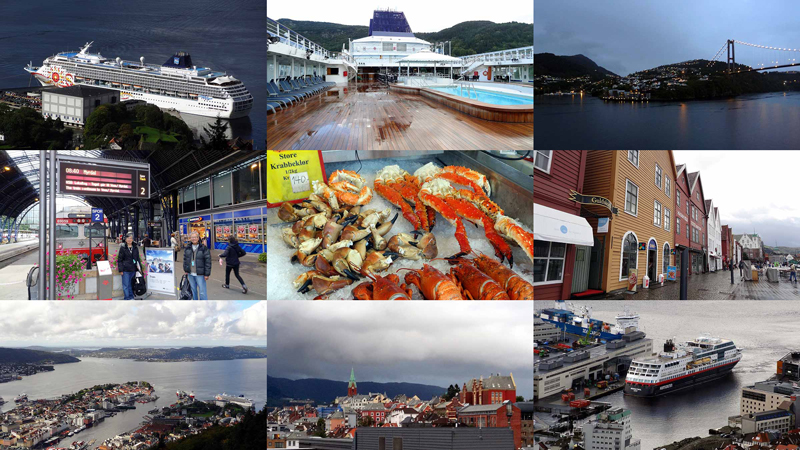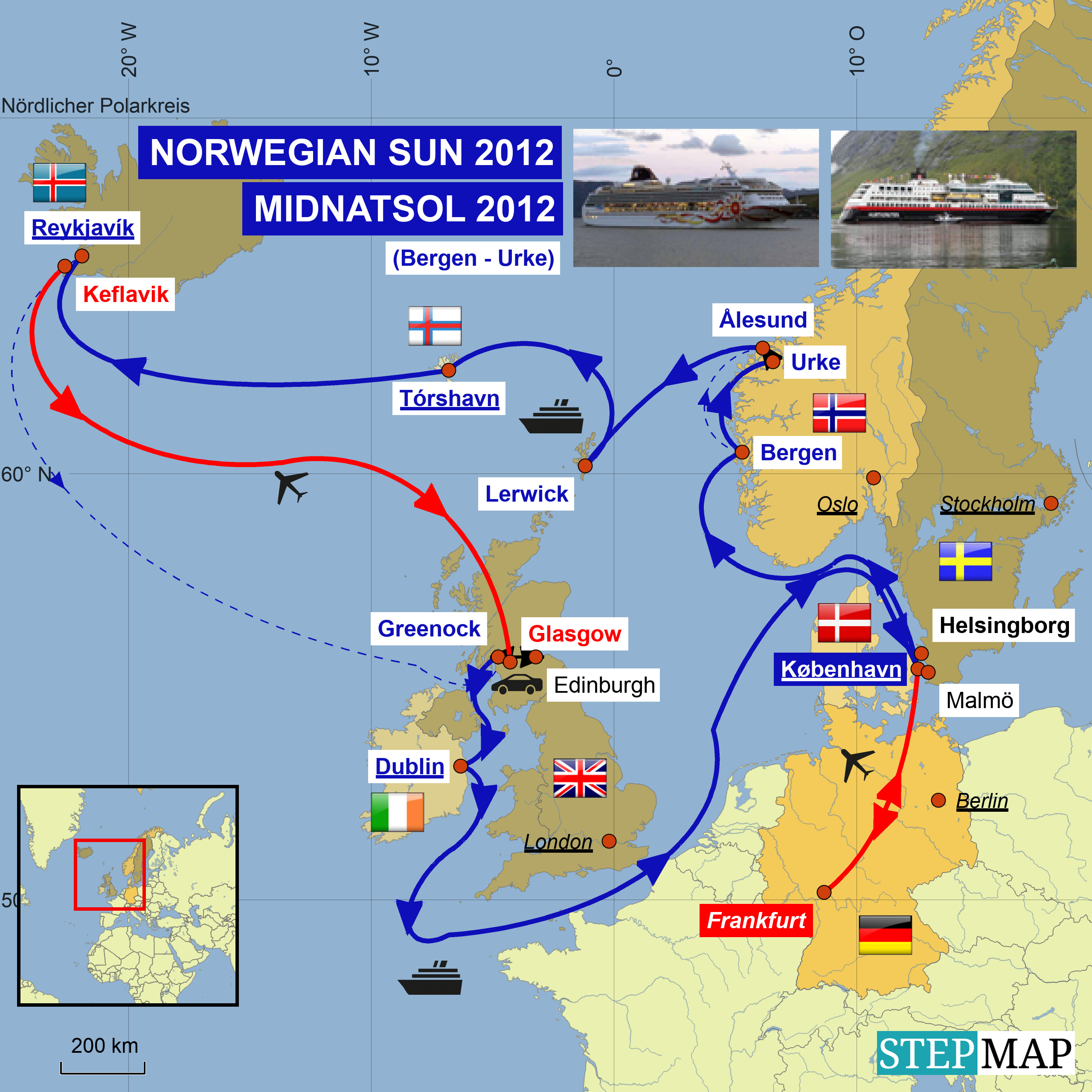 Unsere Kabine... 304...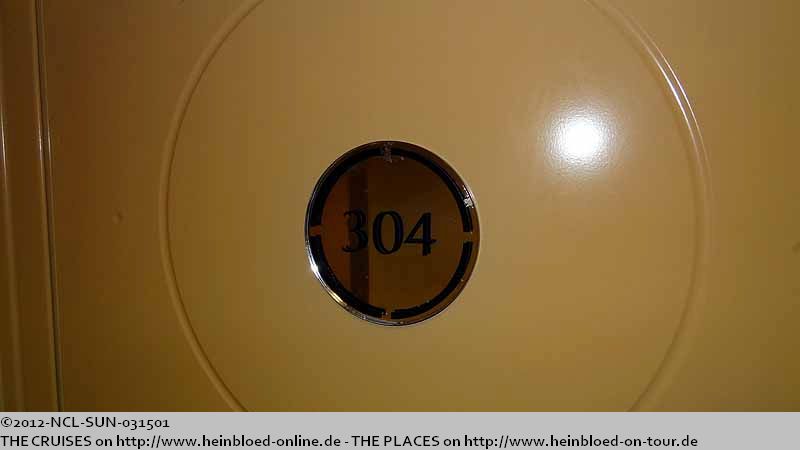 Our cabin... 304...

Portholes... well long time ago since I had the last ones... but OCEAN COUNTESS 2012...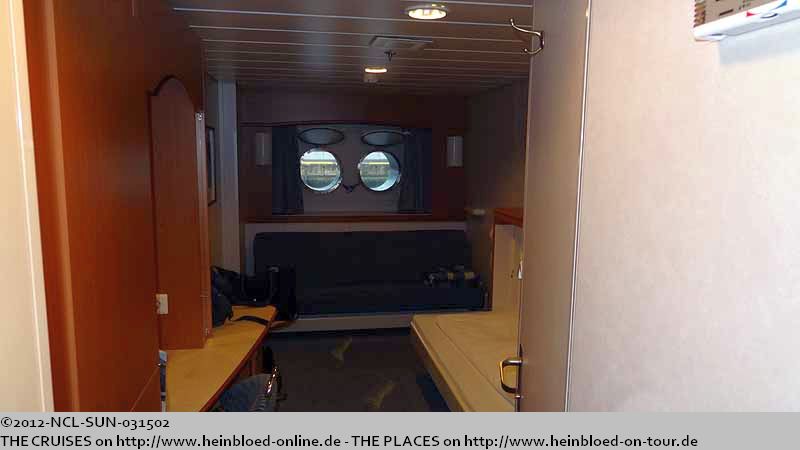 Bullaugen... hatte ich schon lange nicht mehr... Doch
OCEAN COUNTESS 2012
...
Das Sofabett muss man sich selbst abends herumdrehen, wenn man schlafen will. Ein abendlicher Kabinenservice ist absolut unbekannt.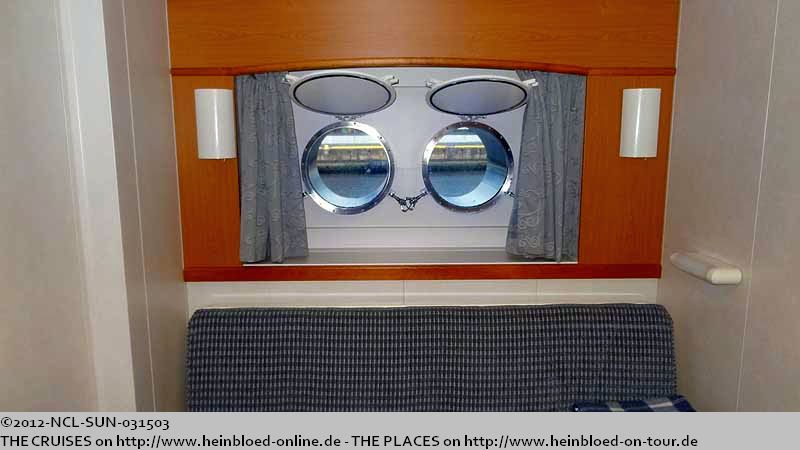 You need to turn around the sofabed yourself if you like to sleep. A nightly turndown service was absolutely unknown.

Looked like a youth hostel...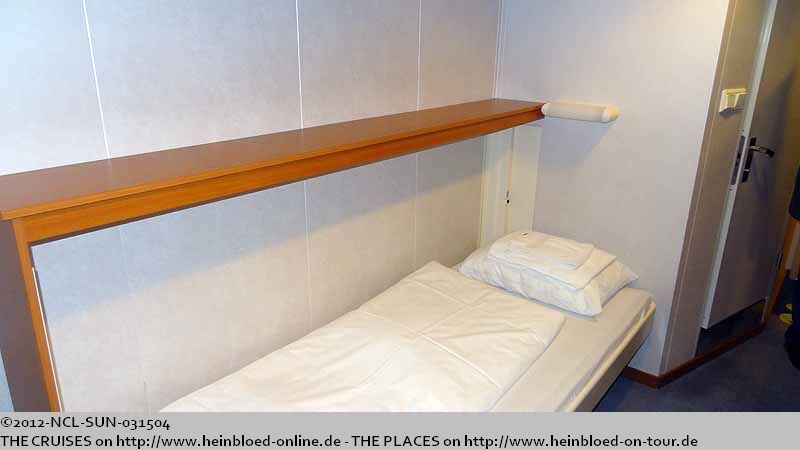 Sieht nach Jugendherberge aus...
Bruno fragt, ob ich zufällig die Handynummer von Kapitän Ronny Borg hätte... Ob er vielleicht umdrehen könnte. Er will in unsere Mini-Suite zurück!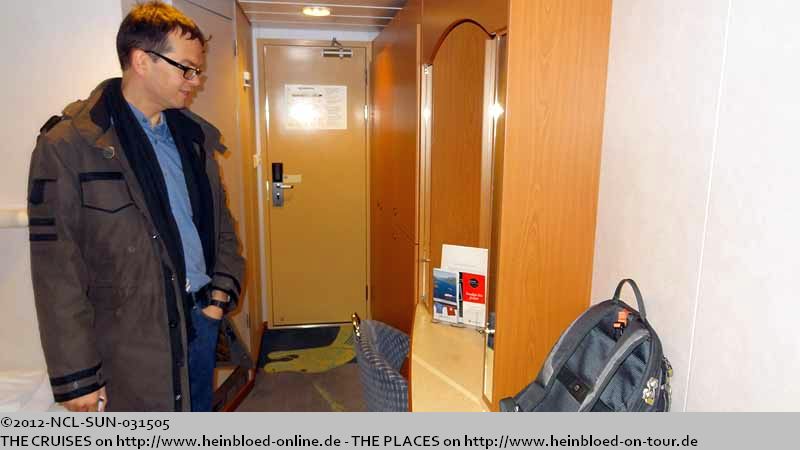 Bruno asked if I had by conincidence the mobile phone number of Captain Ronny Bord... Maybe he could return. He wanted to be back in his mini-suite!

There was not very much space in the open closet. But enough for one or two nights on a ferry.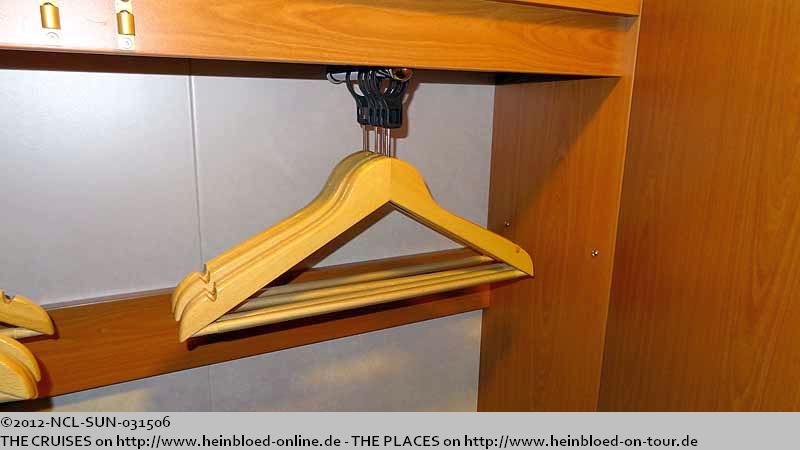 Viel Platz ist nicht im offenen Schrank.. Aber genug für ein bis zwei Nächte auf einer Fähre.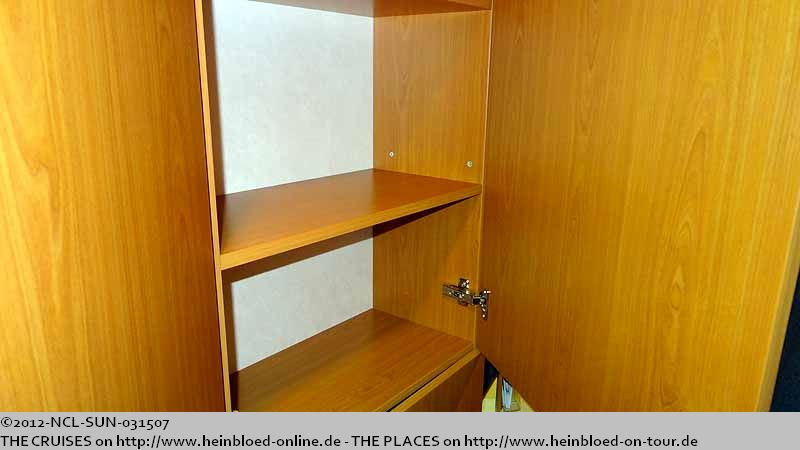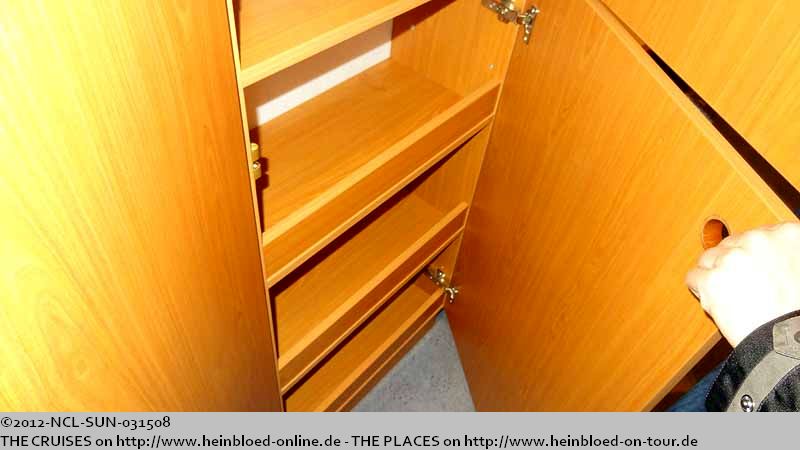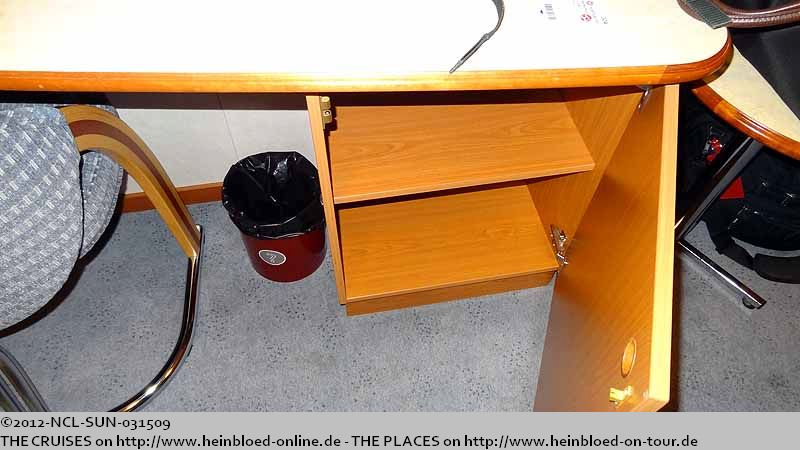 Wir müssen unsere Bügelhilfe feuern... Sie faltet die Hemden zu breit für die Regalfächer von Hurtigruten. Sollten wir je im Leben nochmals Hurtigruten in Erwägung ziehen, fahre ich mit meiner Wäsche vorher zum japanischen Souvenirladen in Heidelberg. Dort gibt es eine japanische Ikebana-Künstlerin, die dort Geschenke verpackt und sicherlich unsere Hemden so falten kann, dass sie auch bei Hurtigruten in den Schrank reinpassen.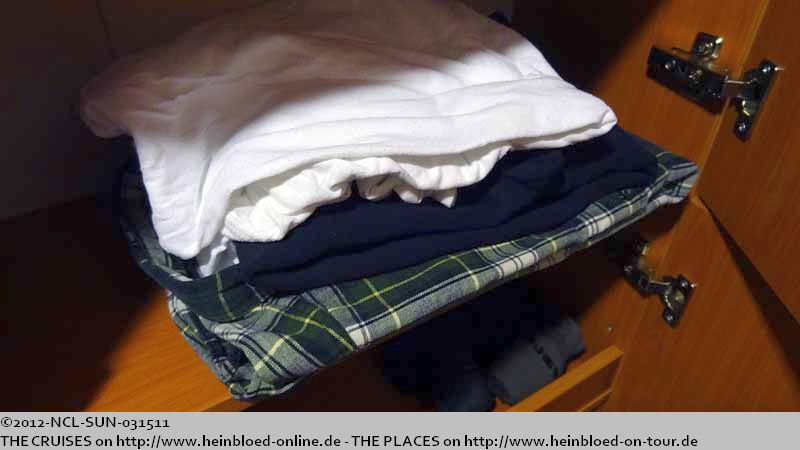 We need to fire our maid who is doing the ironing for us... She folded our shirts to wide for the closet of Hurtigruten. Should we ever consider to go on Hurtigruten, I would go a week before sailing to the Japanese souvenir shop in Heidelberg. There a Ikebana-artists is working and offering gift offers and I am sure that she can fold our shirts so small that they would fit into the closets of Hurtigruten.

Just in case you are looking for a towel for the floor... They had a floor heating but not a floor towel.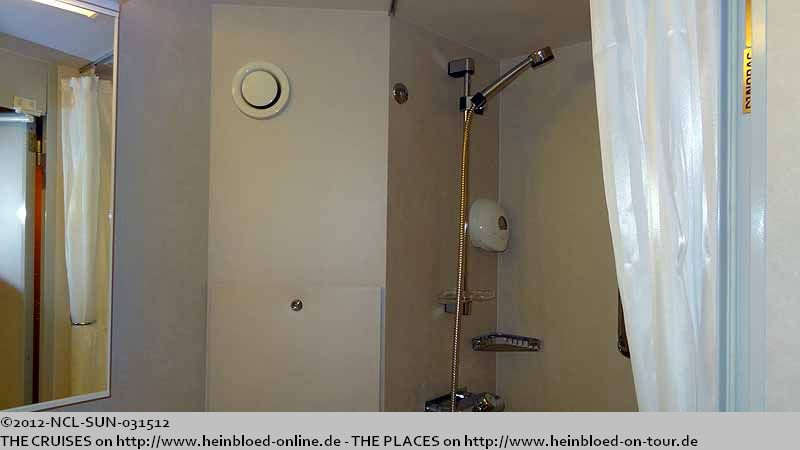 Für den Fall, dass man vergeblich nach einem Bodentuch sucht: es gibt keines: stattdessen gibt es Fußbodenheizung.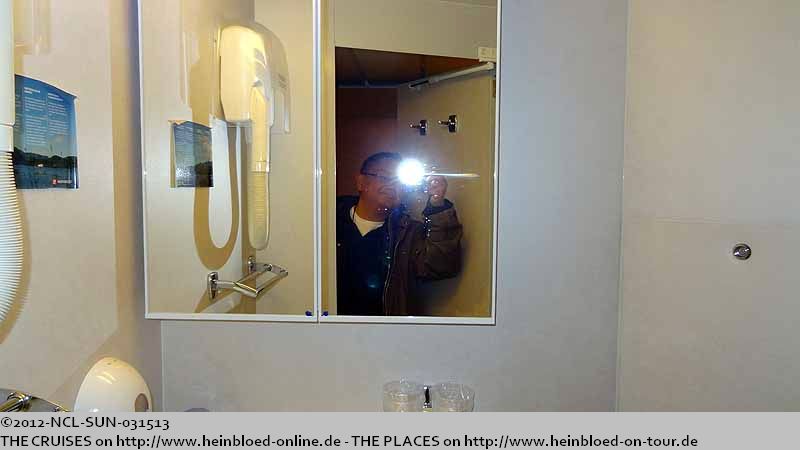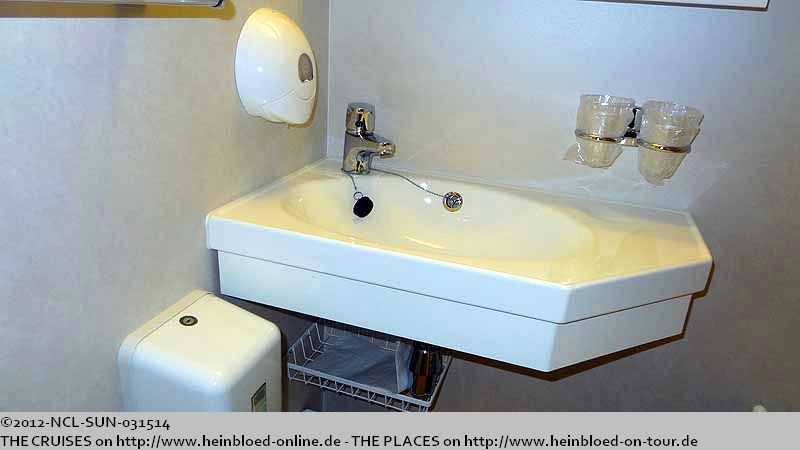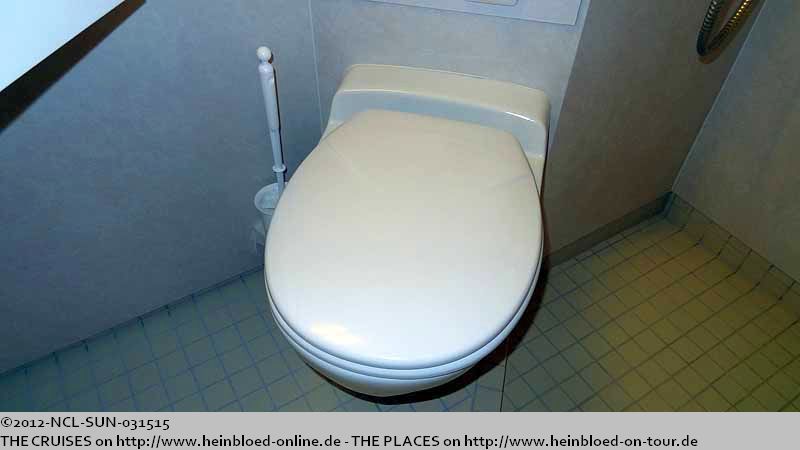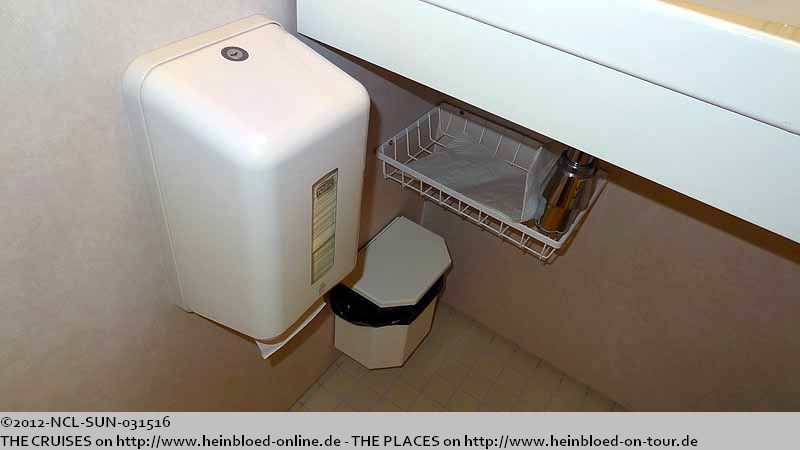 Falls jemand Handtücher sucht... Nicht vergessen: wir sind nicht auf einem Kreuzfahrtschiff, sondern auf einer fahrenden Jugendherberge. Der erste findet seine Handtücher noch sehr schnell auf seinem Bett. Der zweite muss erst mal das Bett umklappen, um an die Handtücher zu kommen... Das die Handtücher nicht im Bad waren, würde u. U. auch erklären, warum das Bad nicht in einem Zustand war, wie man es erwarten würde. Da fragt man sich, warum man eigentlich so viel Wert auf Desinfektion der Hände legt, aber in anderen kritischen Bereichen, in denen auch eine Übertragung stattfinden kann, überhaupt nichts gemacht hat, was sehr offensichtlich war. An der Rezeption veranlasst man eine sofortige erneute Reinigung. Als wir vom Essen zurückkommen, kann ich nicht unbedingt erkennen, dass jemand da war. Darauf hin frage ich an der Rezeption nach. Da zwischenzeitlich Schichtwechsel war, kann man nur nochmals jemand schicken, weil man nicht bereit ist, die Rezeptionistin noch die Reinigungskräfte zu stören. Ein Beschwerdemanagementsystem gibt es nicht. Daher kann man nicht sehen, was bislang erfasst und unternommen wurde. Man kann nur nochmals jemanden hinschicken. Da bekommt man nicht gerade ein gutes Gefühl. Wo waren denn die Smilies für die Hygiene? Ach nein, die waren ja in Dänemark.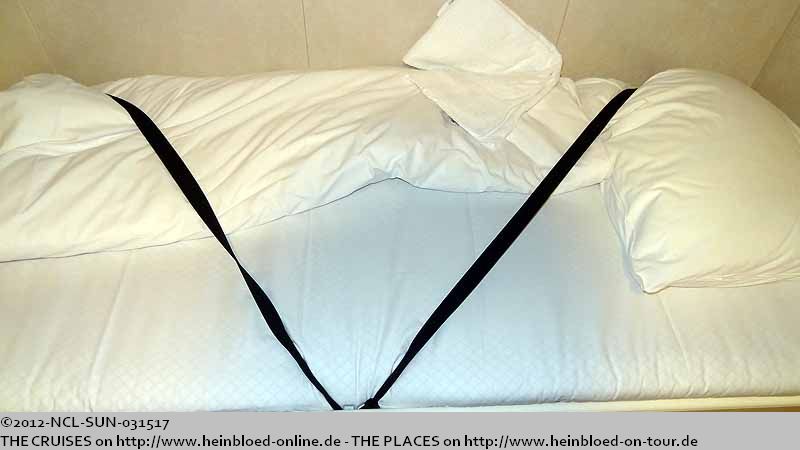 Just in case someone was looking for towels... Do not forget: this is no cruise ship but a floating youth hostel. The first could easily find his towels on the bed. The second need to turn around the bed to get access to his towels... The fact that the towels were not in the bathroom might be an explanation why we did not find the bathroom in the condition you might normally expect. We were wondering why they insist to sanitize the hands all the time to avoid any infection but very critical areas in the bathroom were not touched which was very obvious. The front desk asked for an immediate action. When we returned from dinner, we could not experience anyone was there. So I asked the front desk again if there was someone in our cabin to clean. But as they changed the shift, they were neither willing to contact the other front desk agents nor the house keeping staff. No claim management system was available to check what was already claimed and which corrective actions were taken. All they could do was sending again someone to clean. So you cannot get a good feeling. Where did we see the smilies for hygiene? Oh no, it was in Denmark.

The telephone set flashed and rang all the night. The receiver had a loose connection. And every time when it get reconnected there was a short ring. When we reported it the next day they replaced the phone set.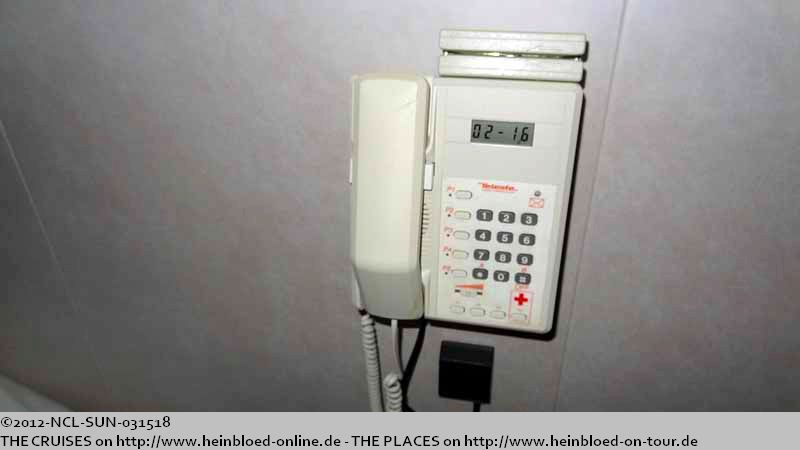 Das Telefon blinkt und klingelt die ganze Nacht durch. Im Hörer gibt es einen Wackelkontakt. Und jedes Mal, wenn er wieder eine Verbindung hat, klingelt es kurz. Als wir am nächsten Tag das melden, wird das Telefon ausgetauscht.
Es gibt noch etwas positives zu melden...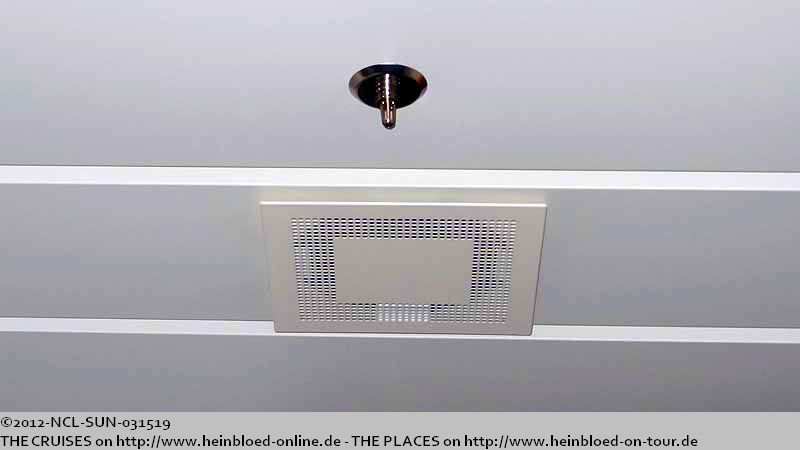 Something positive to be reported...

The air condition worked free of draft.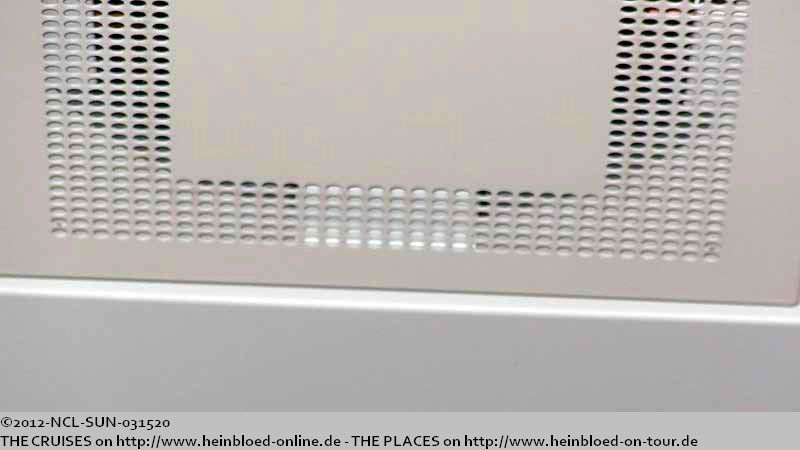 Die Klimaanlage war schön zugfrei.
Als wir kurz vor 20.00 Uhr nochmals rausschauen, sieht es in Bergen so aus. Zeit um hier wegzukommen.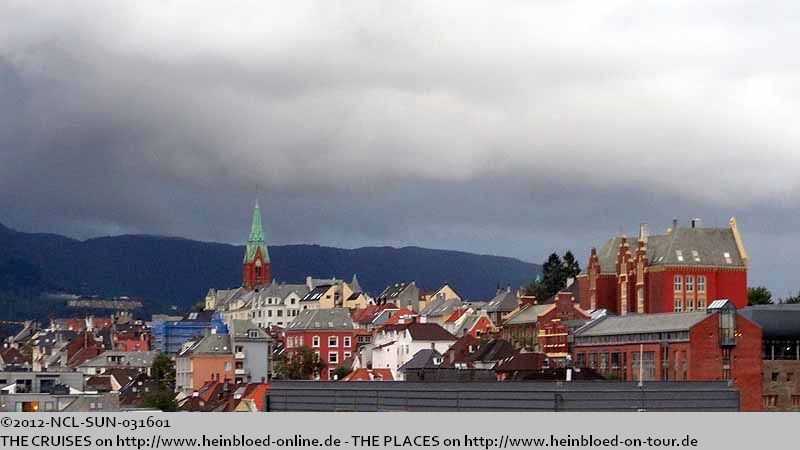 When we looked out again around 20.00 hrs it looked like that in Bergen. Time to leave.

We went for dinner. In Bergen you get the Bergen Buffet for 395.00 NOK (2012 = 69.00 USD).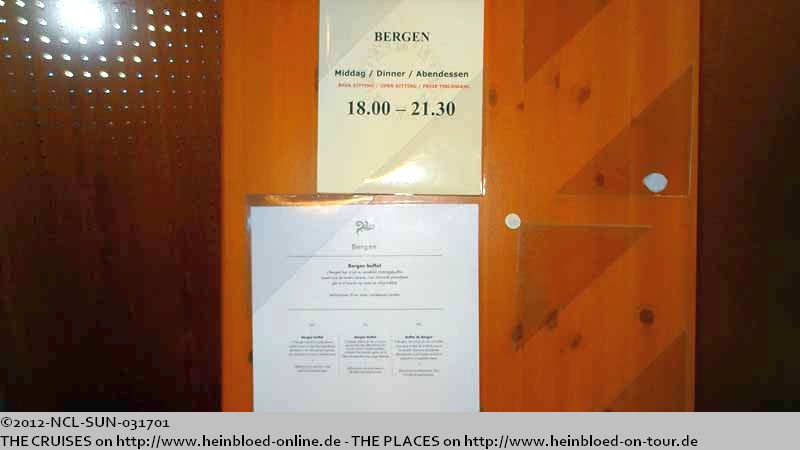 Es ging zum Abendessen. Es gibt in Bergen das Bergen Büffet für 395,00 NOK (2012 = 53,00 EUR).
Dafür sind die Erwartungen besonders hoch, was Service und Essen angeht, selbst für norwegische Preisverhältnisse.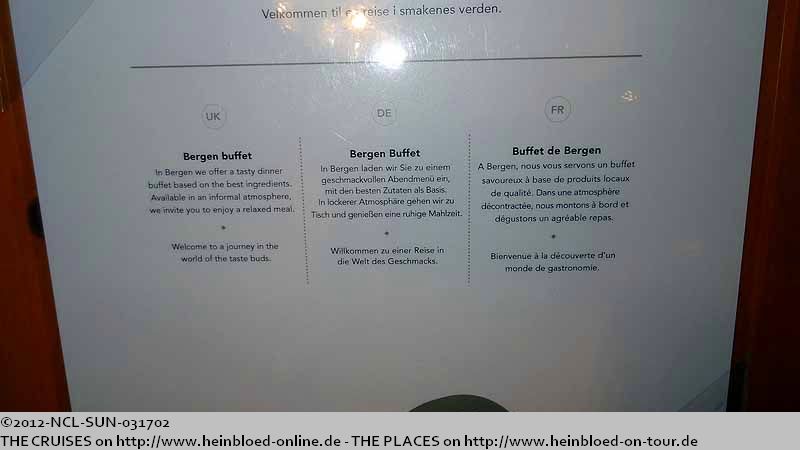 So the expectations regarding food and service was very high even for the price-level in Norway.

Friends of MEIN SCHIFF 2 would love it: you were looking at yourself for a vacant table. I did not have the impression that they check if there was any availability in the restaurant.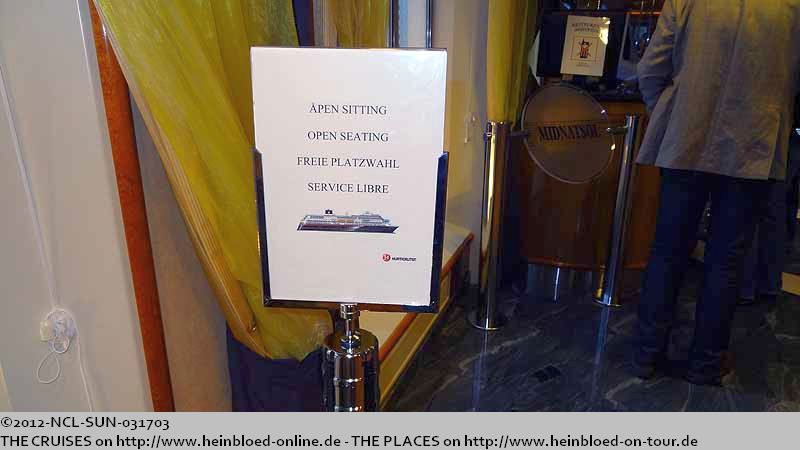 Das kommt Freunden von MEIN SCHIFF 2 sehr entgegen: man sucht sich seinen Platz selbst. Ich hatte auch nicht den Eindruck, dass eine Kontrolle stattfindet, ob überhaupt entsprechende Plätze im Restaurant verfügbar sind.
Es wird Tafelwasser für 19,00 NOK (2012 = 2,60 EUR) angeboten. Ob das pro Flasche galt, oder pauschal haben wir an dem Abend nicht mehr herausbekommen. Es wurde immer nur 19,00 NOK abgerechnet.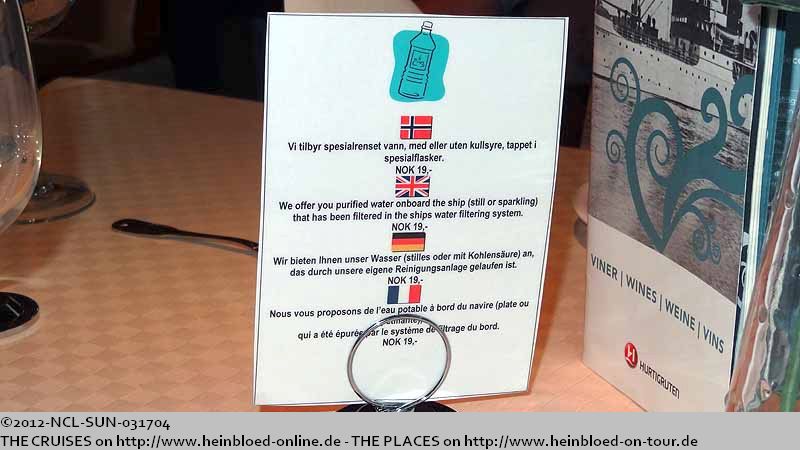 Purifined water for 19.00 NOK (2012 = 3.30 USD). No idea if it was per bottle or a flat rate. We did not find it out that night. They only charge 19.00 NOK.

As said before: service like on a ferry ship. You were a lucky person if anyone showed up to take your beverage order. It was too much to expect napkin service. And you had paper napkin.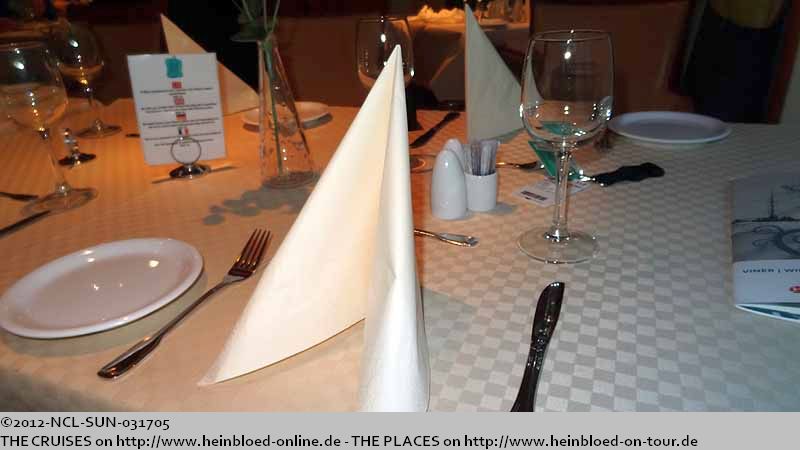 Wie gesagt: Service wie auf einem Fährschiff. Man hatte schon Glück, wenn jemand überhaupt vorbei kam, um die Getränkebestellung entgegen zu nehmen. Serviettenservice ist einfach zuviel verlangt, zumal es Papierservietten gab.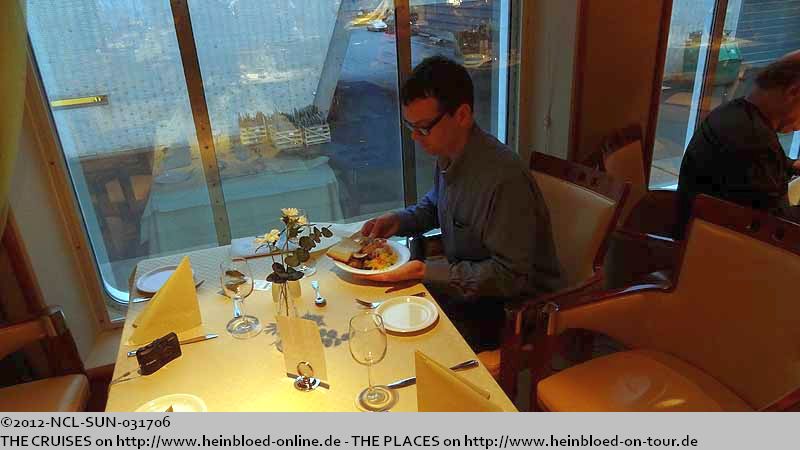 As all others described that this was be a yummy desert. But they did not refill. Instead, you find a bowl with canned fruit cocktail.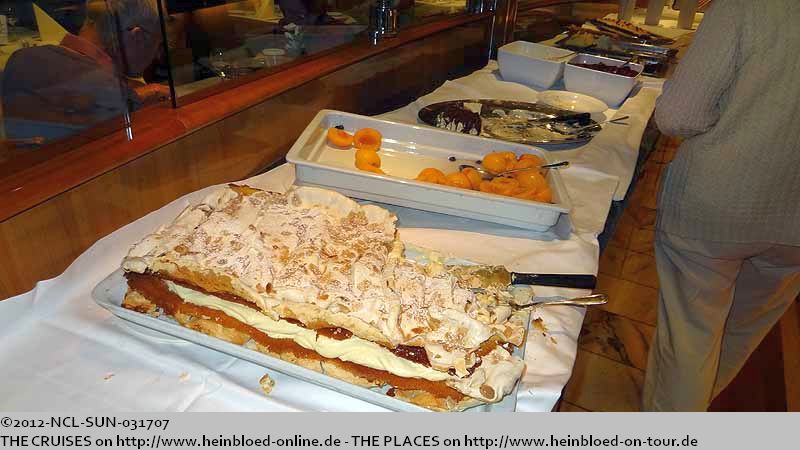 Wie mir alle anderen beschrieben haben, muss dieser Nachtisch richtig lecker gewesen sein. Er wird später nicht wieder aufgefüllt. Stattdessen steht dort später eine Schale mit Fruchtcocktail aus der Dose.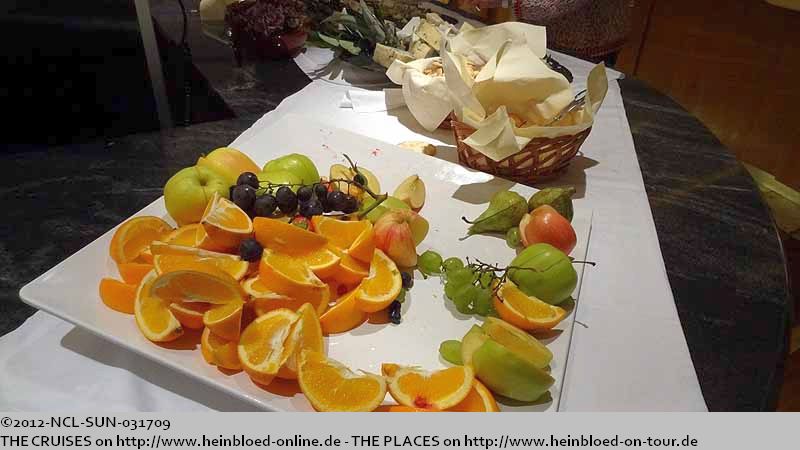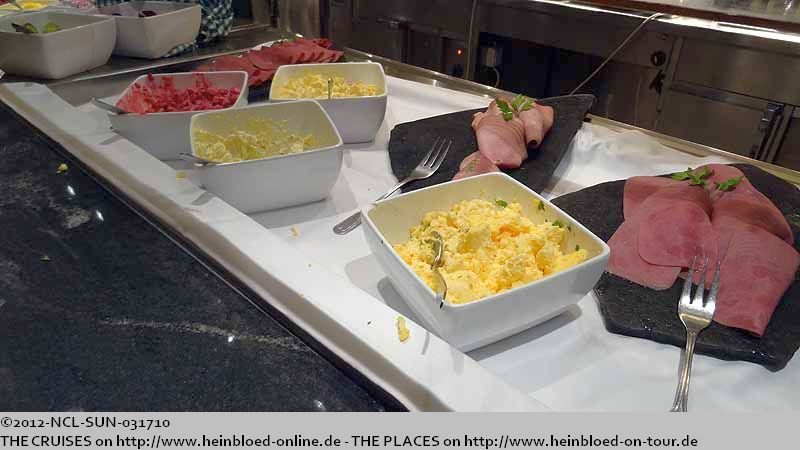 Der Highlight für einen Fleischfresser wie mich: Kasslerbraten für 53,00 EUR! Fischliebhaber bekommen Lachs. Das ist billig in Skandinavien. Aber edel für Deutsche und andere Gäste.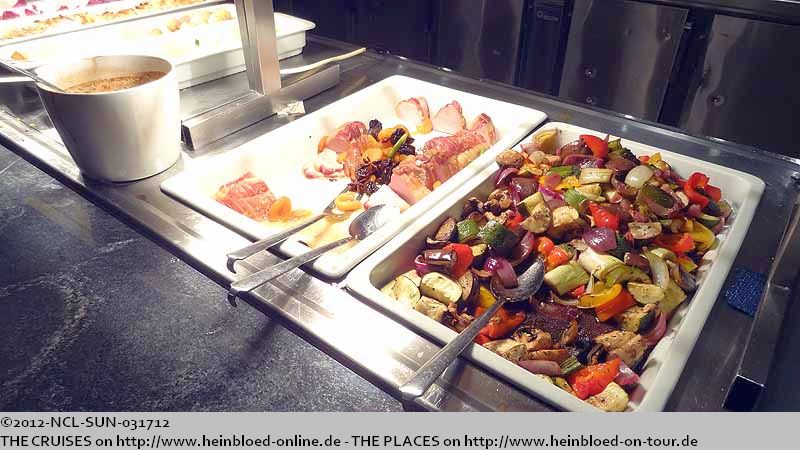 The highlight for a meat-lover like me: smoked pork roast for 69.00 USD! Fishlover could have salmon. It's cheap for Scandinavians. But noble for Germans and other guests.

So I kept it like on MEIN SCHIFF 2 and took some caviar.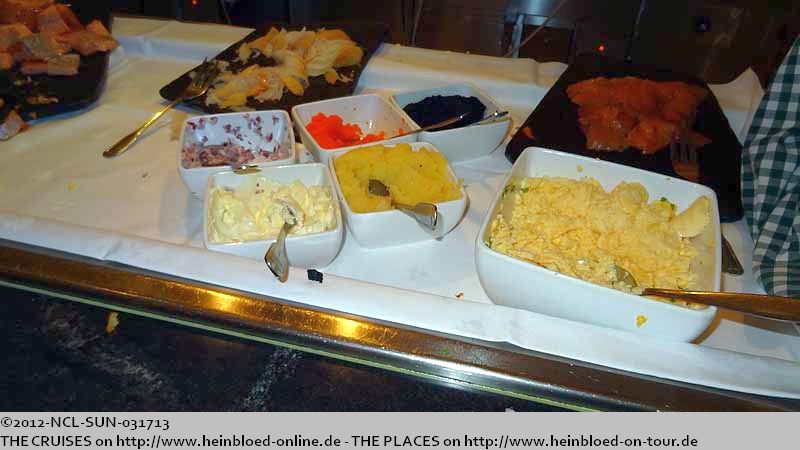 Ich halte es wie auf der MEIN SCHIFF 2 und halte mich an den Kaviar.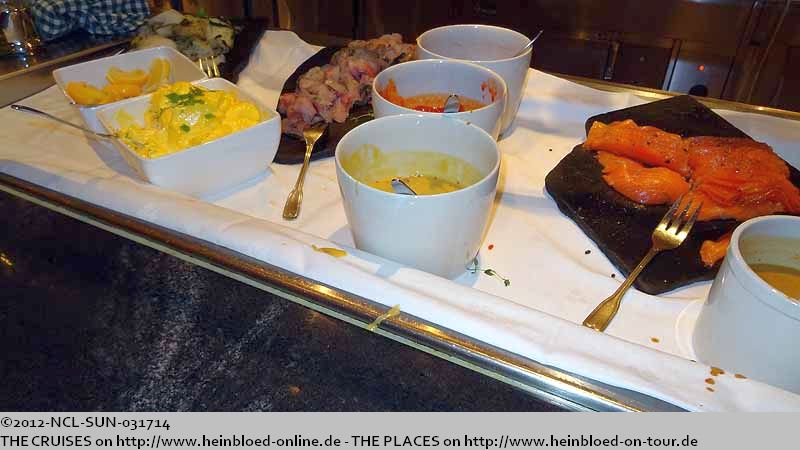 And on the other side: you had the same again just mirrored.

Und auf der anderen Seite: das ganze gespiegelt nochmals.
Für den Preis kann man zumindest erwarten, dass Karaffe zumindest von Kosta Boda ist, aber nein, sie war aus Plaste und Elaste...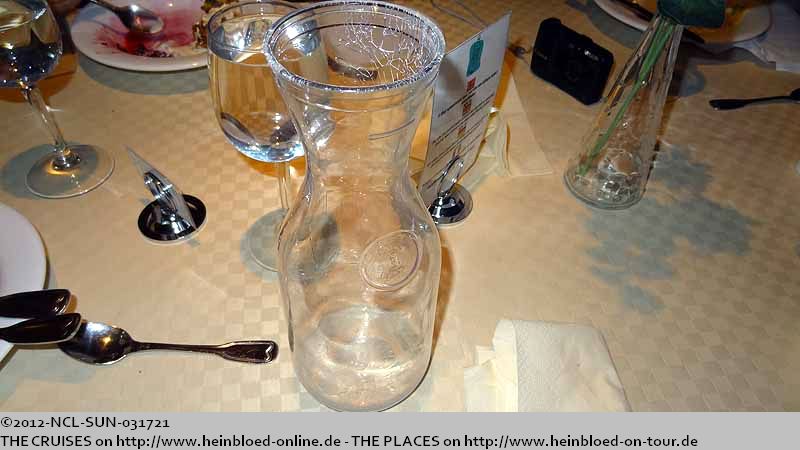 For the price you could expect that the bottle might be of the Swedish Kosta Boda Crystal but it was only plastic...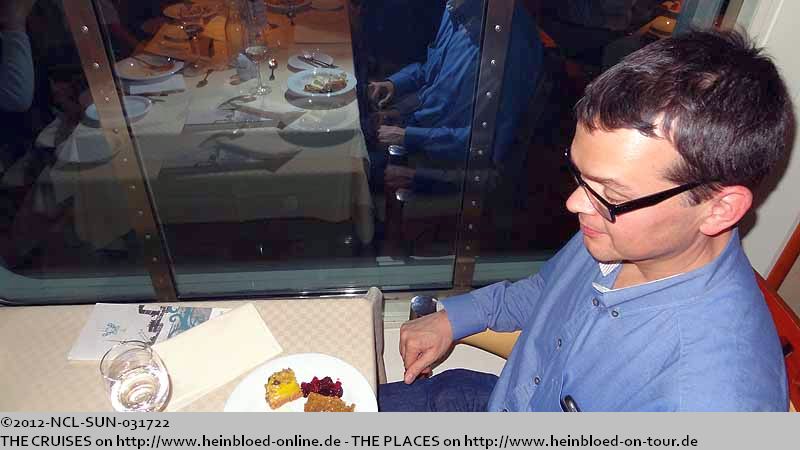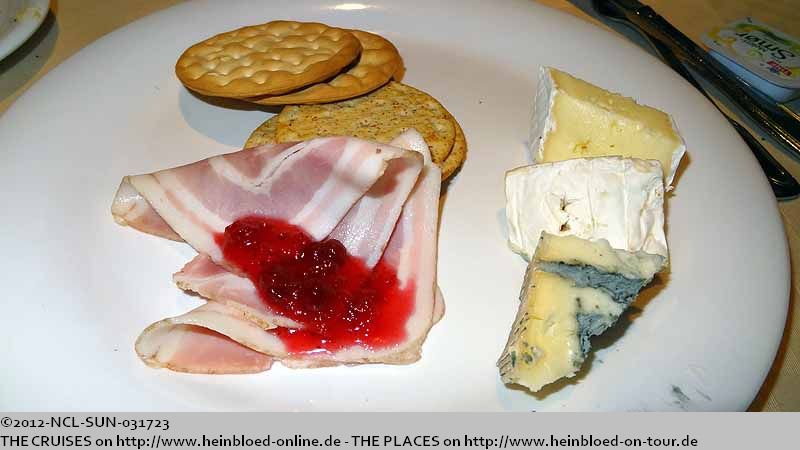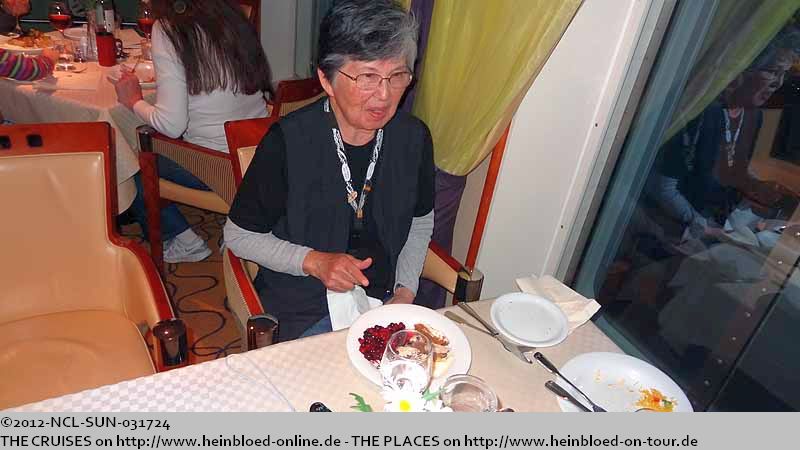 Nach dem Abendessen mochte ich definitiv mehr in keine Bar mehr. Abgesehen davon, dass ich müde war, wollte ich auch nicht nach einem Besuch der Bar eine Privatinsolvenzverfahren einleiten....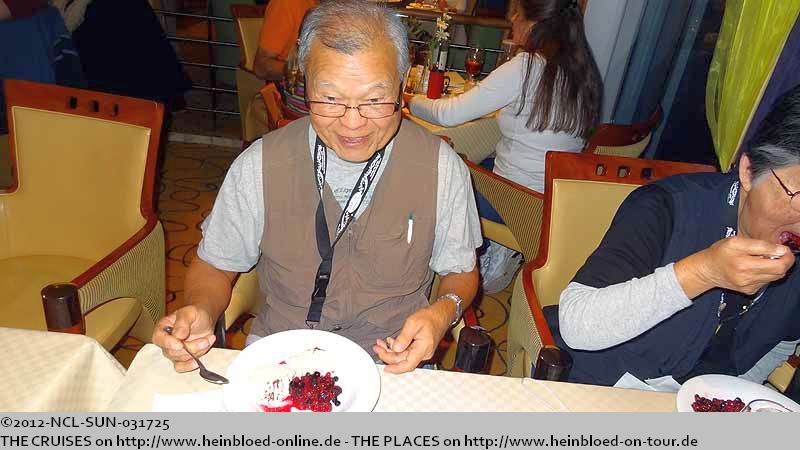 After that dinner I definately did not want to see any bar. Beside the fact that I was tired I did not want to declare a private bancruptcy...
Die anderen Reisen in diesem Blog/
The other voyages in this blog: