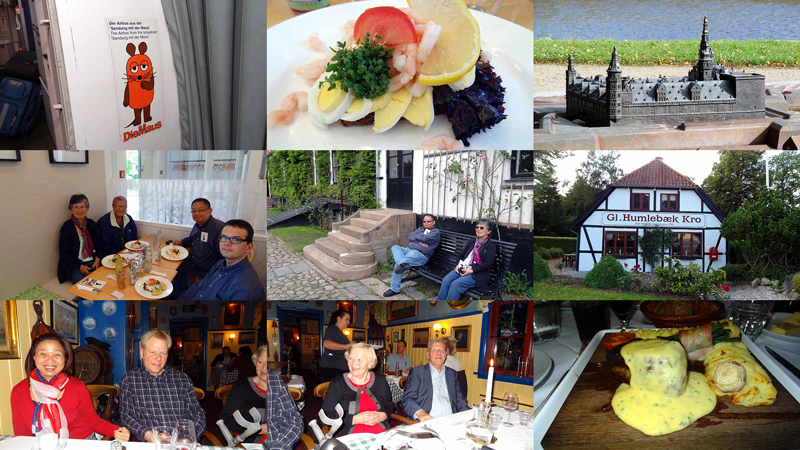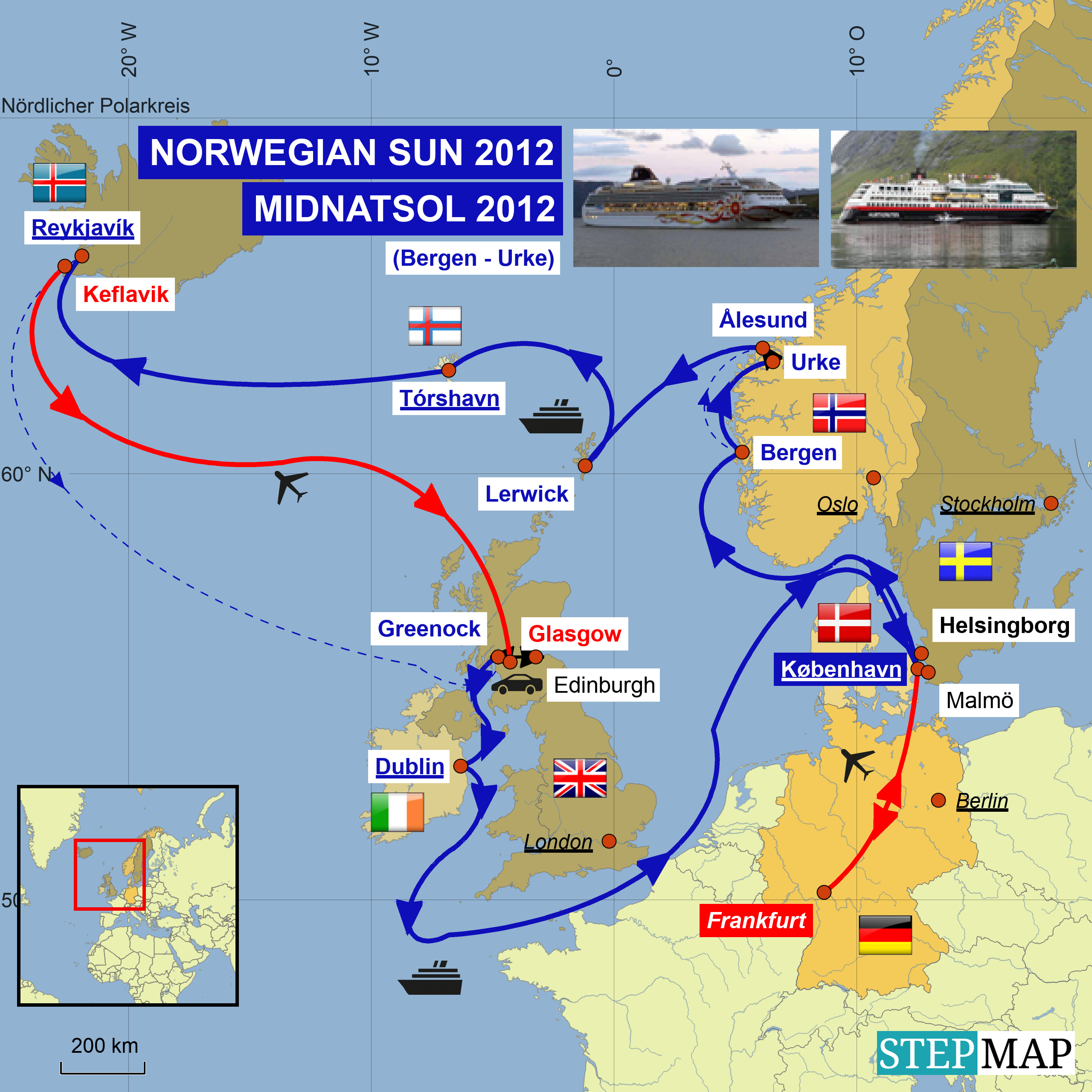 Wir fahren zu einem dänischen Supermarkt. Frances hält nichts davon, sich ein großes Paket Röde Pölser (Knallrote Dänische Hot Dogs) als Souvenir zu kaufen.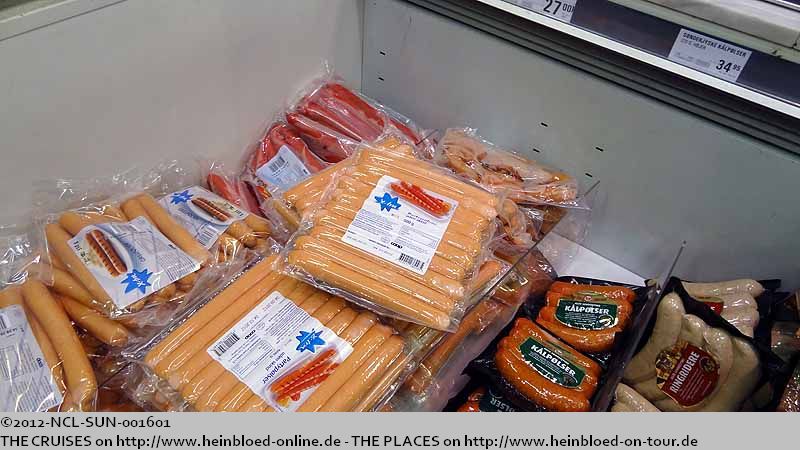 We went to a Danish supermarket. Frances did not like the idea to buy a big pack of Röde Pölser (red Danish hot dogs) as a souvenir.

Roasted onions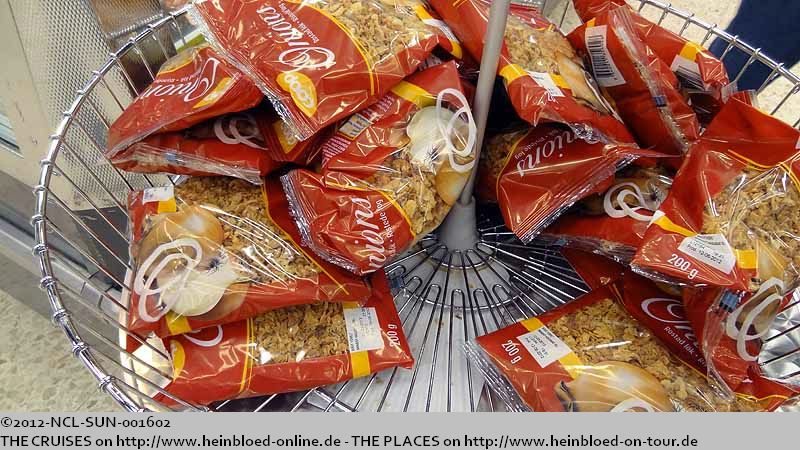 Röstzwiebeln
und alle möglichen dänischen Saucen waren auch alle verfügbar.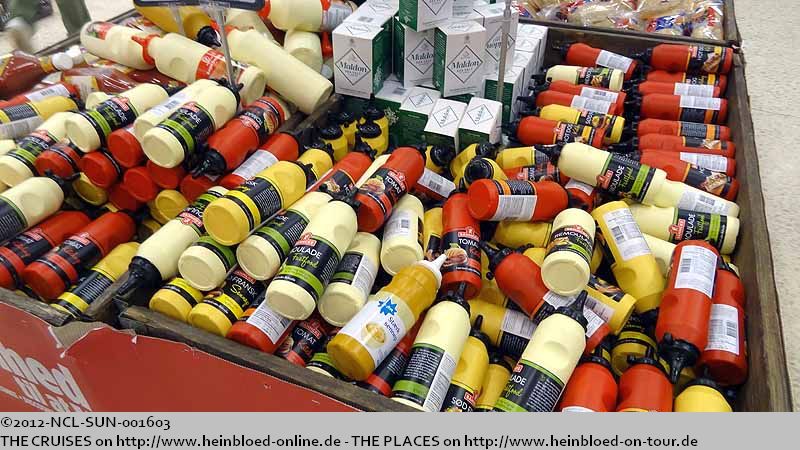 and all the sauces you need for a Danish hot dog.

We bought ourselves some blackberry juice, Vitamin Water and sweet treats from Anthon Berg. I still do not know which Marcipane I should like more: this or the one from Lübeck, Germany.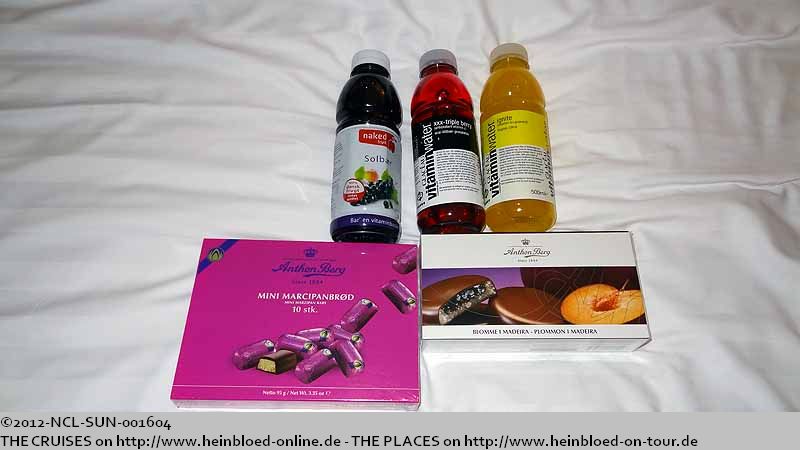 Wir versorgen uns mit Brombeersaft, Vitamin Water und Leckerlis von
Anthon Berg
. Ich weiss immer nicht, ob das Marzipan besser finden soll, oder das Lübecker...
Bodum
war auch direkt hier in Humlebaek, aber da wir spät dran waren, konnten wir nicht mehr prüfen, ob es einen Werksverkauf gab. Deswegen hatten wir bereits in Helsingör die Kanne geholt.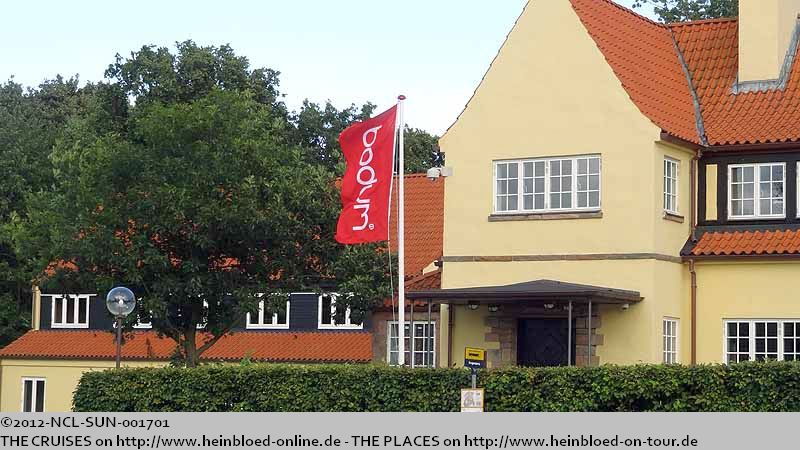 Also Bodum was here in Humlebaek but as we were very late we could not see if there was any factory outlet. That was why already purchased the French Press in Helsingör.

Here we had later an appointment with our friends: in the Gl. Humlebaek Kro (the Old Inn of Humblebaek). Here they were not prepared for tourist as no English menu was available.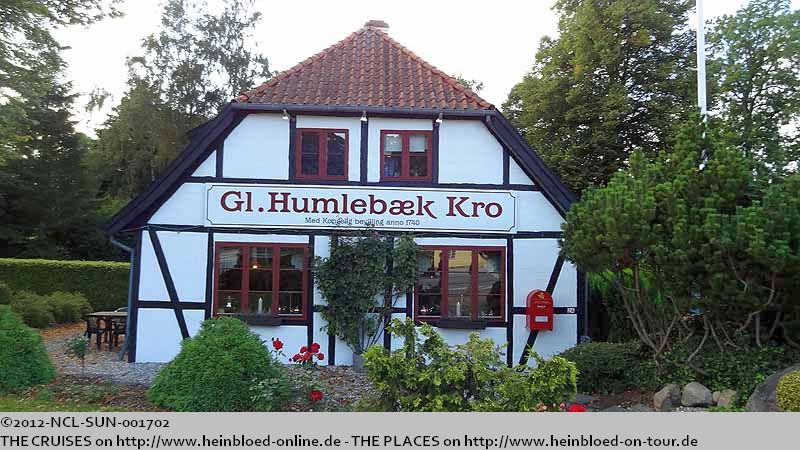 Hier sind wir später mit unseren Freunden verabredet: Im
Gl. Humlebaek Kro
(im alten Gasthaus von Humlebaek). Sie waren nicht auf Touristen eingestellt, deswegen gab es auch keine englische Karte.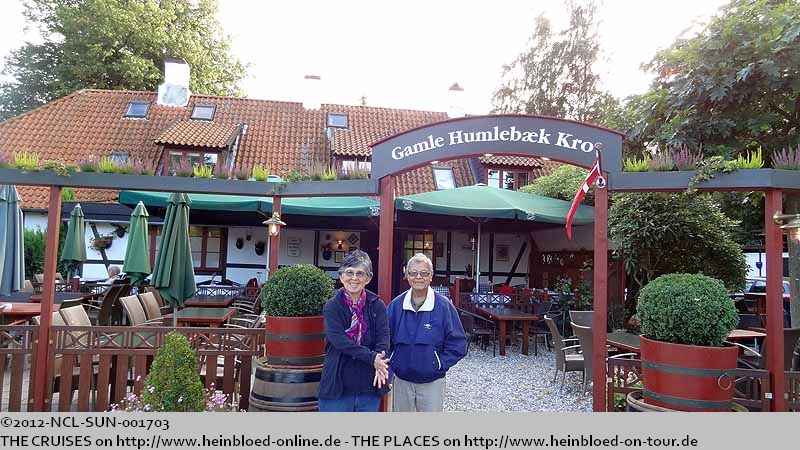 Really nicely decorated.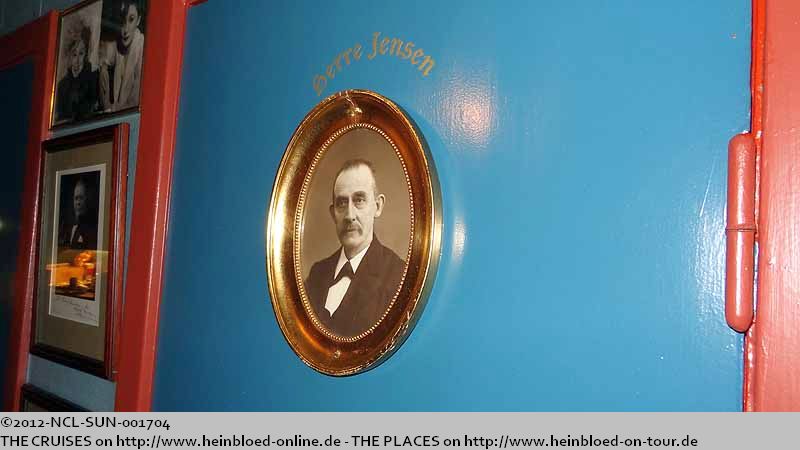 Wirklich sehr nett eingerichtet.
Wir hatten jedoch noch ein paar Minuten Zeit und so lassen wir schon mal das Auto stehen und laufen die 400 m zum
Louisiana
herunter.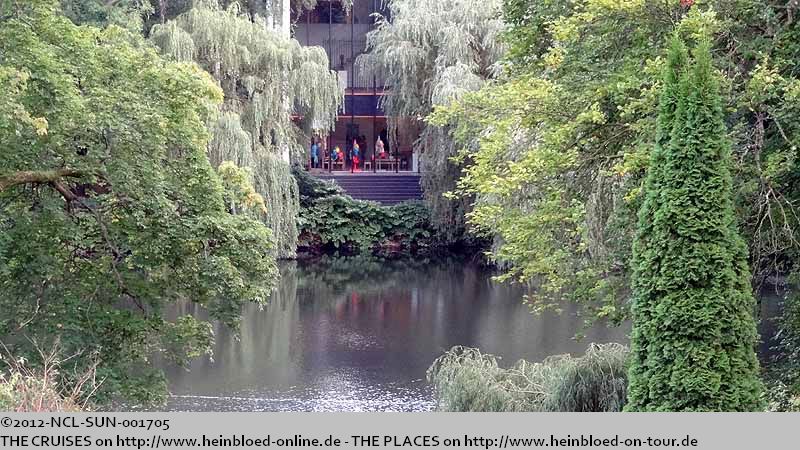 We had few minutes more so we let the car already at the restaurant and walked the 400 yards to Louisiana.

Die Kasse war noch auf, aber um in 15 Minuten durchzulaufen, um Frances und Eddie die Räume und den Garten zu zeigen, war es doch zu teuer.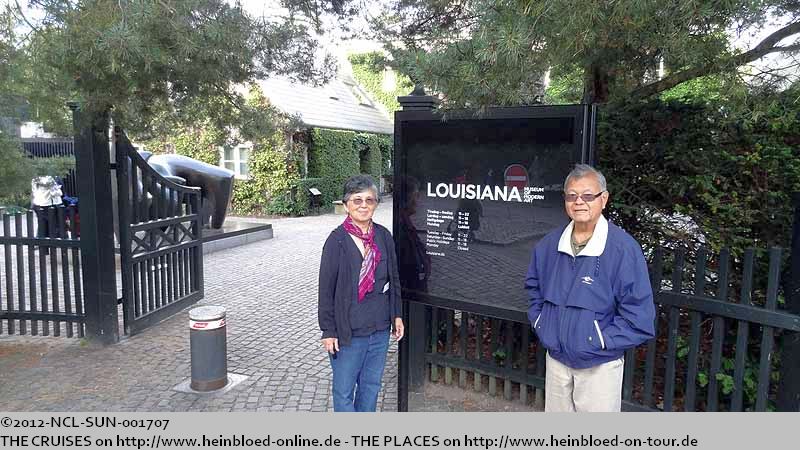 The cashier was still open but to run all through in 15 minutes to show Frances and Eddie the rooms and the gardens it was a little too expensive.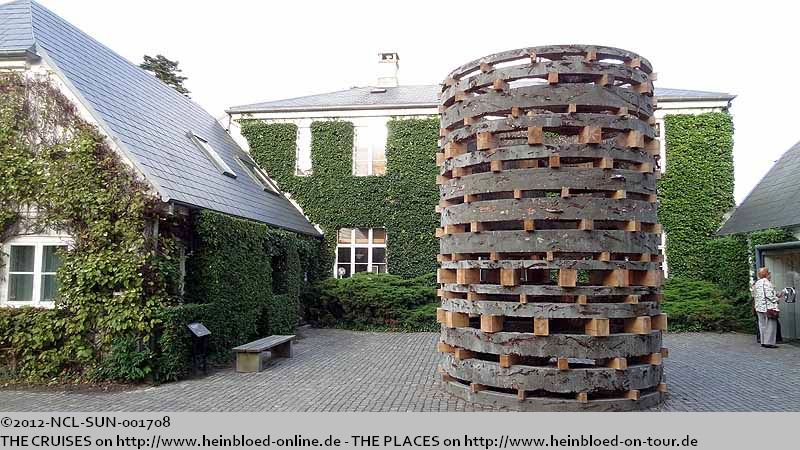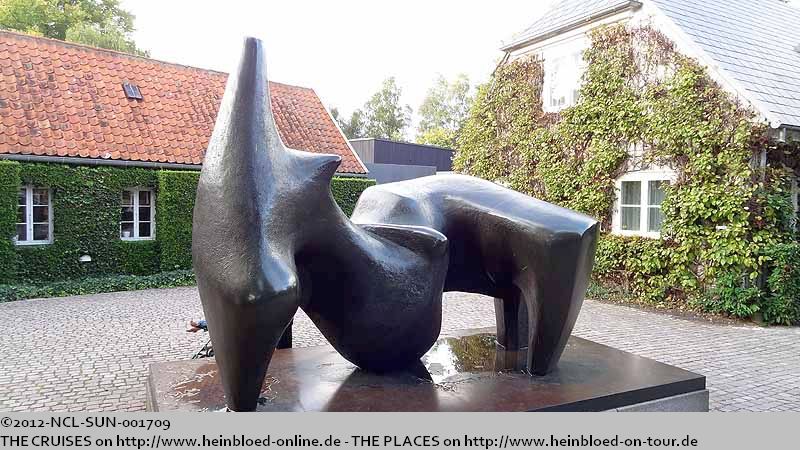 Bruno walked with them to the coastline that they could take some pictures of the Sound while I was waiting for my friends.

Bruno geht mit ihnen an die Küste, damit sie die Bilder vom Öresund machen können, während ich am Eingang auf meine Freunde warten.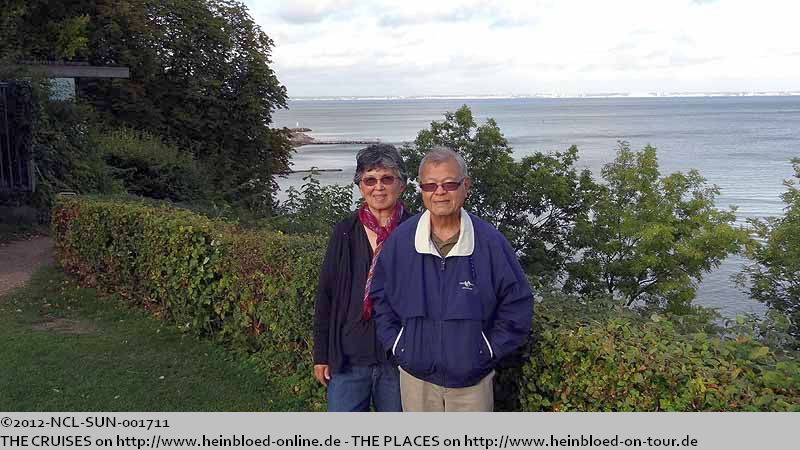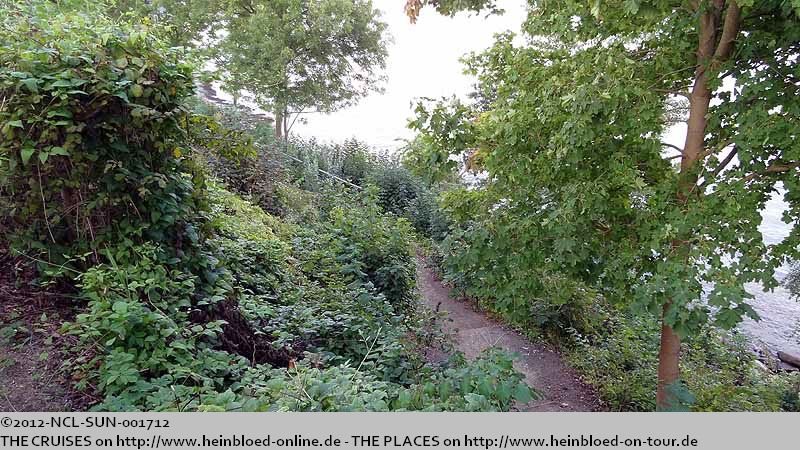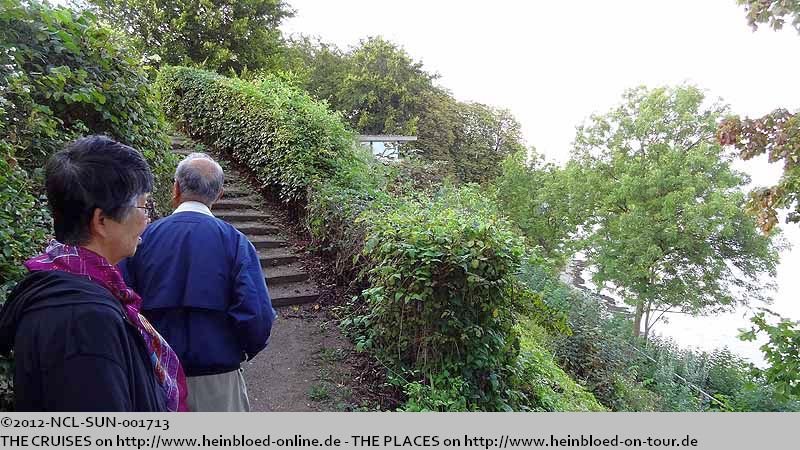 We met our friends at the entrance of Louisiana and they took Frances and Eddie by a car while Bruno and I walked the 400 yards quickly back.

Wir treffen unsere Freunde vor dem Eingang vom Louisiana und sie nehmen Eddie und Frances im Auto mit, während Bruno und ich die 400 m schnell zurück laufen.
Kirsten war Porzellanmalerin bei
Royal Copenhagen
. Vor ca. 20 Jahren war sie in Berlin anlässlich eines Sonderverkaufes im KaDeWe. Seit dem ist der Kontakt nie abgebrochen. Es kommen auch ihr Mann Ove, ihr Sohn Hans-Henrik und ihre Schwiegertochter May mit.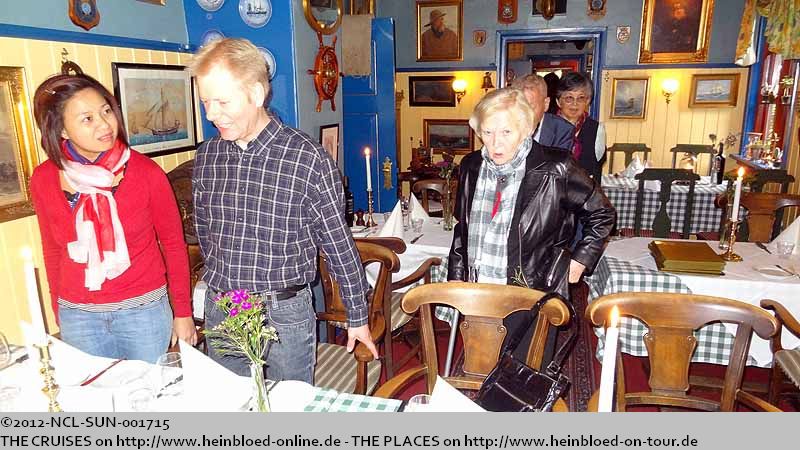 Kirsten was porcelain painter with Royal Copenhagen. About 20 years ago she came to Berlin to the KaDeWe Department Store for a special promotion. Since then our contact was never interrupted. So also her husband Ove, her sun Hans-Henrik and her daughter in law May showed up.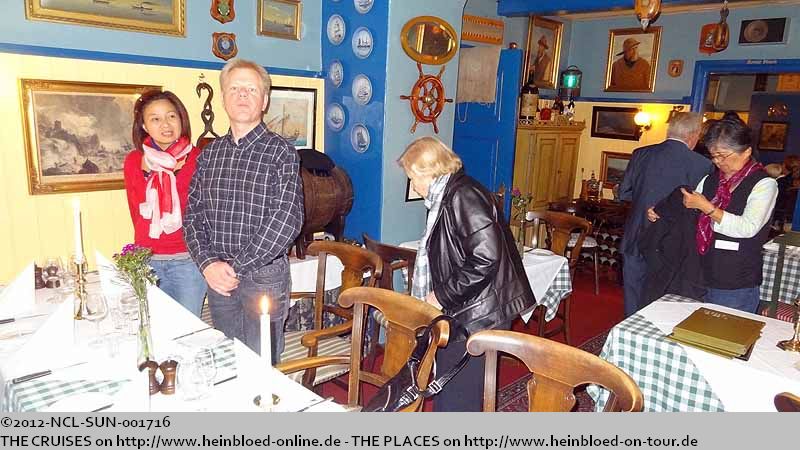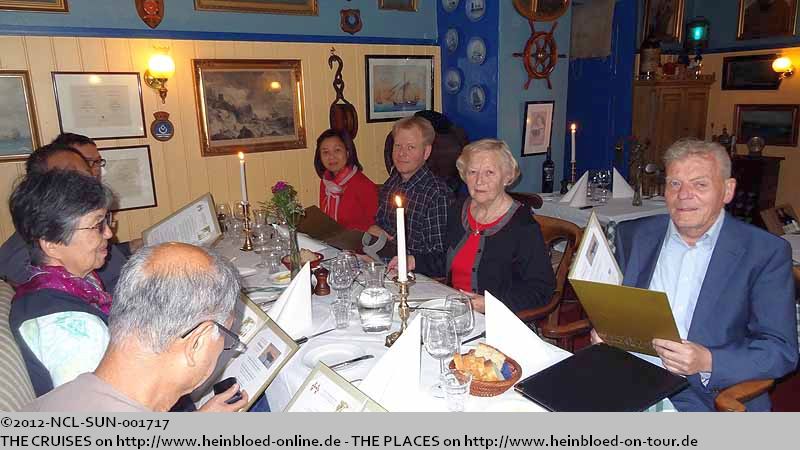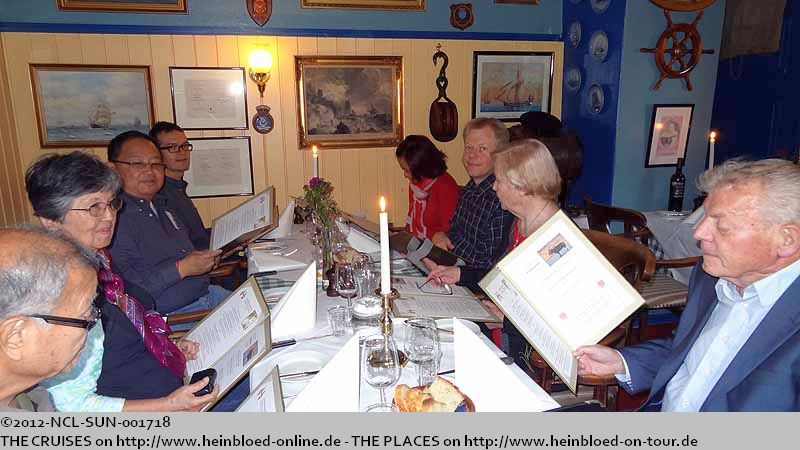 Frances lernt etwas zum Thema dänisches Design, als sie eine Kanne Tee bestellt.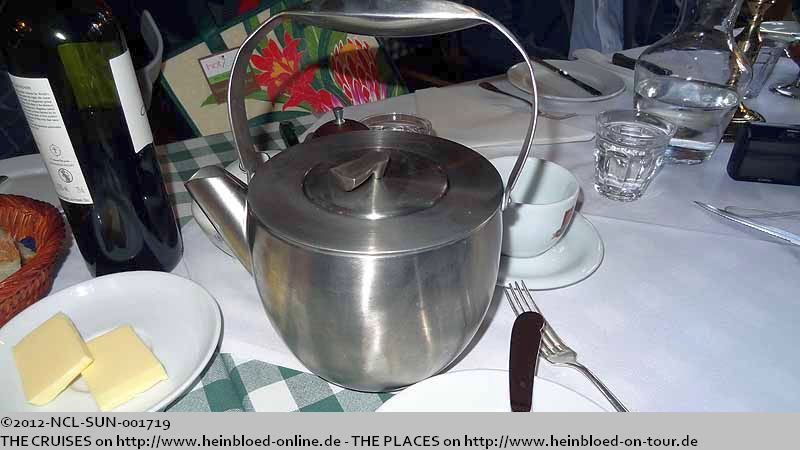 Frances learned something about Danish design when she ordered a pot of tea.

Typical Danish: a piece of meat with a lot of sauce...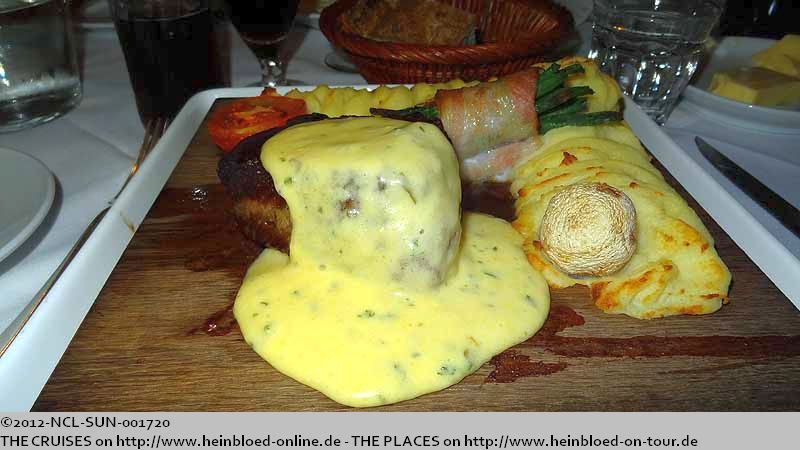 Typisch dänisch: ein Stück Fleisch mit viel Sauce...
Und für Frances eine frische Scholle mit echtem dänischen Gurkensalat, den sie auf Anhieb mag und für den sie sofort das Rezept von Kirsten bekommt.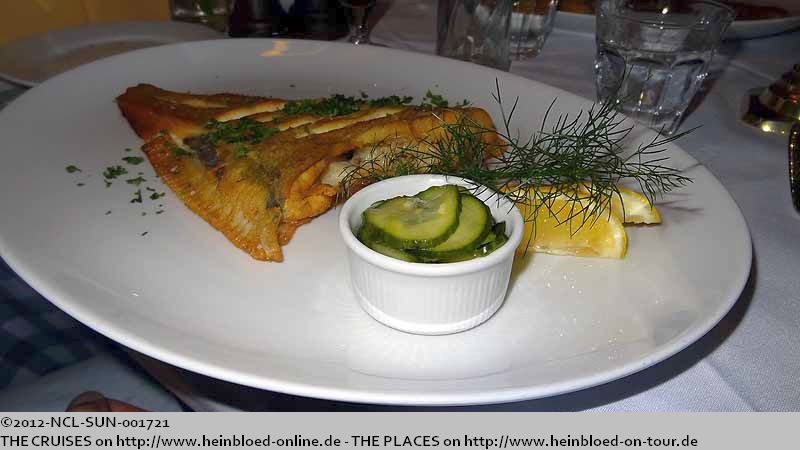 And Frances had a fresh flounder with real Danish cucumber salad which she liked immediately and got the recipe from Kirsten.

After that meal I need to have a Gammel Dansk.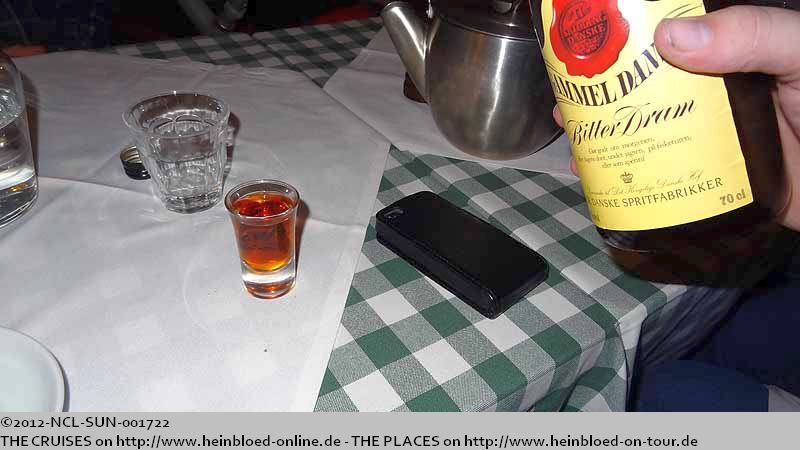 Nach dem Essen brauche ich einen
Gammel Dansk
.
Eine der wenigen Anlässe, bei denen ich mal Alkohol trinke. Ein Gläschen davon und egal, wie vollgefressen man ist: es liegt nicht im Magen und man kann wunderbar danach schlafen.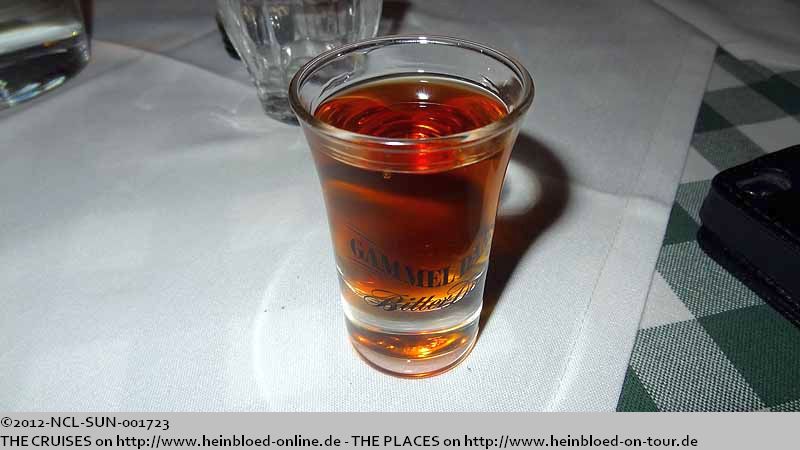 One after the less occasions I need to have some alcohol. A little glass of it and no matter how full you are: You do not have the feeling that it was like a brick in your stomach and you can sleep just wonderful after that.

I did not want to have a desert... and Frances said that she did not want to have one either.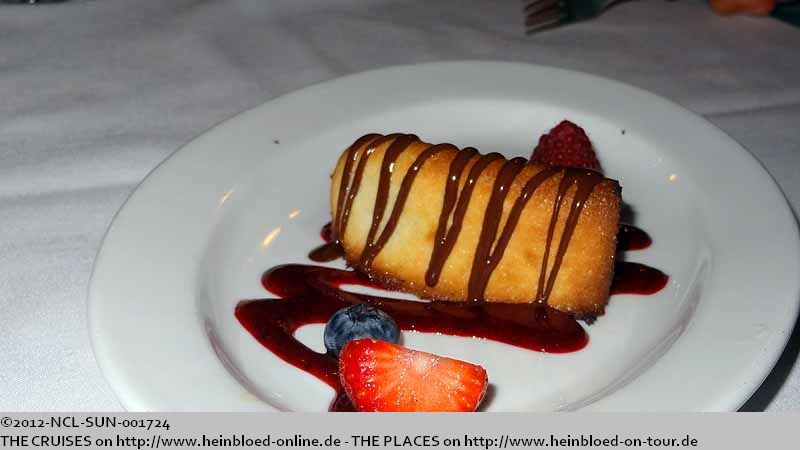 Ich verzichte auf ein Dessert... und Frances wollte eigentlich auch nichts...
Und isst kurzerhand Eddie die Hälfe weg...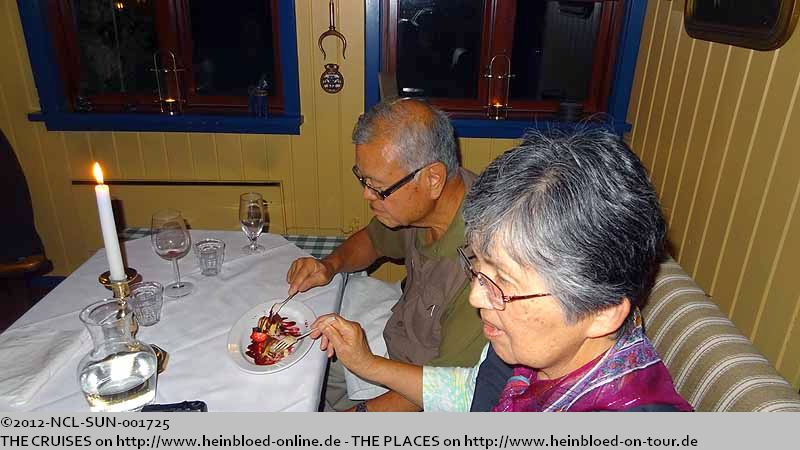 So she started to eat all of the desert from Eddie...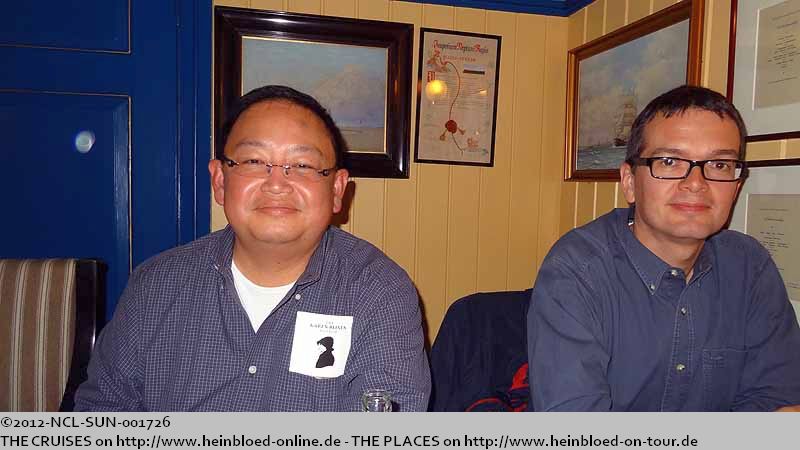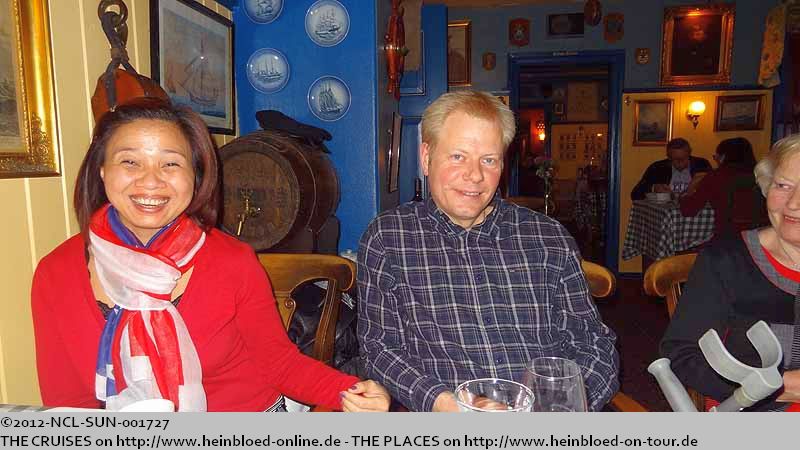 We enjoyed very much the lovely evening with our Danish friends.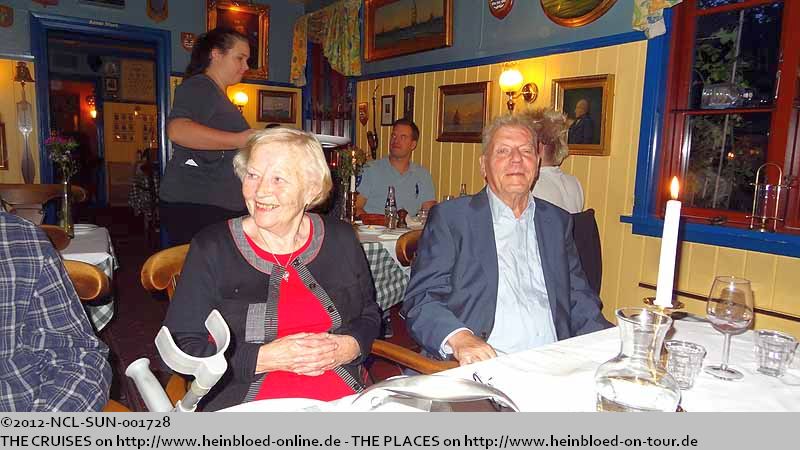 Wir genießen den Abend mit unseren Dänischen Freunden sehr.
Soviel zum Thema: ich nehme kein Dessert!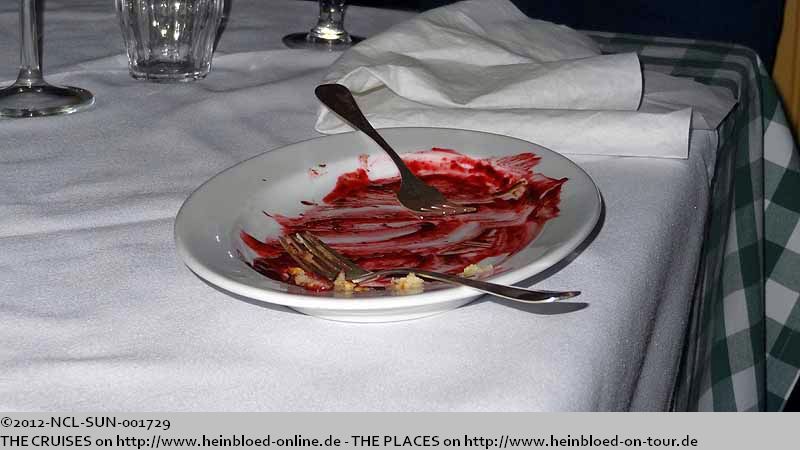 Just for the breaking news: I do not take any desert!

And we had to promise to show up again when we are back in Copenhagen.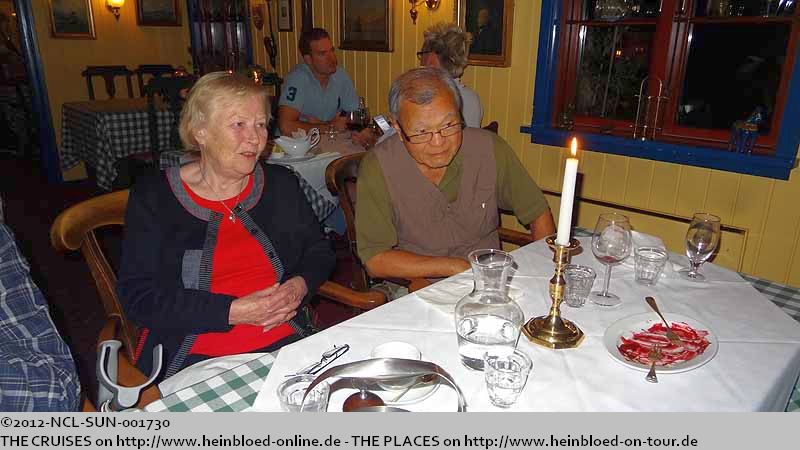 Und wir müssen versprechen, wenn wir wieder in Kopenhagen sind, auf jeden Fall wieder vorbeizukommen.
An der Wand entdecken wir Speisekarten von Schweden-Amerika-Linie.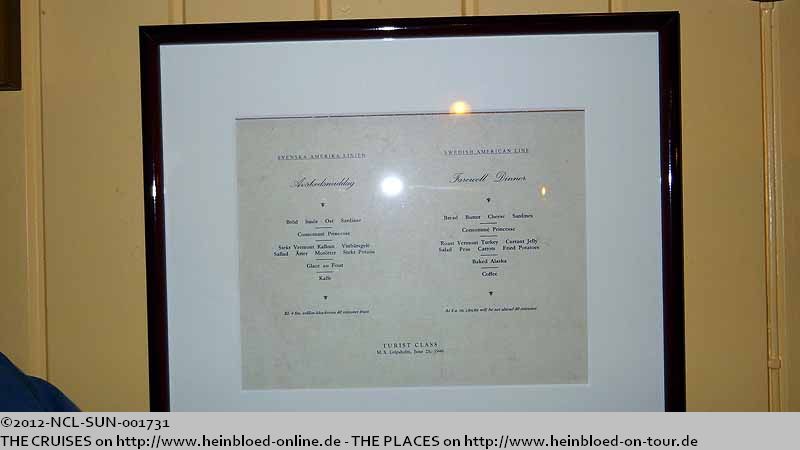 On the wall we discovered menu cards from the Sweden-Amercia-Line.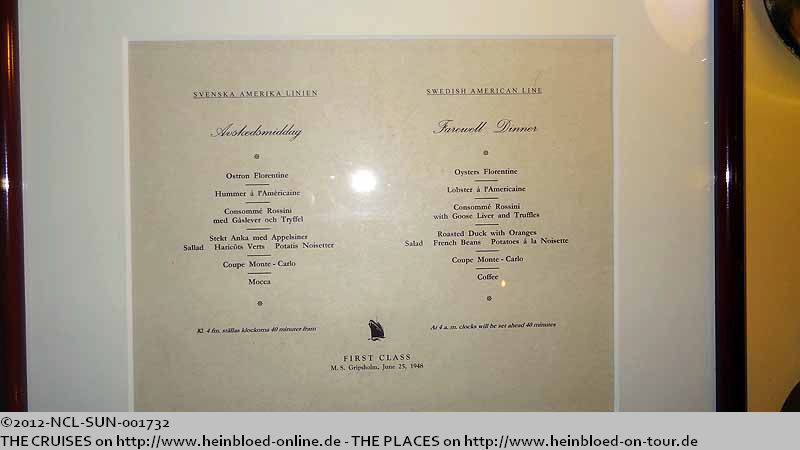 Typisch Dänsich am Schluss: ein guter Wunsch wie: Komm gut heim.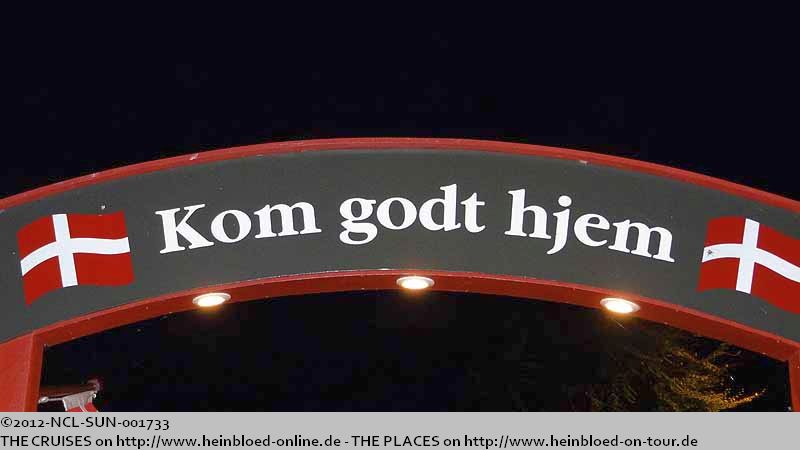 Typical Danish at the end: a good wish like: Get well home.
Die anderen Reisen in diesem Blog/
The other voyages in this blog: