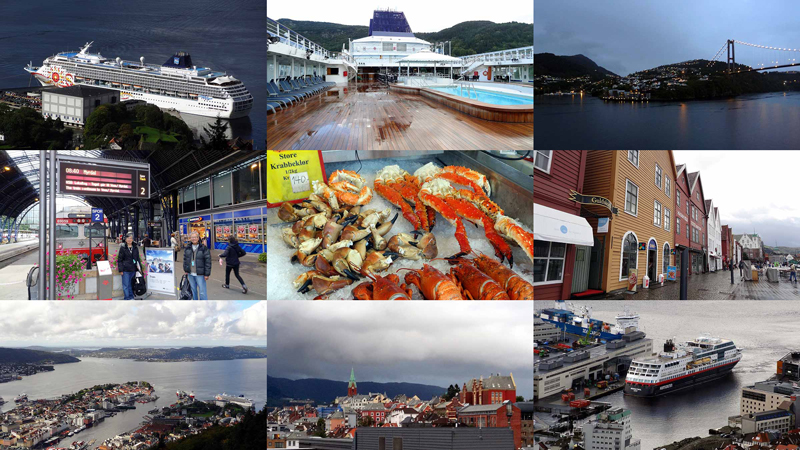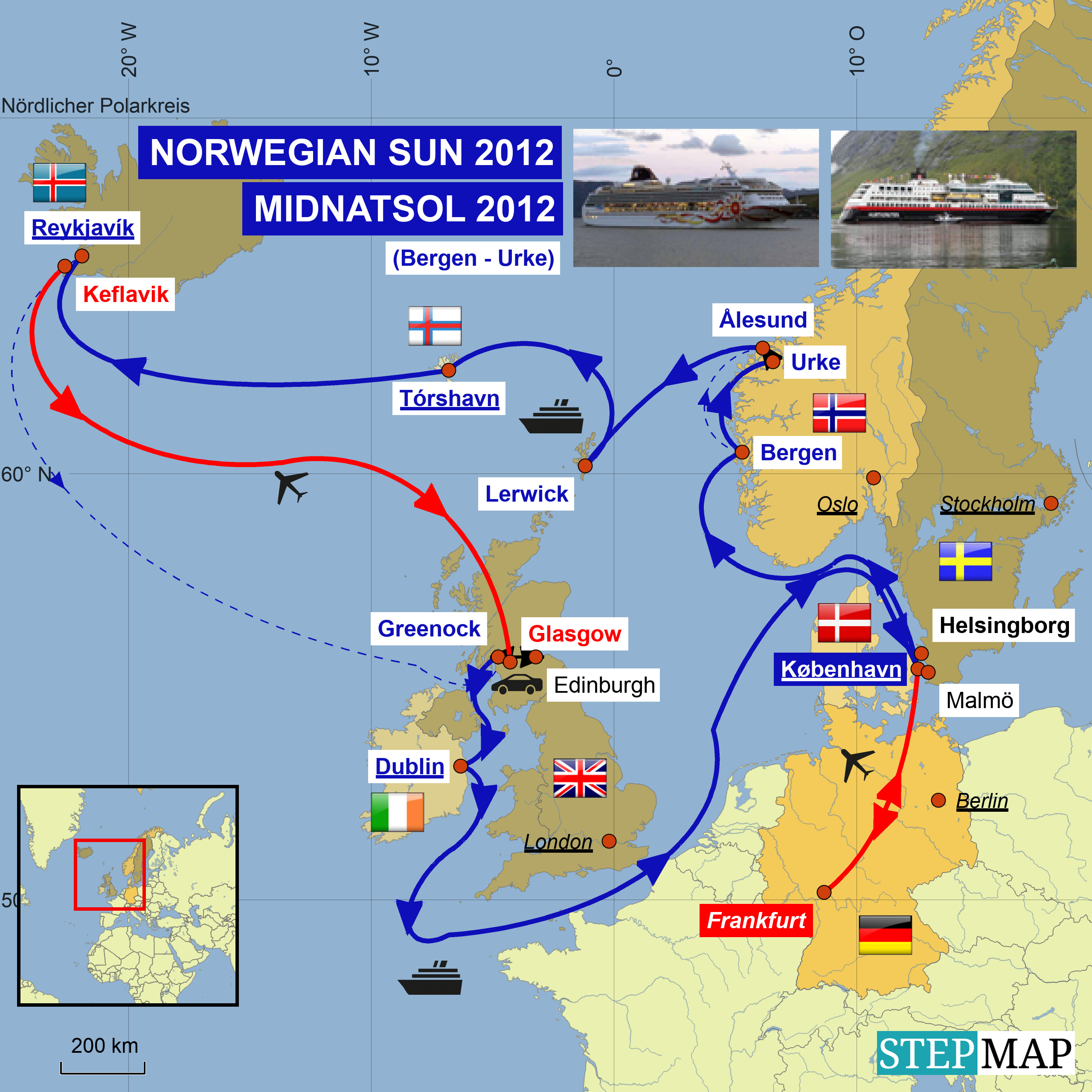 Oh wie interessant: wir laufen Bergen aus dem Norden an.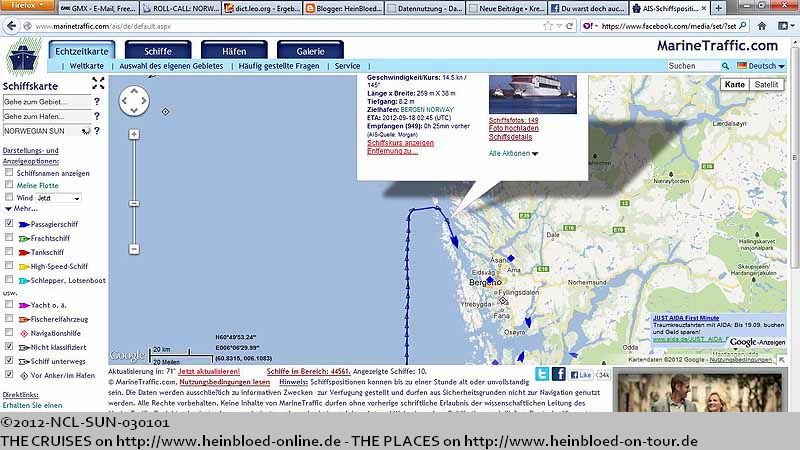 Oh that was interesting: we call Bergen from the North.

But Bergen was waking very slowly.

Aber Bergen wacht langsam erst auf.
Mal gucken, ob wir wieder hoch zum Flöyen fahren.

Let us see if we go again on Mt. Flöyen.

As we have been here before we started the day very calm.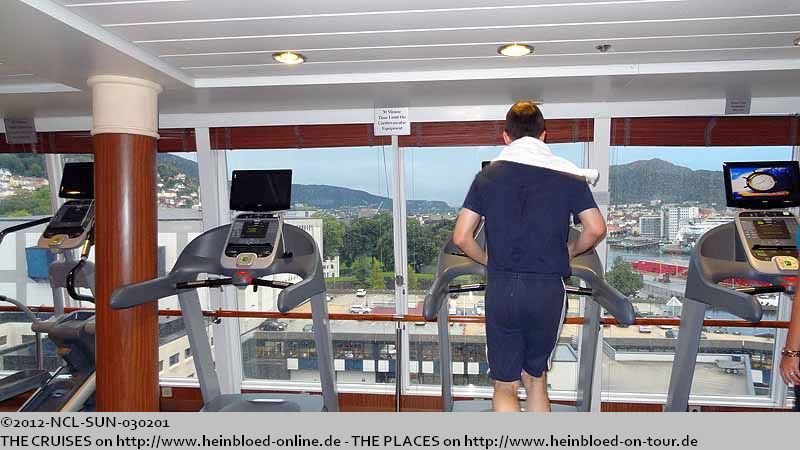 Da wir schon mal hier waren, lassen wir den Tag in Ruhe angehen.
Internationale Sprechstunde: Hatten wir bislang noch nicht in Anspruch genommen.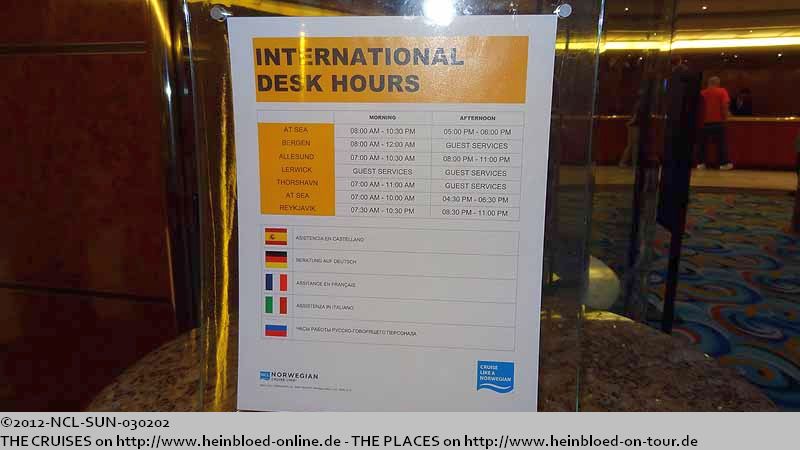 International Desk Hours: So far we did not use them all the time.

In the Java Café, you can grab a bite in the morning. But all were very sweet.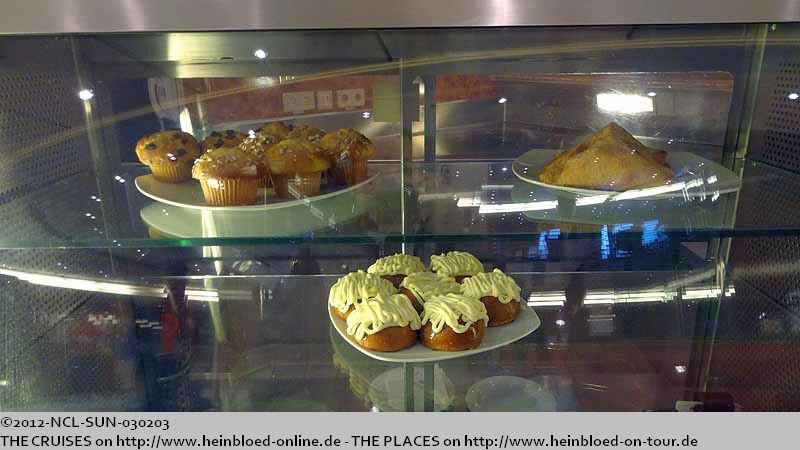 Im Java Café gibt es morgens eine Kleinigkeit... aber alles sehr süß.
Murder Mystery... da wir beide keine Lust haben, über mehrere Stunden in Englisch zu denken, verzichten wir darauf.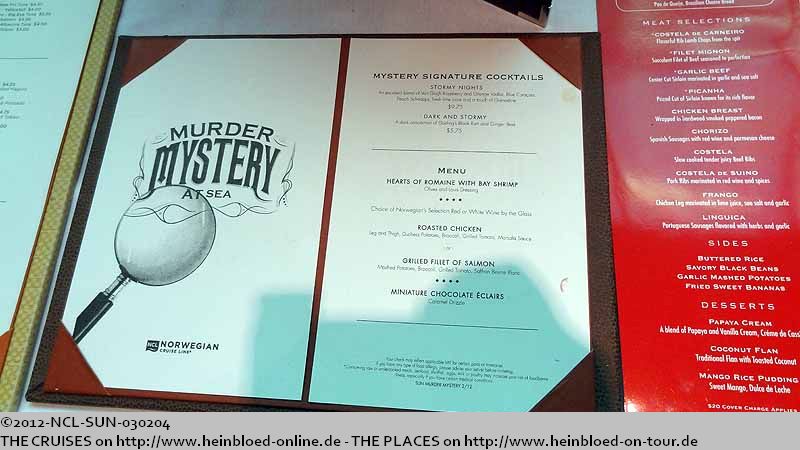 Murder Mystery... as both of us did not like to the idea to think all the time in English we did not book it.

Typical in Bergen: one moment you had blue clear sky.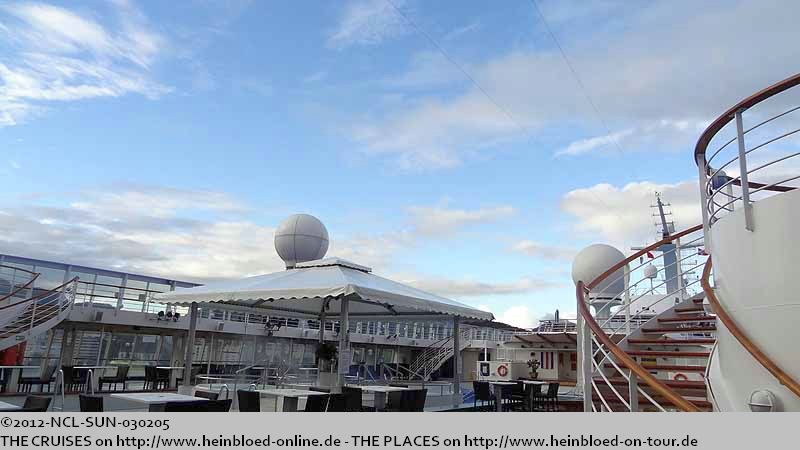 Typisch Bergen: in einem Moment strahlender Sonnenschein.
Im nächsten Moment: alles naß.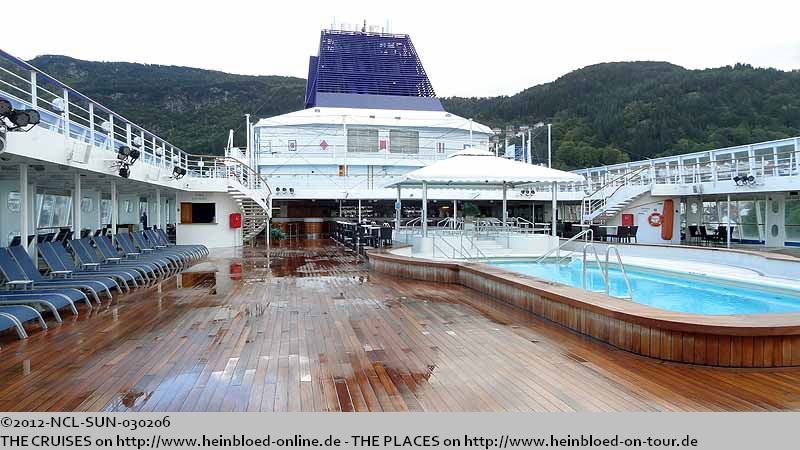 The next moment everything was wet.

Instead of spending some time ashore the guys used to time to fix the sunbeds.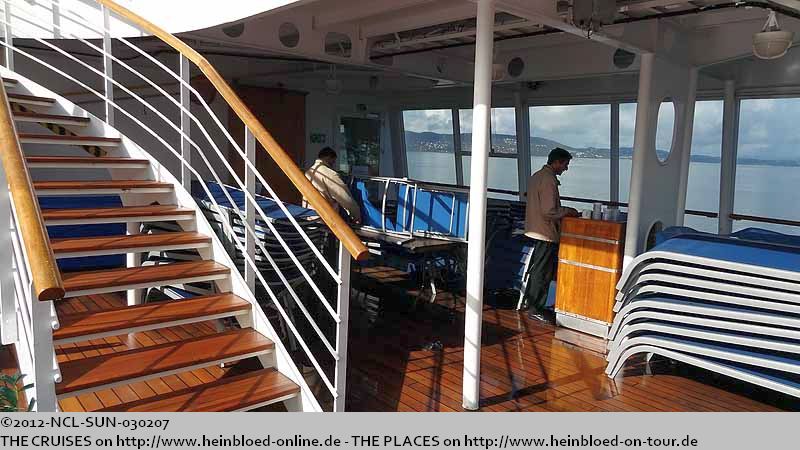 Statt Landgang nutzen die Jungs die Zeit, um die Liegestühle in Ordnung zu bringen.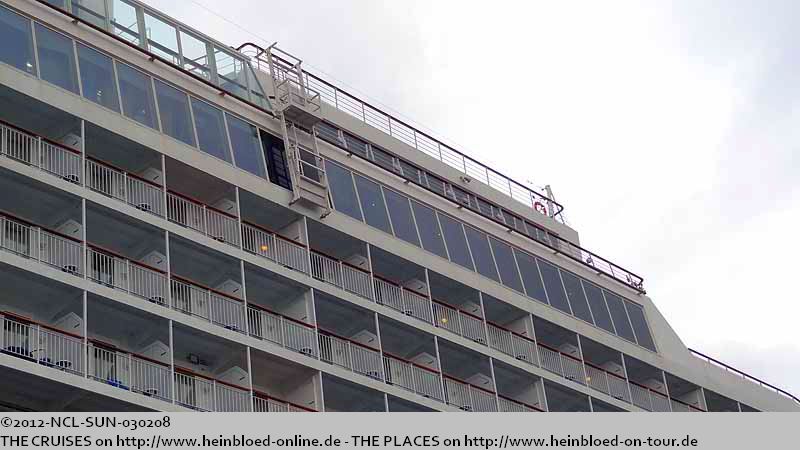 Welcome to Bergen: should stand at the Cruise Terminal.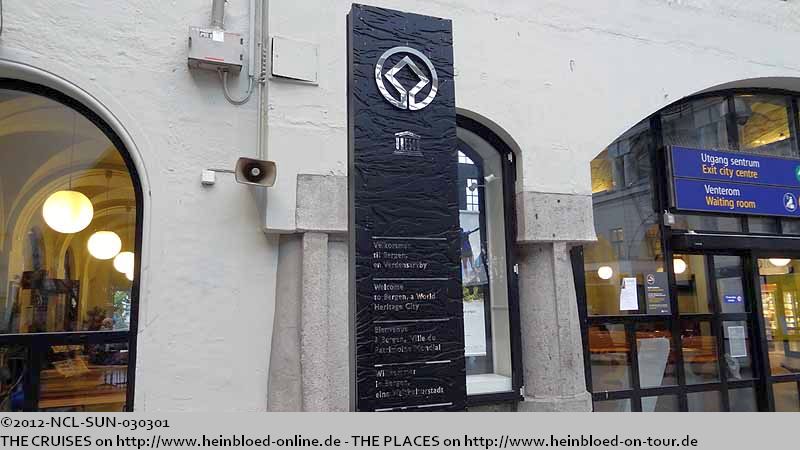 Willkommen in Bergen: Das müsste eigentlich am Cruise Terminal stehen.
18.30 Uhr an Bord... könnte eng werden, wenn der Zug Verspätung hat.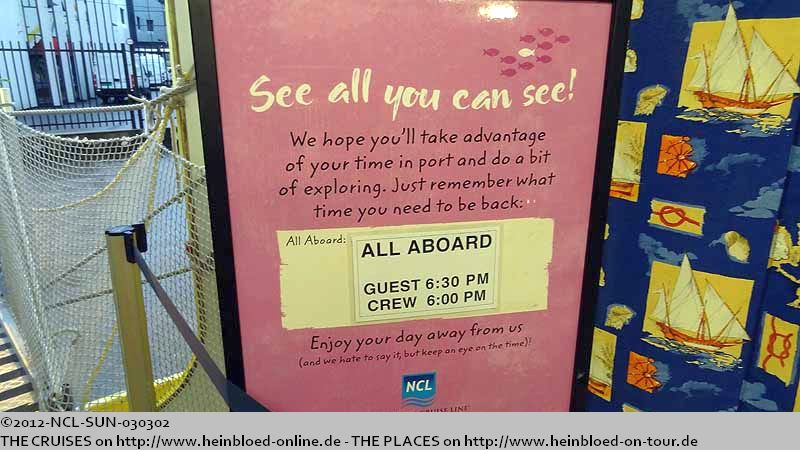 18.30 hrs on board... might be very tough if the train might be late.

We were more or less directly at Skolte Terminal. Just 100 yards away at the street Bontelabo.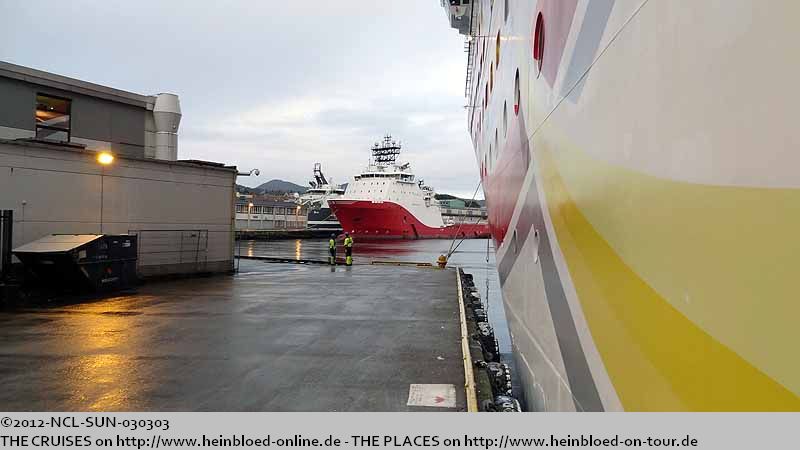 Wir liegen quasi am Skolte. Nur 100 m davon entfernt an der Straße Bontelabo.
Wir haben ein Taxi bestellt, das nicht da ist. Als ich wieder anrufe: es ist halt Rush-Hour, da kommt eben das Taxi, wenn es da ist und wenn keines da ist, kommt eben auch keins. Kreuzfahrer: kein Interesse. Das Interesse ist so gering, dass ich denen sogar genau erklären soll, dass wir an der Straße Bontelabo liegen.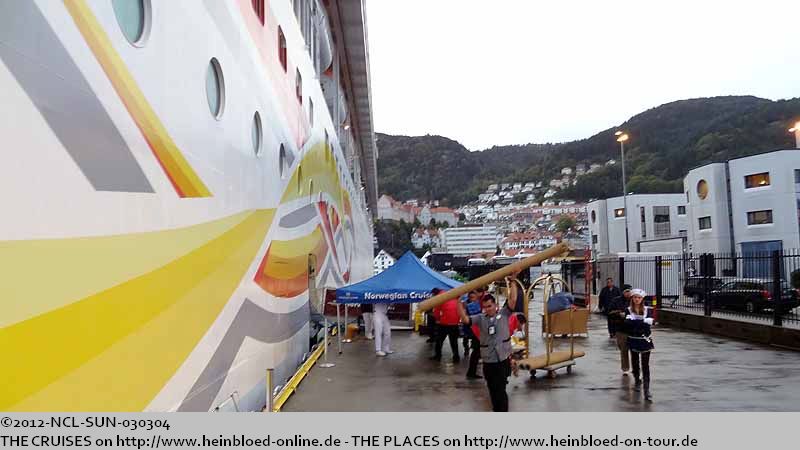 We ordered a taxi which did not show up. When I called again: it was rush-hour, so a taxi comes when it comes, and if there is none available, then none will show up. Cruise ship guests: no interest. They were interested so much in the cruise ship guests that I need to explain which street we were exactly.

The only taxi which was there was blocked for the pilot: But it was from the same company where I booked.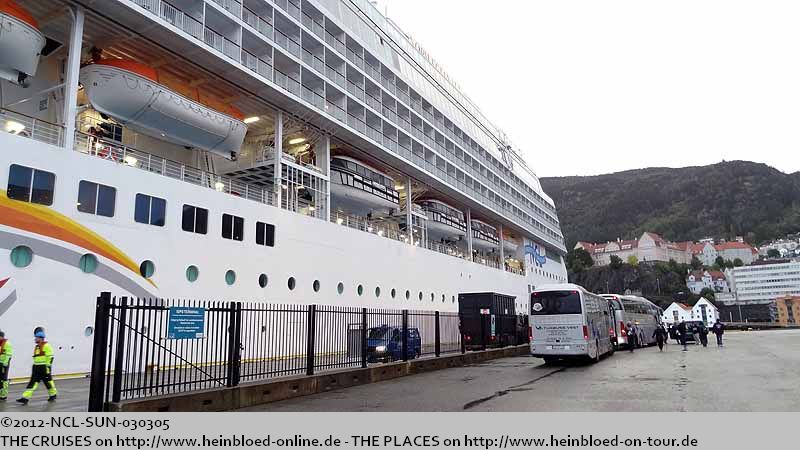 Ein einziges Taxi ist da: für den Lotsen. Zufällig von der gleichen Gesellschaft, bei der ich gebucht habe.
Nach dem ich den Fahrer so genervt habe, wird mein Auftrag storniert. Wir sollen mit dem Lotsen mitfahren und dessen Rechnung übernehmen, bis dass wir aussteigen. Einen neuen Auftrag von mir für den Nachmittag will der Fahrer nicht annehmen.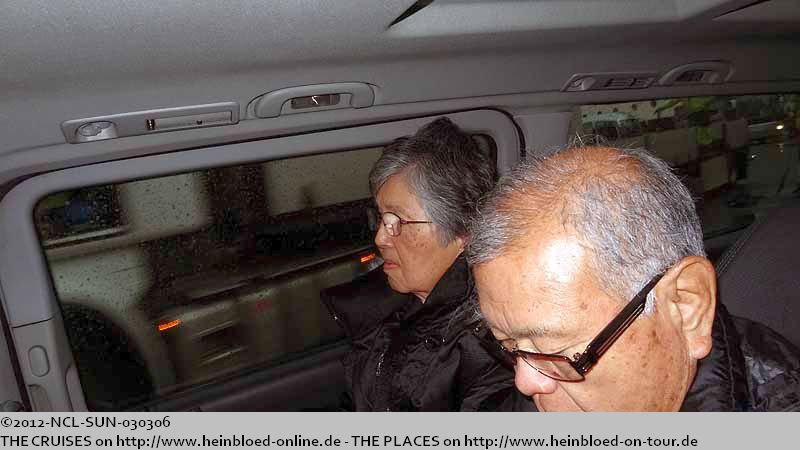 I bothered the driver so often that they cancelled my order. We should go with the pilot and take over his bill until we leave the car. The driver did not accept a new order for the afternoon from me.

So I took Eddie and Frances right on time to the station for the start of Norway in a Nutshell-tour at Bergen Central Station. Not just the price was deciding but also that you take the boat from Gudvangen to Flaam and see the UNESCO World Heritage Naeroyfjord and not take the 27 miles long tunnel instead. This public tour ends few minutes before 18.00 hrs. At 18.30 hrs you need to be back on board. And you might have the same disaster getting a taxi. So we had a plan B ready. Just to be on the safe side. A very safe side. The tour was not cheap but worth the money. We went on this tour but in the opposite direction when we called Bergen on BOUDICCA 2009. We went on WESTERDAM 2010 to Flaam. So we did not go this time, but you can find our pictures there.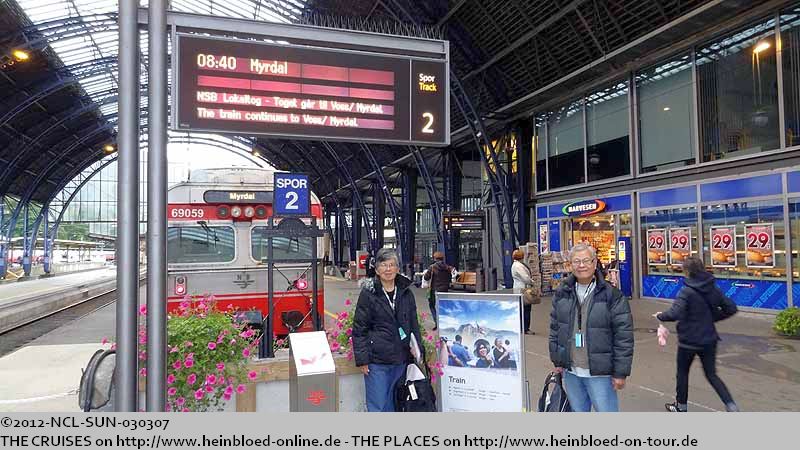 So bringe ich Eddie und Frances rechtzeitig zum Start von Norway in a Nutshell am Hauptbahnhof von Bergen. Nicht nur der Preis entscheidet, sondern auch, dass man hier von Gudvangen nach Flaam mit dem Boot fährt und so ein UNESCO-Welterbe durchfährt: den Naeroyfjord, während NCL den 43 km langen Tunnel zwischen den Orten benutzt. Damit ist man sicher wieder am Schiff. Die öffentliche Tour endet kurz vor 18.00 Uhr am Bahnhof in Bergen. Und um 18.30 Uhr muss man wieder an Bord sein. Und die Arie mit dem Taxi wieder losgeht. So halten wir einen Plan B bereit. Damit wir auf der sicheren Seite sind. Sehr sicheren Seite. Die Tour ist nicht sehr billig, aber lohnenswert. Wir waren daher, als wir mit der BOUDICCA 2009 in Bergen waren, auf dieser Route unterwegs - nur umgedreht. Wir waren mit der WESTERDAM 2010 in Flaam selbst. Daher fahren wir nicht mit - aber unsere Bilder sind dort zu finden.

Ich war bereits vor 09.00 Uhr wieder zurück. Deswegen werde ich vom Cruise Director Jaime de Souza persönlich wieder an Bord begrüßt, die eigentlich da steht, um die anderen Gäste für ihre Ausflüge zu verabschieden. Sie hat heute morgen die Gäste mit "Oh what a beautiful morning" begrüßt. Schön gesungen, aber die Morgenstimmung von Edvard Grieg wäre natürlich in der Grieg-Stadt passender gewesen. Sie kommt aus Quebec. Und ich hatte eigentlich von meinen Geschäftspartnern in Montréal gelernt, dass die Quebequois und Franzosen sich eigentlich auf Englisch unterhalten, weil sie sich mit ihrem "French quebequois und French parisien" nicht verstehen. Jaime und Richard sagen aber, dass sie sich gut verstehen und sich auch auf Französisch unterhalten.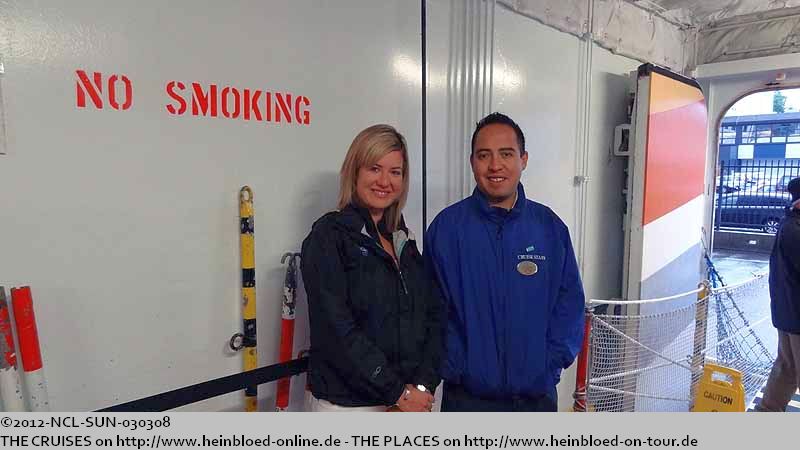 As I was back before 09.00 hrs. So I was welcomed back personally by Cruise Director Jaime de Souza who was there to say goodbye to the other guests who were going on shore excursions. She sang that morning "Oh what a beautiful morning". Very nice. But I think the Morning Mood by Edvard Grieg in the city of Grieg would fit better. She is from Quebec. And I learned from my Montréal business partners that Quebequois and French would communicate in English because they cannot understand each other if they communicate in "French Quebecois and French Parisien". But Richard and Jaime said that they understand each other very well and could communicate in French.

The time was enough to have breakfast in the MDR. As I was allowed finally to decide by myself at the box, I discovered for me Green Tea with Mint and must drink the Passion Fruit anymore.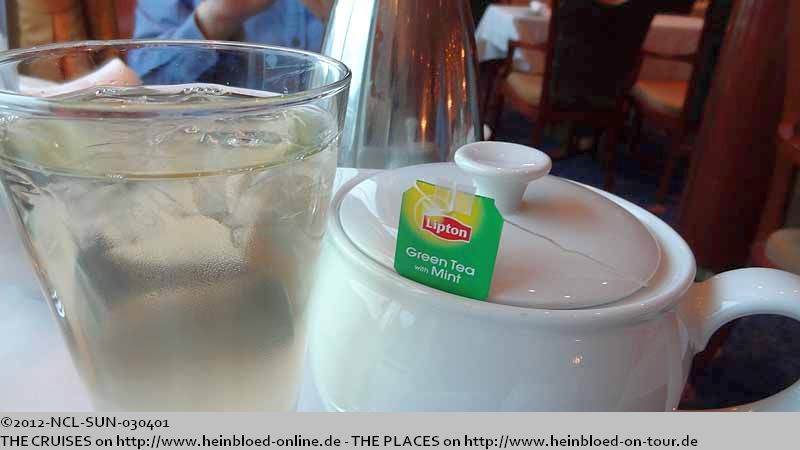 Die Zeit reicht noch, um im Restaurant zu frühstücken. Da ich endlich selbst an der Box entscheiden darf, entdecke ich für mich Grünen Tee mit Minze und muss nicht mehr den Maracuja trinken.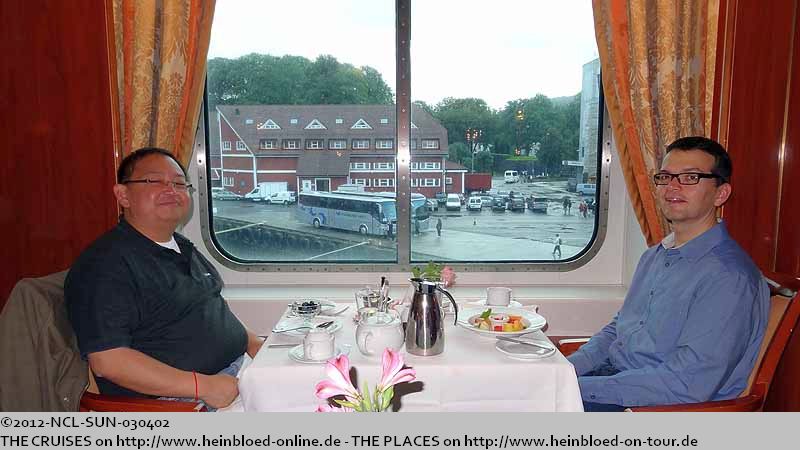 Bruno got a little bowl of berries on request.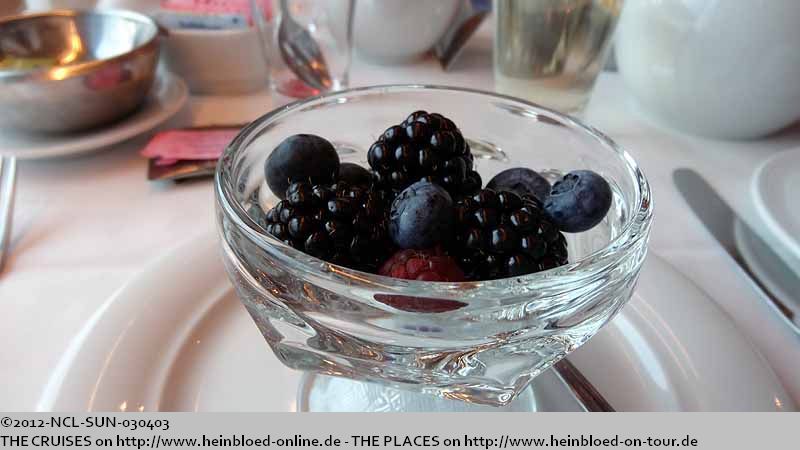 Bruno bekommt auf Anfrage auch ein Schälchen mit gemischten Beeren.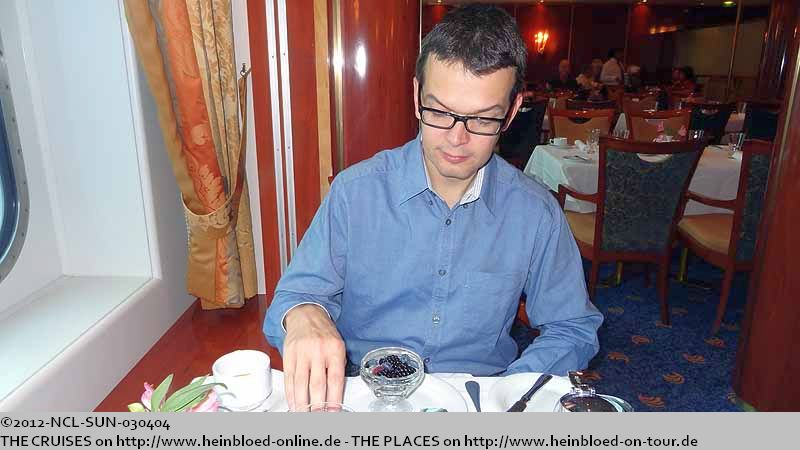 And he tried one muffin.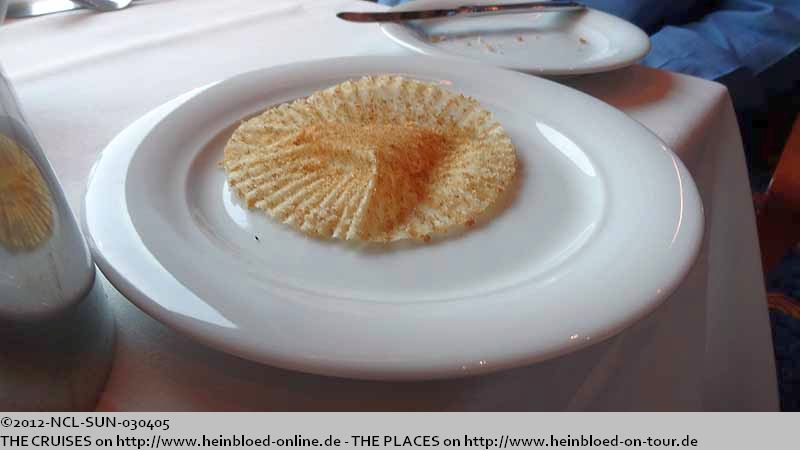 Und probiert doch mal einen Muffin.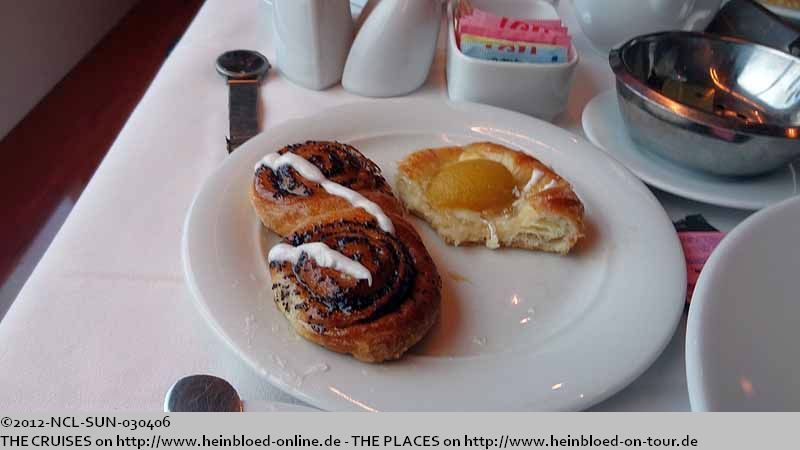 We both took Egg Benedict on salmon.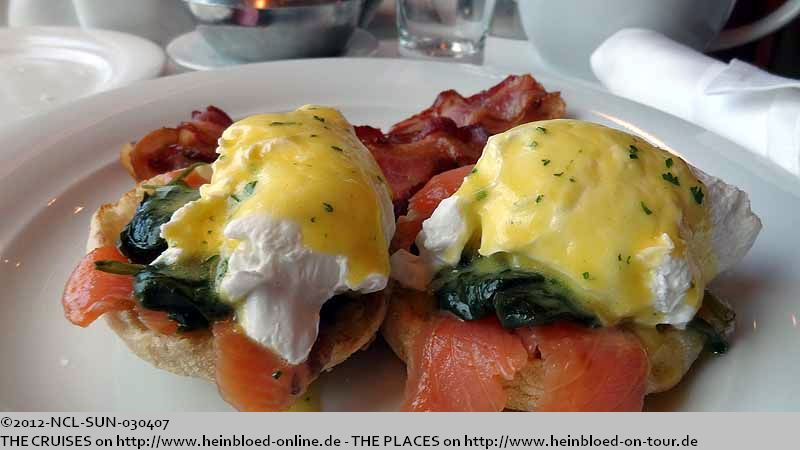 Wir nehmen beide mal einen Egg Benedict auf Lachs.

Aber Bruno die leichtere Variante ohne Sauce Hollandaise.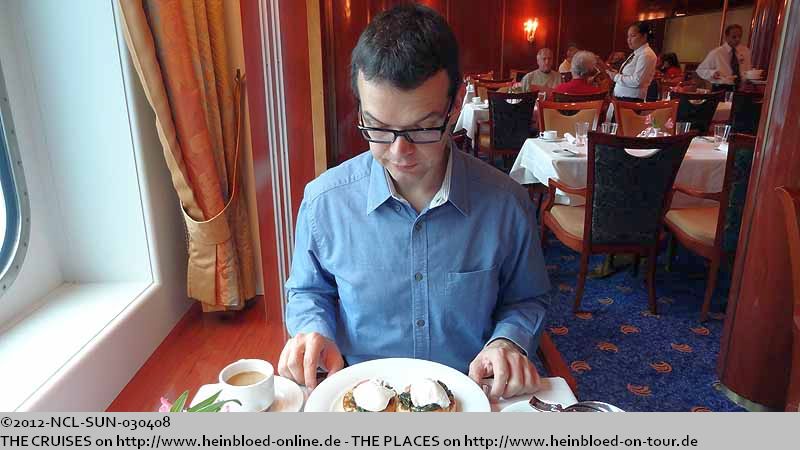 But Bruno took the light version without Sauce Hollandaise.

We discovered the rainbow over Bergen.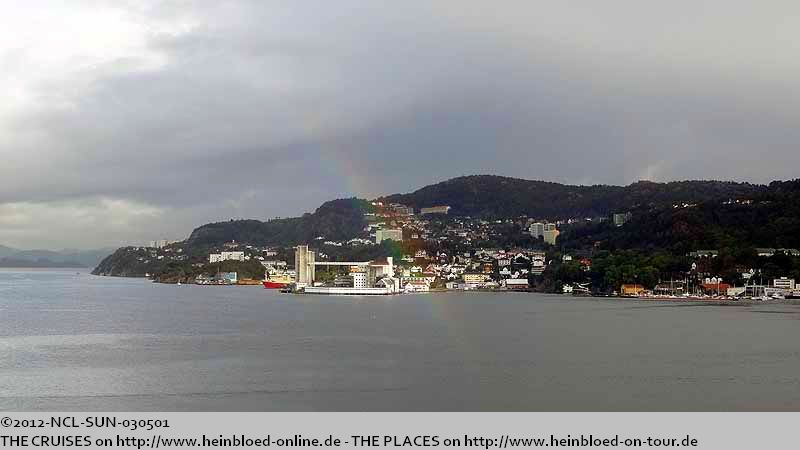 Wir entdecken einen Regenbogen über Bergen.

Und ständig regnet es.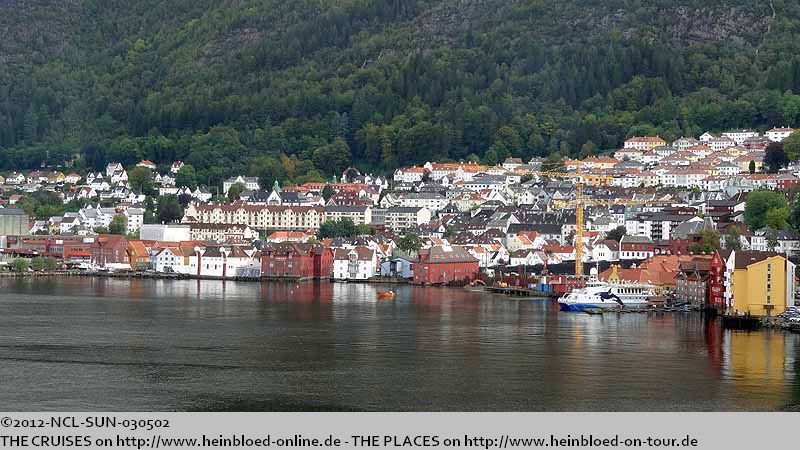 But it rained and rained.

Da mittags das Restaurant geschlossen ist, gibt es nur im SB-Restaurant etwas mittags zu essen.





As the MDR was closed we could only get something for lunch in the self-service restaurant.

I discovered the Indian lentil flour bread for me.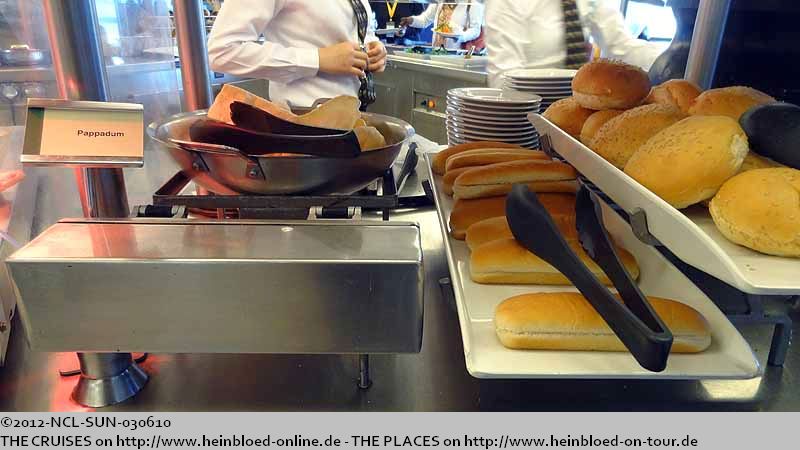 Ich entdecke das indische Linsenmehlbrot für mich.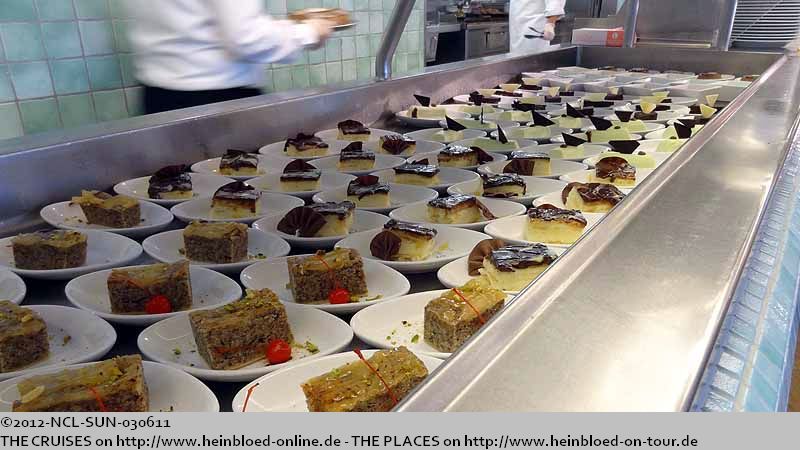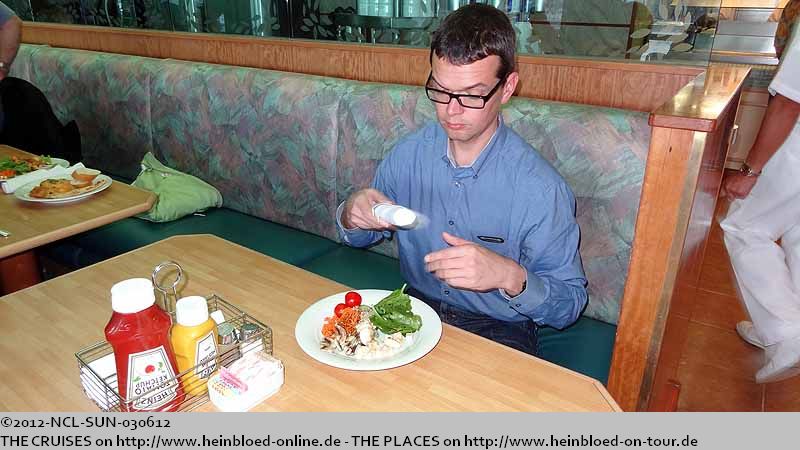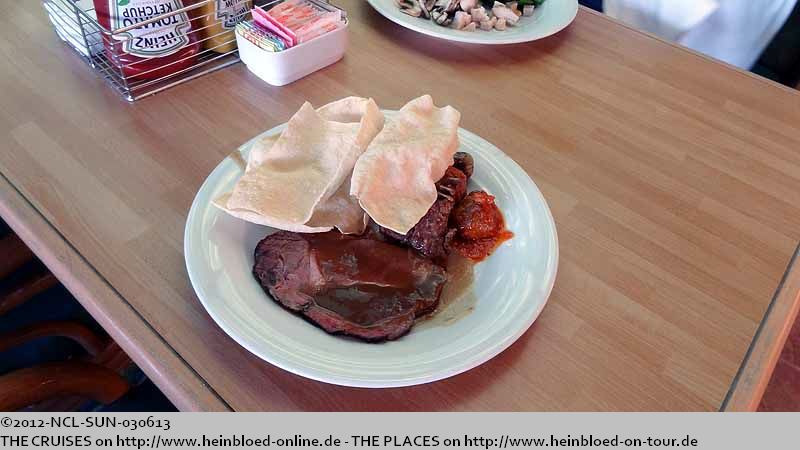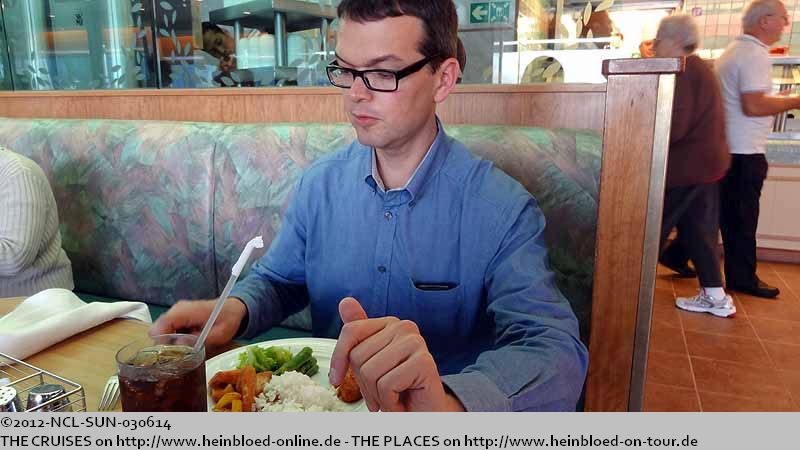 Hier an der Wokstation gab es richtig leckere gebratene Nudeln. Leider reichen sie nicht mit zum Ende der Reise.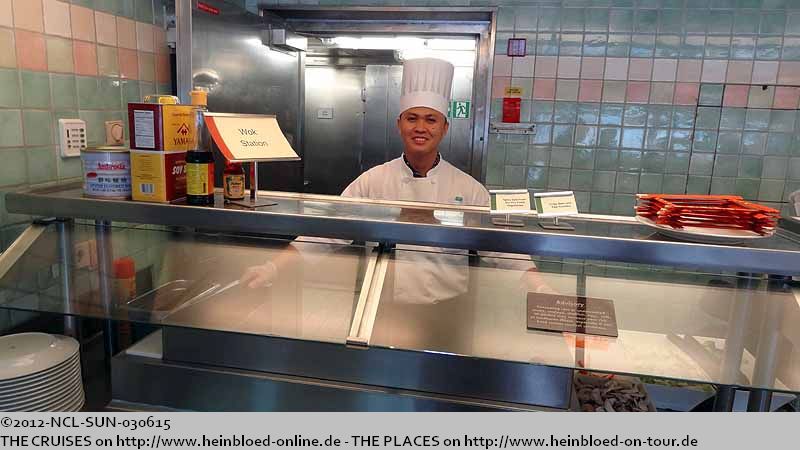 Here at the wok-station you could real yummy fried noodles. But they had not enough of them until the end of the cruise.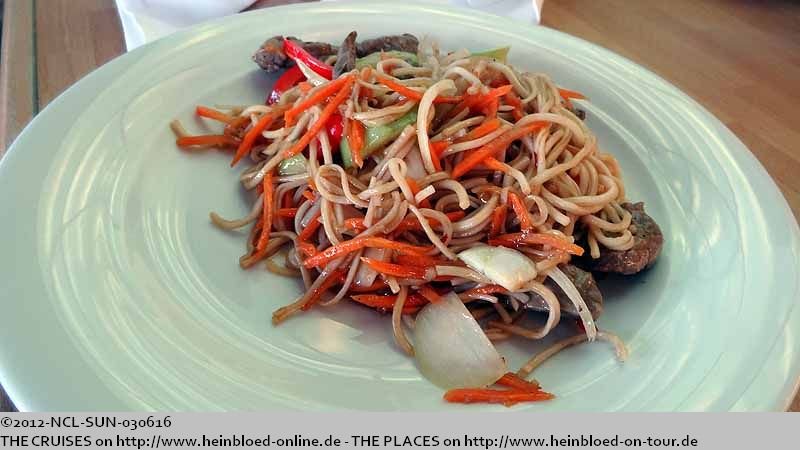 Und die Hühnerbrühe... nicht so gut wie gestern Mittag, aber besser wie am 1. Tag.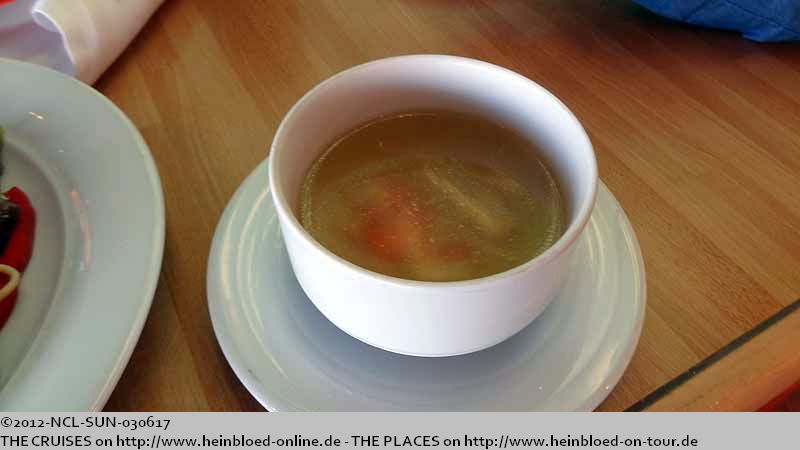 And the chicken broth... not as good as yesterday with lunch but better than on the 1st day.
Die anderen Reisen in diesem Blog/
The other voyages in this blog: