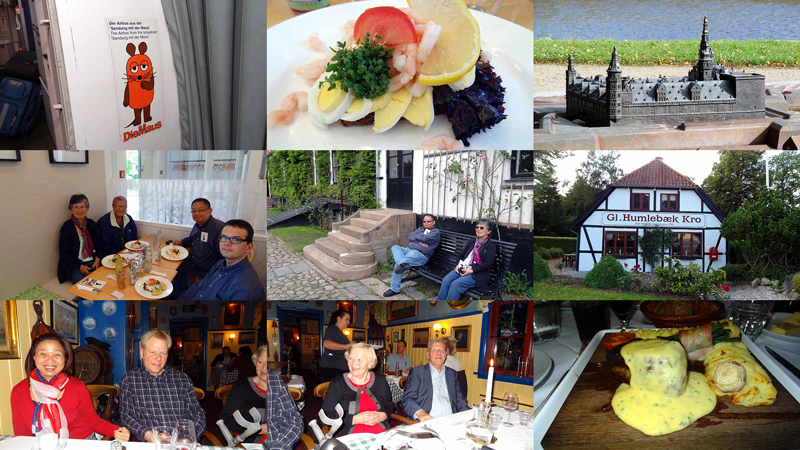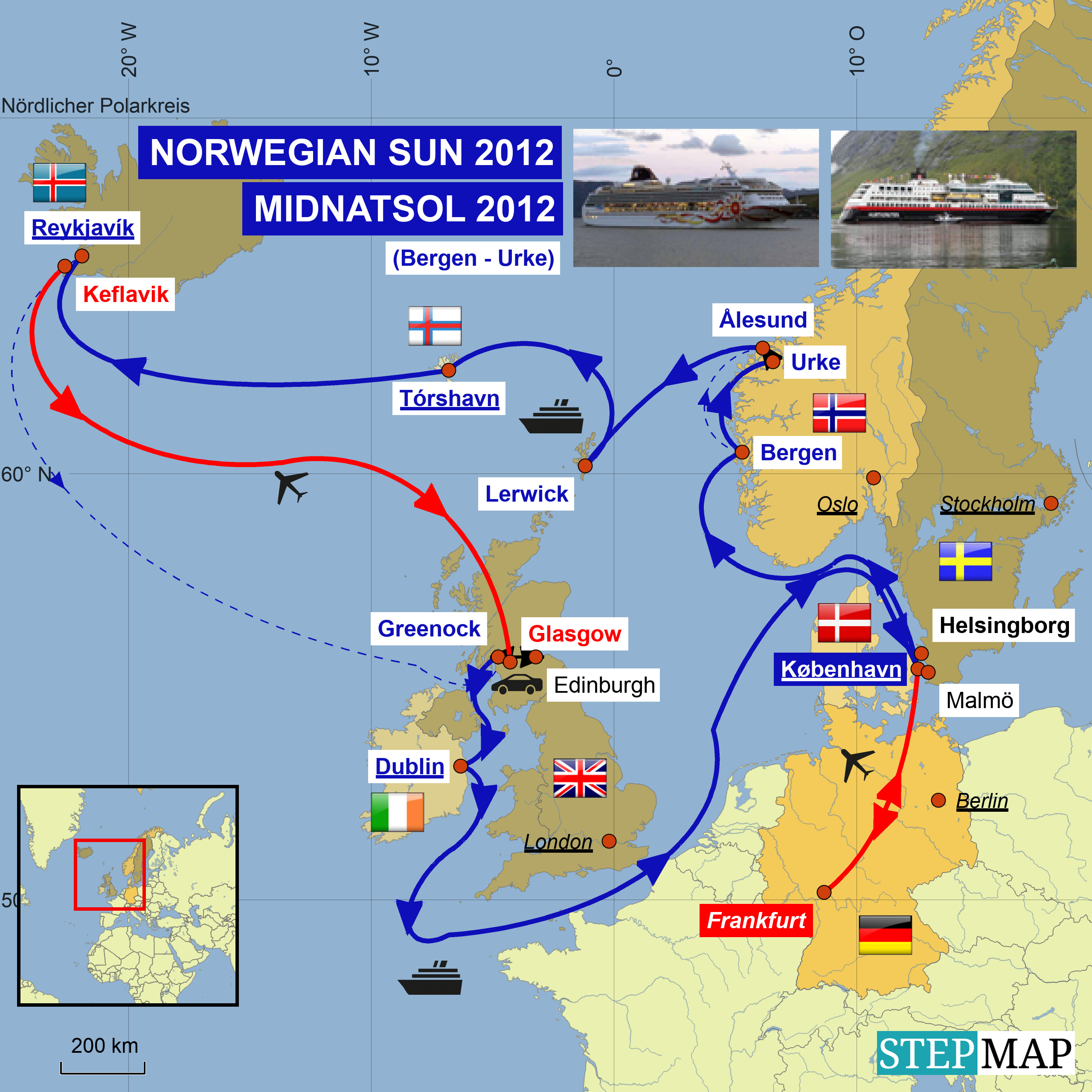 Los geht es in Frankfurt. Endlich darf ich wieder in die Senator-Lounge, was soviel bedeutet, dass sie mir ein Brot schmieren und ich immer ein paar Würstchen bekomme und Bruno mitnehmen darf.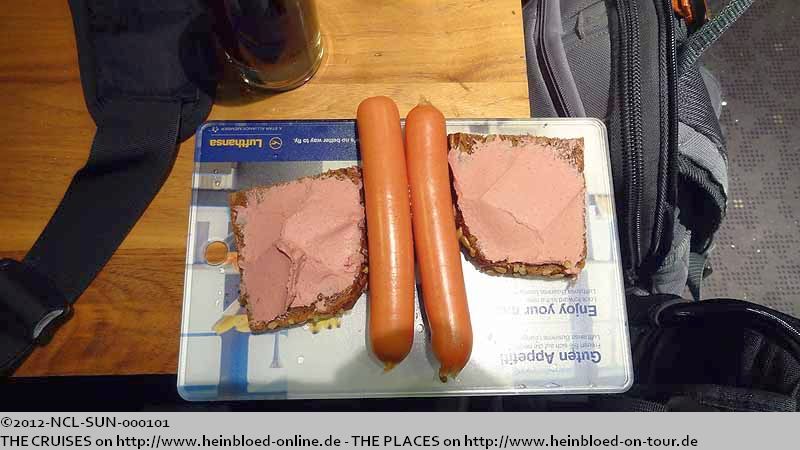 We started in Frankfurt. Finally, I was allowed again to use the Senator-Lounge which means you get a freshly prepared sandwich and always some sausages and I can take Bruno with me.

Let's head to Copenhagen.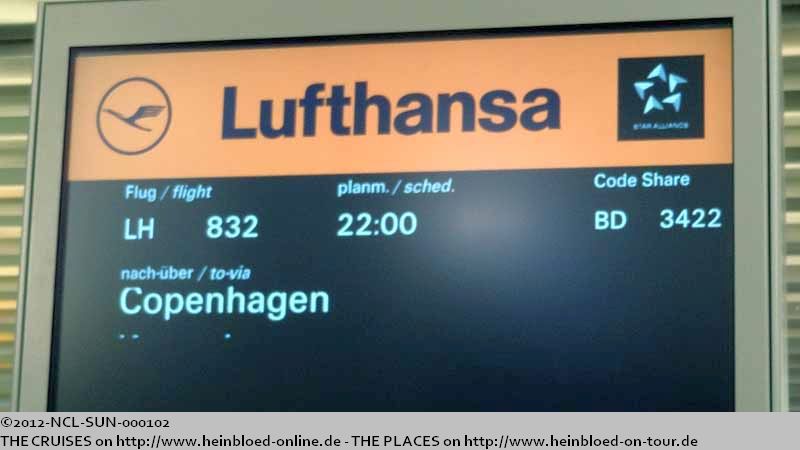 Auf geht es nach Kopenhagen.
Mit "der Maus" waren wir schon mal unterwegs.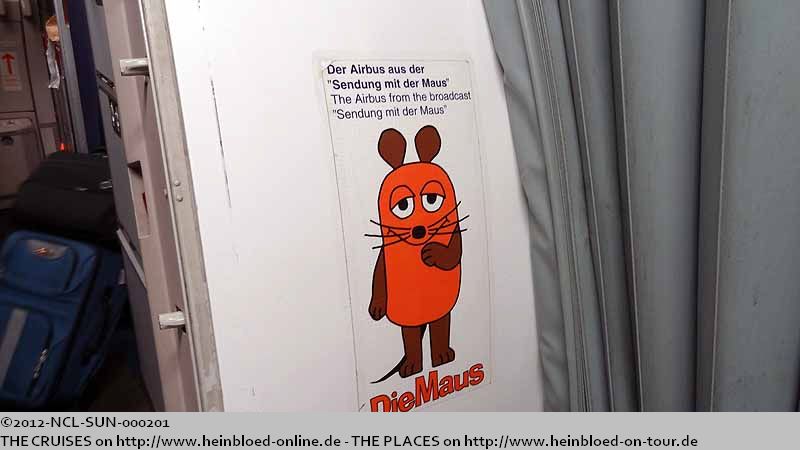 We were already on a flight with the German TV-Mouse.

Before you have too high expectations when you fly Lufthansa: it was a cocktail sausage and a cornichon (small cucumbers)...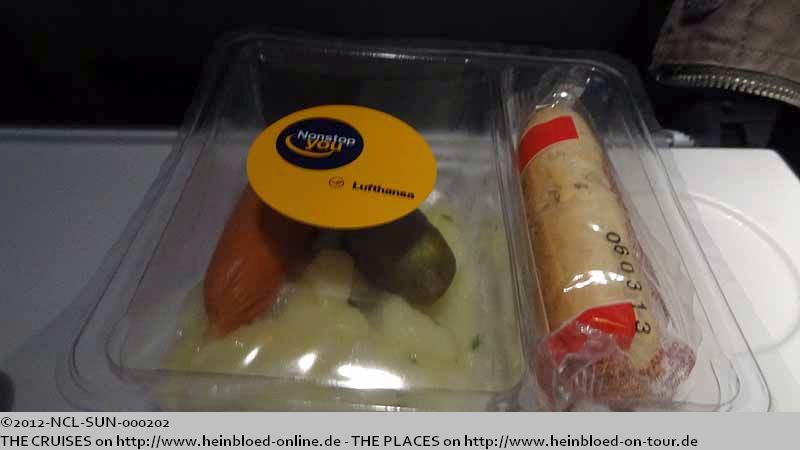 Bevor überzogene Erwartungen an Lufthansa gestellt werden: Es handelt sich hierbei um ein Cocktail-Würstchen und um ein Cornichon...
Wenigstens wurde es noch bei LSG Sky Chefs selbst hergestellt und nicht auch schon extern hinzukauft, eingefroren und wieder aufgetaut.

But it was freshly made by LSG Sky Chefs and not purchased externally, freezed and defreezed.

Our bags arrived... while the first forecast was 24 minutes.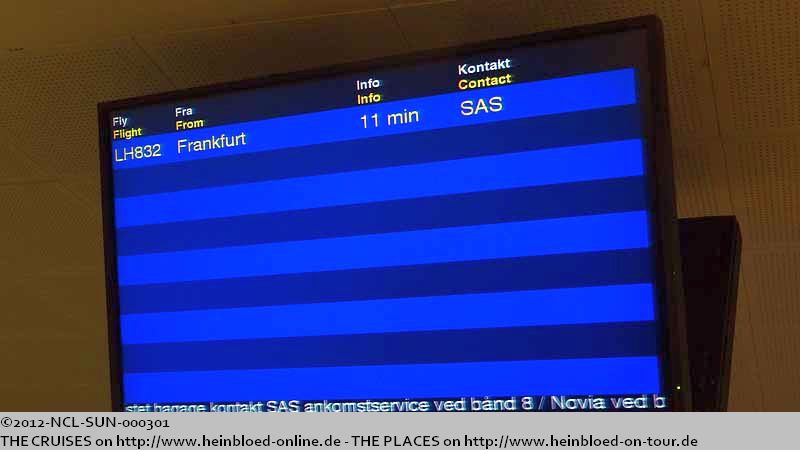 Unser Gepäck kommt... wobei die 1. Prognose 24 Minuten hieß.
Das Gute: man kann die Wartezeit damit verbringen, sich schon mit Fahrkarten und Abfahrtinformationen zu versorgen.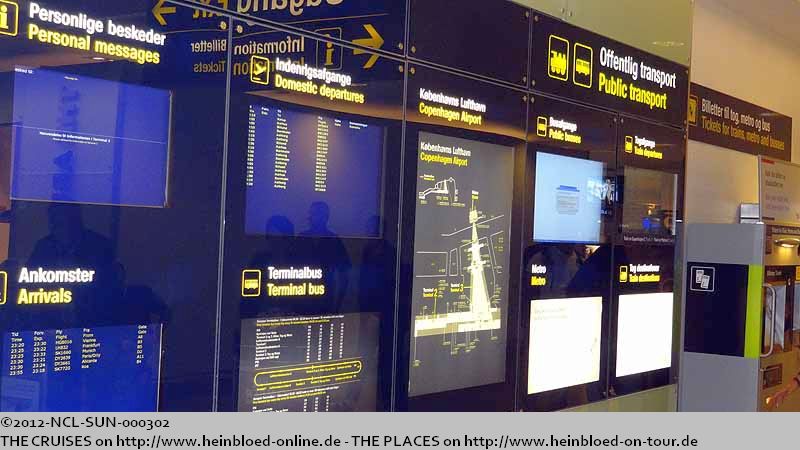 The good: you can use the waiting time to buy tickets and check departure times.

We arrived at Terminal 3, so we only need to walk to the other end of the hall.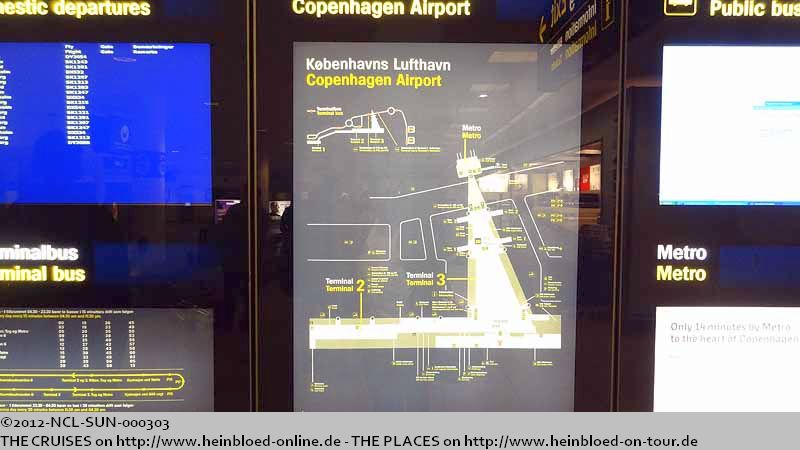 Wir kommen am Terminal 3 an, also nur zum anderen Ende der Halle laufen.
Die Züge nützen uns dieses Mal nichts. Außer man will zum Hauptbahnhof, Österport (von hier kann man in 15 Minuten Langelinie zu Fuß erreichen, oder man steigt auf Bus 26 um, der auch wochentags Frihavn bedient, oder man nimmt von hier ein Taxi zum Frihavn) oder Nordhavn (von hier kann man in 20 Minuten Frihavn zu Fuß erreichen).

But this time no need to use the train. It makes sense to use the train for Central Station, Österport (with 15 minutes walk to Langelinie-Terminal or change to bus 26 for Langelinie or during the weekdays also for Frihavn or taxi to Frihavn) or Nordhavn (with 20 minutes walk to Frihavn-Terminal).

It's Friday Night. Around midnight the metro still operates in a frequency of 10 minutes.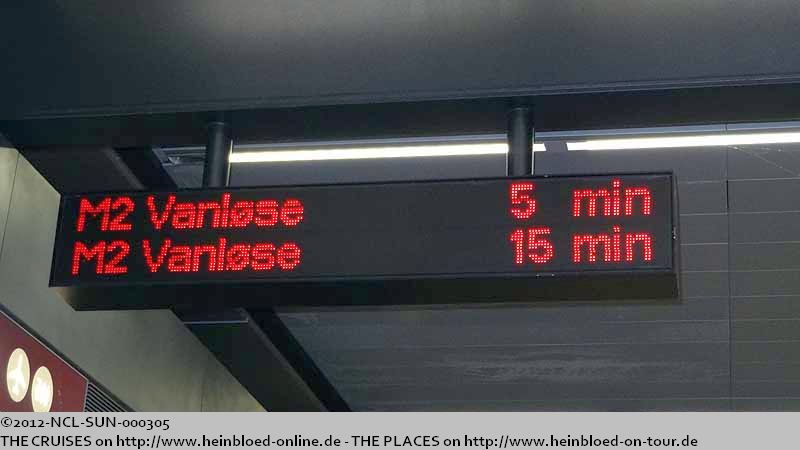 Um Mitternacht von Freitag auf Samstag: die Metro fährt alle 10 Minuten.
Was man erst tagsüber sieht: man muss noch die ganze Gebäudefront entlanglaufen.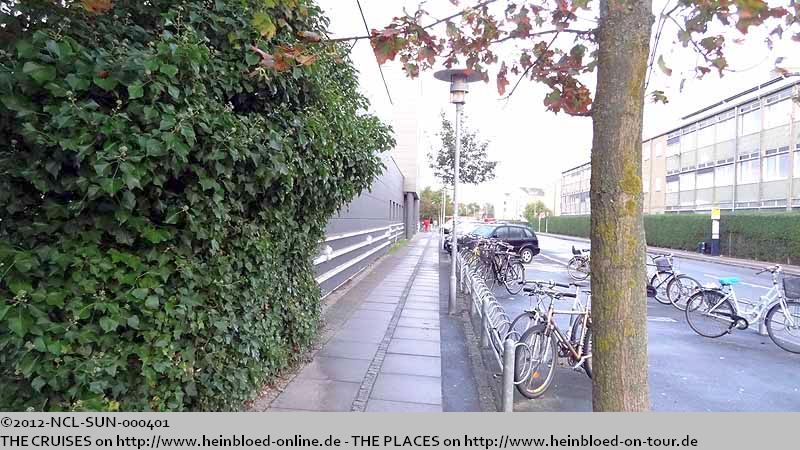 Was you better see during the day: you need to walk all alongside the building.

Then you can find the hidden entrance to the hotel.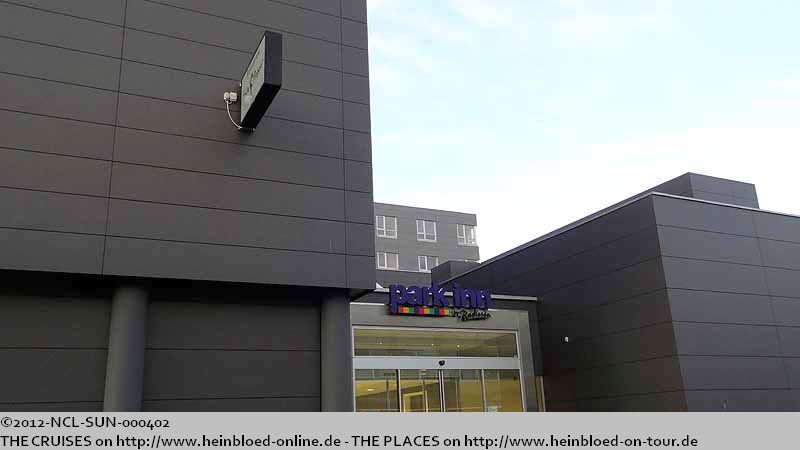 Bevor man links versteckt den Eingang zum Hotel findet.
Am Empfang wartet "Mr. Arrongance". Er arbeitet wohl normalerweise in der Reservierungsabteilung und entscheidet darüber, ob eine Anfrage, dass wir getrennte Betten wollen, positiv oder negativ beschieden wird (Ich zitiere ihn!!!). Er hat in diesem Fall auf nein entschieden und gibt uns ein Zimmer in dem wir allerdings selbst die Betten auseinander schieben können. Sein Lieblingsspruch: "It is like it is" (Es ist, wie es ist). Deswegen lasse ich ihn erst ein paar Mal vergeblich versuchen, meine Lufthansa Miles & More-Karte als Kreditkarte einzulesen, bevor ich ihm sage, dass die Karte lediglich für die Erfassung meiner Meilen dient und unser Zimmer durch Frances bezahlt wird.

We were expected at the front desk by "Mr. Arrogance". Normally he worked in the reservation department and decided if your request to have separate beds will be approved or not (Just quote him!!!). In our case, he decided no and we could have a room and move ourselves the beds to have them separated. His favorite statement: "It is like it is". So I let him several times to charge to my Frequent Flyer Card as credit card before I tell him that this was only for the mileage and Frances would pay our room.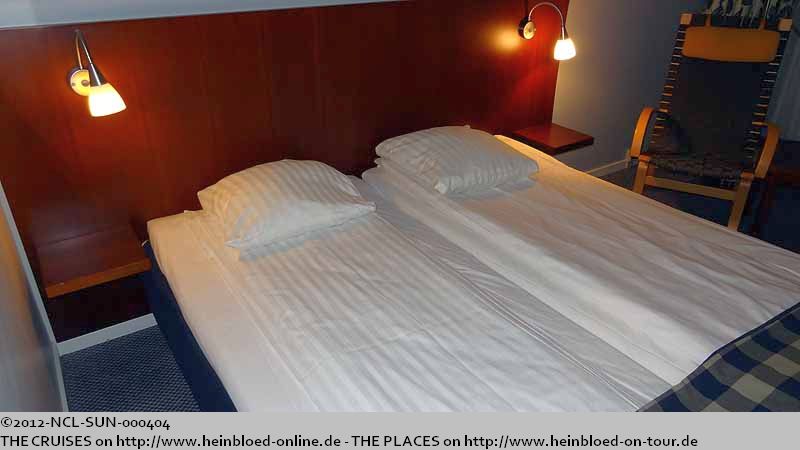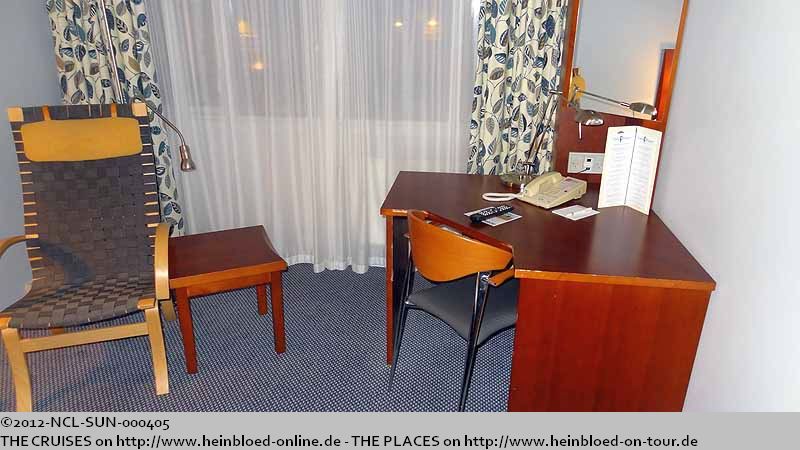 "Family Cheap" were in charge for maintanence and housekeeping.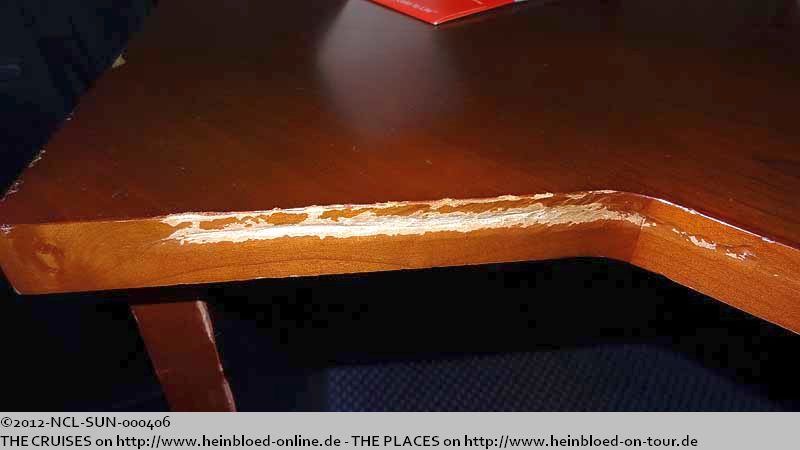 "Family Cheap" sind diejenigen, der für die Instandhaltung und Housekeeping zuständig sind.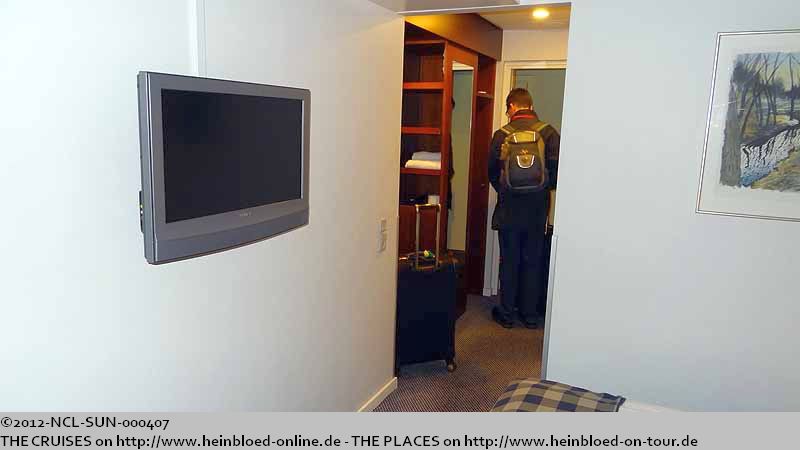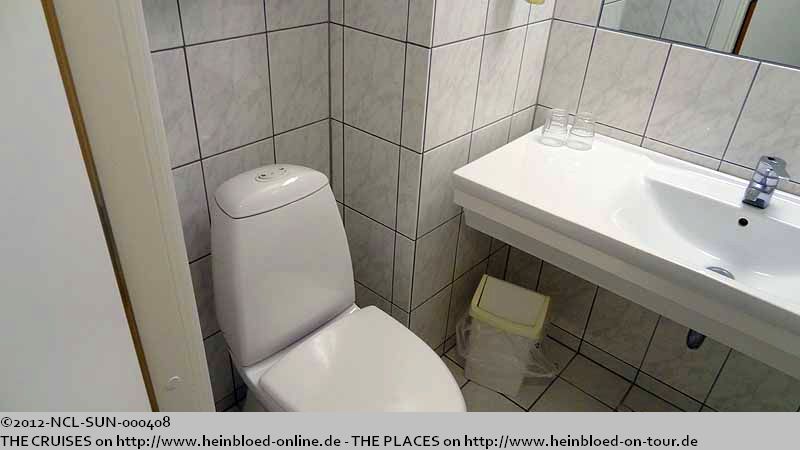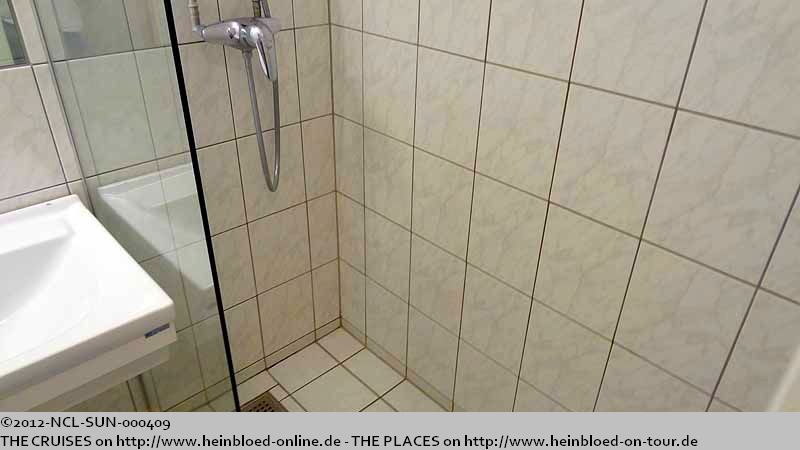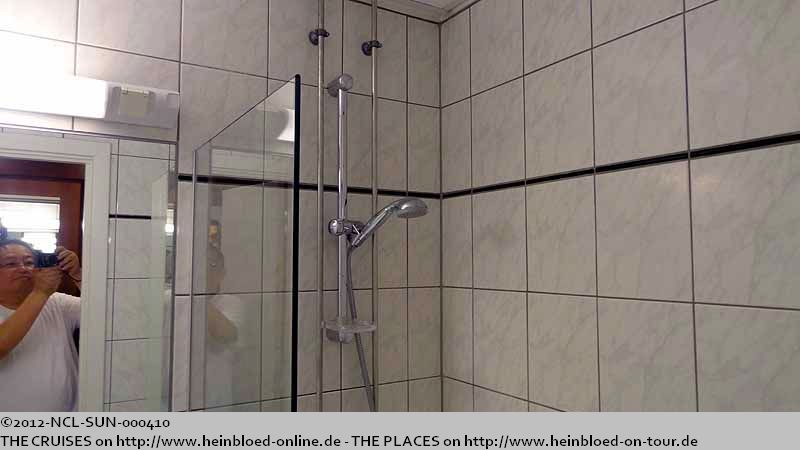 Es reicht wohl nicht einmal mehr für einen Essigreiniger mehr...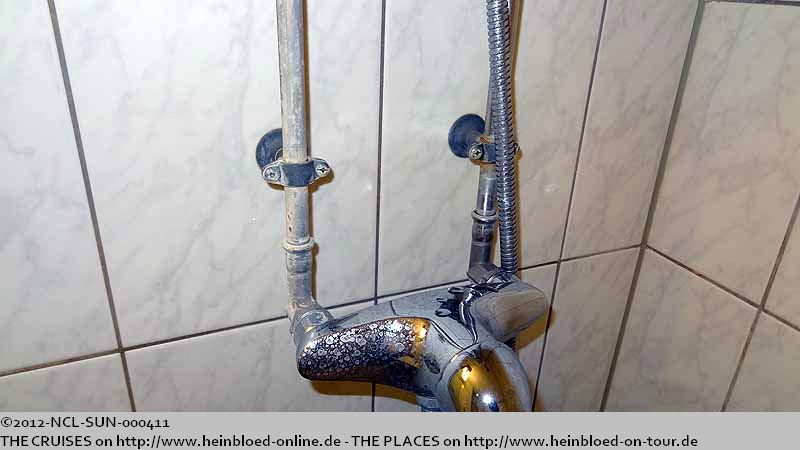 Their budget even did not allow to buy some vinegar detergent.

We could not even find a "Please do not disturb"-sign.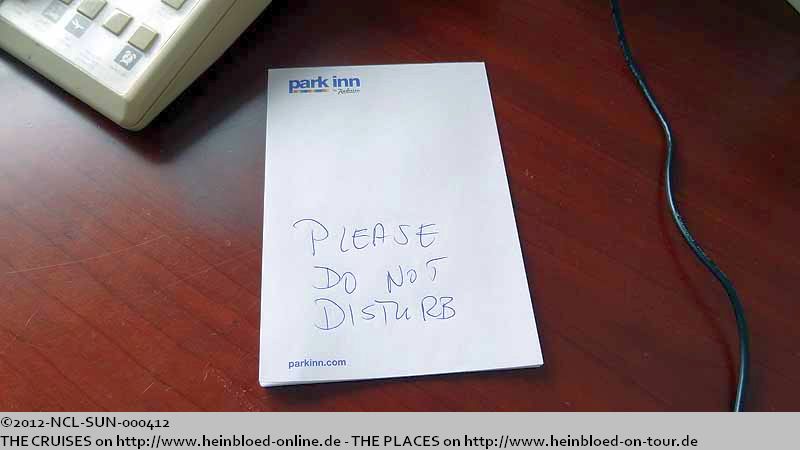 Nach einem "Bitte nicht stören"-Schild suchen wir vergeblich.
Danach treffen wir noch Ms. "I do not care". Parkgebühren...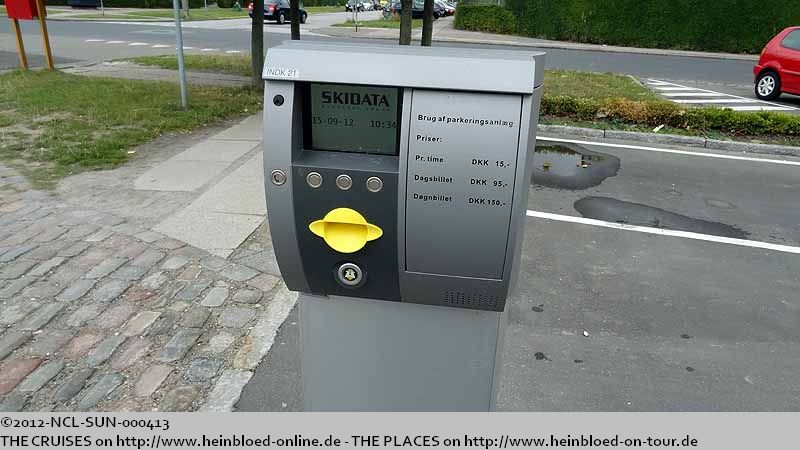 Later we met "Ms. "I do not care". Parking fees.

On their website, they wrote that parking was free. She agreed as long as you do not park on their parking lot. It did not impress her too much if I would share my experience on Facebook or TripAdvisor.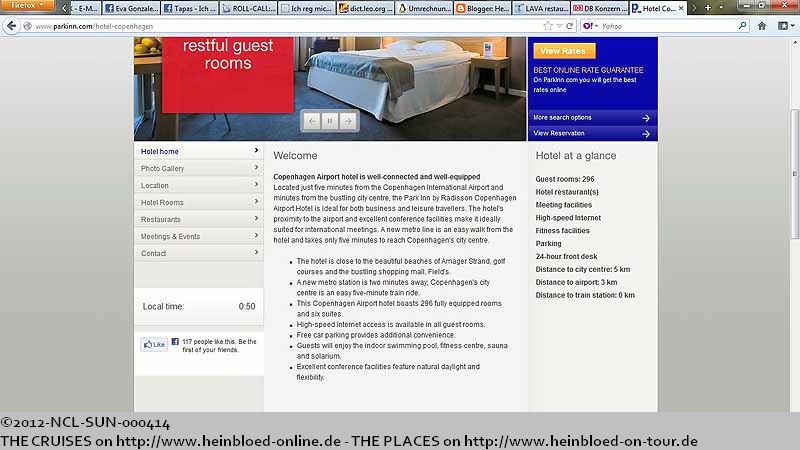 Auf der Homepage steht jedoch, dass Parken frei ist. Sie meint, dass es stimmt, solange man nicht den Hotelparkplatz dafür verwendet. Die Drohung, das alles mal in Facebook und Tripadvisor zu erwähnen, interessiert sie nicht.
Ein gutes hat das Hotel: Es gibt VitaminWater.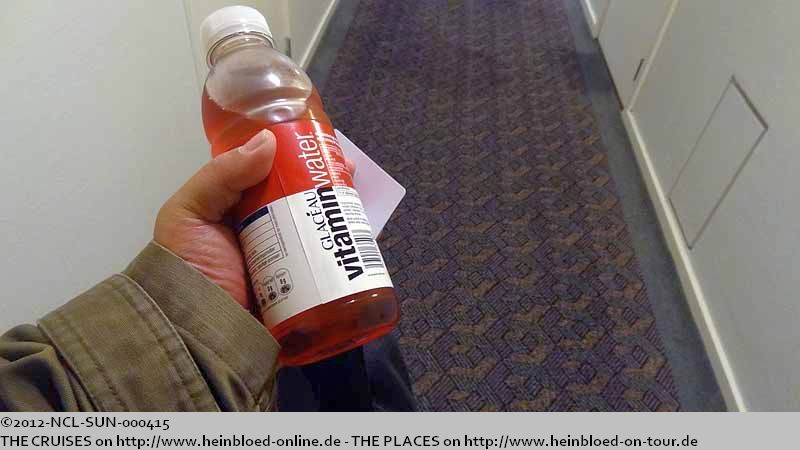 One good thing the hotel had: VitaminWater.

So I went at 05:00 hrs in the morning to the beach.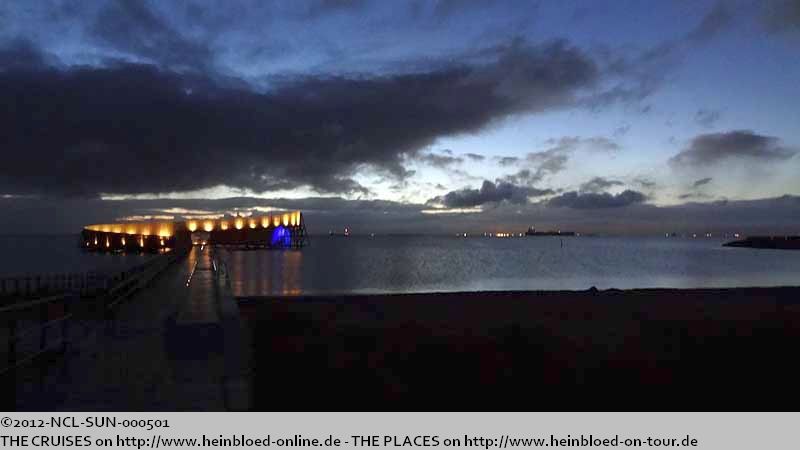 So gehe ich um 05.00 Uhr morgens zum Strand von Amager.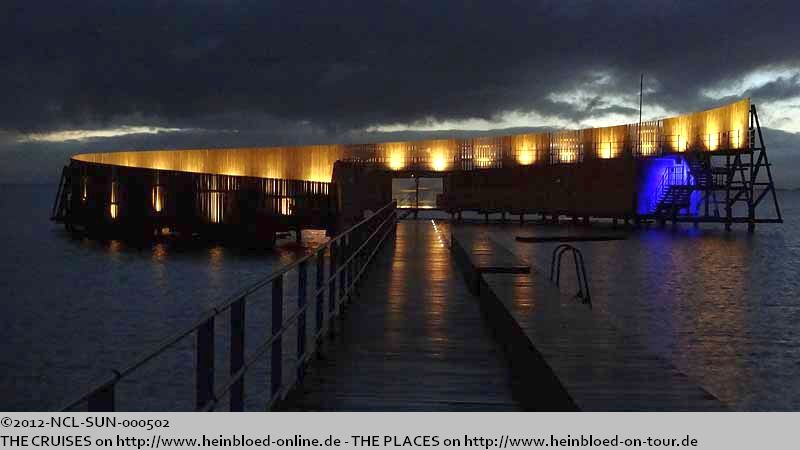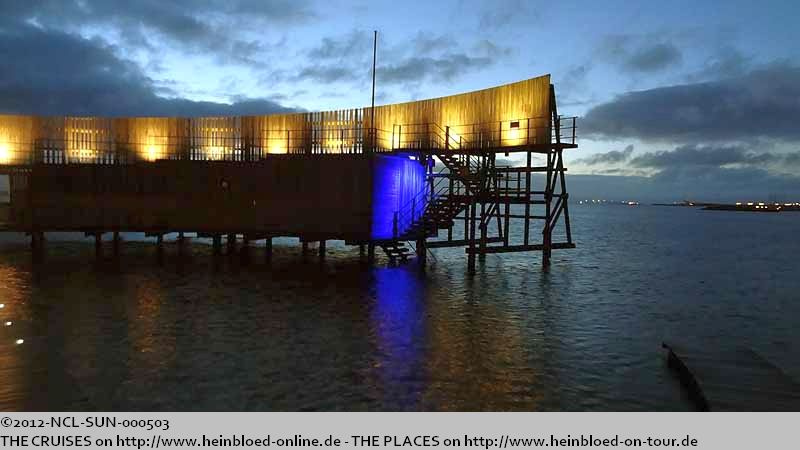 Und dort treffe ich Tommy. Ich wie im tiefsten Winter angezogen und er geht jeden Morgen dort schwimmen...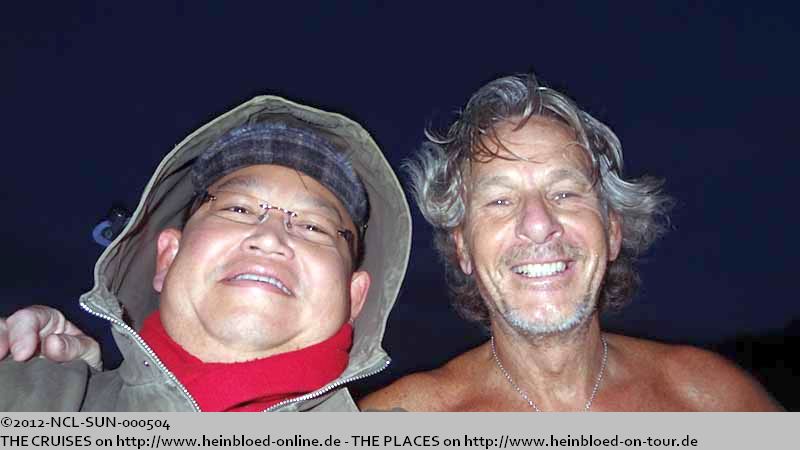 There I met Tommy. I was dressed like the coldest winter while he was going every morning there to swim...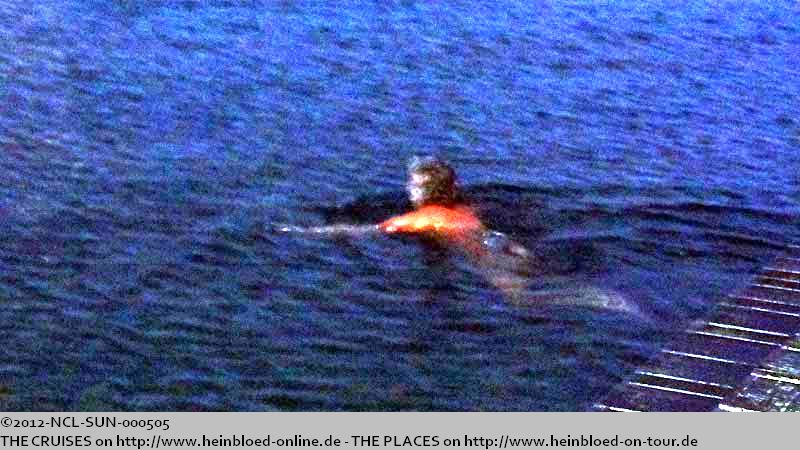 Und er ist nicht der einzige... Brrr....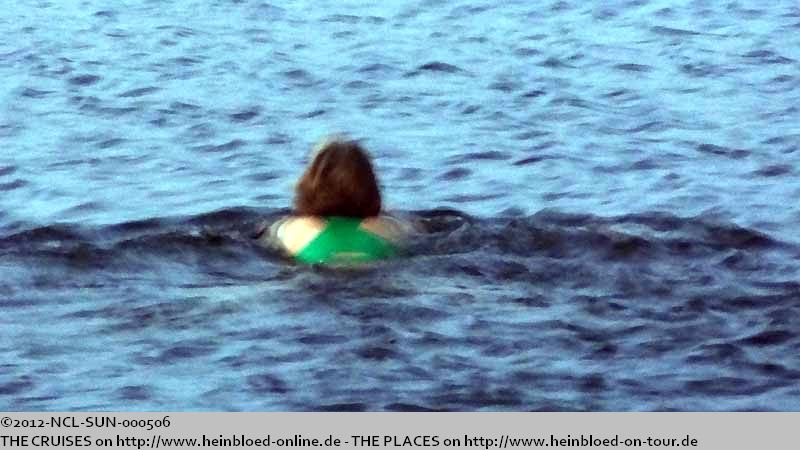 And he was not the only... Brrr...
Die anderen Reisen in diesem Blog/
The other voyages in this blog: