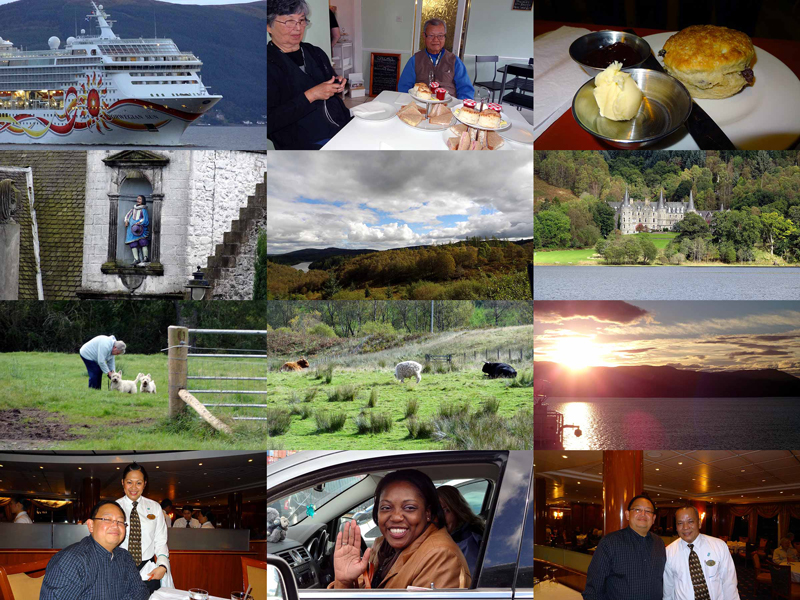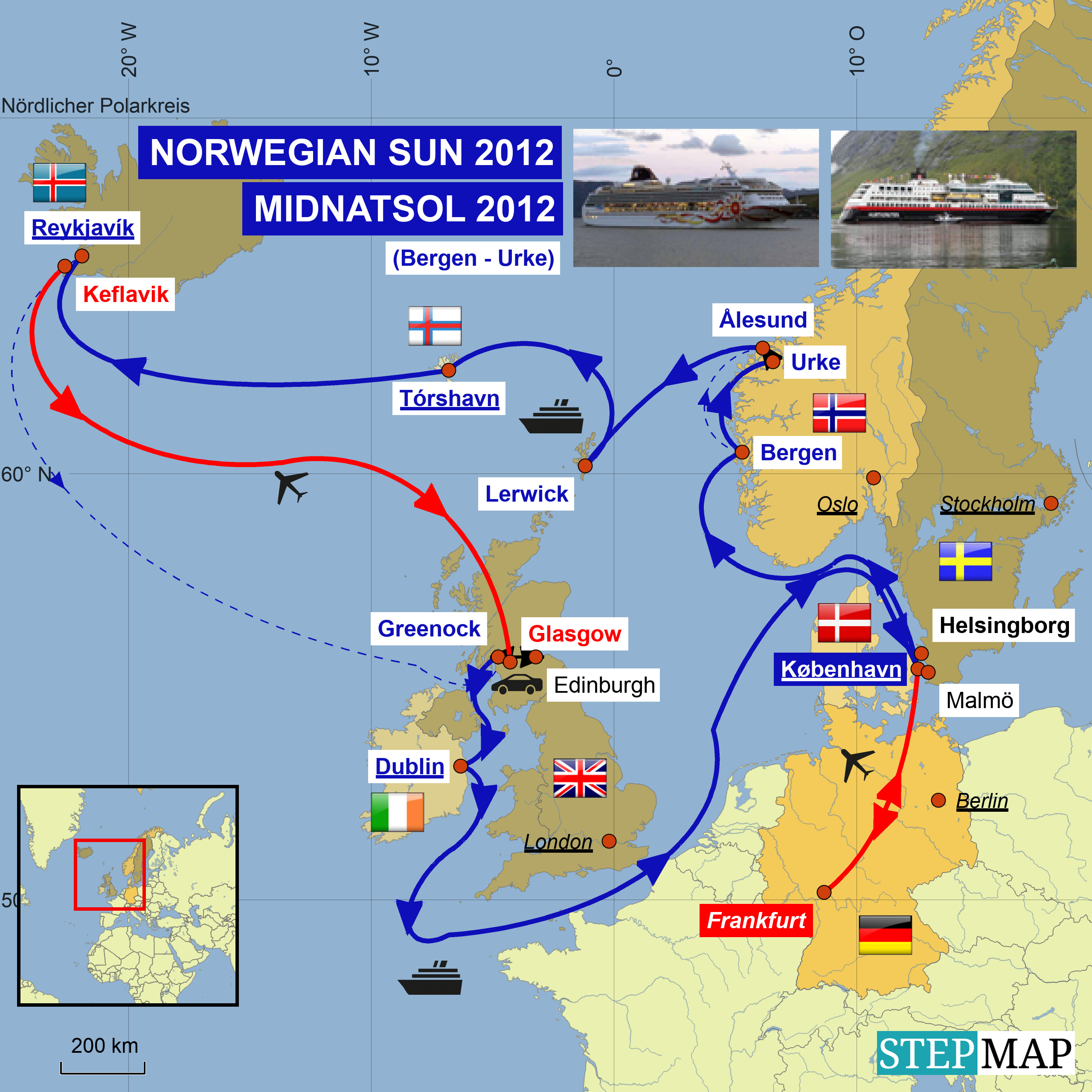 Es ging weiter nach
Burg Doune
.

We headed to Doune Castle.

You did not want to go in... Just have a sneak around and buy something there...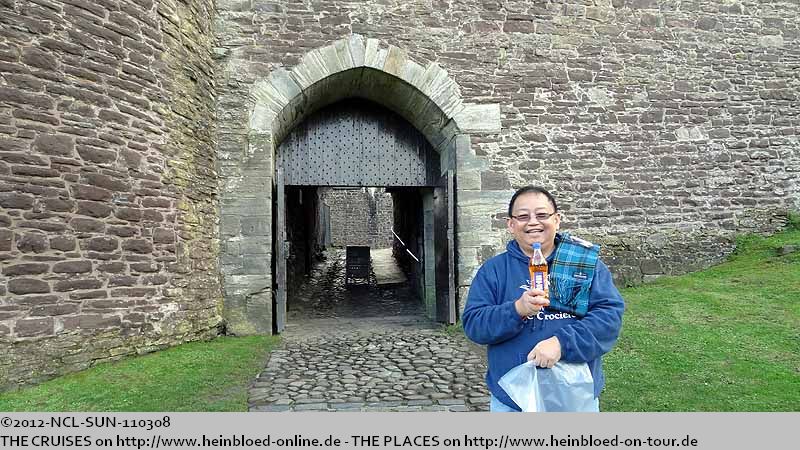 Rein wollten wir nicht... Nur mal gucken, was man dort kaufen kann...
Es blieb bei einem neuen Schal aus der Clan Collection von Historic Scotland und ein
Irn-Bru
, DAS schottische Erfrischungsgetränk... Selbst probieren... es ist in Schottland genauso beliebt wie Coca-Cola.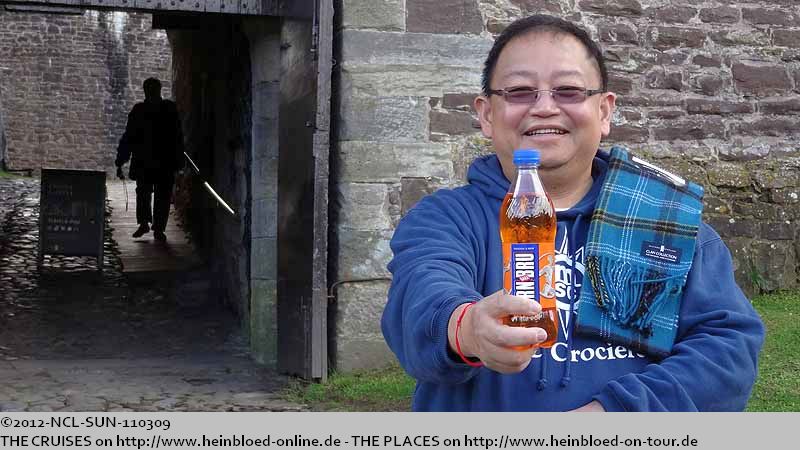 I bought a new scarf from the Clan Collection from Historic Scotland and a Irn-Bru, THE Scottish soda beverage... try it yourself... it is as popular as Coca-Cola in Scotland.

We headed to Callander to Myrtle Coffee House.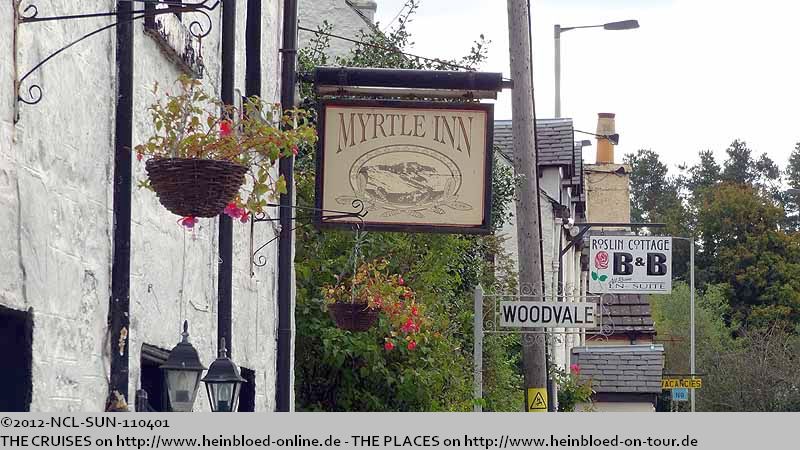 Weiter geht es nach Callander zu
Myrtle Coffee House
.
Das wichtigste Schild: High Tea.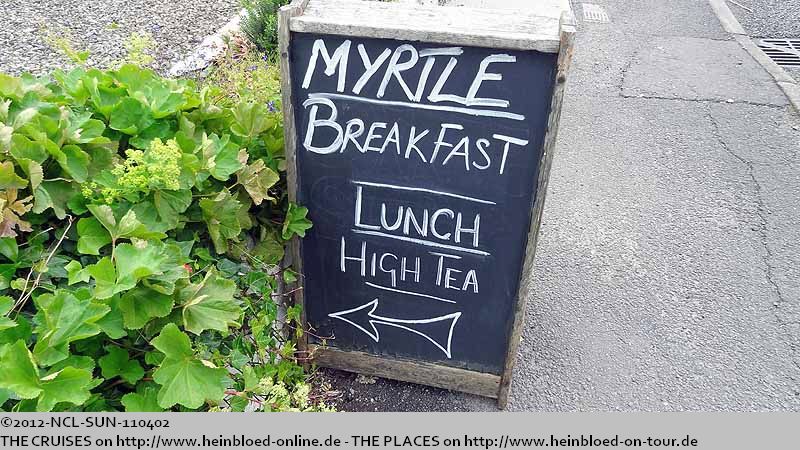 The most important sign: High Tea.

I wanted to have High Tea... but on this board, there were so many great dishes...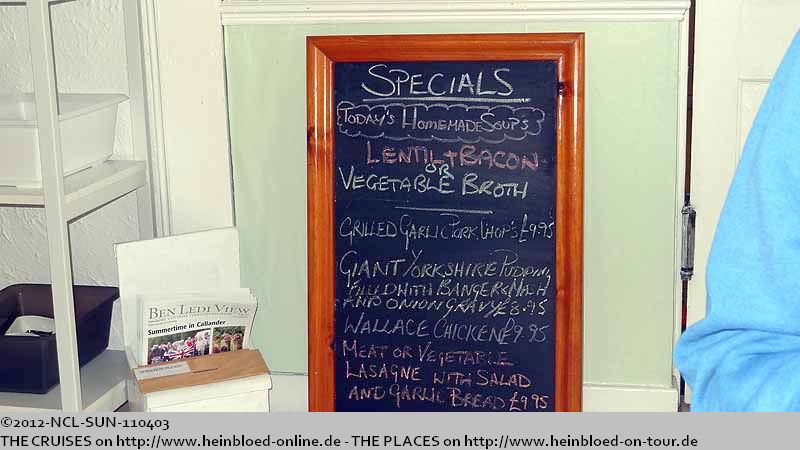 Ich wollte High Tea... aber auf der Tafel standen so viele tolle Sachen...
Linsen und Specksuppe...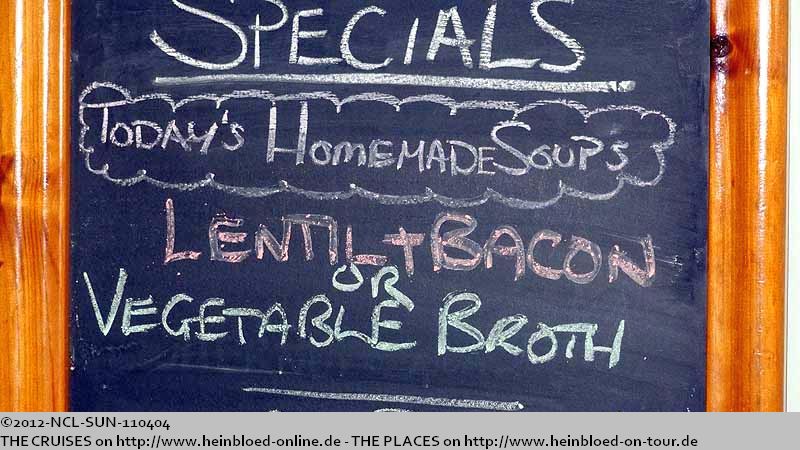 Lentil and Bacon soup...

Yorkshire Pudding...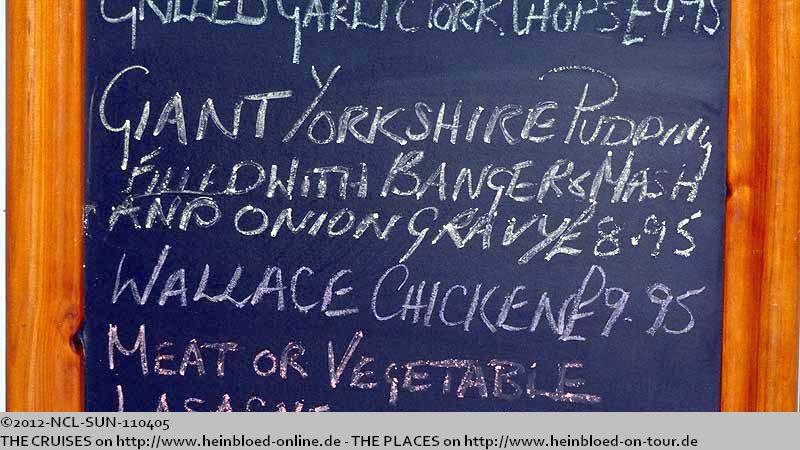 Yorkshire Pudding...
Ich hatte aber vorher gefragt, ob sie Etagieren für den Tee haben... hatten sie... Frische Sandwiches und Scones...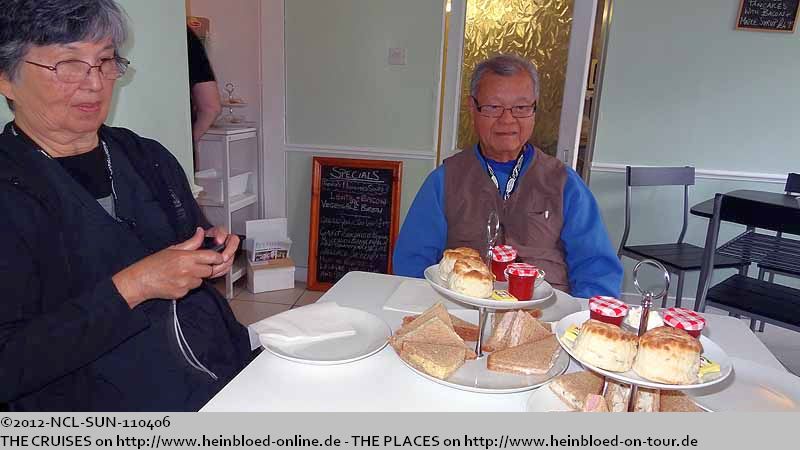 I asked before if they would have tier-plates for the tea... they had... fresh sandwiches and scones...

Dan explained to us that his wife is a baker and she did all the jams by herself... you can taste it...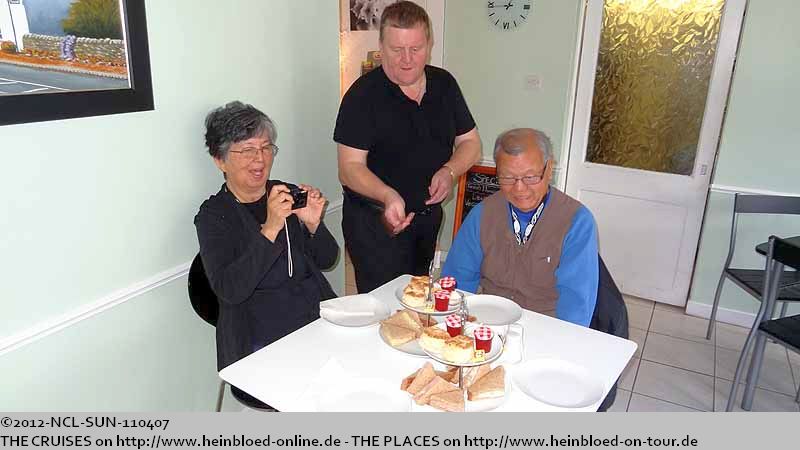 Dan erklärt uns, dass seine Frau Bäckerin ist und auch die Marmelade selbst gekocht hat... das schmeckt man...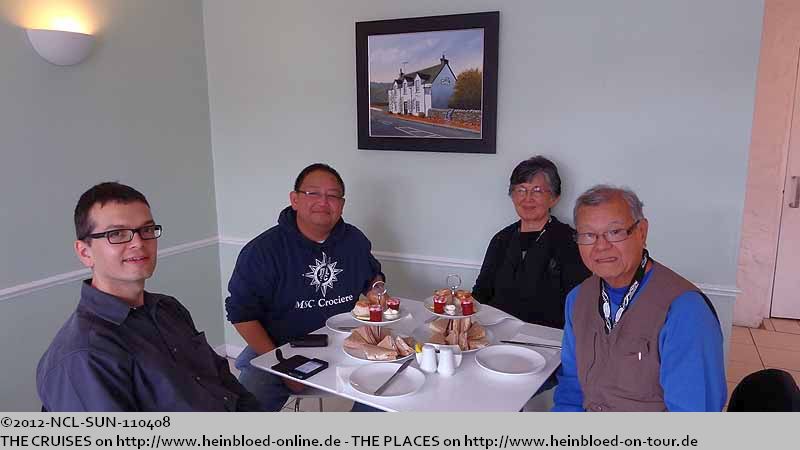 We did not want to miss the chance and had a scone too...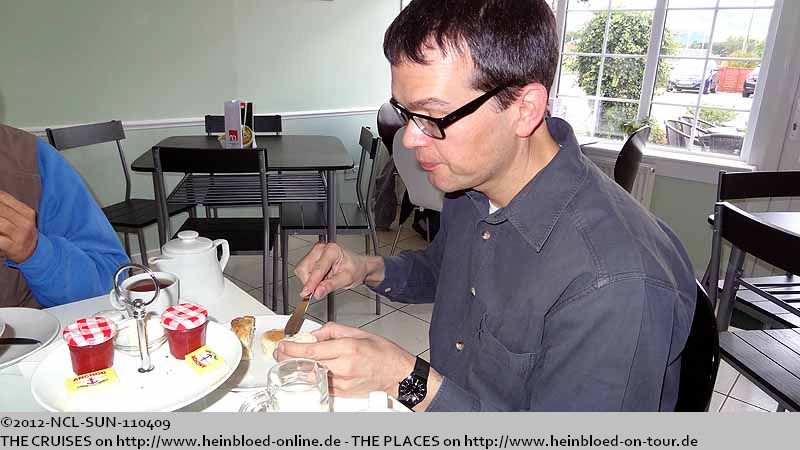 Die Chance lassen wir nicht uns nicht entgehen und essen auch den Scone...
Für Frances Nummer 3...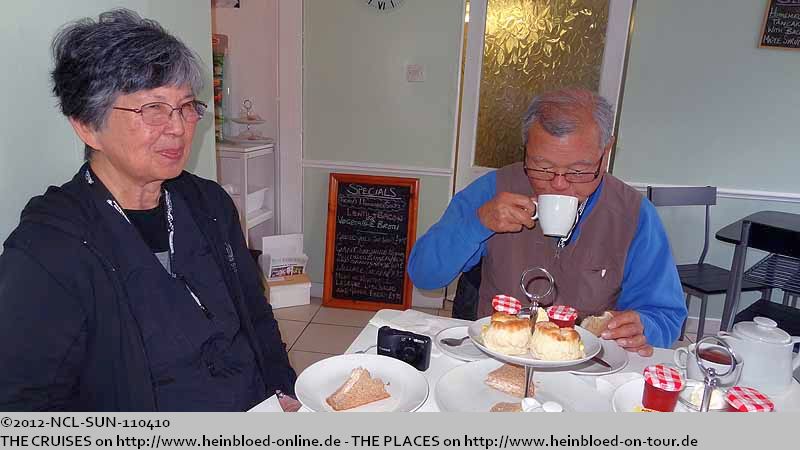 For Frances No. 3...

You could see that this jam did not have the origin in a manufactury...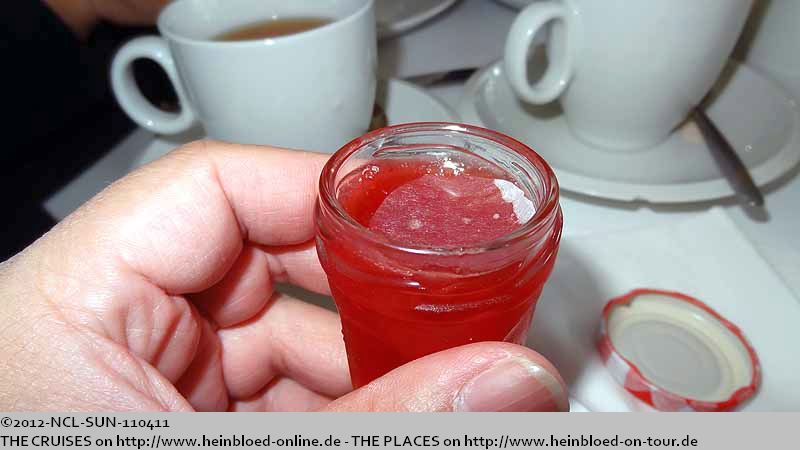 Man sieht, dass die Marmelade nicht aus der Fabrik kommt...
Als wir rauskommen, sind gegenüber echte Scotchterrier...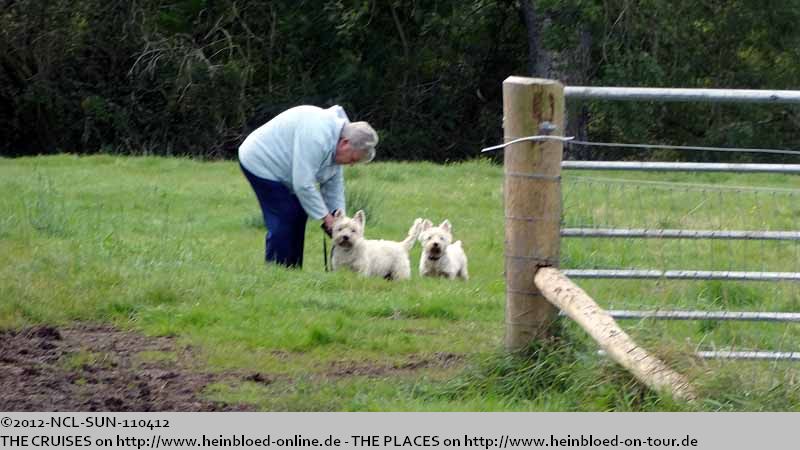 When we came out there were few Scotch terrier just opposite...

On our way, we saw many sheep...

Unterwegs sehen wir Schafe...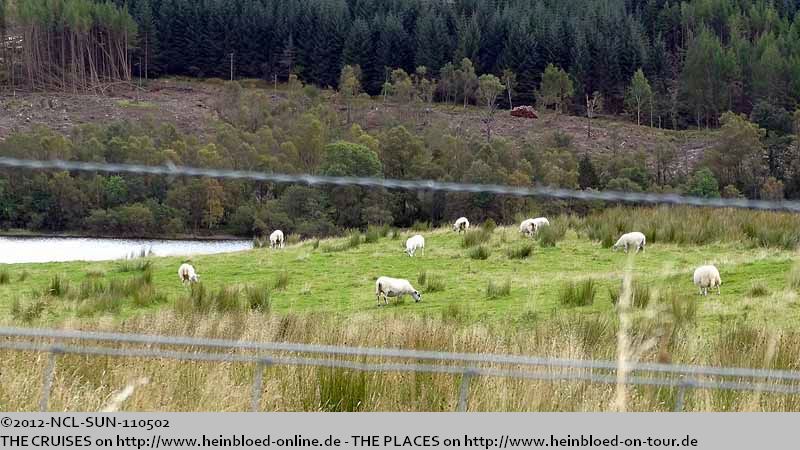 and we stopped at Loch Venachar in the Loch Lomond and the Trossachs National Park...
und halten mal kurz am Loch Venachar im
Loch Lomond and the Trossachs National Park
...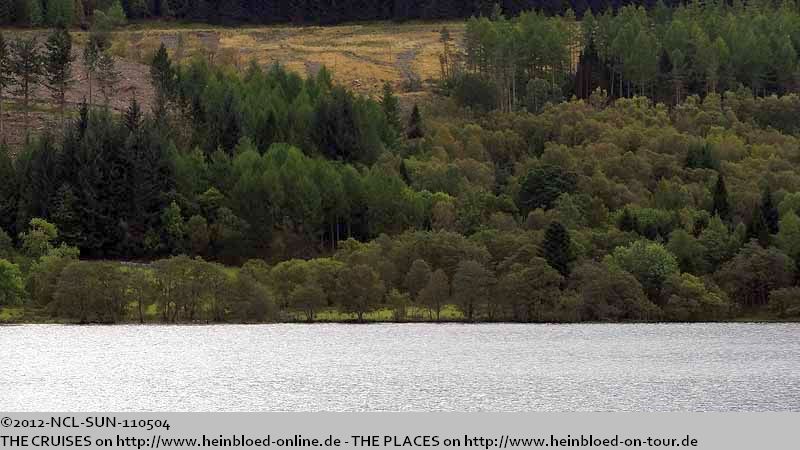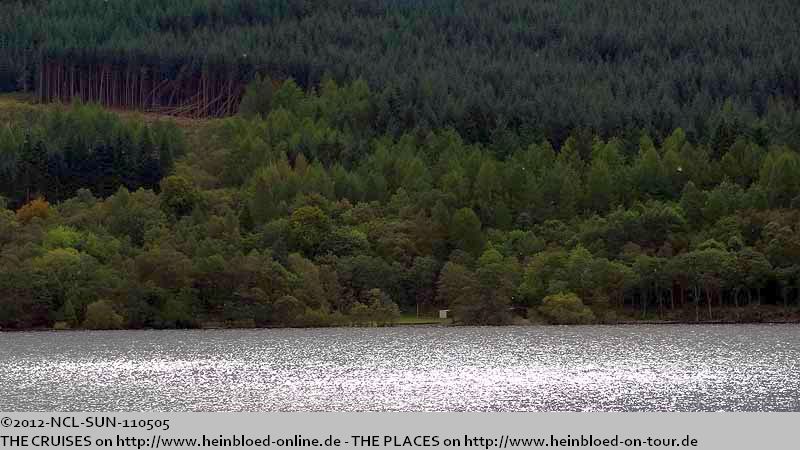 Und dann noch links fahren, wo kaum zwei Autos durchpassen...

And you had to drive on the left side where it was difficult to pass two cars...

Next Loch: Loch Katrine. For a lake tour, we did not have enough time.

Nächstes Loch: Loch Katrine. Für eine Rundfahrt reichte die Zeit nicht.
Wir fahren ein paar Meter und es gibt Schafe...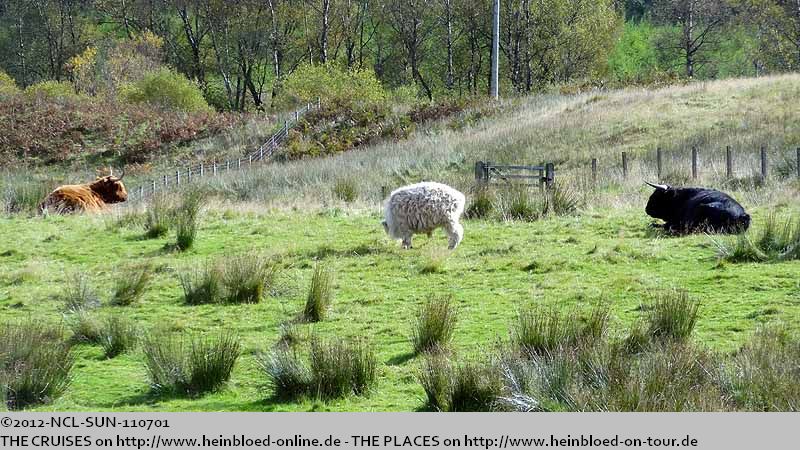 We drove few more yards and we had more sheep...

and another Loch: Loch Achray.

und ein weiteres Loch: Loch Achray.
Und das nächste Loch: Loch Drunkie... früher wurde hier heimlich destillierter Whisky (ohne e für den schottischen - mit bei amerikansichen bzw. irischem) einfach im Loch versteckt.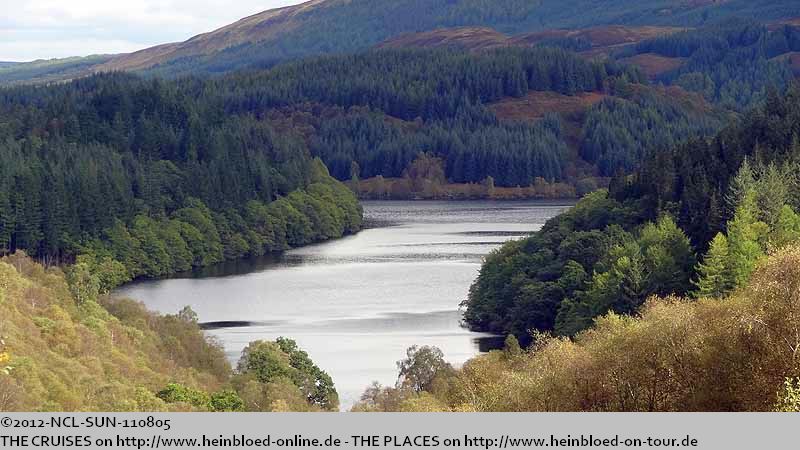 Our next Loch: Loch Drunkie... then they distilled Whisky (without e for the Scottish - with for the American and Irish) secretly and hide it in the Loch.

Next stop was The Scottish Wool Center in Aberfoyle.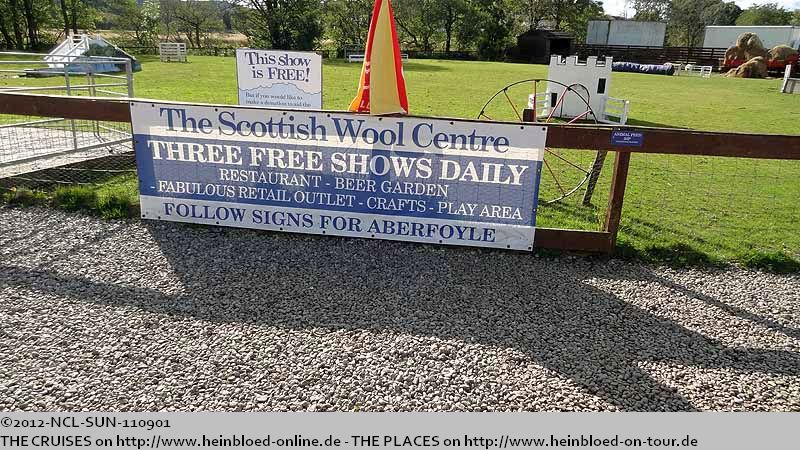 Nächster Halt war in Aberfoyle
The Scottish Wool Center
.
Eigentlich eine typische Touristenfalle, die z. B. zeigt, wie man Schafe schert.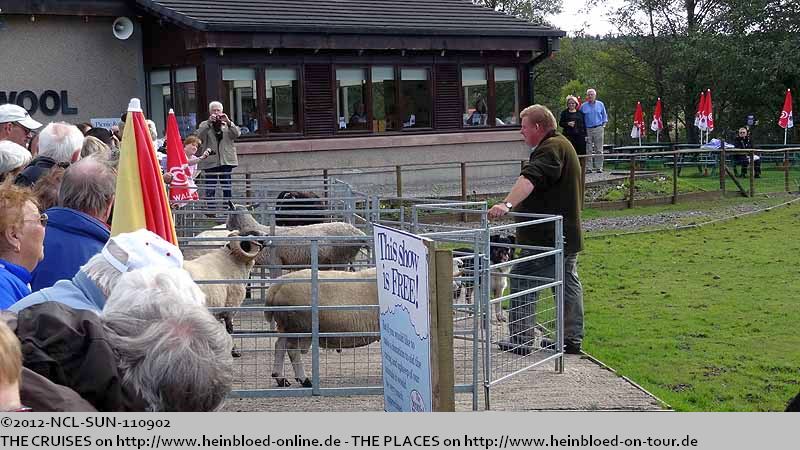 It was a typical tourist trap which had shows like how to shear sheeps.

Here we bought some souvenirs as they had good bargains and as "revenge" because Frances always carry something with her (Kauai peaberry coffee): Scottish strawberry jam and vegetarian haggis.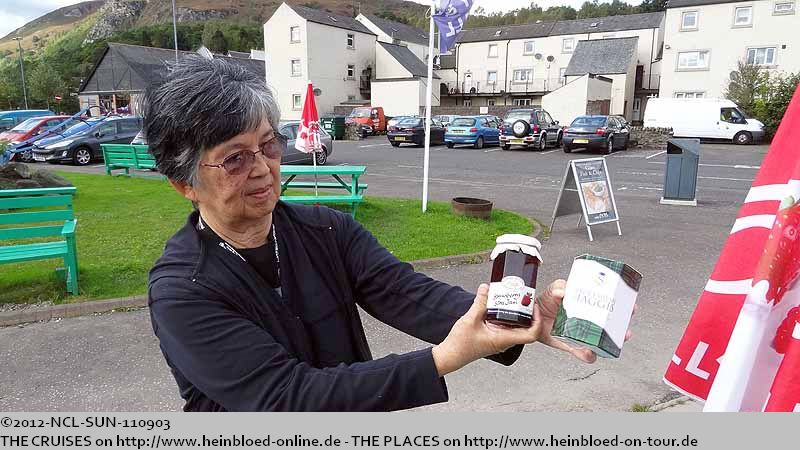 Hier kaufen wir ein paar Souvenirs, weil es dort tolle Schnäppchen gibt und als "Rache", weil Frances jedes Mal doch wieder etwas mitschleppt (Kauai Peaberry Kaffee): Schottische Erdbeer Marmelade und Vegetarisches Haggis.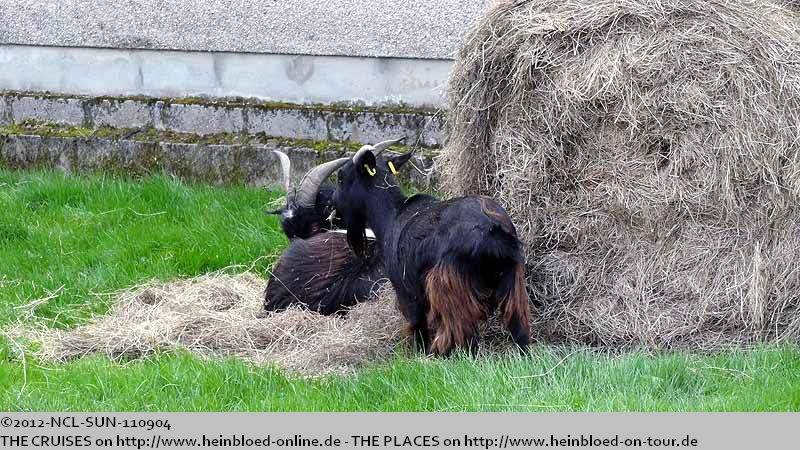 On our way we stopped one more time at the obversation point in the Queen Elizabeth Forest Park.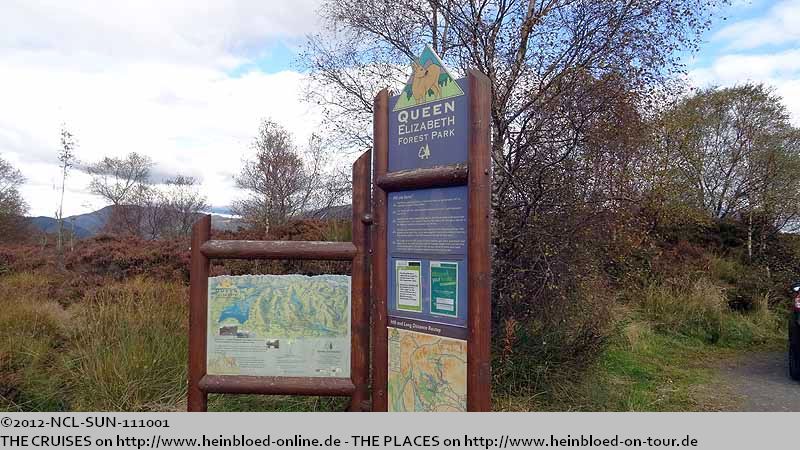 Unterwegs halten wir nochmals an einem Aussichtspunkt im Queen Elizabeth Forest Park.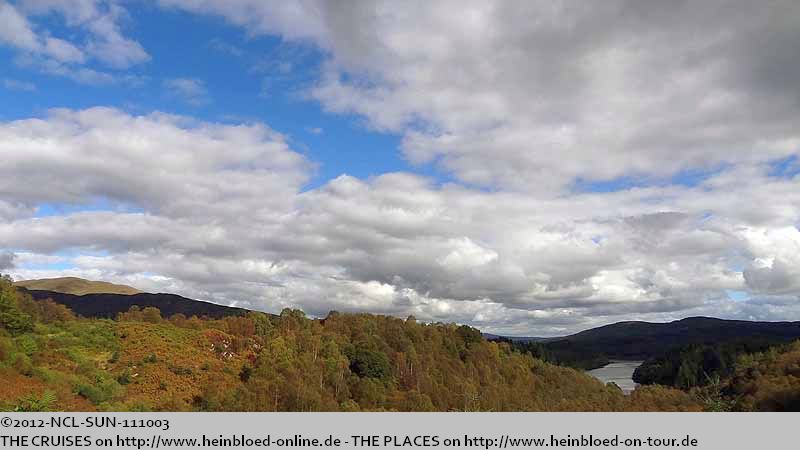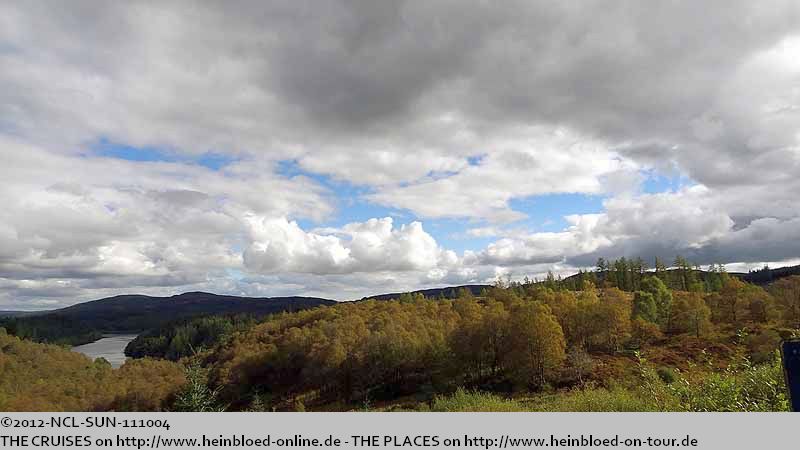 Also very popular with dog owners...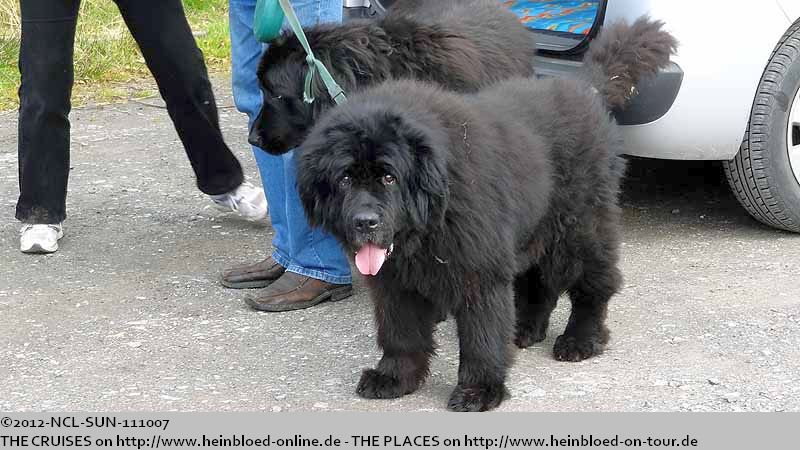 Auch sehr beliebt, bei vielen Hundebesitzern...
Und hier kann man sich einfach hinsetzen und die Aussicht genießen.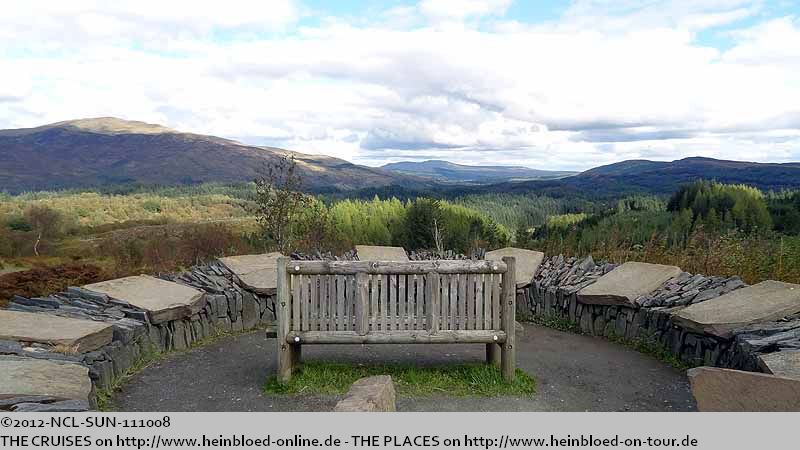 Here you can just sit down and enjoy the view.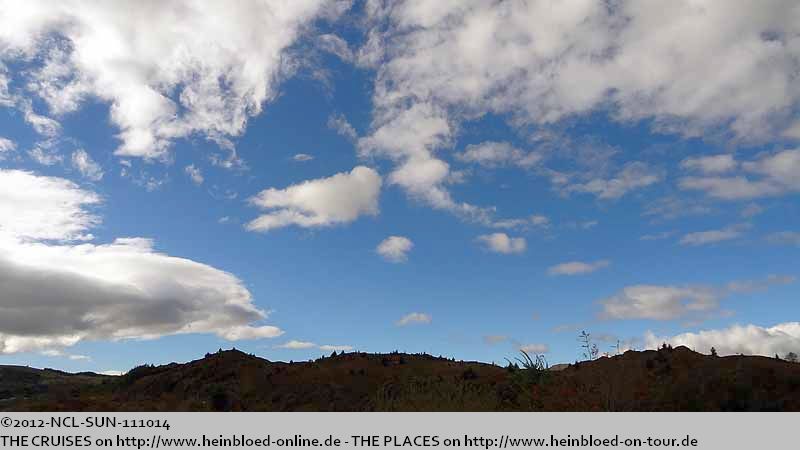 Wir hatten Glück, dass Agnes und John uns die Tour zusammenstellt hatten. So mussten wir nicht alles mühsam selbst erforschen.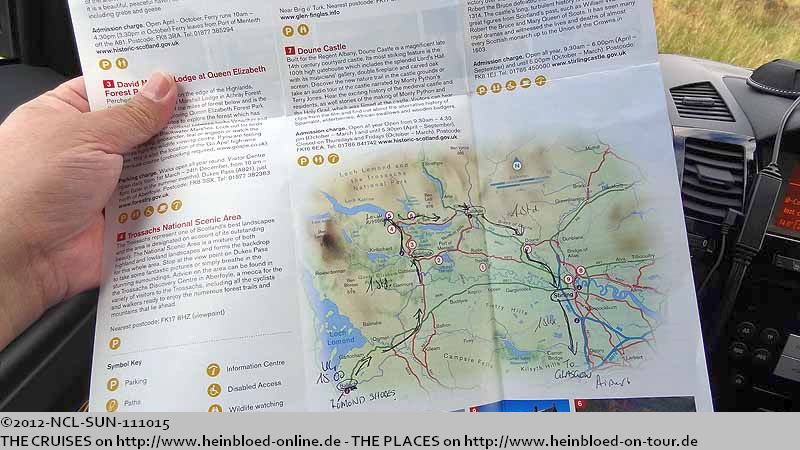 We had luck that Agnes and John compiled the tour for us. So there was no need for us to do our own researches.
Die anderen Reisen in diesem Blog/
The other voyages in this blog: