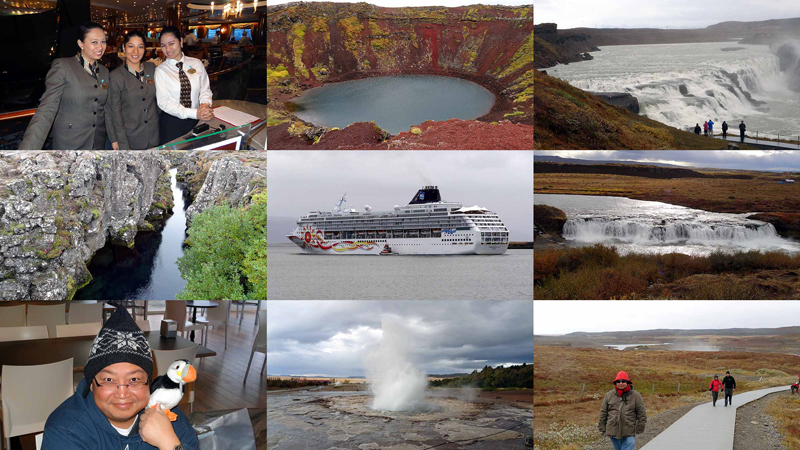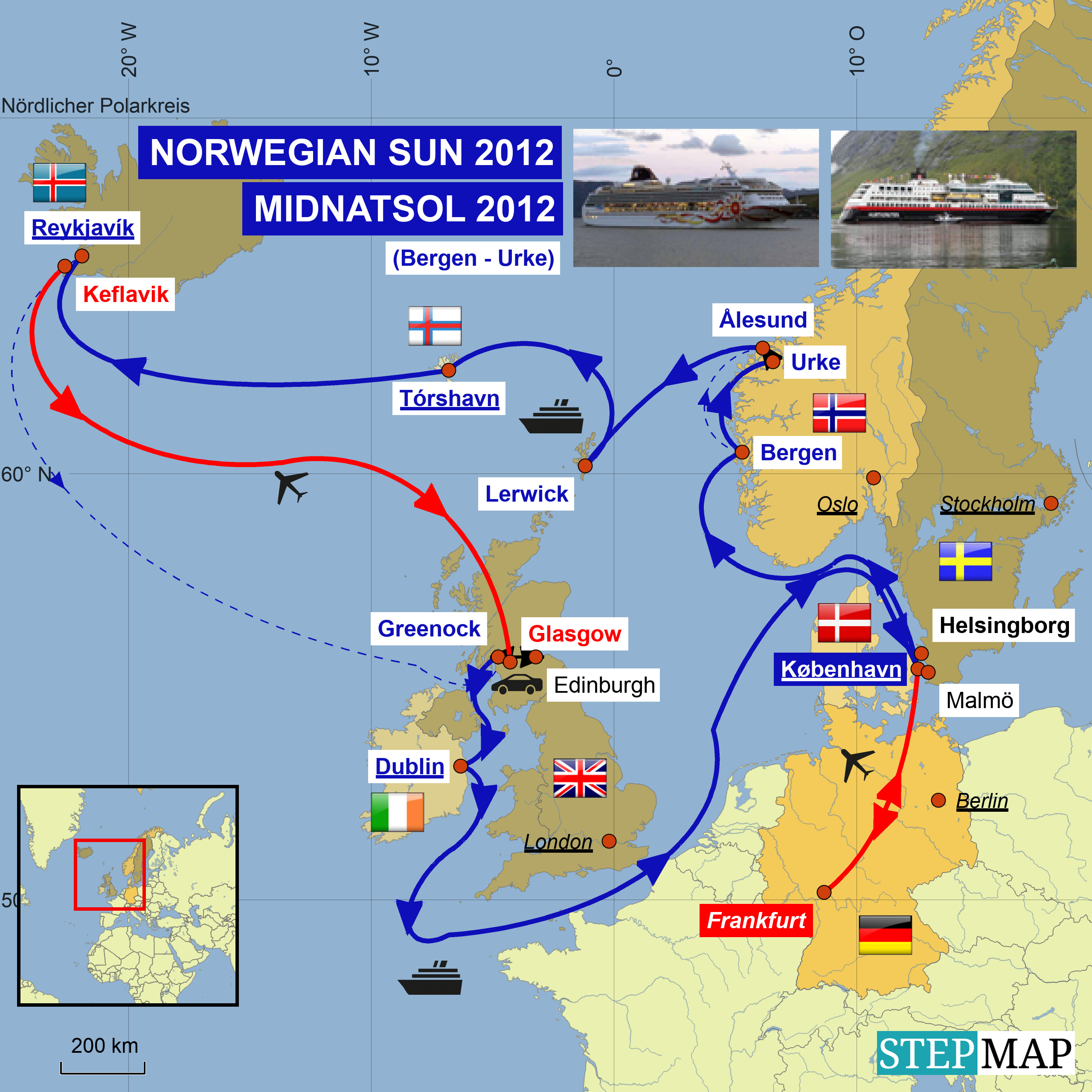 Wir kommen an der Thingvellir an. Das war quasi das Parlament Islands während der Saga-Ära.

We arrived at Thingvellir. This was more or less the Icelandic Parliament during the Saga-Era.

More or less you can say that we walked with one leg in America and with the other in Europe. Here two plates hit together, and the wall to the right is part of the American plate.

So laufen wir quasi mit einem Bein in Amerika und einem Bein in Europa. Hier stoßen die zwei Platten aufeinander und die Wand rechts gehört zur amerikanischen Platte.
Auf dem oberen Parkplatz gibt es ein Besucherzentrum. Der Besuch der Toilette kostet, aber nicht für die NCL-Tour-Fahrer. Wir weisen uns (und unsere Mitfahrer) durch die Bordkarte aus.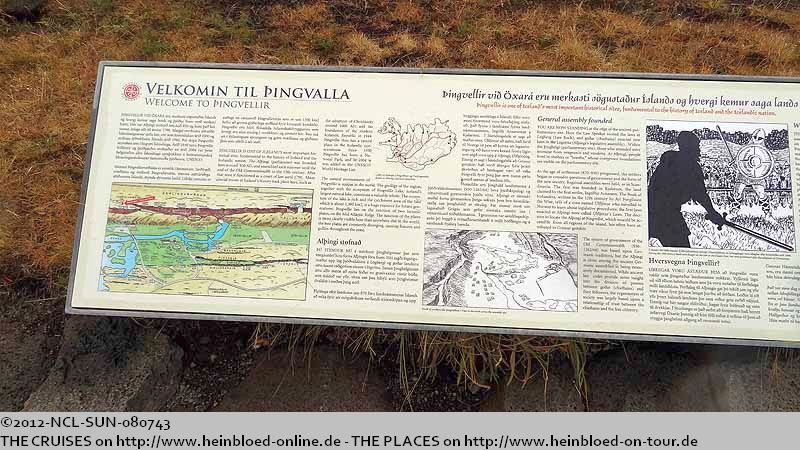 At the upper parking there is a visitor center. They charge for the visit of the toilet but not for NCL tour guests. So we identified (and our fellow-participants) by showing our board cards.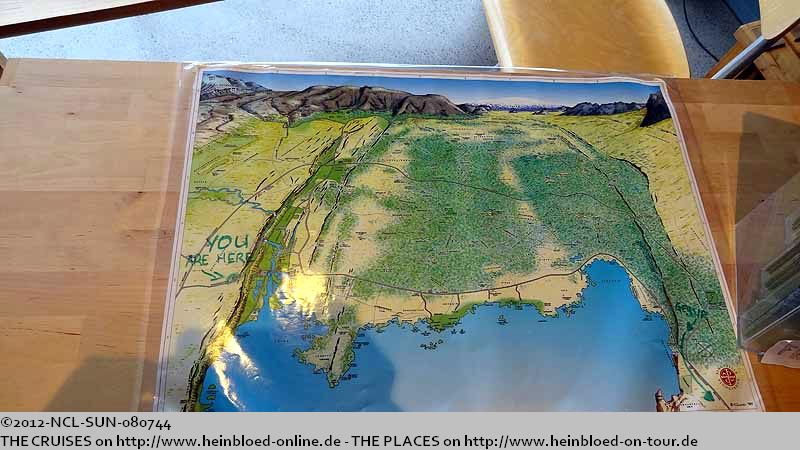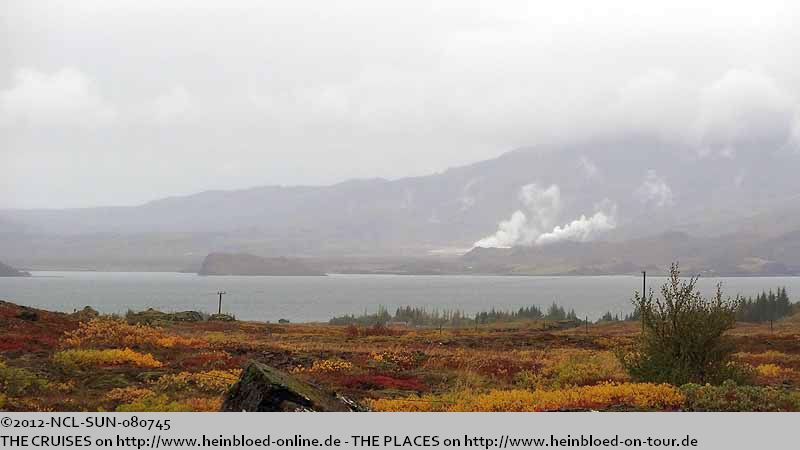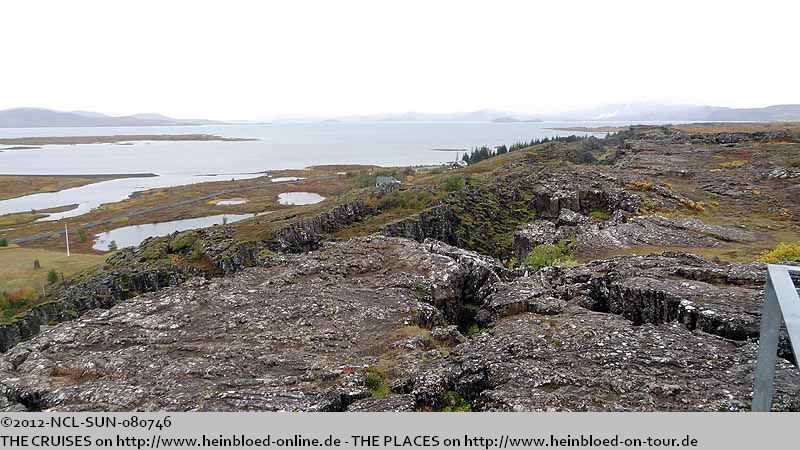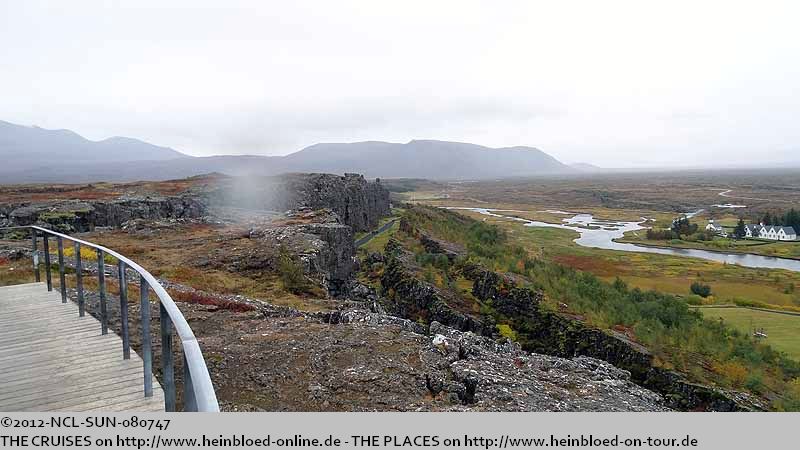 Jon delivered us to the hotel and made sure that our bags arrived. We stayed in the center of the main shopping street Laugavegur in Centralhotel Skjaldbreid. Frankly spoken: I am not sure if I would take or recommend the tour-operator again. There was a shortage of service which I really missed. Of course, it was my bag and my baggage problem. But he was not interested in giving any support. The only question was if he was interested that we book a tour again or recommend friends his company. We got too less. The tour was 8,000.00 ISK (2012 = 65.00 USD). A taxi with four would be much more (2012 = 530.00 USD). The other tour operators also took 8,000.00 ISK, but I could see that they had better vehicles. I could not rate the contents of the tour anyhow because I did not notice enough under the circumstances. All I remember was the lousy service.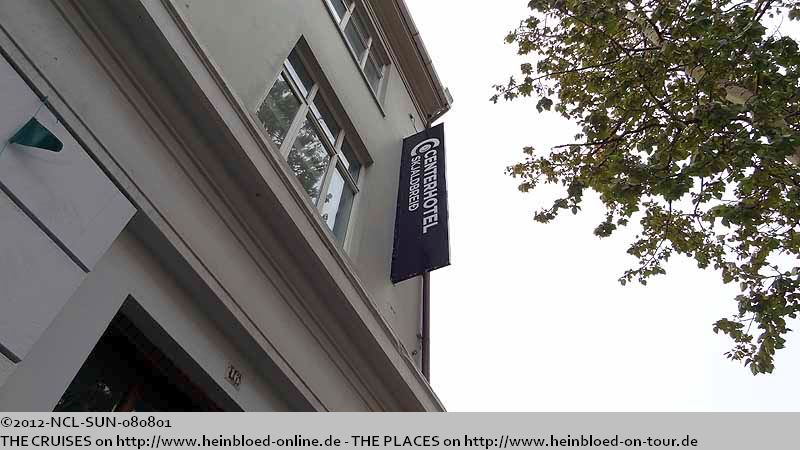 Jon hatte uns am Hotel abgesetzt und sich auch erkundigt, dass es mit unserem Gepäck geklappt hat. Wir waren mitten in der Haupteinkaufsstraße Laugavegur im
Centralhotel Skjaldbreid
. Ganz ehrlich: ich wüsste im Moment nicht, ob ich unseren Touranbieter nochmals nehmen oder empfehlen würde. Mir fehlte schlicht und einfach der Servicegedanke, der zu kurz gekommen ist. Natürlich ist mein Gepäckproblem nun einmal mein Problem und ich habe in keiner Form Unterstützung erfahren und da muss man klar sagen: nein, dazu hatte er absolut keine Lust. Nur die Frage ist, ob er will, dass ich ihn mir für eine weitere Tour merke oder Freunden empfehle. Dafür gab es zu wenig. Die Fahrt mit ihm hat 8.000,00 ISK (2012 = 50,00 EUR) gekostet. Ein Taxi zu viert wäre teurer gewesen (2012 = 405,00 EUR). Die anderen nehmen auch 8.000,00 ISK, hatten aber z. T. bessere Fahrzeuge gehabt. Inhaltlich habe ich wegen der Umstände zuwenig mitbekommen, so dass mir nur die Erinnerung an einen miesen Service bleibt.
Es gab schnelles und kostenloses Internet...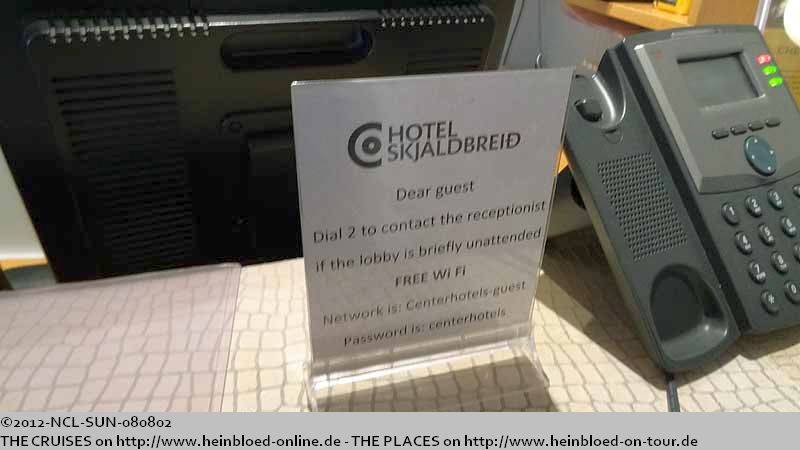 We had quick and free internet...

Our bags were already in our room. They arranged it very well. When I wanted to give them some chocolate to show my appreciation they were stunned as they said it was normal to offer such a service... and when we tried to pay they told us that they already charged by mistake my credit card when I booked. As I had a change of the credit card, I missed it somehow.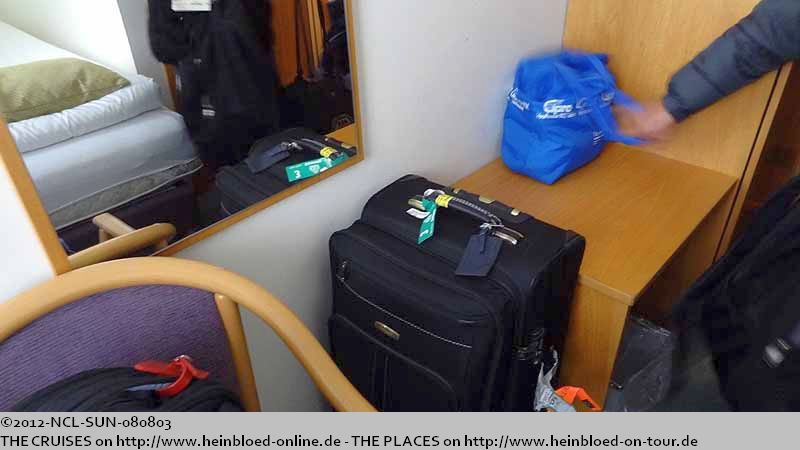 Unsere Koffer standen schon im Zimmer. Das hatten sie super organisiert. Als ich mich mit ein paar Pralinen bedanken wollte, waren sie wohl überrascht, weil sie guten Service für selbstverständlich hielten... und als wir zahlen wollten, teilte man uns mit, dass man irrtümlich bereits die Kreditkarte bei der Buchung belastet hatte. Da ich zwischenzeitlich mal wieder eine neue Kreditkarte hatte, ist es irgendwie untergegangen.
Dafür waren die Zimmer schlicht, einfach, sauber... und den Rest erwähnen wir lieber nicht... aber für den Preis hätten wir keinesfalls mehr erwarten dürfen. In sofern war es o.k.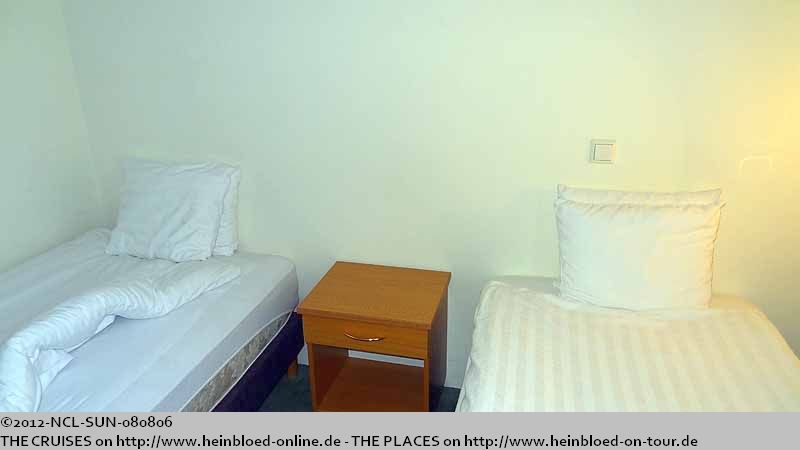 But the rooms were kept simple, plain, clean... and there is no need to tell more... but for that price, we paid we should not expect more. So far it was o.k.

Bathroom was o.k...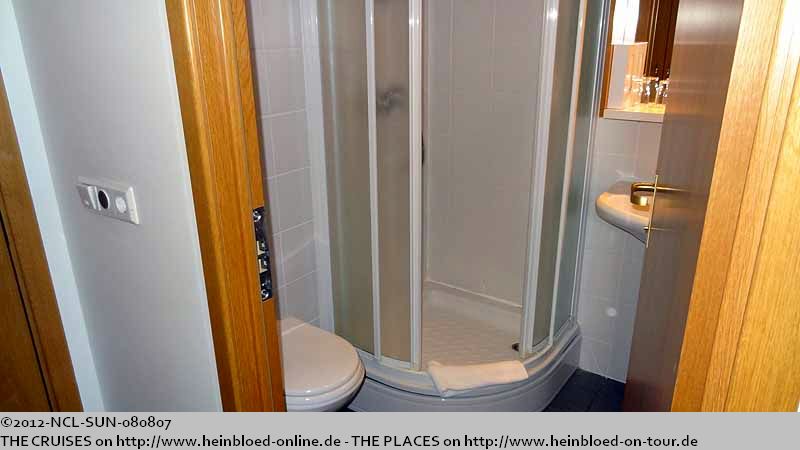 Bad war o.k...
Wir konnten auch jede Menge Discount-Kärtchen kriegen... Hatte ich alles mitgenommen und prompt vergessen vorzuzeigen.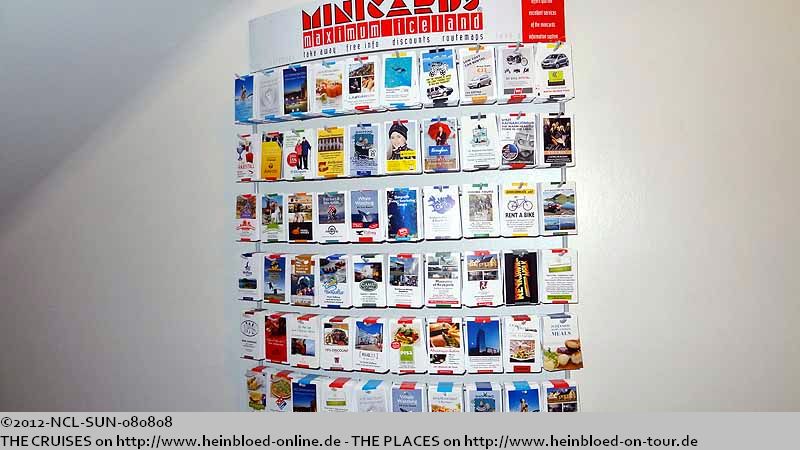 We could get a lot of discount-cards... I took them all and forgot to present them.

You must do what the Captain said... and in Bergen, he said that he liked to have beautiful pictures of the ship when it set sail... So I return to the port where NORWEGIAN SUN berthed...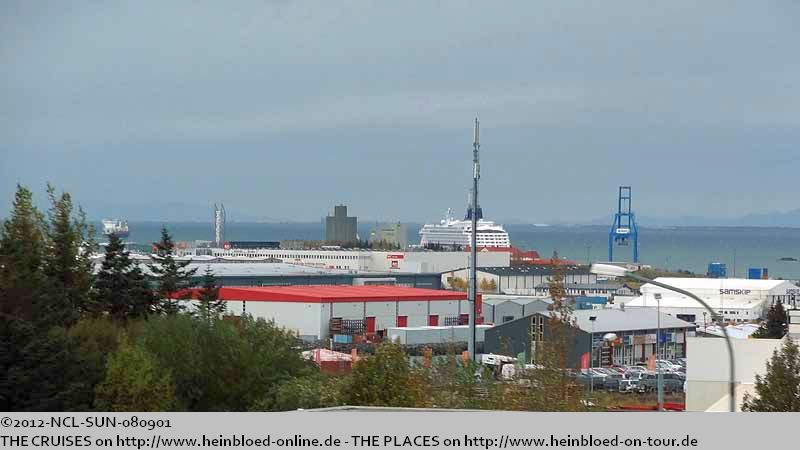 Man muss das machen, was der Kapitän sagt... und in Bergen hatte er gesagt, dass ich schöne Aufnahmen vom Schiff machen soll, wenn es abfährt... So fahre ich nochmals in den Hafen, in dem NORWEGIAN SUN liegt...
Leider gibt es keine schöneren Aufnahmen, weil es leider regnet, als
MEINE
NORWEGIAN SUN Reykjavik verlässt...

Unfortunately I could not make any nice shots because it rained when MY NORWEGIAN SUN left Reykjavik.

Hmmm... why was not he turned around to collect me? I made the pictures, and he did not return to pick me up... So I had no other chance but to stay in Reykjavik and to fly to return to the ship. So officially: It was the Captain that we missed the ship... I made the pictures as instructed but he "forgot" me and the others... It was a piece of luck that Frances and Eddie "forgot" to deliver their passports when they collected them... Because we are leaving the Schengen-area.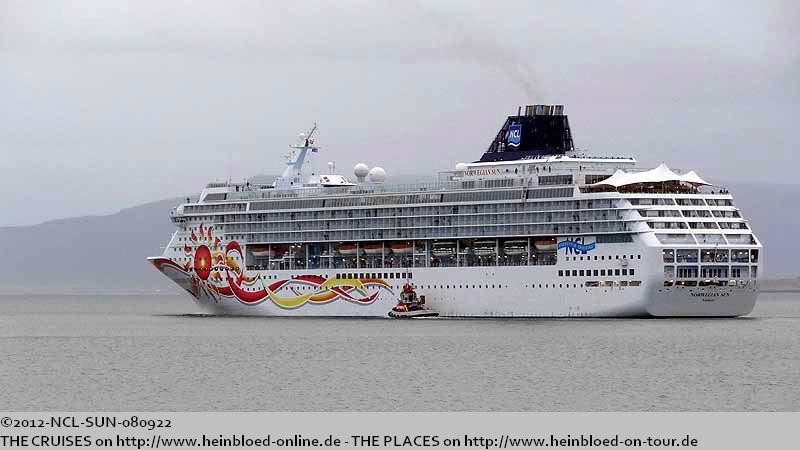 Hmmm... und wieso dreht er nicht um, um mich wieder abzuholen? Ich habe doch die Bilder gemacht und er kommt nicht zurück, um mich abzuholen... Deswegen blieb mir nichts anderes übrig, als in Reykjavik zu bleiben und hinterher zu fliegen: Also für alle offiziell: Der Kapitän war es Schuld, dass wir das Schiff wieder verpasst hatten... Die Bilder habe ich gemacht, so wie er es gesagt hat, nur er hat mich und die anderen "vergessen"... Was für ein Glück, dass wir uns an Bord vertan hatten: statt der Dreckwäsche, die wir ja in der Blauen Lagune waschen wollten, war zufällig saubere Wäsche drin... und die reichte ausgerechnet bis Greenock... Und durch ein Wunder, hatten Frances und Eddie "vergessen" ihre Pässe vorher abzugeben... Denn wir reisen ja aus dem Schengen-Raum aus...
Unser Touranbieter bietet lautet Homepage Touren zu den Nordlichtern an, aber wenn man nachfragt, doch nicht. Die anderen beiden Anbieter haben schon vorsorglich gegen 18.00 Uhr ihre Touren für heute abgesagt. Schade. Abends gehen wir ins
Vegamot
essen. Es sollte einen direkten Zugang vom Hotel geben, aber wir laufen außen rum. Es muss gut sein, denn drinnen ist es rappelvoll und wir haben Glück, dass wir ohne Reservierung sofort einen Tisch bekommen.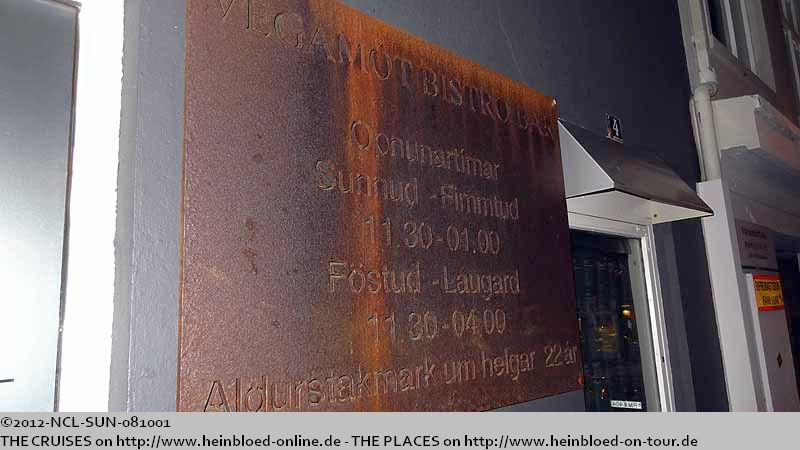 According to their website our tour operator should offer some Nordic Lights tour but when you ask they said they would not. The other two operators already canceled their tours around 18.00 hrs. This was sad. So went for dinner to Vegamot. There should be direct access from the hotel, but we need to walk around the building. It must be good because we had the luck to get a table without a reservation.

What we need to learn: The soups came here in tureen size: because Bruno and I said that we would share soup we got two salad bowl full. The chicken soup was so good for my taste too many vegetables...). But when Eddie and Frances wanted to order some, they ran out.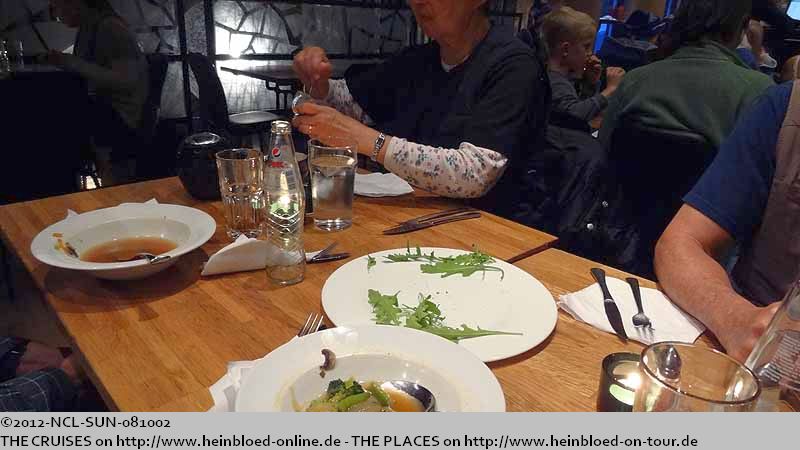 Was wir lernen müssen: Die Suppen hier sind Terrinen. Weil Bruno und ich uns eine Suppe teilen, bekommen wir immer noch zwei Salatschüsseln voll. Die Hühnersuppe war sehr gut (für meinen Geschmack zu viel Gemüse...). Als Eddie und Frances sich auch noch eine bestellen wollen, war sie leider alle.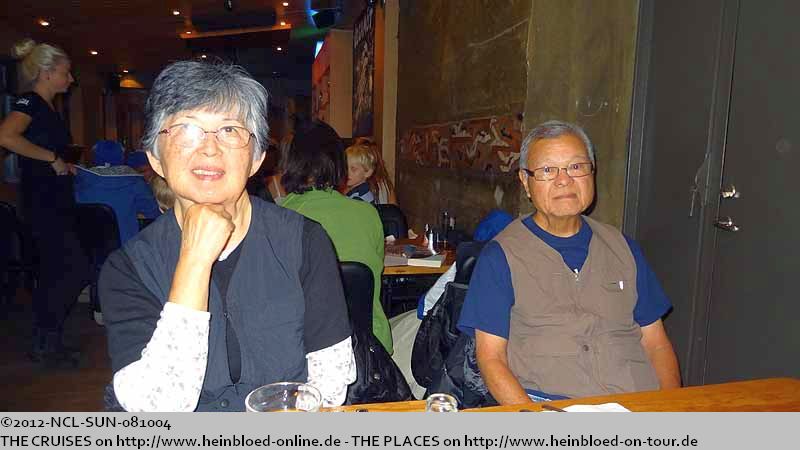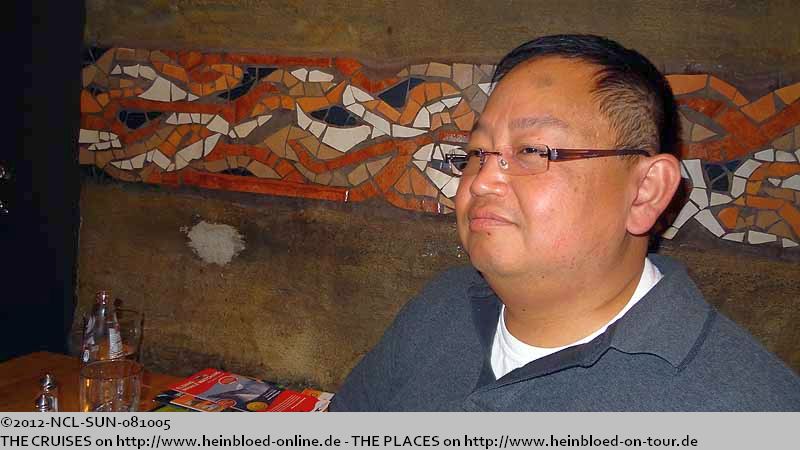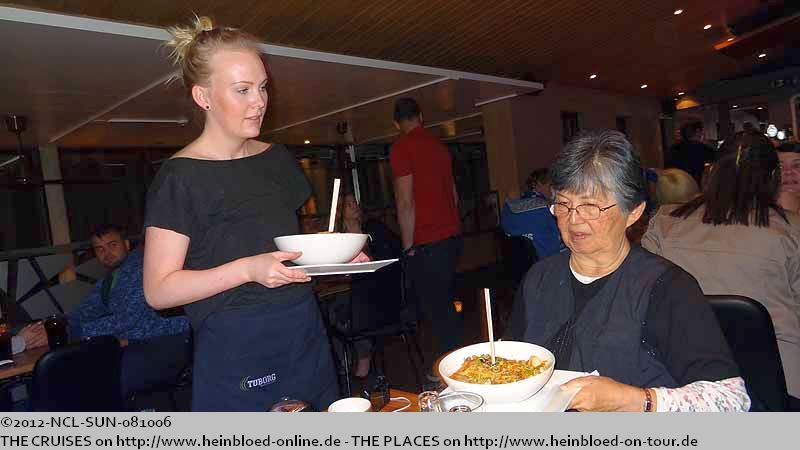 The food was really good. Sesame Chicken Noodle...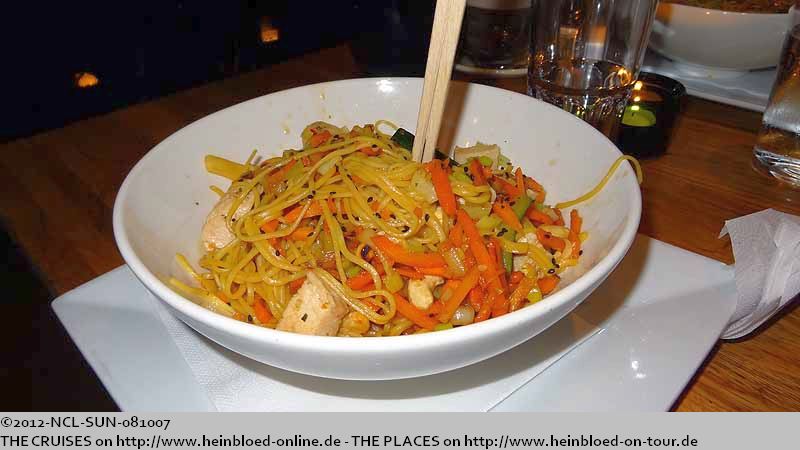 Das Essen war echt gut. Nudeln mit Seam-Hühnchen...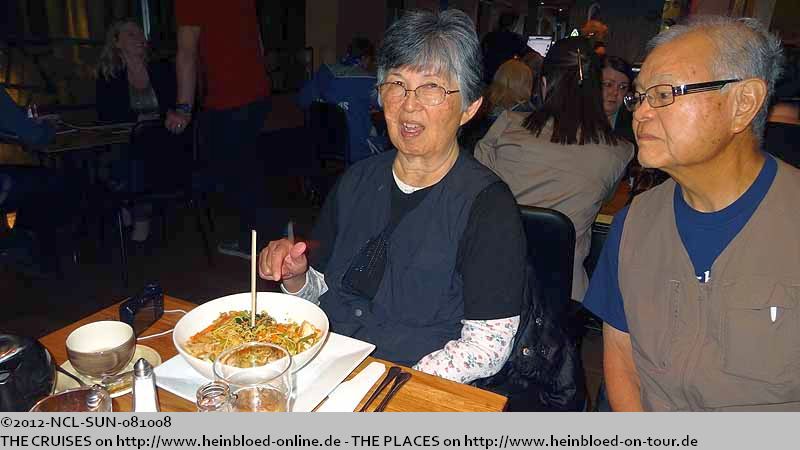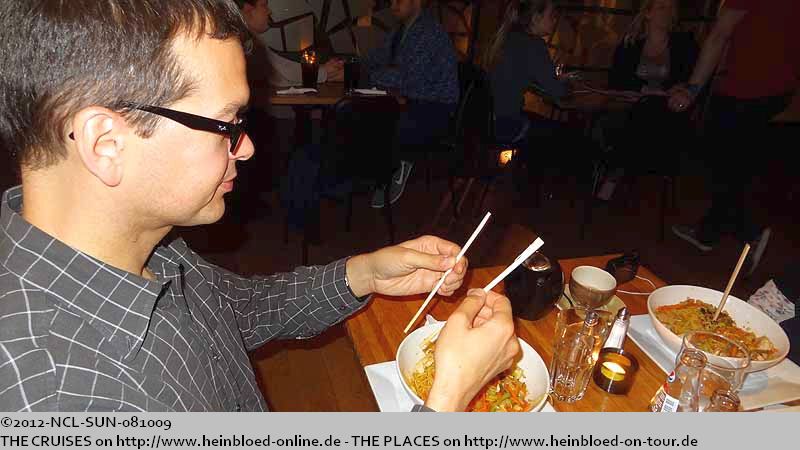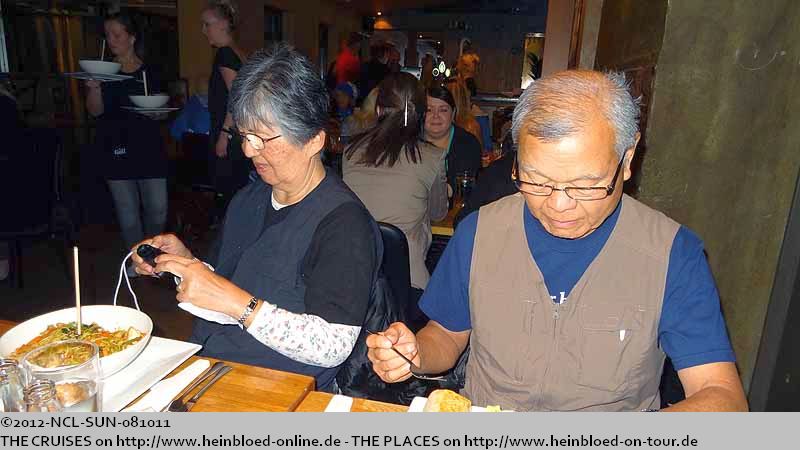 I am a friend of cold-warm salads and this one was really yummy. So sad that you cannot get such things on the ship.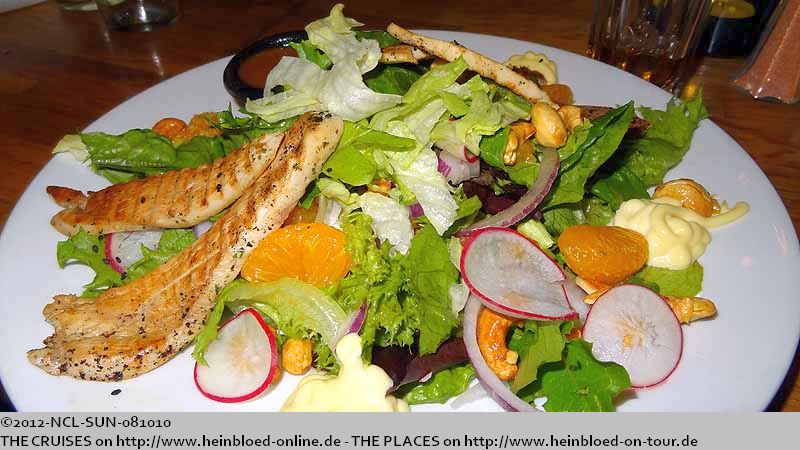 Ich bin ja ein Freund kalt-warmer Salate und der war echt lecker. Schade, dass es so etwas auf dem Schiff nicht gibt.
Die anderen Reisen in diesem Blog/
The other voyages in this blog: