Scroll down for English explanations - alternates with German explanations.

Dann kommt die RYNDAM rein...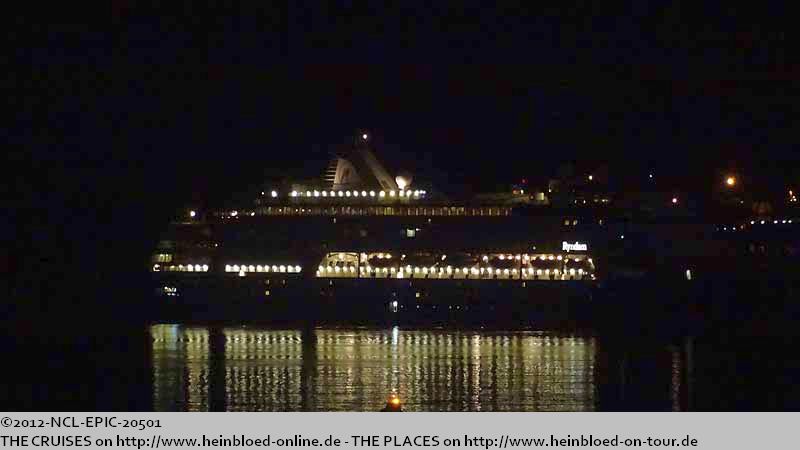 Then RYNDAM arrived...

Oh... she was not moving to Mol Adossat but to the World Trade Center.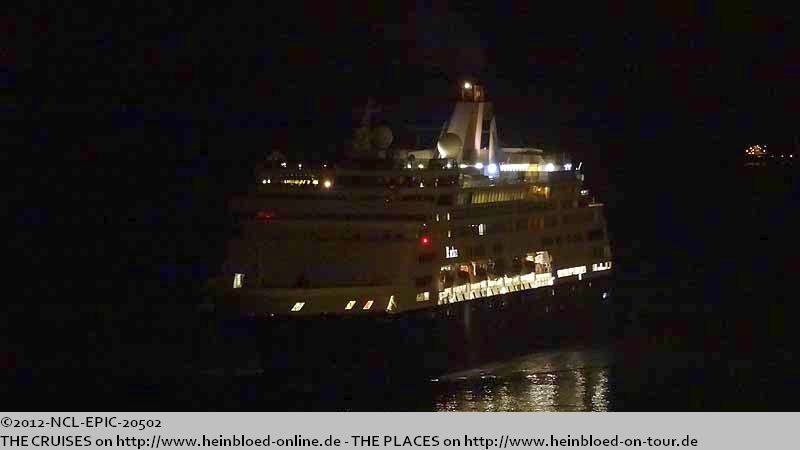 Oh... sie fährt ja gar nicht zum Mol Adossat, sondern zum World Trade Center.
Ein niederländischer Ingenieur muss das wohl sabotiert haben: denn die korrekte Schreibweise wäre RIJNDAM statt RYNDAM.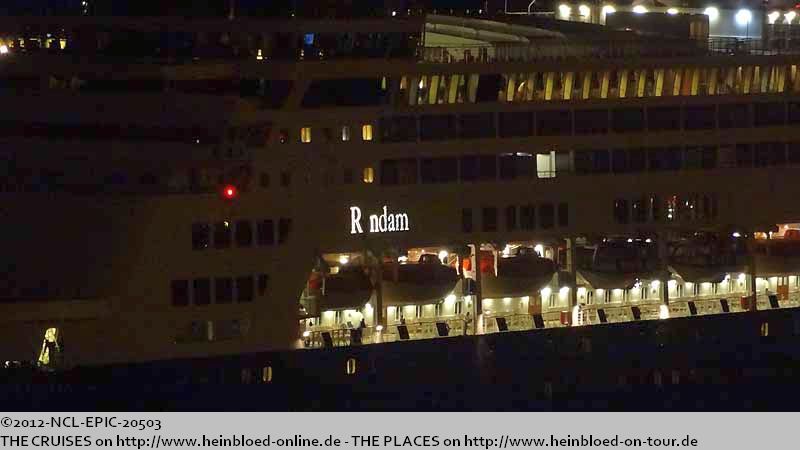 Act of sabotage by a Dutch engineer: because the correct spelling should be RIJNDAM but RYNDAM.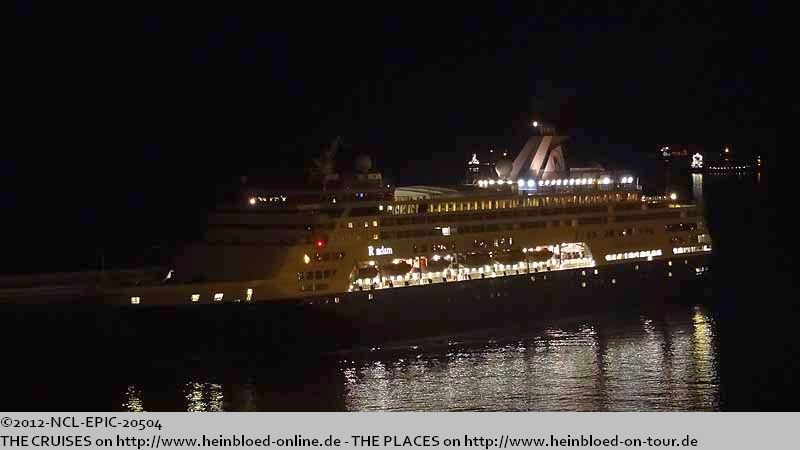 Da aber mal mein Nachname mit einem Y beginnt, hoffe ich ja stark, dass bis September 2013 das in Ordnung gebracht wird.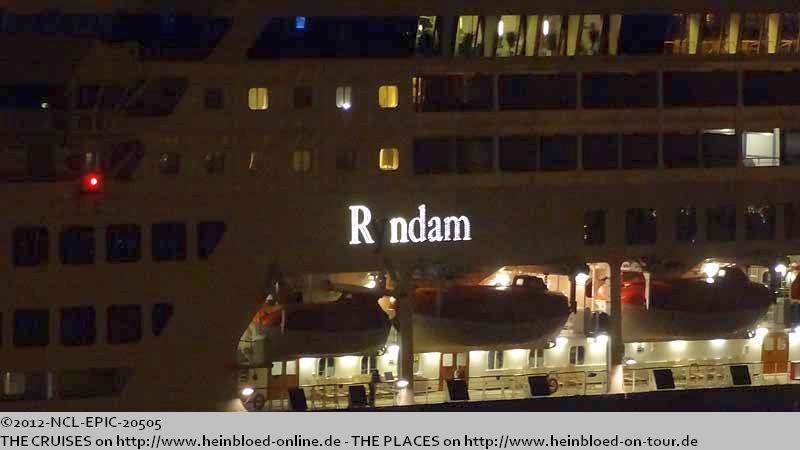 But as my last name starts with a Y I truly hope that they have fixed it until September 2013.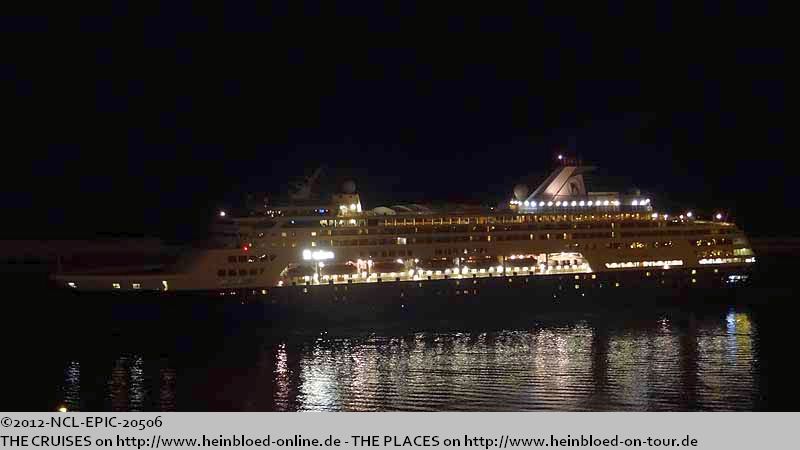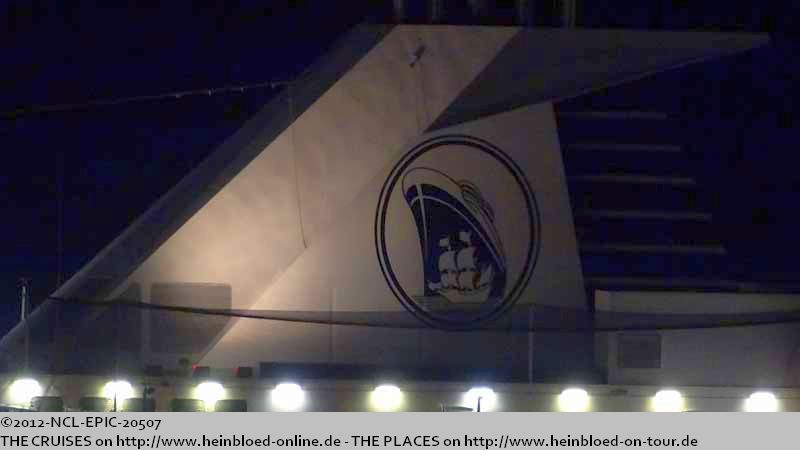 Ich hatte gar keinen Grund mehr böse auf den Kapitän zu sein: Er wusste wohl, wie sehr mir die RYNDAM am Herzen lag und dass sie am World Trade Center liegen würde. Daher hat er also das Schiff vorher gedreht, damit ich sie von meinem Balkon aus sehen kann. Danke - lieber Kapitän!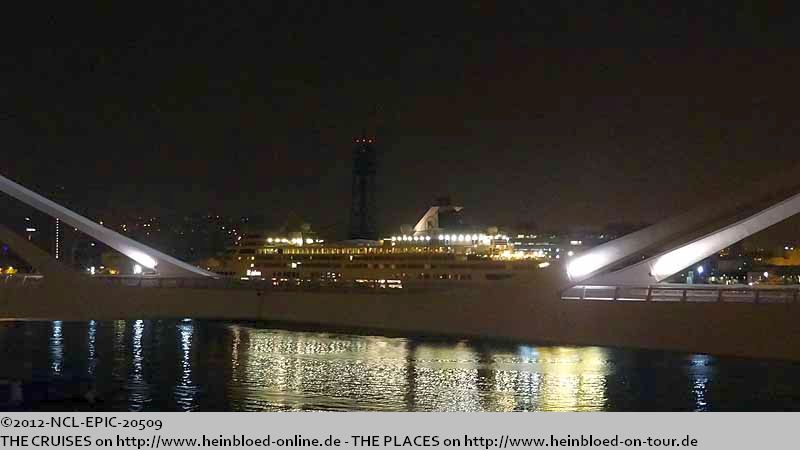 I had no reason anymore to be angry with our Captain. Obviously he knew how much RYNDAM means to me and she would berth at the World Trade Center. That was why he turned around the ship before so that I could see her directly from my balcony. Thank you - dear Captain!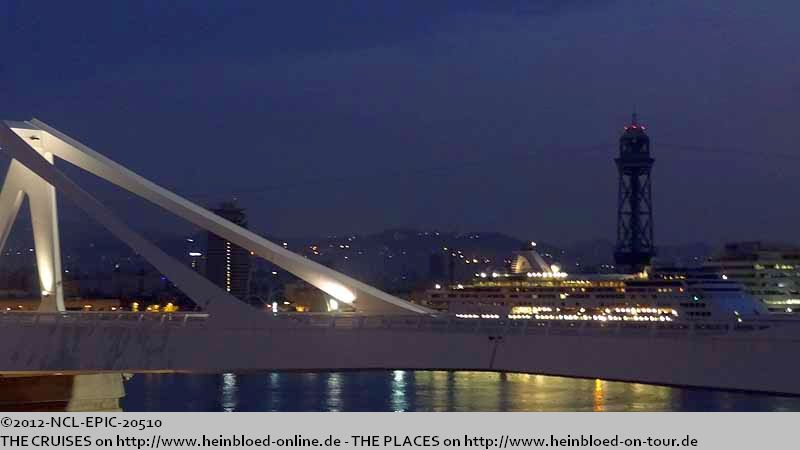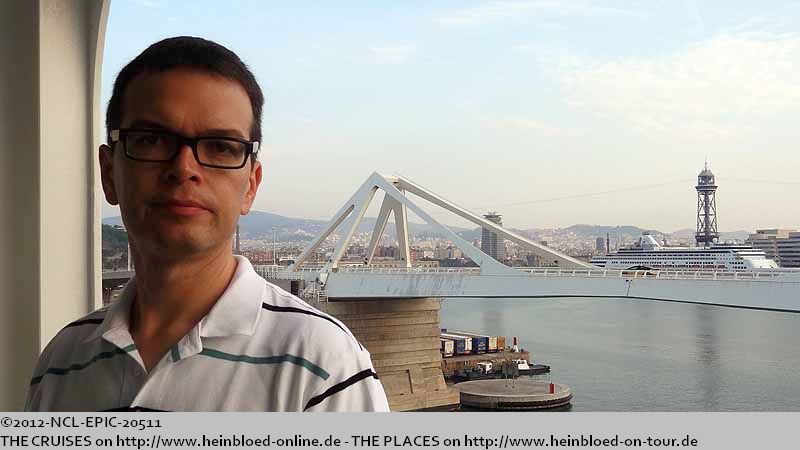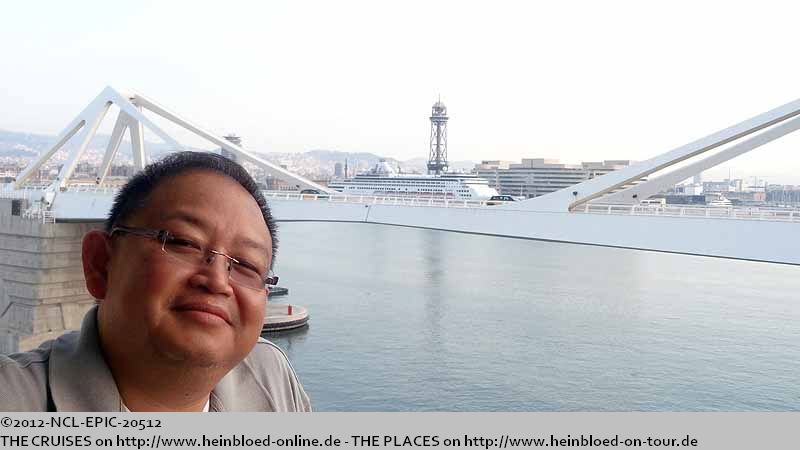 Wir gehen zum Frühstück ins Taste. Das Büffet wie bei Royal Caribbean wurde wieder abgeschafft anscheinend. Alles wie sonst, und weil man schlecht den Gästen, die in Marseille und Civitavecchia einen reduzierten Service in Barcelona anbieten kann, gibt es die volle Karte als Auswahl.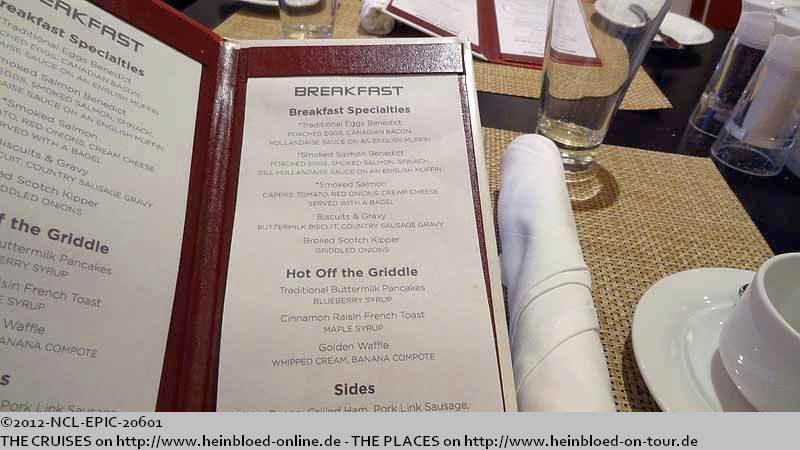 We went for breakfast to the Taste. Obviously they did not offer the buffet like on Royal Caribbean anymore. Everything like ususual because you cannot offer a limited service to guests embarking in Civitavecchia and Marseille - so you got the full menu.

Kein Servietten-Service mehr, da das Besteck eingerollt ist. Mir wird hinterher erklärt, dass für Frühstück und Mittagessen ein kleineres Besteck verwendet wird.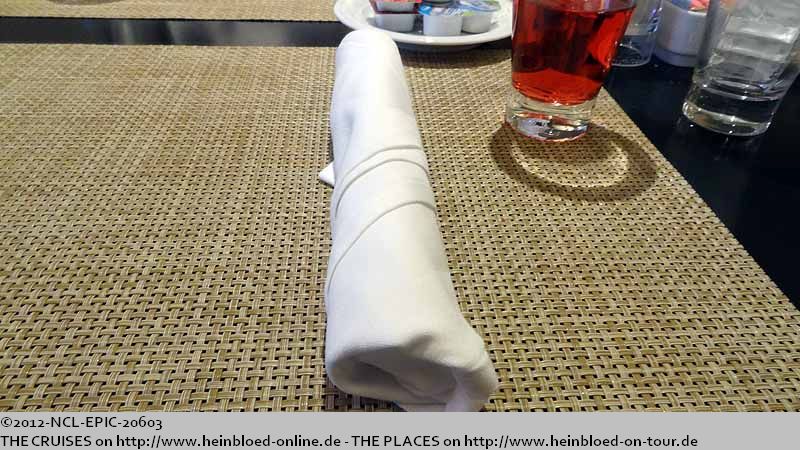 No napkin-service anymore because the silverware was rolled into the napkin. Later someone explained that you get smaller silverware with breakfast and lunch.

I got my usual morning mixtures.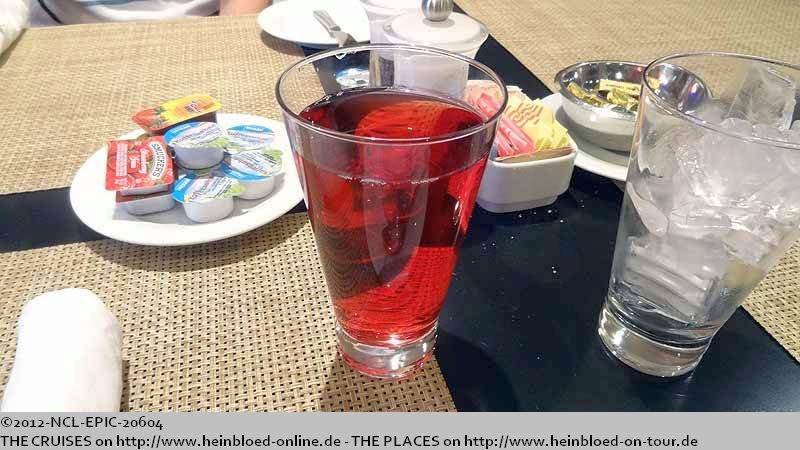 Ich bekomme meine morgendliche Mischung.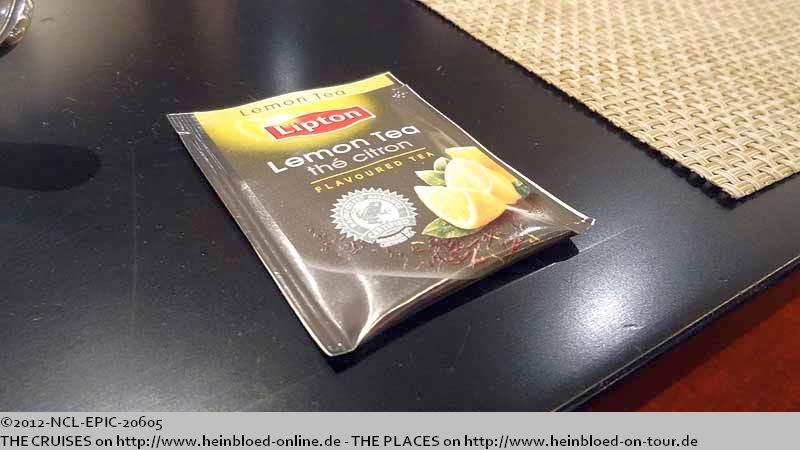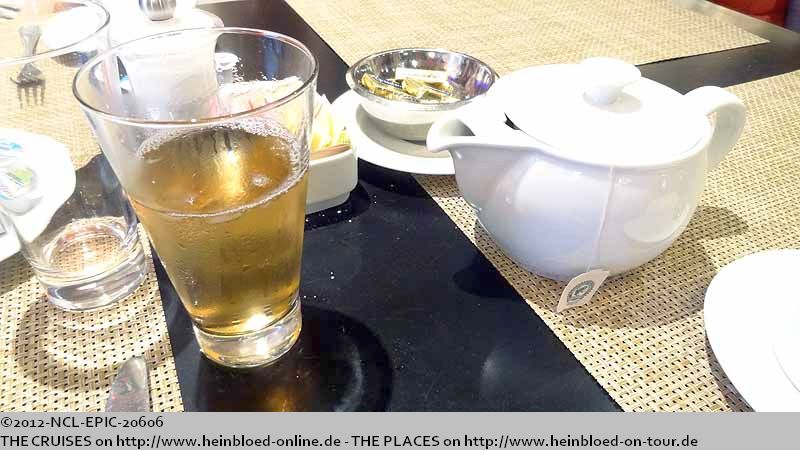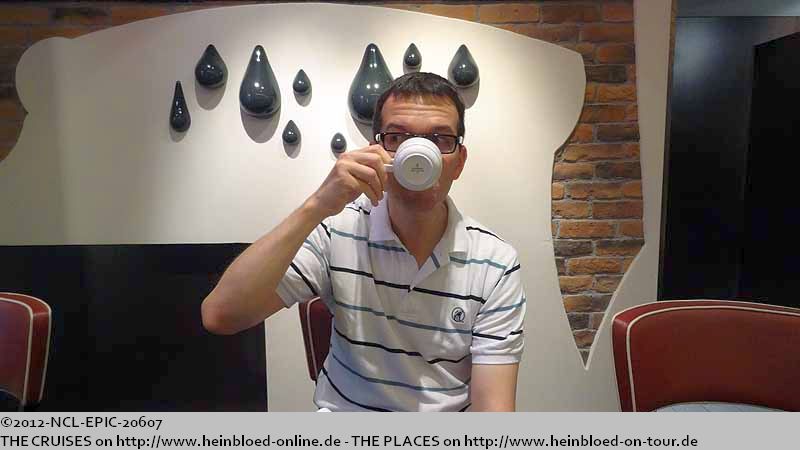 Bruno said that the 1st coffee was good but then the refill-coffee in the extra pot was terrible.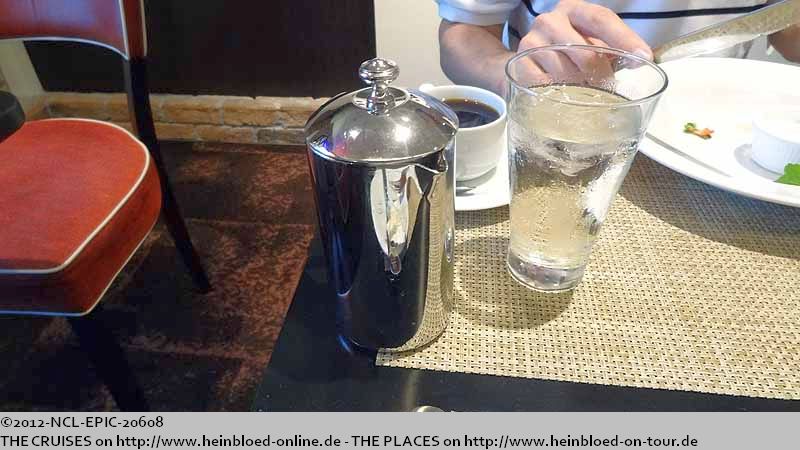 Der 1. Kaffee war wohl gut. Aber der Kaffee aus der Nachfüllkanne war lt. Bruno furchtbar.
Frühstücksgebäck gibt es nur auf Anfrage. Um unnötigen Abfall zu vermeiden. Guter Ansatz. Wäre es dann nicht besser, wieder den Tablettservice einzuführen: dann kann jeder Gast sehen, was es gibt und sich auch nur die Stücke aussuchen, die ihn interessieren. So sucht die Kellnerin für uns etwas aus und was wir nicht mögen wird auch weggeworfen.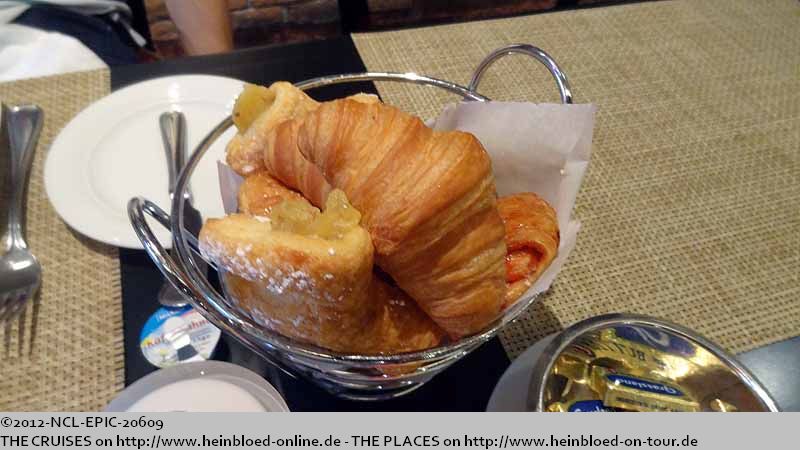 You got Danish only on request. That was to avoid waste. Generally a good idea. Would not it be better to return to the tray service? The guests could see the availability and select himself the pieces he would like to eat. So our waitress made the selection and what we did not want to eat was disposed again.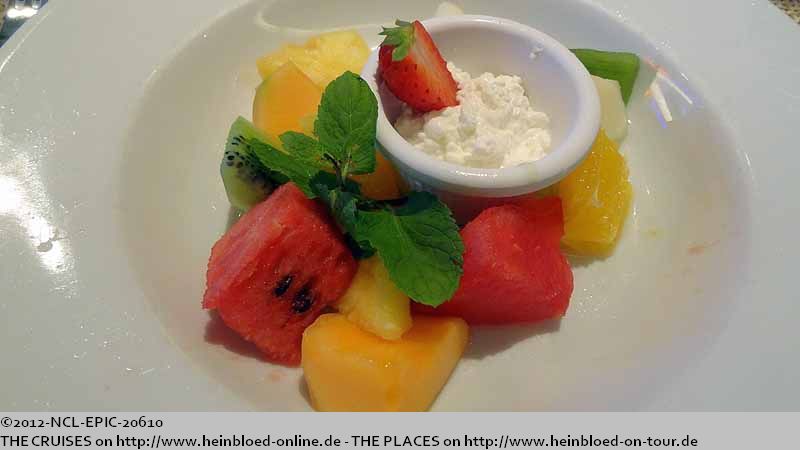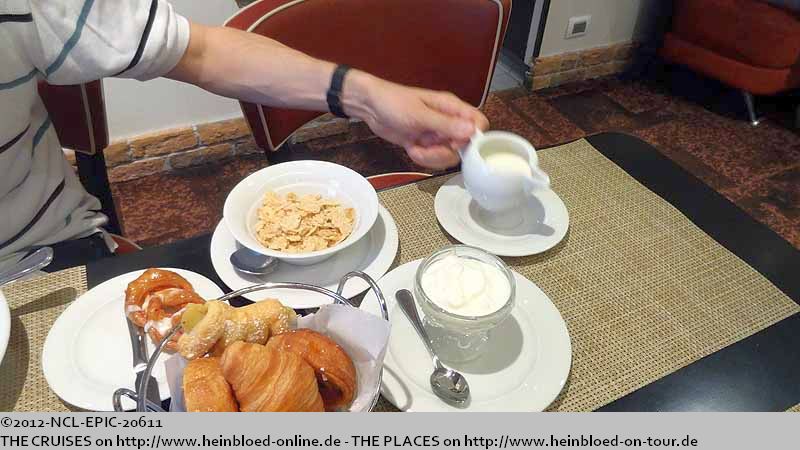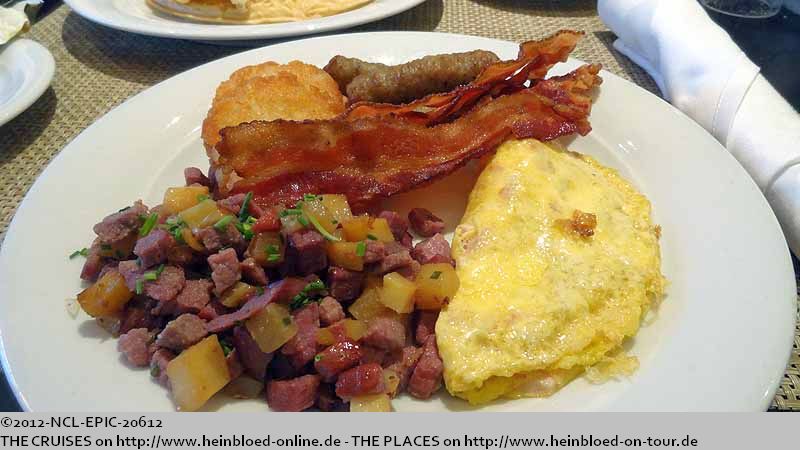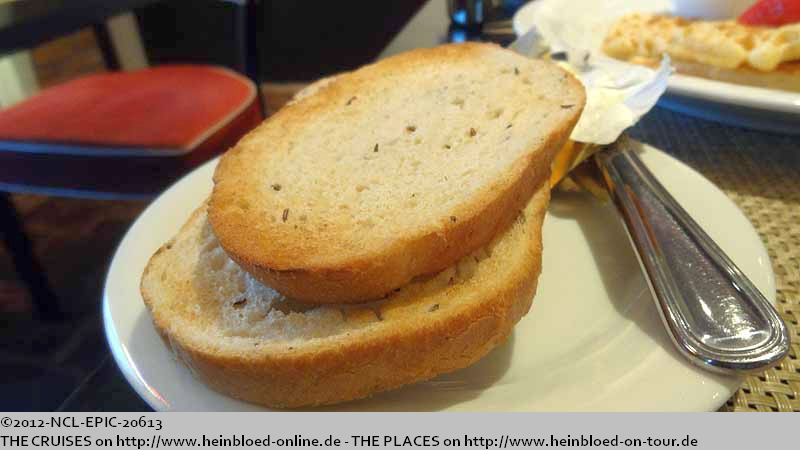 Well... I only wanted to have one waffle... it was one waffle... but a giant one. Soon we had to leave the ship. At the gangway the Hotel Director said good-bye to us. I knew him and he knew me but from where?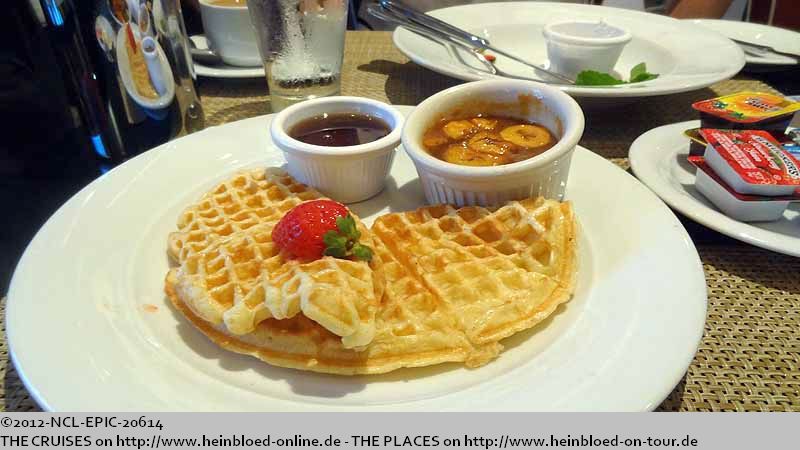 Gut... ich wollte eine Waffel haben... es war auch eine... nur eine riesige. Bald geht es auch von Bord. An der Brücke werden wir vom Hotel Director verabschiedet. Ich kenne ihn und er kennt mich auch, bloß woher?
Draußen liegt zwischenzeitlich die GRAND HOLIDAY.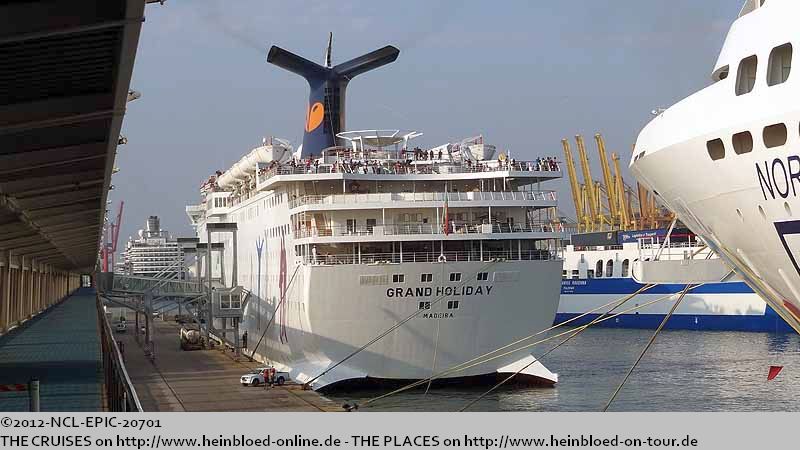 Meanwhile GRAND HOLIDAY arrived.

As the condition for this morning changed significantly we need to send our bags to the airport and used the service of DW Consigna.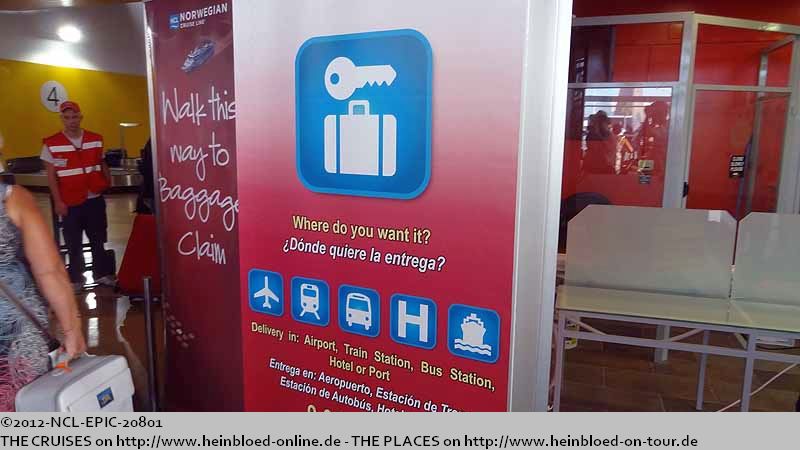 Da sich die Ausgangssituation über Nacht stark verändert hat, müssen wir das Gepäck loswerden und nutzen diesen Service von DW Consigna aus.
Am Ende der Gepäckausgabehalle stehen sie. Es kostet 10,00 EUR pro Gepäckstück, aber sie fahren bloß zum Terminal 1. Früheste Abholung ist um 12.30 Uhr möglich.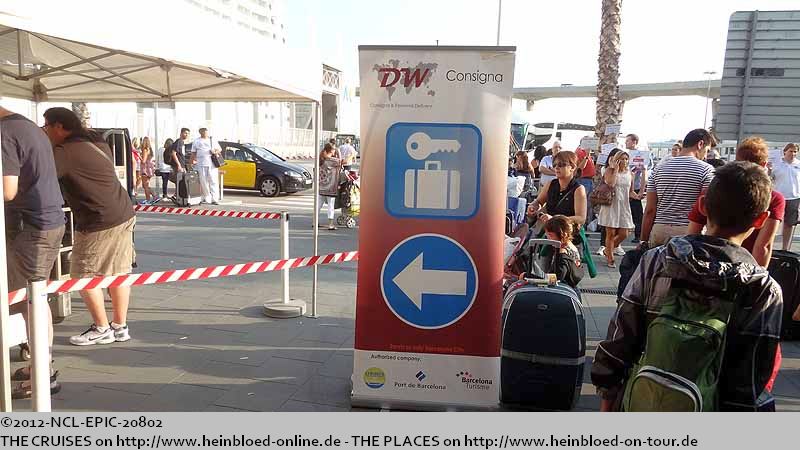 They stood at the end of the baggage claim hall. It costs 10.00 EUR (2012 - approx. 12.50 USD) per bag but they only deliver to Terminal 1. Earliest collection would be at 12.30 hrs.

From here we could see the queue for the cabs. We should have a car for 5 persons. A little bit unlucky this morning. And Eva Maria and her SEAT Alhambra did not pick up the phone.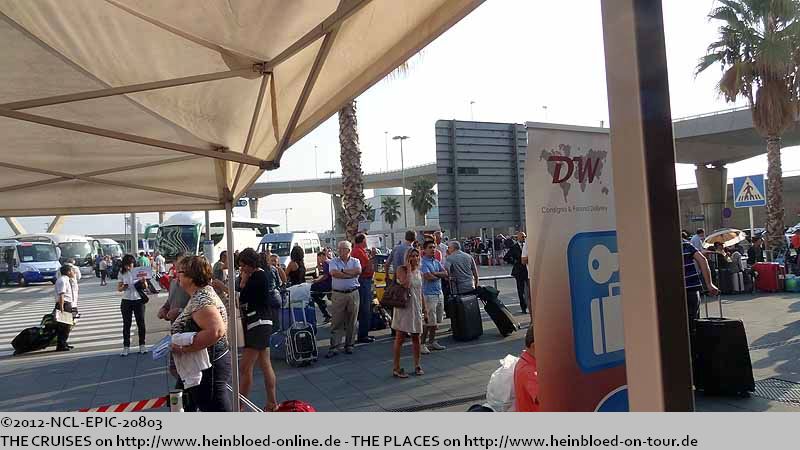 Hinten sehen wir schon die Schlange zum Taxi. Wir hätten eh einen Wagen für 5 Personen gebraucht. Alles ein wenig unglücklich heute Morgen. Und Eva Maria mit ihrem SEAT Alhambra geht nicht ans Telefon.
Aber dafür sieht es vielversprechend am Portbus T3 aus.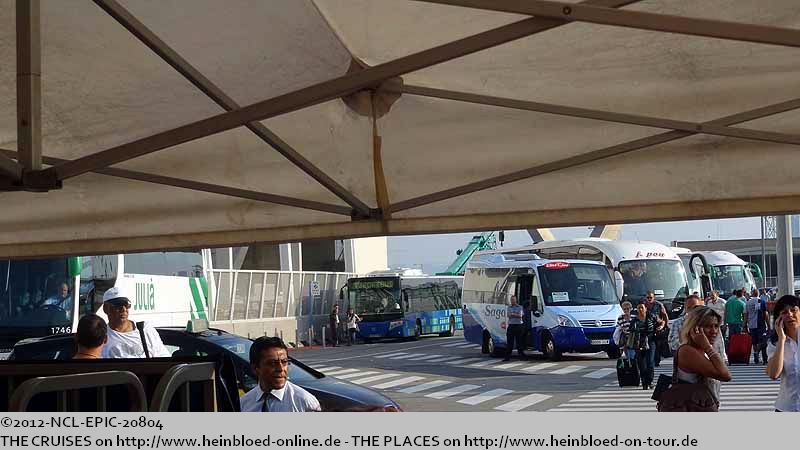 But it looked very promising at the Portbus T3.

But when we arrived there was a long queue too. We had to wait about 20 minutes for the next bus which could carry all 5 of us.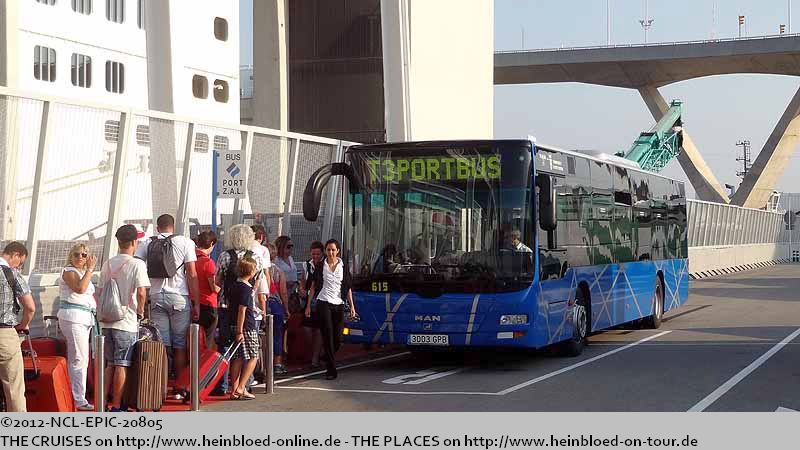 Bloß als wir kommen, ist die Schlange lang. Wir warten ca. 20 Minuten bis zum nächsten Bus, der uns alle mitnehmen kann.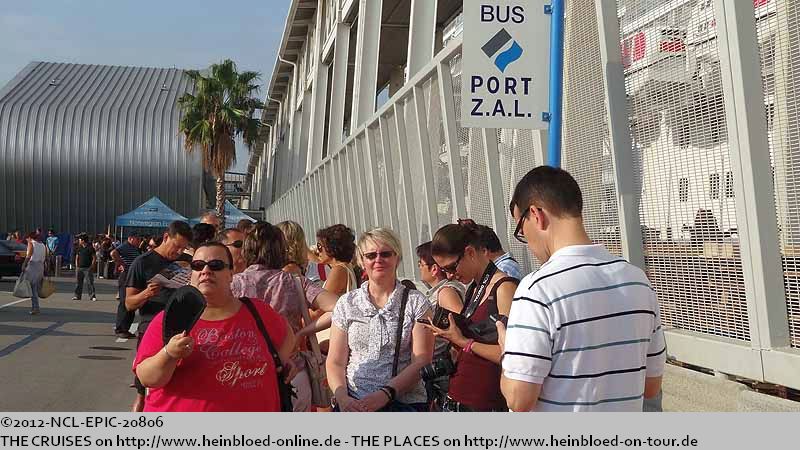 Single journey 2.50 EUR (2012 - about 3.00 USD) - and return journey 3.50 EUR (2012 - about 5.00 USD).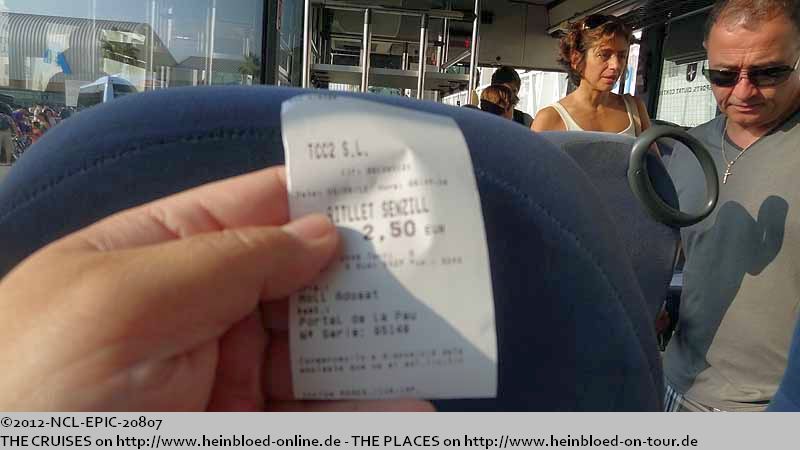 Einfach kostet die Fahrt 2,50 EUR (2012) - hin und zurück 3,50 EUR (2012).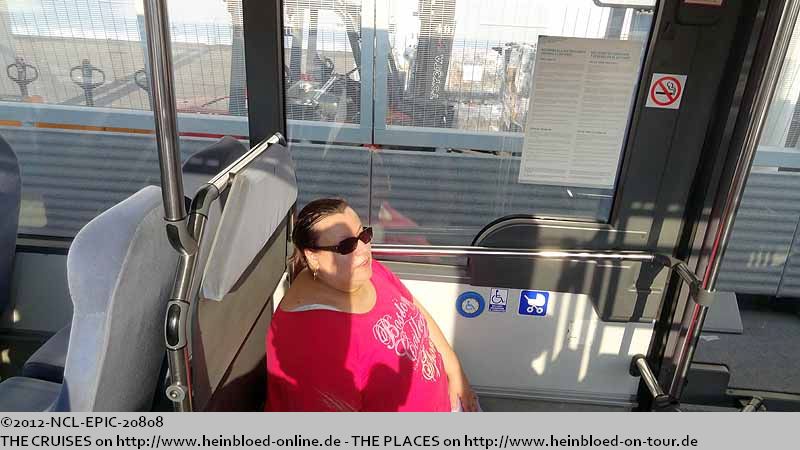 The ride terminated around the Columbus Coloumn.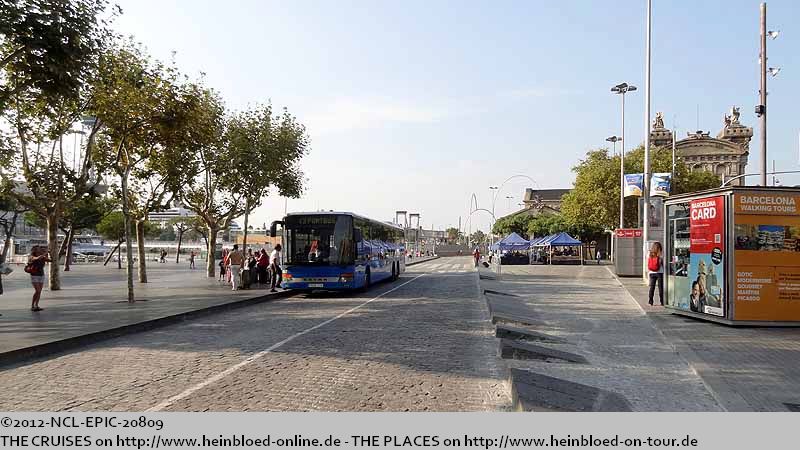 Hier an der Columbus-Säule endet die Fahrt.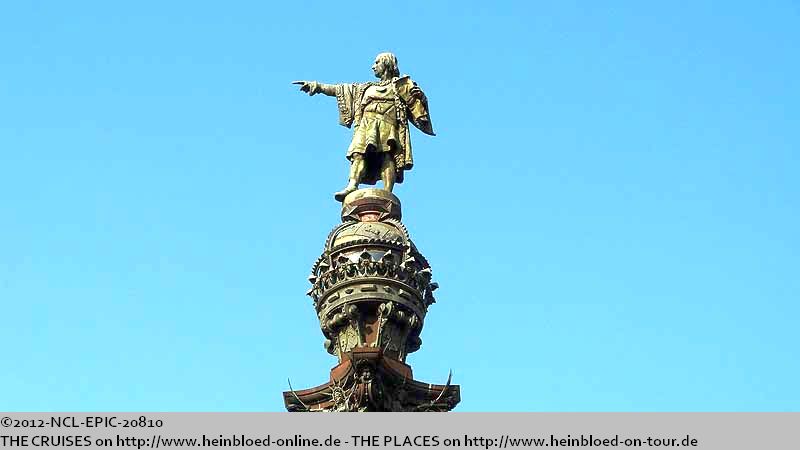 There behind our RYNDAM at the World Trade Center.

Hinten ist unsere RYNDAM am World Trade Center.
Weiter laufen wir in die Ramblas und steigen dort in die U-Bahn um. Durch die Mehrwertsteuererhöhung kostet nun ein T-10-Ticket 9,25 EUR (für 10 Fahrten innerhalb der Stadt Barcelona inkl. Flughafen mit Berechtigung zum Umsteigen).

We walked over to the Ramblas and entered the Metro. Due to increase of VAT the T-10-Ticket was now 9.25 EUR (2012 - about 13.00 USD for 10 journeys within the city of Barcelona incl. transfers and airport).

We waited for the next subway. As usual it was a great experience in Barcelona to use it.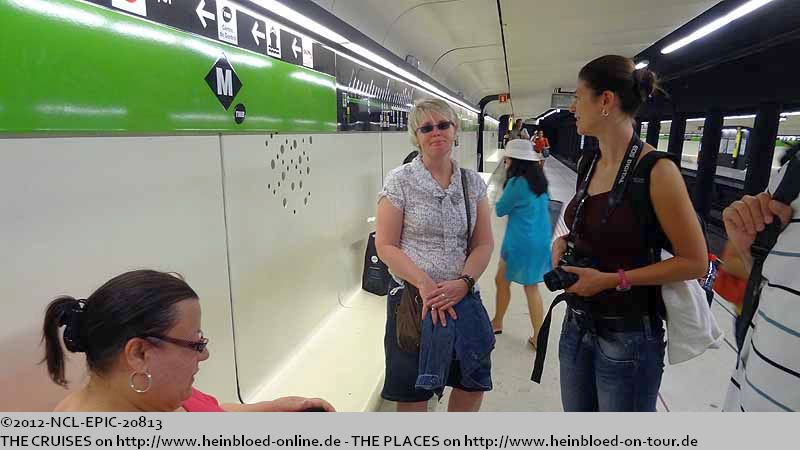 Wir warten auf die U-Bahn. Unverändert gut in Barcelona.