Scroll down for English explanations - alternates with German explanations.

Ankunft am Flughafen Charles de Gaulle.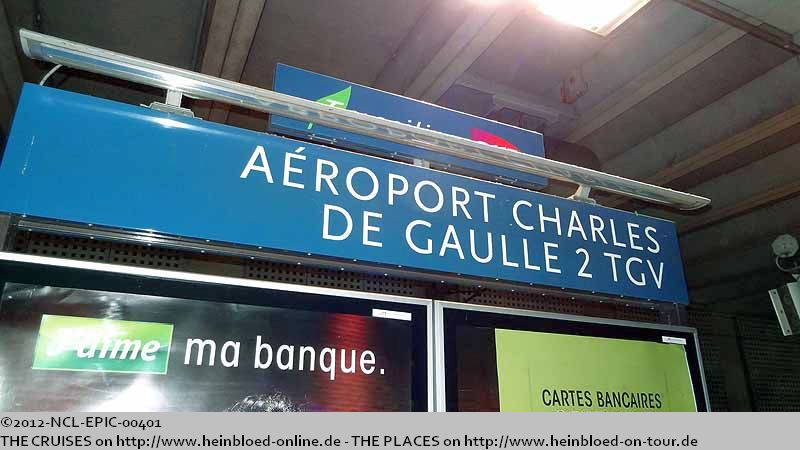 Arrival at Charles de Gaulle Airport.

The flight from Düsseldorf arrived.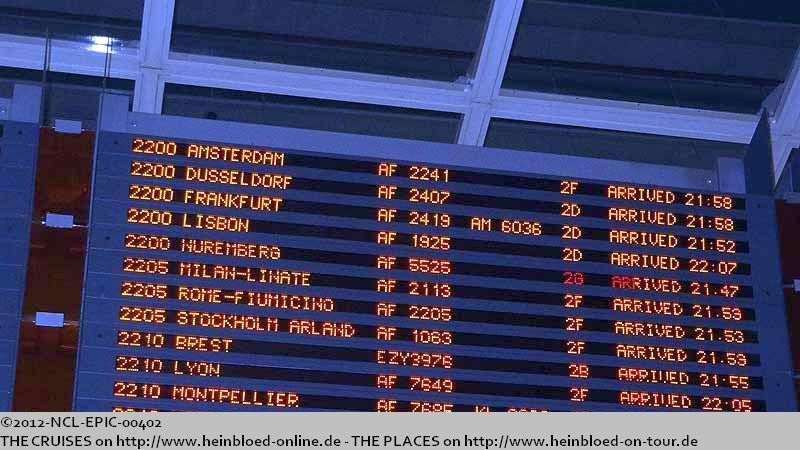 Die Maschine aus Düsseldorf ist eher da...
und die aus Hannover auch... so können wir vielleicht mit unserer Tour früher starten.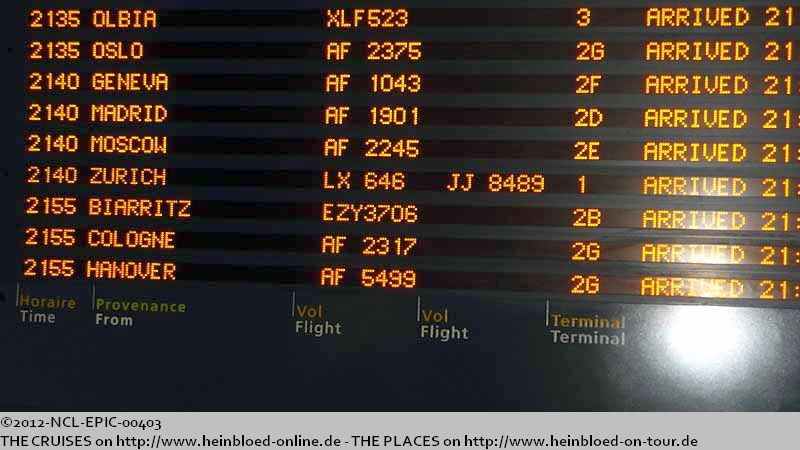 The flight from Hanover as well. So we might start with our tour a little earlier.

For the return journey we might need a baggage storage. You find this as well in the train station.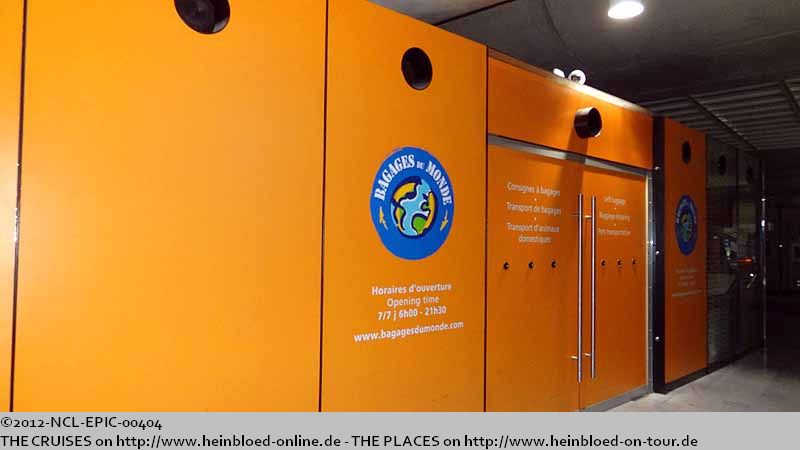 Für die Rückreise benötigen wir vielleicht eine Gepäckaufbewahrung. Die findet sich auch hier im Bahnhof.
Treffpunkt: Haltestelle für den Shuttle von/nach Terminal 2G.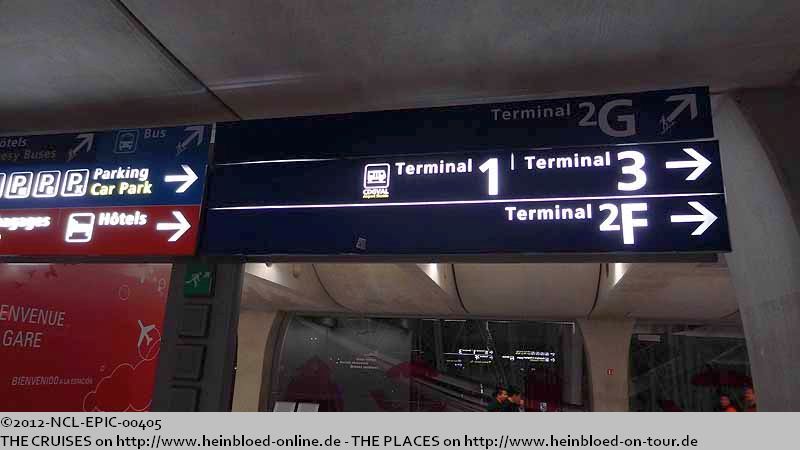 Meeting point: at the bus stop for the shuttle to/from Terminal 2G.

Here we were right. In two minutes the next should suppose to arrive. I got a text message that my "Girlies" were waiting just at the exit where the shuttle leaves.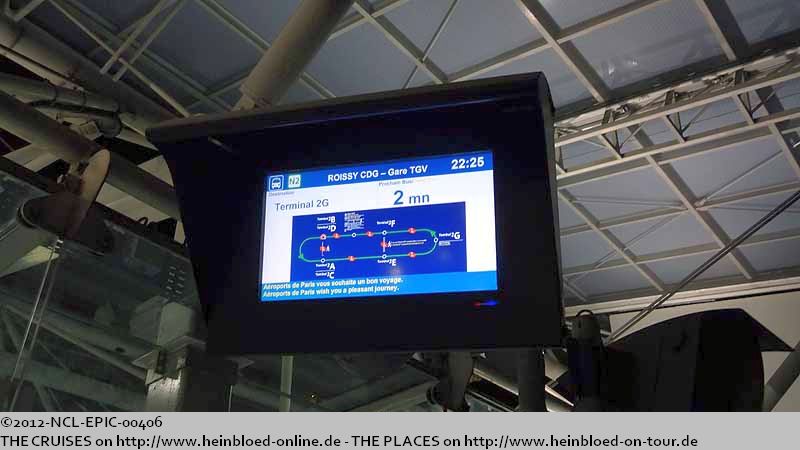 Hier sind wir richtig. In zwei Minuten kommt der nächste. Ich bekomme eine SMS, dass meine "Mädels" bereits am Ausgang vom Shuttle stehen.
Ein Bus nach dem anderen kommt, aber keine Mädels.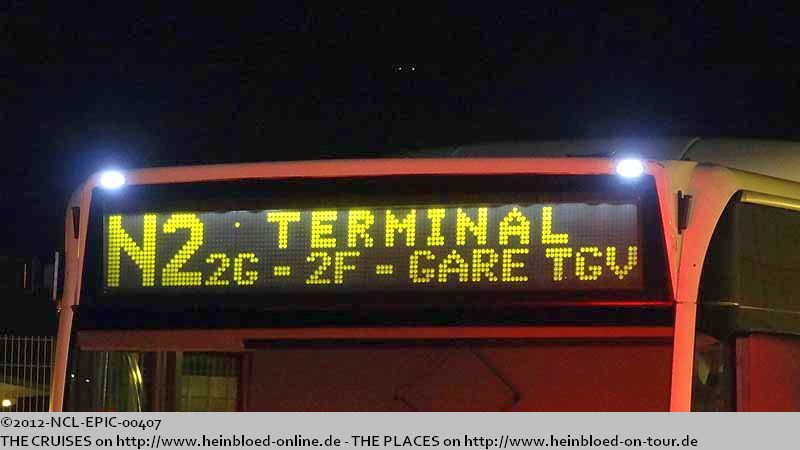 One bus after the other came but no girls.

Finally: they got some extra lessons at the board... and me too: I need to attend the training "When male supervisors say something what do female employees understand?" (I am sure this is a waste investment...). I better do not repeat what they did: Andrea, Melanie and Rosa. They were not there where they should be so many buses passed and no girls inside. It was all Andrea's fault that we were here: she came back from AIDA (German resort cruise line) and I wanted her to make acquaintance of a very good cruise line. So we saved about 25.00 USD per month for a year. As their boss there was a small subvention which I paid to make this voyage possible.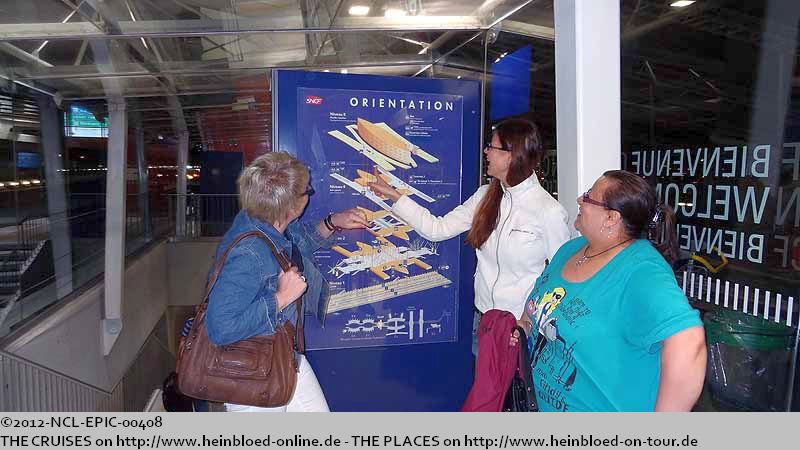 Nun: alle mussten zum "Nachsitzen" an die Tafel... und ich auch: zum Managementkurs "Wenn männliche Chefs was sagen, und weibliche Mitarbeiter etwas anderes verstehen!" (Wahrscheinlich eine komplette Fehlinvestition...). Ich gebe lieber nicht wieder, was sie gemacht haben: aber Andrea, Melanie und Rosa waren nicht dort, wo sie sein sollten und so haben wir viele Busse später sie erst hier getroffen. Andrea war an allem Schuld: Sie war mit AIDA unterwegs und ich wollte mal, dass sie mal eine richtig gute Gesellschaft kennenlernt. 20,00 EUR pro Monat wurden angespart. Ich habe als Chef etwas subventioniert, um die Reise zu ermöglichen.
Da wegen Bauarbeiten die Mädels definitiv die letzte Abfahrt der S-Bahn verpasst hätten, war es gut, dass wir uns zu einer nächsten Rundfahrt durch Paris verabredet hatten. Ich hatte bei Tim bestellt. Ihn hatte ich über
Paris Cab
gefunden. Pünktlich war er zur Stelle. Eigentlich hat er kein Taxi sondern mehr einen Limousinenservice. Eine Volllederausstattung ist bei einem einfachen Taxi doch etwas ungewöhnlich, zumal ein Taxi-Schild fehlt. Übrigens wäre es vielleicht auch etwas für Kreuzfahrer, die von Le Havre den Zug nehmen und sich von ihm am Bahnhof St. Lazare abholen lassen.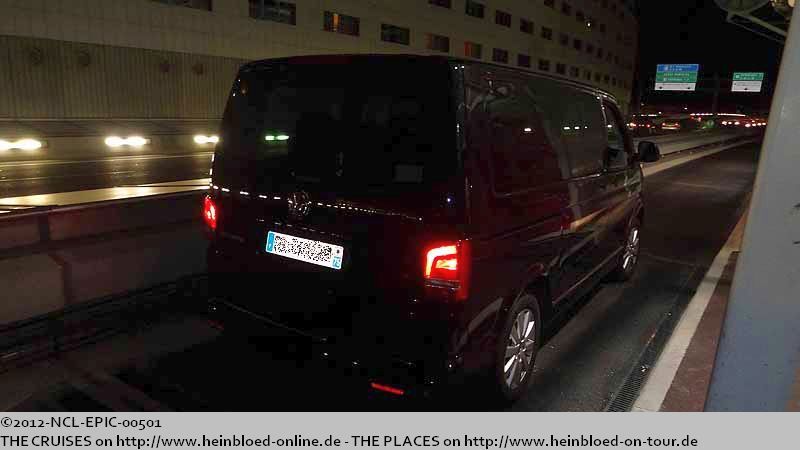 The girls would definately missed the last departure of the commuter train (RER) due to rail construction works and special schedule. So we met for a night tour trough Paris. I ordered with Tim. I got him on Paris Cab. He arrived right on time as appointed. Honestly I would not say that it was a taxi but more a limo-service. Full leather equipement is not very common in standard taxis. By the way his service might be interesting for cruisers calling Le Havre and taking the train to Paris. He could collect you at St. Lazare train station and take you around.

With name sign.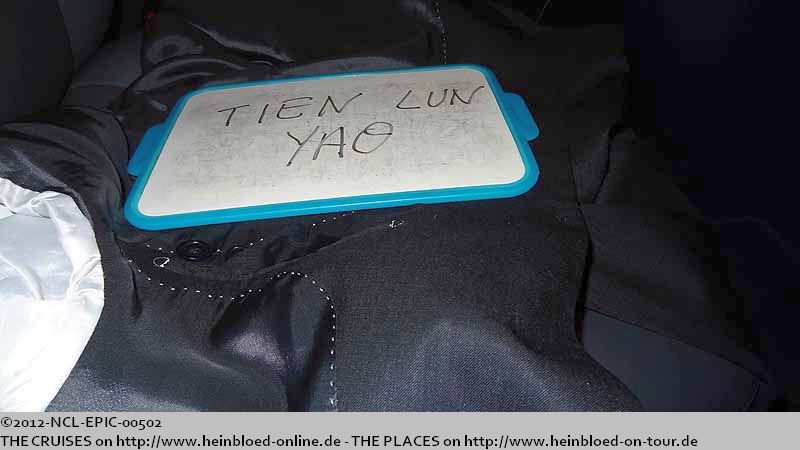 Mit Namensschild.
Die Mädels haben sich wohl über diese besondere Tour gefreut. Schließlich ist Paris Stadt der Lichter.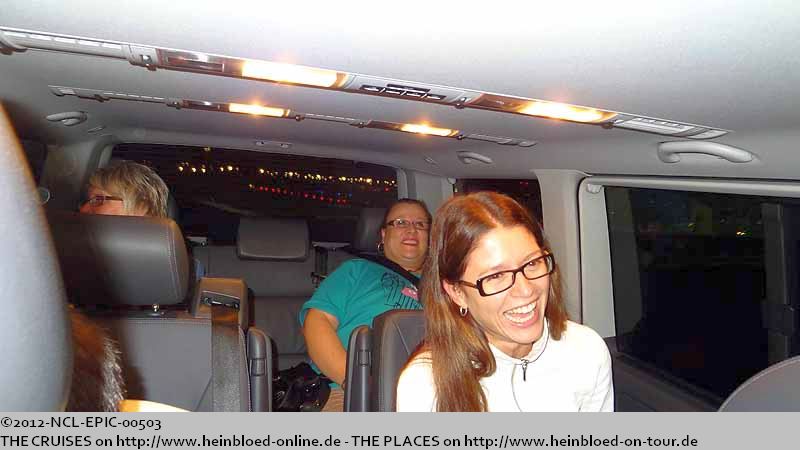 The girls were happy to have this special tour. Because Paris is the City of Lights.

1st stop was Sacre-Coeur on Montmatre hill.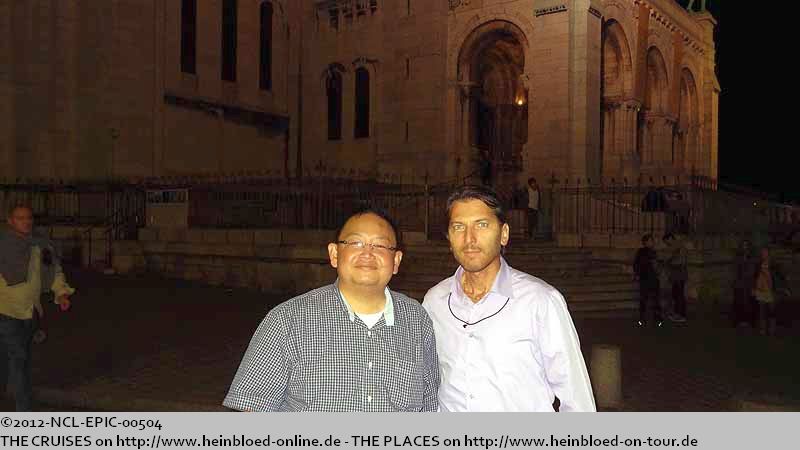 1. Stop war Sacre-Coeur auf dem Montmatre.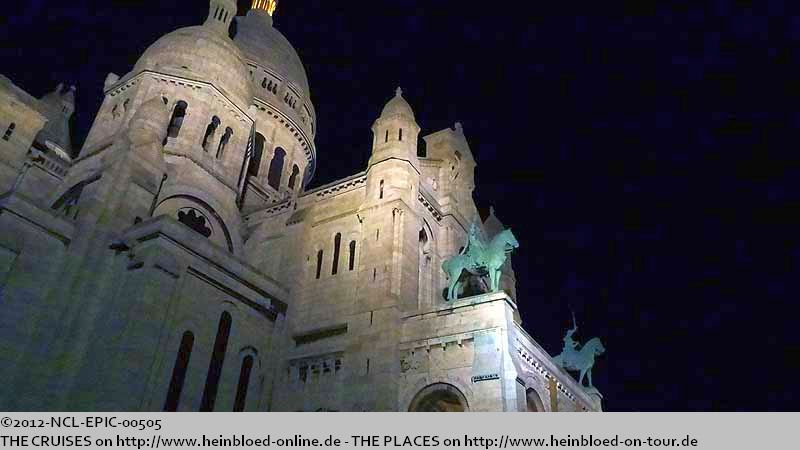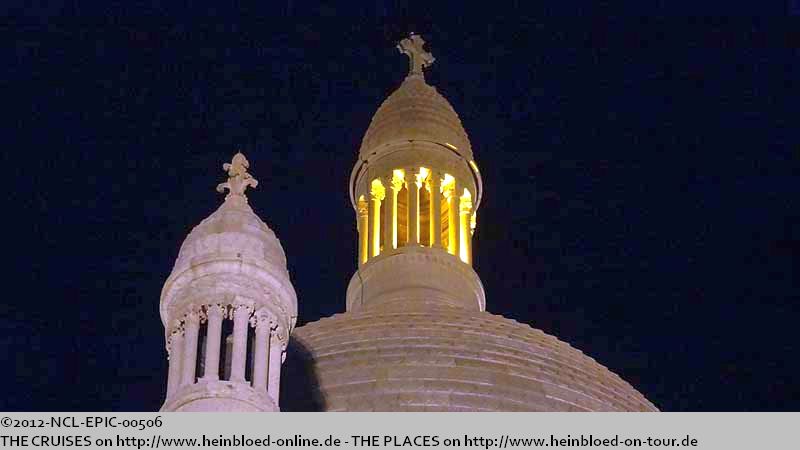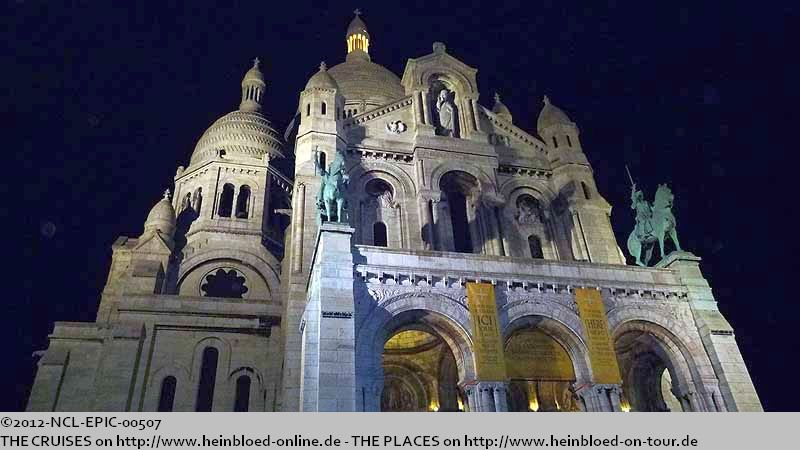 But I was not the only one who had the idea to come here at this time of the day.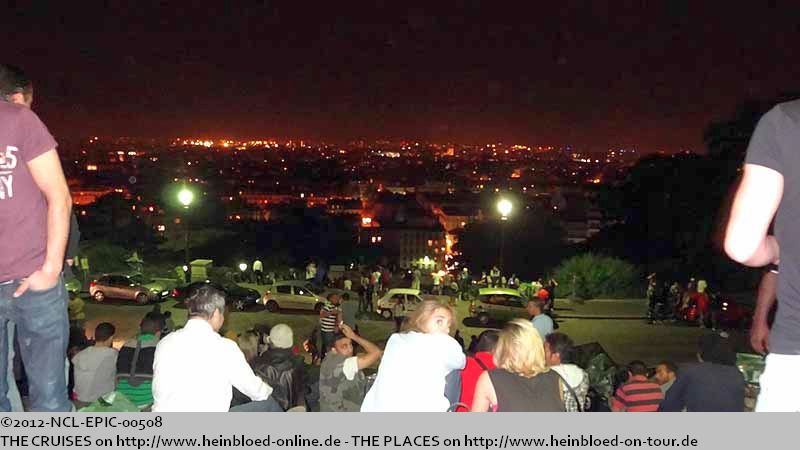 Ich war allerdings nicht der einzige, der auf die Idee kam, um diese Zeit hierher zu kommen.
So genießen wir mit vielen anderen den Anblick von Paris bei Nacht.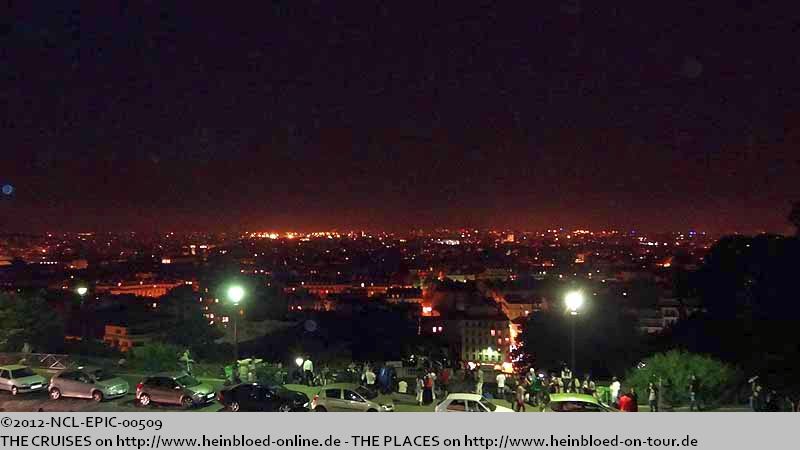 So we enjoyed to see with many others the view of Paris at night.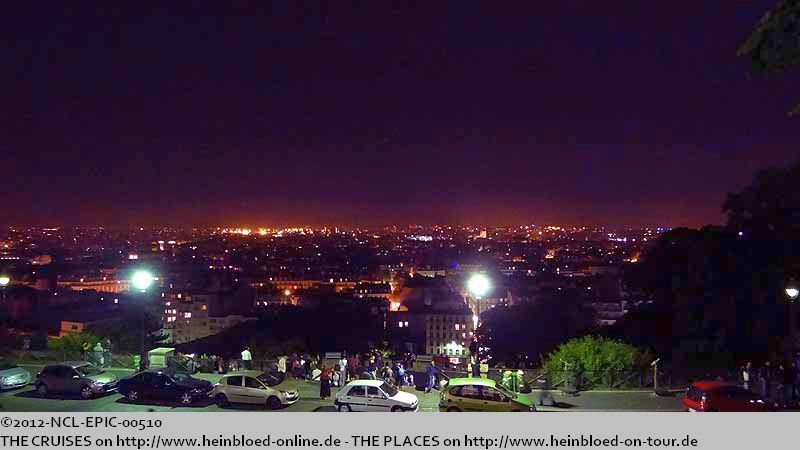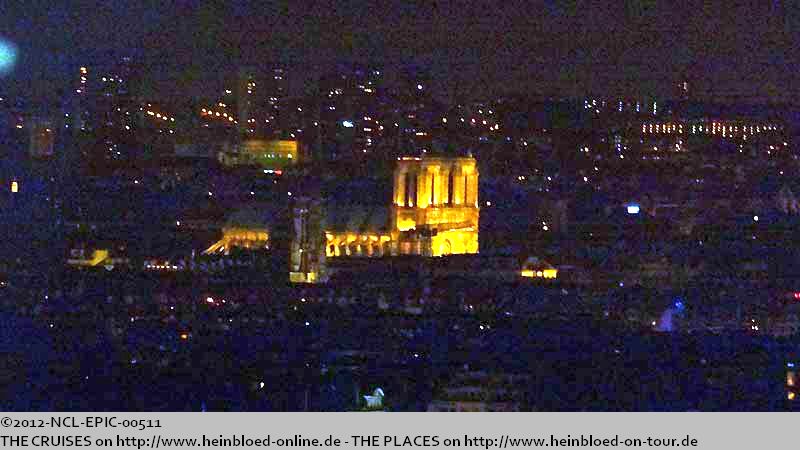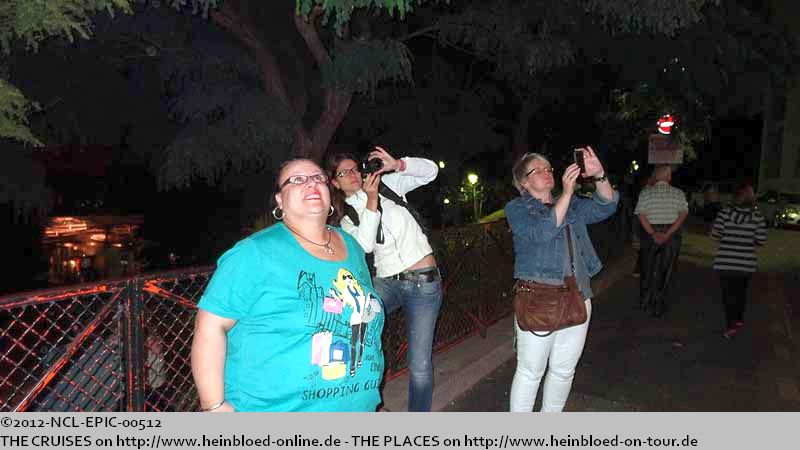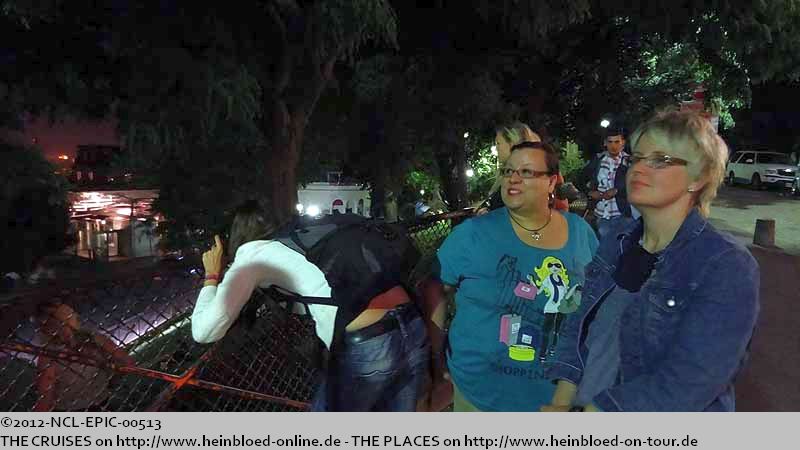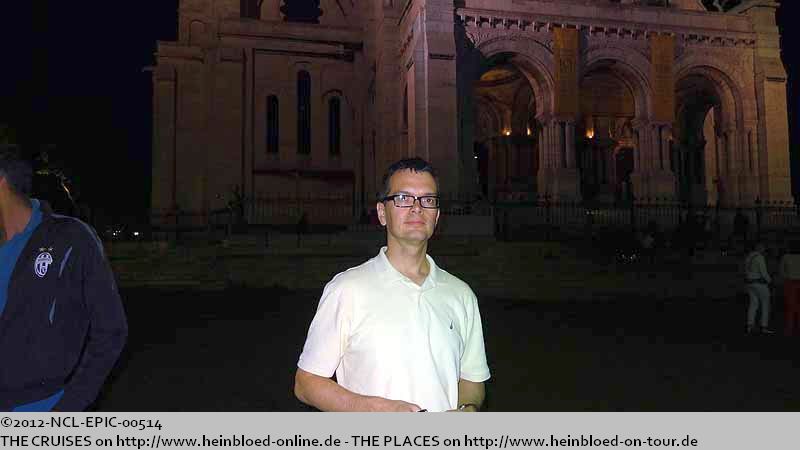 Tim nimmt bewusst nicht den direktesten Weg, sondern fährt so, dass wir viel sehen.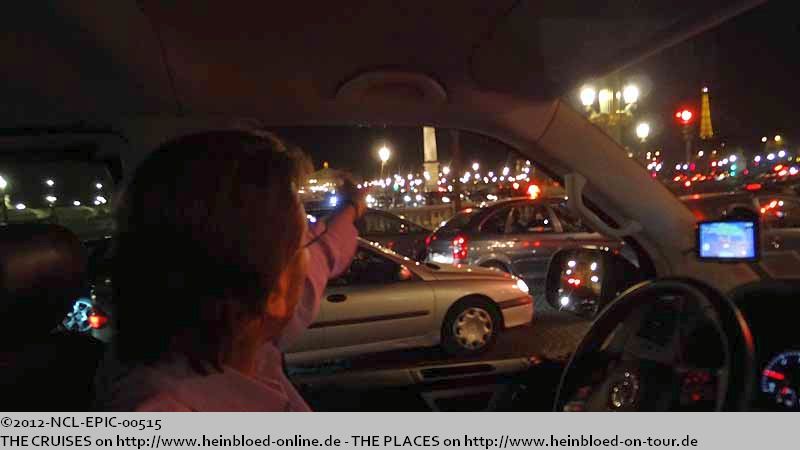 Tim did not take us through the shortest way but one which took us to many attractions alongside the way.

And here we felt like the French President during a parade or like the winner of the Tour de France when we went along the Avenue des Champs-Elysées to the Arc de Triomphe.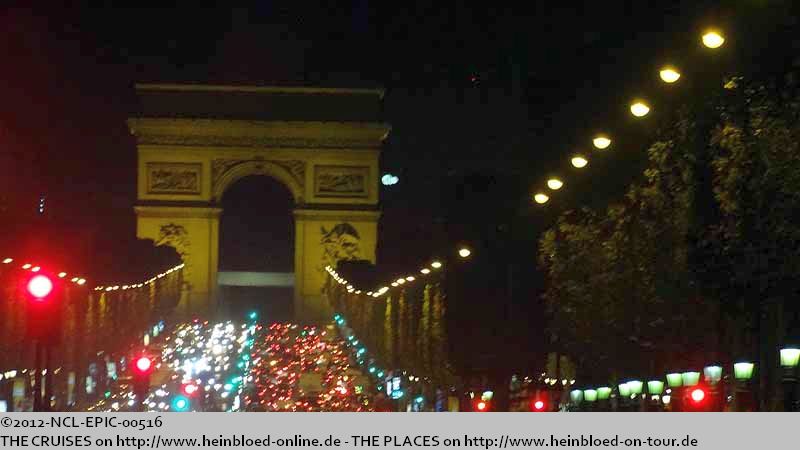 Und hier fühlten wir uns wie ein französischer Staatspräsident bei der Parade oder wie ein Tour de France-Sieger, als wir die Avenue des Champs-Elysées bis zum Triumpfbogen entlang fahren.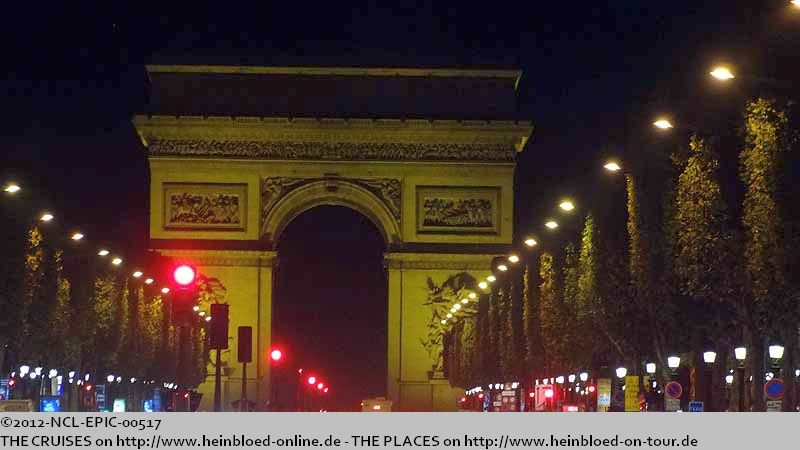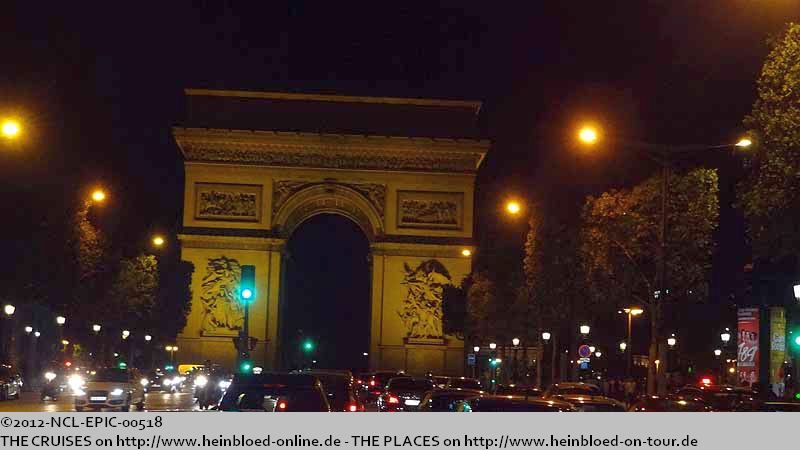 Leider konnten wir nicht am Place Trocadéro fahren, um tolle Aufnahmen vom Eiffelturm zu machen, weil die Polizei alles abgesperrt hat. Da aber Tim die Stadt wie seine Westentasche kennt, fährt er uns mal kurz um die Ecke.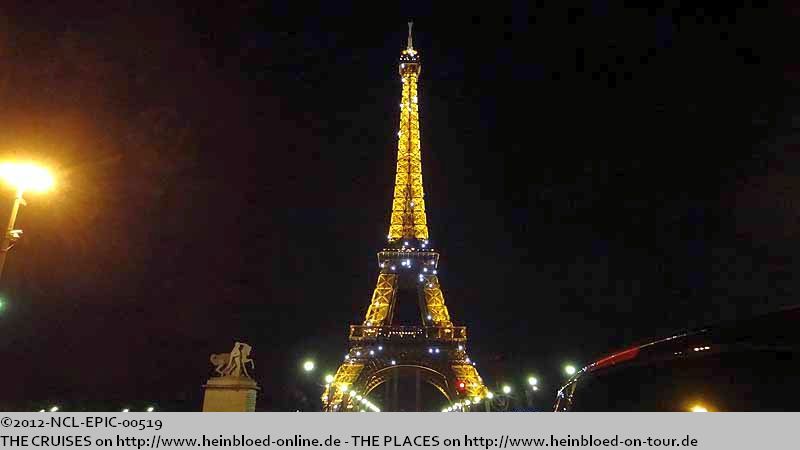 Unfortunately we cannot stop at Place Trocadéro to make great shots of the Eiffel Tower because the police closed everything around. But as Tim knew every little corner of the city he just went around the corner.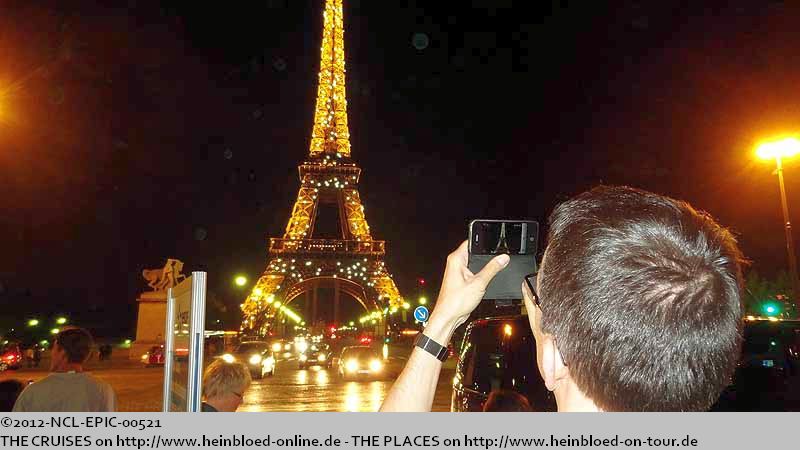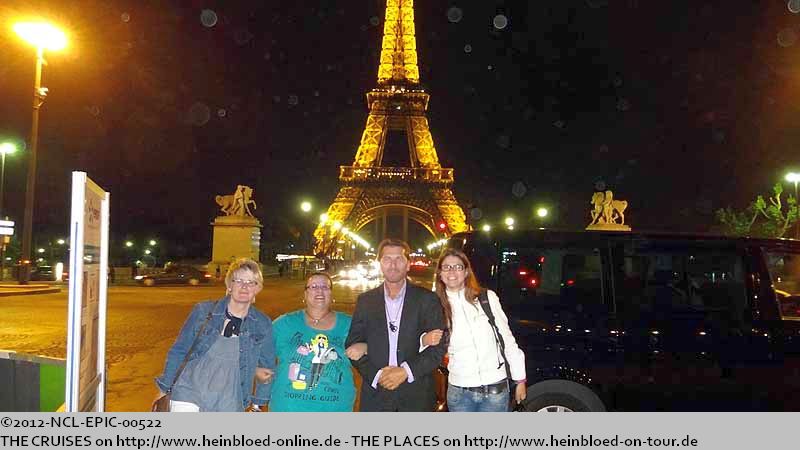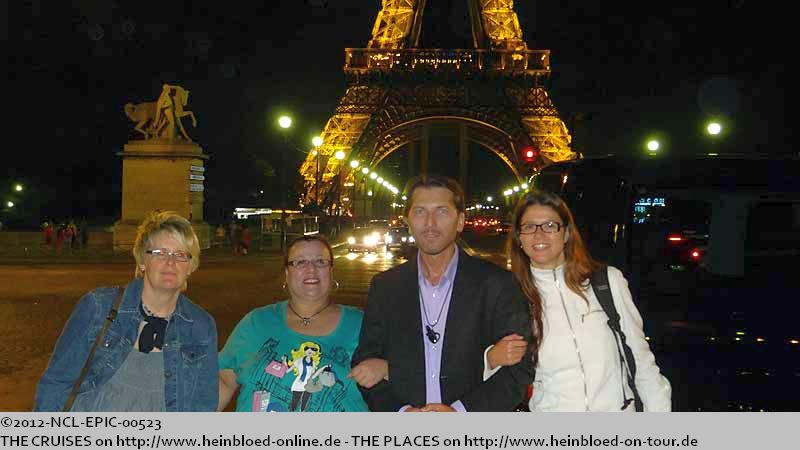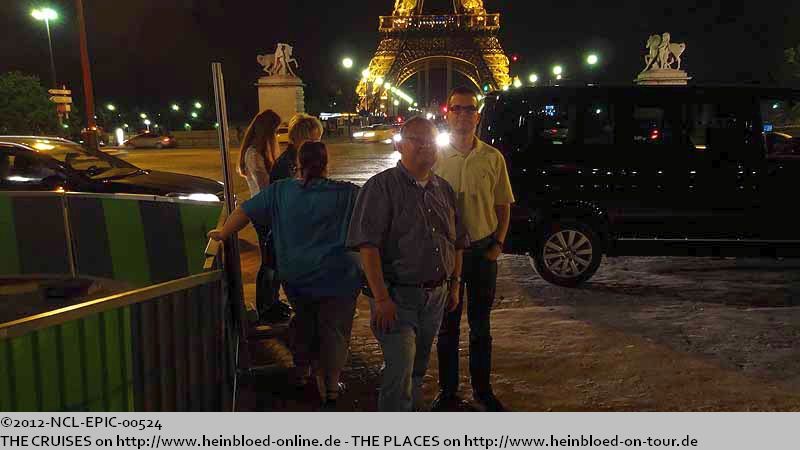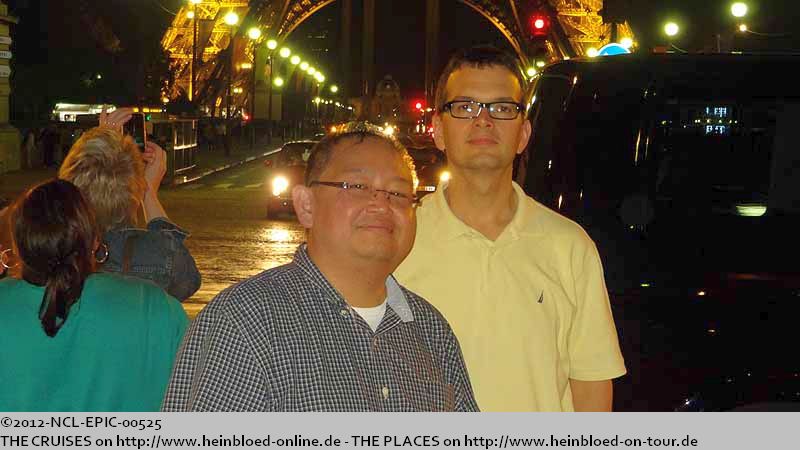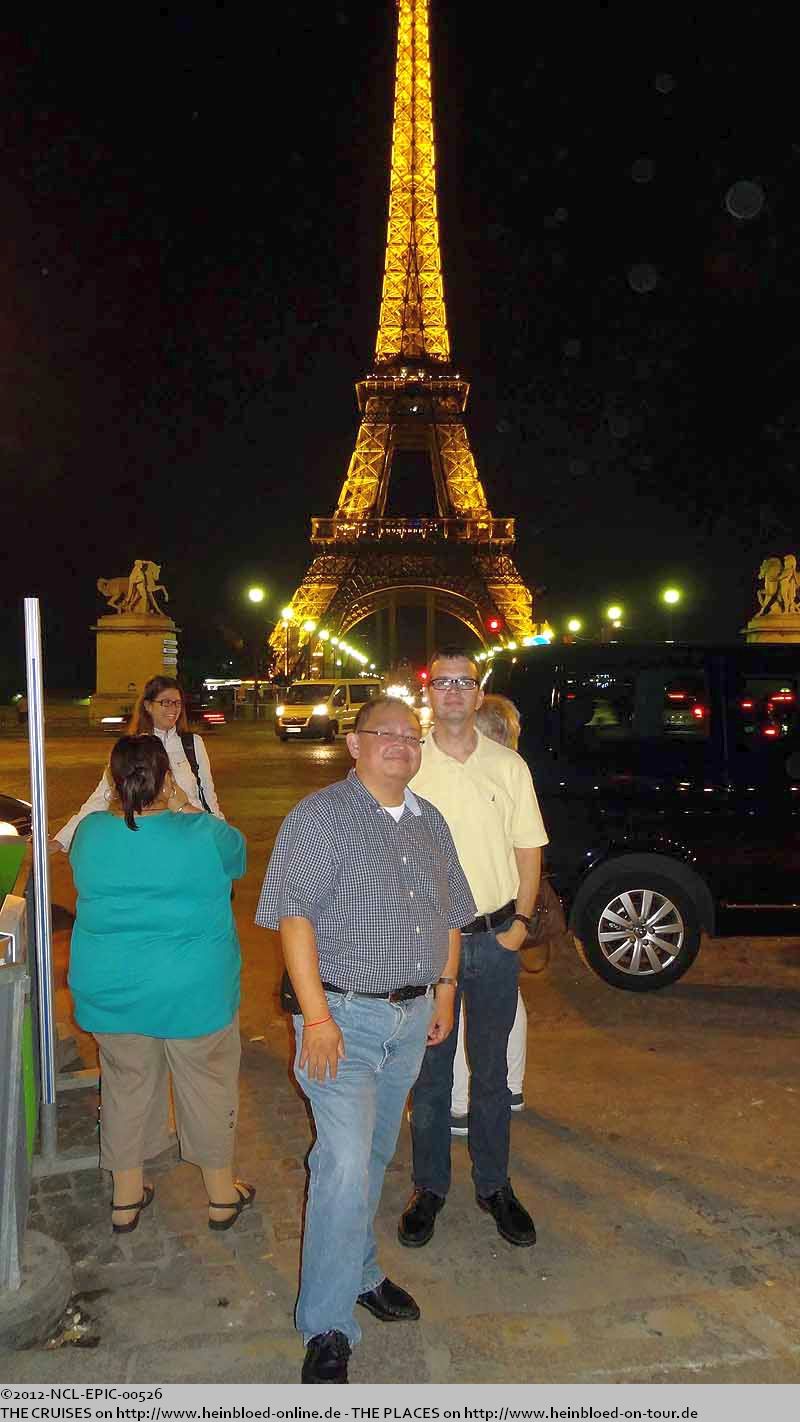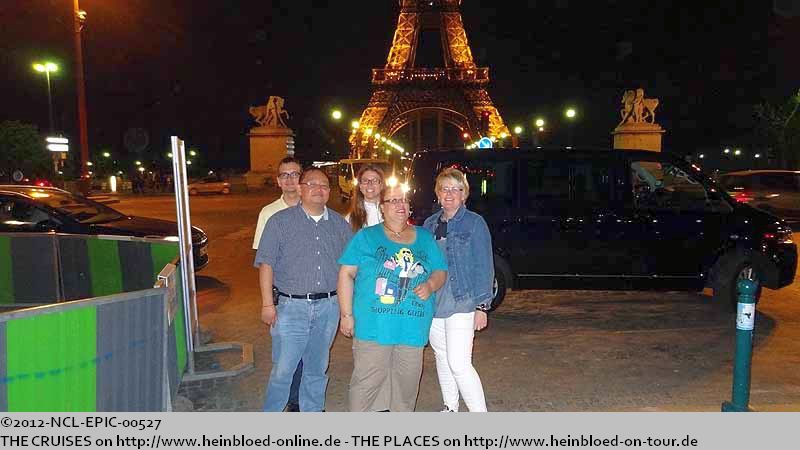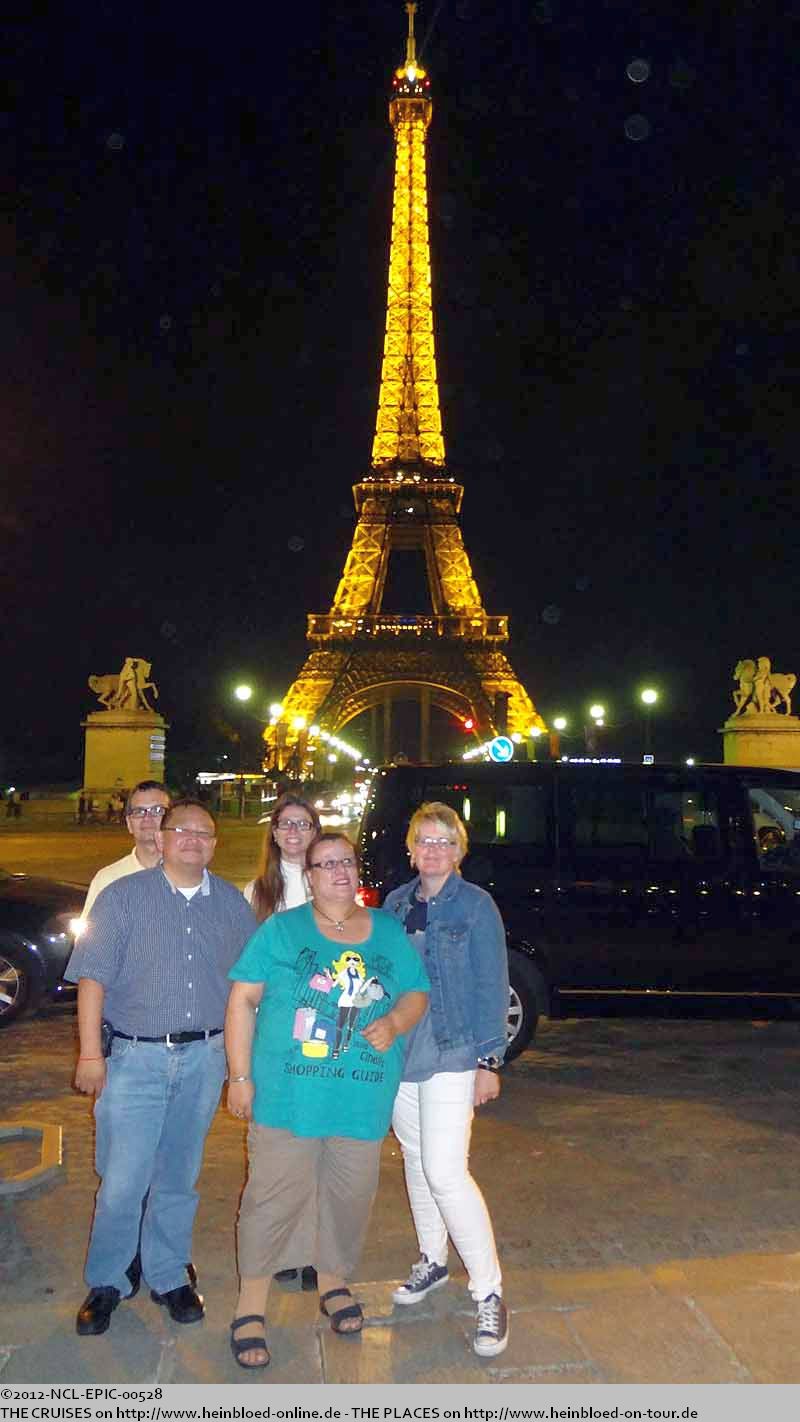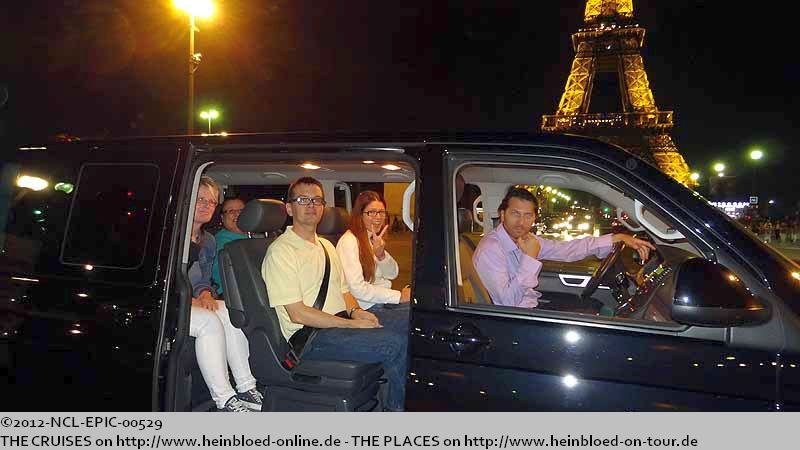 Before he delivered us to our hotel we just passed Notre-Dame.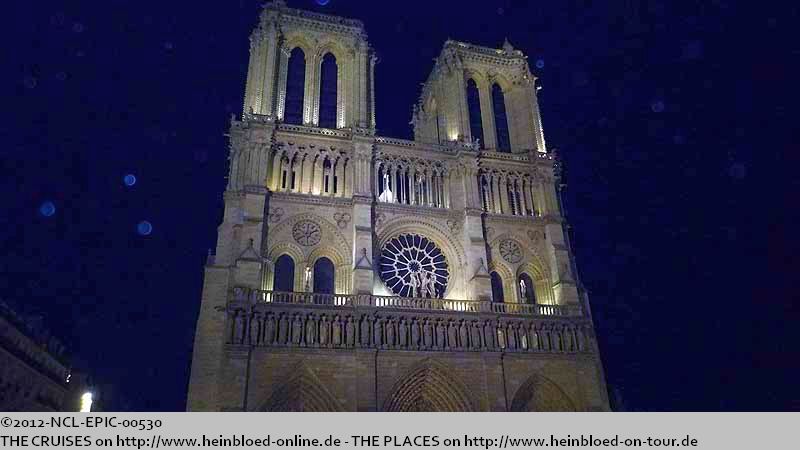 Bevor es zum Hotel geht, fahren wir noch schnell am Notre-Dame vorbei.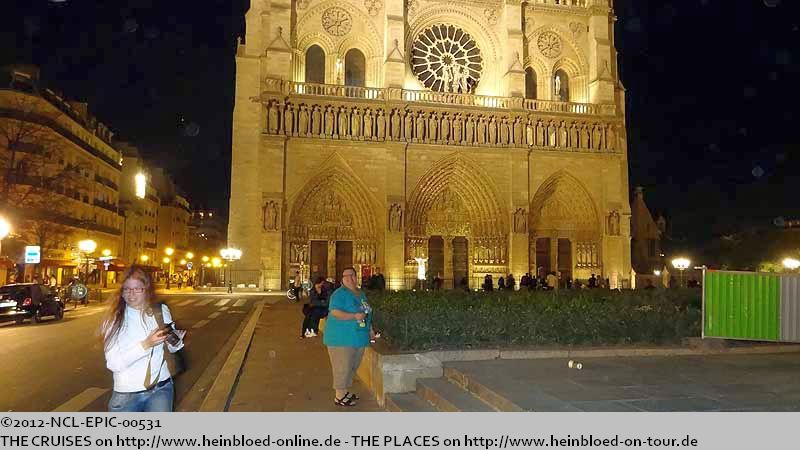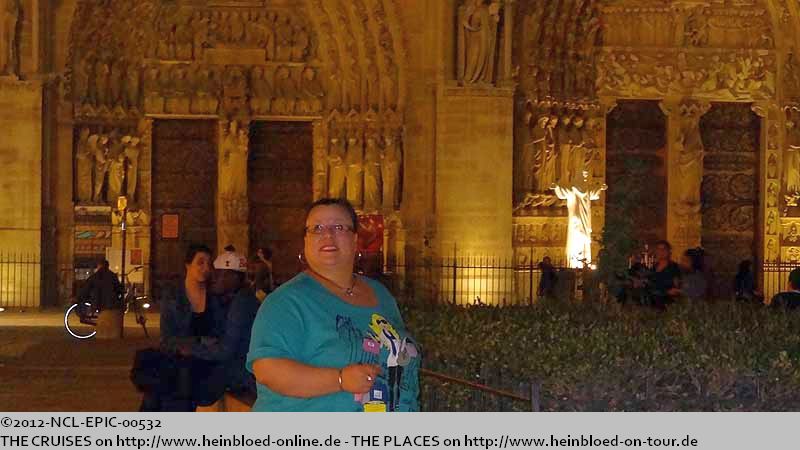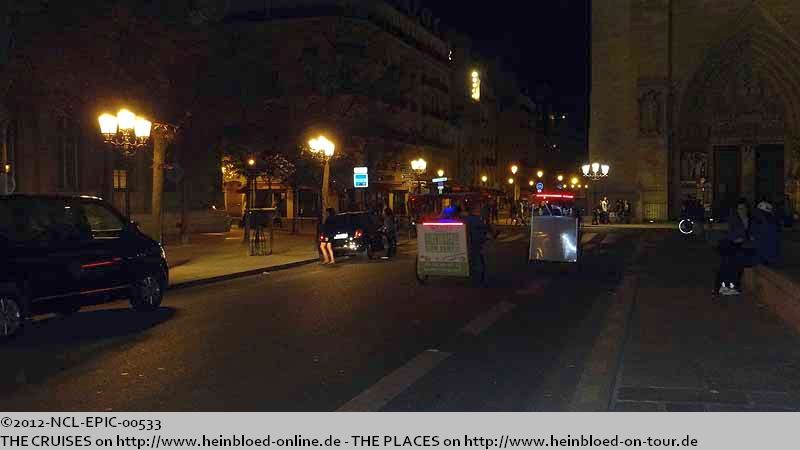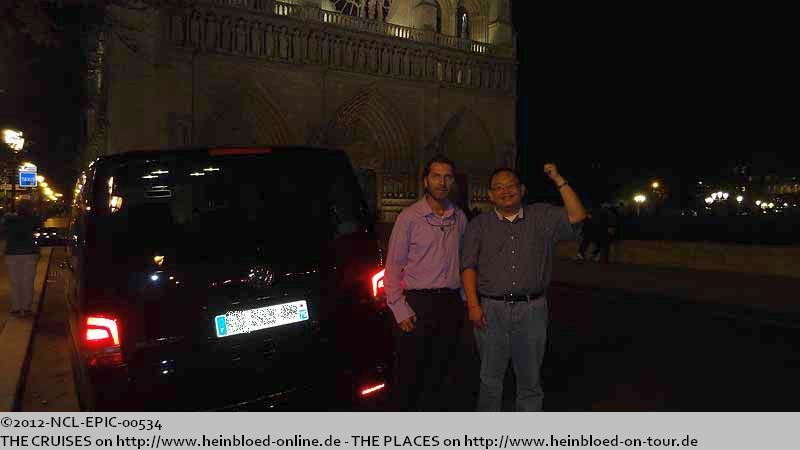 Für eine Stunde Rundfahrt hatten wir doch eine Menge gesehen. Die richtige Dosis für das Ende eines langen Arbeitstages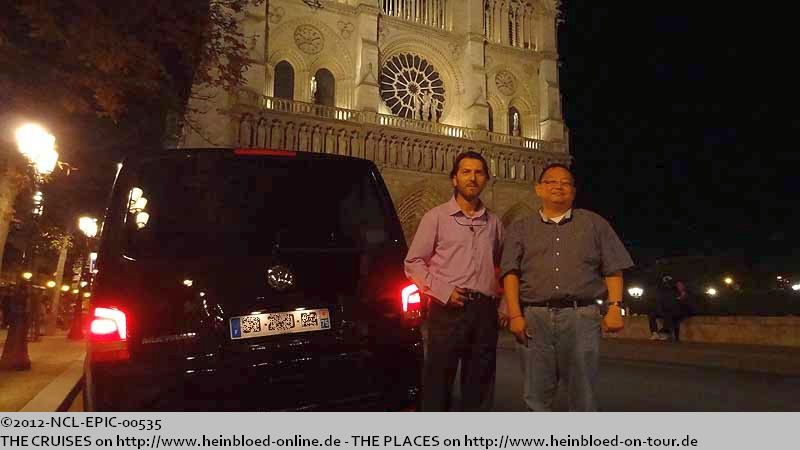 For an one-hour-tour we really saw a lot. The right dose we needed at the end of a long working day.

Bruno and I were curious to see the girls' faces when they see the elevator.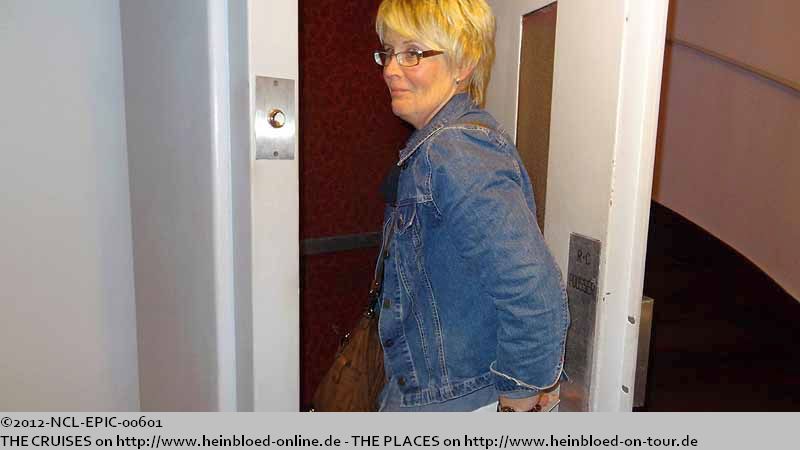 Bruno und ich freuen uns schon auf die Gesichter, wenn die Mädels den Aufzug kennenlernen.
Weil die Mädels bei Air France nur drei Kekse bekommen haben, besorge ich ihnen und mir noch einen Mitternachtssnack bei Quick - die französische Hamburger-Kette.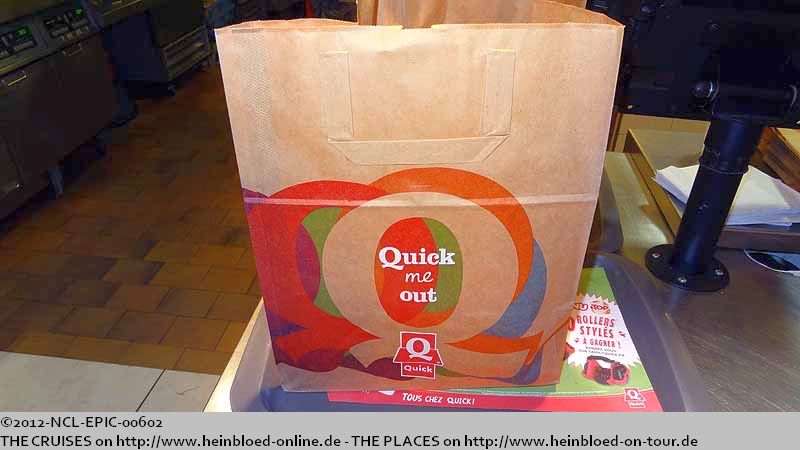 As the girls got with Air France only three cookies I got them and me a midnight snack with Quick - the French Hamburger-chain.

When we opened the window to get some fresh air we saw that we had a little balcony... Good Night.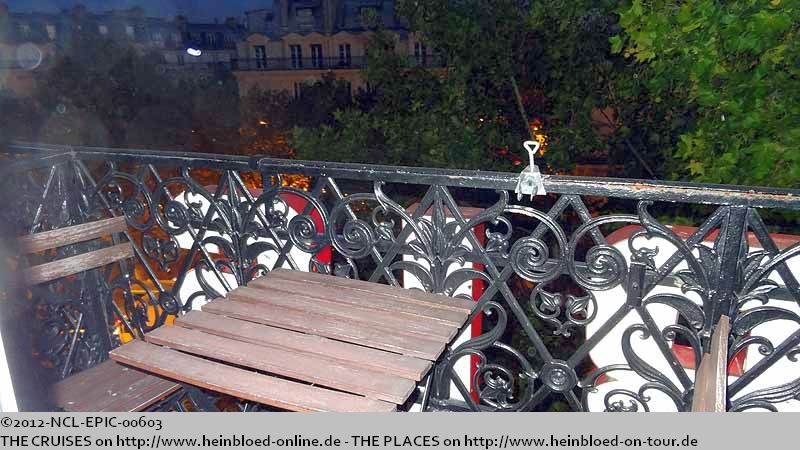 Als wir nochmals lüften wollen, stellen wir fest, dass wir sogar einen kleinen Balkon haben... Gute Nacht.