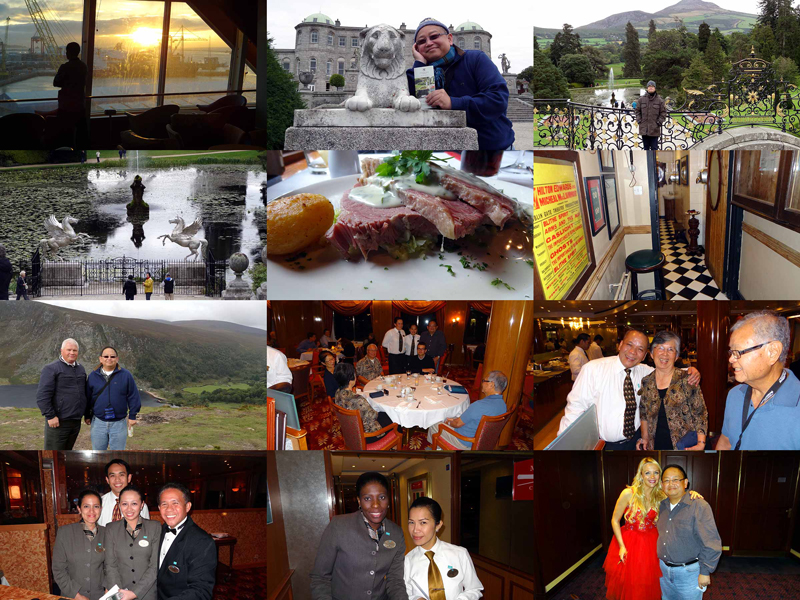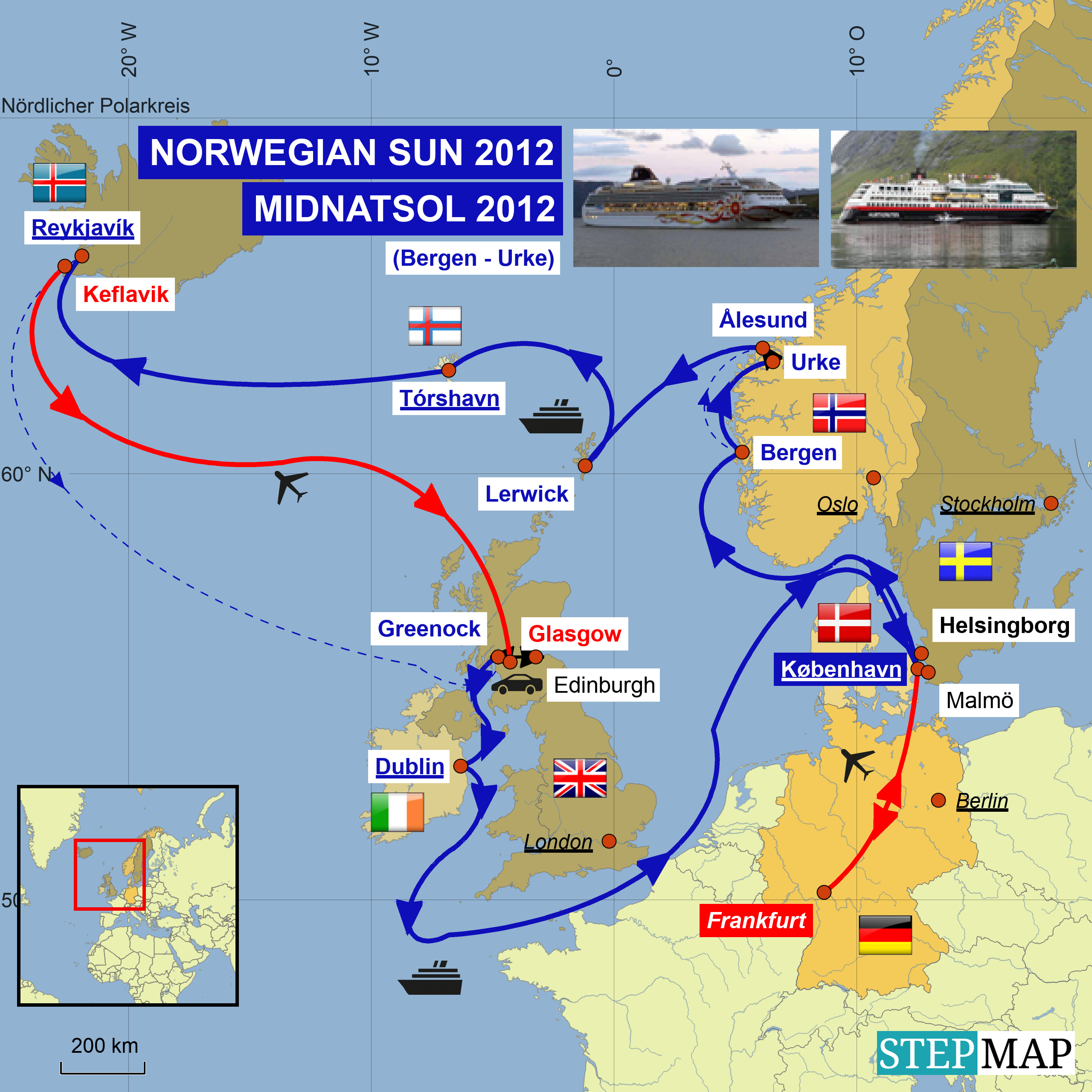 Weiter geht es querfeldein...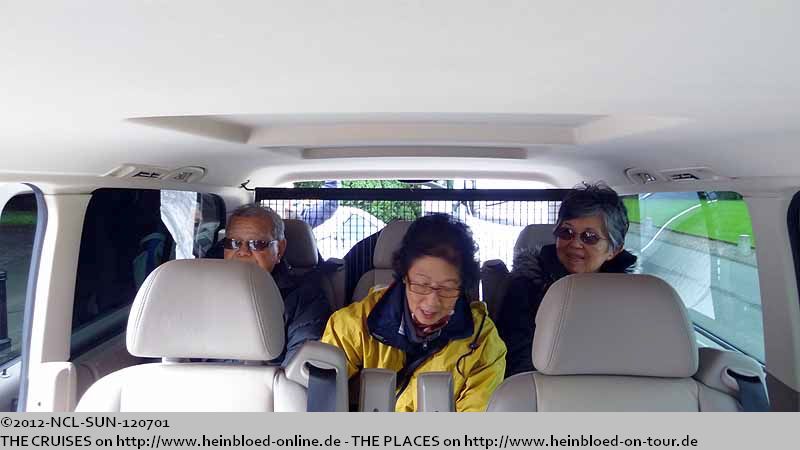 We continued cross-country...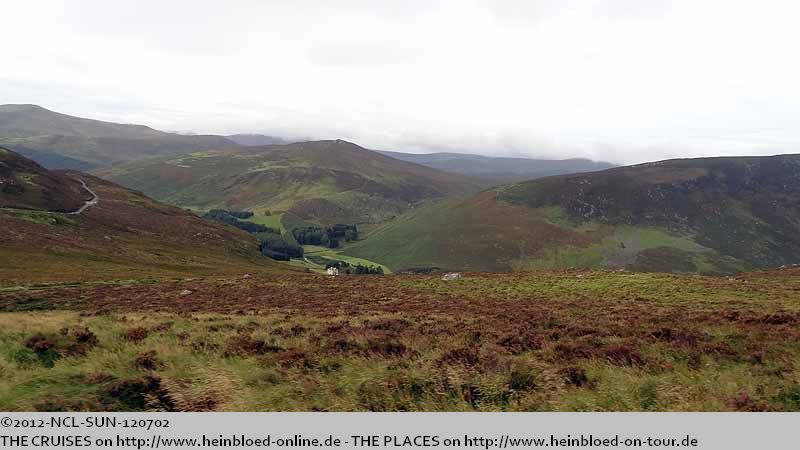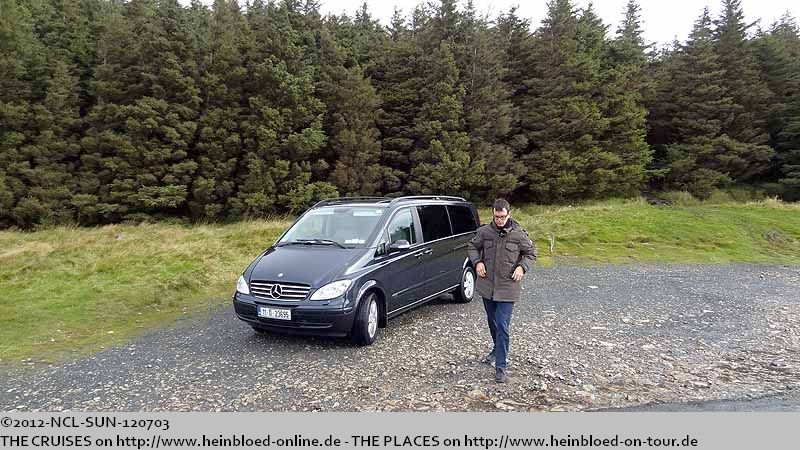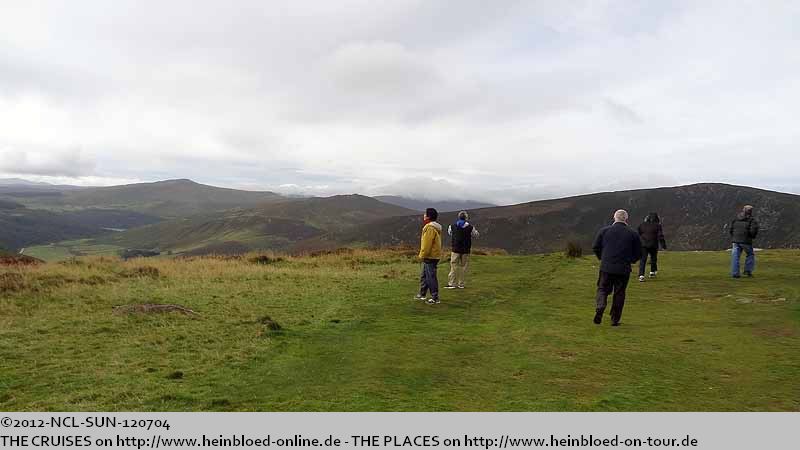 Es ist so kalt und windig, dass wir die Mützen brauchen...

It was so cold and windy that we need to use the hats...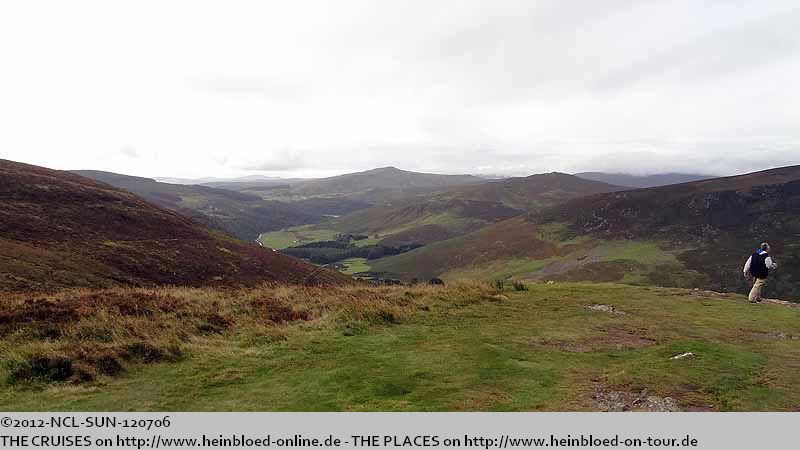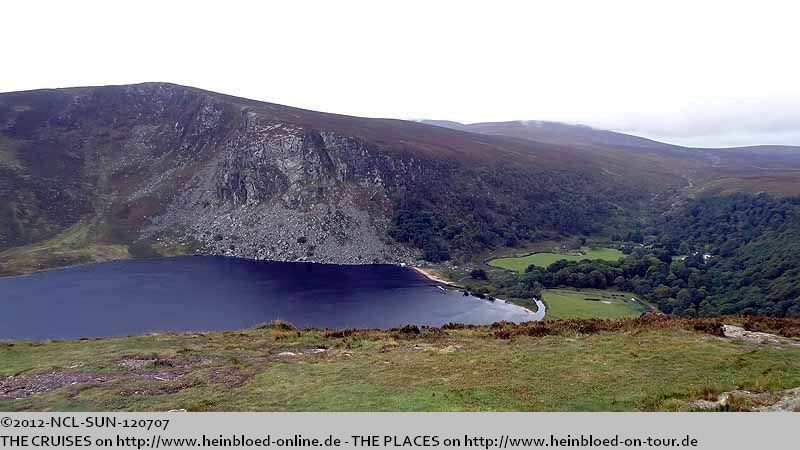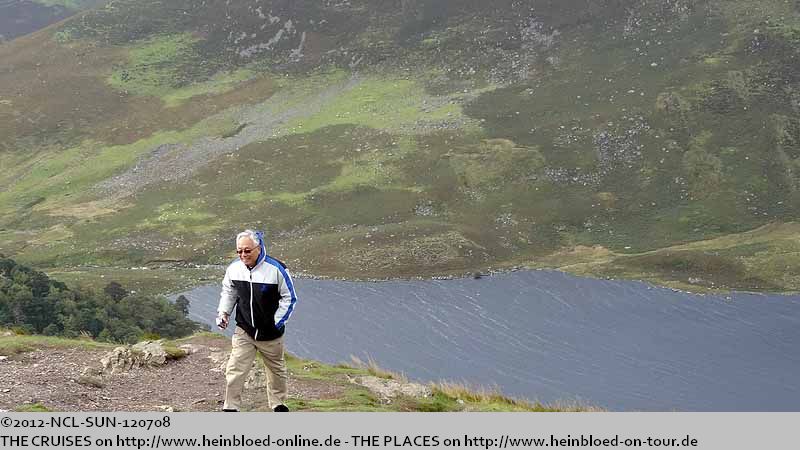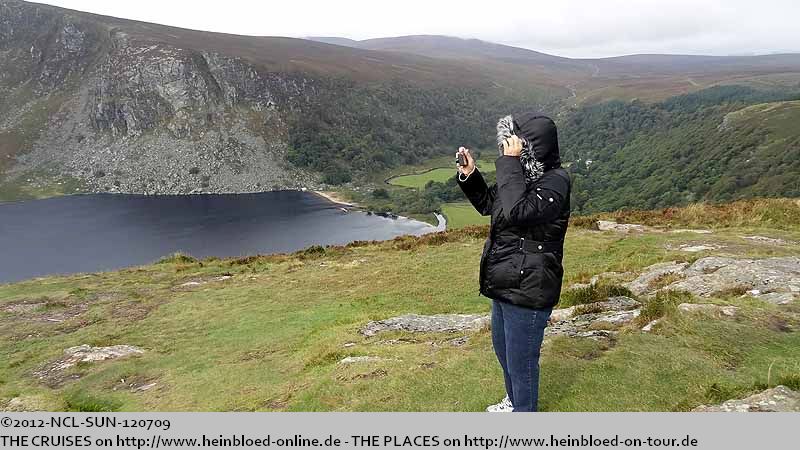 Das ist das Wochenendanwesen der Familie Guinness.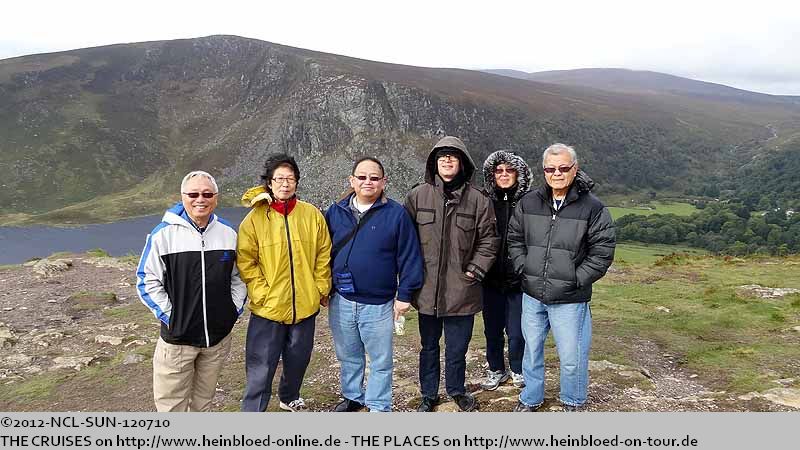 That was the weekend-residence of the Guinness Family.

And that was our driver Nicholas Glynn, whom you can book via nglynn.irl@gmail.com. We would book them again when we return to Dublin.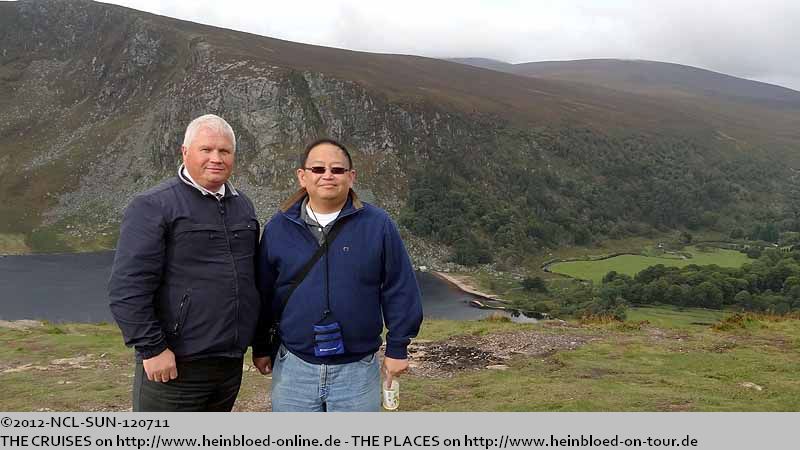 Und das ist unser Fahrer Nicholas Glynn, den man über
nglynn.irl@gmail.com
erreichen kann. Den würden wir auf jeden Fall wieder buchen, wenn wir in Dublin wären.

For lunch Nicholas recommended us the restaurant The Wicklow Heather. It is only few minutes away from Glendalough.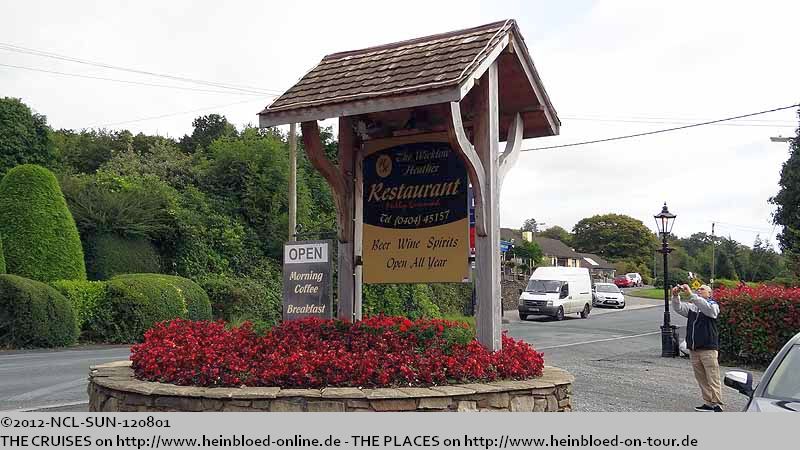 Zum Mittagessen hatte uns Nicholas das Lokal
The Wicklow Heather
empfohlen. Das liegt nur wenige Minuten von Glendalough entfernt.
Draußen jede Menge Auszeichnungen. Das wird bestimmt teuer... und bestimmt Schicki-Micki...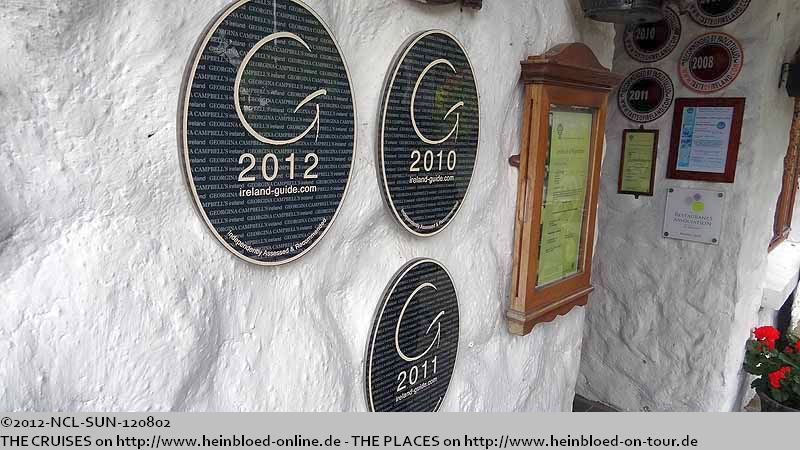 Outside a lot of awards. This would become an expensive visit... and I am sure shie-shie crowd...

But when we entered we experienced one of the coziest restaurants we knew. And it was not expensive at all!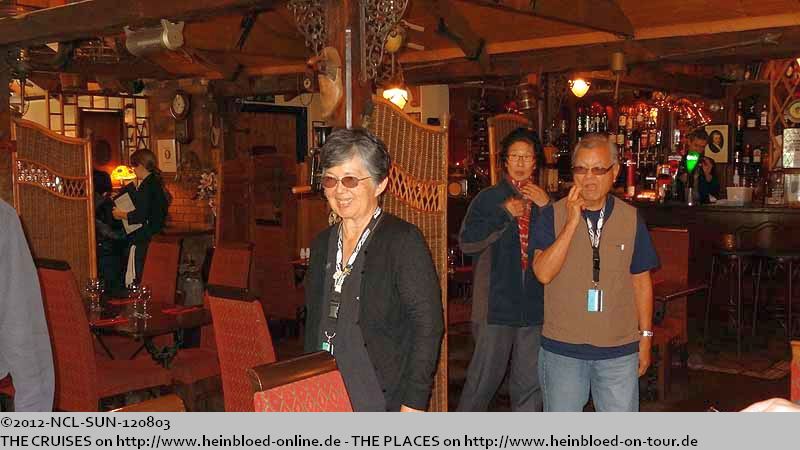 Als wir reinkommen jedoch einer der gemütlichsten Gaststätten, die wir kennen. Und überhaupt nicht teuer!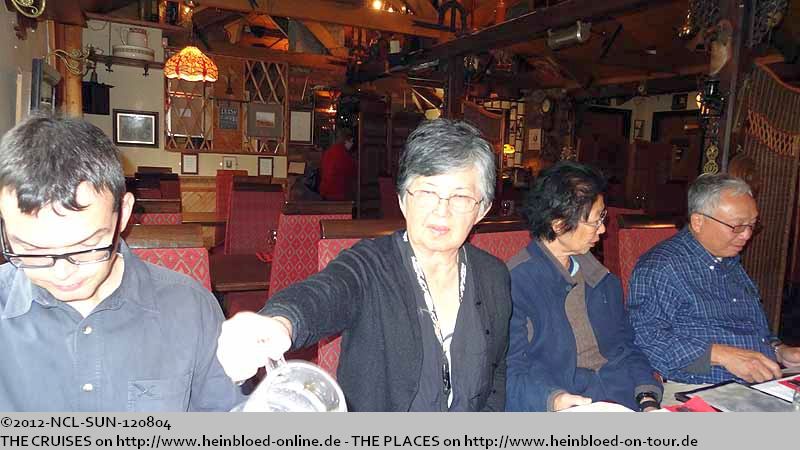 The service was very nice.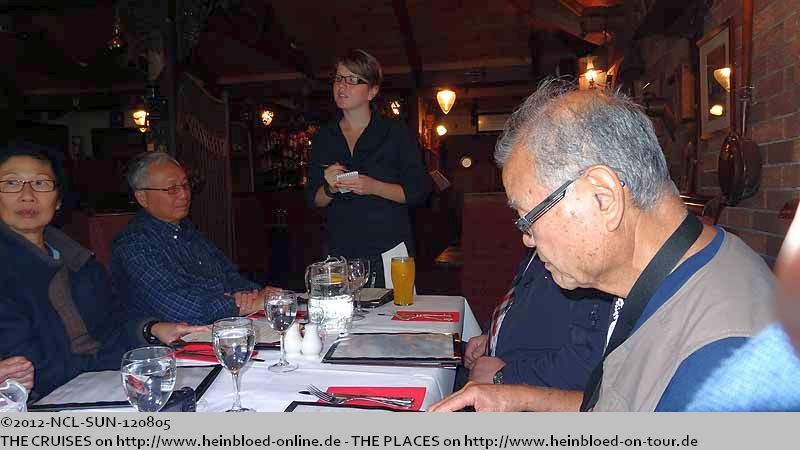 Der Service war ausgesprochen nett.
Der Spruch an der Wand wird beherzigt.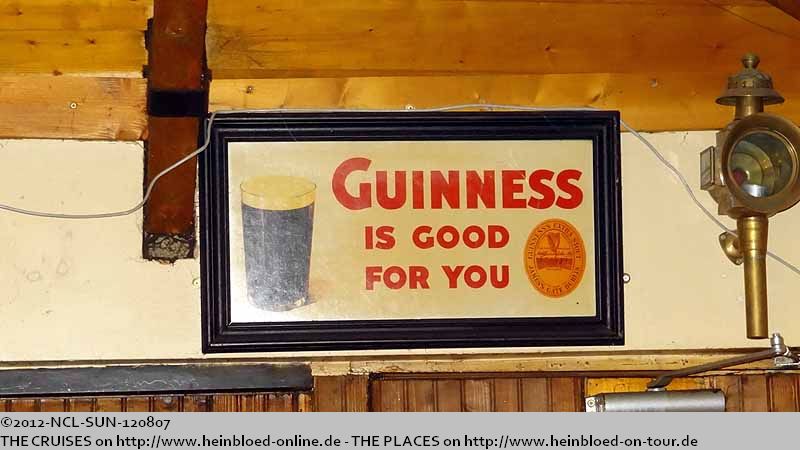 The saying at the wall was taken to the heart.

Phyllis drank a Guinness immediately.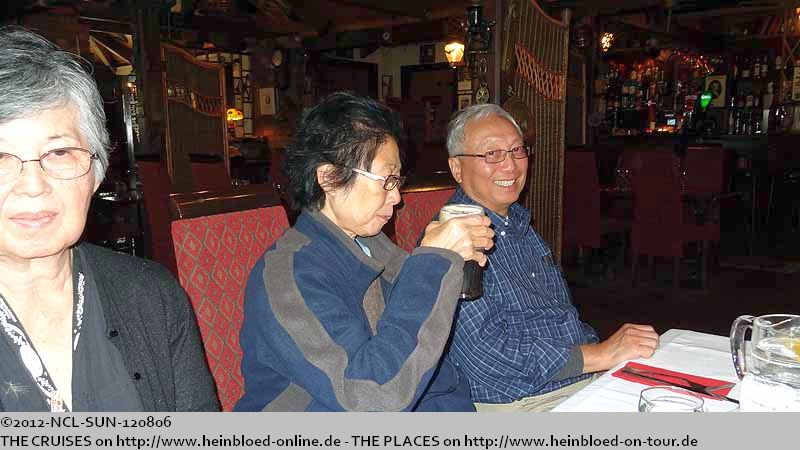 Phyllis trinkt sofort ein Guinness.
Ein besonderes Schmuckstück war das Dichterzimmer.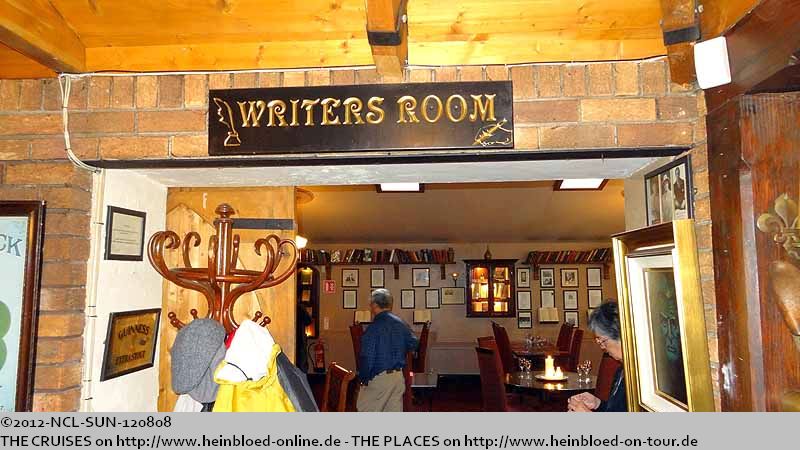 A special treasure was the Writers' Room.

Many nice books.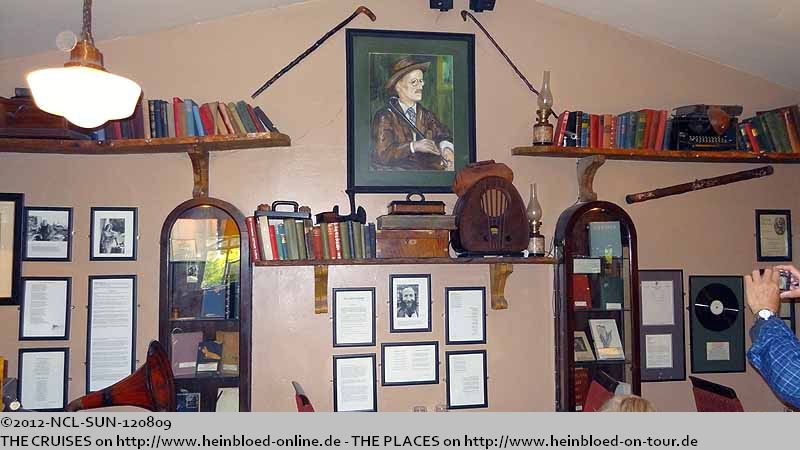 Viele schöne Bücher.
Viele schöne Platten.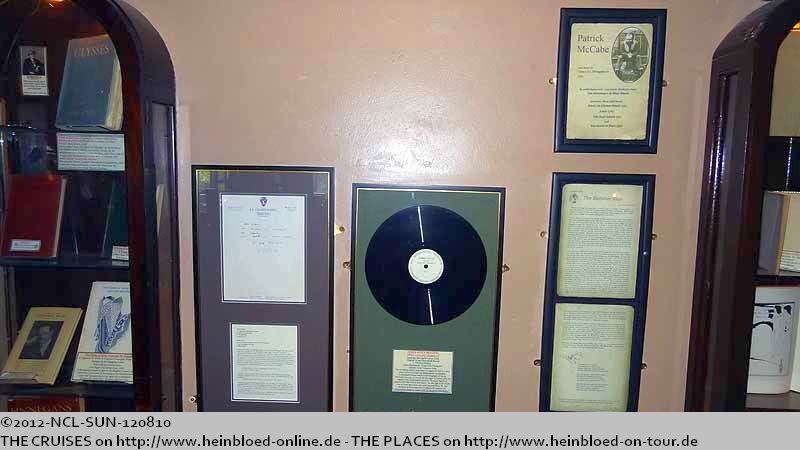 Many nice records.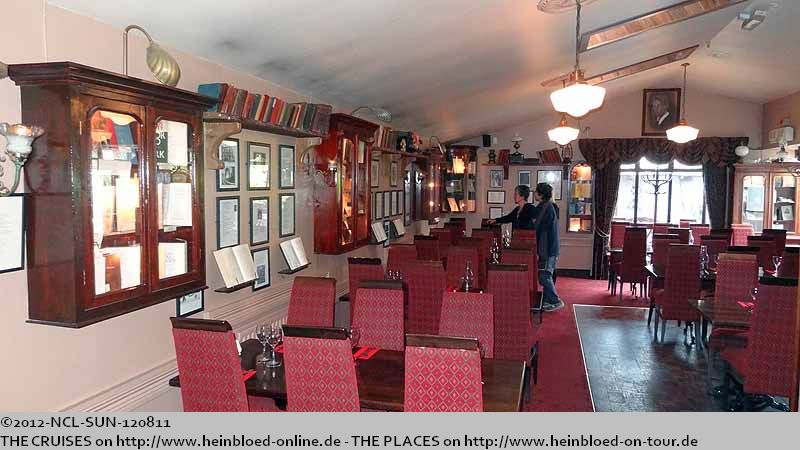 Gerne erklärt man Phyllis und Frances, was hier ausgestellt ist.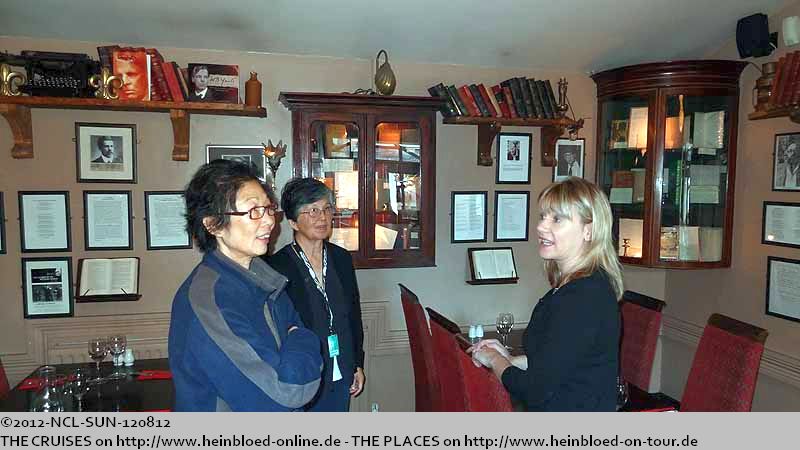 They liked to give Phyllis and Frances explainations what was presented here.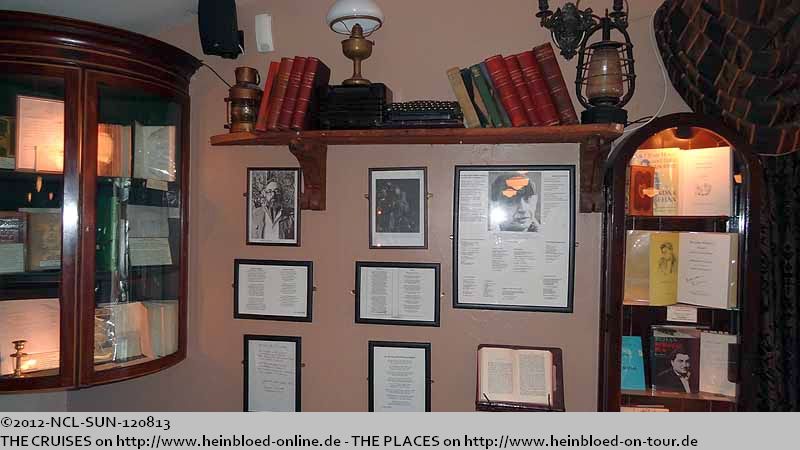 Sogar Erstausgaben.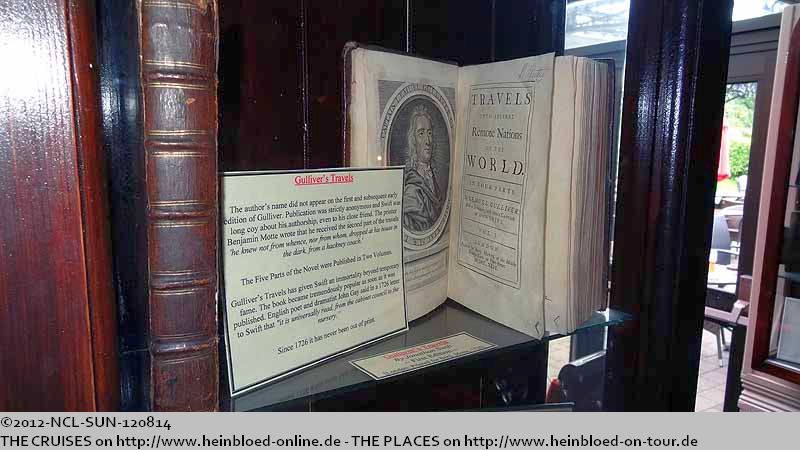 Even first edition.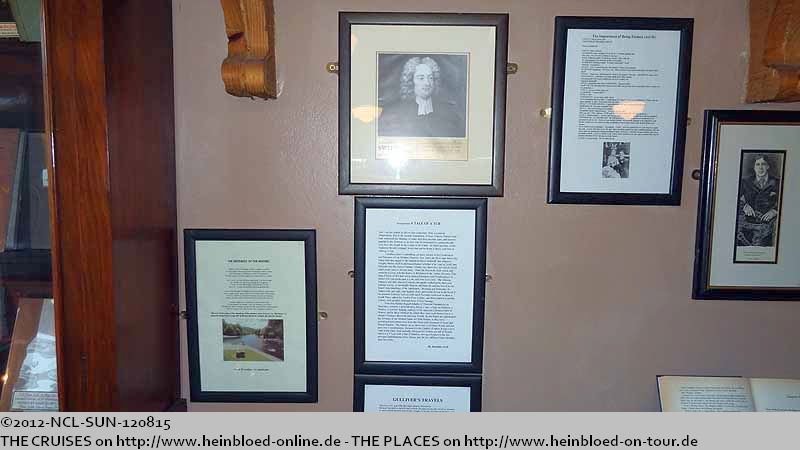 Mit großem Interesse suche ich die Herrentoilette auf.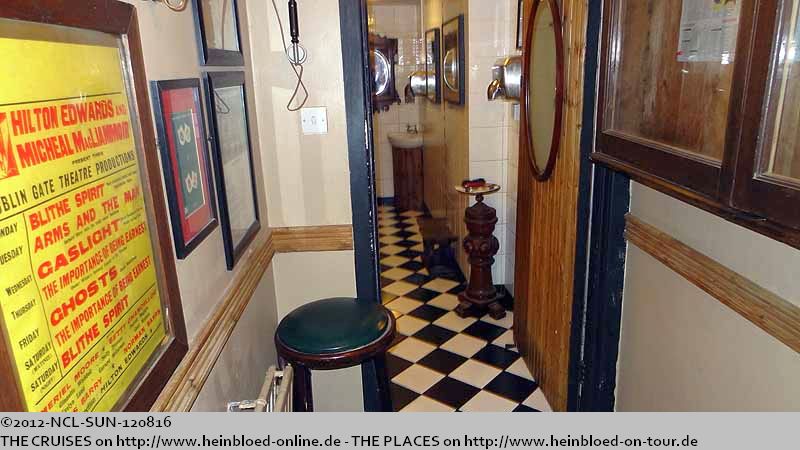 With great interest I saw the men's room.

You could even polish your shoes.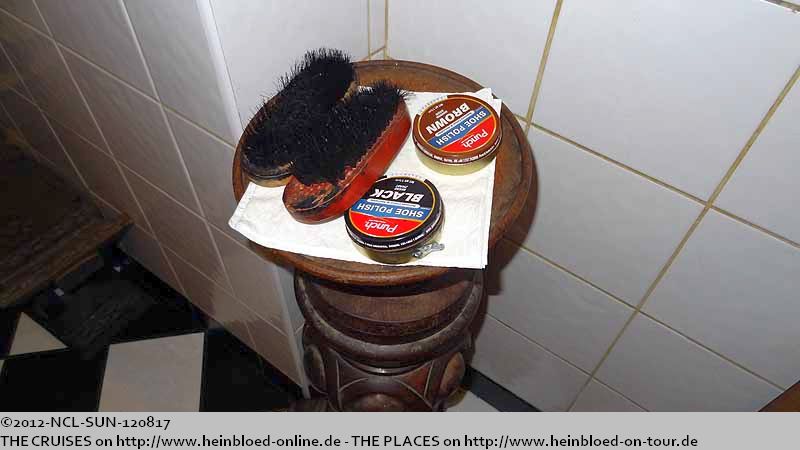 Man kann seine Schuhe putzen.
Oder während man pinkelt Zeitung lesen.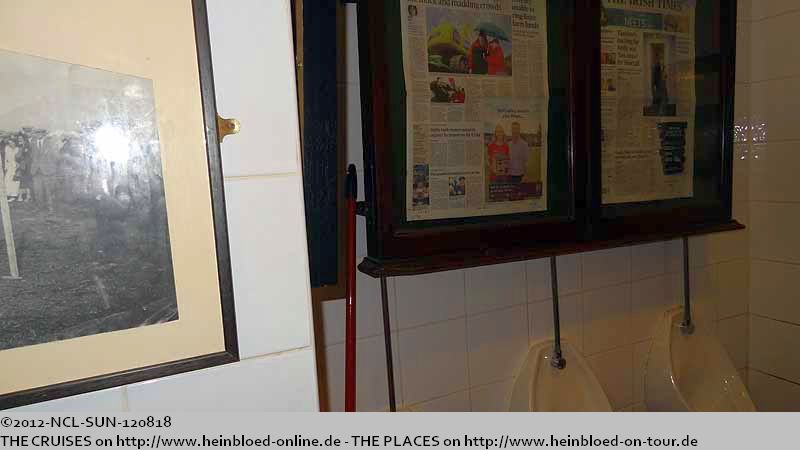 Or you read newspaper wihile you are peeing.

Even we had flowers in the men's room.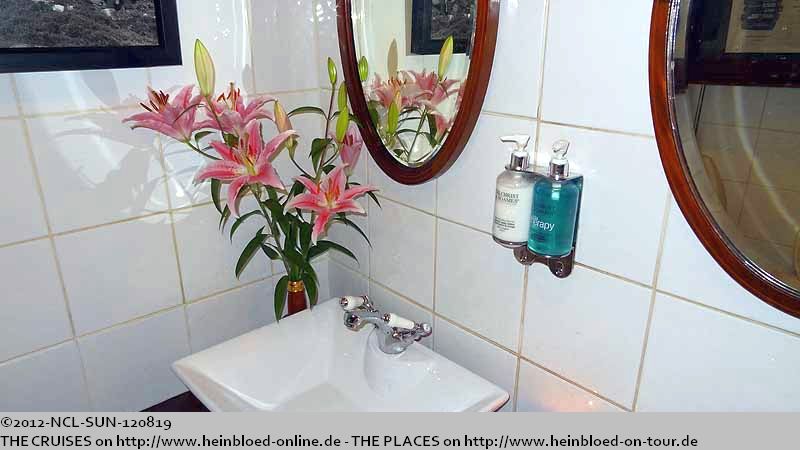 Sogar Blumen in der Herrentoilette.
Das macht natürlich die Damen so neugierig, dass sie selbst gucken gehen müssen...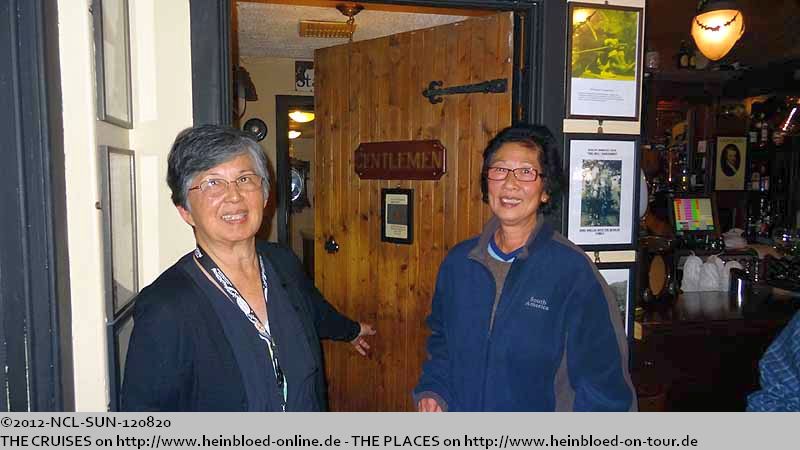 That made the ladies so curious that they need to see it themselves...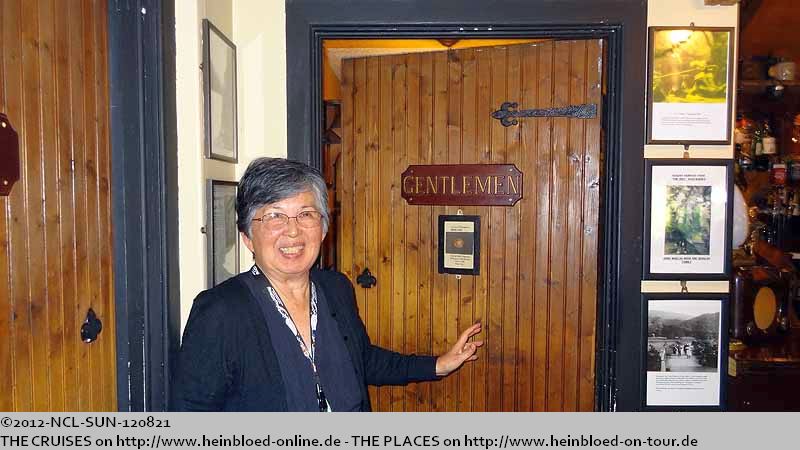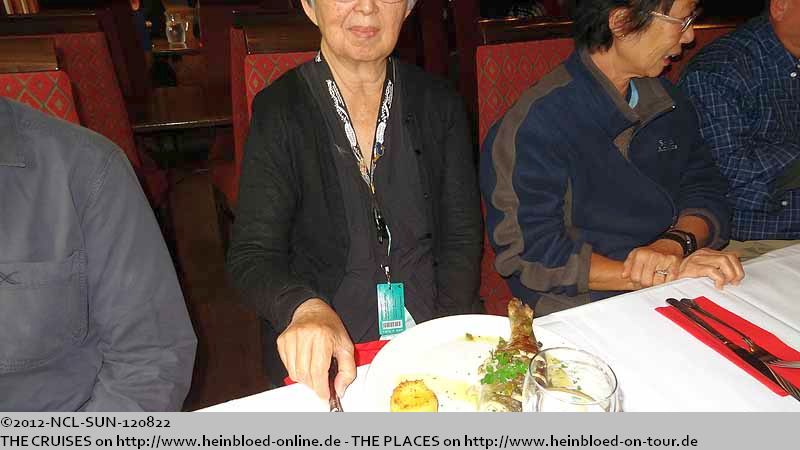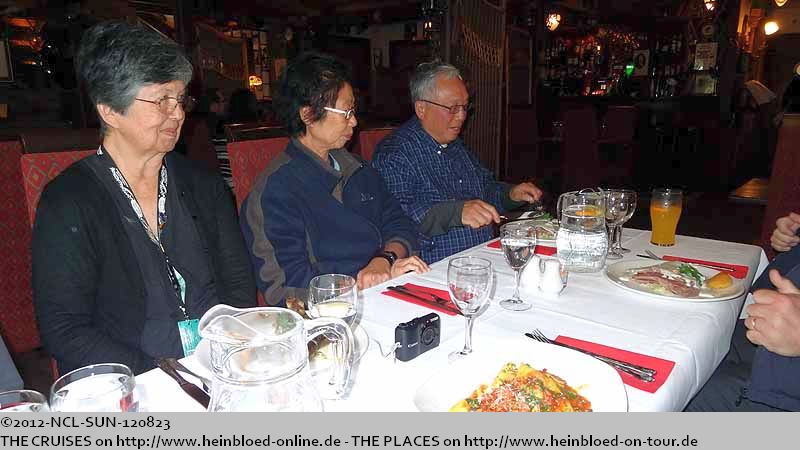 Das übrigens der Corned Beef! Nichts mit dem zu tun, was aus der Dose kommt. Das war nur einfach lecker. Leider hatten sie kein Irish Stew aus Lamm bzw. Shepherd's Pie.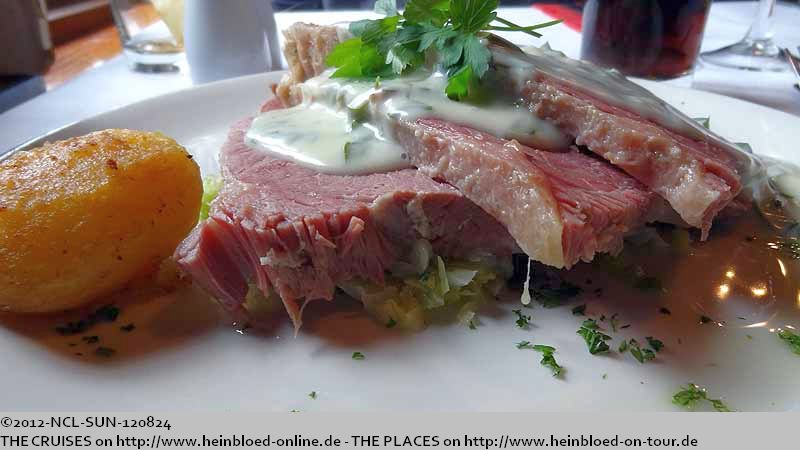 By the way that was Corned Beef! Nothing to do with those you know from the cans. This one was just yummy. Unfortunately, they had no Irish Stew made of lamb or shepherd's pie.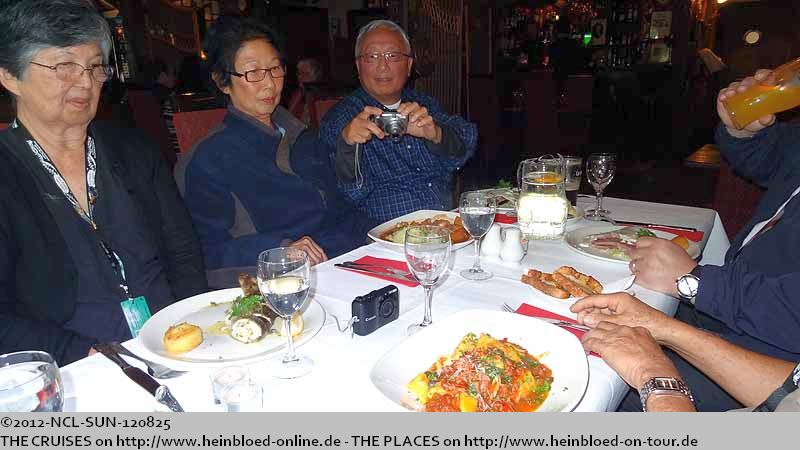 Bruno bekommt den leckersten Burger seines Lebens.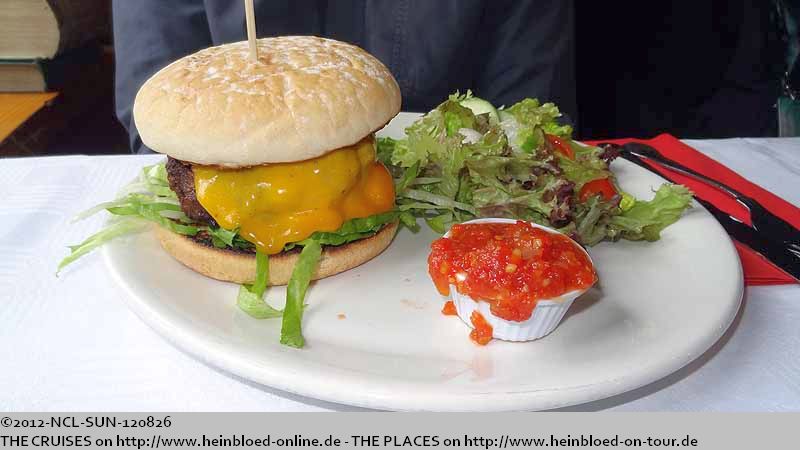 Bruno got his most yummy burger in his entire life.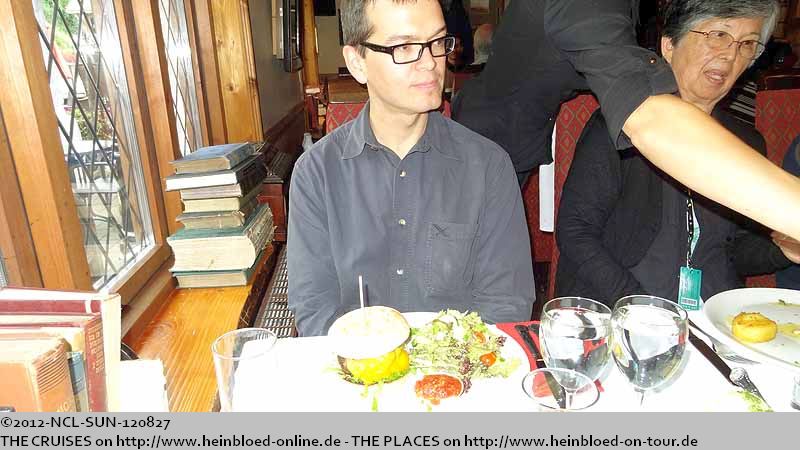 Wir hatten Nicholas eingeladen, weil es uns sehr viel Spaß mit ihm gemacht hat.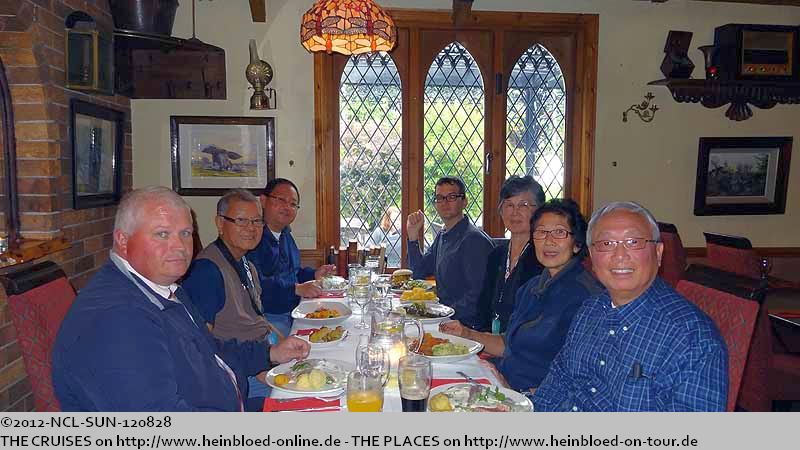 We invited Nicholas because we had much fun with him.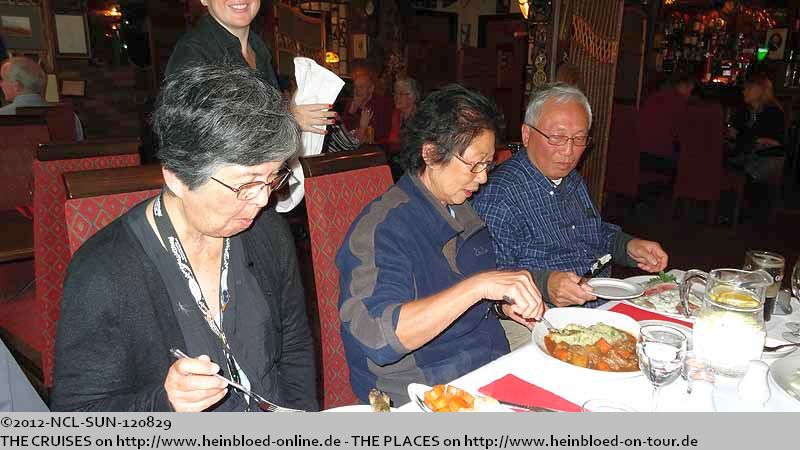 Echt gute Pommes Frites - aus ganzen Kartoffeln und nicht Kartoffelpürree. Und ihr Unterbewusstsein (in form der rechten Hand) isst weiter, obwohl sie gar keinen Hunger mehr hat.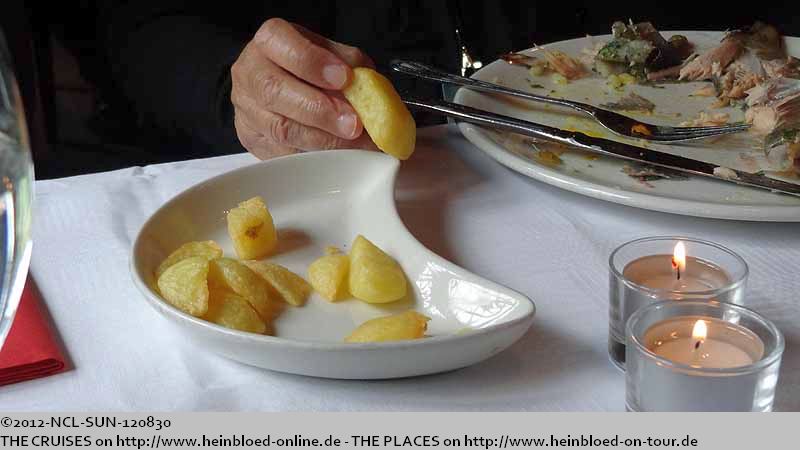 Real good French Fries - made of whole potatoes - not of mashed potatoes. And her subconscious (in the form of her right hand) continued to eat although she was not hungry anymore.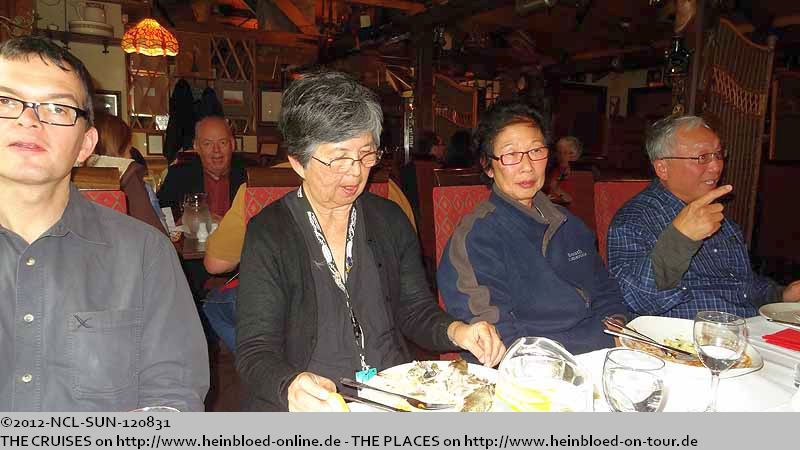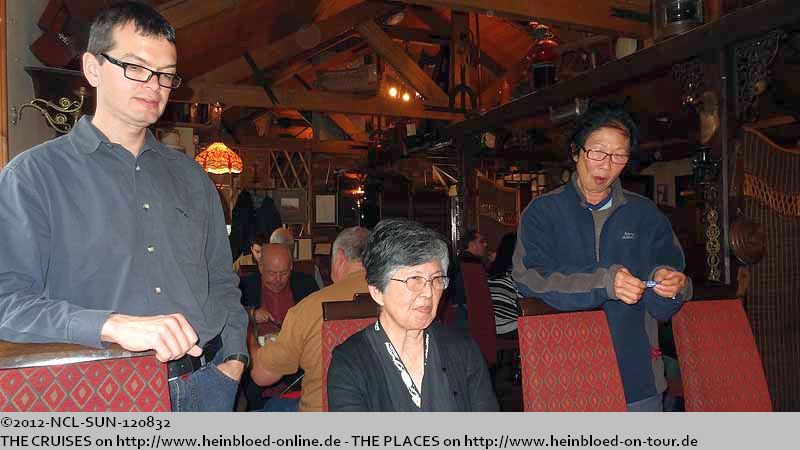 Also around the restaurant it looked very nice.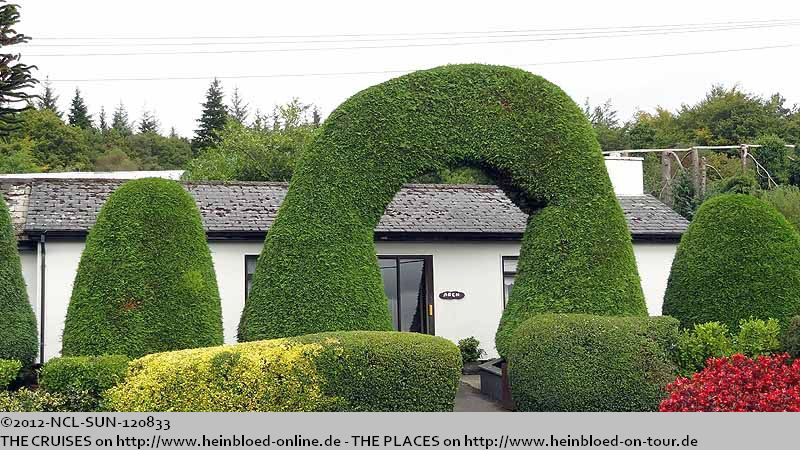 Auch rund um das Restaurant sieht es sehr nett aus.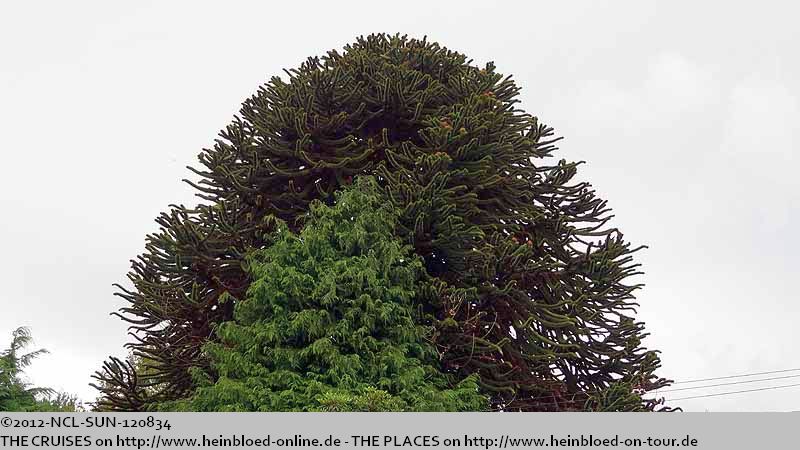 Die anderen Reisen in diesem Blog/
The other voyages in this blog: