Scroll down for English explanations - alternates with German explanations.

Wir schaffen es noch gerade zum Check-In, durch die Sicherheitskontrolle und sogar noch zum Speedy Boarding, damit wir schnell in die Kabine kommen. Aber ganz ehrlich: ich bin froh, wenn ab November bei easy.Jet endlich die Sitzplatzzuteilung eingeführt wird. Ich hasse das! So muss ich mir erst mal ein Croque Monsieur gönnen, wenn ich es schon sonst nicht geschafft habe, auf der gesamten Reise eines zu bekommen.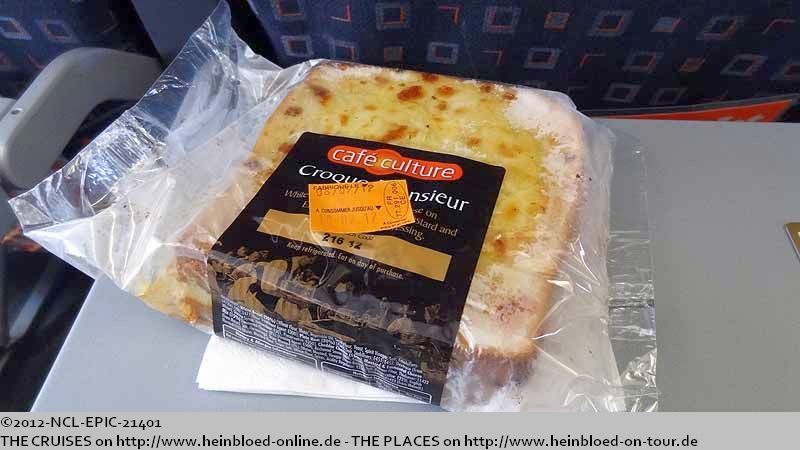 We just made on the last minute to the check-in, through the security check and even for Speedy Boarding to get us quickly into the cabin. But honestly spoken I am glad that easy.Jet will inaugurate finally the seat allocation from November. I hate it. So I need to have a Croque Monsieur since I had no chance to have any one on the whole voyage.

Here they had Dorman products. But not the sort we had recently with British Airways.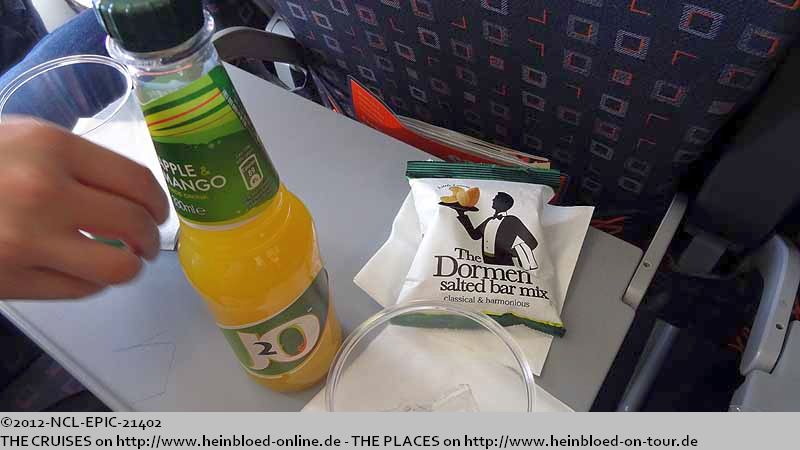 Es gibt hier Dormen Produkte. Leider nicht die Sorte, die wir zuletzt bei British Airways bekamen.
Die Mädels beschweren sich über die Beinfreiheit.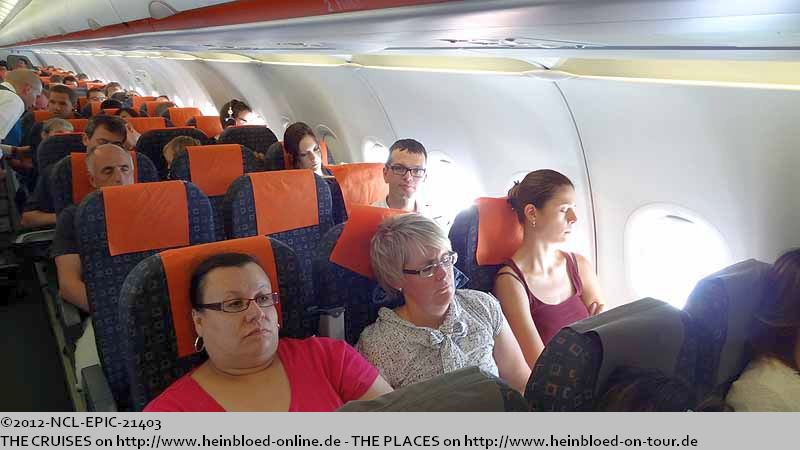 The girls claimed the legroom.

But we had no more budget.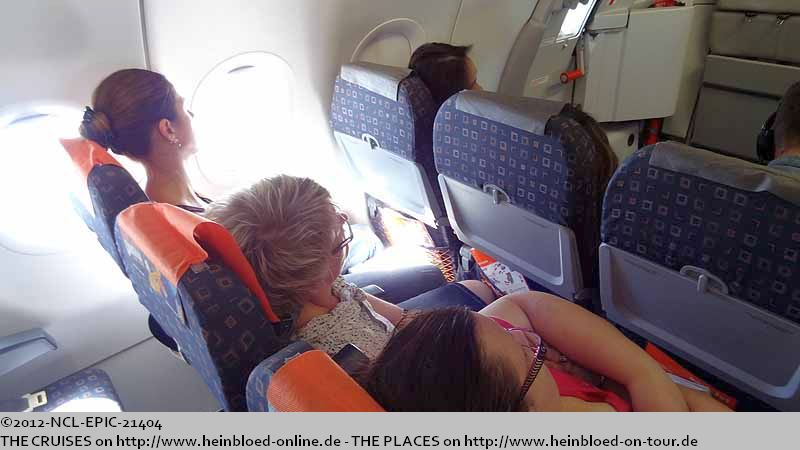 Aber gab des Budget nicht her!
In Paris dann mussten wir lange auf das Gepäck warten.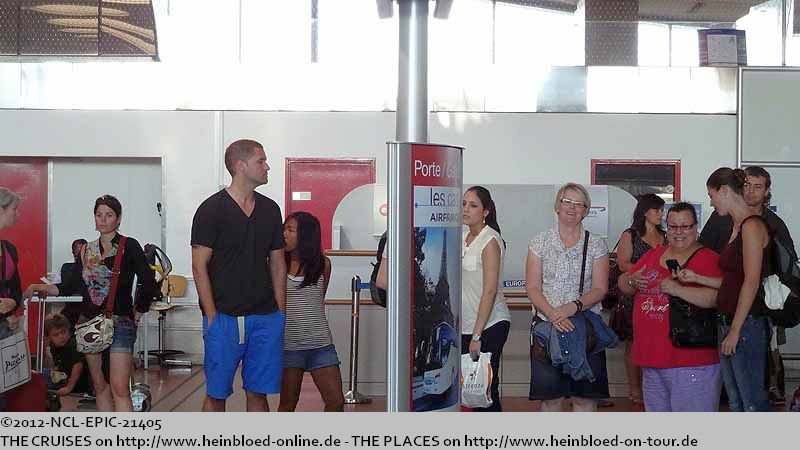 In Paris we had to wait for a long time for the baggage.

Very long. Here we had to say good-bye to the girls who should leave later the night to Hanover and Düsseldorf. They were to tired to see a little around in Paris. They were hit by too many new impressions.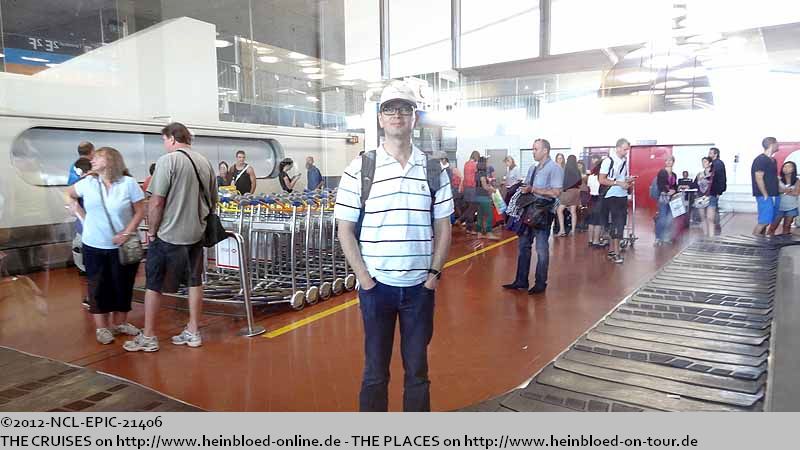 Sehr lange. Hier heißt es auch Abschied nehmen von den Mädels, die erst abends nach Hannover bzw. Düsseldorf weiterfliegen. Sie haben keine Lust mehr sich in Paris noch umzusehen. Sie sind einfach von den Eindrücken erschlagen.
Deswegen können wir nicht mit der S-Bahn (RER) zum Ostbahnhof fahren, sondern müssen ein Taxi nehmen.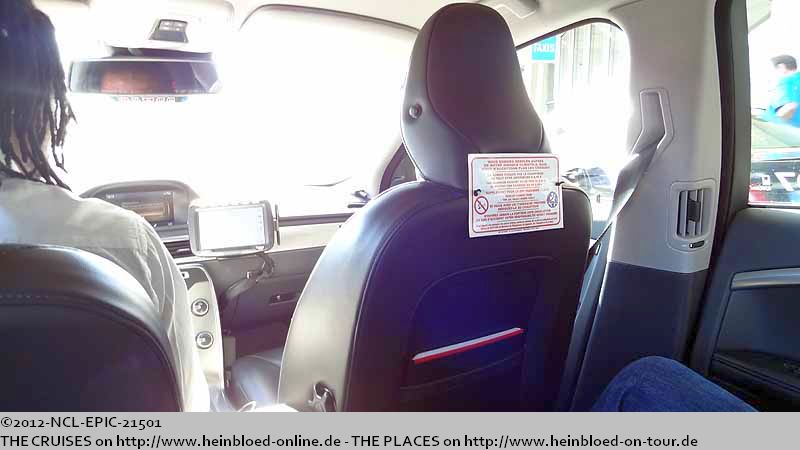 So we could not get anymore by commuter train (RER) to the East Station but had to use a taxi.

At the East Station we found a store of L'Occitane. This opportunity we had to take to buy some stock for home as it was cheaper than in Germany.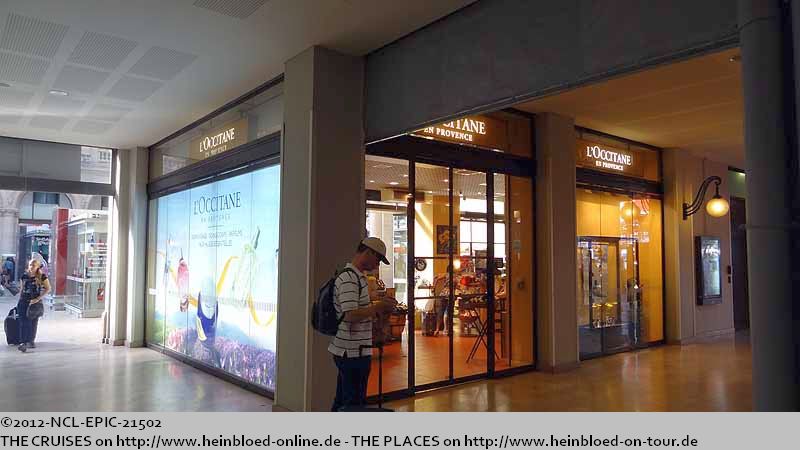 Im Ostbahnhof finden wir einen Laden von L'Occitane. Das müssen wir direkt nutzen und uns versorgen, weil es hier billiger ist als in Deutschland.
Korrekterweise entwerte ich unsere Fahrkarten, wie in Frankreich üblich.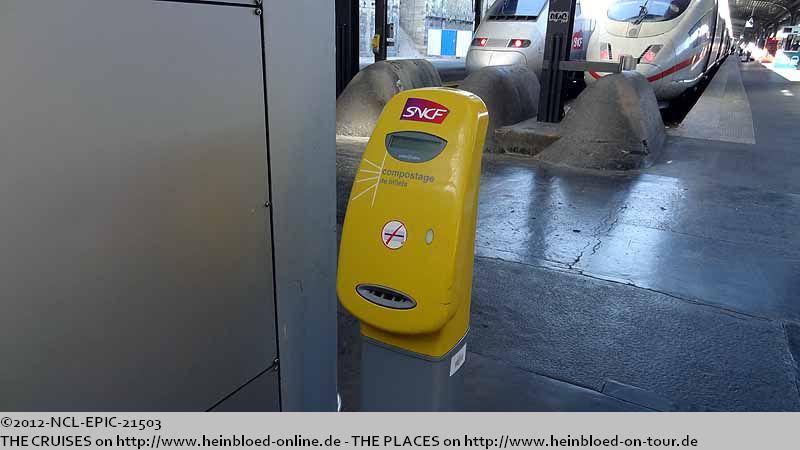 As it is used in France I cancelled/punched/validated the tickets correctly.

Our train was shown on the display.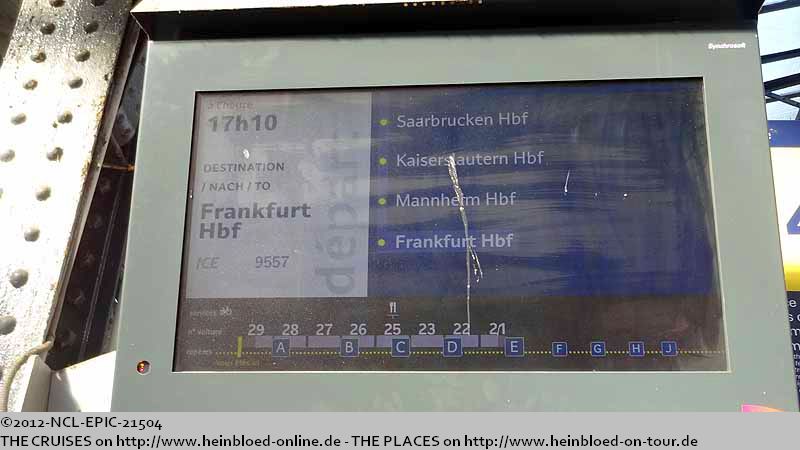 Da wird unser Zug schon angezeigt.
Leider ein ICE.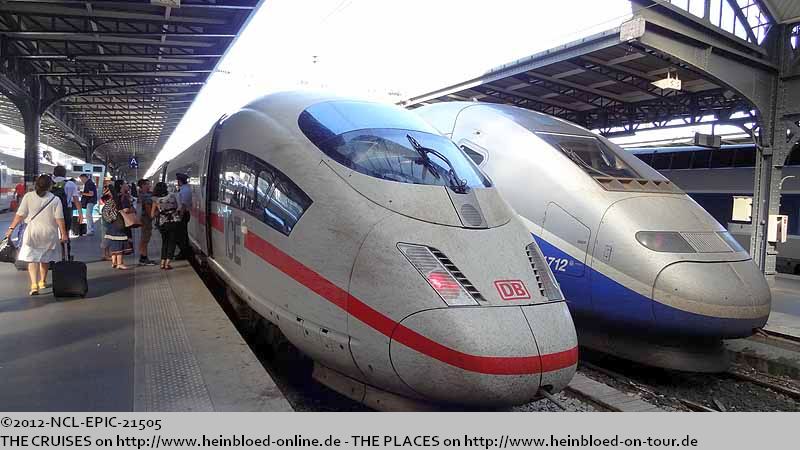 Unfortunately an ICE (a German high-speed train InterCity Express).

Real warm inside. The air-condition was not working in car 25 but this was a chain reaction. Soon our air-condition did not work in our car properly either. No reason for the service-crew to deliver water to us.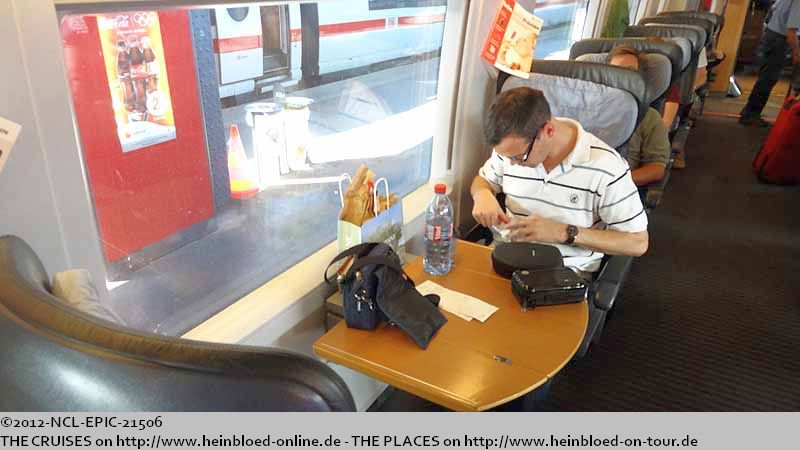 Echt warm hier. Die Klimananlage ist zwar im Wagen 25 ausgefallen, aber das ist so eine Kettenreaktion. So dass auch bald in unserem Wagen fast nichts mehr läuft. Kein Anlass, uns mit Wasser zu versorgen.
Niemand interessiert es, dass wir die Tickets abgestempelt haben, weil sie wissen, dass eh die Deutschen das nicht machen.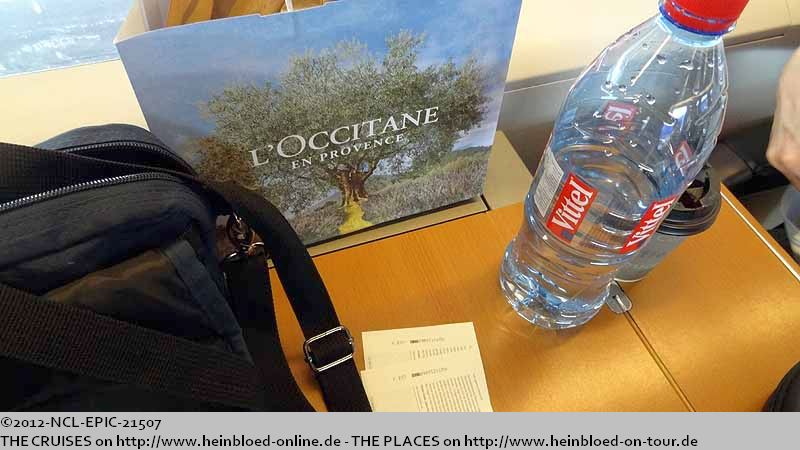 Nobody was interested that we validated the tickets correctly because they knew that so many Germans on board would not do this.

In the newspaper we found the right article: "I will always love Barcelona".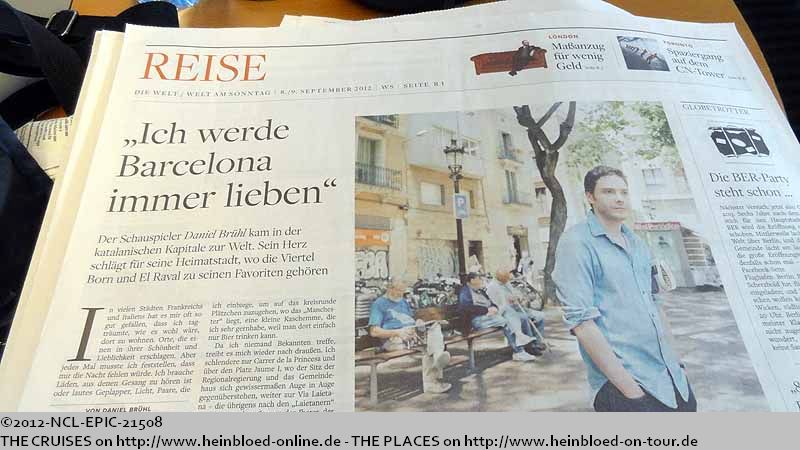 Der passende Artikel zu unserer Reise.
Die Karte liegt aus, aber niemand ist bereit, Bestellungen aufzunehmen.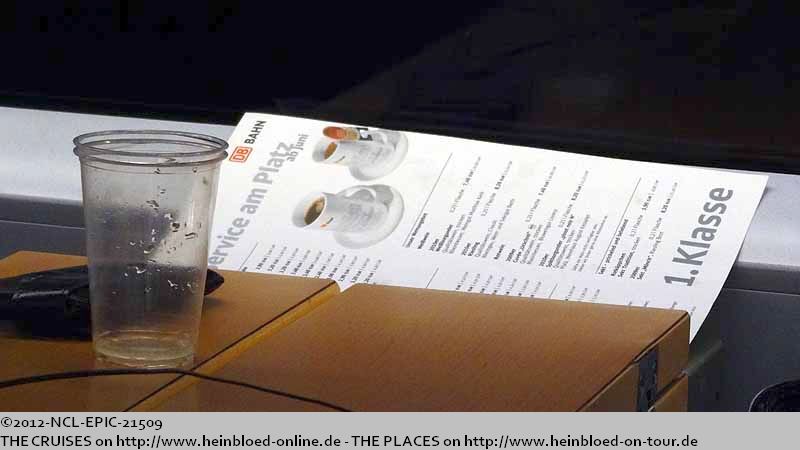 The menu was available. But nobody was willing to accept orders.

On the way back we only had two courses which were not as good as in the TGV. As dessert there was a Micro-Twix. Coffee cream and sugar were avaiable for decoration. The coffee was not served. Even not when you requested it. Every request you had you got a nasty reaction.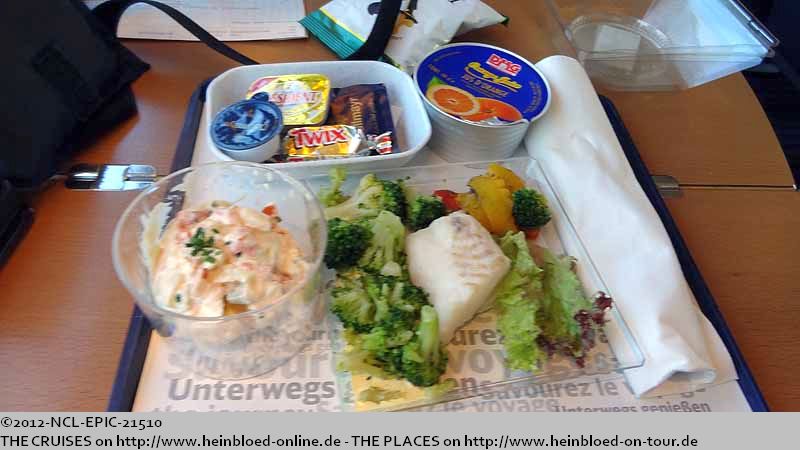 Zurück gibt es nur zwei Gänge, die nicht so lecker sind, wie im TGV. Als Dessert liegt ein Micro-Twix bereit. Kaffeesahne und Zucker liegen nur zur Dekoration bereit. Der Kaffee wird einfach nicht serviert. Auch nicht auf Anfrage. Auf jede Frage, die man hat wird sehr patzig geantwortet. Auch bekommt nur Wasser, Wasser oder Weißwein. Sonst nichts und wie gesagt auch kein Service gegen Entgelt. Und selbst als ich in das BordBistro gelaufen bin: Auch die Kühlung der Getränke ist ausgefallen.
Zum Glück hatten Bruno und ich vorgesorgt und uns noch ein französisches Teilchen in Paris gekauft, das wir jetzt als Dessert essen können.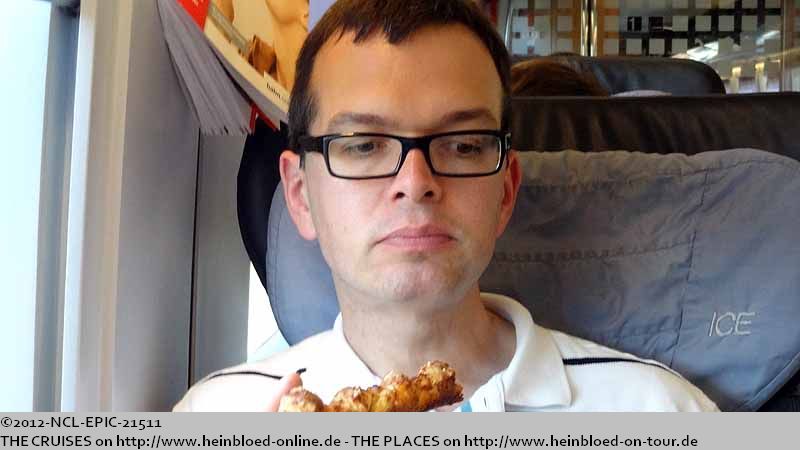 Bruno and I were lucky that we were well prepared and bought some French pastries in Paris which we could have now as dessert.

So I had at least my last Pain au Chocolat.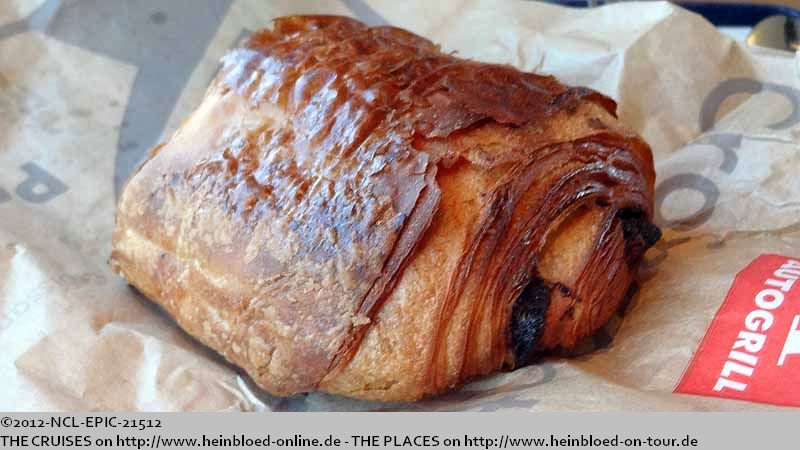 So habe ich zumindest noch einmal ein Pain au Chocolat.
Nun 2,50 EUR für eine halbe Tüte... Frechheit von easy.Jet.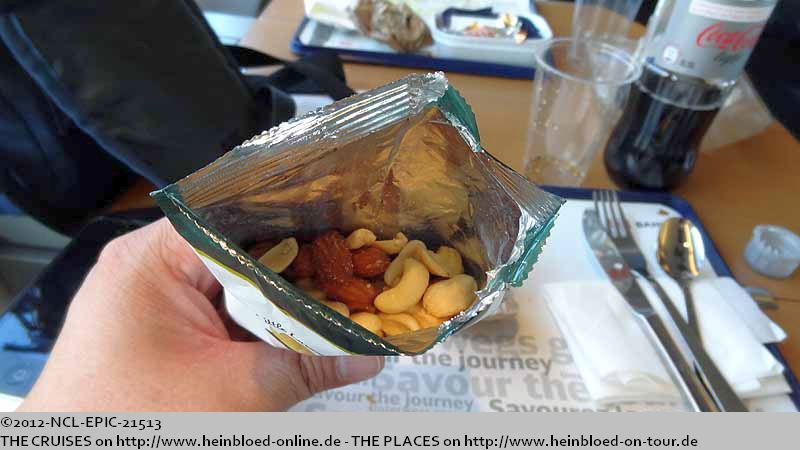 Only a half bag for 2.50 EUR (about 3.00 USD)... That was not nice of easy.Jet.