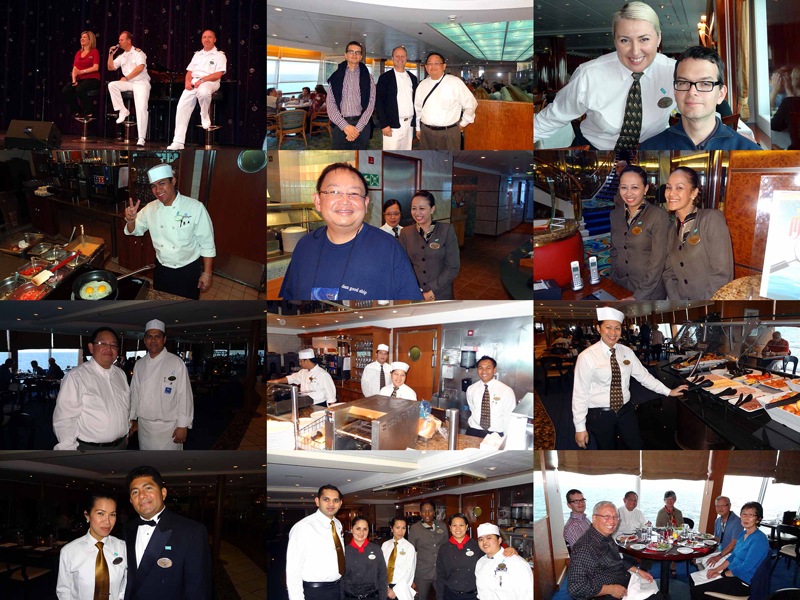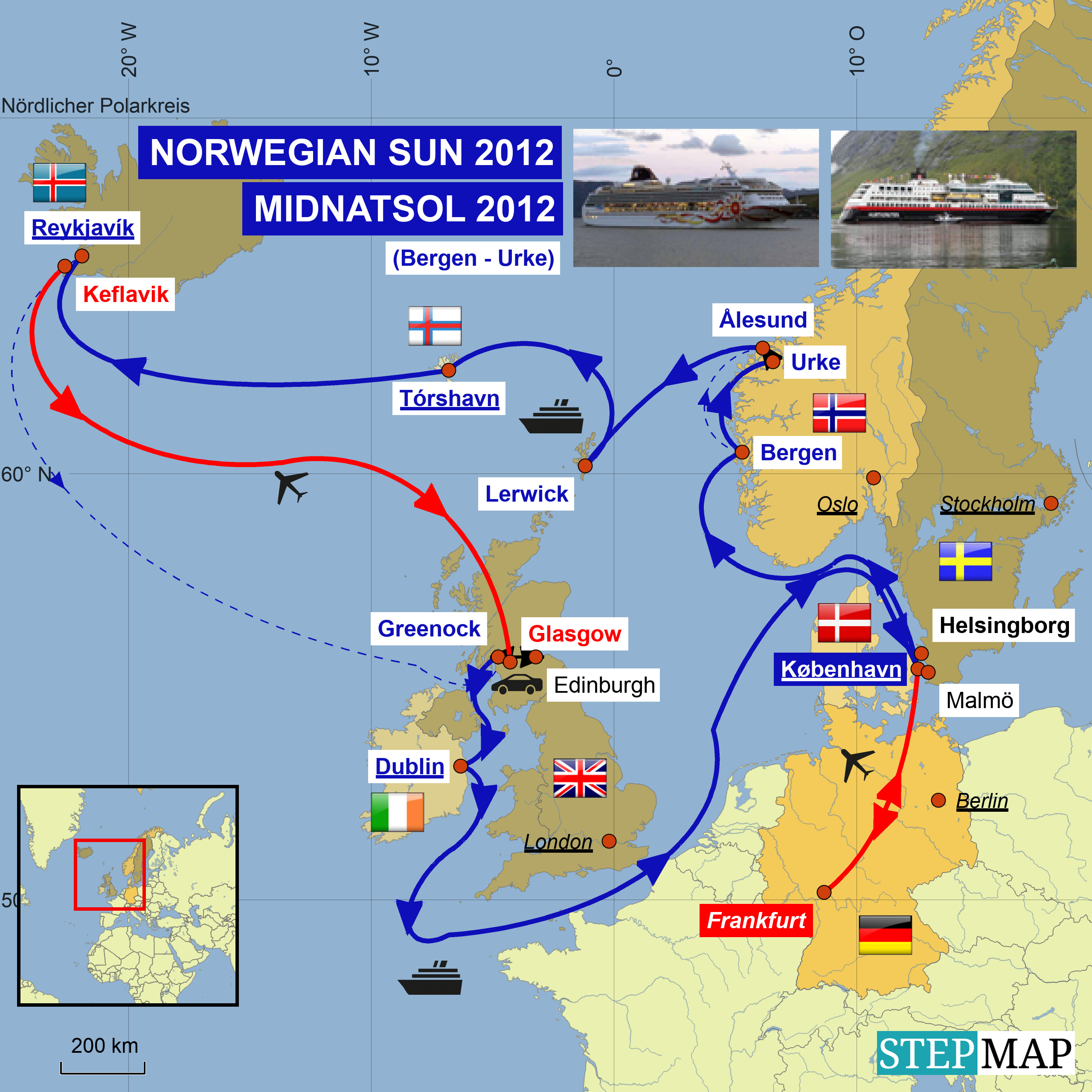 Unser letztes Abendessen findet im Moderno statt.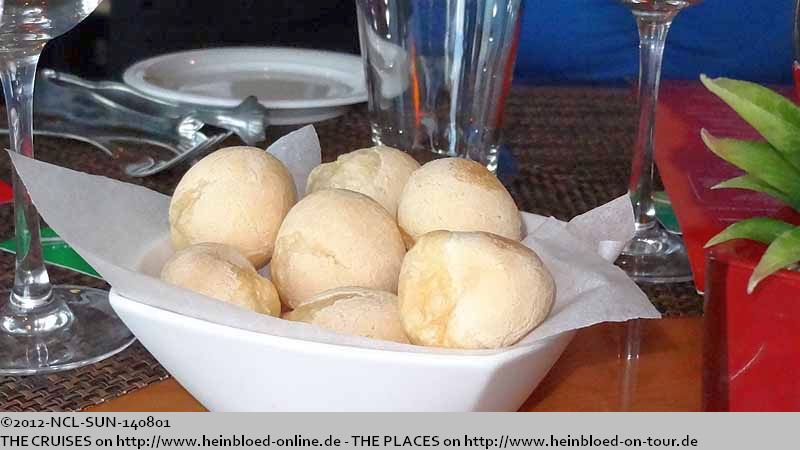 Our last dinner was taken in the Moderno.

Initially, we had no intention to return as we were there just three weeks before on NORWEGIAN EPIC 2012. But it was because of Myla Bantoy that we wanted to experience here service too after we were excited after a daytime service we experienced days before. And we did not want to be so unpolite to reject the invitation of Richard. We were anyway no wine drinkers, so we had no chance to utilize the hospitality too extreme. We had also been guest of the Captain before: then you can have everything, but we did not do it. That would be bad manners.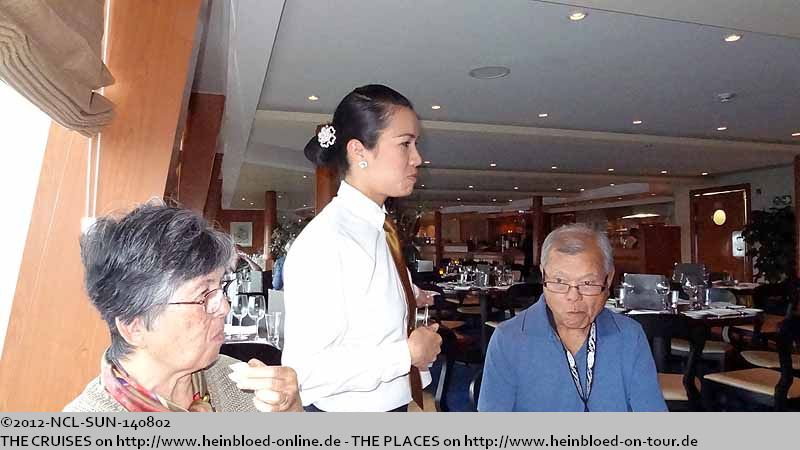 Eigentlich wollten wir nicht wieder hier her, weil wir erst vor drei Wochen auf der
NORWEGIAN EPIC 2012
da waren. Es lag jedoch an Myla Bantoy, dass wir auch mal ihren Service erleben wollten, nachdem sie uns schon tagsüber sehr begeistert hat. Außerdem wollten wir nicht so unhöflich sein, und die Einladung von Richard ausschlagen. Da wir eh keine Weintrinker sind, nutzen wir die Gastfreundschaft nicht so extrem aus. Wir waren ja auch mal Gast des Kapitäns: da hätten wir alles nehmen dürfen und wir haben es nicht getan. Gehört sich einfach nicht.
Das Büffet ist leider sehr viel kleiner als auf der NORWEGIAN EPIC. So vermisse ich die Großgarnelen.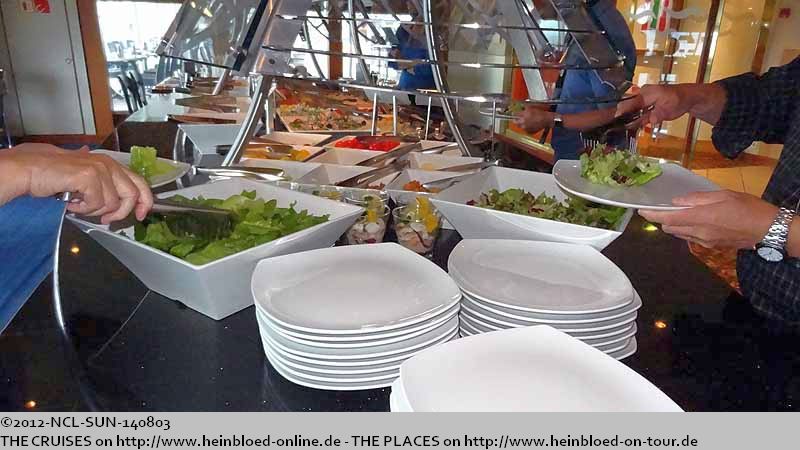 Unfortunately the buffet here was much smaller than on NORWEGIAN EPIC. So I missed the king prawns.

Die brasilianische Suppe schmeckt hier genauso wie die portugisische auf der NORWEGIAN EPIC.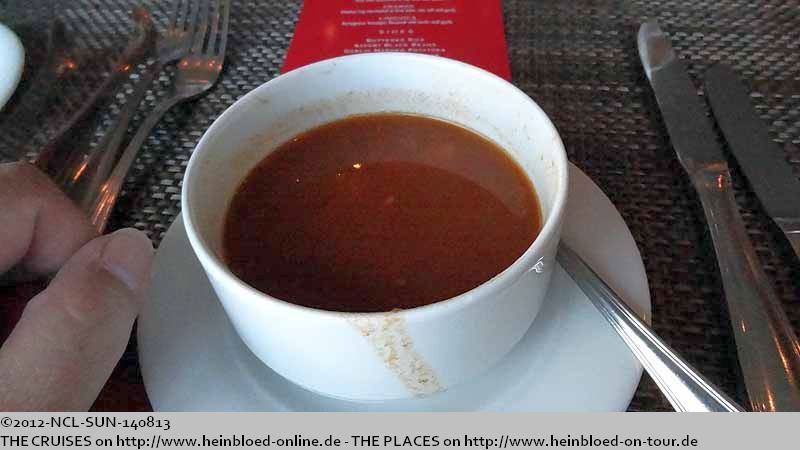 The Brazilian soup here tasted exactly like the Portuguese on NORWEGIAN EPIC.

That was Chef Zander Borja. I was surprised to get a friendship request. But we found later out that the application came from his wife who saw that I was posting many actual pictures of our voyage on Facebook. Many crew-members share one Facebook-account with their family. So many of the families at home are looking forward to seeing their husband "live". Those who are working in the kitchen prepare so many treats for so we should doing a pleasure for their families that we "like" them and their work on Facebook.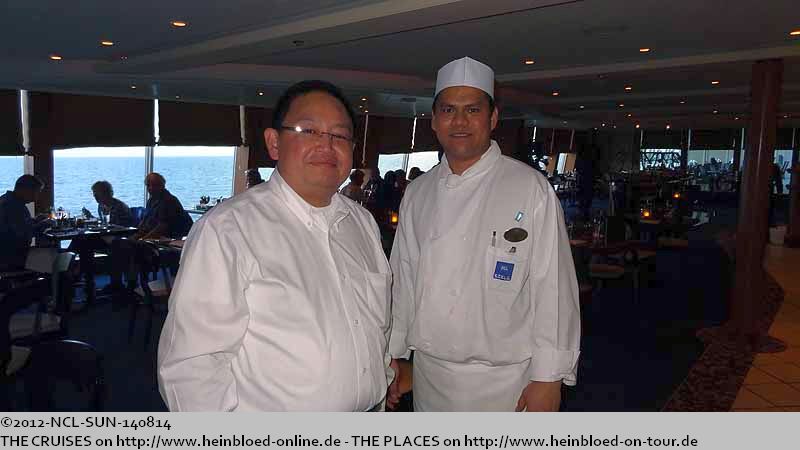 Das ist Koch Zander Borja. Ich war über seine Freundschaftsanfrage etwas verwundert. Aber es stellte sich heraus, dass sie von seiner Frau kam, die wohl mitbekommen hat, dass ich gerade sehr viele aktuelle Bilder der Fahrt in Facebook einstelle. Es sind viele Crew-Mitglieder, die über ein gemeinsames Facebook-Konto mit ihrer Familie verfügen. So freuen die Familien zu Hause sich über solche Bilder, wenn sie ihren Mann mal "live" sehen. Die aus der Küche bereiten uns so viele Gaumenfreuden, also sollten wir ihren Familien auch die Freude bereiten und über Facebook zeigen, dass uns ihre Arbeit und vor allem sie uns "gefallen".
Nun gut: das war definitiv die allerletzte Suppe, die ich auf der NORWEGIAN SUN esse...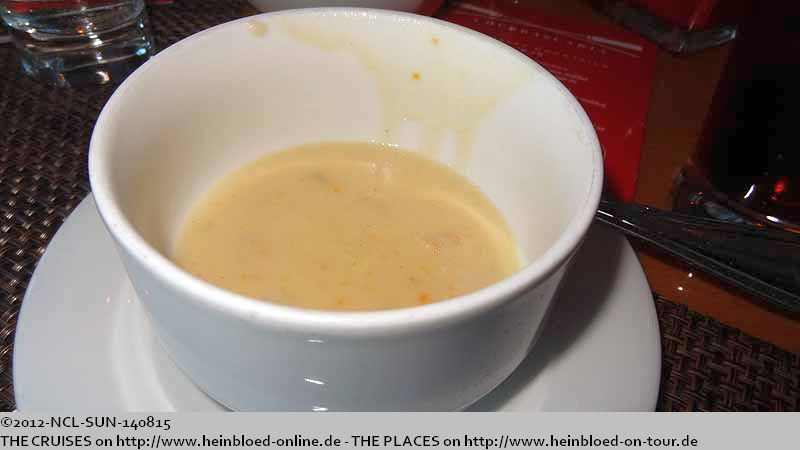 Oh well: that was definately the very last soup, which I had on NORWEGIAN SUN...

I was lucky that no one else wanted to have the Chimmichurri...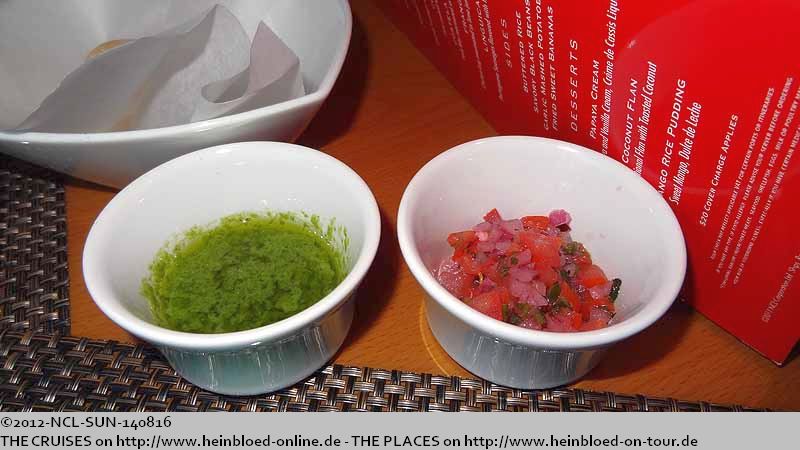 Zum Glück wollte niemand anders die Chimmichurri...
Unser Passador Carol. Weil Frances und Eddie ihre Stücke nur well-done mögen, wird für sie extra ein paar Stücke länger auf dem Grill gelassen.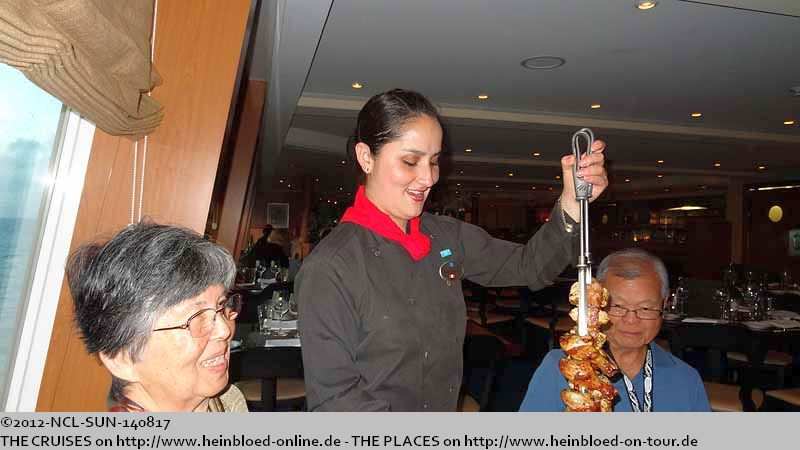 Our Passador Carol. Because Frances and Eddie only like their meat well-done they kept few pieces a little longer on the grill.

Die Ananas kommt hier erst am Schluss. Ich fand es persönlich auf der NORWEGIAN EPIC besser, als es zwischendurch mal kam.

The pineapple came here at the end. I liked it more like on NORWEGIAN EPIC when it came in between.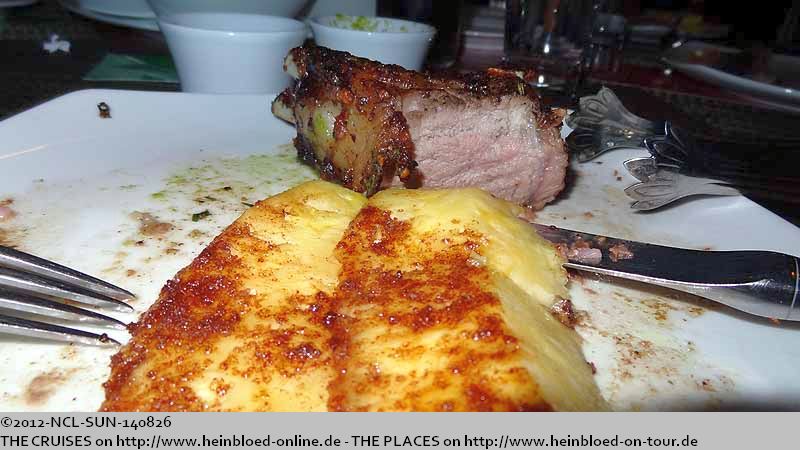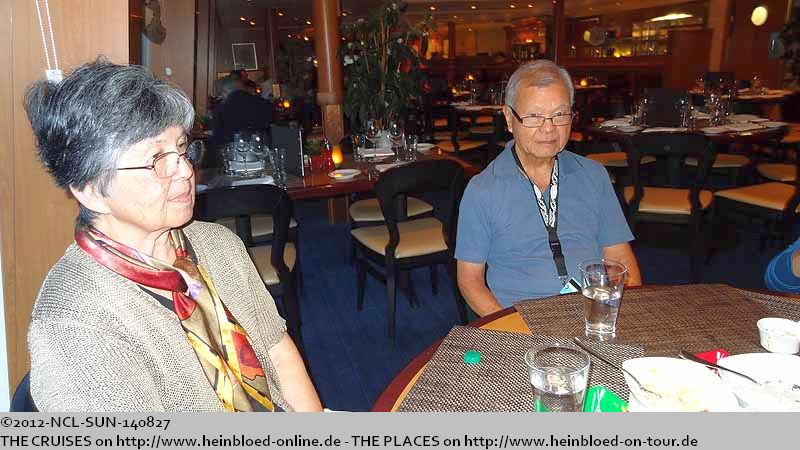 Here we had the coffee from a French Press.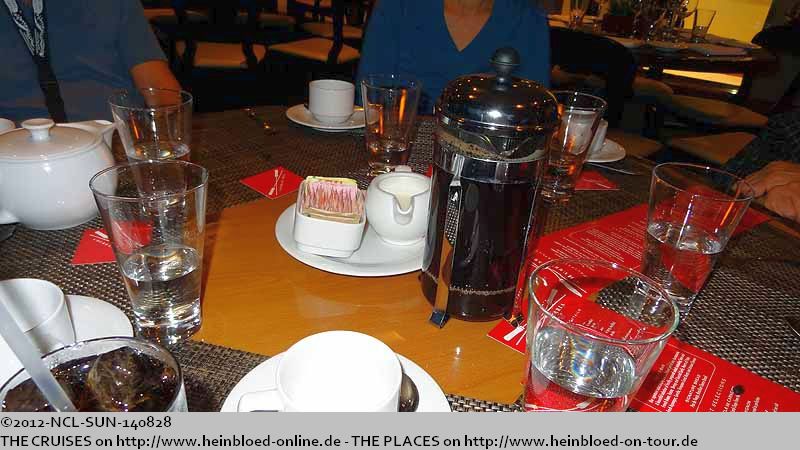 Hier gibt es den Kaffee aus der Bodum-Kanne.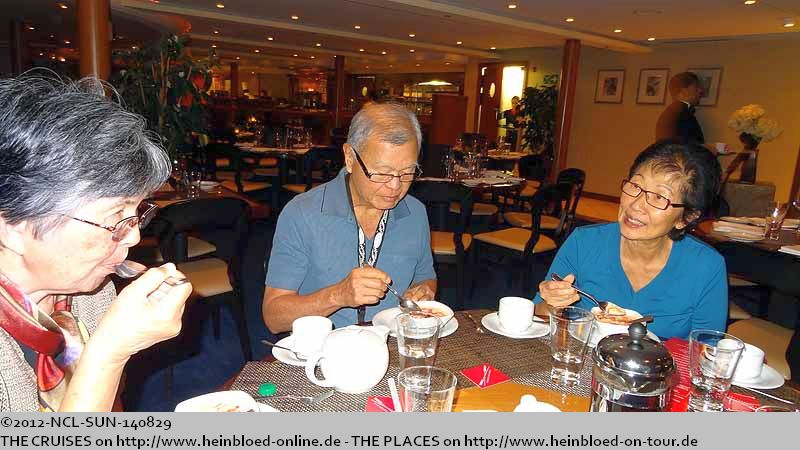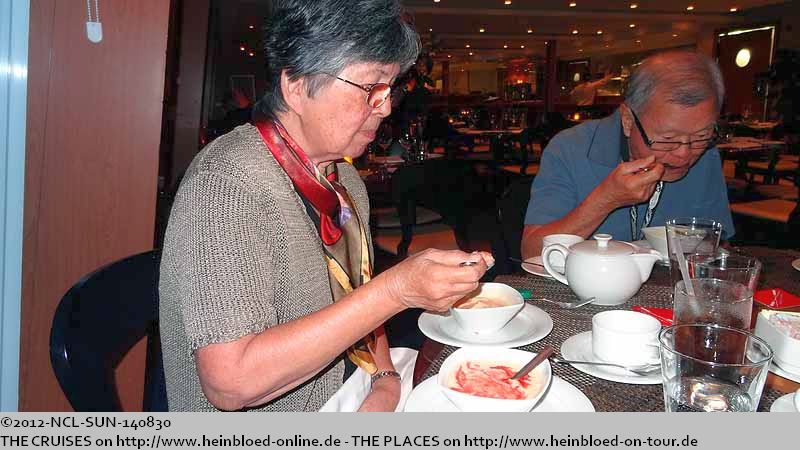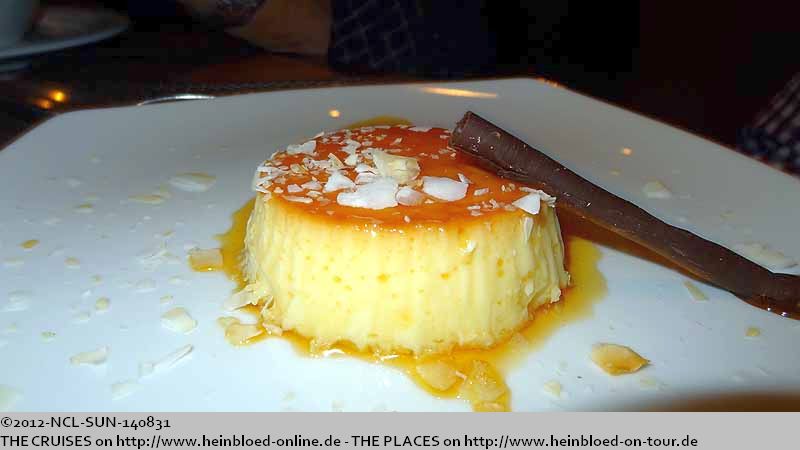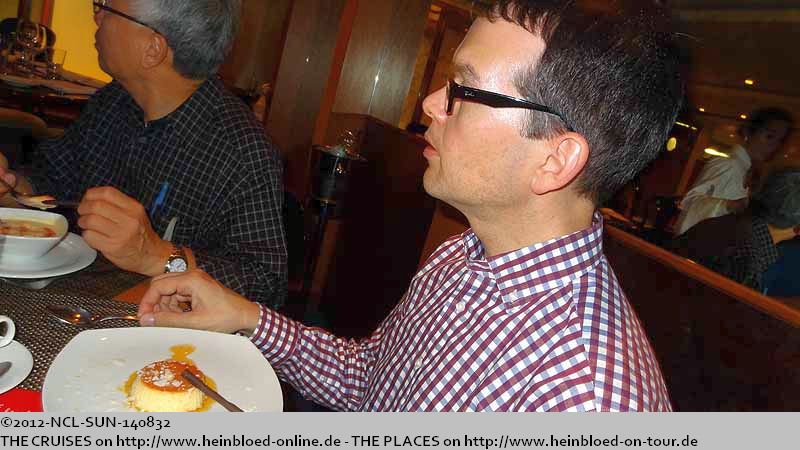 Von uns hatte niemand Geburtstag, aber ich brauche für Facebook eine neue Torte für die nächste Saison...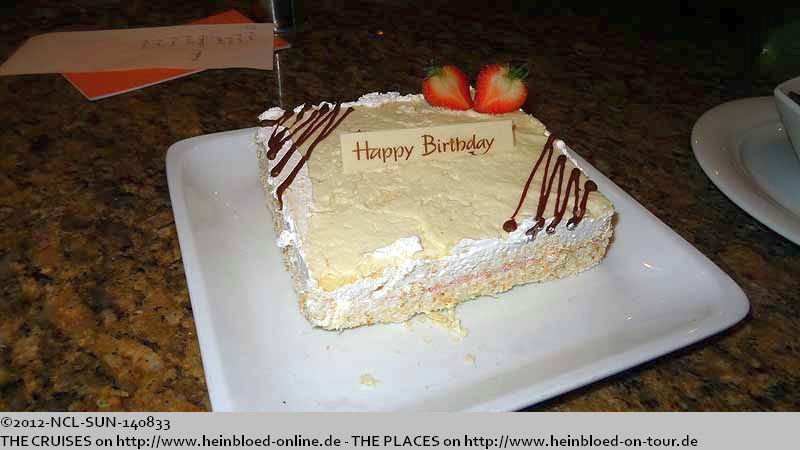 None of us had birthday but I need for Facebook a new cake for the new season...

A great team...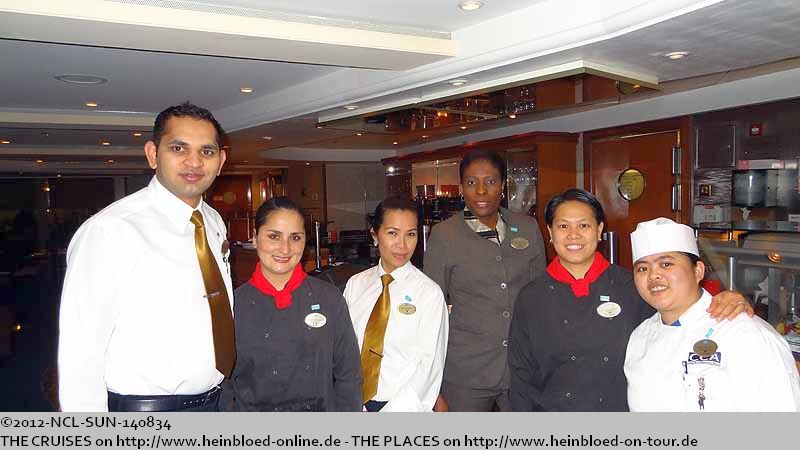 Ein tolles Team...
Frances war vom Dessert so begeistert, dass sie bereits zwei gegessen hatte. Ein drittes bekommt sie für die Kabine...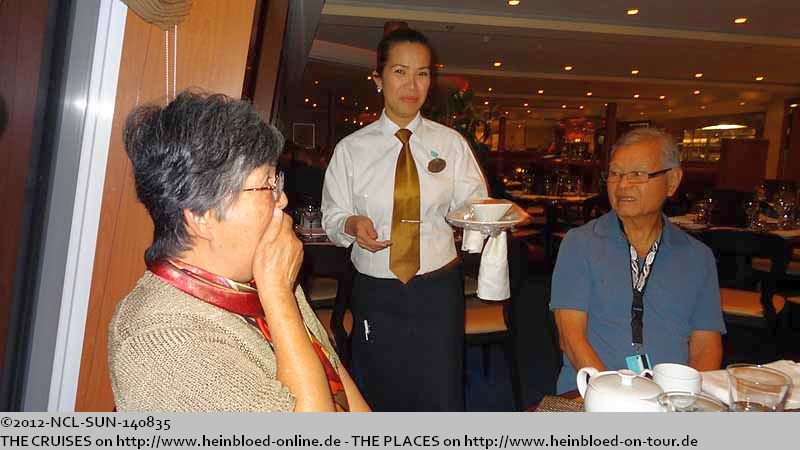 Frances was so excited of the dessert that she had already two. Now she got a third one for her cabin...

She could not wait anymore and dig into the third one immediately...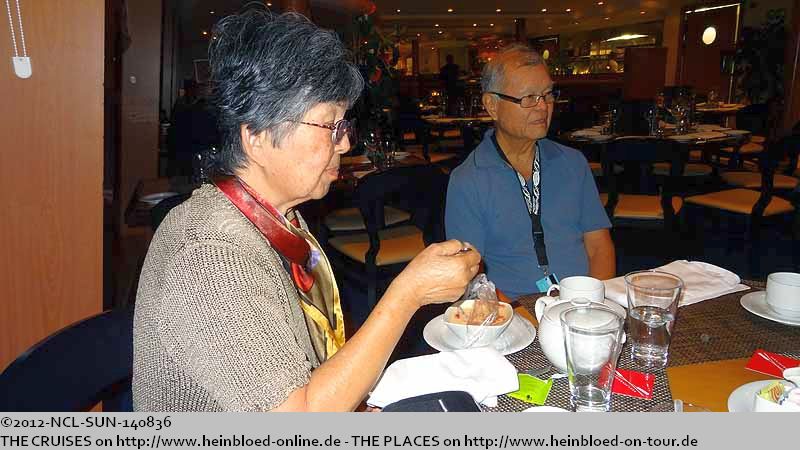 Sie konnte jedoch nicht mehr warten und fällt darüber sofort her...
So verabschieden wir uns von Myla und Maître Jorge Sosa für den tollen Abend.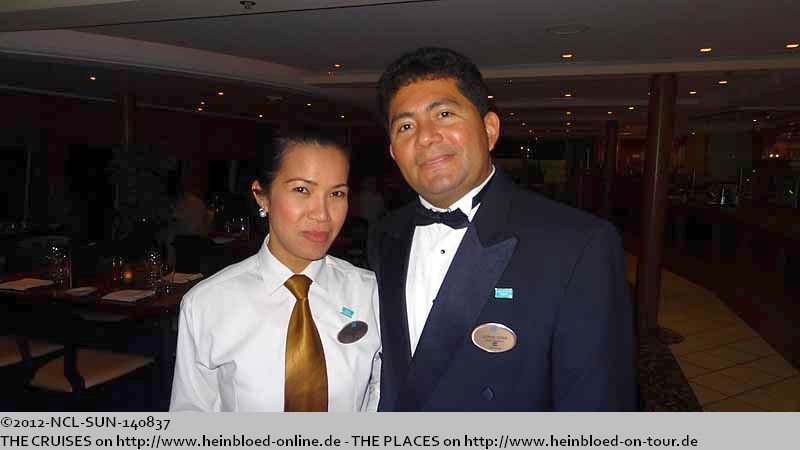 So we said good-bye to Myla and Maître Jorge Sosa for a great evening.

Chocolate fountain... rien ne va plus... no more please...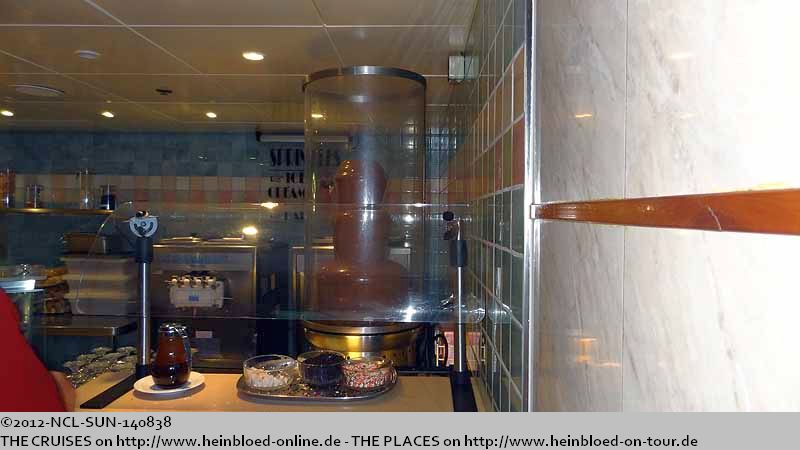 Schokobrunnen... rien ne va plus... nichts geht mehr...
Zum Glück haben wir noch Gammel Dansk...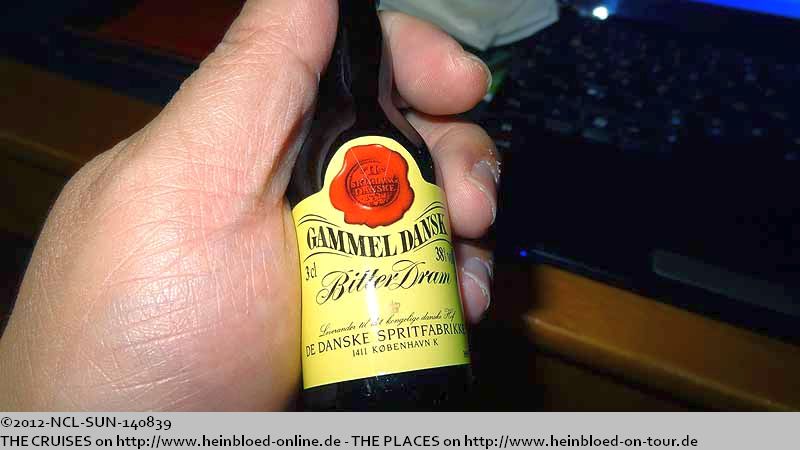 We had luck and one more Gammel Dansk...

When we said good-bye at the Seven Seas, we met Fortunata Alcantara who knew us from a previous cruise on NORWEGIAN JEWEL 2008. But we saw her few days before with Elena.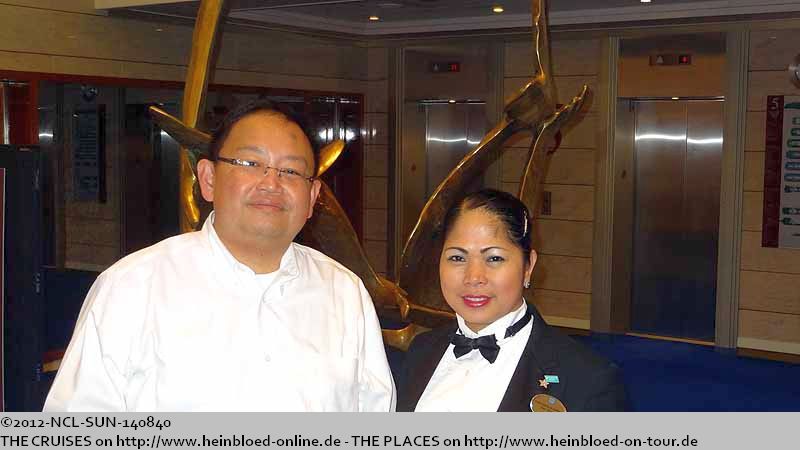 Als wir uns im Seven Seas verabschieden wollen, treffen wir noch auf Fortunata Alcantara, die uns von einer früheren Fahrt auf der
NORWEGIAN JEWEL 2008
her noch kennt. Wobei wir sie ja schon vor wenigen Tagen schon mal bei Elena gesehen hatten.
Da Packen länger dauerte als gedacht: mit ca. 20 Minuten ging es zur 2. Show.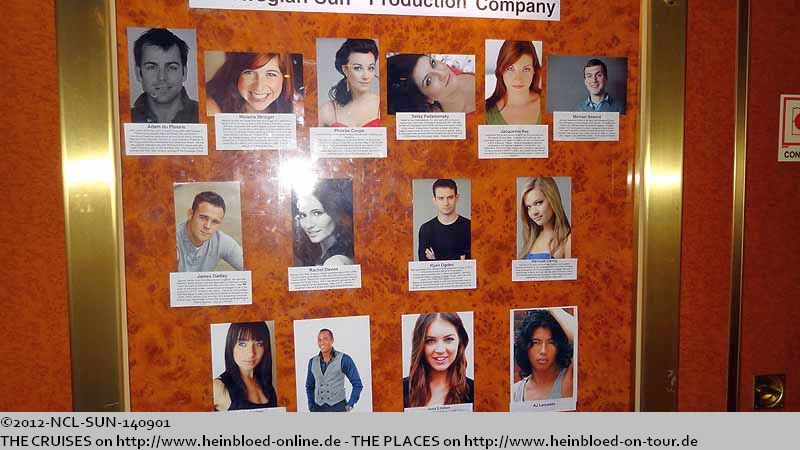 Packing took longer than we thought: with a delay of 20 minutes we went to the 2nd show.

There we found out that you cannot put me to the "EasyRider"-Generation. It was too loud for me, and after a few minutes we were gone.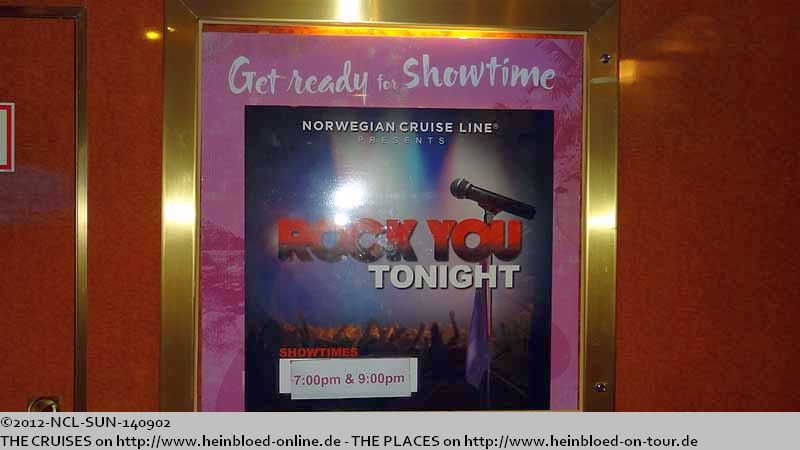 Dort stellten wir aber fest, dass ich nicht so der "EasyRider"-Generation zuzuordnen bin. Mir war es zu laut und nach wenigen Minuten war wir wieder weg.
Ein letzter Drink in der Observation Lounge.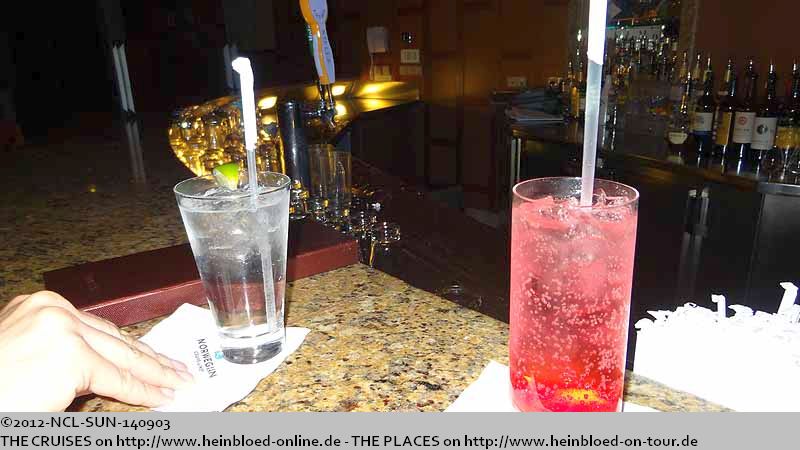 A last drink in the observation lounge.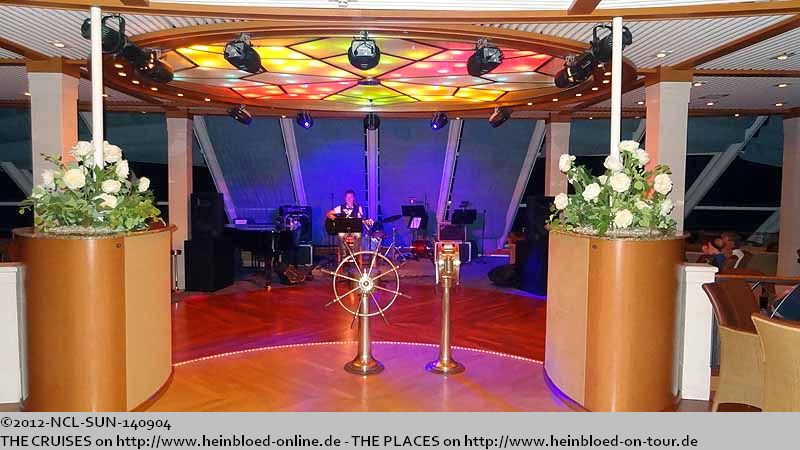 Shane singt. Leider hatte er keine CD mehr zum Verkauf.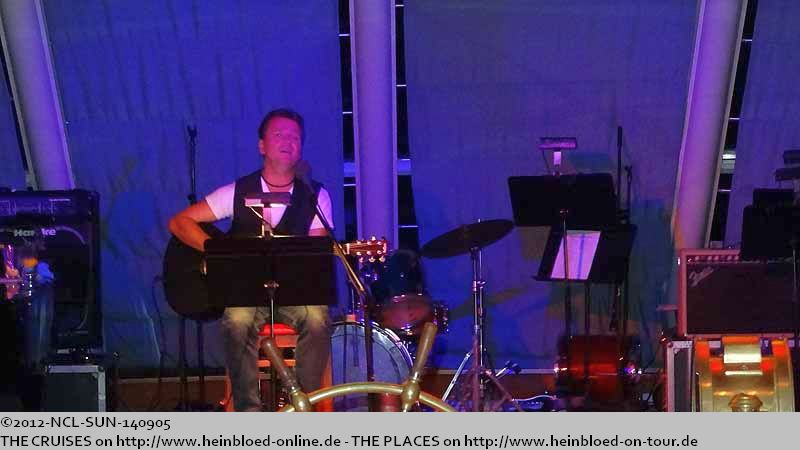 Shane was singing. Unfortunately he had no more CDs to sell.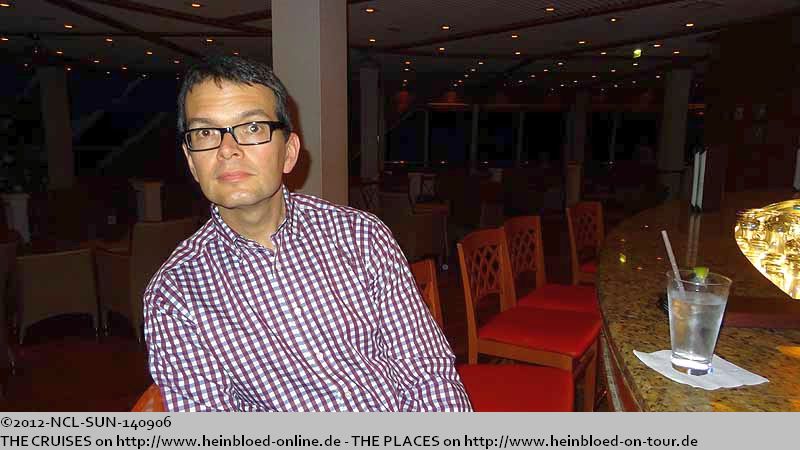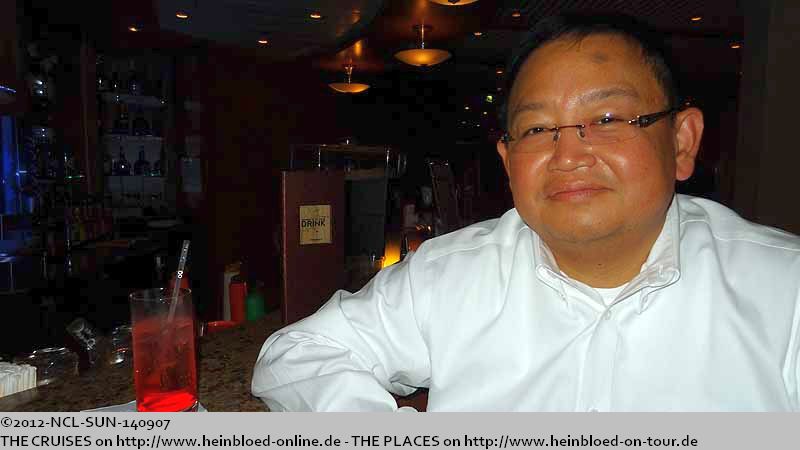 While bartender Alexander Reyes checked the inventory he was singing with me in the background...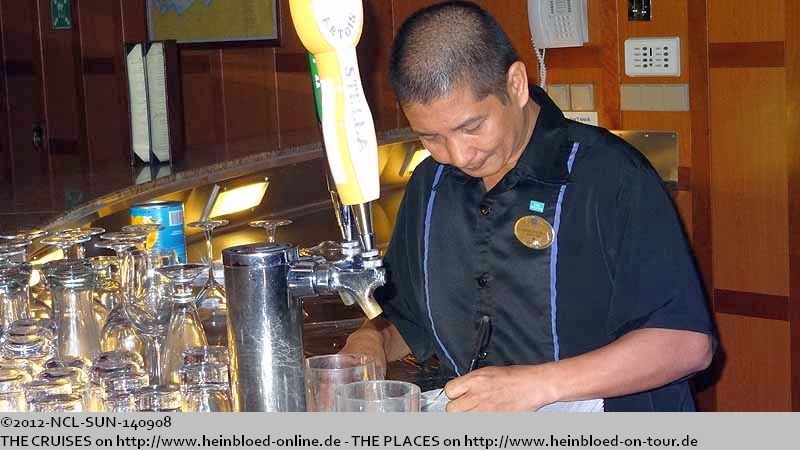 Während Bartender Alexander Reyes Inventur macht, singt er mit mir im Hintergrund mit...
Und irgendwie ist es auf einmal wie bei Holland America...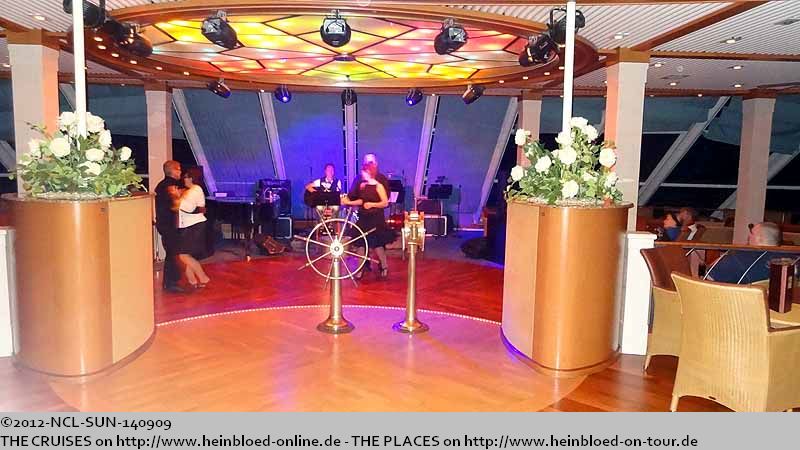 And then somehow it was like with Holland America...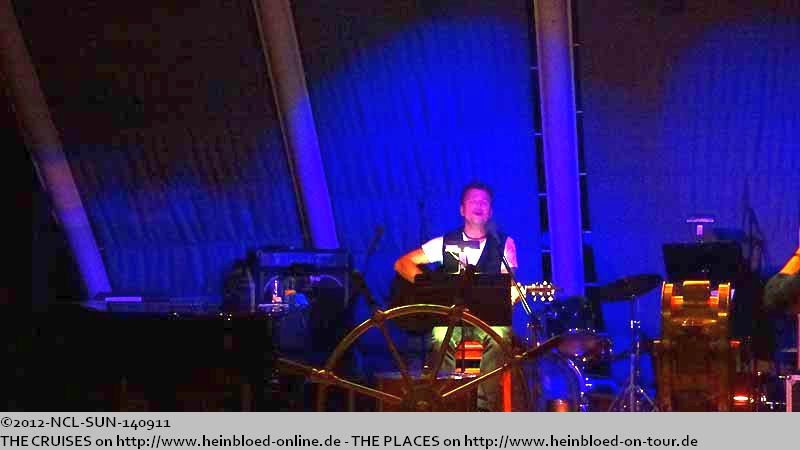 But also downstairs there were many activities...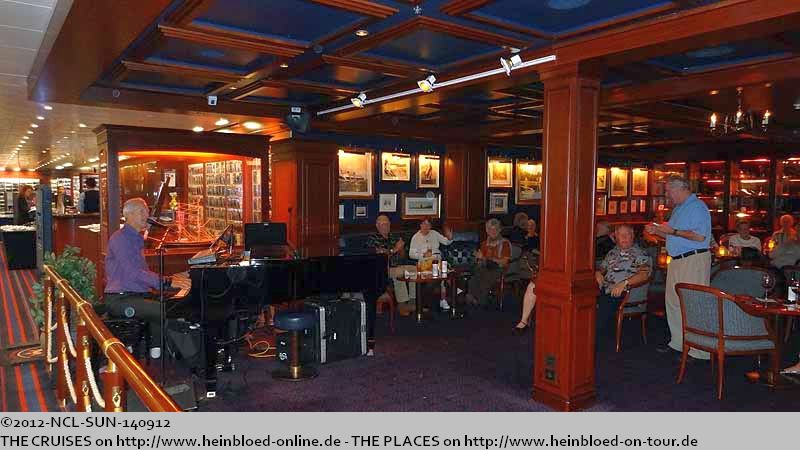 Auch unten ist viel los...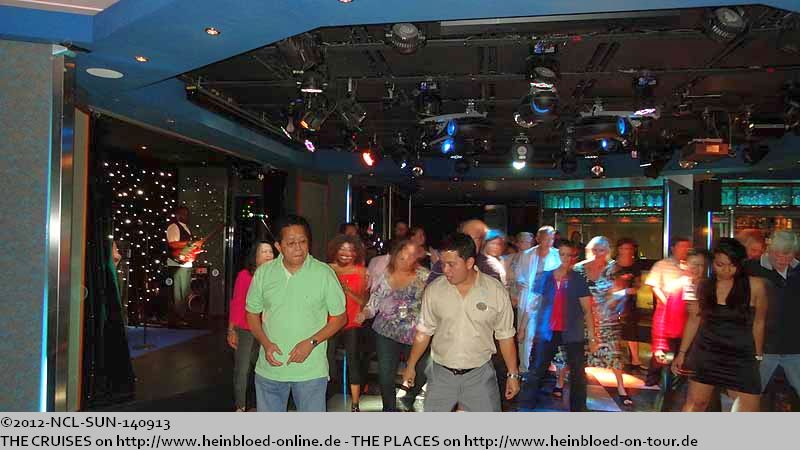 I definately had no hunger anymore...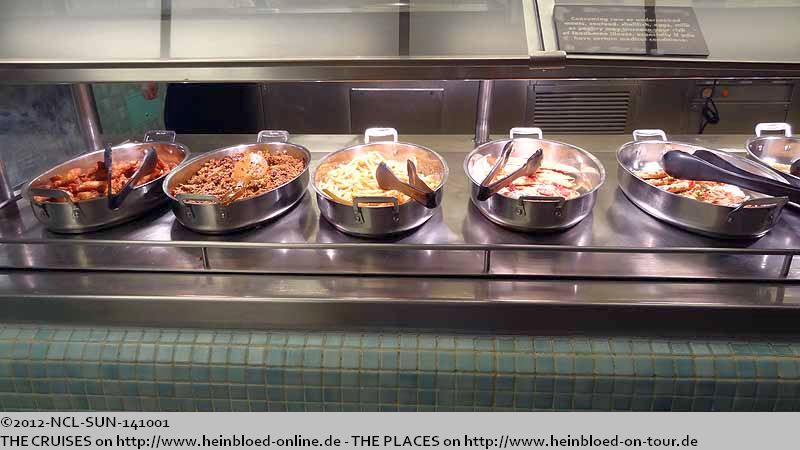 Hunger habe ich defintiv keinen mehr...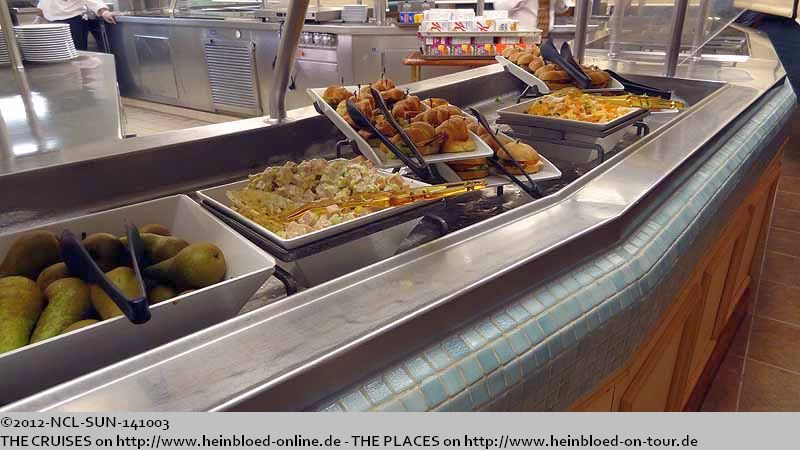 A very last time good night with full moon from NORWEGIAN SUN.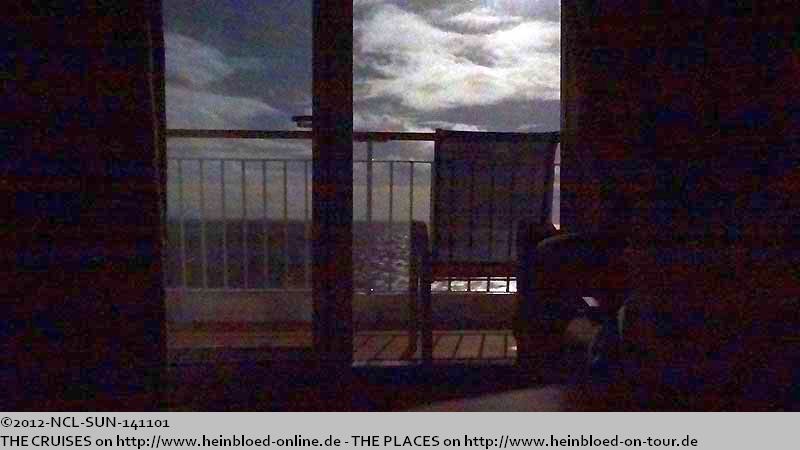 Ein letztes Mal Gute Nacht bei Vollmond auf der NORWEGIAN SUN.
Die anderen Reisen in diesem Blog/
The other voyages in this blog: