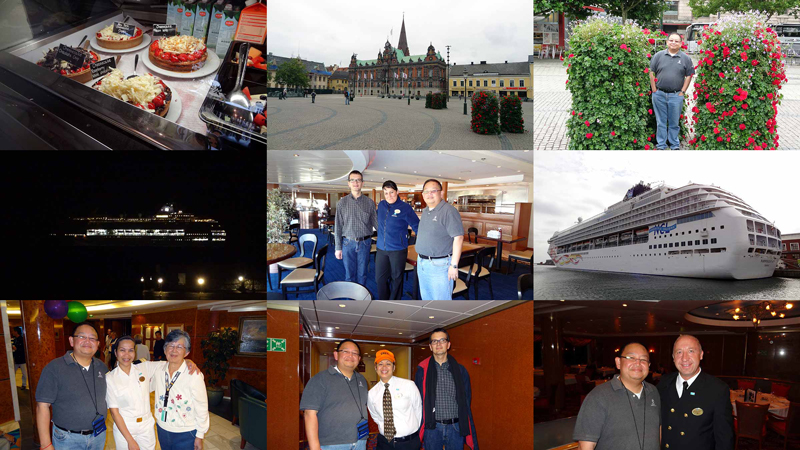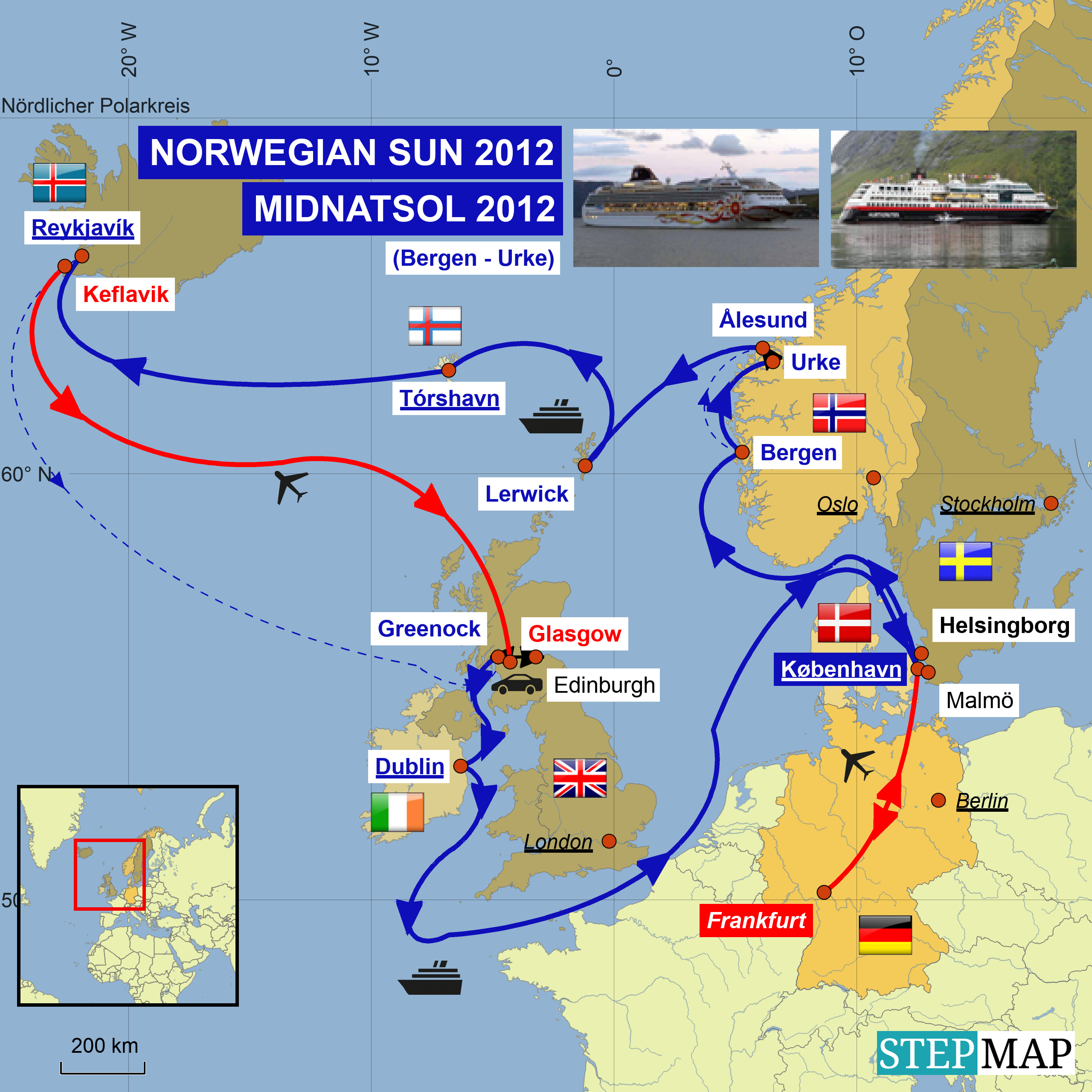 Hier oben liegt unsere Kabine...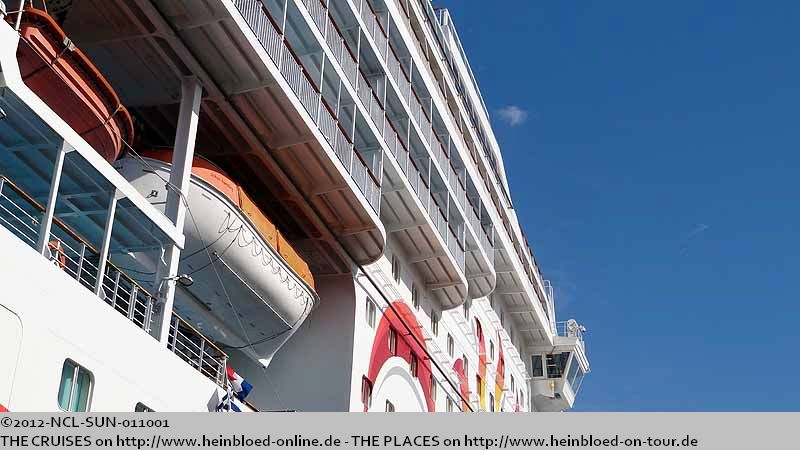 Here above was our cabin.

Our baggage already arrived.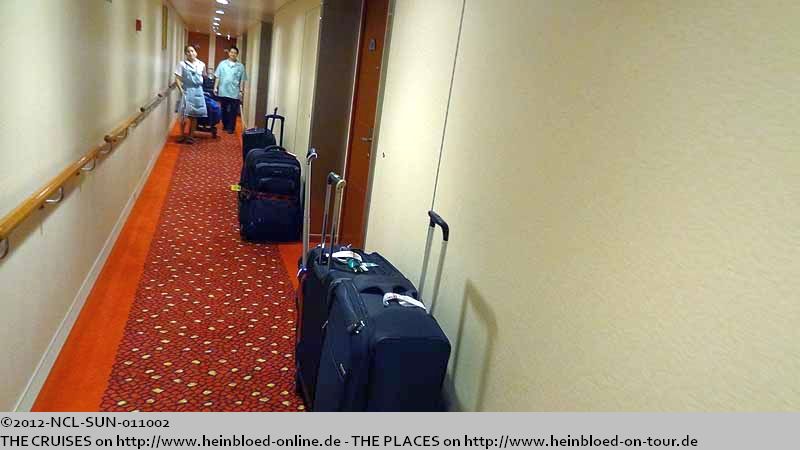 Unser Gepäck steht auch schon da.
1210: eine Mini-Suite auf Deck 11 (Kabinen auf Deck 10 beginnen mit 0, Deck 11 mit 1 und 12 mit 2). Als Friends of
Dorothy
genießen wir nun den vorteil eines umsatzstarken Reisebüros, bei dem wir gute Kunden sind: ein paar Telefonate und Dorothy hatte erreicht, dass wir eine Mini-Suite bekamen.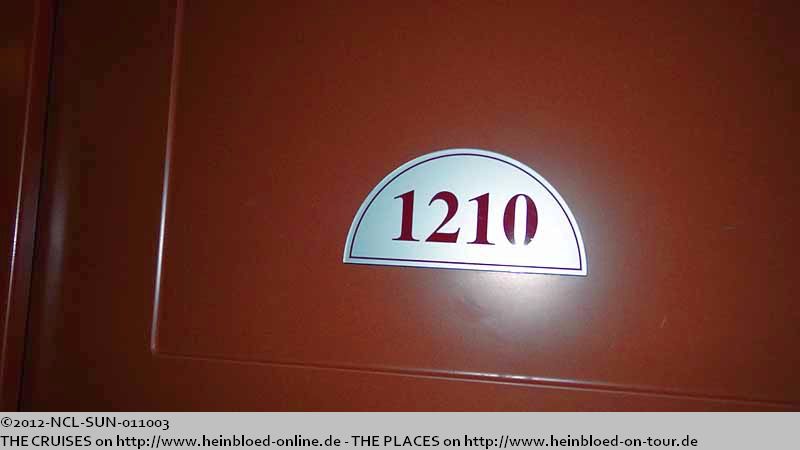 1210: a mini-suite on deck 11 (cabins on deck 10 starts with 0, on deck 11 with 1 and on deck 12 with 2). As we are good Friends of Dorothy we have the privilege that she do some phone calls to get us this upgrade as they have a good revenue with NCL and with have a good revenue with them.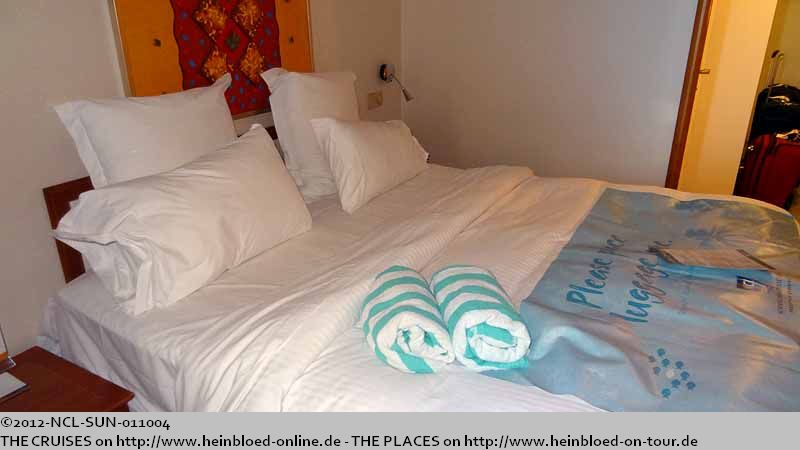 Unser Steward hatte unsere Bitte, uns zwei Einzeldecken zu geben, dahin gelöst, dass er sofort die Betten auseinander gestellt hat.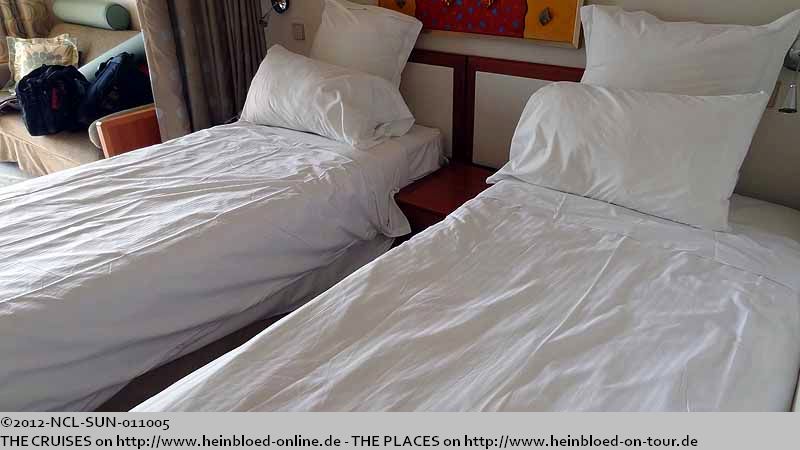 Our steward solved the problem to give us two single duvets by seperating the beds.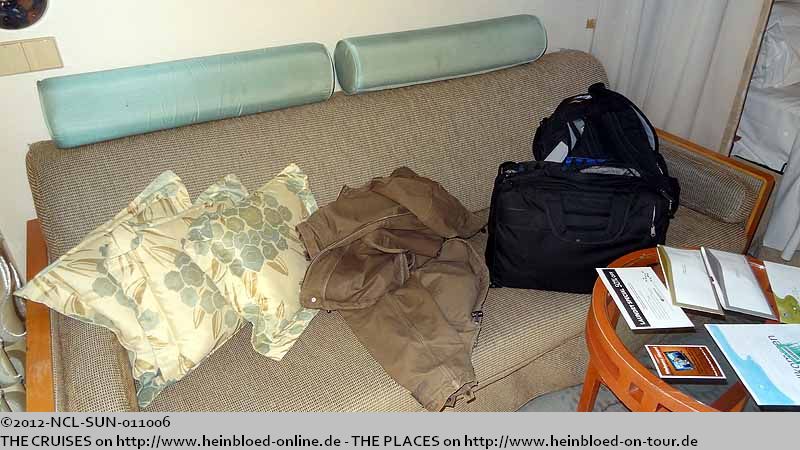 Echtes Schiffsfeeling, mit vielen Schubladen.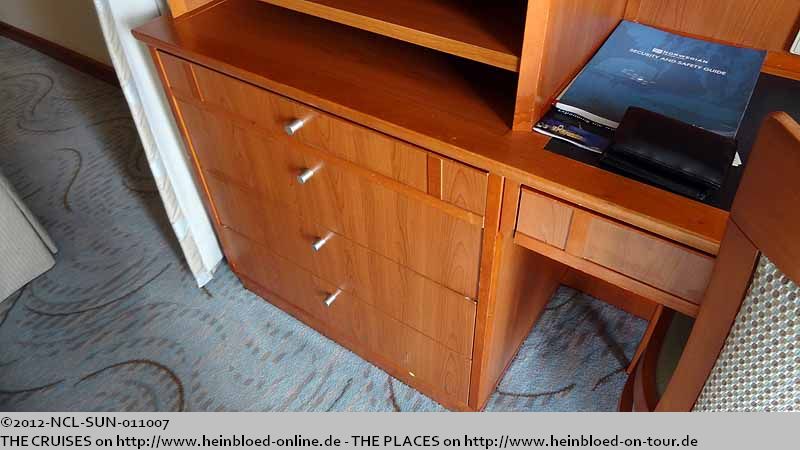 True ship feeling with many drawers.

Only the location of the fridge was somehow stupid as there was no outlet for the warm air. So we kept the doors from time to time open.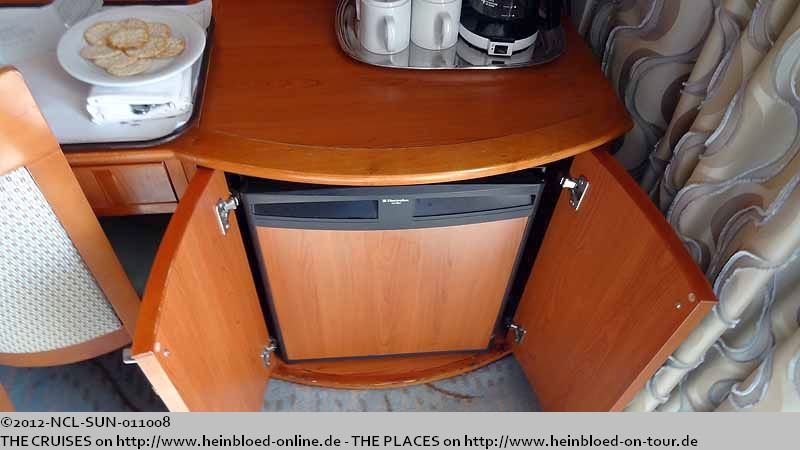 Nur der Kühlschrank ist etwas blöd platziert, da es für ihn keine Lüfttungsschlitze gibt. So lassen wir mal von Zeit zu Zeit die Türen offen stehen.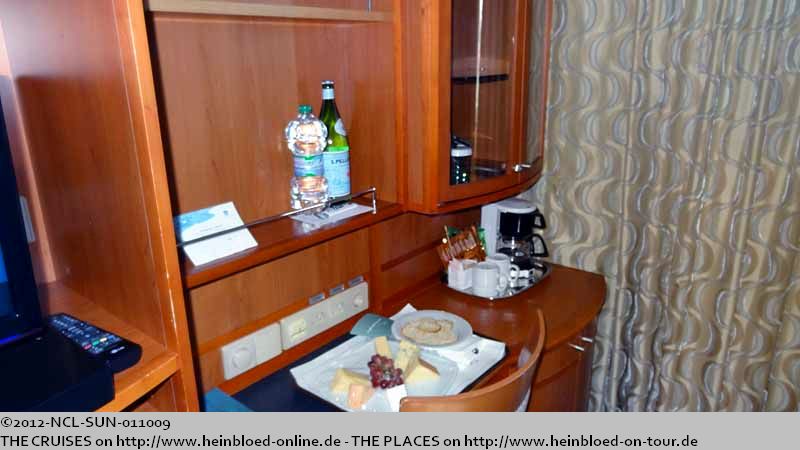 As thank you for my last blog I got a cheese plate. But they changed something again: we got it delivered to our cabin. The last time we got a voucher, and we could choose the date of delivery. But we had luck, and the plate fit into the fridge. Otherwise, we could have open an alternative dining venue and offering a cheese-fondue-night and get some revenue with the cover charges.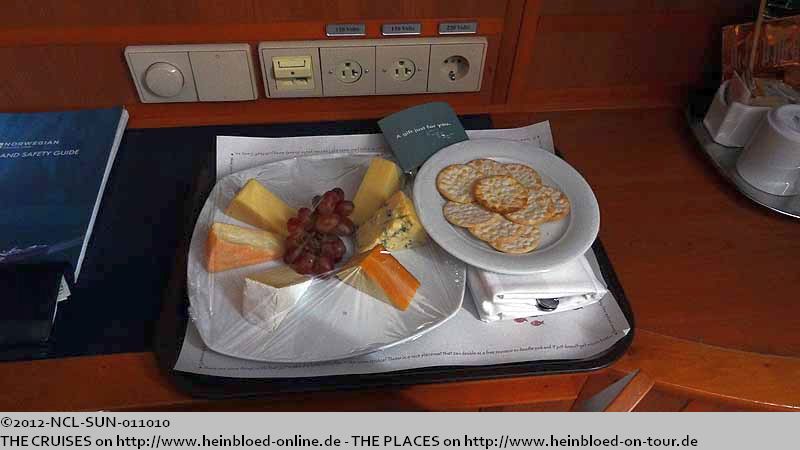 Als Dank für meinen letzten Blog bekommen wir eine Käseplatte. Leider ist es wieder geändert worden: wir bekommen sie sofort auf die Kabine. Beim letzten Mal gab es einen Voucher und wir konnten uns den Liefertermin selbst aussuchen. Zum Glück passte der Teller in den Kühlschrank. Sonst hätten wir einen Käse-Fondue-Abend in unserer Kabine veranstalten können und so ein wenig Umsatz mit der Zuzahlung machen können.
Steckdosen noch und nöcher...

Tons of power outlets.

Again mail. But it was not so much spread out.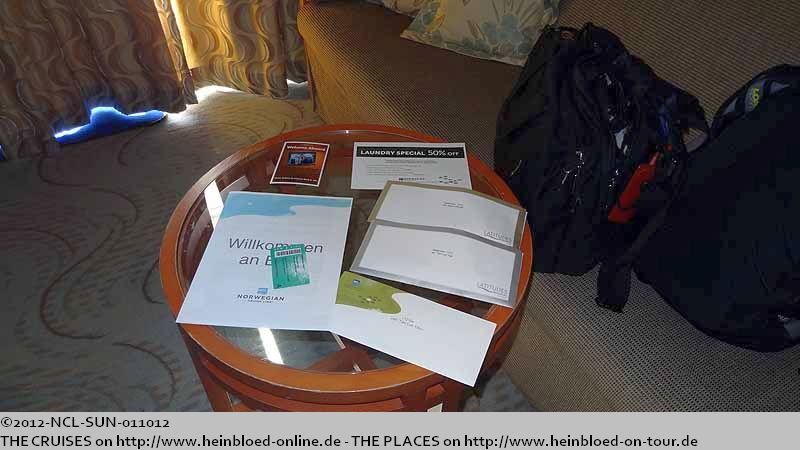 Und wieder die Post... dieses Mal nicht ausgebreitet...
Die blöden Bügel...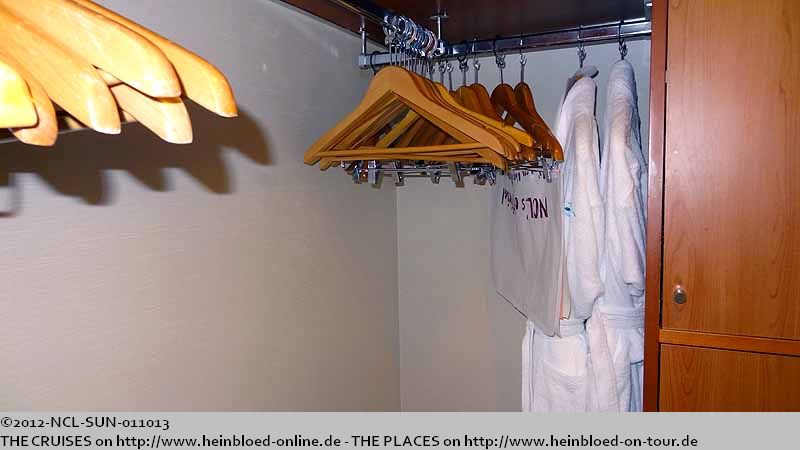 The stupid hangers...

By the way: it's a walkable closet.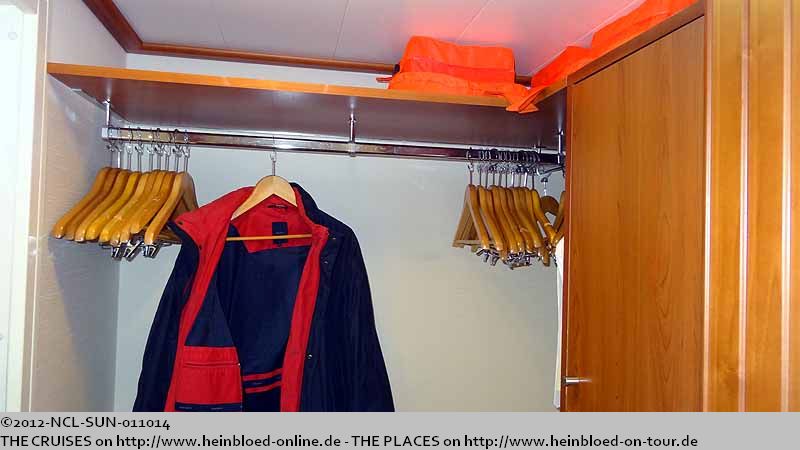 Es ist übrigens ein begehbarer Kleiderschrank.
Endlich muss ich nicht am Kosmetiktisch arbeiten. Der ist extra und hat auch einen 220 V-Ausgang.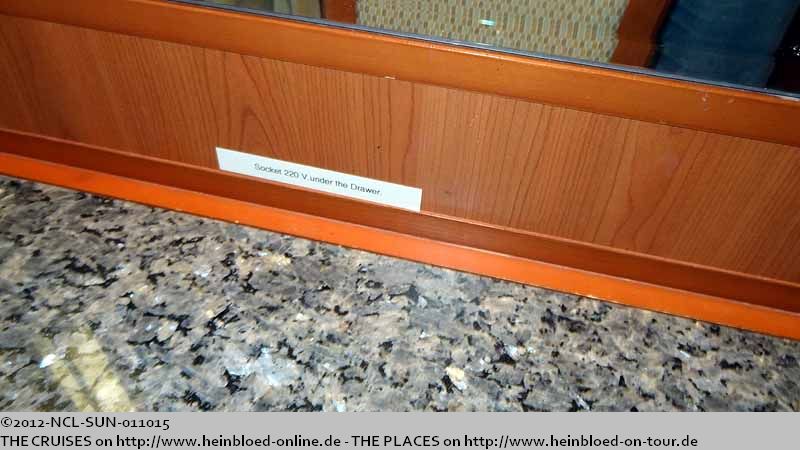 Finally I must not work at the beauty table. This was here extra and you had a 220V-power outlet.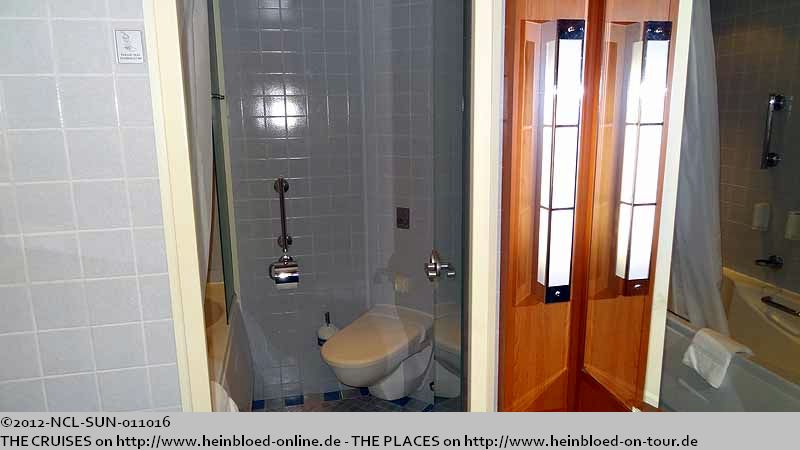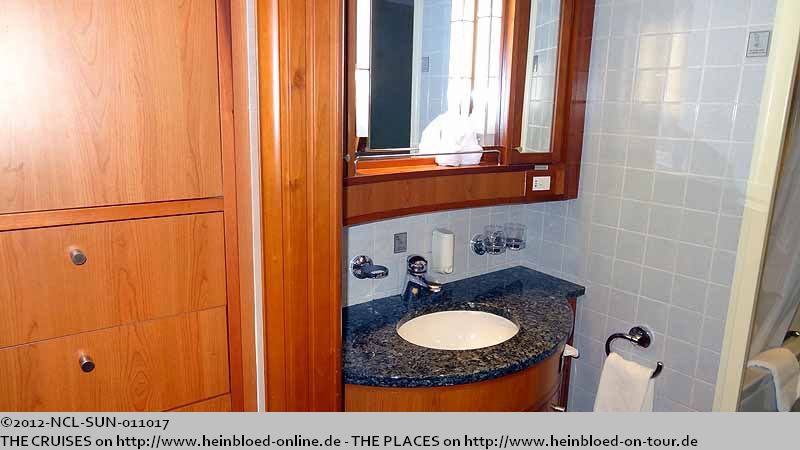 Bath tub...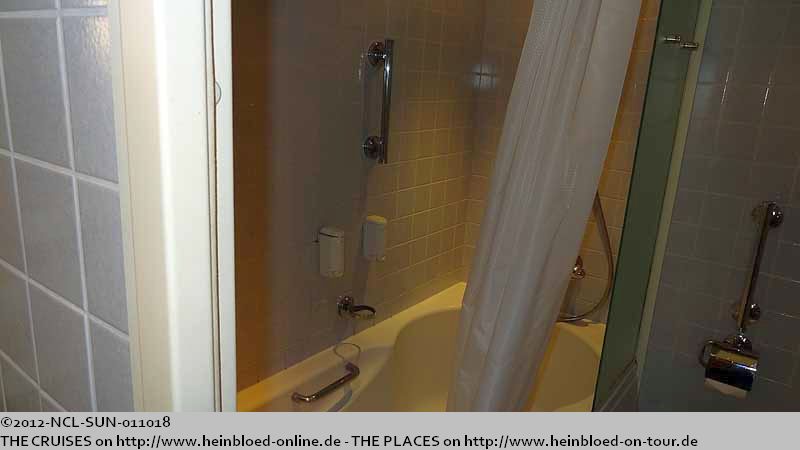 Badewanne...
Und leider ein unangenehmer Geruch. Aber unser Steward holt sofort ein Tuch zum Abdecken, gießt überall Wasser in die Geruchsverschlüsse und holt ein Duftspray.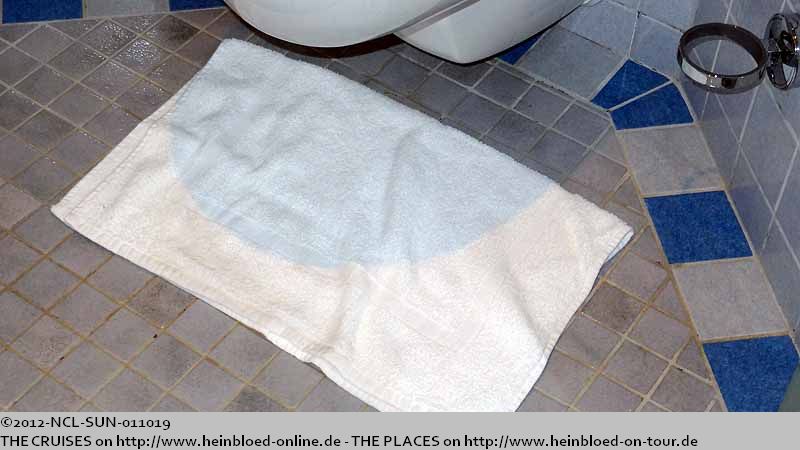 Unfortunately we had a bad smell in our cabin. But our cabin steward came promptly and placed a towel over the outlet, poured water in all outlets and get a room spray.

And a lot of space in the bathroom.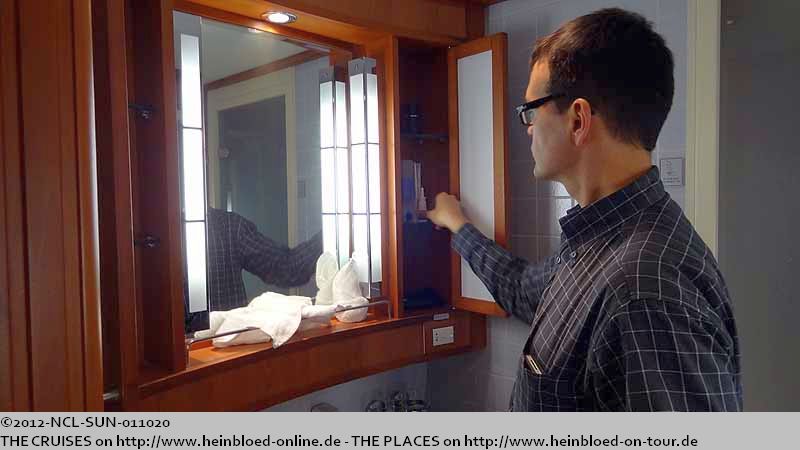 Und jede Menge Platz im Bad.
Die Nadeln sind wieder da. Auf der NORWEGIAN EPIC hätte ich danach fragen sollen... habe ich vergessen.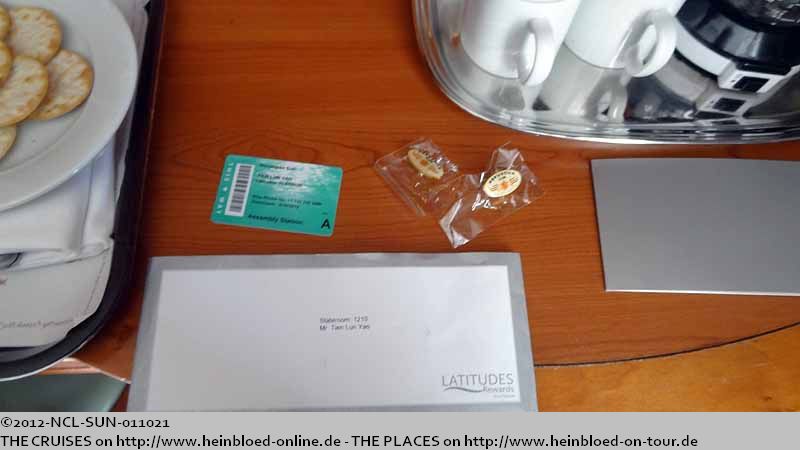 The pins were back. I should have asked on NORWEGIAN EPIC... I almost forgot.

And they think already now how they get us from the ship: Instead of VIP-baggage tags we had now yellow baggage tags for Latitudes Gold- and Platinum.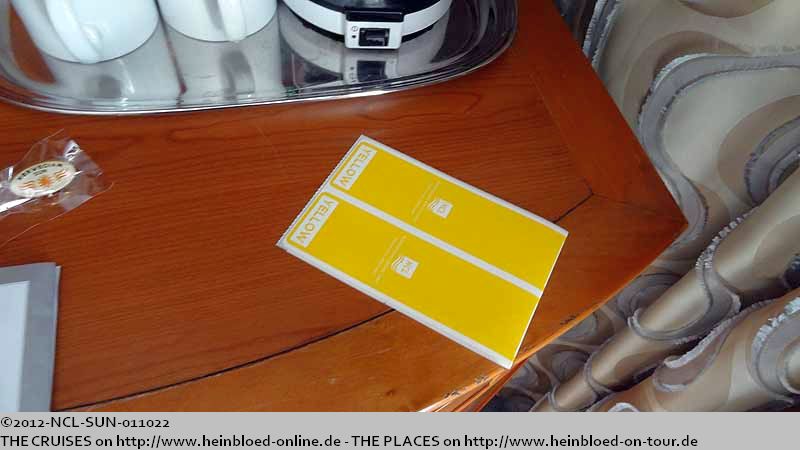 Und jetzt denken sie schon dran uns rauszuschmeißen: Statt VIP-Gepäckanhänger, gibt es gelbe für die Latitudes Gold- und Platinmitglieder.
Dann müssen wir die ganze Post durchlesen... die ganzen Einladungen... die ganzen Coupons für die Vergünstigungen. Das nächste Mal nehme ich doch meine Sekretärin mit in Urlaub.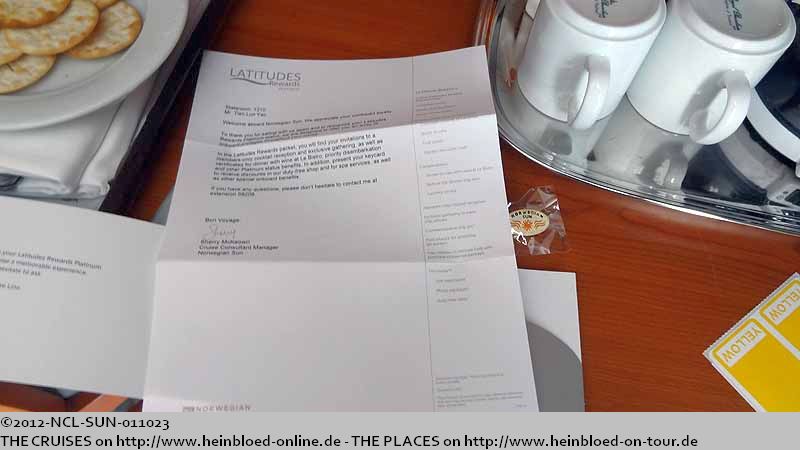 Then we had to read all the mail... all the invitations... all the coupons for discounts. Next time I will have my office assistant with me on vacation.

Und noch mehr Post...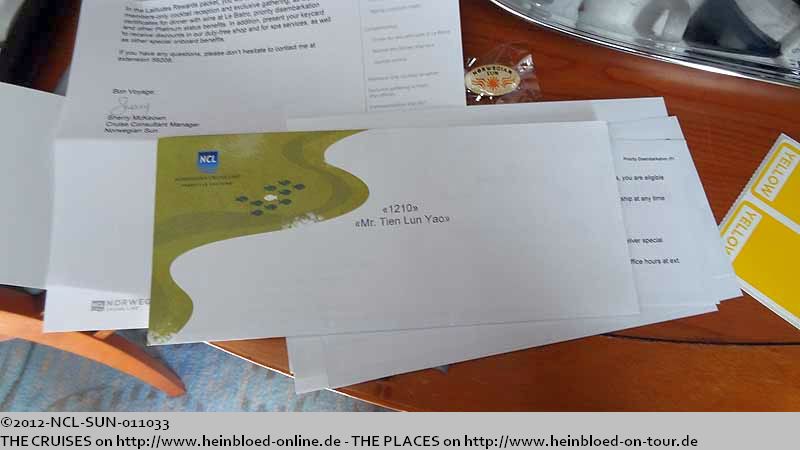 And more mail...

It was the confirmation that our Meet & Greet with cruisecritic.com should run as scheduled.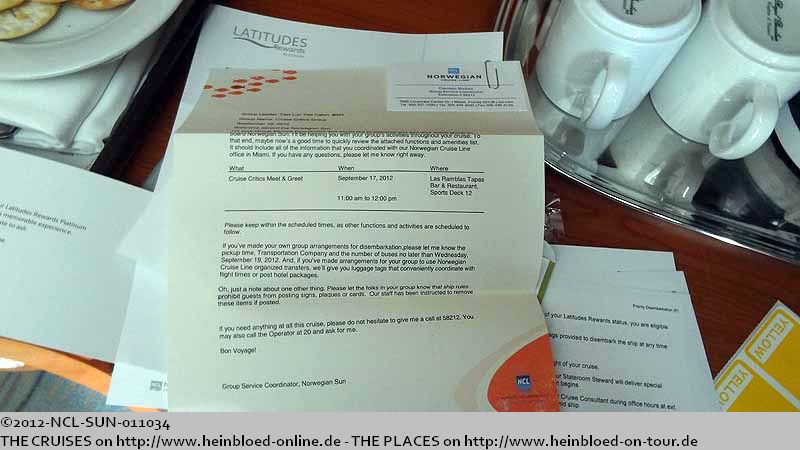 Die Bestätigung, dass mit dem cruisecritic.com Meet&Greet alles in Ordnung ist.
Später fällt auf: es wird extrem zwischen Gold und Platin unterschieden.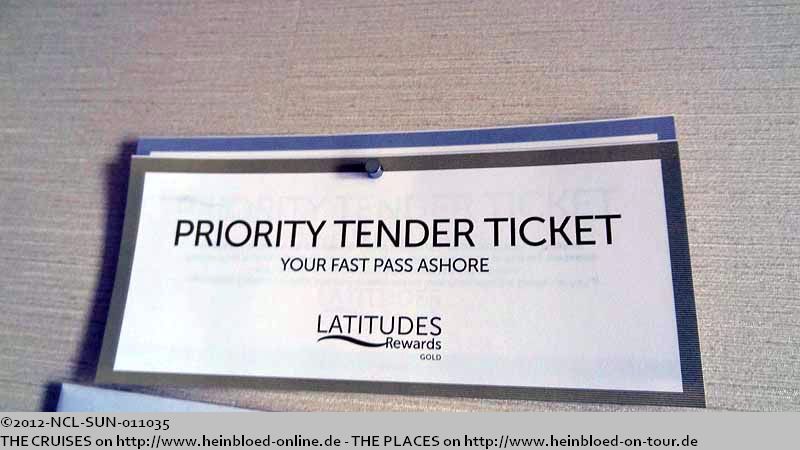 Later we experienced that there was a difference between gold and platinum members.

I was addressed personally as a platinum member while Bruno was addressed generally as gold member.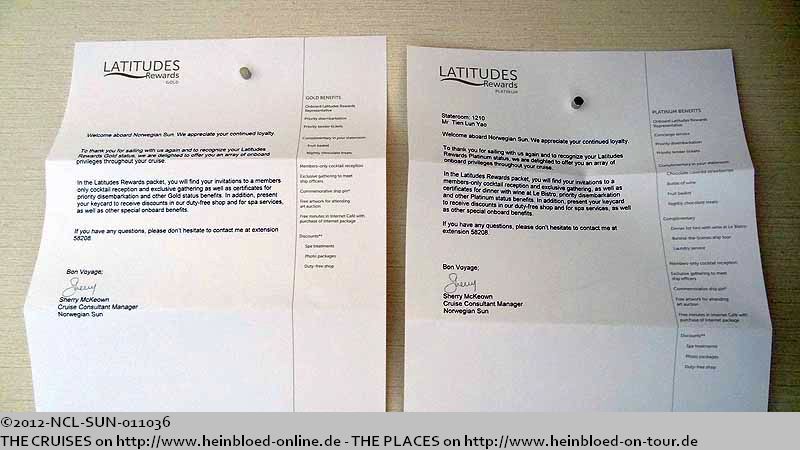 Ich werde als Platin persönlich angesprochen und Bruno als Gold nur noch allgemein.
Dank der Magnete von BJ und Günther, die wir zuletzt auf der ZAANDAM bekommen haben, können wir unser Leben an Bord übersichtlich organsieren.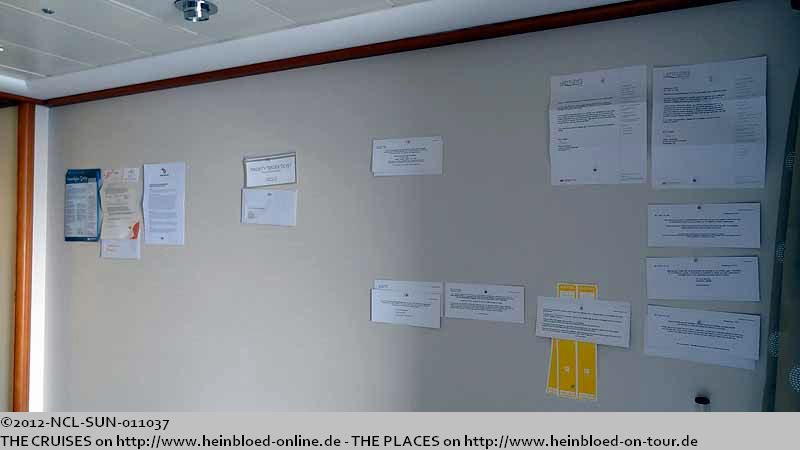 Thanks for magnets which we got from BJ and Günther recently on ZAANDAM. So we could organize our board life very clear.

Our balcony.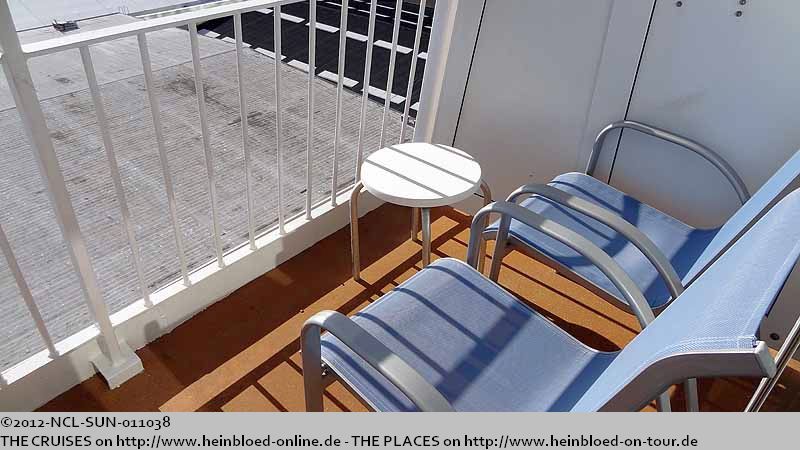 Unser Balkon.
Die Tür haben sie wohl vergessen bei dem letzten Werftaufenthalt zu machen.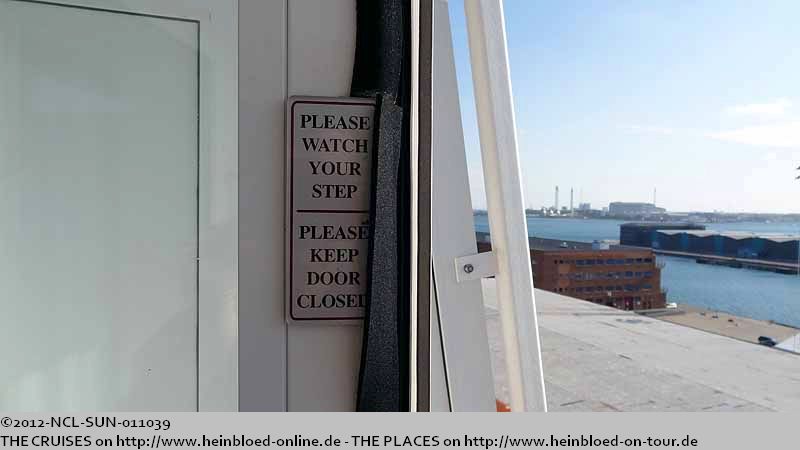 Somehow they forgot to fix this door during the last dry-dock-stay.

There were a few small things which should be fixed. But we were on vacation: so we saw them, and we forgot them.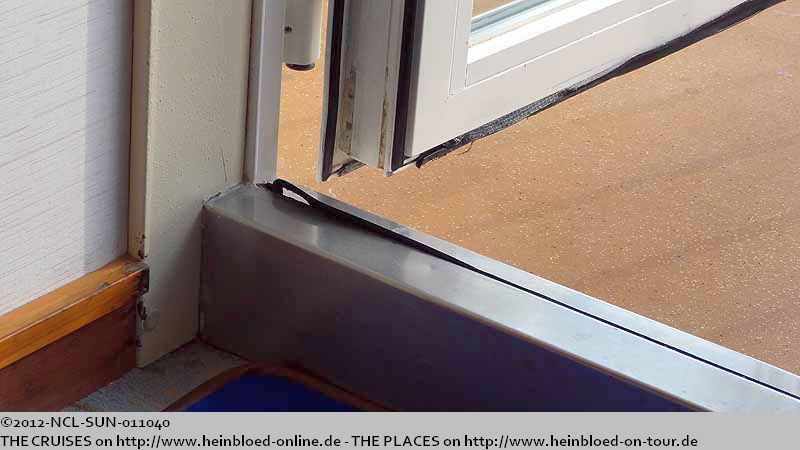 Es gibt ein paar Kleinigkeiten in den Kabinen, die man mal machen sollte. Wir sehen sie, und vergessen sie wieder, weil wir Urlaub haben.
Die anderen Reisen in diesem Blog/
The other voyages in this blog: