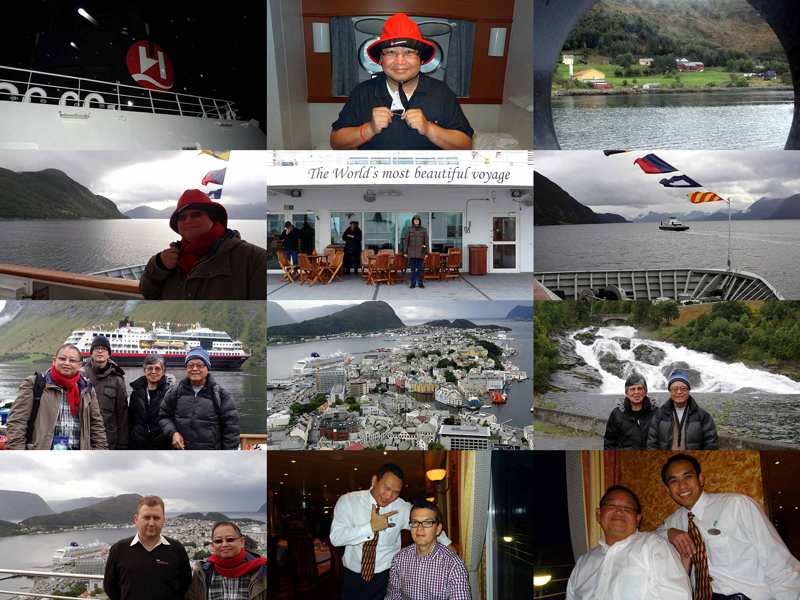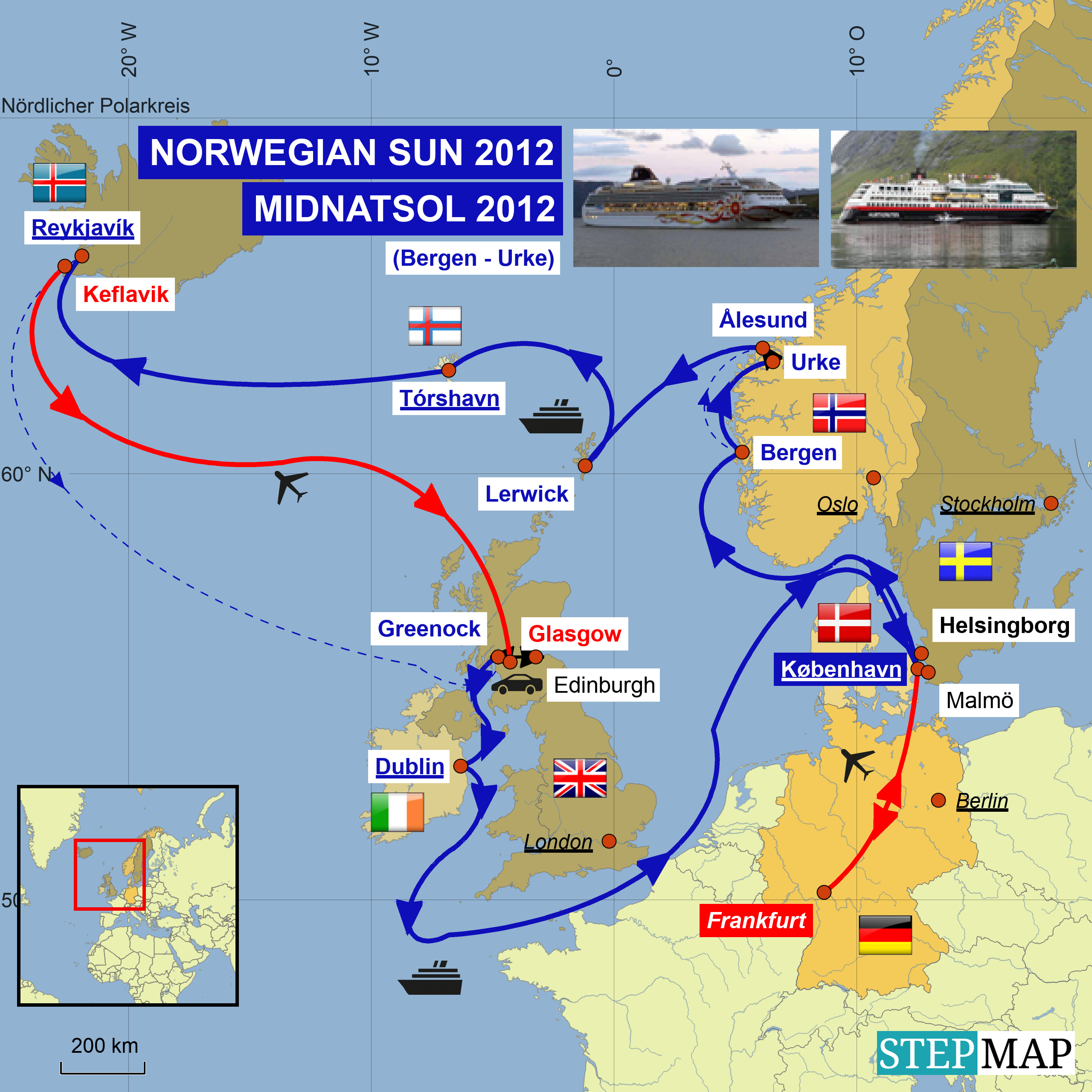 Nachts um 02.00 Uhr werde ich durch das Licht außen geweckt. Das muss Florö sein.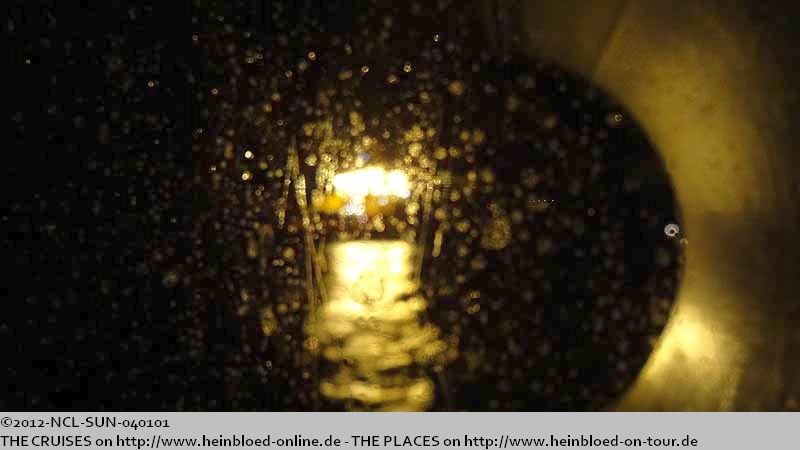 Around 02.00 hrs in the night I woke up by the lights outside. It must be Florö.

I was really interested to see such a call, but apparently, we were behind schedule.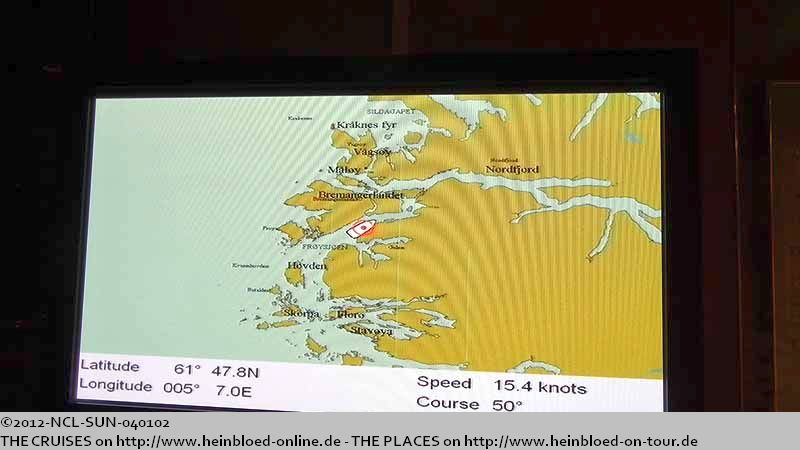 Mich interessiert eigentlich so ein Halt, aber anscheinend hinken wir wohl dem Fahrplan hinterher.
So gehe ich mich auf dem Schiff in Ruhe umsehen.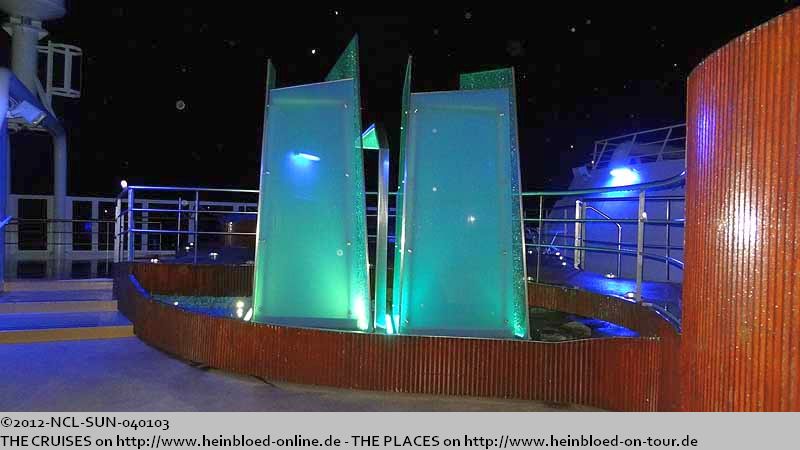 So I walked around the ship to make my discoveries.

If the jacuzzi would be open now: that would be nice...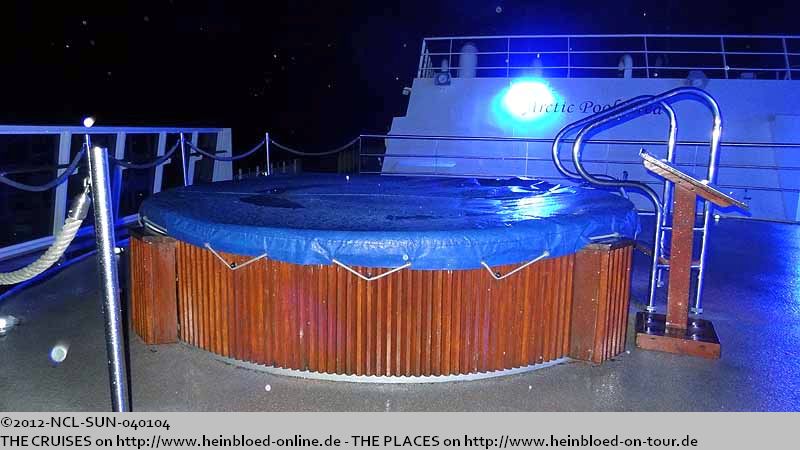 Wenn jetzt der Whirlpool geöffnet wäre: das hätte doch was...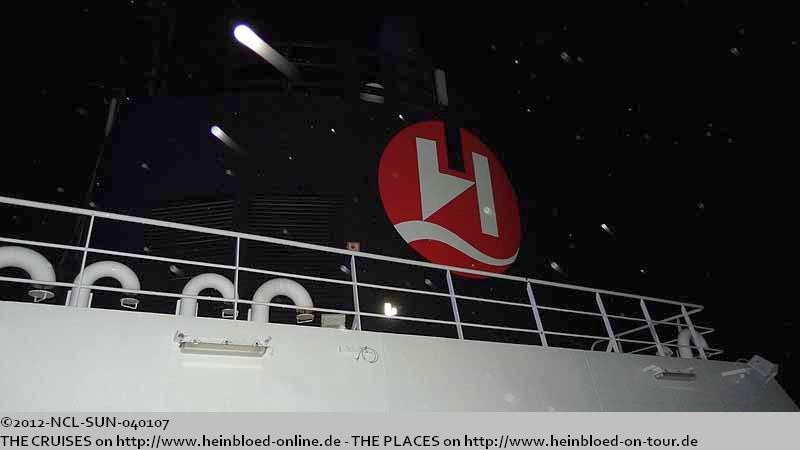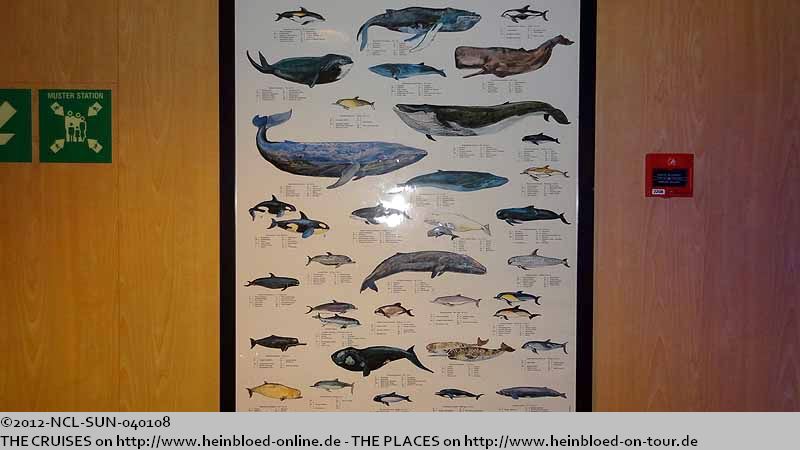 Ein Internet-Café. Allerdings hat fast jedes kleine Dorf mobiles Breitbandinternet, so dass ich mich kaum an die Rechner setzen muss. In der Kabine gibt es kein Internet.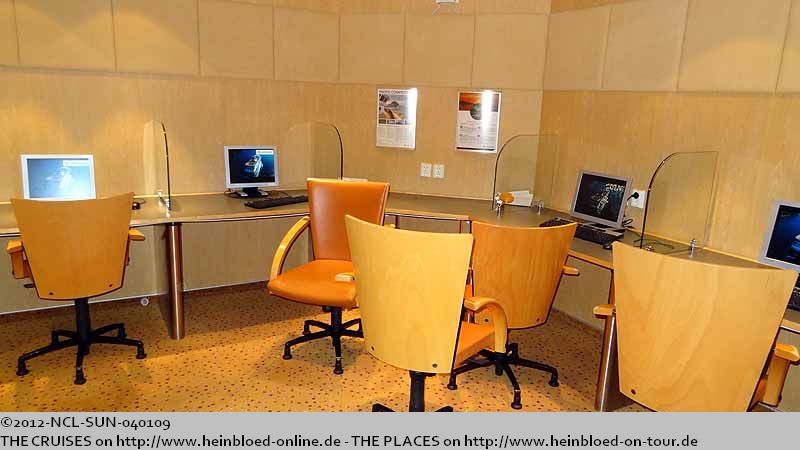 An internet café. But as each little village had mobile broadband internet, there was no need to use it. In the cabin, there was no internet available.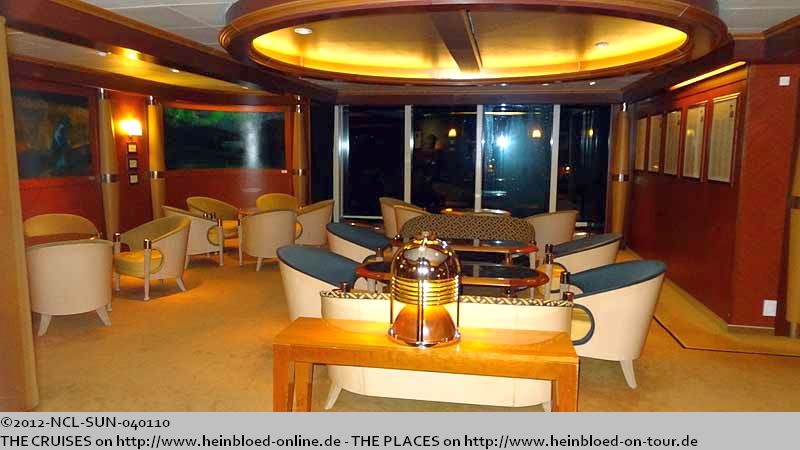 Hier wird jeder Hafen vorgestellt, und was man dort alles machen kann. Ich hatte mal bei Hurtigruten angefragt, wozu sie sich die Mühe machen, wenn wie beispielsweise der nächste Hafen um 02.30 Uhr angelaufen wird und dort nur 15 Minuten gehalten wird. Die Antwort: falls jemand hier aussteigen und wieder beim nächsten Schiff zusteigen will. Wer will aber um 02.30 Uhr aussteigen, besichtigen und 24 Stunden später wieder zusteigen? Nächste Antwort: für diejenigen, die mit dem Auto die Strecke befahren und am nächsten Ort wieder zusteigen: Aber wer will schon um 02.30 Uhr raus, besichtigen und um 07.00 Uhr im nächsten Hafen wieder an Bord?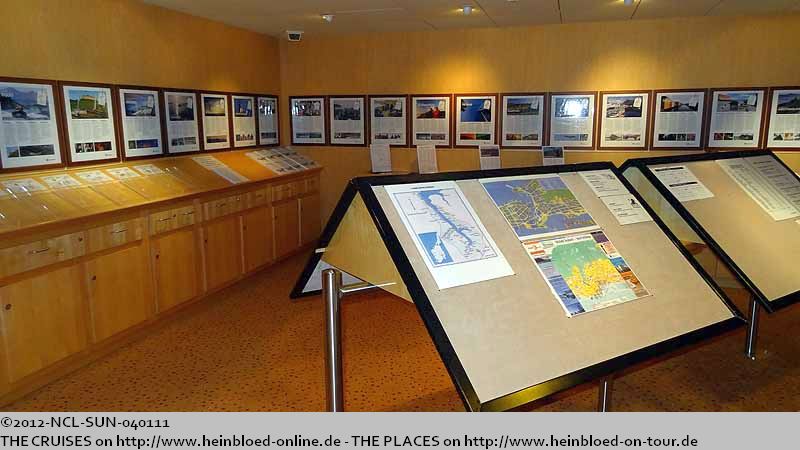 Here they present every single stop and what you can do there. I asked Hurtigruten why they spend the effort to present all ports if the next port will be called at 04.30 hrs in the night and only a 15 minutes stop will be there. The answer: just in case someone would like to leave the ship and rejoin 24 hours later on the next ship. Who wants to leave the ship at 04.30 hrs in the night, doing sightseeing and rejoin the next ship 24 hours later? Next answer: for those who want to do sightseeing with their own car and rejoin the ship at the next port: But who wants to leave at 04.30 hrs and to rejoin at 07.30 hrs in the next port again?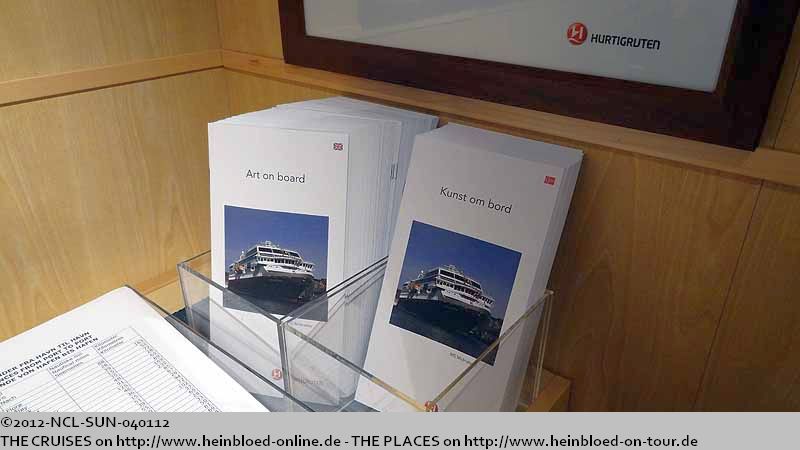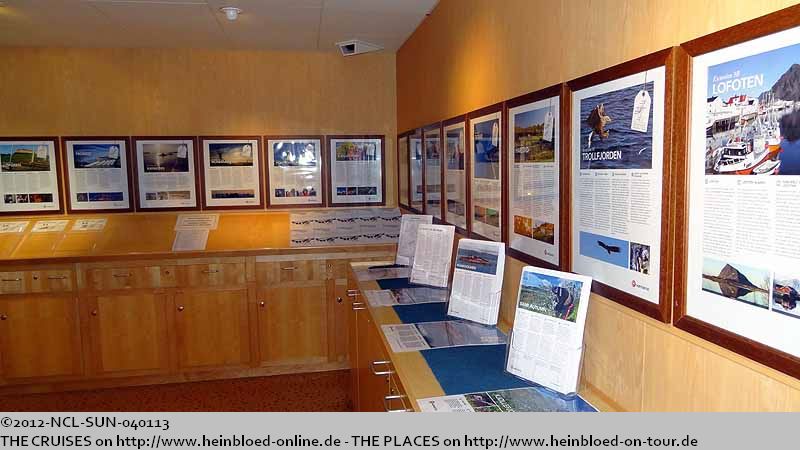 They even had some lessons in Norwegian language.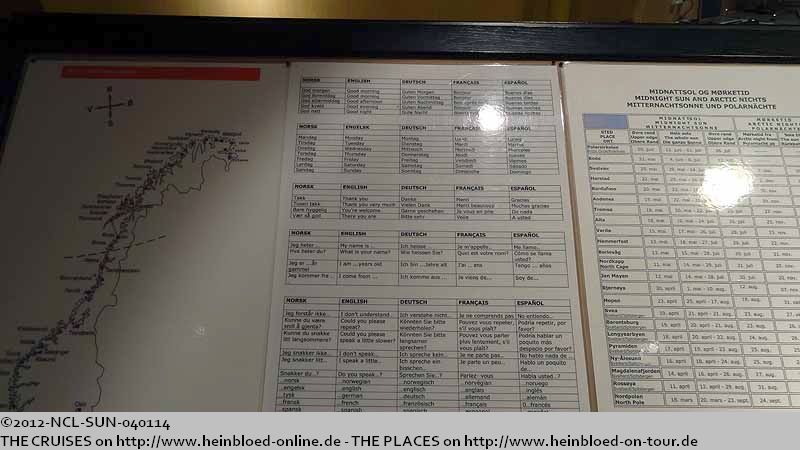 Es gibt her sogar einen kleinen Norwegisch-Kurs.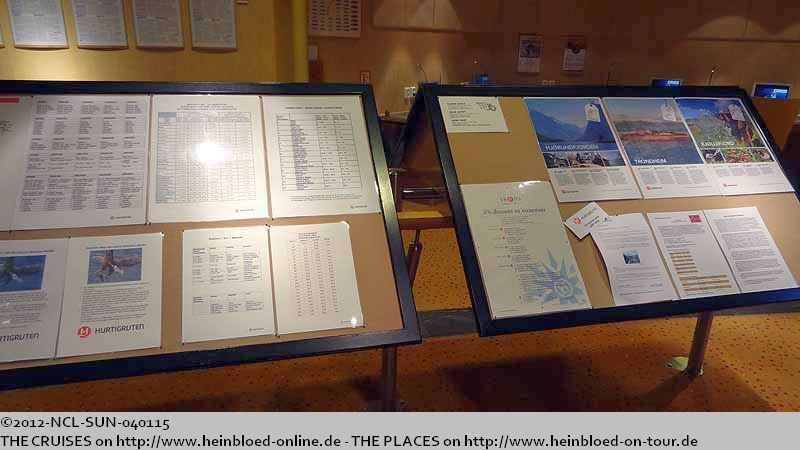 Because you have no TV in your cabin (except suites) you had no clue what is going on in the world while you are on board. To avoid someone on board will become stupid they displayed wall newspaper in different languages.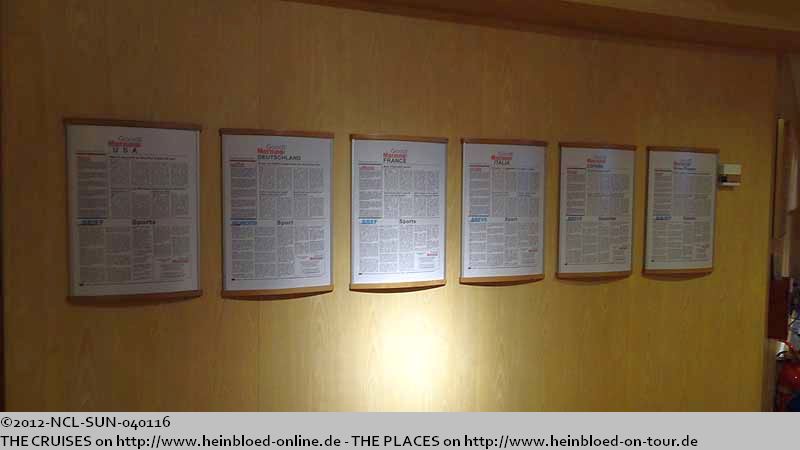 Weil es in den Kabinen (außer Suiten) keinen Fernseher gibt, bekommt man auch nicht mit, was in der Zwischenzeit auf der Welt passiert. Damit niemand an Bord verblöden muss, gibt es hier die Wandzeitungen in verschiedenen Sprachen.
Übrigens nachts kann es auch schon mal passieren, dass man schlafende Gäste in den Loungen findet: man muss ja keine Kabine buchen... Es läuft genauso wie auf einer Klassenfahrt auf der England-Fähre...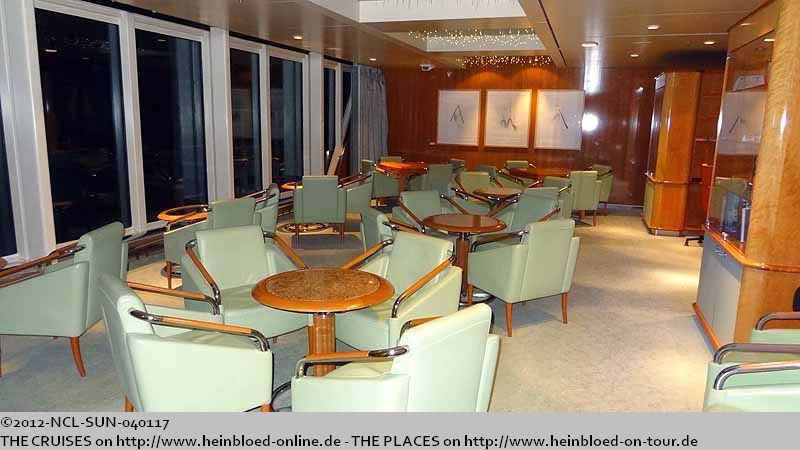 By the way you might meet some sleeping guests in the lounges as you must not book a cabin... Reminded me to our school tours on an England-ferry...

"She does not know" - something I have never heard on a cruise ship... The first individual guests may leave the ship at 12.30 hrs in Urke. You need to pay 75.00 NOK but were not allowed as first from the ship... Our taxi was booked for 12.30 hrs. So I asked for a way to get earlier from the ship because we already suppose to arrive at 11.30 hrs and 11.30 hrs the first group of ship's tour guests supposed to leave the ship. I should check it here above (somewhere on Deck 7 if I remember correctly) with the shore excursion desk. She could not decide by herself but need to check it with her supervisor. But I should see the front desk (Deck 4) and collect tender tickets. Here they said "She does not know" because there were tour tickets for 11.30 hrs (and later) and tender tickets for 12.30 hrs and later. I was nuts to be sent all the time between Deck 4 and 7, and I did not take care of anymore. Would Richard be here Hotel Director I would go to him? But this Hotel Director did not look like that he was interested very much to the problems of his guests.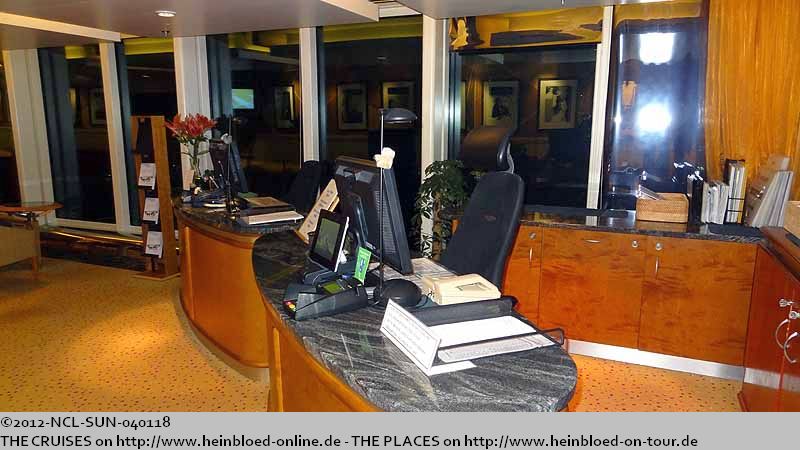 "Sie hat keine Ahnung" - ein Satz, den ich bislang noch nie auf einem Kreuzfahrtschiff gehört habe... Die ersten Individualgäste dürfen erst um 12.30 Uhr in Urke von Bord. Man muss also 75,00 NOK zahlen und darf noch nicht mal als erster von Bord... Unser Taxi ist für 12.30 Uhr bestellt. So bitte ich darum, dass wir früher mit übersetzen können, weil wir bereits um 11.30 Uhr ankommen und um 11.30 Uhr die ersten Ausflügler von Bord gehen. Das soll ich hier oben (irgendwo auf Deck 7 meine ich) mit dem Ausflugsbüro klären. Sie kann nicht alleine bestimmen, sondern muss sich mit ihrer Chefin abstimmen. Ich soll mir aber unten an der Rezeption (Deck 4) die Tendertickets holen gehen. Dort fällt dann der Spruch: "Sie hat keine Ahnung", weil es für 11.30 Uhr (und später) nur Ausflugstickets gibt und sie nur Tickets für 12.30 Uhr und später haben. Irgendwann bin ich es leid, zwischen Deck 4 und Deck 7 hin und her geschickt zu werden, dass mir eh alles egal ist. Wäre Richard hier Hotel Direktor: ich wäre sofort zu ihm gelaufen. Aber der Hotel Direktor hier sieht nicht so aus, als ob er sich für die Probleme seiner Gäste interessiert.

I was interested in a jacket of Helly Hansen and Hurtigruten, but therefore I would need to negotiate with my parents if I could have some of my heritage in advance. I was not interested in buying any shares from Helly Hansen just a jacket.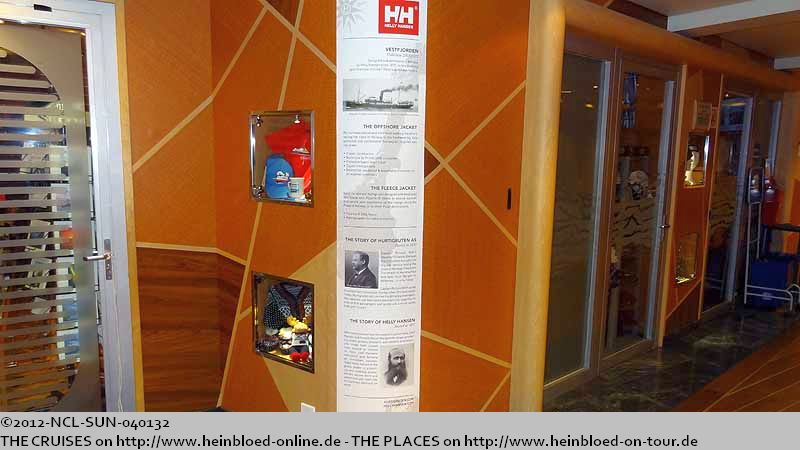 So eine Helly Hansen-Jacke von Hurtigruten hätte mich schon interessiert, aber da hätte ich mit meinen Eltern verhandeln müssen, ob ich noch ein Teil meines Erbes vorzeitig ausgezahlt bekomme. Ich wollte keine Anteile von Helly Hansen, sondern lediglich eine Jacke.
Weiter geht es auf dem Schiff...

Let's continue to discover the ship.

In this lounge, you had the MIDNATSOL of the different generations.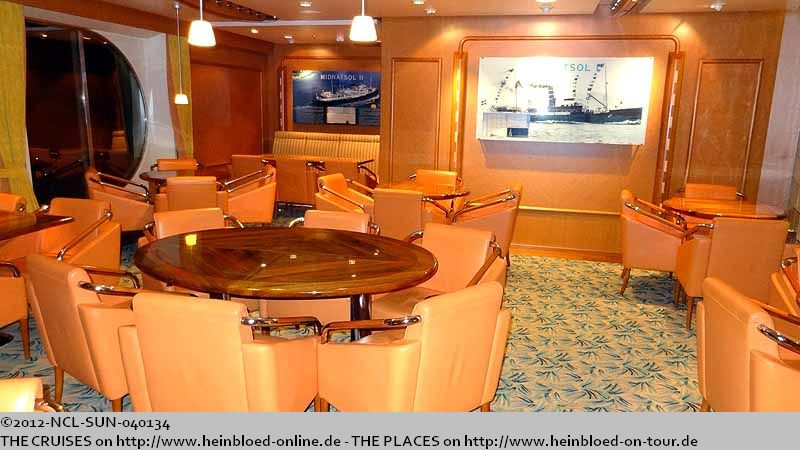 In dieser Lounge gibt es die MIDNATSOL der unterschiedlichen Generationen.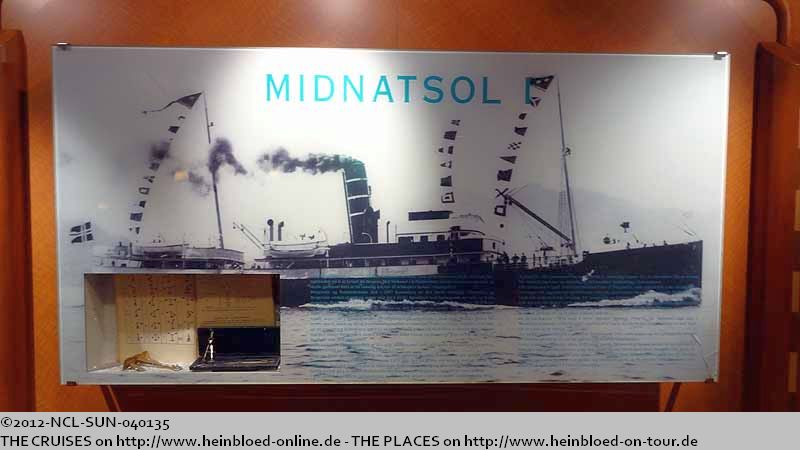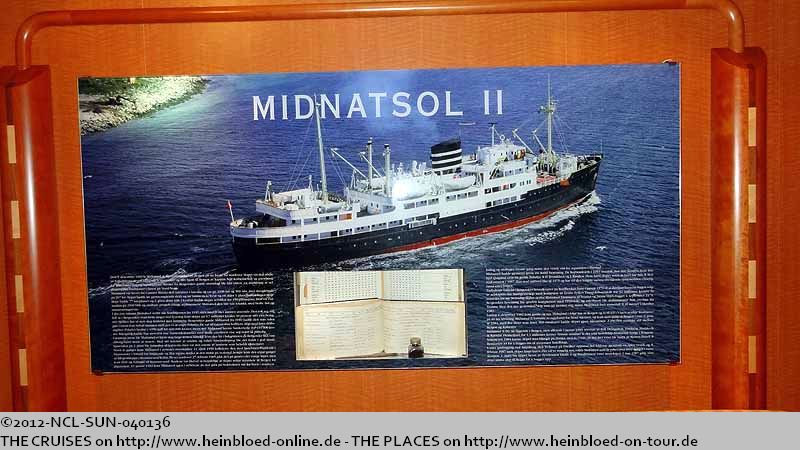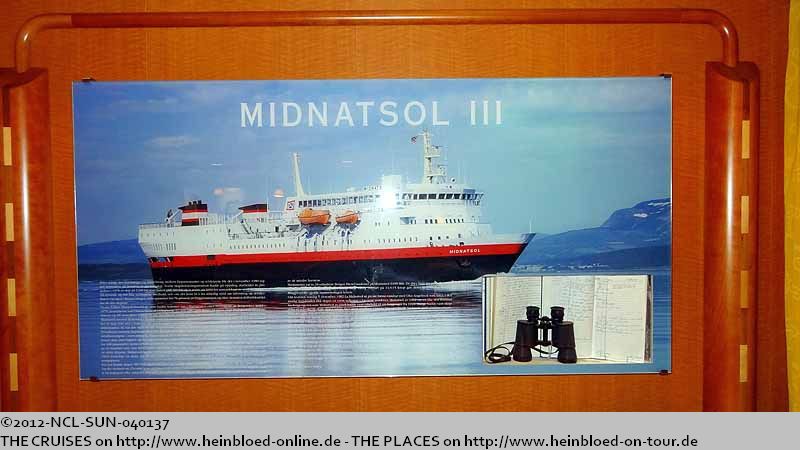 And a children's corner... but the kids need to entertain themselves.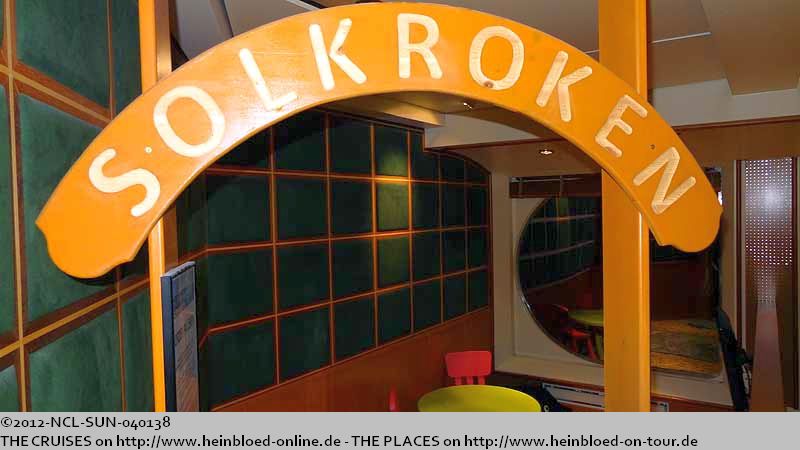 Und eine Kinderecke... aber die Kinder müssen sich selbst beschäftigen.
Der unbewachte Gepäckaufbewahrungsraum.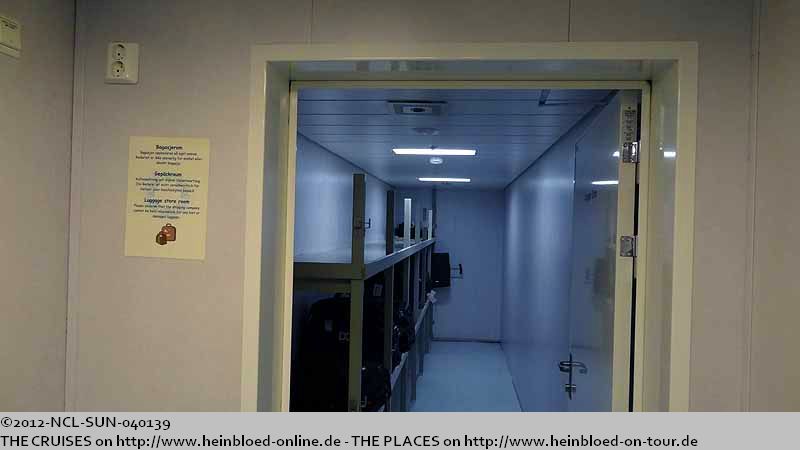 The unattended baggage storage room.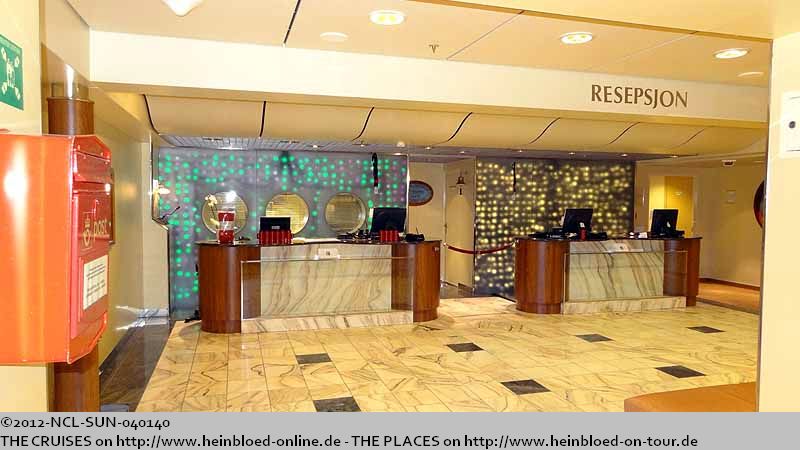 Hier muss man sich selbst das Tagesprogramm rausholen.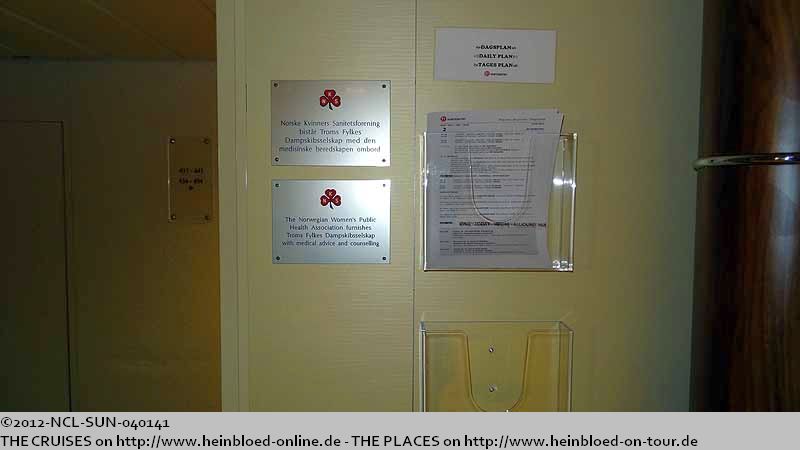 Here you must pick-up the daily programme by yourself.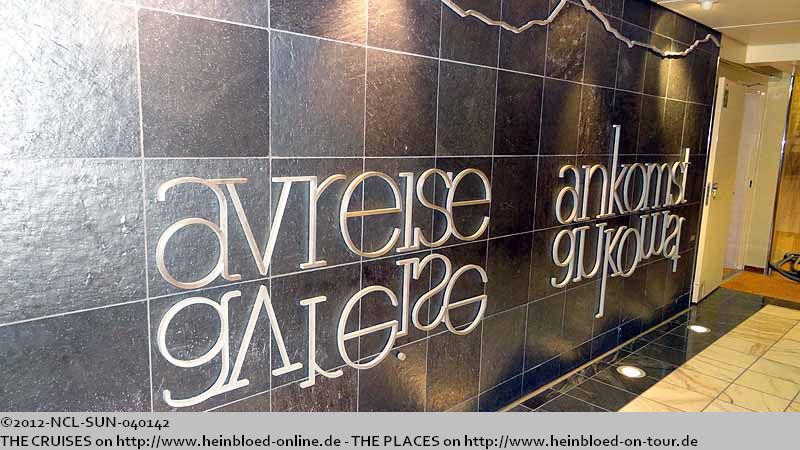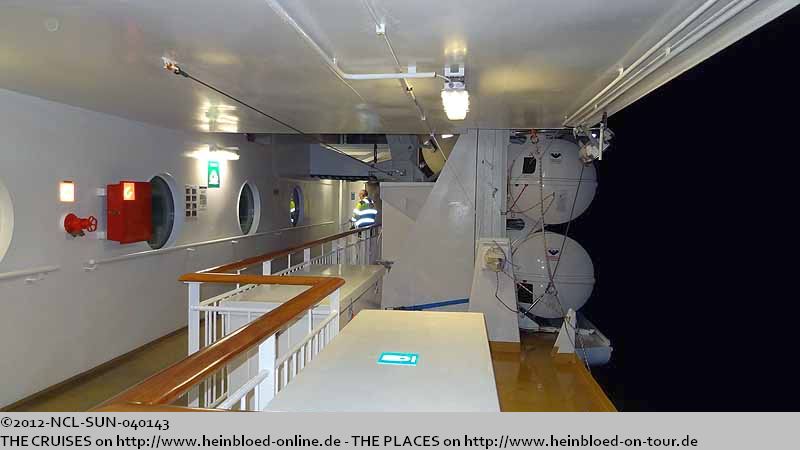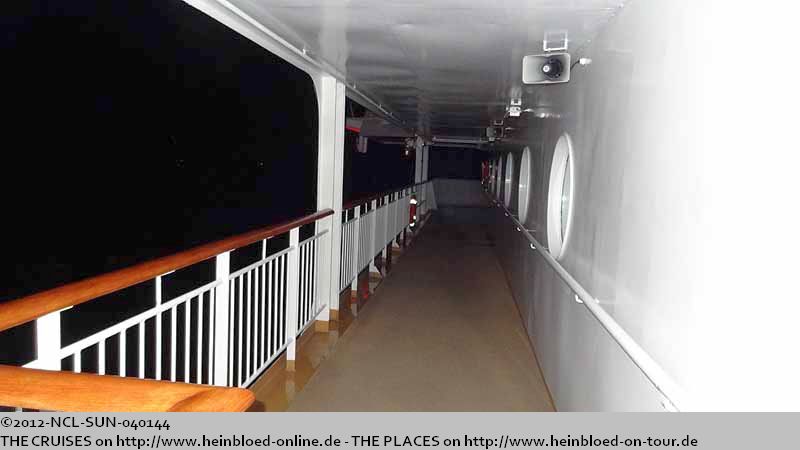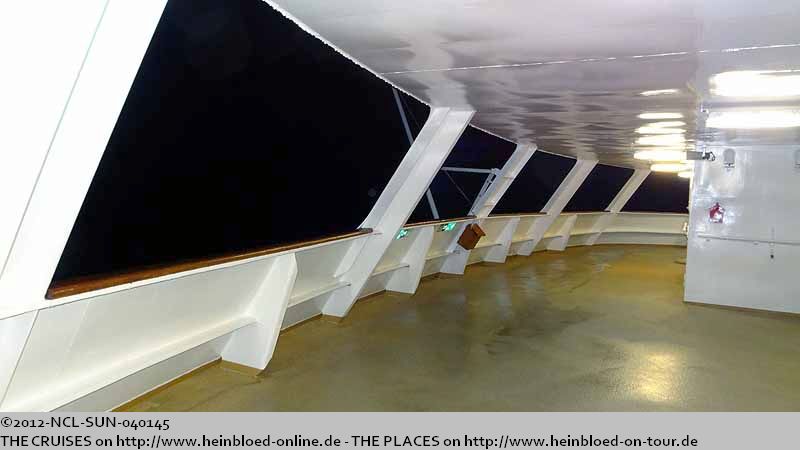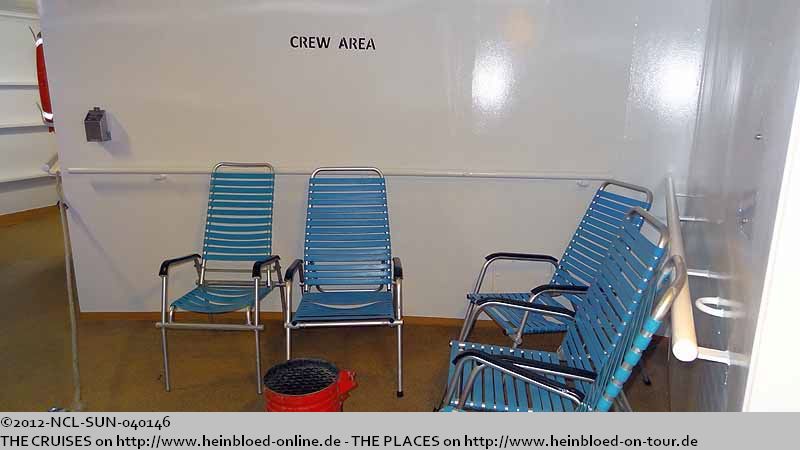 Oh... möchte ich wirklich da rein?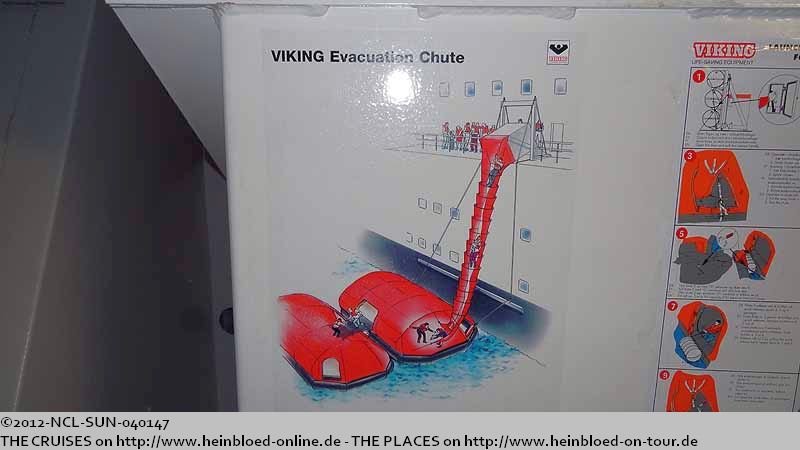 Oh... do I really want to go here into?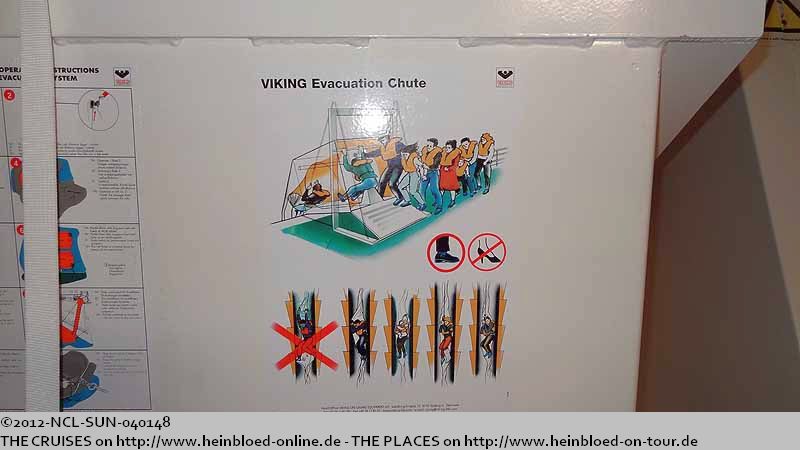 Wir sind immer noch nicht da...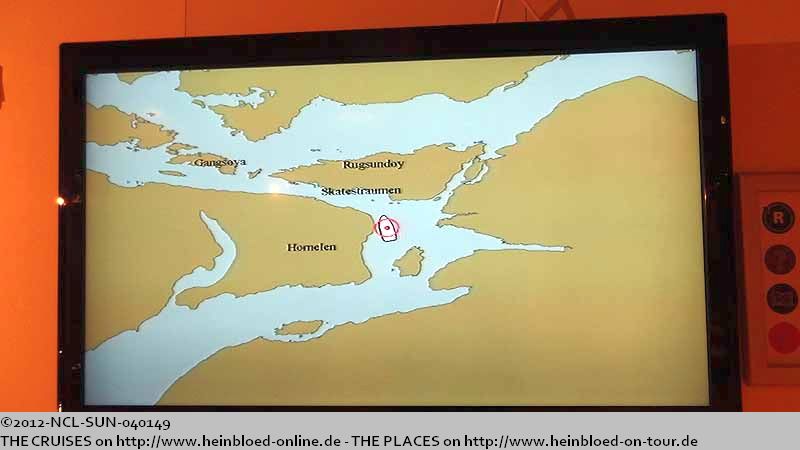 We had not arrived yet...

The ship's bell of the previous MIDNATSOL.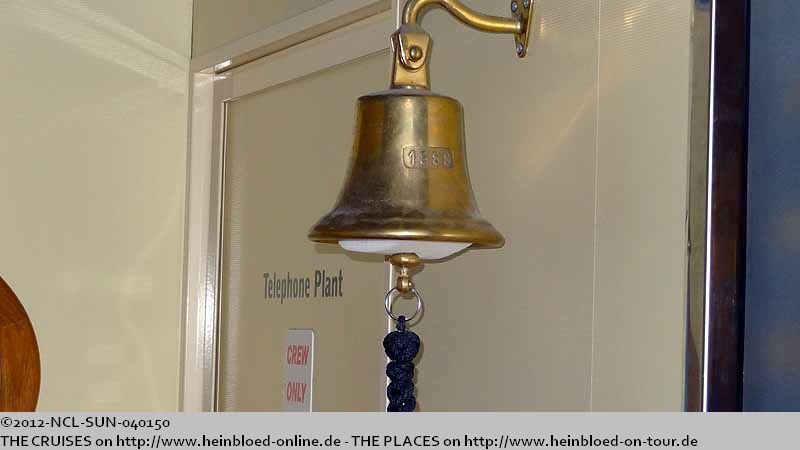 Die Schiffsglocke der bisherigen MIDNATSOL.
Made in Norway.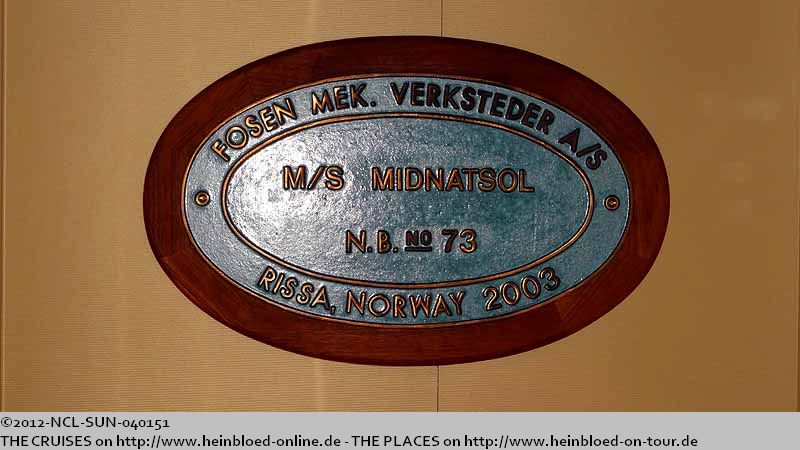 Made in Norway.

Our South Westerner...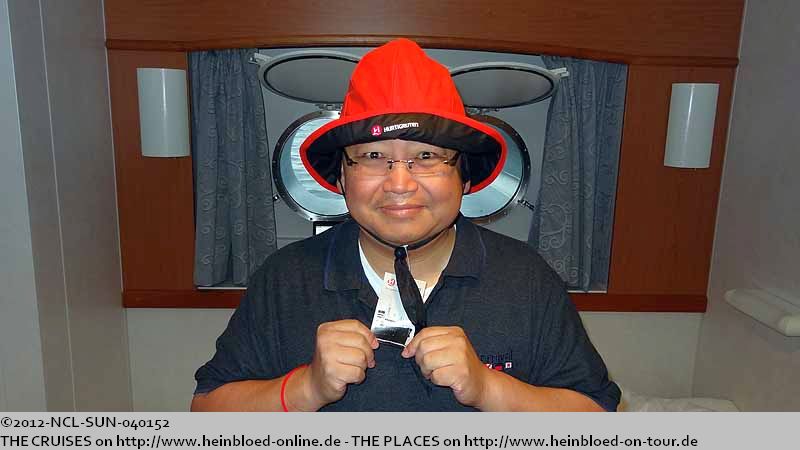 Unsere Südwester...
Bruno allerdings in gelb.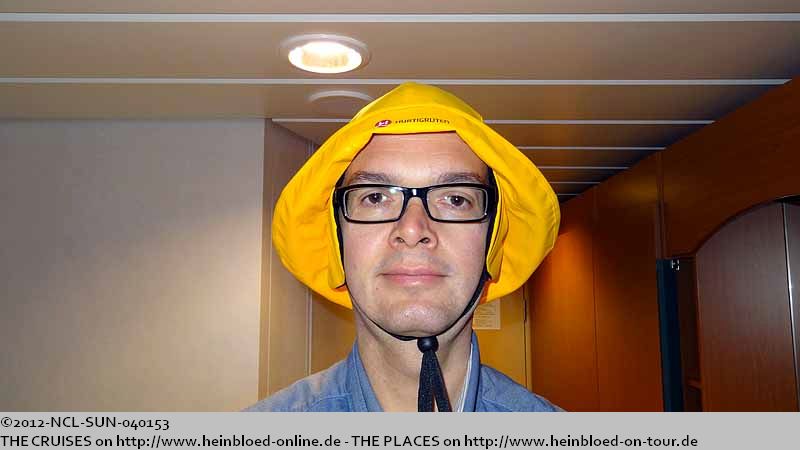 But Bruno in yellow.

Few pictures from the ship when it was bright.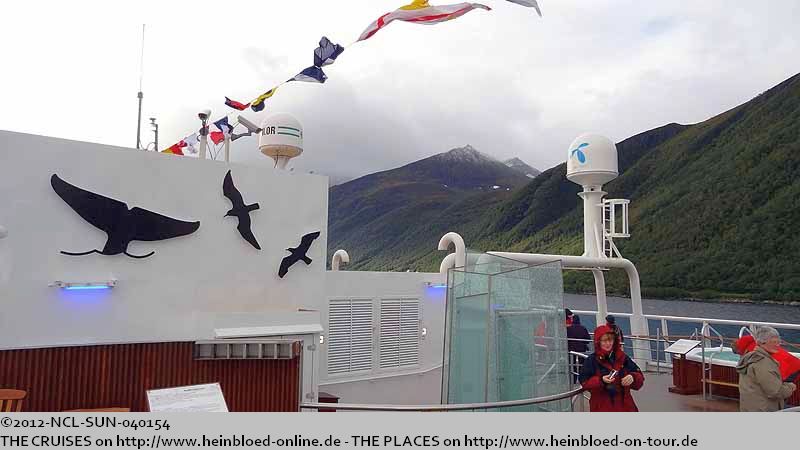 Die Bilder vom Schiff dann später als es hell wird.
Hier werden so eine Pfannkuchenspezialität angeboten. Alles extra. Kein Inklusivsnack zwischendurch, wie auf einem Kreuzfahrtschiff geschweige denn 24-Stunden-Service und Essen wie bei NCL. Und mit 37,00 NOK liegt der Hot Dog noch höher als die Cola mit 33,00 NOK...

Here they offered a pancake-speciality. All extra. No inclusive snack between the meals like you have on a cruise ship or 24-hours-service and snack like with NCL. And with 37.00 NOK the Hot Dog was more expensive than the Coke with 33.00 NOK...

It was windy and rainy outside you are sitting in the jacuzzi... How much I would love this. But it was not possible but later.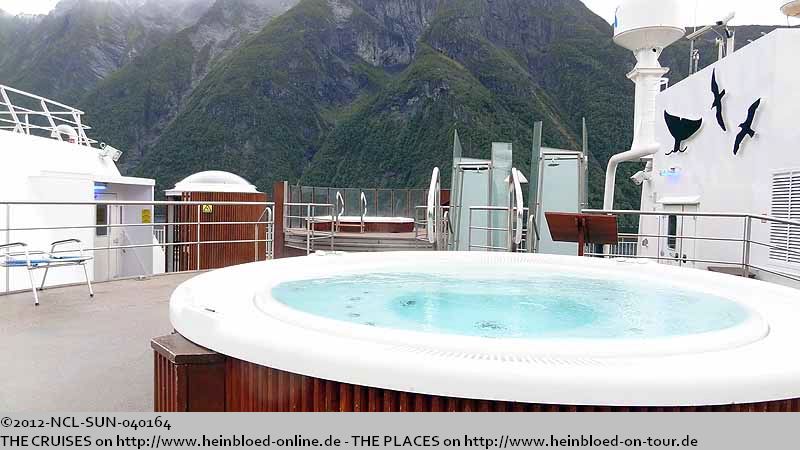 Draußen windet und regnet es und man sitzt im Whirlpool... Wie gerne hätte ich es gemacht. Nur ging es nicht mehr, aber dazu mehr später.
Die anderen Reisen in diesem Blog/
The other voyages in this blog: