Scroll down for English explanations - alternates with German explanations.

Wir gehen mal in die Bliss Ultra Lounge. Der Boden am Eingang glitzert in Gold. Die Mädels sind beeindruckt.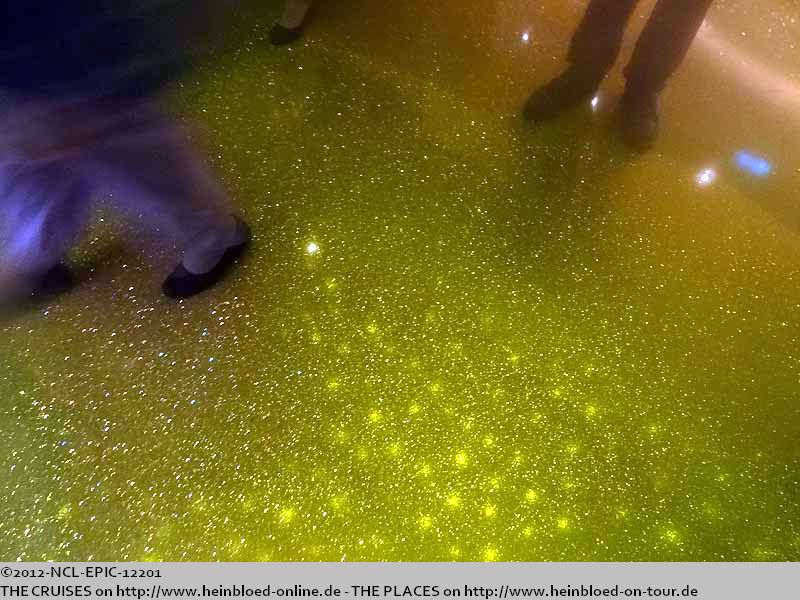 We went to the Bliss Ultra Lounge. The girls were impressed of the golden-glittering floor at the entrance area.

We were immediately asked to participate to the family-friendly Karaoke because nobody did not like to do.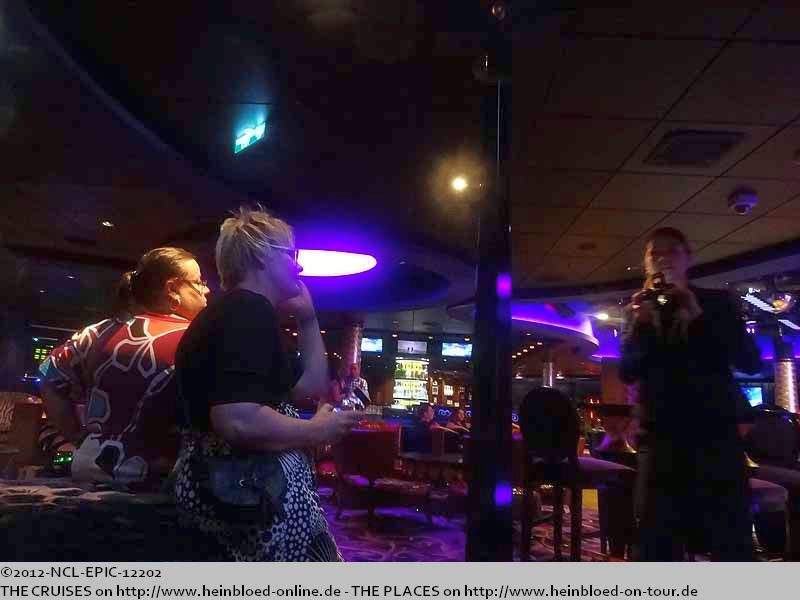 Wir werden direkt aufgefordert am familienfreundlichen Karaoke teilzunehmen, weil sonst kein anderer will.
Wir wollen allerdings auch nicht. Normalerweise würden Rosa und ich das sofort machen. Schlimmer als in Hamburg, als die Sänger von Mamma Mia sich genötigt sahen, uns als ihre Hintergrundsänger zu untersützen, damit es nach etwas klingt, kann es nicht mehr werden... nur wir sind viel zu müde. Ich hatte ja vorher sicherheitshalber mich damit angefreundet, UNTER UMSTÄNDEN "Eres tu" zu singen, aber da nur spanische Kinder im Alter zwischen 4 und 10 anwesend sind, würden die das Lied eh nicht mehr kennen. Und für die Eltern habe ich auch keine Lust zu singen. Die lassen ihren Kindern freien Lauf. Und für die Crew von NCL hier habe ich auch keine Lust zu singen, weil sie die Bliss Ultra Lounge um 21.30 Uhr zum Kinderparadies verkommen lässt.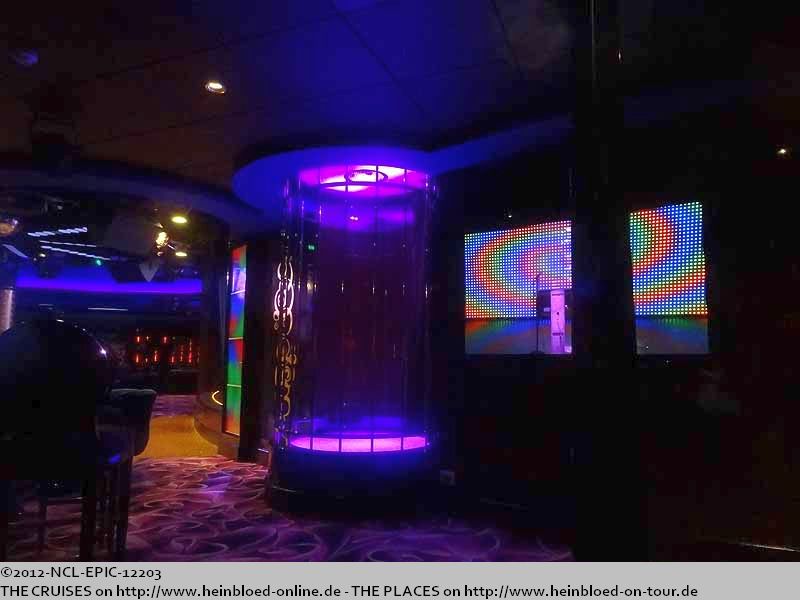 But we did not want either. Normally Rosa and I would do it immediately. It cannot be worse than in Hamburg when the singers of the Musical Mamma Mia saw a need to give us support as our background-singers. I was somehow prepared to sing EVENTUALLY "Eres tu" ("Catch the Wind") but only for Spanish kids in an age between 4 and 10 it would not make too much sense as I do not expect them knowing the song. And for their parents I disliked to sing either. They let their kids doing too much on their own. And for the NCL-crew I did not like to sing either because they accept that 21.30 hrs the Bliss Ultra Lounge became a kid's world.

Right in the cage everything was ready for dance at the rod like in "Flashdance". But none of the girls was willing to show one.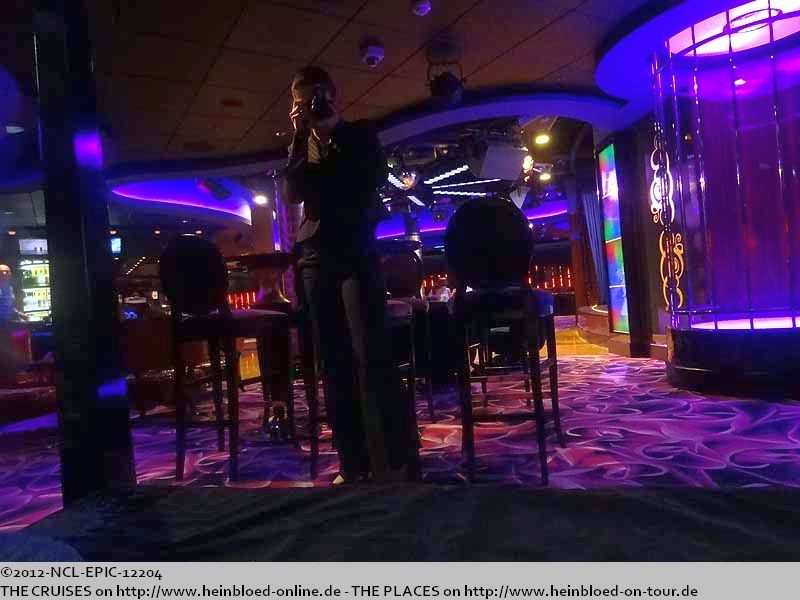 Rechts in dem Käfig steht alles für so einen Tanz an der Stange bereit wie bei "Flashdance". Aber keiner meiner Mädels will rein.
Nachdem wir mal geschafft haben, eine der Liegen für uns zu occupieren, nach dem die Kids nicht schnell genug waren, ruhen wir uns mal für einen Moment aus...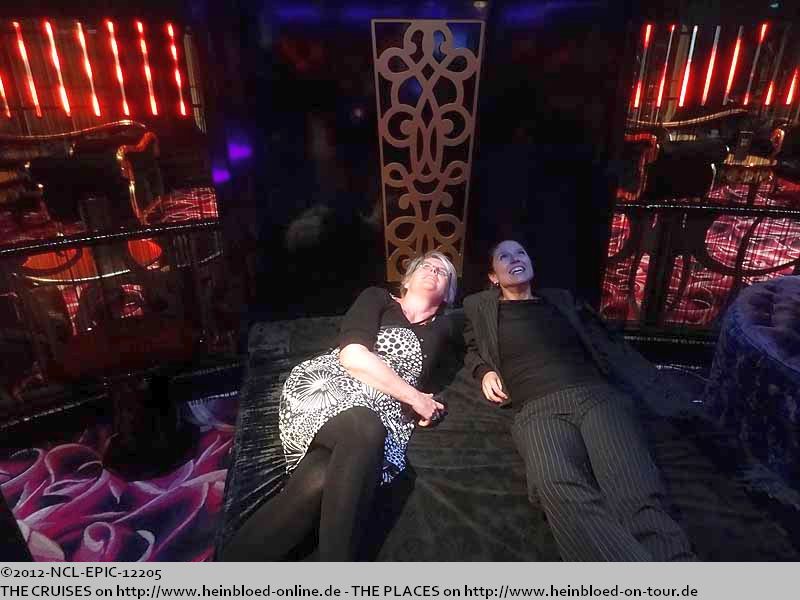 After we made somehow that we could occupy a bed for us after the kids were not returning fast enough, we all made a little nap.

But we could not convince Bruno to do a table dance or a dance at the rod either. Whar were kids doing here at such a place?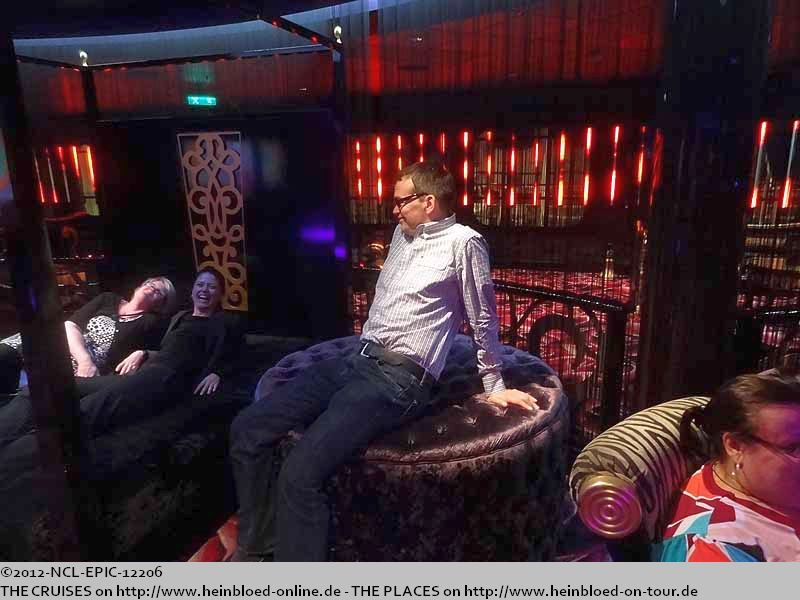 Auch Bruno können wir weder zu Table Dance noch zu einem Tanz an der Stange überreden. Was haben daher kleine Kinder an so einem Ort zu suchen?
Weil es hier dann irgendwann wegen der Plagen ungemütlich wird (kann nun mal auf dieser 7-er-Runde ab Barcelona und Civitavecchia passieren, dass ein paar Kinder zuviel an Bord sind, die außer Kontrolle geraten...), ziehen wir später ins O Sheehan's um dort noch etwas zu trinken. Aber so richtig gemütlich ist es dort auch nicht. Hoffentlich werden die Fehler der NORWEGIAN EPIC auf der NORWEGIAN BREAKAWAY wieder korregiert.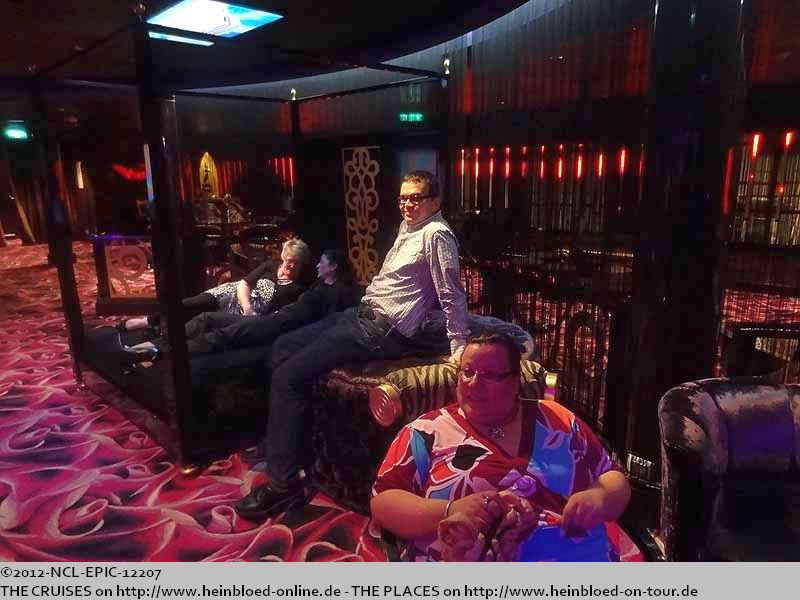 Because it became more and more unpleasant because of the screaming and running kids (could happen on the 7 nighter out of Barcelona and Civitavecchia that there were too many kids onboard and some of them are out of control...) we preferred to have a drink in O'Sheehans. But it was not the comfy place at all. I truly hope that mistakes they made on NORWEGIAN EPIC will be correctd on NORWEGIAN BREAKAWAY.

Bruno and I reached our dead point. So we did not go to Blue Man Group because we need a little to time to say hello to our friends before we go to bed. So I gave up my intention to join this event later adn sing with the others.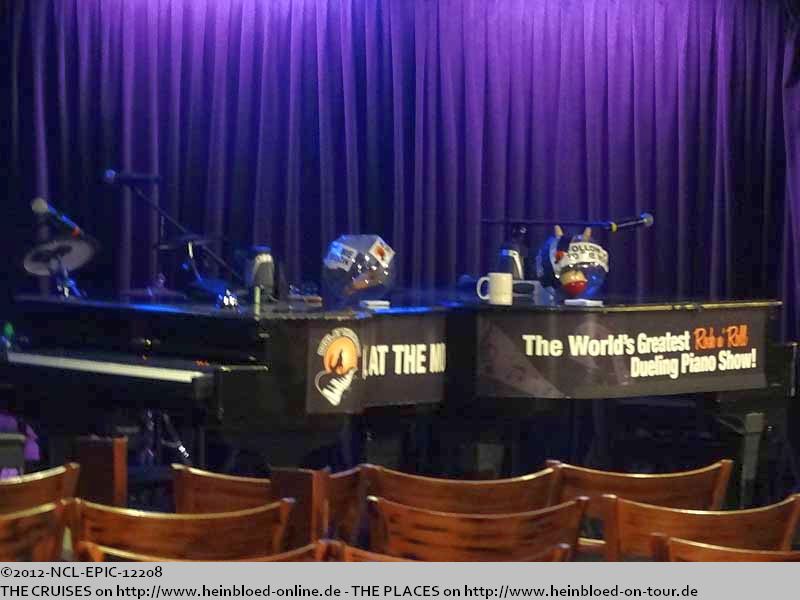 Bruno und ich haben unseren toten Punkt erreicht. Wir verzichten auf die Blue Man Group, weil wir auf versuchen wollen, zumindest einigen unserer Freunde Guten Abend zu sagen, bevor wir ins Bett gehen. Mit der Absicht noch hier später mitzusingen, wird es also auch nichts mehr.
1.700 Crew-Mitglieder und wir nur eine Nacht an Bord und wir treffen Julia wieder, die wir von der NORWEGIAN DREAM damals her kennen.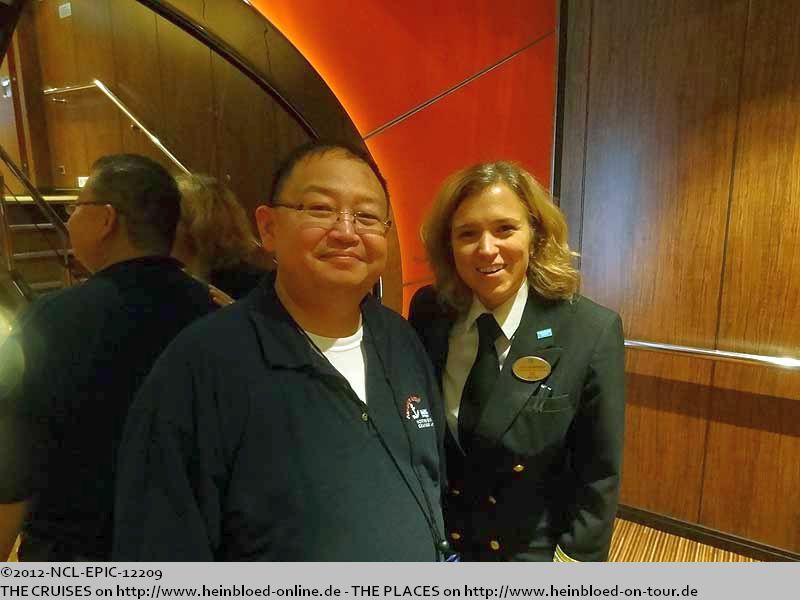 1.700 crew-members and us for one night onboard and we met Julia again, whom we know from NORWEGIAN DREAM.

Guests were still queing for tables in The Manhattan MDR. For the waiting guests they offered some canapés. We went just quickly there to thank Luiza for her cabin greetings. So we learned that we will see here again when NORWEGIAN BREAKAWAY will be opened. We hope that she will have a weekend off while she will be in the Papenpurg Shipyard so we can take her around in Germany. We are then guests in The Haven. Let us see if I get then my Cesar's Salad... Today it did not work either. She does not any chance open to let me book again NCL...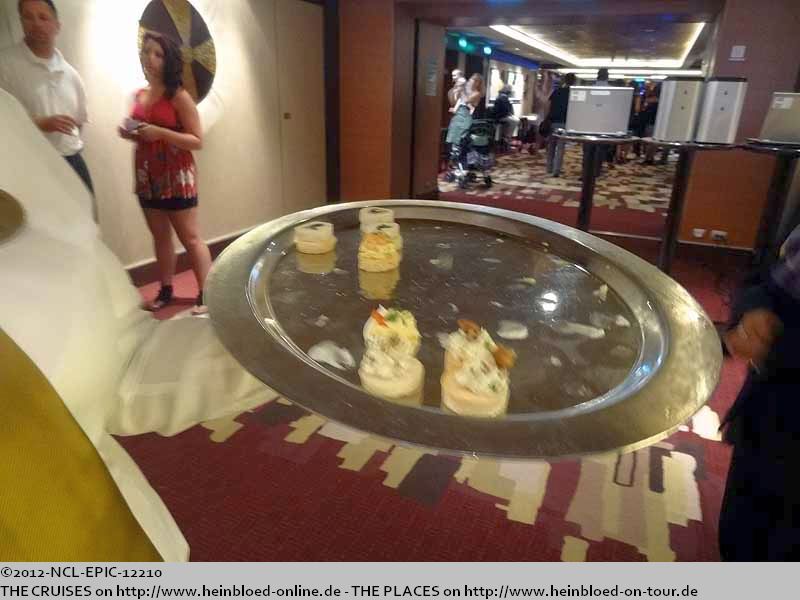 Gäste stehen immer noch an, um einen Tisch im Manhattan Hauptrestaurant zu bekommen. Für die Wartenden werden Canapés gereicht. Wir gehen nur kurz hin, um nochmals uns für die Kabinengrüße bei Luiza zu bedanken. So erfahren wir, dass wir sie zur Eröffnung der NORWEGIAN BREAKAWAY sehen. Wir hoffen, dass sie in der Zeit in Papenburg ein Wochenende frei hat, damit wir sie vielleicht mal in Deutschland herumführen können. Wir sind ja dann Gäste im The Haven. Hoffentlich bekomme ich dann mal endlich mal meinen Cesar's Salad... Heute hatte es ja wieder nicht geklappt. Sie lässt ja nichts unversucht, dass ich ja NCL wiederbuche...
Natürlich muss ich auch Valentina besuchen. Weil aber wieder die Spanier sehr spät essen gehen, muss ich auch später gehen, um mal eine Minute mit ihr sprechen zu können. Auch bei ihr freue ich mich, dass wir sie bei der Eröffnung der NORWEGIAN BREAKAWAY wiedersehen. Auch für sie das Angebot: wenn sie ein Angebot frei haben sollte: sie soll sich melden, das wir sie herumführen können.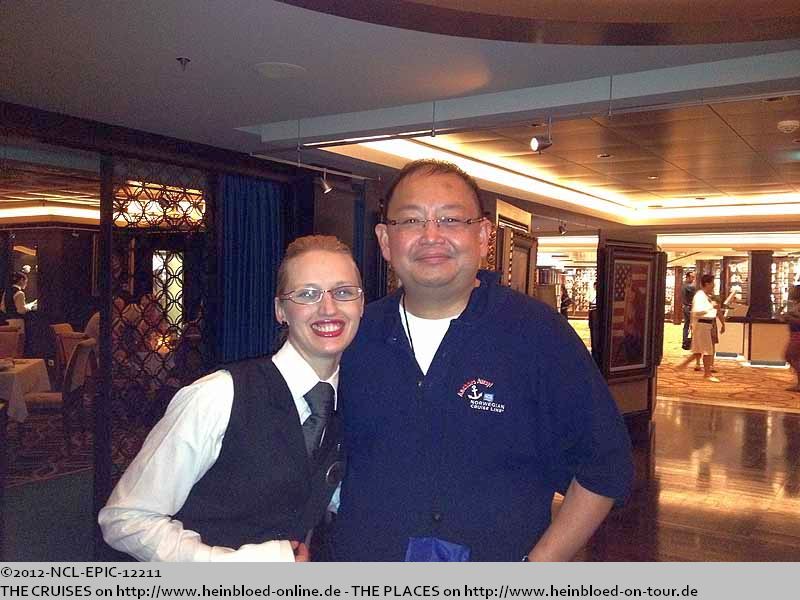 Of course I had to see Valentina. Because the Spanish guests liked to dine very late I need to see her also later to have one minute with her. I was happy to hear that she will be also there when NORWEIGAN BREAKAWAY will be opened. Also for her the offer: if she has off on a weekend day she should let us know that we can take her around in Germany.

And representing all NCL-Crew-Members who carry us on their arms I wanted to carry Valentina on my arms and to thank all NCL-Crew-members for their efforts with this pictures!!! My girls would not appear in the EPIC-Shirts without the help of Valentina. Therefore thank you again.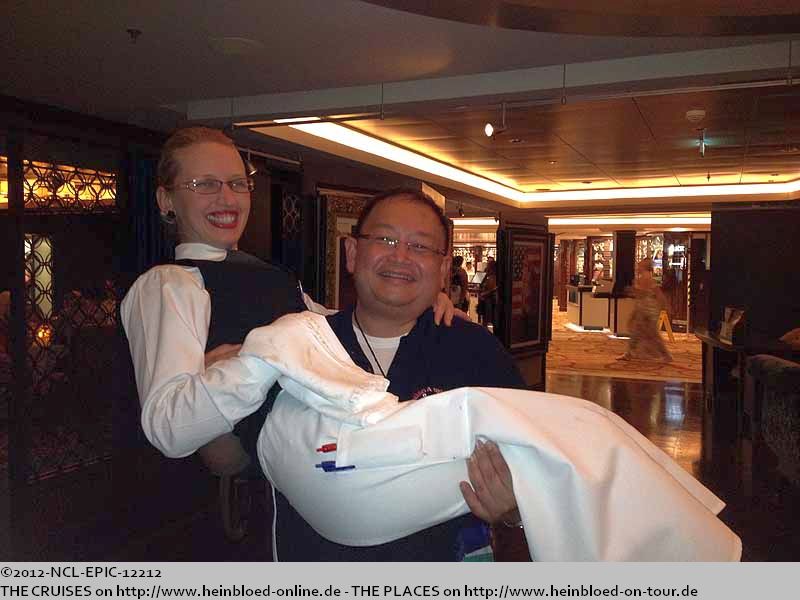 Und stellvertretend für alle NCL-Crew Mitglieder, die uns immer auf den Händen tragen, möchte ich einmal Valentina auf den Händen tragen und mich bei allen NCL-Crew Mitgliedern mit diesem Bild bedanken!!! Meine Mädels würden übrigens ohne Valentinas Hilfe nicht alle in den EPIC-Shirts rumlaufen. Auch dafür nochmals vielen Dank.
Last not least: Andrew Hebbert. Er lässt nicht zu, dass ich mit Nicht-NCL-Shirts auf NCL-Schiffen herumlaufe und als es noch keine NCL-Polo-Shirts zu kaufen gab, geht er einfach in seine Kabine und gibt mir ein Shirt von sich, damit ich endlich mal eines habe. Auch ihn sehen wir zur Eröffnung der NORWEGIAN BREAKAWAY wieder und auch für ihn das Angebot, falls er ein freies Wochenende haben sollte. Und Andrew und Valentina gehören zu den Besten NCL-Botschaftern auf Facebook, die es gibt: Immer fragen sie nach, wie es einem geht und wann sie uns wieder mal bei NCL begrüßen dürfen. Es sind solche Crew-Mitglieder wie die beiden, die uns immer wieder NCL buchen lassen.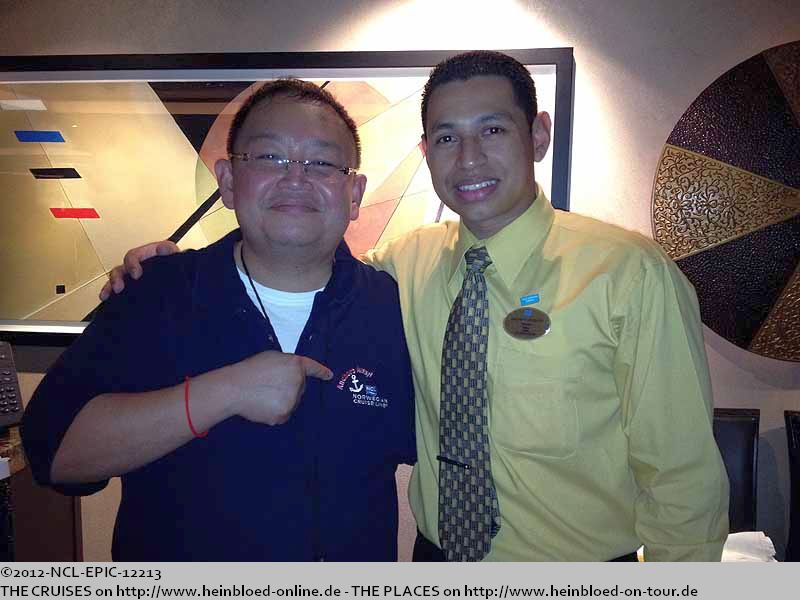 Last not least: Andrew Hebbert. He did not allow me to show up with Non-NCL-Shirts on NCL-ships and when you could not buy NCL-Polo-Shirts he just went to his cabin and get a shirt from him for me that I had no excuse anymore not to wear one. We see him also on NORWEGIAN BREAKAWAY and also for him the offer to take him around if he has weekend off. And Andrew and Valentina are part of the best NCL-ambassadors on Facebook and NCL could be very proud to have them: from time to time they always ask how we are doing and when they can welocme us again on an NCL-ship. Because of crew-members like them we book again and again NCL.