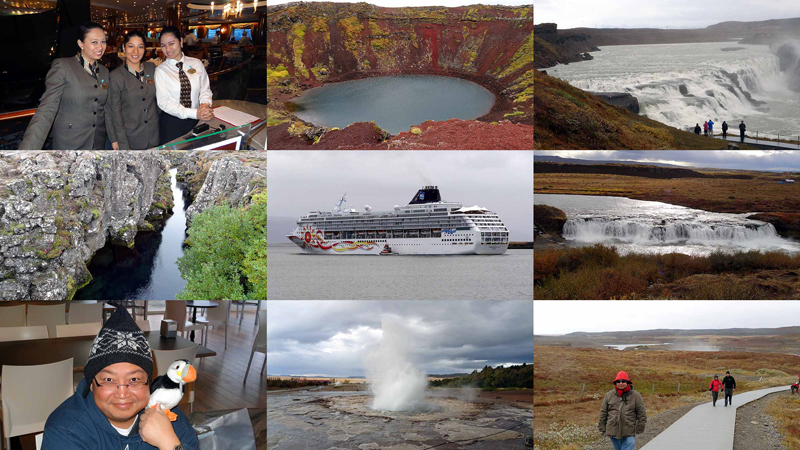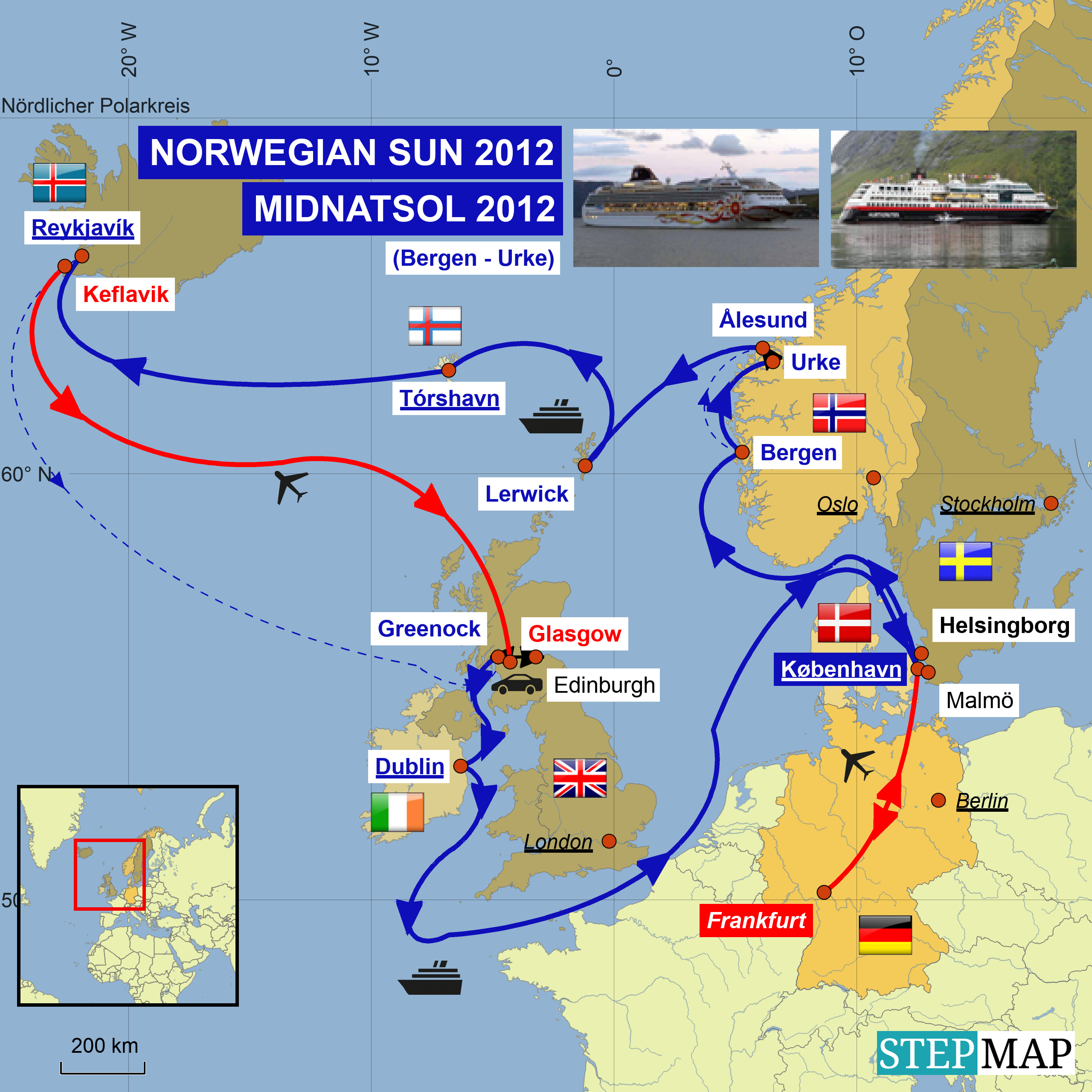 Nach dem ich die Nachricht bekam, dass Frau Pannen verstorben ist, hatte ich mir schon überlegt, ob ich die Reise abbrechen soll, aber ich hatte mich dazu entschlossen, ihren letzten Wunsch zu erfüllen und mir Island anzusehen, auch wenn mir gar nicht danach war.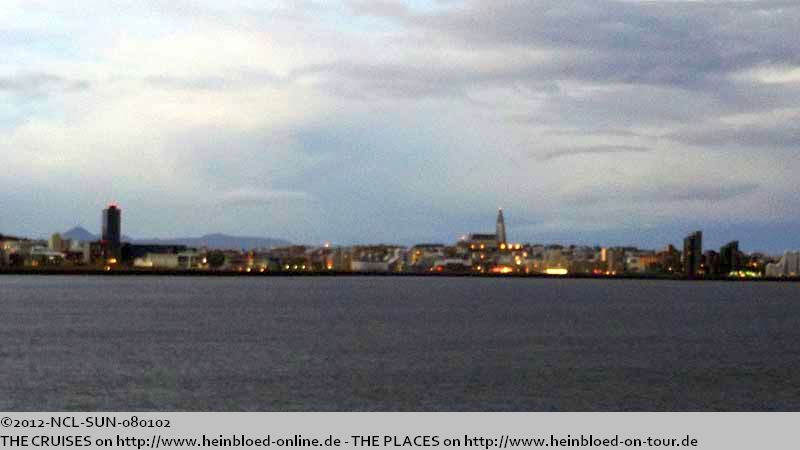 After I got the message that Mrs. Pannen passed away I was considering to suspend the voyage, but I decided to respect her last desire that I should see Iceland even I was not in the mood to do so.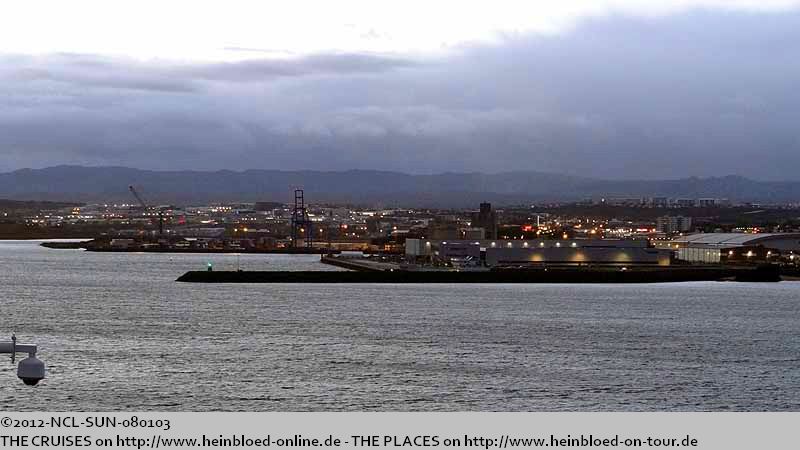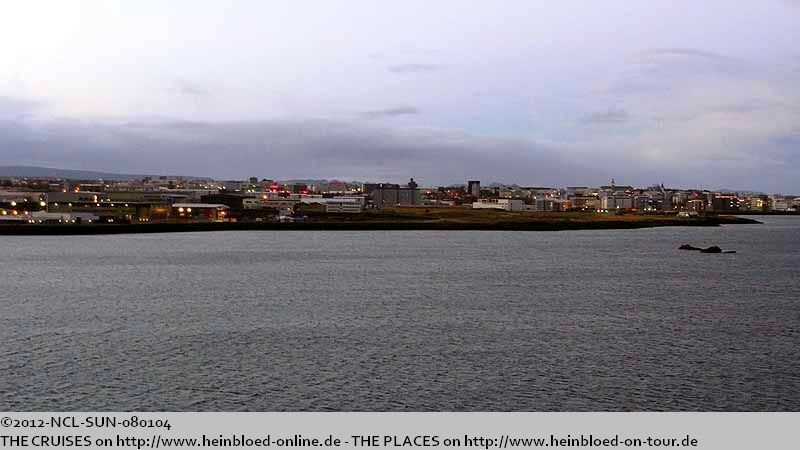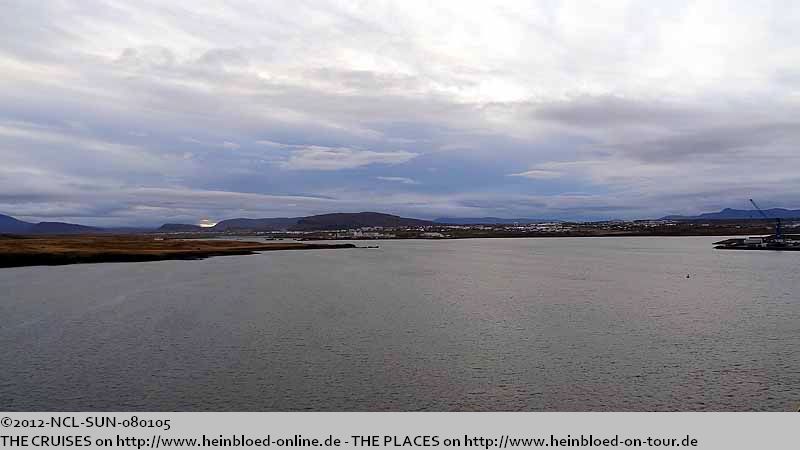 Leider legen wir nicht in der Stadt an, sondern etwas außerhalb.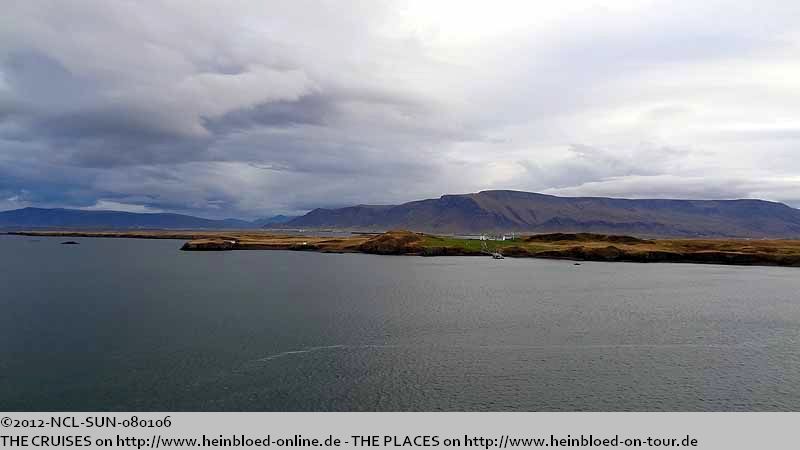 Unfortunately we did not berth in the city center but outside.

There were quite early many already waiting for breakfast. The queue went once around the sculpture.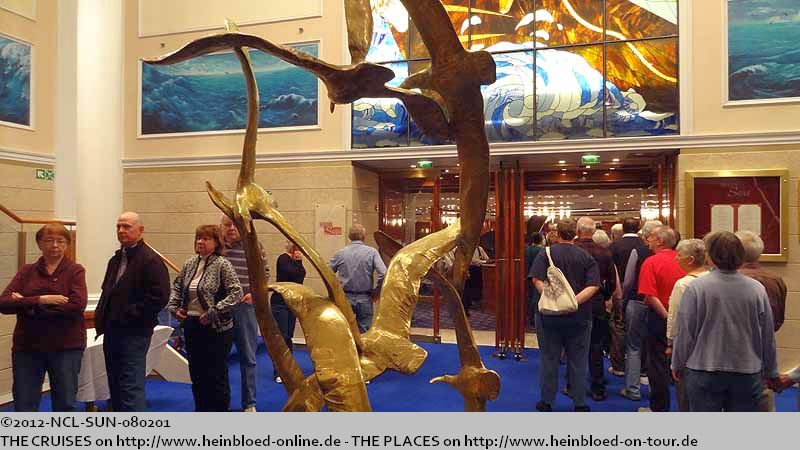 Beim Frühstück stehen viele schon sehr früh an. Die Schlange geht einmal um die Skulptur.
Als wir mal nach Beeren fragen, bekommen wir welche. Wir wissen allerdings, dass erst in Reykjavik wieder zugeladen wurde... da hatte wohl jemand keine Lust vor einigen Tagen gehabt, mal nachzufragen...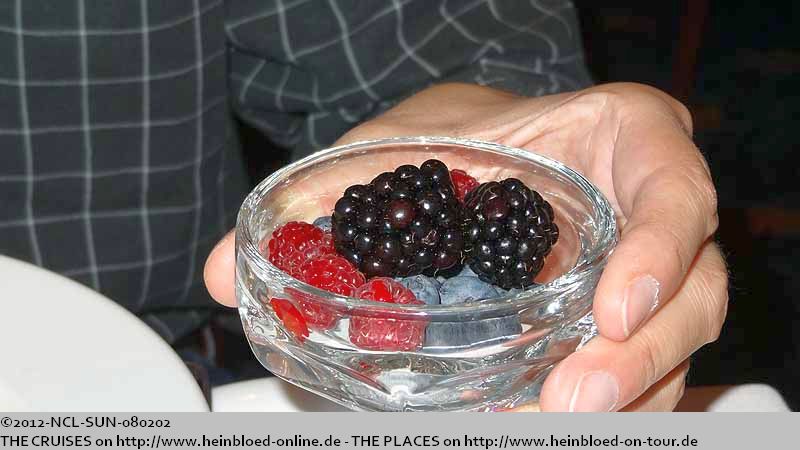 When we asked for the berries we got some. We learned later that they loaded new food in Reykjavik... so we assume that someone did not like to ask for berries days before...

Finally, I got some well-done fried eggs.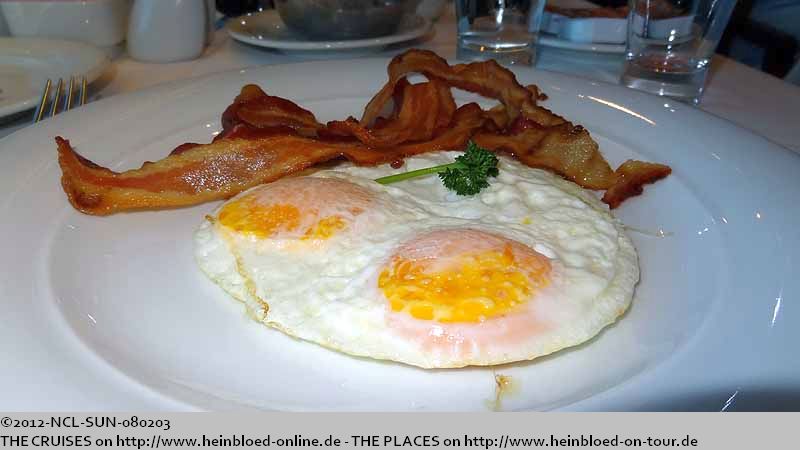 Es gibt auch endlich mal fest gebratene Spiegeleier.
Damit es schnell geht, waren wir im Büffet-Bereich, wobei ich mir meine Sachen à-la-carte bestellt hatte und Bruno sich seine Sachen vom Büffet geholt hat. Da ist NCL sehr kundenorientiert und flexibel ist, stellt es kein Problem dar.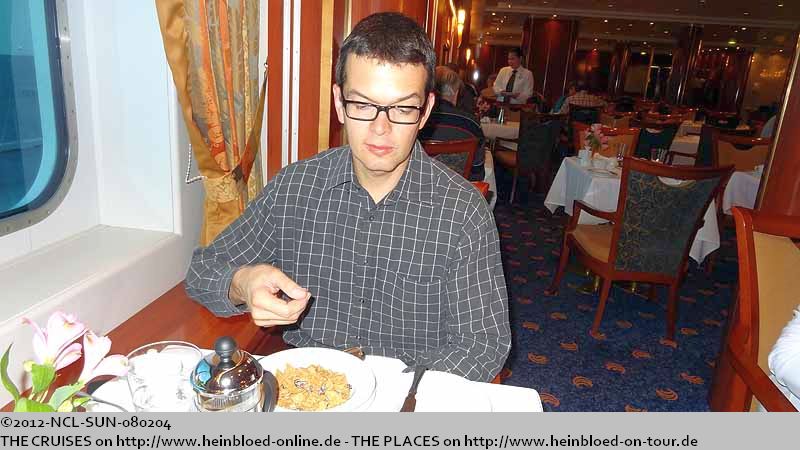 To have it quickly we went to the buffet area, but I ordered my food à-la-carte while Bruno got his food from the buffet. NCL is usually guest-friendly and flexible, and it is typically no problem.

We had to waive for the next three mornings for their smiles. It worked like between China and Taiwan, between the Federal Republic of Germany and German Democratic Republic, between USA and Soviet Union: quiet diplomacy. Officially our plan was not welcome with NCL. But they knew that we will miss the ship officially. But when you are away for more than 24 hours, they usually would clear the cabin. So we had to find a way to talk. BUT ONE MORE TIME: OUR PLAN IS NOT FREE OF RISKS.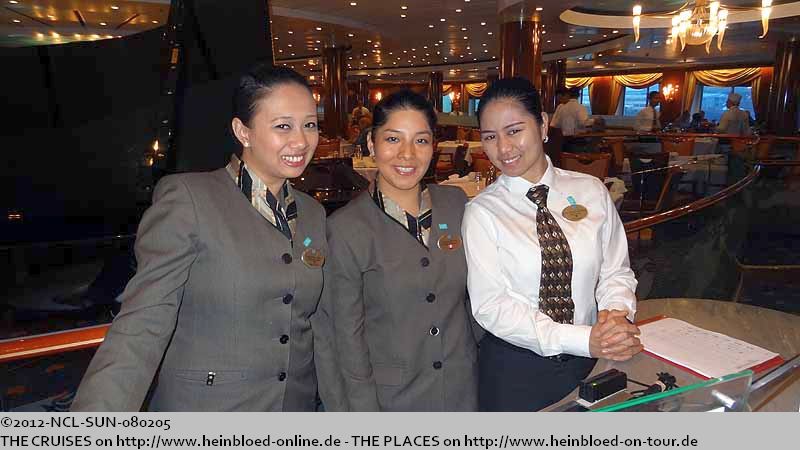 Nun auf das Lächeln morgens müssen wir die nächsten drei Morgen verzichten. Es lief so wie zwischen China und Taiwan, zwischen der Bundesrepublik und der DDR oder zwischen den USA und den Sowjetunion: stille Diplomatie. Offiziell ist unser Plan bei NCL unerwünscht. Nur wissen sie genauso gut, dass wir dann offiziell das Schiff verpasst haben. Nur bei längerer Abwesenheit als 24 Stunden, wird normalerweise die Kabine geräumt. Deswegen mussten wir einen Weg suchen, wie man sich verständigt. ABER NOCHMALS: UNSER PLAN IST NICHT FREI VON RISIKEN.
Wir verabschieden uns vom Schiff.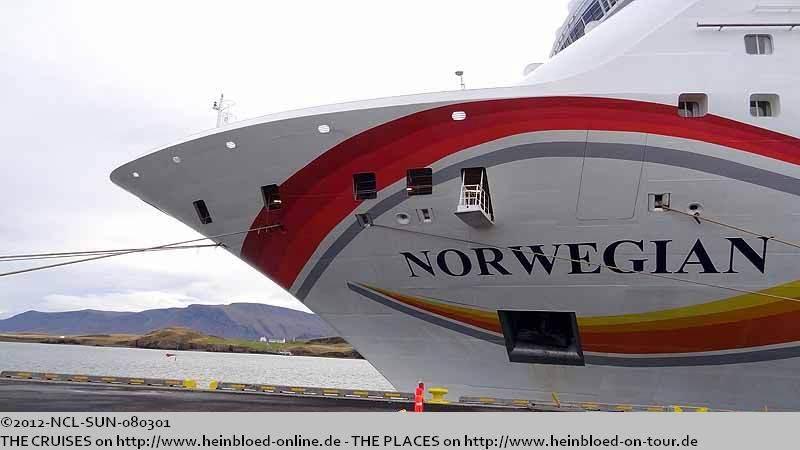 We said good-bye to the ship.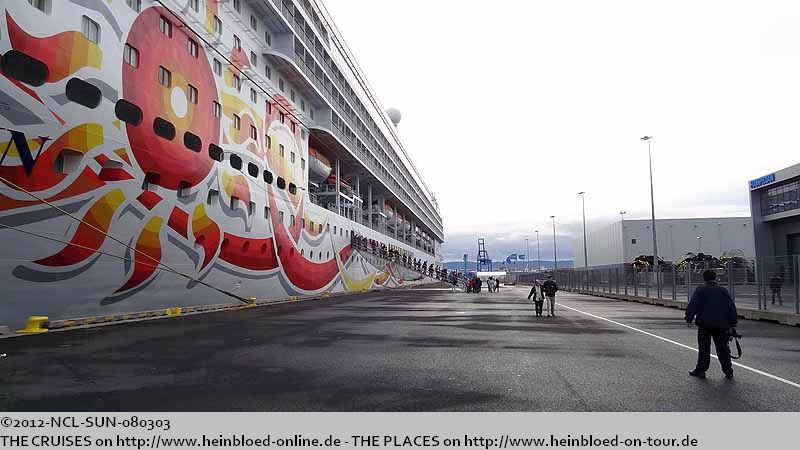 Unfortunately our tour operator did not allow us to have our bags with us. Our minibus had no trunk, but I saw that other had better vehicles.

Leider hatte unser Touranbieter uns nicht gestattet, dass wir das Gepäck mitführen. Einen Kofferraum gab es wohl in unserem Mini-Bus nicht, aber die Mini-Busse der anderen hatten wohl einen.
So haben wir selbst über das Hotel arrangiert und unser Gepäck wurde daher direkt zum Hotel gebracht. Den anderen Gästen, die sich über unser ganzes Gepäck gewundert hatten, haben wir einfach erzählt, dass wir in der Blauen Lagune Wäsche waschen wollen, weil es an Bord keinen SB-Waschsalon gab.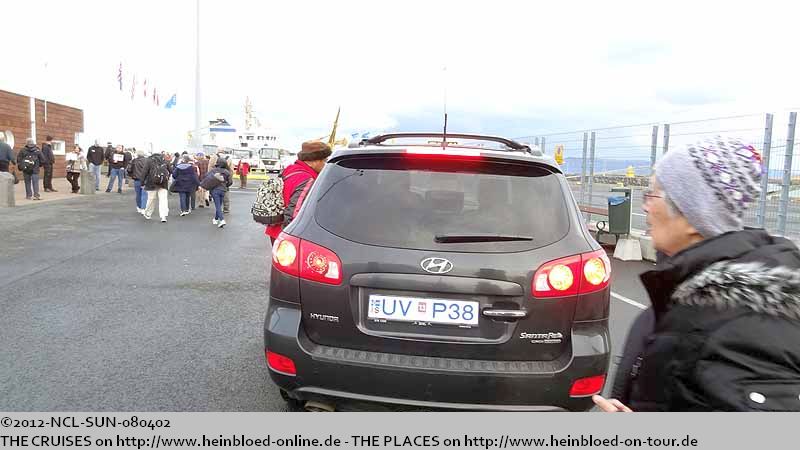 So our hotel arranged a baggage transfer for us and a taxi came which took our bags to the hotel. The other guests were surprised that we had so many bags with us so told everyone that we had to do laundry in the Blue Lagoon as the ship has no laundrette.

At the pier, we found out that the car rental companies SIXT...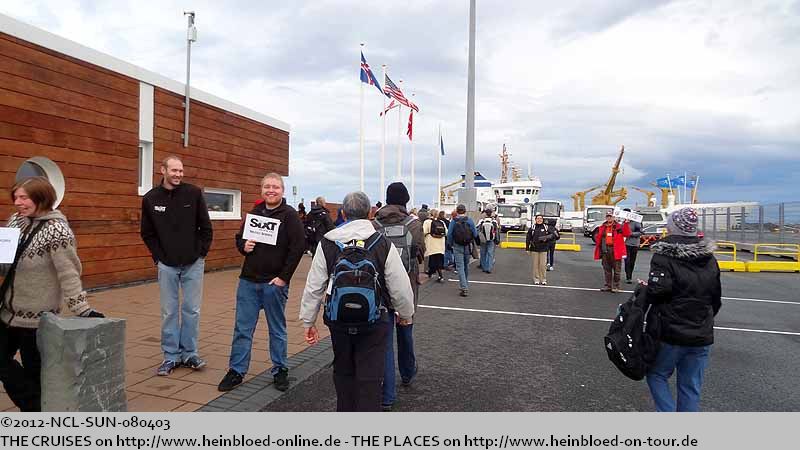 Am Hafen stellen wir fest, dass SIXT...
AVIS...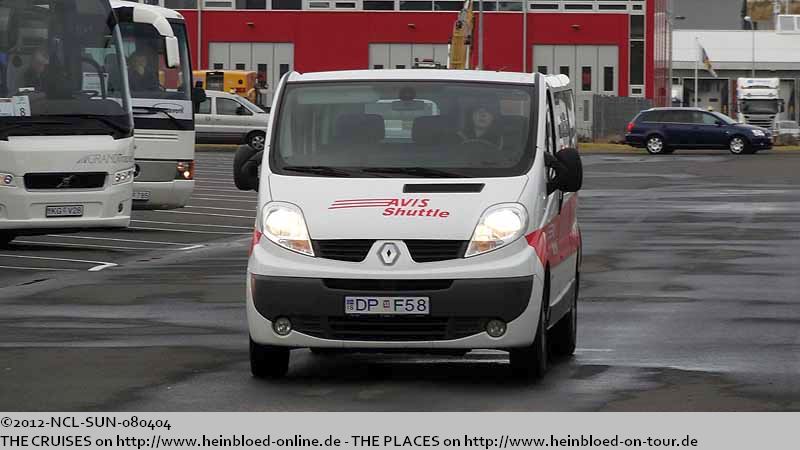 AVIS...

...and Europcar were present. But if we knew this before we might book a car here and could store our bags into the car and use it to get to the hotel later.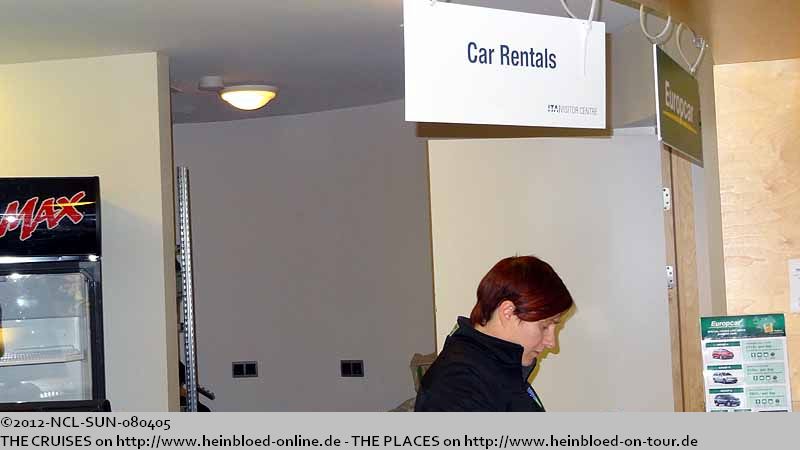 und EUROPCAR verfügbar sind. Hätten wir das vorher gewusst, hätten wir hier einen Wagen gemietet und dort einfach alles eingeschlossen.
Wir sollten um 08:30 Uhr bereits bereitstehen, aber der Tourveranstalter meinte, dass der Fahrer selbständig festlegt, wie er fährt und möglicherweise erst um 09:00 Uhr kommt.

We should be ready at 08:30 hrs, but our tour operator said that the driver would decide himself where to go first and might arrive at 09:00 hrs.

You could also book Golden Circle spontaneous and other taxi-tours.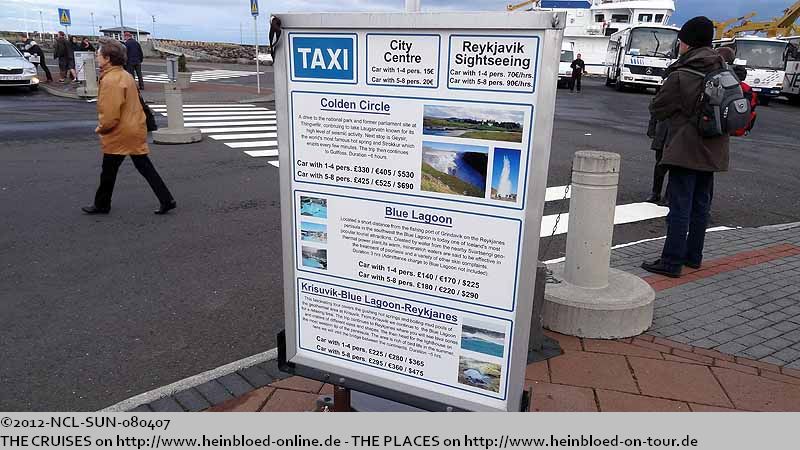 Man kann allerdings den Golden Circle auch spontan hier buchen und andere Taxi-Touren.
Hier an der Touristeninformationen gab es alle möglichen Dienstleistungen und Touren.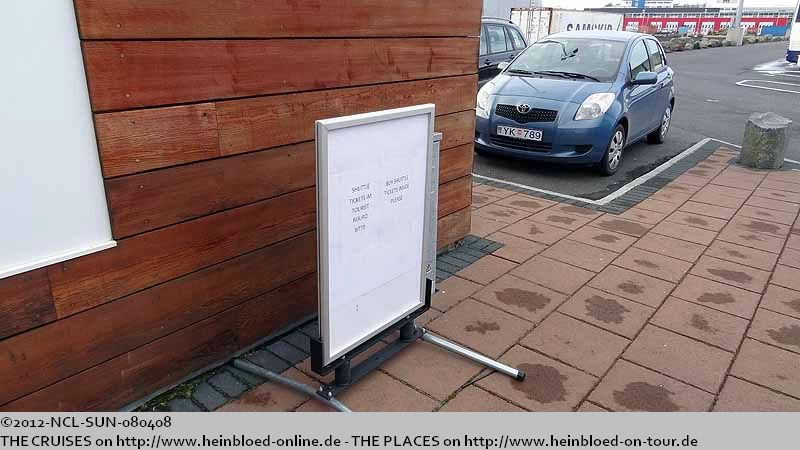 Here at the tourist information you could get many services and tours.

Here you could also get shuttle-tickets for Reykjavik for 7.00 EUR or 9.00 USD (2012).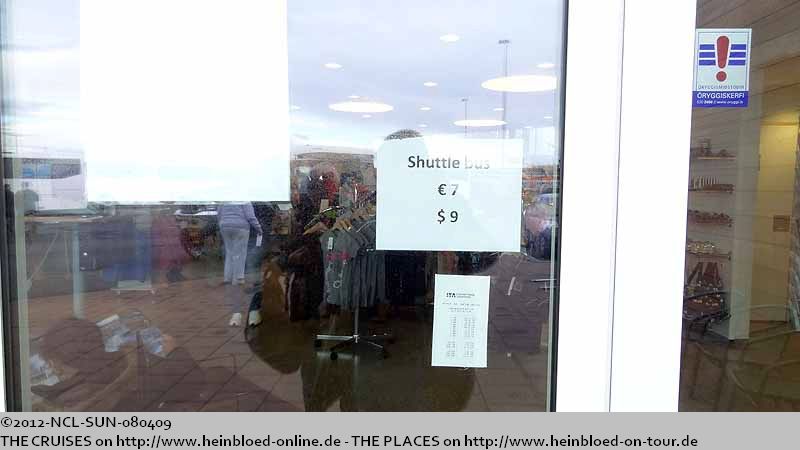 Hier bekam man auch die Shuttle-Tickets nach Reykjavik für 7,00 EUR bzw. 9,00 USD (2012).
Wir werden gegen 09.00 Uhr abgeholt. Eigentlich sollten noch zwei mehr vom Schiff da sein, aber die kommen nicht. So hätten wir doch Platz für unser Gepäck gehabt. Wir haben viele andere Fahrzeuge gesehen, auch solche mit Kofferraum. Das nächste Mal würde ich dann lieber weitersuchen, statt auf die Empfehlungen in Tripadvisor zu hören. Wir wollten eine öffentliche Tour, die uns dann hinterher in Reykjavik absetzt.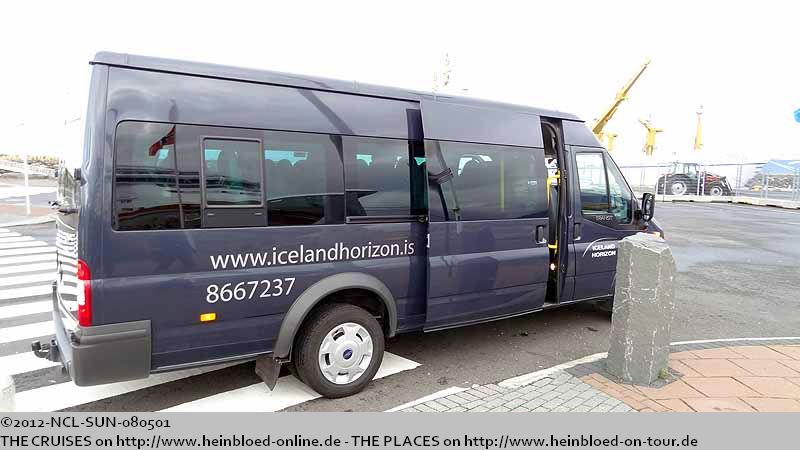 Around 09.00 hrs we were collected. Two more from the ship should be with our tour, but they did not show up. So we would have space for our bags. We saw many other vehicles which also had also trunks. The next I would maybe do further researches but to follow the recommendation of Tripadvisor. We wanted a public tour which ends later in Reykjavik.

I thought that it was quite narrow for such a long tour.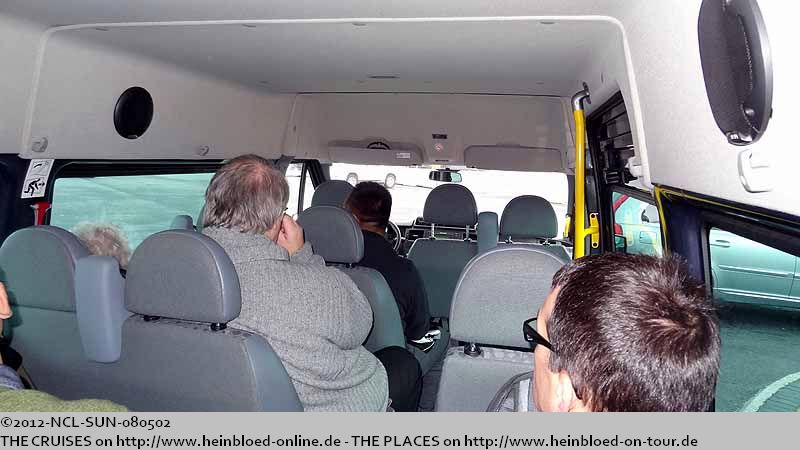 Ich fand es eher eng für eine lange Tour.
Viel von der Landschaft habe ich eh nicht mitbekommen.

But I was not able to follow too much of the scenery.

Sometimes I get off the car, but I had no idea where I was as I did not follow the explanations.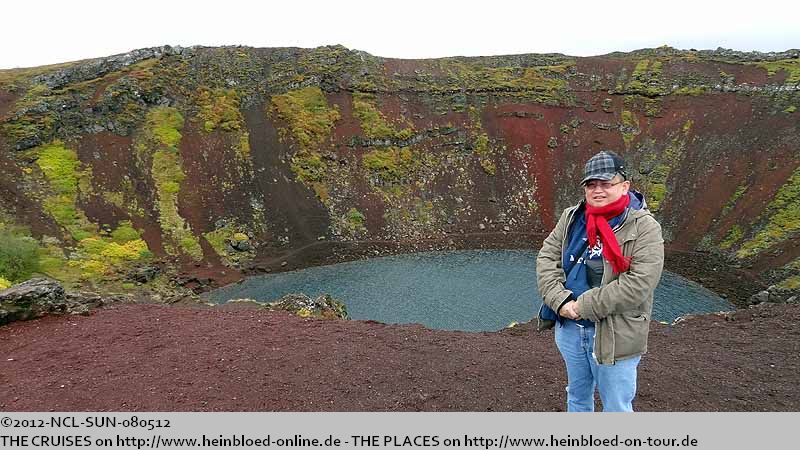 Irgendwann steige ich doch aus, aber ich habe keine Ahnung wo ich, da ich nicht zugehört hatte.

Maybe I can show one day the pictures to Mrs. Pannen that I was in Iceland and how beautiful it was here. And she could explain to me what I did not notice... But this is not possible anymore.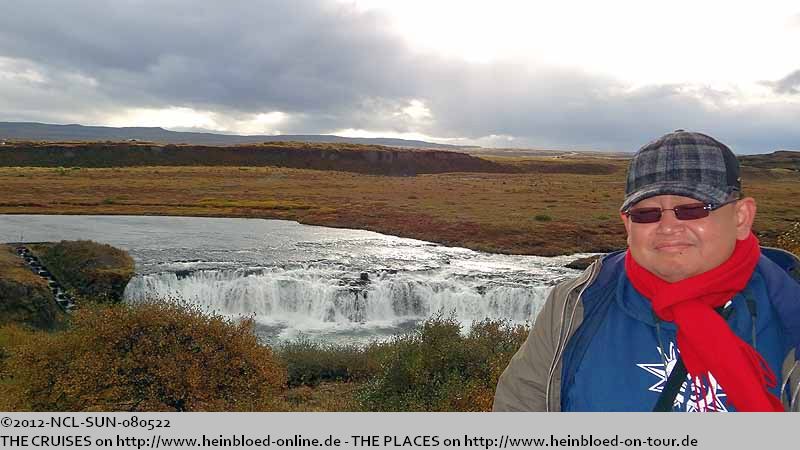 Vielleicht kann ich ja eines Tages Frau Pannen die Bilder zeigen, dass ich in Island war und wie schön es hier ist. Und dann kann sie mir ja erklären, was ich nicht wahrgenommen habe... Aber das ist ja leider nicht mehr möglich.
Mir war es zu kalt und zu windig und zu regnerisch um am Geysir herumzulaufen. Das überlasse ich Bruno.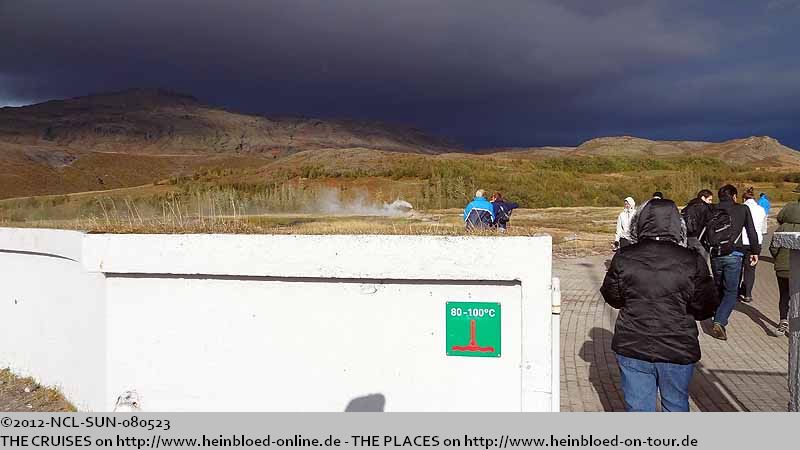 For me it was too cold, too windy, too rainy to walk around at Geysir. That was reserved to Bruno.

Unser Führer Jon hat zwar gesagt, dass am nächsten Halt die Suppe besser sei. Aber ich war jetzt durchgefroren... und er hatte Recht und ich hätte es auch besser bleiben sollen...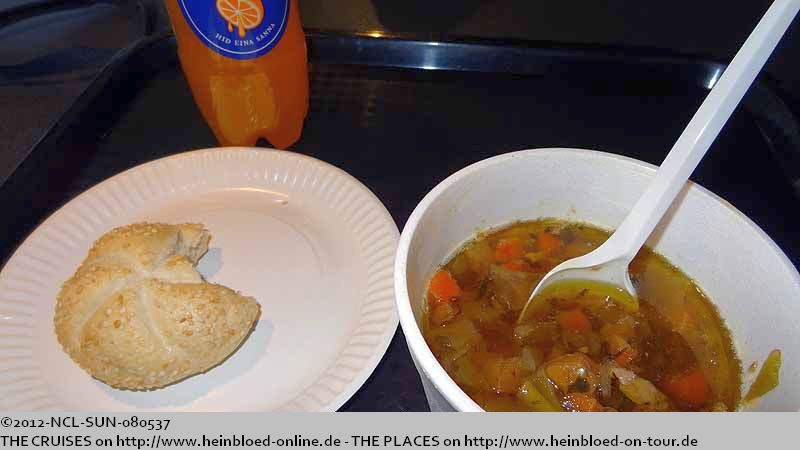 Our guide Jon said that at the next stop the would be better. But I felt cold then... anyhow I should not better leave it as he was right...

Because it was too cold for me, I bought myself a warmer hat.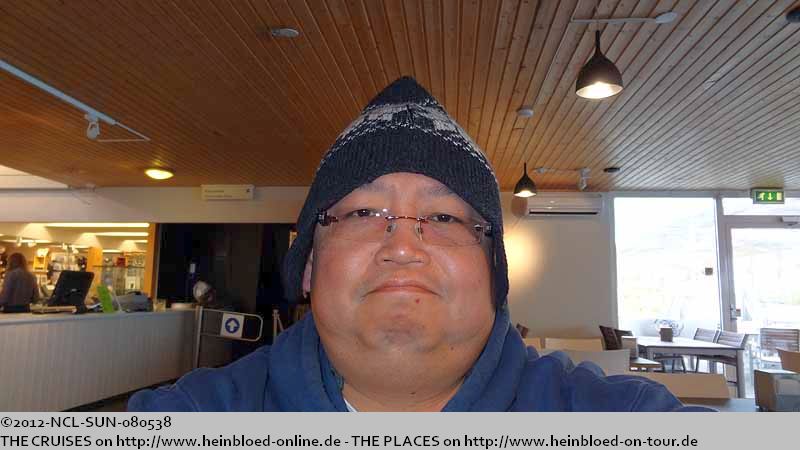 Weil es mir zu kalt ist, kaufe ich mir zunächst einmal eine wärmere Mütze.
Und ich will endlich einen Papageientaucher.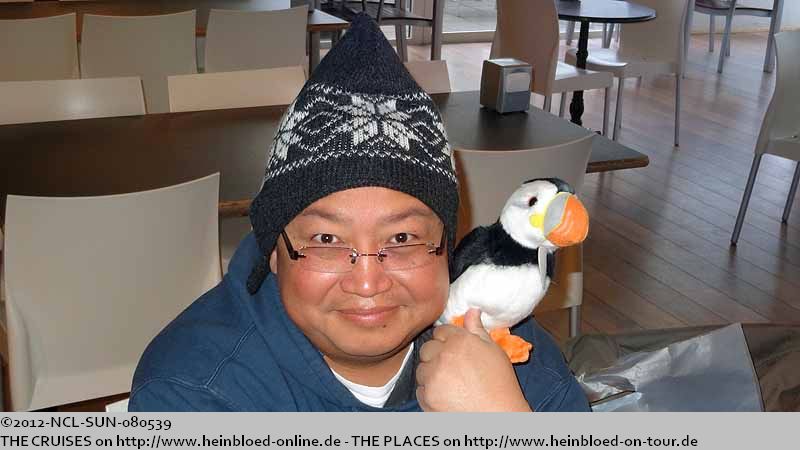 And finally I also bought a puffin.

Bruno liked my head and bought himself another one. It was angry: for the VAT refund, you must obtain at least 4.000 ISK per ticket. If I would knew this before I would have wait for my purchase.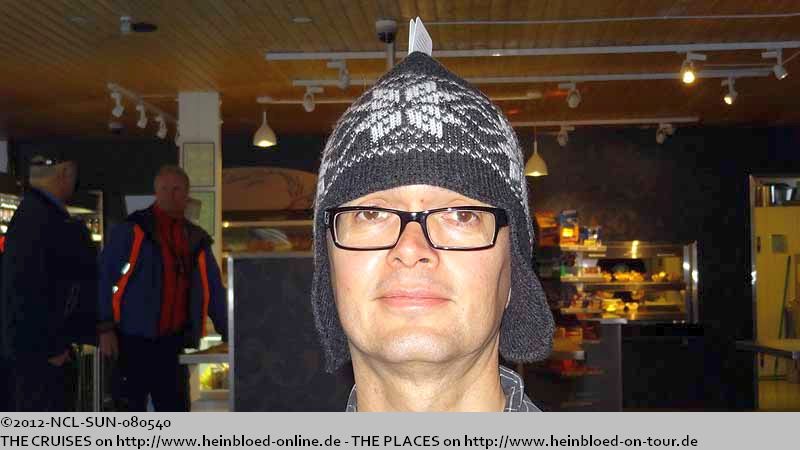 Bruno gefällt die Mütze und kauft sich auch eine. Ärgerlich: für die Mehrwertsteuerrückerstattung muss man min. 4.000 ISK pro Beleg auslegen. Hätte ich es vorher gewusst, hätte ich noch gewartet.
Und Bruno gefällt die Mütze auch. Mit dem Schild noch auf dem Kopf bringt er mich etwas zum Lachen... Typisch Bruno...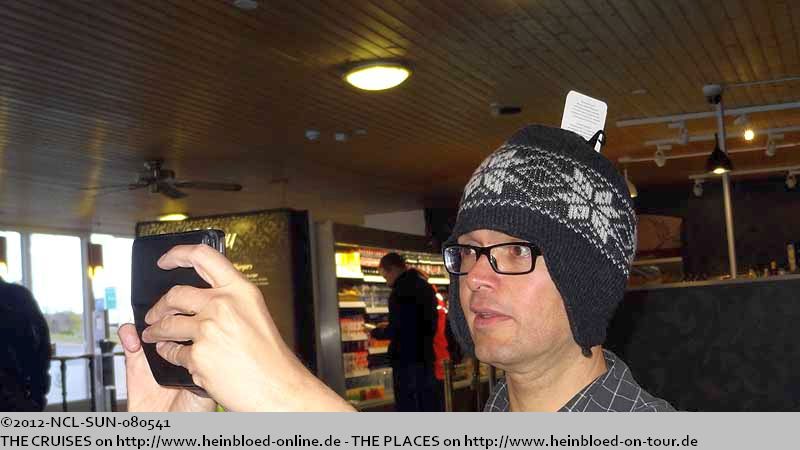 And Bruno liked the hat too. With the price tag on his head, he made me some laughing... Typical Bruno...
Die anderen Reisen in diesem Blog/
The other voyages in this blog: